Best Rugby Shoes Reviewed & Rated
last updated:
Jun 06, 2019
Considering all these factors, rugby boots tend to run a little more expensive than most athletic footwear, so it's important to make the best-educated choice before purchasing. The price tag can be a hassle for some people, however, you might find that you can just as easily get away with older models that provide good quality and performance without too much of a spend. Whichever of the boots from our top 10 list you choose, you can rest assured that you will be getting a high-quality pair of rugby boots that will keep you safe while allowing you to make the best of your playing abilities.
This is the best product on our list that is currently in stock: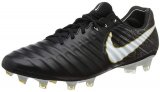 Nike Tiempo Legend VII FG
Why is it better?
Leather and Flyknit Upper
Breathable Fitmesh Lining
Nylon and Pebax Cleats
Strong Midfoot Cables for Lockdown
For Wet Short Grass
In a
Hurry? Editors choice: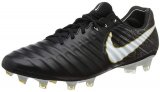 Test Winner: Nike Tiempo Legend VII FG

7
Researched Sources
10,105
Reviews Considered
7
Hours Researching
10
Products Evaluated
Terrain
Application
Materials
Comfort
Value
By Default
Top Rugby Boots and Cleats
1

. Canterbury Stampede 2.0 SG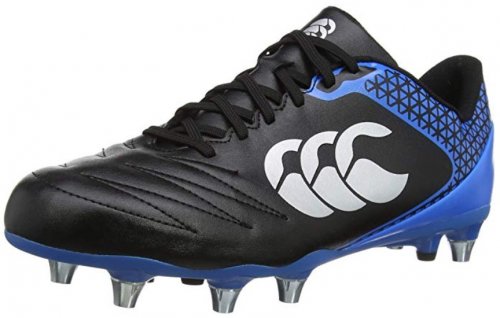 Reinforced Toe Box
8mm Heel Raise
Built for Power
Additional TPU Traction in Studs
Wide Forefoot Fit
There is nothing that can stand in the way of the Canterbury Stampede 2.0 rugby cleats. This design is built for power and explosiveness, and you will love its performance features. It is constructed on a PowerLast that has a wide fit in the forefoot for comfort and has that well-known Canterbury heel raise which reduces strain on your legs. Built for soft ground, the Stampede 2.0 comes with 8 studs with bonus TPU traction.
The upper of the Stampede 2.0 cleats is made from synthetic PU for durability, and the toe box of this option is reinforced for strength. The collar is padded with 10mm foam for added comfort, and the wide fit will be a welcome change to standard footwear of this kind. The heel raise is at 8mm, putting you in a power position on the field, and the additional TPU we mentioned in the studs is there for even more power than you can possibly imagine.

The Canterbury Stampede 2.0 rugby cleats are the one design that you shouldn't mess with. If you're the type of player who needs more from their boots, who likes to be strong and uncompromising on the field, then you need footwear to match, and the Stampede 2.0 is definitely it.
2

. Adidas Kakari Force SG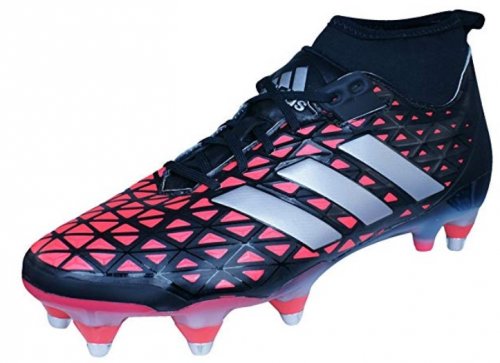 Premium Leather Upper
Sock-Like Construction
Innovative Studs for SG
Raised Heel
World Rugby Standards
Frays Easily
Top Layer Can Peel Off
Right alongside Nike, there is Adidas, another powerhouse in the world of sports footwear. The Kakari Force SG rugby cleats is a design specifically created for tight five players on soft ground. It has a very precise configuration of studs, as well as a raised heel which helps you push forward. The lockdown on these rugby boots is amazing, and you can trust that its comfort levels will be up to par, as well. As the brand says, conquer the scrum in the Kakari Force!
The upper of this option is made from premium leather, and there is a synthetic lining as well as a sock-like design for security. The studs are positioned to provide you with customized traction on a soft ground outsole, and you would do well to tighten them correctly before the game. The heel raise is 10mm, to ensure the dynamic of your movements. Of course, to round up the design there is a lace-up system with which you can easily adjust the fit to your liking.

The Adidas Kakari Force SG is made according to all the standards set by World Rugby, and you can be sure that they are the best of the best currently on the market. Once you invest in these bad boys, you will not look back ever again. So what are you waiting for? Go get your new groundbreaking shoes!
3

. Nike Tiempo Legend VII FG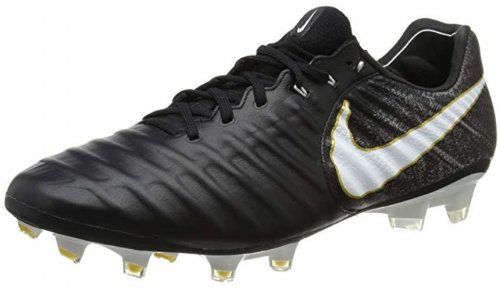 Leather and Flyknit Upper
Breathable Fitmesh Lining
Nylon and Pebax Cleats
Strong Midfoot Cables for Lockdown
For Wet Short Grass
Needs Breaking In
Can Cause Blisters
As its very name says, the Nike Tiempo Legend VII rugby cleats a literal legend in the world of sports footwear and one of the best rugby boots on the market. This is a firm ground option with a combination of leather and Flyknit for the upper, and a Fitmesh liner. There are super strong cables that wrap around the foot and provide incredible lockdown that you need when you change direction and sprint across the field. The Tiempo Legend VII stops at nothing to make sure you perform at your best game after game.
This rugby boot has a Flyknit tongue and heel which provide a second-skin-like feeling, supporting you just where you need it. Supple leather wraps over the Flyknit for security, and the Fitmesh lining is there to keep the form of the design intact and stop it from stretching out. The cleats on this design are made from a mesh of nylon and Pebax for stability and light weight.

The Nike Tiempo Legend VII is perfect for slightly wet fields with short grass, and it will keep you stable and secure all throughout your activities. A combination of premium Nike materials ensures the best experience ever, and you definitely won't regret investing in these durable, reliable boots!
4

. Under Armour Highlight MC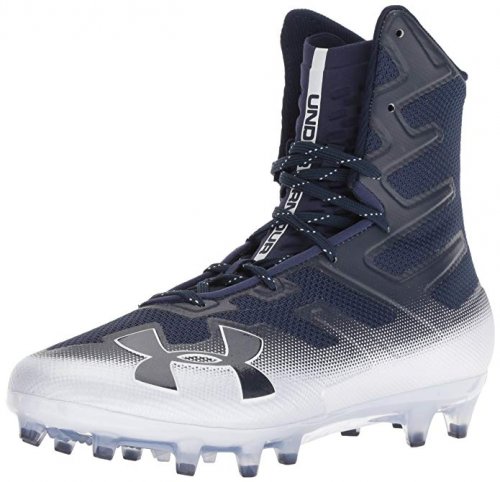 Excellent Ankle Stability
Padded Tongue for Better Fit
4D Printed Foam Footbed
Just 10.3 Ounces
Wide Variety of Colors
Not for Wide Feet

Non-Removable Cleats
These high rugby boots by Under Armour are a great choice for players in tight five forward positions who intend to play on soft ground. Their biggest advantage is the upper which provides stability without sacrificing how lightweight it is, while the studs are a bit unorthodox. There is an additional toe stud that will help you gain traction when playing. An added bonus is that these come in a wide variety of colors, meaning that you can go with performance-driven white or a more colorful rugby shoe to help you stand out on the field.
The very best thing about these rugby cleats is the upper which is made with Under Armour's ClutchFit ankle sleeve which is a compression sleeve that provides stability in the ankle and a customized fit through the padded tongue. They are extremely lightweight, being only 10.3 ounces, the equivalent of a low-top option, and very flexible, so you can rest assured that the added support will in no way limit your range of motion. The footbed of these rugby shoes is made so that it reduces cleat pressure and molds to your foot, giving you a customized fit for maximum comfort. In addition, the Highlight MC features V56 technology which was developed to limit the level of hyperextension in your toe, helping keep you injury-free while you play. The PlasmaX plates maximize flexibility by following the foot's natural motion, while still allowing for great traction and stability.

The Under Armour Highlight MC is an excellent choice for forwarding players who are looking for added ankle stability without the addition of unnecessary weight. If you have wide feet, it is advisable to order a ½ size up as these are more suited for narrow feet.
5

. Canterbury Speed 2.0 SG



Soft PU Upper
Cushioned Collar for Comfort
8mm Heel Raise
Reduces Lower Limb Strain
Provides Optimal Running Stance
According to the brand itself, the Canterbury Speed 2.0 is created for the agile player who likes to give it their most on the field. It has a synthetic soft upper that molds to the foot and is built on the signature Canterbury Speed last, meaning that everything is geared towards a dynamic game. There is a heel raise to reduce strain in your lower legs, as well as an outsole made for soft ground.
The fit of the Speed 2.0 rugby cleats is slim for better lockdown, and this particular design comes in several color options, the white and the yellow, both of which grab the attention. The collar is cushioned for maximum comfort, and everything inside the shoe is as secure as it should be. The heel raise we mentioned before is of 8mm, meaning that you get the optimal running stance, and there are 6 studs to deliver amazing traction on soft terrain.

The Canterbury Speed 2.0 comes from a brand that dedicates itself to this sport and the gear for this sport. This particular design will keep you fast and able to change direction quickly while not slipping or skidding or otherwise injuring yourself. It is also quite an affordable choice, compared to most other options on our list. A well-rounded design!
6

. Adidas Malice Control SG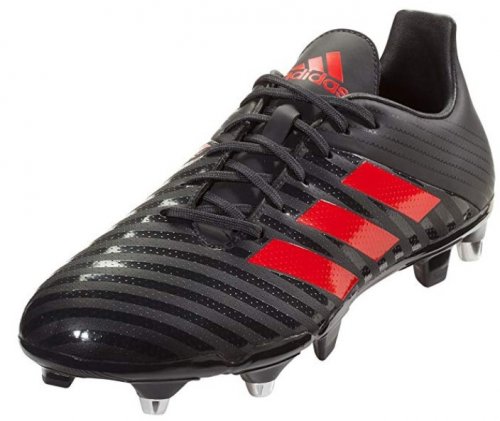 Breathable Mesh Upper Parts
Asymmetrical Lacing System
Hybrid Studs
Molded Outsole Placements for Control
Large Kicking Surface
The Adidas Malice Control rugby boots are designed to be the support a backline player needs. It is lightweight and breathable thanks to its synthetic mesh upper, and it has a hybrid combination of studs with molded placements in between. What sets apart the Malice from other designs of its kind is the fact that it has an asymmetrical lacing system which both looks cool and has a purpose in the game.
The Malice rugby cleats will keep your feet cool and sweat-free thanks to its porous mesh upper. The lacing closure we touched on is conceived in such a way that there is a large spot left on top of the boot so you can strike the ball without any problems. The hybrid studs mean that there are four low profile aluminum ones in the front, as well as two aluminum ones in the back. They're divided by these placements that increase control as you run.

Overall, the Adidas Malice Control is one tough design meant for soft ground play. It offers you greater control of your movements, of the ball and consequently of the game itself, and if you are the type of player who is all about that precision and power dynamic, you will love every second you play in these sneakers!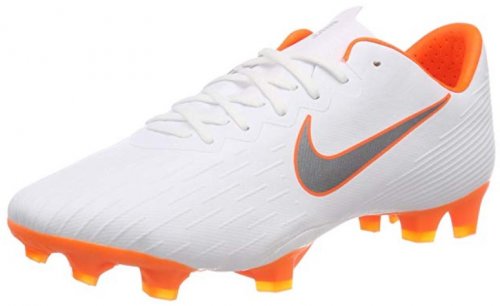 Second Skin Fit
Contoured Podular Plates
Responsive Traction
Chevron Studs for Speed
Excellent Heel Lockdown
Strange Grip on Studs
Size Runs Small
When it comes to practically any sports discipline, there is hardly a better rugby cleat than that from Nike. Therefore, we have a couple of their designs on our list, and this particular one, the Vapor 12 Pro FG is everything you need for that firm ground grip. It is made from a synthetic upper that provides a second-skin-like fit, as well as an internal structure for responsive traction.
The Vapor 12 Pro FG spares nothing for its micro-textured upper that gently wraps around your foot and keeps you secure. There are podular plates in the sole which contour to the shape of your foot for comfort and energy rebound, and we can't leave out the chevron studs which provide explosive speed and quick stops. The heel lining of the Vapor 12 Pro firmly holds your foot and keeps everything in place as it should be.

Given the brand name of this design, we are not surprised at the number of innovations and systems that go into its construction. The Nike Vapor 12 Pro is not to be messed with, and your performance will definitely benefit from its comfy upper and stabilizing features as you push through the game.
8

. Under Armour CoreSpeed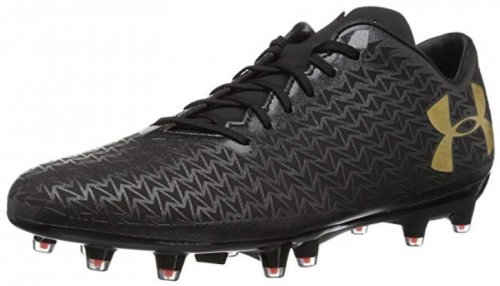 Large Kicking Surface
Enhanced Touch
Charged Cushioning Footbed
Customizable Studs
For Control and Speed
There is an abundance of Under Armour designs on our list, and with good reason; these cleats are top of the line when it comes to the trusty, performance-driven rugby boots, and the CoreSpeed is no exception. This option has an offset lacing closure, an external layer meant to enhance touch, and a footbed that absorbs impact upon your every heel strike. It keeps you comfy and it helps you demonstrate all of your skills to the fullest.
The CoreSpeed is made from synthetic leather that forms to the foot, and the lacing system which provides a large kicking surface. What is especially neat about this cleat is the 3D printed layer on top of the upper that enhances touch and helps you have better control of the ball. The footbed of the Corespeed is a so-called Charged Cushioning footbed which absorbs shock and transforms it into responsive speed. For the outsole, there is a combination of fixed studs and removable ones so that you can customize them however you like.

The Under Armour CoreSpeed is the only option on our list that has customizable studs, and you might want to take advantage of that. This is an option for control and quickly changing directions and taking care of your joints at the same time. It is sleek, it is effective, and it will most definitely up your game!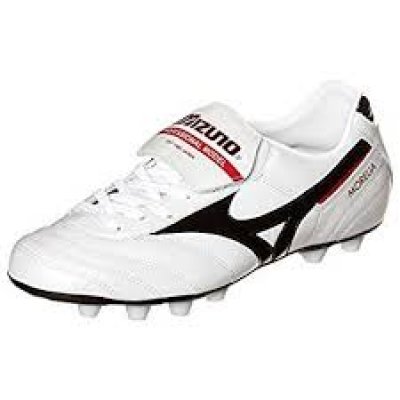 Graded Pebax Sole
Kangaroo Leather
13 PU studs
Tongue Overlay
Lace up Closure
The Mizuno Morelia II is a limited model of the cleat, great for soccer and rugby alike. It boasts of a barefoot feel, keeping it soft and lightweight with kangaroo leather uppers. This particular model is made in Japan, so make sure to check sizes before you order. Its technical plate allows for flexibility, enhanced stability, and durability, and is particularly suited for firm ground fields. Weighing in at only 8.1oz, it's sure to catch your eye for an assessment.
A graded Pebax sole plate rests at the base of the Morelia II cleats, which not only provides enhanced support and stability but allows for the flexibility needed by wingers for quick maneuvering and dodging tackles. The plate helps with quick sprints by providing a firm base to press against for explosive power and provides durability overall to the integrity of the cleat. Designed for firm ground, 13 PU studs line the sole in specific positions to better help alleviate pressure points. Soft kangaroo leather creates the soft supple uppers of the Morelia II, giving it a great in-shoe feel, but also making it quick and functional in terms of ball handling. For soccer, this is ideal, but for rugby, kickers will appreciate the sense of touch more so than other positioned players. A tongue overlays lace-up closure so you won't be catching your cleats in knots!

The Mizuno Morelia II is designed for advanced players who enjoy a barefoot feel for grip and the soft touch feel of kangaroo leather uppers. Perfectly positioned cleats alleviate pressure points during play, and the Pebax sole plate gives the performance an upgrade in flexibility, durability, and stability. Well worth the investment if you're a long time rugby specialist!
10

. Under Armour Force 3.0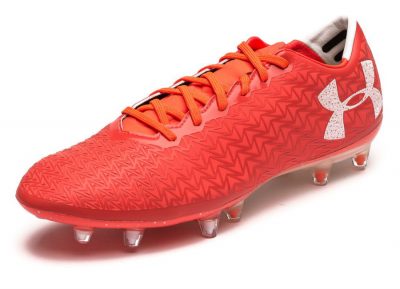 Flexible soleplate with TPU studs
Flexible, secure upper
Anti-slip heel
Charged Cushioning and 4D foam footbed
Moderate padding
Not for Wide Feet

Not on Soft Ground
These rugby boots by Under Armour are made for backs and wingers and are an excellent choice if you have to play on firm, dry natural grass surfaces. These are great for gaining acceleration, as well as for deceleration, seeing that they have a soleplate that's flexible in the front, but more firm as it gets closer to the heel. The design features eight cleats in the forefoot, and four in the heel section, providing you with plenty of traction, even during lateral movement. The definite best feature of the Force is the specially developed upper which provides you with premium comfort, without sacrificing weight.
The upper of the Force is made with Trivela microfibre which stretches two ways, giving you more mobility during your play, while still providing good support. It will mold to your feet, making you appreciate the customized level of comfort. On the inside, you will experience moderate padding that adds to the overall experience. The footbed of the Force is also made to conform to the shape of your foot. It's got Charged Cushioning which provides excellent shock absorption and energy return, making it easy to keep on running. You will also find that these feature an anti-slip material in the heel, which will lock your foot in the heel, providing you with a more secure wearing experience.

If you need a good pair of shoes for firm ground, the UA Force 3.0 is an excellent choice. Originally designed for soccer players, these will be a good fit for backs and wingers, however, one of the downsides is that you won't get too much use out of them on softer grounds.
Criteria Used for Evaluation
Expert Interviews & Opinions
Most Important Criteria
(According to our experts opinion)
Experts Opinion
Editors Opinion
Users Opinion
By Default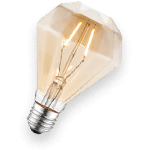 Beginner Tips
If you're just starting out playing rugby, you're in for a ride! It may take a little time to really get acquainted with the flow and feel of the game, and which position you're best suited for.
Many times, nimble, smaller players tend to play hooker or wing positions, while those that can use their bodyweight or strength to push against players find themselves in the scrum.
If you enjoy sprints and running, likely you'll do well as a winger or full back, but if you enjoy a full contact and action inside the scrum, explore positions within the scrum.
Different Positions, Different Shoes
Each position on the team can require a different kind of cleat. Those that will be pushing in the scrum need a solid supportive boot with enough ankle mobility to fully thrust their weight forward. Wingers require something that can help promote agility and movement, ample ankle mobility, and may enjoy a softer upper on their boot.
Other Factors to Consider


Bottom Line
Finding the perfect rugby boot can seem to be an insurmountable challenge. Whether it's the grip, the flexibility, or the price, there are just too many variables to take into account. Are you a kicker, a forward, tight five, or are you an all-rounder? Do you need a wider kicking area, or do you need a lighter shoe? Are your feet wide or narrow? Six, four, or eight studs? Aluminum or plastic? Synthetic upper body or kangaroo leather?
That's even before you take into account whether or not the shoes are comfortable. Whether you can play an entire game in them without getting blisters. With all the factors and features you need to take into consideration before making your purchase, it can be easy to become paralyzed by indecision. Hopefully, our list of the top 15 available rugby boots on the market has helped you to come to a decision, or at the very least give you some information that can help you on your path to becoming a rugby champion.
If you are still unsure about which boots to get, or need just a little bit more help before making your decision, make sure to read out Criteria for Evaluation section where we break down the variables that come into play when making the best choice of rugby boots, as well as our Frequently Asked Questions section where we answer the most common questions users have.
Frequently Asked Questions
q:

Can I use soccer cleats to play rugby?

a:

While some rugby players have been known to use soccer cleats, it's important to know that this type of footwear does not provide the correct protection and traction type for all players. Soccer cleats are made for firm ground play, are lightweight, and have shorter studs. Kickers and backs may benefit from wearing this type of shoes. If you're just starting out in the sport and would prefer to get a feel for it first before investing in a specific pair of rugby cleats, you can always purchase a base model rugby cleat, or try out a soccer cleat to decide which feels best for your style of play.
q:

How do I choose the right rugby boots for me?

a:

Before making your choice, you first need to determine the type of ground you will be playing on, as well as your position in the game. Then you can go on and choose either a model more oriented towards forwards, backs or kickers, making sure you consider all features including traction, weight, support, heel height, and kicking area.
q:

Are molded studs better than replaceable ones?

a:

Although molded studs are more lightweight than traditional replaceable ones, there is not one definitive answer to this question. Whether this type of stud will work for you personally depends mostly on your playing position, as well as the type of surface you play on. If you're playing on the softer ground, you may be more satisfied with the grip of screw-in studs, whilst firm ground play will most likely be less uncomfortable with more molded studs.
q:

What does SG and FG next to the boot model stand for?

a:

These marks stand for the type of ground a pair of boots is intended for. SG stands for soft ground, and these types of boots will generally have longer studs and provide better traction on natural grassy surfaces that are often very wet and muddy. FG stands for firm ground, and these types of boots will provide better weight distribution throughout the foot.
q:

How do I clean my rugby cleats?

a:

It is advisable to clean your boots right after playing in them, as dirty boots should not be left in a bag for too long, or they may become permanently damaged. Remove any dirt from them with a damp cloth or a brush, then stuff them with a newspaper in order for them to retain their shape. Make sure to always unlace your boots before taking them off in order to prevent damaging the heel. And try not to walk in them on very hard surfaces such as concrete, as this will damage the studs and outsole.