Best Shin Guards for Men & Women Reviewed
In a Hurry? Editors choice: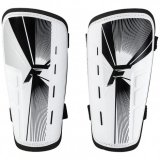 Test Winner: Franklin Sports Superlight

If you're out on the field
playing soccer
or any impact sport, you need to think about having your shins protected. Soccer, for example, is very much a
contact sport,
and use of this piece of equipment is compulsory, as it should be. According to the FIFA law, they must "be covered entirely by the stockings", "be made of a suitable material", and "provide a reasonable degree of protection".
Furthermore, those who are learning martial arts will also want to use a level of protection in their training sessions in order to prevent bruising or excess fatigue. It's important to note that guards made for soccer differ from these, but the list below includes all types of products, so you can opt for the model that suits your needs (and the regulations) best.
Standout Picks
Criteria Used for Evaluation
Protection
When you are selecting the best option for your sporting or work environment, you must always keep in mind how important the choice will be to keep your shin bones protected, no matter what conditions you encounter.
The most important thing is to make sure all of the vulnerable areas of your leg are covered, and that there are no open spots. You must have the right strength of shield for your sport. Your protection is key, and you must make certain that they fit all needed criteria.
Of this you can be sure: finding the right ones will make all the difference in your comfort, safety, and the enjoyment of your sport or activity for years to come. So, let's review some of the most important considerations below.
If you have read the many testimonials by purchasers online, you will often see that the height and width of their guard played a big role in the overall quality. The most common things being said were:
--It protected a large portion of their leg.
--They didn't come up high enough on the shin.
--They did not protect the ankle enough on the field, and so forth.
When fitting a guard, it must fit your leg snugly but at the same time be comfortable for you during wear. All of the vulnerable areas of your leg must be covered to protect you from any potential injury. The important thing is to make sure all vulnerable areas are covered — no open spots. Protection is the most important thing when fitting shin pads, and then comfort.
Protecting your shin bones is very important as they are the most vulnerable part of your legs. Having the correct guards makes the difference in comfort, safety, and sports enjoyment.
There should be no exposed areas when wearing your guards and the shield should have the correct strength and protection as you need.
The fit should be snug but not tight. The coverage should extend the complete shin and if possible, the ankles.
Comfort
Why is comfort so important for this piece of equipment? Of course, comfort will allow you to play better and for longer periods of time. You can't concentrate on the game, if your guard is not moving with you, and if it's not flexible enough to allow you a complete range of movement.
There's a saying in soccer that if someone says comfort is the most important, they're probably a professional player. If someone says protection is the most important, they're probably … a parent! It's also well-known that famous players will often use guards that are not always appropriate for them, simply because they are so comfortable! So in addition to protection, comfort is the other key point you should be considering.
--Having comfort gives you play that is better and allows you to be active for a longer time. Flexibility also contributes to comfort because a rigid guard can cause discomfort, reduce movement ranges, and possibly cause injuries.
--Comfort and protection also work together. A protective guard will usually have features such as extra padding, seamless stitching, and stabilization. Such features contribute to your comfort.
--Sometimes, guards that focus strictly on comfort can lack in proper protection.
Fit
Everyone has a different shape to their leg. Some legs are smaller or shorter, some are curvier, some are broader and have more muscle area, etc. So, a perfect fit is essential to keep your guards in place and where you need them when you need them!
Often, the fit can be secured by using the straps to properly wrap around the lower leg. Typically, if players find they cannot achieve the fit they want, they will use tape. This helps secure it in place and only involves a few steps.
--Wrap the tape in a figure 8 pattern at the top of it, over your sock.
--Wrap around the ankle of your sock at its bottom.
Some guards stay put perfectly during play. Others report experiences that include it moving around during sparring or on the playing field, which can be dangerous for the user because the protection has moved away from the area it is meant to protect. Often players find that a good compression sock can make a big difference in keeping it in place. The fit should be perfect, and the sock should just be an added layer of securing a snug fit.
--Human legs vary in shape so it is important that guards fit your legs correctly. Doing so allows for the guard to stay in place.
--There are other ways to secure a great fit such as straps or guard tape but these can be cumbersome and get in the way. If possible, choose guards that have built-in stabilization to ensure a maximum stay-put fit.
--Some guards have a compression to provide a better fit and there are others that have stirrups built to keep them in place. There are others that have a curved contour for a natural fit. Also, check for the material construction because some materials stay in place better than others.
--Guards with moisture-wick ability are a great option as the sweat is reduced and you are less likely to have any slippage or movement.
Durability
A quality product is one that will follow you through the years and work the same way it did on the first day you bought the product. In regard to this specific piece of equipment, we assessed durability in a few key ways, analyzing the materials, details, construction methods and brands to deliver to you a simple opinion: will this set of guards do the job and do it again and again? Take a look at each area we evaluated:
The Materials
Which type of materials were the product made from? Are they synthetic or natural? How do they smell out of the box? All of these are critical questions we asked when evaluating the materials of the product.
The Details
Reinforced fabrics, proper stitching and strong materials are all good indicators of a manufacturer that is setting you up for long term success with their product. Attention to detail separates the high-quality producers from the cheap ones.
The Brand Name
A reputable brand is a signal of quality and trust. Often, high performers continue to perform and out-endure the competition. While there are always exceptions to the rule, we gave higher marks to manufacturers with solid reputations.
The Construction
You can tell a lot about a pair by how it feels. Do they pull up easily and fit perfectly? Or do they stretch and snap? What about the sew? If there was threading after a few wears, we considered that a warning sign of a lack of proper construction and durability.
At the end of the day, a durable product gives you the confidence to go out and give it your best, knowing your guards can back you up.
Style
While style is often a matter of personal taste, we've checked thousands of online reviews to see what people are saying about each of the products on our list. Some things, such as sleek design, seamless construction and overall weight and shape of the product, were common likes or dislikes among buyers of each product.
To evaluate style, we considered everything from the design, color, shape, weight, lines and overall construction of the product in question. While no one wants to wear an uncomfortable guard, they also don't want a comfortable guard to be ugly on the eyes. We've selected all of those on our top 10 to be not only stylish, but also comfortable, true-to-size, supportive and durable.
The higher the score on the "style" metric, the more fashionable we and the community of buyers we surveyed deemed the product to be.
Top 10 Picks
1

. Franklin Sports Superlight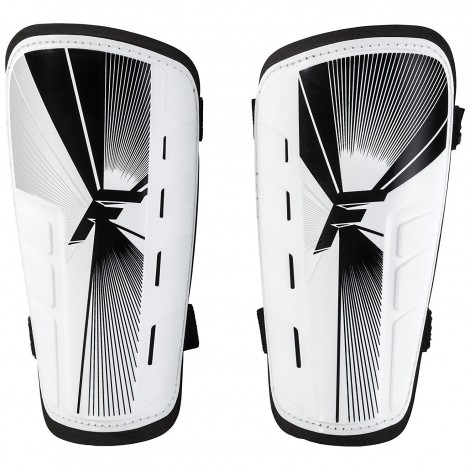 The Franklin Sports Superlight feature a lightweight construction and high-density foam that really absorbs impact. The double self-stick straps are adjustable to ensure a snug and secure fit. Stylish as well, they have a unique chrome accent design. The symmetrical design offers the user a superior anatomical fit during play.
The high-density foam that is used provides great protection against impact and injury while on the playing field. They also cover a bit more of the shin than other brands.
They are constructed of high-density material that offers a durable exterior. And the abrasion resistant shield keeps them in good shape throughout a long period of use. The Franklin Sports Superlight are rated very highly by most users and are also priced in the lower range for similar products, offering high value for the price.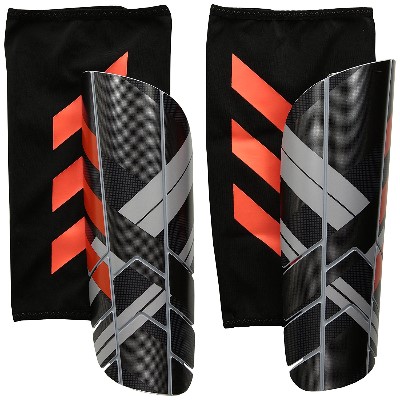 Looking for a pair that's great looking and has a long history of quality? The Adidas Ghost Pro shin guards are highly rated by players and feature an integrated 3 layer shield as well as EVA backing for a perfect and comfortable fit on the field.
This top-rated model is made up of 3 different shields which are fitted together for great flexibility and perfect fit, as well as excellent protection for the user. This means you won't have to worry about impact, even more aggressive games.
The durable and soft EVA backing on the shield provides long-wearing and lightweight cushioning. Additionally, it provides very comfortable experience on the field. Compared to the other items on this list, the Adidas Ghost Pro are featured at a medium price point, and have high ratings from users.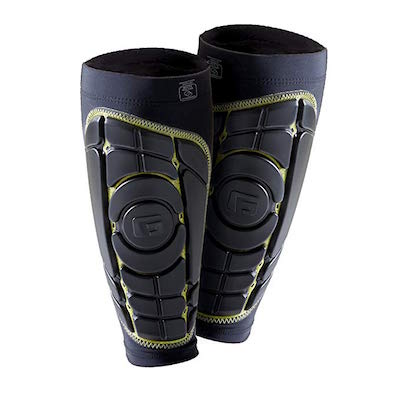 Made for professional athletes who, above all else, require lightweight and unrestrictive equipment that allows them to move naturally, the soccer shin pads by G-Form bring innovation to an otherwise simple product. With patented technology, they protect without causing discomfort, which means that you can easily wear these during long training sessions and game days. The company makes a wide range of impact-protection products, including those made for motorcycle riders, so you can count on the Pro Elite keeping you safe.
The G-Form Pro Elite uses body-mapped padding that includes revolutionary technology that adapts to the situation for maximum protection. The molecules in this foam-based pad are free and pliable, until force is applied. On impact, the bind together, hardening the entire surface of the pad, preventing the body from being exposed to the force. As it dissipates, the molecules become free again, allowing you to enjoy the barely-there feeling of the pads.
Developed with comfort in mind, these won't cause fit issues, but are placed on a durable sleeve with high elasticity. Moisture wicking and offering UV protection, the shin pads allow you to remain dry and odor free throughout the game, and the soft material used doesn't cause chafing or rubbing. In terms of cost, these are quite expensive, and are mainly recommended for adults, and those who prefer lightweight and soft protection. Though only one color option is available, there are several sizes you can choose from, for the best possible fit.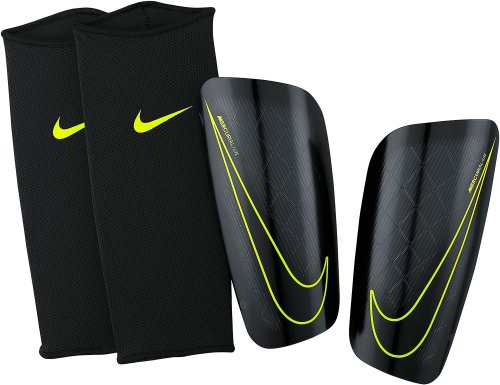 Very lightweight but heavyweight in providing you impact protection. The shell is constructed with K-resin, a material with high-impact absorption, and a bonded dense foam in the backing for diffusion in impact. Construction is low-profile to be distraction free while protecting against abrasions and the fit is anatomical for better contouring and cushion targeting. The sleeve is Dri-FIT for moisture wicking and it's seamless for better fit and comfort giving you irritation reductions.
The high-impact shell is K-resin. This material gives you coverage that is superior to help protect against hard tackles and abrasions. The foam is a waffle-designed, molded EVA that provides impact energy dispersion while serving cushioning comfort. The probability of shin injuries is greatly reduced.
The design of the shell is a special curve that fits your natural shin shape. This limits any adjustments that could get in the way of your game and provides better cushioning that is highly targeted. You'll also have better flexibility and evenly spread protection coverage.
This item retails at a very affordable price considering the brand whose other products can be much pricier. Just because this is lower priced, however, doesn't mean it's lower quality. It still provides the same expected sports support and protection this brand is known for.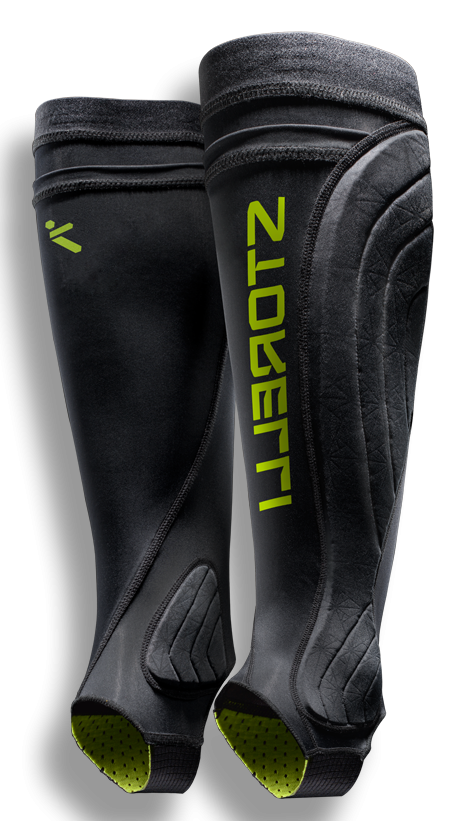 The advanced features in this model make it a revolutionary product. Breathable foam provides protection from hard grounding, kicks, and other shin action. Anti-microbial treatment helps to reduce infection risks and the specialized padding placement and design enhances your mobility during movement without reducing protection. Compression fabric provides breathability and comfort while also being moisture wicking. There is no need for tape or adjustments and impact is absorb up to 90%.
Ultraviolet is one of the most harmful rays from the sun and contributes to skin issues such as burns and premature aging. These guards have UV resistance built-in and are a great choice for those that like to practice their activities in strong sun environments such as the beach. Of course, always wear sun protection on the rest of your exposed body.
Physical activities such as kick-boxing generate a lot of sweat production that can produce odors and germs. The included bacteria treatment will reduce the majority of odors and germs that build-up in your guards giving you a healthier practice to enjoy. Make sure you keep them clean, however, regardless of protective treatment.
The current pricing is just below $35 making them very affordable. These have a lot of protective features that go beyond padding and great stabilization to keep them in place on your shins. You'll have a peace of mind wearing these.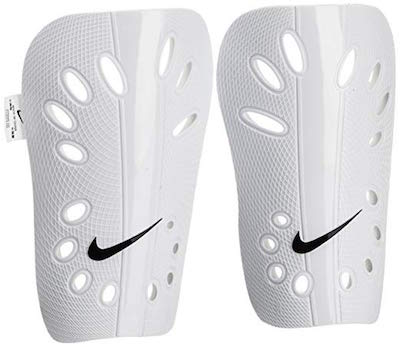 For those who don't want bulk, but are looking for something lightweight they can easily slip in before practice, the Nike J is perfect. Cost efficient and comfortable, this model was developed for the Japanese market, and has been around for several years, with some loyal users. The model comes in three sizes, however, it runs small, so it's ideal for big kids and women, while those with larger calves should look elsewhere.
The construction of the Nike J is quite simple, with a hard shell that is meant to take the brunt of the force, and EVA foam padding that is supposed to help absorb shock and provide wearing comfort. The design is anatomical, with a dedicated left and right guard, and fits exceptionally well. It doesn't come with straps or a sleeve, so you can use it with those you already own, and is very easy to pack and use due to the lightweight nature of both materials.
The best thing about the Nike J, however, is the design that uses ventilation holes, which allow for much needed airflow during your activity. Soccer is a strenuous form of exercise that generates a lot of heat and sweat, so the ventilation holes on this pair of shin guards comes in quite handy in helping you cool off. In terms of cost, this is one of the most affordable products on this list, making it an ideal investment for those just getting started, or for parents looking for something that won't break the bank.

7

. RDX Shin & Instep Guards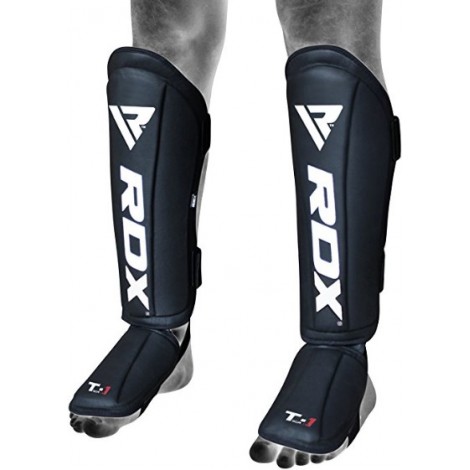 When it comes to kickboxing, being well-protected is key to enjoying the sport and going on the offense. This model by RDX is exceptionally versatile and can be worn for a variety of sports activities. It features a molded lightweight design with dual-padding constructed with a lightweight, Nylastic outer for heavy durability. The interior features Shell-Shock Gel and Max-Shock Foam.
The RDX Shin and Instep Guards feature Shell-Shock Gel and Max-Shock Foam, these features keep you from feeling the impact of crushing blows. Ultimate protection is what you will find with these two amazing features.
This special QD-1 technology feature actually wicks sweat away from the skin, offering a comfortable feel during play. Many users report that they consider this to be a great product for a very reasonable price. Excellent quality and protection for an average price, what more could we want.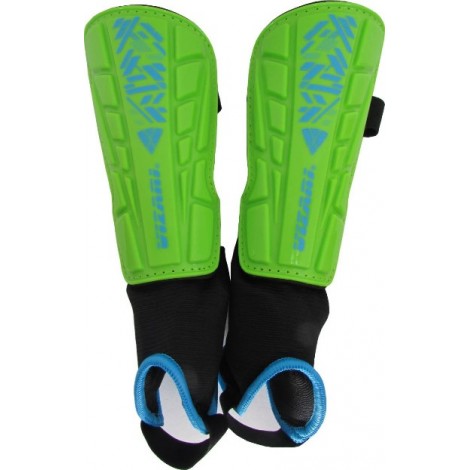 The Vizari Malaga have a lightweight PP shell for protection and flexible use. They feature a hard shell with foam backing and some substantial additional padding around the ankle which protects the user during heavy play. They also feature an elastic closure that wraps around the leg and secures in a different manner than other models on the market.
The wrap-around closure featured in the Vizari Malaga gives the user a very secure and snug fit, as the elastic secures at the front rather than the back of the leg. The integrated ankle padding offers wearers additional security during play, as it protects users from "sloppy" tackles by opposing offenders.
The low price of this product makes it a very popular choice for those who are looking for quality protective equipment and as such provides good value for money.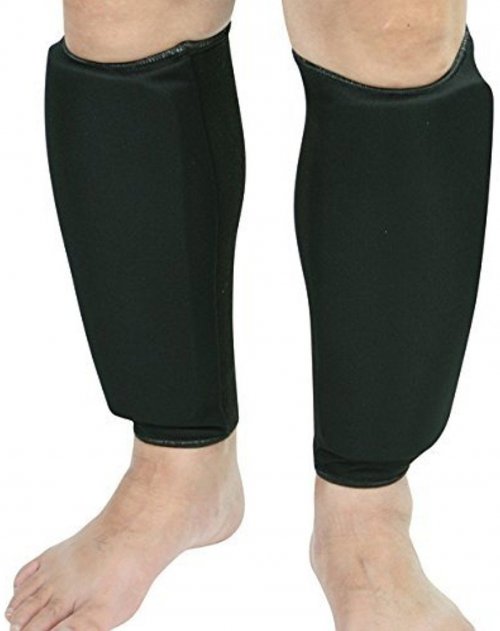 Best for beginners or someone who needs a no-frills, simple guard. There is coverage for both the shin and ankle giving you a boost in protection and the shin is covered all the way to the top. If you already have an injury, these can be used for that because of the extra padding. The construction is cloth for better flexibility and fit. These are machine washable for easy cleaning and care.
The padding on these guards are just right; not too thick or thin. These are free of any bulkiness or clunkiness while remaining very lightweight. Best for sparring activity that is light to medium, you'll have complete freedom wearing them while knowing you're protected.
While other synthetic materials have become popular in guards, the cloth is still the most common choice. What makes it great is it gives a lot of flexibility and provides a better fit. Some cloth guards even help with compression. A popular selection with martial arts types, you'll never be disappointed with this material.
They are very affordable but the trade off is they are very basic and simple. Great for kids, beginners, or someone who needs injury support but if you require more features, you should skip these. Don't confuse, however, simple and low-cost with cheap because these are far from it.

10

. Sanabul Essential Hybrid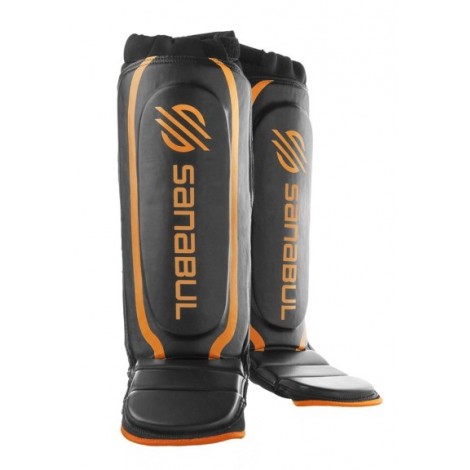 This Sanabul model is in high demand because it works equally well for kickboxing or for MMA. The High-Impact protection foam was developed to provide excellent protection for your shins while sparring. They feature a neoprene slip-on design with a top leg fastener and also a proprietary mid-leg fastener, and offer high durability, being triple-stitched throughout the entire guard for reinforcement and durability.
To ensure that they stay in place during heavy sparring activity, they feature a mid-leg fastener to maintain a snug and comfortable fit. The specially developed High-Impact Protection Foam design of the Sanabul Essential Hybrid is great for efficient impact absorption.
At the higher end of the pricing range, these Sanabul Hybrids are justified by users who say they would pay twice as much for the quality.

Subscribe to our Newsletter