10 Best Panda Shoes And Slippers Reviewed For Their Cute Factor
In a Hurry? Editors choice: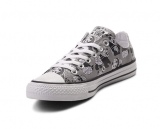 Test Winner: Converse All Star

Of all the bears in the world, most would be hard-pressed to find one cuter than the giant panda. With their striking black and white coloring, to their fuzzy little tail, these sweet natives of south-central Asia are hard not to love. When they aren't enthusiastically snacking on bamboo, they are cuddling up for much-needed naps throughout the day.
Luckily, adorable animal prints are currently all the rage. In recent years, we have seen some new additions to our standard, more
traditional prints
. Whether they be on
fun accessories
that bring out your
wild side
or even your favorite pair of shoes! This list has options for anything, whether you're the type to just want to keep cozy on a cold winter night or strut your style with eye-catching wardrobe additions.
Standout Picks
Criteria Used for Evaluation
Style
No one would want to wear panda slippers if you can't even tell what they are intended to look like. Even if you want to experiment with a more subtle print, it should be clear the animal is the same one you're trying to represent. The traditional black and white coloring of the bear makes any rendition of it in shoes a standout, but the detail is important when choosing your new pair. Every panda on this list looks different, but they share the iconic image of a panda all the same.
That is what you want when you're searching for a Panda piece. From cute black ears to their chubby bodies and sad eyes, you don't want admirers to miss any of these features when wearing a nod to them. With options like these, they will never have to!
Comfort
Around here, we don't want a single shoe-wearer to have to suffer for their fashion choices. This is why every single piece here is insanely comfortable. Most featuring some kind of memory foam or specialized foam insole, you are going to feel great in every possible pair you can get your hands on, or your feet in, rather. With contoured options to hug every curve from your heel to your ball of the foot, you won't regret wearing these bear inspired beauties.
Dedicated to providing designs that cater to your paws, we know you'll find something to love on our list. To assess each of the products on our list for comfort, we not only read through thousands of customer reviews on our recommended products, but we also looked for some of the hallmarks of quality construction. From brand name reputation to a thick, cushioned midsole, there are a few ways of identifying a well-built, supportive product, and we've found them for you!
Upper
For our sneaker, slip-on, mary jane, and wedge options, we wanted to show you how an animal print can be versatile and wearable without being dubbed "too much". With slippers, you can really let out your wild side, sliding into a stuffed animal for your feet every time you're hanging out around the house, but you want something you can actually wear out when it comes to shoe options.
When selecting this list, we paid close attention to not only what would best express your personality, but also what could be worn with an array of outfits. From wedges and mary janes that you can strap on to add a bit of attitude to a more traditional dress, to sneakers that would complete any laid-back look of jeans and leggings. The slippers are all very expressive, but also provide everything you want in a high-quality house shoe.
Special attention was paid to find the balance to provide footwear that puts the fun in functional.
Breathability
A shoe that breathes is critical to providing the wearer a comfortable and healthy experience when sporting a pair of shoes, sandals or boots. A lack of breathability will create a wet and humid foot, leading to discomfort and possible fungal or bacterial infections that are painful and difficult to cure.
How does a manufacturer ensure their product will allow maximum airflow? There are several ways to achieve this, including using special fabrics in the upper of the product, lining the midsole with moisture-wicking technologies and finally, the good old use of perforations of holes throughout the product.
If a product scores high on this metric, the buyer can rest assured that the manufacturer has used some or all of the above techniques to ensure the wearer a comfortable and dry wearing experience.
Fit
We all know how hard it can be sometimes to find the perfect pair of shoes that we not only love, but that also fit snugly and comfortably. With so many styles, brands, colors and models, how can one compare hundreds of supposed "size 6s"?
To assess for trueness-to-size, we considered the opinions of thousands of wearers from across the globe to find out the answer to the ultimate question: do these 6s fit like a 6? While some things can give you a hint as to whether they will fit true, small or large; like brand name, shoe type and year of make; we believe that the opinion of buyers cannot be wrong. If they say the shoe doesn't fit the way it's supposed to, then you won't find it in our 10-best list.
Top 10 Panda Shoes and Slippers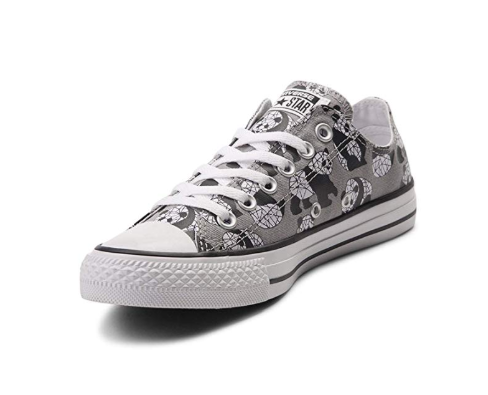 Converse has been making shoes for over a century, and their iconic all star has been at the forefront of their brand's success. The company began with the Converse Rubber Shoe Company factory in 1908, but it wasn't until nine years later that the first All Star was produced. Popularized by a basketball player by the name of Chuck Taylor in the 1920s, it wasn't long before these shoes moved from the court onto the pavement. Converse has become integral streetwear for people from all walks of life, young and old. If you haven't owned a pair yet, now is your chance!
Ortholite Insoles
Ortholite is a material used by multiple top shoe brands to include moisture wicking, comfortable interiors in your favorite shoes. Not only does Ortholite use a proprietary polyurethane material with recycled rubber designed to be eco-friendly, as well as sustainable, but it is also extremely comfortable. The light, thin, and slightly cushioned feel is perfect for shoes with streamlined profiles. This open-cell foam is nearly 100 percent breathable, keeping your foot cool. The moisture management element ensures a healthier shoe environment. This cuts on both smell, and foot health concerns. Also, to add icing on the cake, you can throw them in the washing machine whenever you feel they need a clean and they will come out good as new!
Vulcanized Rubber Sole
Due to the fact that Converse has an extremely flexible base and a canvas upper, the outsole flexes quite a big with every step. The Converse brand has been committed to all of their products featuring a vulcanized rubber sole for this reason. Vulcanizing rubber is a process which uses a heated mix of sulfur and natural rubber. The addition of sulfur alters the chemical composition of the rubber, making the bonds between the polymers stronger. This results in an extremely durable rubber that is frequently used in sneaker production. Often times the soles will be the first to go in many sneakers. That will not be the case with a pair of these All Stars.
Cost and Value
As with any well-known brand, the price is likely going to reflect their popularity. These Converse are a limited edition geometric panda print, and that fact allow does bring the price up just a bit. With Converse's consistency in the shoe game, however, you can rest easy knowing you are getting a cute addition to your shoe collection that is also high quality. Their ortholite inserts, breathable eyelets, vulcanized soles, and beautifully printed canvas upper, will all showcase your impeccable taste in both substance and style.

2

. Hot Chocolate Designs Chocolaticas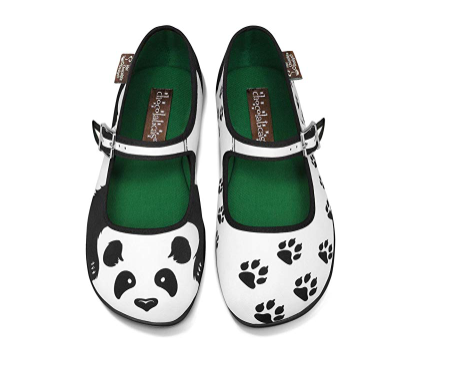 This Venezuelan company loves mixing it up. They began their footwear journey in 2004, and since have shown that they are not afraid to produce fun, innovative designs. These adorable mary janes are the perfect example of a playful foray into the animal print realm. They offer limited collections, inspired by their own nostalgia and love for vintage items. Get your hands on this terrific Panda bear style while you still can!
Padded Insoles
You wouldn't know it by looking at these sleek and sweet mary janes, but they have incredibly soft, comfortable padded insoles! In many flat styles, designers opt for that barely there look rather than having any additional padding. Hot Chocolate Designs knows the importance of including this feature in their shoes. A great options for teachers or moms on the go, these easy to wear mary janes provide everything you need in leisure wear.
Unique Asymmetrical Print
While most shoes are perfect pairs, these mary janes break that mold. Their cute mix and match appearance features one side adorned with sweet paw prints, and another featuring a cheery panda face. Many brands don't nail this type of style easily, but the overall appearance of these panda shoes proves that Hot Chocolate Designs hit it out of the park. You can flaunt both your personal style and the artistic design of this pick everywhere you go!
Cost and Value
Moderately priced and well worth it, Hot Chocolate Designs is an up and coming brand providing you with your new favorite shoes. The casual look of these sweet mary janes coupled with their comfy base makes for a sweet deal, no pun intended. With thick, breathable uppers and reinforced outsoles, you're sure to get plenty of wear out of this panda pair. With their short runs on fun prints, you're also getting one of a limited lot, which guarantees you'll stand out from the crowd!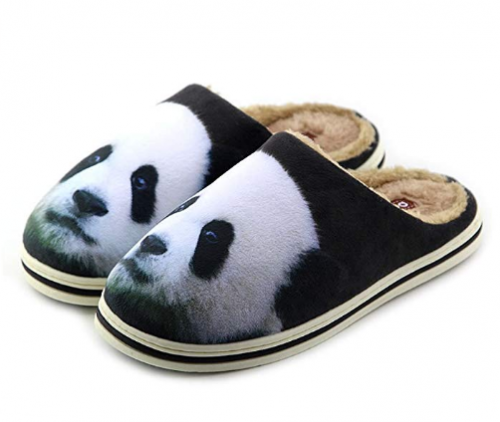 Happy E-Life is a jack of all trades brand that provides affordable, quality options for their consumers. Their selection of apparel and accessories has a large range of styles and products loved by consumers. This is a brand that is sure to please, and they offer anything your heart could possibly desire. Check out Happy E-Life's slipper collection and you won't be disappointed!
Warm Thick Lining
Who doesn't love slipping into a warm, fuzzy slipper at the end of a long day? This clog type slipper features an open back for easy on and off, and it has thick, curly lining that gives you the feel of genuine shearling without the guilt. Contrasted tan fuzzy lining looks natural against the black and white upper of the shoe.
Hard Sneaker Sole
All the convenience of a relaxed slip one house slipper, with all the structure of a tennis shoe! Happy E-Life brings us this sweet printed panda face and soft upper with a hard tennis shoe sole. The sole has horizontal slots for flexibility, as well as a black line that cuts across the start white base to add contrast and style.
Cost and Value
As affordable as it is practical, this slipper can be yours at an amazing price. The hard sole and super warm lining is a win for anyone looking to get cozy. Add in the slip on, clog design and a soft velvet upper, this is a steal! The slipper features high quality construction that can't be beat. Definitely worth slipping into as soon as possible!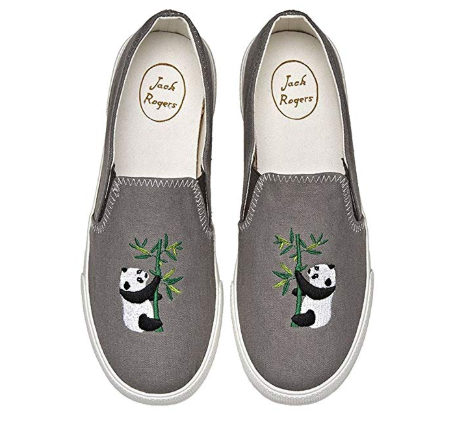 Simple, colorful, and timeless. These are just a few of the words that come to mind thinking of the Jack Rogers brand. Starting as a resort-style manufacturer in the 60s, Jack Rogers has grown to include pieces fit for any season, any country, any style. The isle of Capri breathed life into the brand, lending its carefree vibe to designs, as well as adding an element of jet-setting glamour. Heavily inspired by the grace of Jackie O, this brand definitely knows a thing  or two about leaving an impression.
Cushioned Arch Support
Something that many casual slip-ons lack is arch support, so any time it is offered in a low profile shoe, it is coveted. Jack Rogers made this gorgeous grey slip-on with your feet in mind. More arch support means a more comfortable shoe, as well as improved posture and decreased strain on your legs and back. You can rock this slim silhouette with your favorite jeans and a cute tee, and feel great every minute while flaunting your style.
Subtle Embroidered Detail
When talking about shoes with animal themes, it can be easy to become concerned with showcasing your unique love of animals, while maintaining an air of maturity. This is the Panda shoe for you if you want something that is a subtle ode to these bears, while still having a composed, stylish appearance.
Cost and Value
Seldomly will you find a pair of sleek tennis shoes at a price that hit you where it hurts: your wallet. Luckily, Jack Rogers takes some of the guesswork out of finding a great casual shoe at a great price. The precious embroidered panda details are just icing on the cake of this slip-on. Including arch support, sleek lines, and a beautiful grey canvas upper, you won't regret adding this beauty into your closet.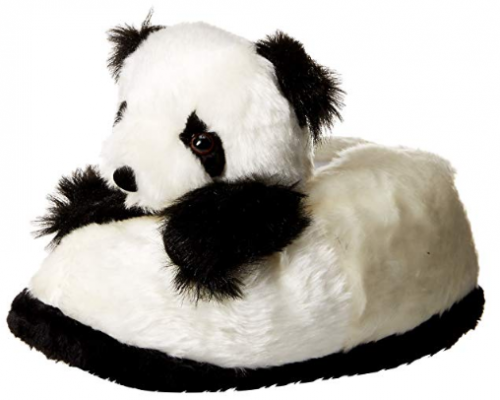 Happy Feet Slippers is a family oriented business that cares about both their consumers and their employees. Though they began in 1996, with a dedication to creating the comfiest and most high quality slippers they could, they needed a little boost to get their brand to be a household name. After appearing on Shark Tank, they were able to expand their business to reach even further than ever before. They had a concept for imaginative, comfortable, full coverage slippers in a wide variety of animal themes. Their adorable Panda variation was a necessary addition to our list.
Dense Foam Rubber Sole
The soles of these slippers are insanely thick, making sure to cushion your feet with a pillow of comfort with every step. In addition to their non slip sole these slippers are guaranteed to become a favorite of your slipper collection. The foam base is made of a rubber that has been combined with a foaming agent. This helps to create an air-filled base structure which will make you feel like you are literally walking on air.
Incredibly Detailed Upper
Screen printed or stitched panda patterns are nothing to scoff at, but sometimes you are looking for a little bit more flair in your options. This Panda slipper has fine detail that brings the animal it is celebrating to life. The slippers are adorned with soulful brown eyes, a pair of fuzzy, long haired ears, and the same fabric for the bears resting arms. This is nearly a plushie with its attention to detail, but made with the same care of a high quality house slipper.
Cost and Value
An adorable look for an obtainable price. While many slippers within a reasonable range have a flimsy thin sole and minimal coverage, these don't fall victim to either fallacy. They have quite the padding and lift, and have all around coverage. Designed to keep your feet warm and supported any time of year.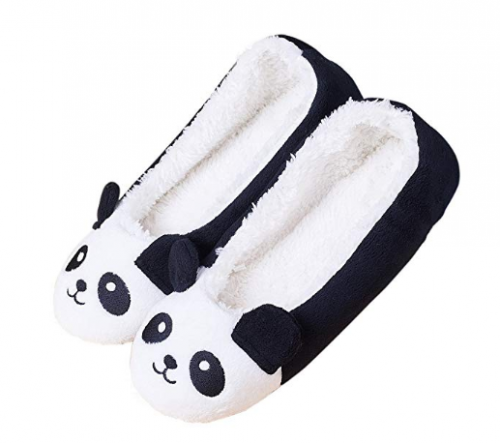 This youthful brand loves offering up adorable styles of slippers for the whole family. Evident in their slogan, "the greatest happiness is to be with family," La Plage wants to have great, stylish options of slippers for every member. With styles for the whole family, this brand is sure to become a fast favorite. With their customers in mind, La Plage hopes to bring a smile to your family's faces.
Ballet Flat Style
This panda style is constructed like a cute little flat. Unlike many slippers which are generally pretty heavy for cold weather, this slipper exposes the instep with a low profile and silhouette. The result is a slipper which is quirky, but with the addition of sophisticated design elements. The perfect addition to mix things up in anyone's slipper collection!
Fleece and Cotton Blend Lining
La Plage constructed these slippers to be a bit lighter than most, with the shallow upper and low rise toe box. This makes this a great year round indoor slipper, but fleece is a bit heavy for every season. That is wear the cotton blend lining comes in, with normal fleece, it traps in moisture and heat, which can make for quite a smelly situation. The breathable cotton will will help wick away moisture before the odors can start.
Cost and Value
If your panda toes don't make you smile, this price will. These slippers by La Plage are an amazing value. They are stylish and contemporary, easy to wear and clean, and at a fraction of the price of similarly designed options. With genuine leather in the sole, soft cushioning, and a non-slip sole, you're bound to fall in love with these sweet slips.

7

. Bernie Mev Halle Wedge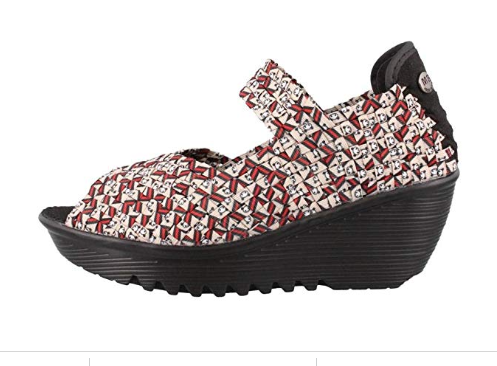 Bernie Mev began in 1974, offering contemporary footwear domestically in the U.S. After a partnership in 2008, Bernie Mev grew exponentially. Now a lifestyle brand all over the world, they have become known for their woven technology. Style is always at the forefront of every design, but not without considering every foot that wears their unique designs. The signature woven uppers move with you, reducing strain on your feet, ankles, and legs. The wedge on these will even help improve posture!
Breathable Woven Upper
This brand names themselves the "masters of woven footwear" and when you slide into these beautiful wedges, you will soon know why. Their handwoven tech and base construction allows their shoes to react to every step you take. This provides optimal comfort and support when you're showing off your style on the town. Innovators in their woven design, this wedge is breathable, flexible, and simply exquisite to wear. A woven upper lends additional style to their subtle panda print.
Removable Memory Foam Insert
No one wants to wear a stiff, uncomfortable wedge all night, and with this Bernie Mev, you won't have to. With soles that contour to the foot, as well as providing memory foam support for your arch, heel, and ball of foot, you are going to feel even better than you look when stepping out. With a thick wedge heel, you can gain height without the pain of a pump. Coupled with its super soft cushioned insole and sturdy base, this shoe will give your feet five star treatment.
Cost and Value
Beauties like these are not easy to come by. Handwoven detailing adds a personalized element to an already gorgeous printed material. Their thick lined wedge heel is heavy enough to keep you stable, but light enough to wear all day with ease. The upper moves along with you, and their padded, sculpted in sole will make you feel like you're walking on a cloud. A fun print tops off the look completely. Moderate pricing and innovative design come together to make this coveted wedge.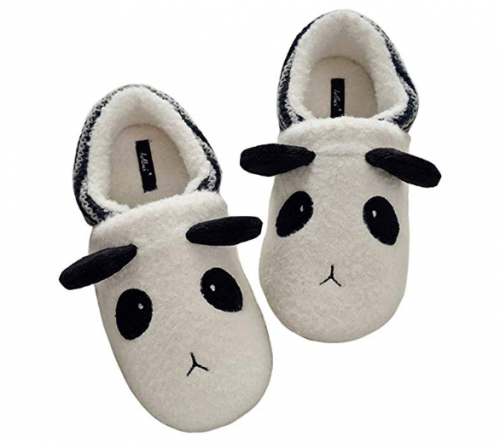 Always putting their best foot forward, Halluci offers designs that are downright whimsical. While the brand has both elegant and simple choices, as well as imaginative ones, one thing is consistently clear: they love their customers. From reimagined animal slipper classics to straight to business bedroom slippers, Halluci knows how to please the masses. Take a look through some of their collections, and you will soon fall in love!
Fixed Shoe Shape
When slippers are low coverage with a thin upper, they can often warp with wear. Halluci came up with a solution, they exaggerated the stitching where the instep meets the sides, and have created a solid fixed shoe shape. While you can't tell with them on your feet, they are designed to keep shape and hold up to long term wear. No more floppy slippers that are a hassle to keep on your foot.
Waterproof Sole
Waterproof features aren't generally that looked at when considering indoor slippers, but because they are so functional, including them is always a plus. The sole of this slipper is waterproof and non-slip. The perfect slipper for cooking, or slipping on out of a steamy shower. Both functional and fashionable, this sweet design is ready to become a part of your shoe family.
Cost and Value
Don't miss out of these slippers, they go for a price that is hard to pass up! The structured upper, sly stitched smile, and perky little ears make this panda slip on functional and fashionable. They have a unique shape similar to a loafer, and offer hours of comfort and warmth to the wearer. With a waterproof sole, the price is well worth what you are getting.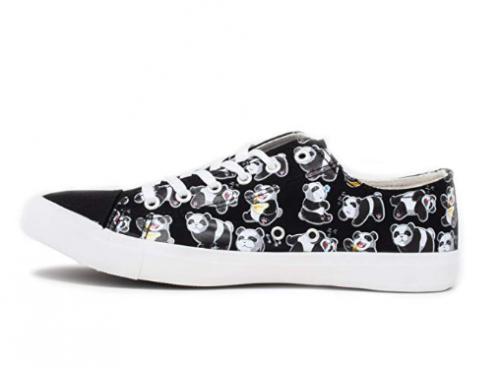 A brand that began with a carjacking that ended in a settlement buying a tshirt press, their history is as unique as their products. Initially beginning sales out of their dorm in Ann Arbor, they revitalized their company following their graduation. Ann Arbor soon tested their skill in other areas, making a name for themselves as a supplier for colleges, greek life, and numerous other organizations. From screenprinting to embroidery, every product they put out has a consistent quality made with the best materials accessible.
Carefree Canvas style
The age old classic tennis shoe, this Ann Arbor includes a thick, cotton canvas upper, with the laid back sneaker style you have come to love. Classics become classics for a reason, and this shoe is a super easy to wear style you will fall in love with. Due to it being cotton, this shoe is super breathable, and it's low profile makes it work with full length or cropped style pants. Perfect shoe to take you into summer, or anytime you want to add a splash of excitement to an outfit.
Unique Illustration
Michigan Artists and Printers bring you the exclusive panda illustration on this cool pair. The easy to wear unisex style that works with jeans, yoga pants, or even a dress is adorned with quite a creative flair! The shoe shows a panda enjoying noodles, rolling around, and smiling at the wearer. This design is sure to start a conversation. Unique details like this add a creative element into your favorite outfits.
Cost and Value
Similar styles with vulcanized rubber bases and thick canvas uppers go for rates similar to many high performance athletic sneakers. These cute panda sneakers are posted at a price that is easy to love. With eyelet details for ventilation, metal accents on the laces, and a reinforced canvas toe, most would jump at the opportunity to own them at their price point.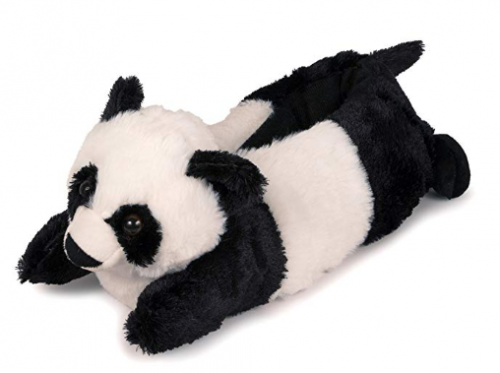 What could be better than wearing a stuffed animal on your feet? According to Lazy Paws, not much. This brand makes several full body representations of your favorite animals to wear on your feet. If you are interested in a cute, warm, and accurate representation of your animal friends, look no further. Put a little extra skip in your step when you're stepping in Lazy Paws.
Easy to Clean
As with any shoe that is predominantly white, cleaning can be a real hassle. We often struggle to figure out how to keep slippers pristine, without ruining the look of them. Have no fear, luckily, these little bears are as easy to clean as they are on the eyes! You can toss them in the wash and just air dry, or spot clean, but either way they will be looking new in less time than it takes to say "the perfect slippers!".
Full Bear Design
It's is almost as if you're wearing a stuffed animal on your feet! This slipper features the regal panda in a belly down position, ready to go for a tummy slide all over your house. This fully completed panda concept is so fun. Once you put them on, you definitely won't want to take them off! Guaranteed to bring joy to whoever is wearing them, these pandas are a real treat.
Cost and Value
You would imagine buying essentially two full plushies to wear on your feet might end up being a little pricey, but  think again. You can get these babies for less than an actual stuffed animal would cost! With details for days and adorable little splayed out back legs, this option is too precious for words. Worth every penny with their heavy padding and full coverage upper, these slippers offer a reasonable way to display your love for this two-tone bear.

Subscribe to our Newsletter