Best Osiris Shoes Reviewed & Rated for Performance
In a Hurry? Editors choice: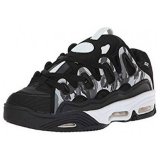 Test Winner: D3

Started in 1996, Osiris was founded as a reaction to the growing need of
quality skateboarding gear
for both enthusiasts and professionals. In the past two and a half decades, they've managed to become one of the leading brands for skate and lifestyle shoes and clothing, and some of their footwear has come to have an almost iconic status.
The brand's shoe models are perfect for everyday wear, seeing that they provide padded, protective comfort with quality soles and adjustable closure systems. If you're after
something for skateboarding
, you can take a look at some of their professional models, and you'll surely find something that will
tick all the boxes
.
Below, you'll find the top 10 shoe made by Osiris, available for purchase.
Standout Picks
Criteria Used for Evaluation
Use
The purpose of skating shoes is, you guessed it, helping you skate better and more safely. They can help you do more tricks, and provide you with support and security. But, how exactly do you choose a pair that can best help heighten your skills? Here are a few things you should know:
Your style of skating - Today, you can choose from many different types of board, which have different skating styles and tricks. Which one you choose will determine what sneakers are right for you!
Different available styles - there are two types: cupsoles and vulcanized. Cupsoles will protect your feet against heavy impact, and vulcanized shoes help you have better control when you perform tricks. Vulcanized shoes are slimmer, lighter and more flexible, while cupsoles have more cushioning and are generally heavier and chunkier.
Cushioning - there are many kinds of cushioning available today, and you should learn which one is best fit for your skateboarding needs. The types of outsole, midsole, and insole are all important, and of course, added heel and ankle cushions provide more stability and fewer blisters on your sensitive skin.
Durability - most durable pairs come with similar key features, such as lace guards, which prevent you from going through your laces way too fast; reinforced upper, in the form of stitching, that helps with wear and tear and lastly the outer sole, that serves as a contact point between the skater and the board itself, and should be made from gum rubber because it has a better grip.
Knowing all this, choosing a shoe with a skating purpose should be easy enough!
Fit
It should be apparent why a proper fit is important when choosing skating shoes. You don't want your sneakers to fly away, free like a bird, when you attempt to do a trick, right? Of course, ill-fitting shoes can increase one's chances for injury and later foot problems. Over time, shoes lose their stability and the way they absorb shock changes - which is a very important aspect of skating apparel! If you want to do something as active and exhilarating as skating, you should get proper fits which prevent injury and added insult.
Why exactly is a proper fit so important? Here are a few things you should think about:
Shoes that do not fit properly are the main cause of ankle and foot injuries, common foot problems and many other feet related health problems.
Ensuring an ideal fit is all about arch support, the proper width, height, and length which all play a role in your performance.
If you have unsightly, black nails and painful foot cramps, it's time to change your fit!
If you decide to cover long distances with your skates, you should choose a shoe that has more length, and if you decide to go with tricks, you should choose a sturdier, more durable shoe.
Whether or not you decide to skate for a long time, a good, properly fitted shoe will help you go a long way, pushing you to greater heights!
Outsole
While lately, Osiris has become popular among those looking for padded, protective sneakers they can wear on all casual occasions, they were initially designed to serve the skateboarding community who needed a shoe superior in terms of protection, grip and abrasion resistance. This initial purpose is still present in all Osiris shoes, even though they've moved away from athletic styles and started focusing more on lifestyle wear.
The first thing you'll notice about their models is that all shoes feature a rubber outsole. While some are made with gum rubber - a natural compound that performs better in terms of providing grip on the surface below, as well as in terms of protecting your flooring as it's non marking - others feature regular rubber that's been dyed to give your footwear a stylistic pop.
Most models listed above feature a herringbone pattern, mainly used in tennis and basketball shoes, and this is something that's proven to be quite successful in the past. While providing plenty of lugs to grip any surface, this pattern won't stick to the top of your skateboard, allowing you to perform any trick, without having to worry about your shoes runing your chances even before you've begun.
Another thing to consider is that the majority of styles listed above has the outsole stitched to the upper in order to prevent glue failures and provide a higher level of durability. The downside for this, however, is the fact that these won't perform well in wet conditions, and you're most likely to get your feet wet if you happen to find yourself in rain, or step into a puddle.
Last but not least, as with any pair of footwear, durability is key. Osiris outsoles are made with abrasion resistant compounds that won't show signs of wear even if you spend most of your time walking on concrete or with your feet in contact with the sandpaper on a skateboard. Do note, however, that once the traction pattern has become flat or worn, you won't be getting the same performance as you did when these were brand new.
Upper
Whether you're looking at Osiris shoes because you want something to skateboard in, or are just looking for a pair of good looking everyday sneakers, you'll notice that all of their styles feature plentiful padding, and carefully placed perforations to maximize your comfort while wearing them. Add to this the variety of lacing systems, and you get a number of styles that can work for all types of feet, all you have to do is find the perfect pair.
The thing that makes Osiris shoes a great choice is the combination of materials used in the upper - thier footwear is built for durability, without unnecessarily bringing up prices. This is why you'll find that most of their footwear combines synthetic leather and suede with textile, mesh, and even the real deal genuine leather. These materials won't show signs of wear as quickly as traditionally used ones, plus will stand up better to harsh conditions (such as those you need to expect if skateboarding).
Another feature you can expect from Osiris models are perforations and mesh inserts that improve the overall breathability of the shoe. Most models will have perforated uppers that allow fresh and dry air to enter, either at the top of the toe, or at the sides. The highest rated models also have padded mesh tongues, making them a good option even for hot weather where you might expect your feet to sweat more.
Textile and mesh linings are a great option for those who tend to sweat (or just work out really hard), as they allow moisture to be moved away from your feet, keeping you dry throughout the day. This can even contribute to the prevention of odors inside your shoes, so if that's something you have to deal with, this brand is a good choice.
Do note, however, that Osiris shoes won't do well in rain. First and foremost, because of the perforations in the upper, as well as the construction that does not make them suitable for wear around water. Secondly, note that if your footwear does get soaked, it'll take slightly more for then to dry than regular canvas or running shoes, seeing that they're more bulky. Never put them in direct sunlight, in the dryer or near a direct source of heat. Instead, to thoroughly dry them, make sure they're in a well-ventilated space - to ensure they retain their shape, you can stuff them with newspapers.
Flexibility
When doing sports which require a high amount of flexibility and energy from you, it is only logical to conclude that your shoes should be flexible as well. Choosing a shoe that bends the way your foot does will ensure that you will not end up with injuries and sore muscles and joints. Flexible soles will make it seem as if you are going barefoot, compared to stiff and hard outsoles.
Skateboarding footwear, however, was made specifically with protection in mind, so if you're after something that will move with you, you're definitely looking in the wrong direction. Being primarily a company who focuses on skate gear, osiris makes bulky footwear that will allow you to perform tricks, finish hard landings, and overall keep you on your board no matter what.
The level of flexibility you should be looking at greatly depends on what you plan on doing in your shoes. If you're after a style that you'll wear to school, work, or on days off, then go for the more lightweight models that allow your feet to move naturally. If you want something to skate or mountain bike in, then definitely choose sturdier models as you'll need the protection.
Top 10 Osiris Shoes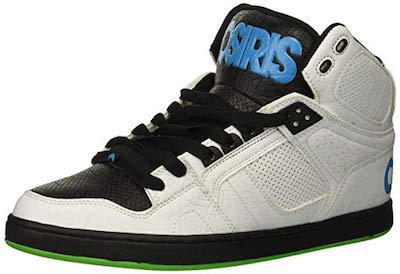 These high tops are one of those iconic skateboarding shoes you'll definitely see at the park or around town. One for the brand's most protective styles, this model has been around for years, and no matter which version you opt for, you won't make a mistake. The NYC83 CLK comes in a variety of color options, and is one of those stylish shoes you'll love wearing all the time, regardless of the occasion.
Ample Padding
Not only does this model feature a padded tongue, that you've already gotten used to, but it also covers your ankles through a high top design that'll offer you the protection you need when practicing new tricks. The lacing system is fully customizable, giving you the perfect, supportive fit you won't have to worry about.
Cushioning
In addition to a molded EVA foam cupsole, this model features an EVA insole that'll absorb shock, provide you with a better fit, and won't weigh you down. Additionally, you can count on this shoe lasting for quite some time, thanks to the abrasion resistant outsole we've all come to expect from Osiris.
Cost and Value
This is one of the brand's more expensive models, and that's to be expected considering that it's become an icon in the category of skate shoes. You'll be paying extra for the patent leather overlays that increase durability, as well as the higher top for added protection.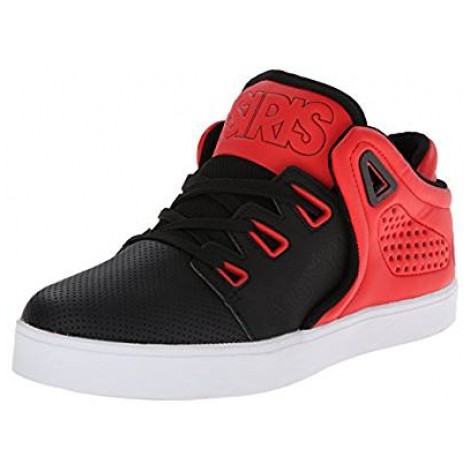 The perfectly contrasting colors accentuate these skater shoes just the right amount. They will make your sides look wider while the front will appear slimmer, which is really good for people who have wider feet because it makes the foot look skinnier and smaller! The eyelets are a triangle shape, and also contrast the background lovely. Reinforced high abrasion areas give superior durability to these sneakers, so you won't need to change them out often! The padded tongue is light, and the collar is padded as well for added comfort and stability. The outsole rubber is abrasion resistant, so you won't fall over and end up injured.
Triangle eyelets
Usually, eyelets are a circular shape, with only one purpose - for the laces to go through so you can secure them better. Redesigned eyelets add a beautiful eye-catching detail and a much easier way to pull the laces through the bigger holes! If you want a shoe with a very unique detail added to them then these would be just the right fit for you.
Iconic Styling
There is no way to mistake Osiris shoes for something else (unless you are dealing with knock-offs)! They have a unique shape, coloring, and purpose. And that oversized logo will alleviate any kind of doubts about the company you may have. So, if you want people to know what you wear right away, and skip that boring part of the small talk, consider buying Osiris skate-shoes!
Cost and Value
This is the second priciest item on our list. Some of you may not want to invest so much in a shoe that really doesn't have that much to offer, only good looks and iconic style. But the sneaker has reinforced durability, and if you chip out a few extra for them, you won't need to switch them out too often!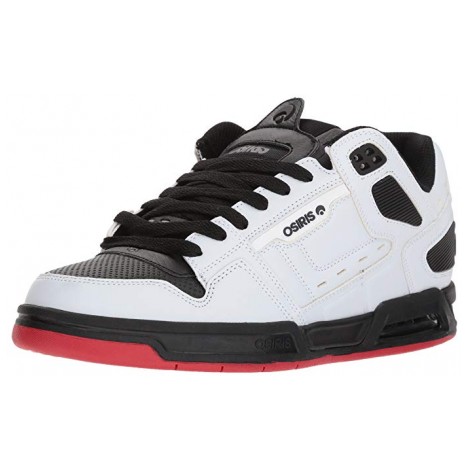 These combine a lot of colors and different patterns for a unique style. Starting from the bottom, the outsole is a flashy, vibrant red, that gives the Peril just the right amount of sass. The sides are white, and the upper is black, with perforations, which gives your feet enough air to go on through the day. There are a lot of decorative stitches, which not only give the shoe more stability and durability but also act as interesting bits and pieces. There are extra eyelets near the padded tongue and collar, so you can firm your foot, even more, thus ensuring you don't lose your skaters somewhere along the way!
Extra Stitching
Having sports footwear that won't fall apart after a tough day is very rewarding. It means that you save money, and time too because you don't need to waste it searching for a new pair. Added stitching is a cool detail, but also a way to improve the integrity and durability of the shoe!
Red outsole
The red color is the perfect way to add life to a black and white design! It is really an eye-catcher, and it's extra flashy when you jump - you can see nothing else but that vibrant red!
Cost and Value
One of the pricier sneakers on the list, and it's all for their marvelous design and the way the colors match! There is nothing more rewarding than looking down at your feet and finding the optimal pair hugging you!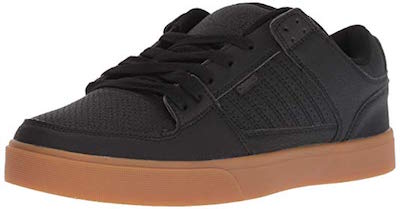 The Protocol is perfect for those who want a protective sneaker, but need a bit more wiggle room in the toe area. With a design that was developed in order to allow for greater freedom in finding the perfect fit, this is a great shoe that you can wear both on casual occasions, as well as for athletic use.
Combination Lacing System
The lacing system on this model is more versatile than any other Osiris sneaker, with a supportive midfoot section that wraps around your foot giving you the lateral stability you need for executing all your favorite tricks.
Gum Rubber Sole
These come in a variety of sole versions, but for the best possible performance, we recommend those with the gum rubber sole, as it's a natural material with more grip, plus it's non-marking, so you can wear the Protocol indoors as well, without having to worry about ruining your floors.
Cost and Value
The price of the Protocol is slightly lower than average, which makes it a great option for those who want a good looking everyday shoe. They may not be ideal for those who intend to skate on a daily basis, but if you're looking for something that will serve multiple purposes, all while keeping you comfortable, then this is the model for you.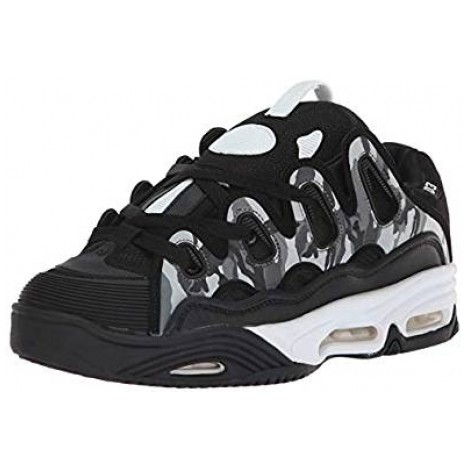 These are a great urban style hit! The upper material is mesh, and they are synthetic leather. They are a cupsole style, and of course, they have a padded collar and tongue. There are high abrasion areas on the outsole, protecting them against wear and tear. The camo detail adds to the urban style, and it can make you feel mighty and powerful! A combination lacing system is featured for an improved fit - it stabilizes your foot and makes your fit extra snug. The insoles are an EVA type, which improves the fit even more. And there is extra air in the insoles, which adds more comfort and cushioning!
Mesh upper
Mesh is a great synthetic material that provides your feet with just the right amount of air. when you get all hot and flustered from working out the whole day, that extra air will surely be a blessing. It may not be waterproof, but we are sure no one likes to skate in the rain!
Lacing system
It may take you a bit longer to lace up your shoes - you know, first, you have to guide them through the eyelets, and then you have to carefully crisscross them, otherwise, the length will be off and you won't be able to tie them up properly! But, laces are much better when it comes to adjustability. You can always tighten them or loosen them up if your feet swell up, or you just want more room on your shoe!
Cost and Value
Looking good and being purposeful comes at a high cost - this is the priciest item on our list. But these are an Osiris icon, ones that made them famous and well-known today, and it's only expected of them to be costly!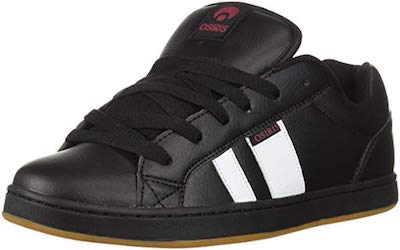 This models was designed to give you a throwback style that feels great, and is sure to perform awesome at the park as well. Available in a few versions, including an imitation leather one, you can count on this pair of sneakers to keep you protected and padded while you practice your kickflips, attend class, or just run your daily errands.
Breathability
This style is lined with mesh, and features perforations in the upper to ensure that you don't overheat, and that fresh air reaches your feet to keep you cool and dry, no matter how hard you're working. You'll definitely love the generously padded tongue that's not just protective, but also lightweight.
Rubber Outsole
The outsole on the Loot is abrasion resistant, meaning it won't show signs of wear after just a few skating sessions. The herringbone pattern offers excellent grip, both indoors and outdoors, and works well with the top of your board.
Cost and Value
This is an averagely priced pair of sneakers, that's perfect for those who want protection, but aren't ready to pay top dollar just to get genuine leather or suede. For those who don't like synthetics, a textile version is available as well, and you can opt for one of the numerous color options to show off your personal style.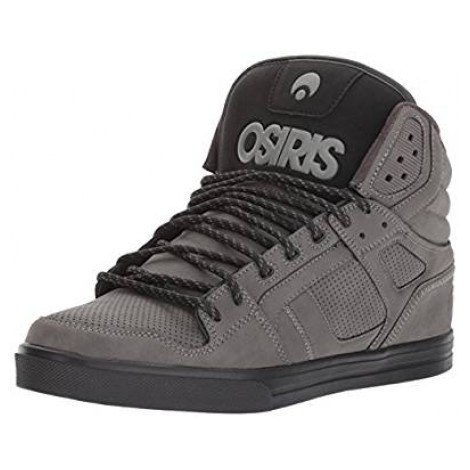 These textile perforated skate-shoes are the ideal when it comes to a breathable purpose shoe. The name suggests that the shoe is often imitated, which is true! A lot of companies try to steal the look, but they fail because the Clone is actually unique. You really can't miss the logo on these - they garnish the tongue and heel counter. The toe box is perforated, and the collar is padded. And of course, they would be nothing if they didn't have the abrasion resistant rubber outsole, great for durability and performance!
Perforated Toe-box
Sweaty feet are just the worst. And they are sure to be when you are nothing but active the whole day! So having a breathable shoe is one of the most important aspects you should look out for. And these do have just that! The perforated toe box ensures that your feet will get all the air they need!
Abrasion resistant rubber outsole
Rubber outsoles by themselves provide just enough traction for you not to lose your balance and grip. Adding abrasion resistance is a step towards perfect stability and balance, and also good looks! There is nothing more annoying than noticing your favorite brand new skate-shoes have an ugly scratch or break from just one day of skating! So if you want great looks and sublime performance, go for this pair!
Cost and Value
These are one of the priciest items on this list, but it's no surprise. Its one of their most recognizable pairs, and it comes with a lot of technologies. The added paddings and perforations make it one of the best good-looking shoes for skating!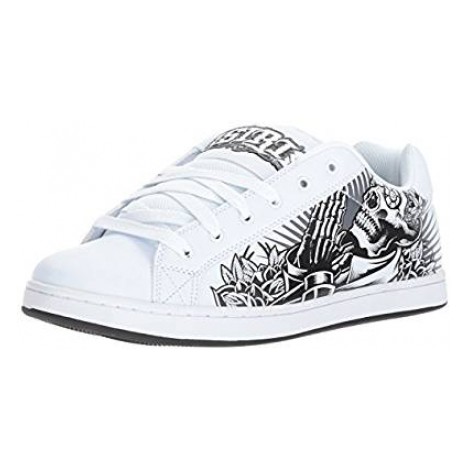 Adding a note of punk rock to your skating apparel! They are a solid color, with a rowdy skull, embellished with roses, added to the sides. They are chunky like proper skate shoes usually are. The material is suede, adding a dose of elegance to them. Of course, there is added padding to them, for a snug fit and the feel of walking on air. The outsole is a rubber that is both resistant and abrasive!
Rubber outsoles
Rubber is the best option for making outsoles. And why is that? Imagine this - you come across oil, or simply water. Which material will prove to be better, rubber, or say, a different type of plastic? Rubber, of course! Rubber provides a great amount of slip-resistance, so you never have to worry about falling!
Skull and Rose details
Did you ever want a tattoo, but never had the guts to do it? Does your little rocker heart just scream for more extravagant details? Well, you can always add with your footwear! Instead of having something permanent, you get two things for one price - intricate design and skating apparel!
Cost and Value
The Troma Redux continues to impress the crowds, both with the reinvented style and the great price! Being the cheapest item on the list, the Troma becomes one of the rarities that can be own by anyone at all! And you get a little bit extra on the side too - a strong statement with the praying skull!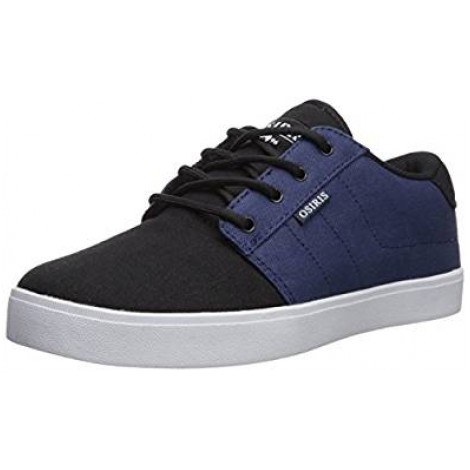 This is a more fashionable approach to the skating shoe - the textile sides are a sublime addition to an already elegant shoe. The laces are slim as well, so one could think that these were not made for skating at all, and that could be a right assumption. They miss the padding and the abrasion, so if you want to skate in the, be extra careful. They do, however, have a removable insole, so if you need extra padding you can always add it in! There is a selection of designs you can choose from, so you can always be on point with your whole outfit!
Removable insole
Having the option to change your insole once it wears off, without having to change the whole shoe, is a surefire way to save some cash. Also, it leaves you with the option of adding an insole of your choosing, so if the skate-shoes lack comfort or cushioning, you can always replace it.
Textile sides
Change is always welcome - sometimes just a subtle difference between the two materials can do the trick. Also, the textile is very light, breathable and can be washed easily, so having it somewhere where the footwear may get dirty a lot, and so near your soles is a big plus!
Cost and Value
A costly shoe, but without the opportunity to skate with them. Osiris went with a different approach here - they opted to have a more elegant, stylish shoe, instead of the more recognizable, chunky styles. So, if you want skating shoes just for the looks, this is the perfect choice for you.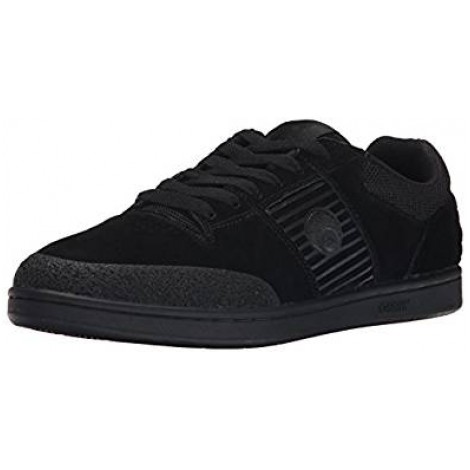 One more shoe with a slimmer design from Osiris. The shoe is synthetic, which makes it lightweight and flexible. They are a solid black, and black goes well with everything! The soles are rubber, and they are of course high abrasion. The tongue and collar are padded, cushioning your feet every step of the way. The logo is, instead of in writing, featured as just their circular design, which is a great minimalistic approach.
Black color
As we said, black goes well with just about anything you can imagine! You can combine it with any kind of pattern and design you like, and you don't need to worry about matching the color with the outfit, because they blend in like chameleons!
Minimalistic logo
Sometimes, we don't huge letters to take up half the space on out footwear. Instead, we opt out for smaller, simplistic designs. There are plenty of people who do not mind when the brand is not apparent, but with their design, Osiris shoes are recognizable even without the logo.
Cost and Value
These shoes are not so pricey, and they still offer the same things as all the other shoes do! Maybe the secret lies in the slimmer fit and low cut, a little bit less material was used when making them, thus lowering the overall cost.

Subscribe to our Newsletter