Best DVS Shoes Reviewed & Rated
In a Hurry? Editors choice: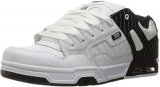 Test Winner: Enduro Heir

DVS Shoes is a world-renowned
skate shoe brand
that has been pumping out top-of-the-line performance skate shoes since 1995. Their brand puts a heavy focus on producing original and high-quality footwear that's an inspiration for youth to push forward and realize their dreams. The DVS brand offers skate,
snowboard
, surf, and
motorsport
apparel and footwear that is durable, stylish, and ready to ride with you as you knock out the competition.
Standout Picks
Criteria Used for Evaluation
Comfort
While selecting the DVS shoes to include in this list, careful consideration fell to the kind of comfort each selection provides. If your shoes aren't comfortable, it will affect every aspect of how well you carry out your athletic activities and can negatively impact your entire experience while practicing and performing. DVS is a brand that understands the vital importance of ensuring that a pair of shoes gives the wearer total comfort for every part of their foot and designs their products with this in mind. The following aspect weighed heavy in the comfort classifications on this page:
Padding
The padding of a shoe designed for athletic use should provide a stable and comforting level of padding to prevent foot pain and protect from ground level hazards. At the same time, cushioning that's too thick can cause unwanted problems like a limited range of motion and can weigh your feet down which impairs performance and reaction time. DVS performance footwear is designed using padding that's an appropriate weight and thickness to enhance your performance and increase reaction times.
Insole
The insole is where your foot rests and needs to provide enough support and cushion to prevent foot fatigue and pain in the legs and arch of the foot. While a shoe needs a buffer, it also needs to be lightweight, so it doesn't impede your overall performance. DVS shoes are constructed using EVA as a midsole material, which is an ideal choice for performance and skateboard inspired shoes. EVA is a flexible manmade foam that provides a comfortable cushion while maintaining a relatively thin composition.
The insole is a vital part of the construction of a shoe and was taken into consideration when selecting the footwear for inclusion on this page. The footbed is responsible for keeping your feet comfortable and can also play a part in moisture and odor control, which is why it's essential that your new pair of shoes have a properly constructed insole. If your shoes do not have this, then you can purchase an insole separately and fit it inside of your shoes for additional comfort.
Breathability
Odors happen, especially when you're wearing a shoe while sweating, a buildup of sweat leads to the growth of mold and mildews, which are one of the leading causes of shoe and foot odors. A major contributing factor to sweaty feet is a shoe that offers limited breathability causing your feet to overheat, which is why the material of a shoe is a vital element.
Some of the most breathable materials for a shoe are mesh, rubber, and leather, which all allow for airflow to reach and circulate the foot. Another great feature to prevent odors and moisture are ventilation holes built-in to the shoes upper.
There are also separate powders and sprays which can be purchased for an extra level of moisture and odor control. These products act like a sponge to absorb excess moisture from the shoe and foot, while also deodorizing the inside of the shoe to prevent a build-up of odor-causing bacteria.
Effectiveness
Performance is a predominant part of an athletic style shoe that's impacted by lots of different factors. Everything from the overall weight of a shoe to the kind of outsole it has can massively affect the way the shoe handles and how well you can accomplish what you've set out to do. The following are noteworthy performance aspects:
Weight
If your kicks are too heavy, they are going to slow you down and affect how well you move negatively. Lightweight footwear is ideal for any athletic activity, whether it's running, walking, skateboarding, or surfing, any physical activity is going to require the right pair of shoes to get the job done right. DVS shoes are designed for the lightest overall weight and include design features like mesh or textile-upper units and EVA midsole material which make for a featherweight feel.
Tread/Grip
The traction of a shoe is significant for safety as well as for your assurance while performing.
Tread shape is another important aspect of what may be the difference between staying on your board and slipping off, per se. This is why DVS has varying differences in its traction patterns; including the spiraled outsole for improved grip. The more sought-after pattern in their shoes, however, is the herringbone. Shaped like a 'W,' the pattern works well at providing the perfect mix between slip and grip. You might not notice this if only riding your skateboard in a plain-Jane style without tricks. But soon as you enter into your first ollie or kickflip, you will immediately notice the advantage to this traction pattern. You will find that your foot releases in a more natural feel but still re-grabs the board when you need it the most.
At the end of the day, this gives you more stability and safety during your ride. With the spiraled pattern, you gain more grip. This, in turn, allows you to enter into your tricks with a bit more grab, per se. This is ideal for launching into the air from a halfpipe or landing on rails. When it is all said and done, you might want to try out both of these technologies to see what works best for you as a rider. After all, everyone has a little different style and may need varying traction, as a result.
Flexibility
Flexibility is a major factor, especially while utilizing tricks while on your board. If you know what it means to ollie or to perform a 360 hardflip, then you are already aware of how important flexibility truly is. Attempting to perform these same tricks in a pair of wooden clogs could cause serious injury, as it were. And although this is somewhat extreme as a comparison, the need for flexibility is paramount in providing you safety and, also, giving you the proper care for your feet and ankles.
DVS is great at giving you the correct amount of flexibility while, also, maintaining a certain degree of rigidity. By doing this, the company can offer the wearer a complete package for the skateboarding experience.
These performance-related aspects were some of the things taken into consideration during the selection process and are vital components for any skate shoe or athletic footwear. Without these design features your speed, agility, and range of motion can be negatively impacted which can mean the difference between winning a losing.
Features
DVS designs encompass an impressive list of technologies designed for incredible performance enhancement. Many of the unique features offered by DVS are patented while others are industry leading and are preferred among athletes and boarders from around the world. These technologies are:
Vaporcell Elite Insole
DVS performance sneakers have a patented insole structure, the Vaporcell Elite Insole, which is comprised of two unique technologies that work in conjunction to aid in the overall performance. These two features are:
A molded cup sock liner that's crafted using a patented PU material to provide an unparalleled return of energy and a responsive cushioning that delivers the perfect amount of padding and support exactly where you need it. It's designed to cradle the foot offering additional comfort and support.
SBR Tongue
An innovative stretchy-rubber cushion placed in between foam and mesh allows for unmatched impact resistance and is only half as thick as traditional tongue cushioning which provides a more modernized look while maximizing performance. The SBR tongue has a larger perf design which provides additional airflow and enhances breathability to the foot.
Flex Sole
The DVS specially designed Floex Sole is a TPR plate that boasts a notched design and allows for full range of motion. It's an incredibly flexible yet durable style of an outsole that provides superior grip and traction on any terrain, even wet and slippery surfaces.
Molded Stabilizers:
Stability is a must-have while riding and the DVS shoes' molded stabilizer technologies keep you walking steady thanks to a molded TPU heel counter which adds protection and grounding, along with a lace-under option on the shoe eyebrow which keeps your laces where they should be, firmly in place. A molded TPU eyebrow provides improved lockdown wear while also eliminating tears.
These four technologies are some of the best performance enhancing advancements in the footwear world, especially skateboard specific styles of shoes. During the selection process for the shoes on this list, these aspects were a large part of the reasons for selecting the models that were chosen.
10 Bes DVS Shoes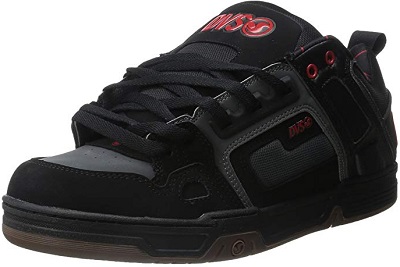 The DVS Comanche is a utilitarian looking beast of a skateboarding sneaker and is made sturdy enough to outlast the competition without a moment of doubt. Don't be fooled by the Comanche's monster design; it's a lightweight and versatile sneaker made for maximum performance enhancement.
The Comanche comes with a slew of incredible features such as die-cut EVA midsole; a molded EVA footbed that's overall weight is next to nothing. These shoes are serious about kicking some competitors behind and boast a core logo design along with a padded tongue and collar that gives a supportive ride.
Made tough to last and last, the Comanche features mesh side panels to allow for enhanced airflow, along with a molded TPR heel cap and displays a core logo. The Comanche has a reinforced ollie area to make for a super-solid structure and is available in either leather or nubuck leather materials.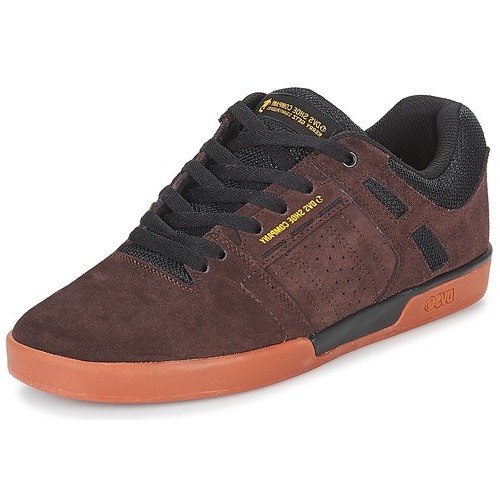 For those looking for a natural, breathing material, these are made with a suede leather upper. Additionally, the rubber outsole has herringbone traction for the right amount of slip and grip while on your board. Great for a relaxed feel during tricks or just riding around in mosey-mode, this is a pair ready for the day's adventure.
The herringbone pattern is utilized to ensure you gain the best of both slip and grip. It is shallow enough for riding up the board and deep enough to re-grip for those beautiful ollies.
This pair will have you feeling natural within your footwork, as this footwear flexes enough to allow you more freedom in movement. Also, with the suede leather upper, there will be enough restriction to give you stabilization on the returns.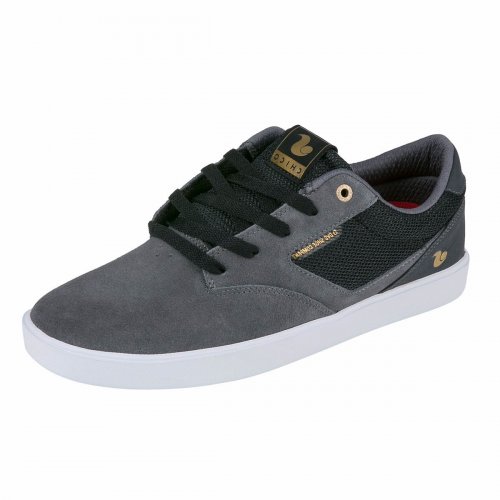 This is an iconic skate shoe that provides professional performance features and allows for maximum security and comfort while you hit the rails. These shoes are made durable and will outlast the competition while providing enhanced skateability. Look your best while you perform thanks to these clean and modernized skate shoes that are made to kick some serious butt.
These sneakers have a streamline one piece vamp for Superior skateboarding ability. They feature stitched quarter design along with a VaporCell Elite Sockliner for enhanced performance. Their double cup solid rubber outsole is long-lasting and provides top-of-the-line anti-slip control so you won't have to worry about being agile on your feet.
Available in two colors And featuring a traditional lace closure system paired with white statement outsoles these shoes will have you street style-approved and ready to hit it hard and give it all you got. DVS knows how to make trendy yet low-key designs that are a must-have for any serious skateboarder.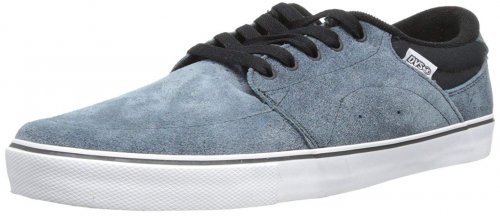 Made with water-resistant leather uppers, these are great for colder conditions and have decent enough tread to allow you sufficient traction in light, snowy areas. In addition, this pair utilizes anti-microbial technology which is great for providing a more healthier environment for your feet; that is, these work to ward away those pesky foot odors.
With this outsole, you can remain confident in not slipping when traversing light, snowy areas or minimal water-based surfacing. Furthermore, the shallow lugs are great for still providing a sneaker-style feeling while, also, maintaining work boot protection, so to speak.
When your health matters, then anti-microbial technology is something you look for. With these, your feet can remain odor-free, even after a long day's journey.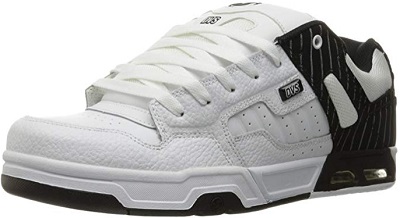 Another part of the Enduro line of skateboarding shoes, the Heir, is a worthy addition to the performance-enhancing style of footwear. It was designed with comfort in mind and will improve every level of the wearer's overall performance. Even if you're not planning on skateboarding in a pair of Enduro Heirs, you can still wear them purely for their stylish looks.
The Enduro Heir features a 180-degree airbag and PU midsole that makes this one of the most comfortable shoes available. They have an EVA footbed and padded tongue that offers even more of a comforting feeling while a padded collar provides additional support at the ankle.
These trendsetting shoes have molded TPR logos and a unique DVS metal badge. They display embossments backed with silicone to make the accents stand out more.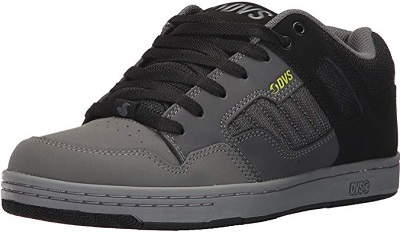 The Enduro 125 is a sharp looking two-color shoe available in four colors: black, charcoal black, charcoal grey, and white with black. It showcases the DVS logo design at the side and outsole and features a breathable suede and leather upper for extremely versatile wear.
The Enduro 125 offers superior comfort thanks to a padded collar and tongue which support and cushion the ankle, along with a die-cut EVA midsole and molded EVA footbed. These statement skateboarding sneakers are made to last due to their durable construction, which prevents stitch blowout so that you can ride day and night without concern over the condition of your shoes.
These DVS skate shoes are made to capture the traditional look and feel of the original skater footwear and are designed using leather and synthetic materials to build the upper piece. It's a lightweight and long-lasting shoe that will have you looking better than the rest whether you're at the park or not.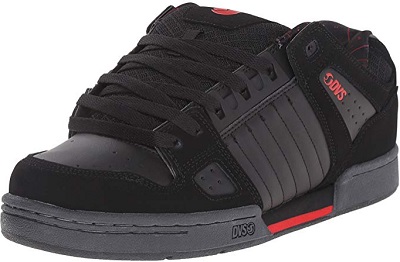 The DVS Celsius is an athletic style of skate shoe that's made to help you achieve your best. These unique sneakers offer traditional shoe laces with nylon eyelets for a modern twist to the usual look. They're available in four colors: chamois nubuck, grey/black nubuck, black/red, and white. There are also three materials to choose from for the upper's construction: suede, leather, and nubuck.
The Celcius has a double cup outsole for a comfortable and supportive foot feel, along with an EVA buffed midsole which absorbs shock on high impact footfalls. These sneakers are ultra-lightweight and offer a molded EVA footbed that provides the perfect level of cushioning while still maintaining thin padding.
These skate shoes have a padded mesh tongue that lets air freely flow around the foot preventing sweat and odors from occurring. These sneakers provide additional support and are available with either suede, leather, or nubuck upper material allowing for an extra level of customization based on personal preference.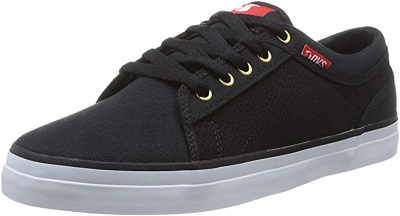 The Aversa is a performance skateboarding shoe that has a thinly padded construction and clean one-piece upper. It's a lightweight and moveable shoe that will provide you with countless hours of comfortable wear thanks to it's cushioned footbed. The Aversa+ is available in five colors: olive, black, charcoal black, white heathered twill, white canvas, black suede, and the fan favorite navy textile, so there's sure to be a match for every outfit available.
The Advera boasts thin internal padding that provides a form-fitting upper and its streamline one-piece toe discourages stitch blowouts. The Aversas textile and suede upper are made to keep you cool because of its moisture control and moisture wicking properties.
The Aversa+ construction offers an EVA molded footbed, and its non-slip vulcanized rubber outsole keeps you sure-of-foot while a herringbone tread allows for a superior grip even on slippery surfaces. It has a low-top design and traditional lace closure system for easy on-and-off wearability.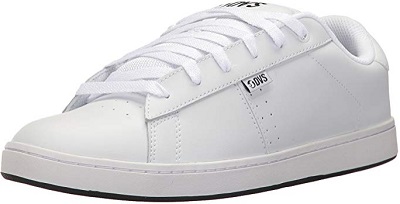 The DVS Revival 2 is a casual low-top sneaker that's comfortable and long-lasting. It features a rubber sole and imported synthetic materials with an upper leather construction. It's available in four color choices including white/leather, black/black nubuck, white/black/or red leather, and black/black nubuck.
The Survival 2 is a smooth ride that features herringbone tread for superior grip and has two options of upper material: suede or leather. It has a molded EVA footbed and a traditional lace closure system.
The Survival features a two-tone upper and boasts the DVS logos both on the tongue and at the side. It has a unique graphic at the heel, and it's a casual low-cut sneaker perfect for skating or just wearing while you cruise.



The DVS Militia is a serious performance geared sneaker. It offers clean construction and durable stitching, along with the kind of grip and comfort needed for professional skateboarders. These are actually snow boots so you can rock your style even in coldest of weather.
A synthetic soul that's slip-resistant and durable allows for a worry-free riding and ensures that you can always be steady on your feet. Hit the pavement hard without concerning about lapses or falls so you can put your focus on your performance, where belongs. The Militia features a traditional lace closure system that allows for a custom fit, along with three choices of breathable upper materials for maximum airflow.
These performance sneakers offer a molded EVA footbed and die-cut EVA midsoles for superior wear and all-day comfort. These shoes are available in textile, suede, or leather upper materials so you can choose which works best for you and offer a clean one-piece toe construction that prevents stitch blowouts. These DVS skate shoes have a herringbone tread which gives maximum grip on any surface.

Subscribe to our Newsletter