Best MBT Shoes Reviewed & Rated for Comfort
last updated:
May 26, 2020
MBT shoes haven't been around for that long, but they're an amazing choice for people who want the absolute best when it comes to foot health. Founded in the early 1990s, MBT quickly won over the market and is a leading brand with millions of fans worldwide. MBT stands for Masai Barefoot Technology which is behind each of the brand's models.
You'll find that MBT shoes come in numerous styles, ranging from athletic and running shoes to hiking sandals, to boots, and even everyday and formal footwear. Their products are made with high-quality materials, and their rocker-bottom soles are an absolute favorite among those who don't ever want to be hindered by pain or fatigue.
The list below looks at the highest-rated MBT shoes currently available for purchase, along with a Criteria for Evaluation section that'll help you make the best possible purchase.
In a Hurry? The test winner after 102 hrs of research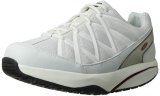 Sport3
Why is it better?
Lace-Up Vamp
Padded Tongue
Reinforced Toe Bumper
Cage Design
In a
Hurry? Editors choice: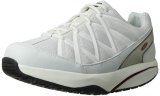 Test Winner: Sport3

20
Researched Sources
11,000
Reviews Considered
102
Hours Researching
20
Products Evaluated
Breathability
Comfort
Durability
Style
Traction
By Default
10 Best MBT Shoes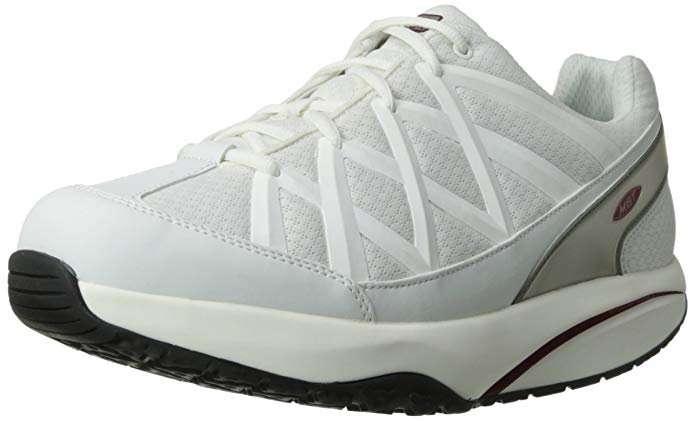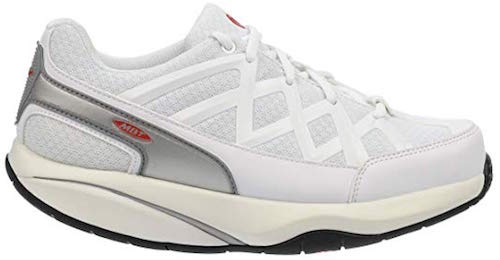 Lace-Up Vamp
Padded Tongue
Reinforced Toe Bumper
Cage Design
If you are searching for a shoe with all-year wearability, then this MBT Sport 3 is a great contender. It has a full-shoe upper that protects your foot during all seasons and even from rain and snow. The upper is a synthetic and fabric blend that does promote breathability. The shoe itself has a very athletic look and feel to it. Finally, an outer strap cage design surrounds your foot with support and structure to keep your foot from sliding around inside the shoe.
Everyone loves the comfort and familiarness of laces in a shoe. Then, there is the aspect of them making the shoes adjustable. If you have a thicker foot, simply loosen the laces. A thinner foot means you can tighten the shoe just as easily.
The padding for this shoe stretches all the way around the collar, not just at the sides or the heel. Padding helps the shoe to not cut into your skin. It also adds a layer of support to keep your foot and ankle supported and not rolling as easily.
Surprisingly, these shoes while being at the top of the category and expected to be super expensive, they are quite the opposite. They are one of the shoes that are in the lower price range of the list. They are a versatile and year-round shoe, which means you will more than get your usage from them. They make a great everyday shoe choice as well.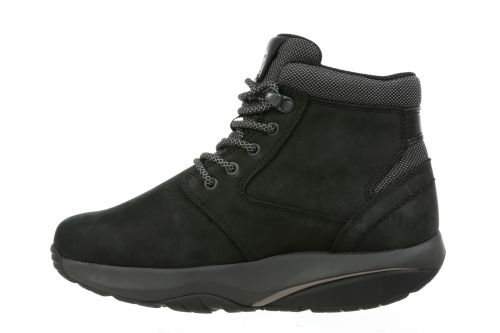 Nubuck Leather Upper
Non-Marking Vibram Sole
Pivot Strike Area
MBT SensorTechnology
Mesh Lining
If what you're after is a pair of footwear more suited for cold weather wear, you will definitely want to check out the Jomo - a performance-driven pair of winter footwear made for those who want to stay active even during the cold months. The Jomo looks like any other pair of boots, with the exception of the recognizable MBT sole. It can be purchased in two color versions, black or brown, and you'll find that it works really well with casual outfits, especially with jeans.
The materials used in constructing the MBT Jomo include nubuck leather in the upper, which has all the beneficial properties of genuine leather such as suppleness and breathability, with the added advantage of durability. It can be easily maintained, and you can use special sprays to make it more resistant to water and staining, ensuring a great looking pair of footwear. The lining is mesh, which prevents moisture build-up, even if you tend to walk long hours, so you won't have to worry about overheating or odors.
The outsole of the MBT Jomo is made with non-marking Vibram. It features prominent lugs that'll grip all surfaces equally well, including wet ones, all the while protecting indoor surfaces such as hardwood floors and tile. Shock absorption is ensured through the MBT SensorTechnology in the heel area, and you may even find yourself reaching for these boots when going out on a winter run, seeing that they include a Pivot Strike area that was designed for runners in order to ensure maximum energy return and cushioning, all the while protecting their feet and helping natural alignment.
Although not the lightest pair of footwear on this list, the Jomo is quite lightweight, so you won't have to worry about getting fatigued while wearing it.
As for cost association, the MBT Jomo requires quite an investment, seeing that it's one of the most expensive models on this list. Nonetheless, if you're after a high-quality item made for harsh weather, it definitely is a good choice.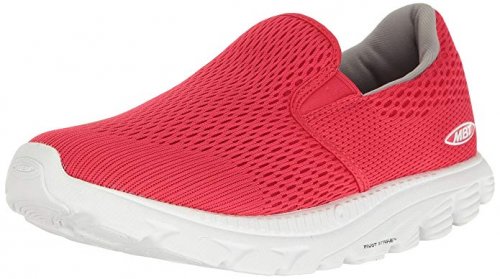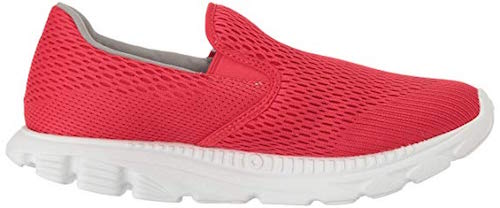 Reinforced Toe Bumper
Contrast Stitching
Lace-up Vamp
Pull Tab on Heel
A great pair of shoes to wear in between workouts, the Speed 17 was designed to cushion and support your foot, allowing your feet to relax and rejuvenate before the next time you hit the gym or trail. With a slip-on design, they are easy to take on and off, and contain an innovative PU midsole, coupled with a patented sole technology, adding further comfort.
How aggravating to try and put your foot into a shoe only to struggle with undoing the laces or buckles. With the slip-on design of the Speed 17, you can easily take them on and off. A great option when you are in a hurry. The upper of the Speed 17 is made with a breathable, air-mesh construction, allowing air to go in and out, preventing sweaty and smelly feet. Add the extra benefits that the upper is so lightweight and durable, and you have a winning shoe.
These slip-ons will win you over with their easy to use design and easy to maintain construction. Although a tad pricey, you can easily wear these shoes when you are walking, hanging out or doing other light activities, knowing it will keep your feet rested for the next time you go for a strenuous run or workout. A good value, even if not the cheapest.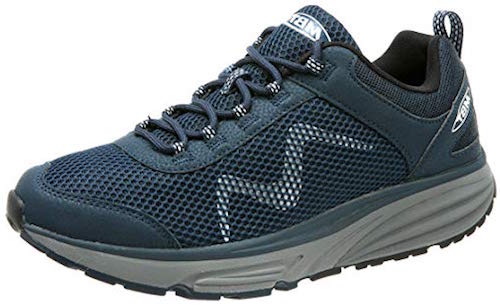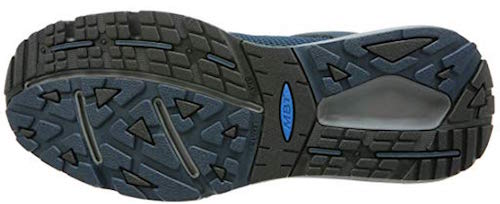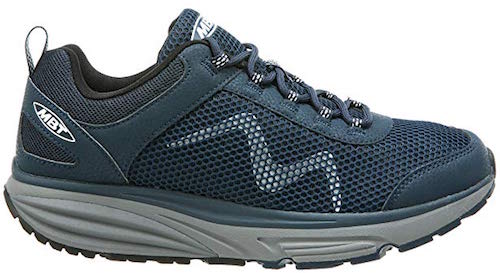 Lightweight Upper
Mesh Panels
Rocker Bottom
Wide Range Of Sizes
The Colorado 17 is designed with walking and stability in mind. As always it features MBT's signature rocker outsole to smoothly guide your foot with each step, making them a great choice for those dealing with health problems related to their feet and legs, as well as those who are recovering from injuries. The upper is made of synthetic and mesh to keep the shoes breathable and easy to walk in.
A thick outsole like those on MBT shoes can be heavy and can impact the overall weight. If a shoe is too heavy you may find yourself quickly becoming fatigued with them, or they may find themselves relegated to the back of your closet, and nobody wants that. The upper on the Colorado 17 is made with mesh and synthetic fabric, and these lightweight materials help to offset the extra weight in the sole.
Another important thing to look at with shoes is breathability. You generate energy as you walk, and this often occurs in the form of heat, especially within the shoe itself. If this heat becomes trapped as a result of poor breathability, it can cause your feet to sweat, which can lead to odor and irritation. This is where mesh comes in; it allows the hot air to freely exit the shoe and reduce the likelihood of sweat and odor.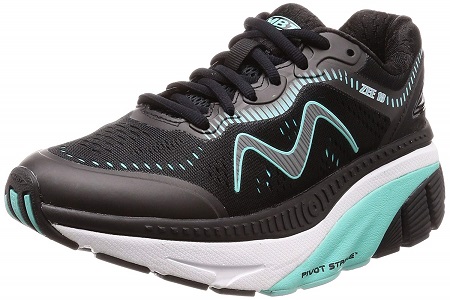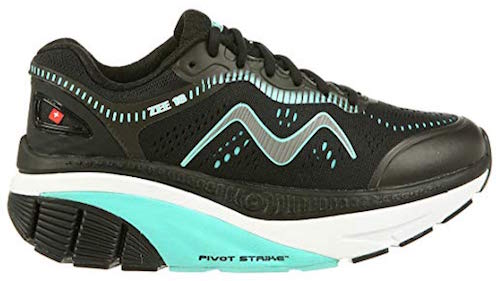 Durable Rubber Outsole
Pivot Strike Technology
Breathable Upper
Removable Insole
Similar to its predecessors, breathability is the name of the game for the Zee 18 sneaker. The upper is designed with mesh overlays to allow for proper temperature management within the shoe, making sweaty feet and odor a thing of the past. MBT'S Pivot Strike technology provides an ideal environment for stable footing upon strike, While the rubber outsole is highly abrasion-resistant and durable without negatively impacting the overall weight of the shoe.
The outsole of a shoe is often the first part to show signs of damage, as well as regular wear and tear. This is because the outsole is what is making direct contact with the ground, and each step puts a great deal of pressure on it. MBT outfitted the Zee 18 with a specialized rubber outsole that is made to be highly durable while keeping the shoe lightweight overall.
The Pivot Strike technology is exclusive to MBT models and works along with the rocker outsole to provide a stable footing with each strike. This guides you to strike primarily with the ball of your foot, gently leading you into a natural gait.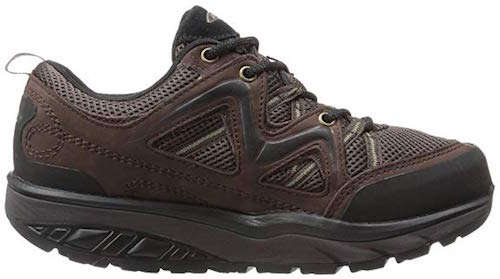 Removable Insole
Leather Upper
Vibram XS-Trek Technology
Strong Traction
The Himaya GTX is designed for the outdoors, sporting a durable rubber outsole and an upper made with leather and textile. The textile adds breathability, while the leather promotes durability and sports some native water resistance. Top that off with the Vibrant XS-Trek technology, and you have yourself a comfortable shoe that's best for light hikes.
Let's be honest for a second; MBT products do not come cheap. While some models will be less expensive than others, MBT styles across the board are a bit more costly than some other brands. This is likely because of the technologies used in the shoes, and all the research and development that has gone into them. For this price, we expect them to be durable and able to take a beating regularly. After all, an expensive shoe has very little overall value if it isn't durable. The Himaya GTX is outfitted with a strong rubber outsole, as well as a leather upper to reinforce durability.
Durability is the name of the game for every part of this shoe, and this includes the Vibram XS-Trek support system used in the Himaya. This specialized compound is designed with the perfect balance of traction and durability, allowing you to take on unpredictable terrain and more technical trails with relative ease.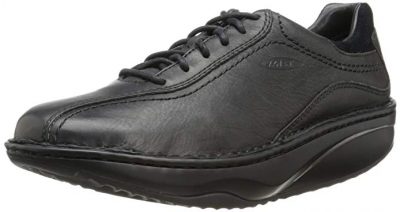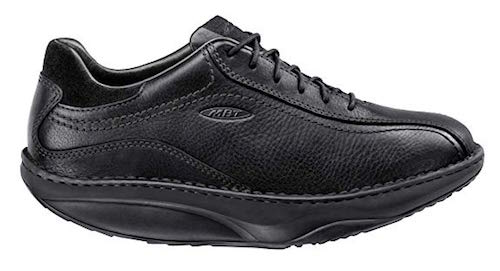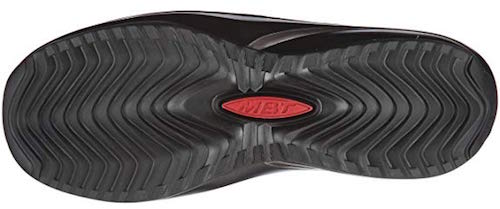 Lace-up Vamp
Great Tread Pattern
Padded Tongue and Collar
Boxy Toe Look
The Ajabu from MBT gives you a shoe that is a mix of casual and dress. At first glance, you might think it is just another athletic shoe. However, upon closer look, you can see it is a nice leather texture with a shapely toe box area. This will make a great shoe choice if you need something that can be versatile and carry you from day to day and many different situations. It also has the nice traction and grip which allows you to walk comfortably on slick surfaces.
The ankle portion of this shoe is thickly padded, unlike typical dress shoes, which can leave your ankles feeling the pain after a full day of wear. The thick padded this shoe offers keeps your skin from getting rubbed raw while it supports and cushions the ankle.
Around the sole of the shoe, you will notice exterior welt stitching that runs the distance around the shoe. This helps to reinforce the strength of your shoe and the sole at the same time. The contrasting look of the thread gives it a style pop also.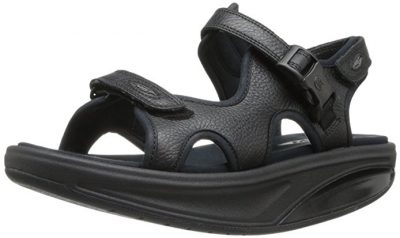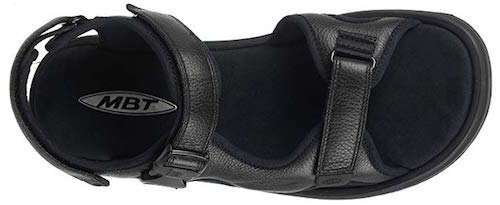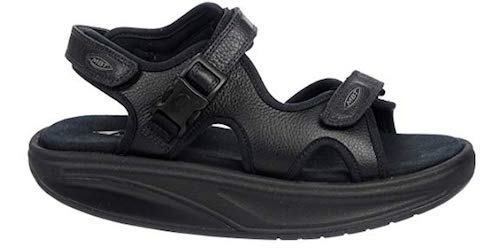 Numerous Adjusting Straps
Heel Strap
Synthetic Sole
Leather Footbed
Toe Portion is Narrow
Stitching Comes Loose
We have another example of a great and functional sandal. This one envelopes your foot with soft leather straps that will keep your foot securely in place as you go about your day. The leather is very comfortable against your skin and will protect it from rubbing. As with all MBT designs, the rocker heel promotes perfect stride and alleviate aches and pains. Finally, adjustable straps help you to get the custom fit your particular feet crave.
The adjustable strap across the heel, otherwise known as the slingback, helps lock your heel and foot into place so you can walk confidently. You won't be sliding around the footbed with the extra protection. For centuries, leather has been an incredibly durable and widely used material in the production of goods. Leather is a top choice as it lasts a very long time, can handle the weather elements and is soft. Using it for these sandals is a great choice as it adds to the sandal's lifespan.
Versatility and function meet good price with these sandals. They are actually in the lower end of the category compared to the others on the list. Even though they are sandals you should get much use from them throughout the year. Depending on how cold of a climate you live in, you could potentially get all-year wear. They are fast-drying and sporty looking so you can feel stylish as you wear these.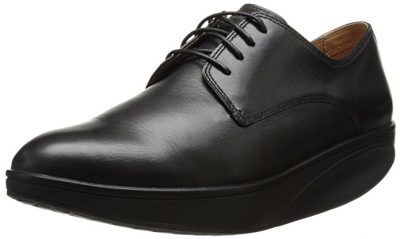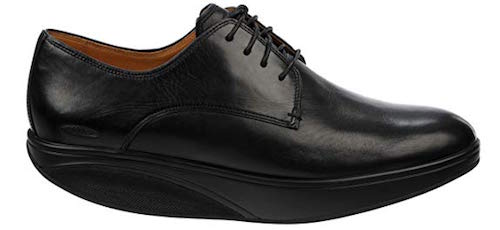 Lace-Up Vamp
Pointed Toe Styling
Cushioned Footbed
Traction
With the classic style and design of the Kabisa 5, you will be able to take your MBT footwear to work, on dates, fancy events, etc. Pretty much anywhere that calls for a dress code, you can now fit in with the Oxford here. It has a smooth grain manmade upper that is capable of handling all the different weather you might incur. As well, it is still going to be breathable for those days when your feet are sweaty.
The footbed is lined with a mix of textile and cow material to give your grip and comfort at the same time. This material is durable and resistant to absorbing smells. So if your feet stink, this is a nice feature to find in a dress shoe.
You can equate this to design structure to walking barefoot. It gives a nice spring back from your step and helps your foot to feel cushioned without being cramped. The midsole also adds to the overall durability of the shoe as it reinforces the entire sole.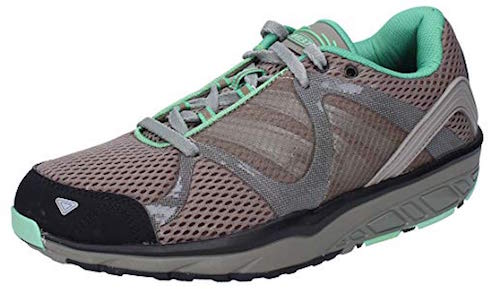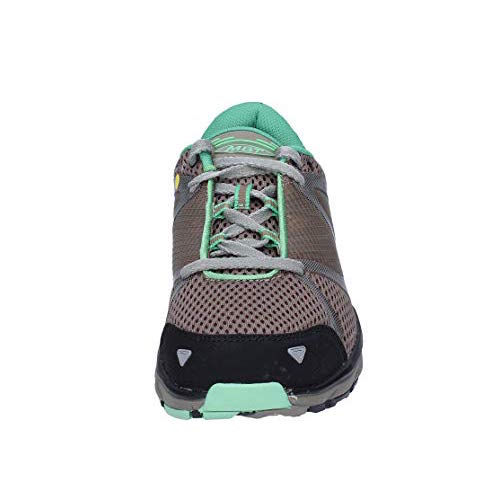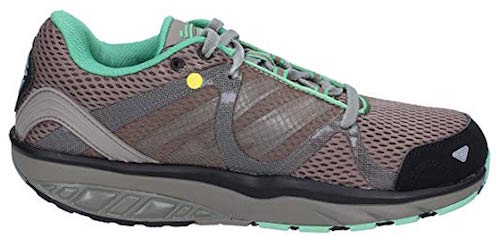 High Visibility Material
MBT Sensor Technology
Pivot Axis System
Non-Marking Outsole
Another mesh trail shoe, the Leasha is built with a multitude of different technologies that make it stand out. The bottom is made with MBT sensory technology and works with the rocker insole to give you stable footing and guide your feet into a proper strike. The mesh upper promotes breathability, while the upper is outfitted with 3M reflective material for visibility at night.
Running at night is a wonderfully cathartic experience, but there are certain precautions one must take. An important thing to consider is visibility, especially if you plan on running near the road or other high-traffic areas. The upper on the Leasha is equipped with high-visibility 3M material placed in strategic areas on the outside of the shoe. This is the same material often used in safety equipment for construction workers and provides the visibility you need to run safely at night.
One of the most innovative technologies in the Leasha is MBT Sensor Technology. This consists of a PU component that is placed between the midsole and outsole. While PU can be heavy and add to the weight of a shoe, it is a very durable material that will Reinforce the shoe's overall integrity.
Criteria Used for Evaluation

Breathability
The breathability of a shoe is directly affected by the material and composition of the shoe. Some materials naturally breathe more than others. Of course, too, some shoe designs are sandals and therefore have great breathability. There are multiple reasons breathability is huge when considering new shoes, and it's not just for comfort.
The breathability of a shoe is the ability of air to flow around and inside the shoe, therefore taking the hot air back out with when it circulates. Keeping your feet cool not only affects the comfort you physically feel, it affects the shoes. If your feet are not sweating, they are not soaking the inside of the shoe. When the interior gets soaked with sweat and not dried properly in between wearings, you are damaging your shoes and risking their integrity. Wet shoes begin to smell because they become a breeding ground for fungi and bacteria. This is where things like athlete's feet, blisters and more come from.
Keeping the feet cool so they don't sweat is imperative. However, if you are plagued with sweaty feet regardless of breathability, it will be vital to get your shoes dry before you wear them again. Also, proper hygiene and shoe care will help your shoes to last a very long time.

Comfort
Putting on a shoe and making a snap 3-second decision about the comfort is never a good idea. For starters, wearing the shoe for a minimum of 20-30 minutes will just begin to give you an idea of the comfortableness of it. That time frame is only the tip of the iceberg. It is important to remember that the comfort of a shoe is negatively or positively affected by many things.
Footbed
The footbed is the portion of the shoe that rests against the sole of your foot. Further, it is the top layer of the sole of your shoe. A footbed will need to provide adequate cushioning as well as phenomenal arch support. The arch support is often overlooked but is vital to your overall foot health and safety. Without proper arch support, you risk many ailments; much worse, however, your arch could collapse after years of neglect.
Whether or not the footbed is attached to the shoe but is removable or if it is built into the shoe, it needs to be soft and pliable enough to conform to your foot. It should also be very responsive; meaning when you put pressure in one spot and then shift to another, the original spot returns to its normal position.
Adjustability
Some shoes don't have anyway in which you can adjust them. For some, this is not a problem. However, most people need shoes that can accommodate their foot specifically. The average foot swells to a median of 105% its normal size throughout the day. So what your foot starts out in size in the morning, is not typically the same size it is at night time before bed.
For this matter, it is important to find shoes with either a lace-up portion or velcro/buckle straps. There is no one in a particular design that is better than the other. It comes to a choice of personal preference as well as the design of a shoe.
A higher score on this criterion means the materials and design of the product contribute to a greater sense of cushion and comfort than a competing product. We also take into account the thousands of reviews from buyers across the world, and what they say about each of the products.

Durability
To assess each of the products on our list for durability, we not only read through thousands of customer reviews on our recommended products, but we also looked for some of the hallmarks of quality construction. From brand name reputation to their initial smell out of the box, there are a few ways of identifying a well-built, made-to-last product.
The Details
A zipper that doesn't zip or snaps? Poor threading technique? A smelly, chemical residue on the shoe when you open the box? All these details were looked for an evaluated when assigning a score for durability.
Materials
Certain materials last longer than others, even if that comes at the expense of a higher score in the "comfort" criterion. Materials that are synthetic, thicker and firmer tend to score higher on durability.
Product Purpose
A shoe made for running and high-impact sports will not likely last as long as a good pair of general activity shoes and that's okay. Being aware of the shoe's purpose is critical for you as a reader and for us as a reviewer. Although shoes that will last longer score higher on this criterion, you might also see high scores to shoes with a more limited durability, if that product was specifically designed for certain purposes that involve high-impact and high-stress motions. We take into account the type of shoes you are trying to purchase when assigning scores to shoes in this criterion.
Brand Name
A product is a promise made, but a brand is a promise kept. A brand name is often a signal of quality and consistency in construction and durability from product to product. Although there are always exceptions to this rule, quite often brands that perform continue to perform. Brand names on our list tend to score higher in the durability score.
The final word on durability is that a higher score on this metric means the product will last longer than its competitors, given similar shoe purpose, type, age and usage. Again, it never hurts to read some customer reviews before hitting the "buy" button.

Style
When the company first started many years ago, they solely manufactured walking shoes. It took people a while to catch on to the great advantages of these shoes. Once they did though, they craved a different style of shoes. The company went back to the drawing board to design shoes that would still have the same benefits but without the stale market of walking shoe design.
Sandals
Sandals are a beloved past time for so many people. It does not matter if you live in a year-round hot climate or only have a few nice days a year. When the weather is appropriate, people grab their warm weather shoes. Sandals are great because they are very breathable, dry quickly when wet as there is hardly any fabric, and are usually easily adjustable.
Oxford
This is the style created for those that craved a dressier shoe to wear to work, church, dates, etc. It gives your typical shoe a lift so you don't have to be without your MBT shoes for any particular day, reason, or event.
Walking Shoe
The walking shoe was what started it all. There is nothing wrong with the classics and this most assuredly falls into the classic category. The walking shoe is very versatile and can be worn every day. Some jobs allow sneakers. Also, walking shoes provide wearability all year whereas the sandal *might* not for certain people that live in cold climates.
The other factor regarding style is the material of a shoe. Typically speaking, the MBT shoes are made from leather/suede, mesh, and synthetics. Each one has its pros and cons.
Leather is very durable, however, it can be warmer than the other materials. Leather/suede will stand up to almost all weather conditions. Mesh is a great choice when used in almost any shoe. Mesh promotes strong airflow and is fast drying and very flexible. Finally, synthetics are a blend of materials used to make a shoe. They can be great because they are durable, however, they might not be very breathable because that is determined by the materials used to make them.

Traction
What good is a shoe that provides no grip or traction when you walk? You will probably have one close fall or worse, an actual fall with injury and you will immediately blame the shoes for not protecting you. Have a sole that facilitates excellent traction is imperative for security. No one wants to end up in the hospital with a broken leg because their shoes did not help them grip them floor on a wet or slick surface.
A good tread pattern is what will be the determining factor for best grip and traction. The thicker the tread the better the grip. It is almost like a tire on a car. However, no one wants a sole that is so tractioned it looks hideous. Also, not just the thickness but the design of the sole helps with traction. Interwoven random patterns help the sole of the shoe to grip to the ground, thereby providing good traction when walking.
A higher score on this metric tends to mean the thread pattern on the sole of the shoe, and the materials the manufacturer chose to make that sole, contribute to a greater traction than lower scoring products on this metric.
Expert Interviews & Opinions
Most Important Criteria
(According to our experts opinion)
Experts Opinion
Editors Opinion
Users Opinion
By Default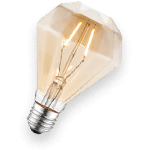 Embracing Barefoot Movement
MBT shoes are one of several brands available that embrace our natural movements and support foot health. Minimalist shoes are designed to promote the foot's natural ability to support us when we walk, stand, or run, and have long term benefits from wearing.
Although not made for running, other brands specialize in running shoes for minimalist footwear, and give the same feel and function that the more stylish MBT brand does.
Minimalist shoes usually have a zero drop from heel to toe, and ergonomically support movement. This kind of footwear goes a long way toward improving foot health, along with relieving other bodily aches and pains in the hips and back.
Rocker Soles Explained
Rocker soles are typically a slightly curved sole, which helps promote the normal walking gait from heel to toe, but removes impact so you get a cushioned feel. It does take some getting used to, but your feet and body will thank you for doing so!
When you've just gotten your first pair of shoes with a rocker sole, break them in around the house so you can get used to the movement and feel of walking in them. If you're comfortable enough, wear them out for an afternoon stroll about town, and see how different you feel when you're finished!
Other Factors to Consider

Bottom Line
After reading about the benefits and seeing the shoes that made our top 10 list, we hope you will consider these shoes for improving your posture, alleviating all sorts of aches and pains, as a motivational walking shoe, and to help lose weight. Many people report that they are so thrilled with their MBT shoes that they can easily and happily walk many miles as opposed to just one short mile. So strap a pair on and hit the pavement. While we don't recommend all of them used for running as they are not designed to support that movement, maybe you will slow down and enjoy the view with a long multi-mile walk.
Frequently Asked Questions
q:

What are MBT shoes?

a:

MBT models are a design concept from Switzerland. The creator, Karl Müller came up with the design after he visited soft fields in Korea and noticed his pains and aches went away. They are meticulously designed with curved soles and thick padded rocker type soles. The shoes are made to mimic minimalist walking, which has been shown to still be the best health-wise for your body.
q:

How do MBT styles work?

a:

These shoes look intimidating at first glance. They have the curved sole, they look thicker than normal shoes, you might think you are going to fall. Actually, the curved sole promotes the proper heel to toe roll through. These shoes take a small and slight learning curve as you should be careful with your first few steps.
q:

What are the main benefits of MBT footwear?

a:

MBT shoes are good for alleviating foot, ankle, knee, leg, and overall joint pain. Many people with other afflictions such as plantar fasciitis and neuropathy report a lessening of symptoms after wearing these shoes. The anatomical design helps promote the proper step and gait which will improve your posture and overall well-being.
q:

Are they really called MBT shoes or does that stand for something?

a:

MBT is a homonym for Masai Barefoot Technology.
q:

Do these shoes make you feel wobbly or unsafe to walk in?

a:

At first, some people claim to have to walk slower and think about their steps. The learning curve is very small and short. With no time at all, you will be stepping your way to better health.
Subscribe to our Newsletter