Best Grip Socks Reviewed & Rated
last updated:
Nov 21, 2019
It doesn't matter if you're going only in your socks or if you intend to wear footwear - a good grip and/or traction is essential in keeping you steady on your feet. It is especially beneficial when you're indoors, walking around your sleek floors at home, or having a relaxing yoga session in a studio. A good grip can protect you from falls and injuries, and keep you better-balanced overall.
In this guide, we're going to talk about grip socks. Their grip is achieved in different ways, as you will see from our list. There's a little bit for everyone - for athletic wear, for casual looks, for high-impact sports. Get a pair of best grip socks today and make sure that you don't lose your footing no matter what you're engaged in.
This is the best product on our list that is currently in stock: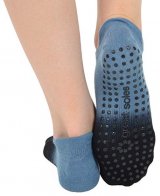 Great Soles Non-Slip
Why is it better?
Silicon Grip Pads
Secure Y-Stitched Heel
Multiple Color Combinations
Low-Cut Design
For Yoga, Pilates
In a
Hurry? Editors choice: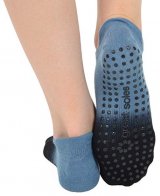 Test Winner: Great Soles Non-Slip

6
Researched Sources
3k
Reviews Considered
7
Hours Researching
10
Products Evaluated
Traction
Comfort
Fit
Materials
Durability
By Default
Top 10 Grippy Socks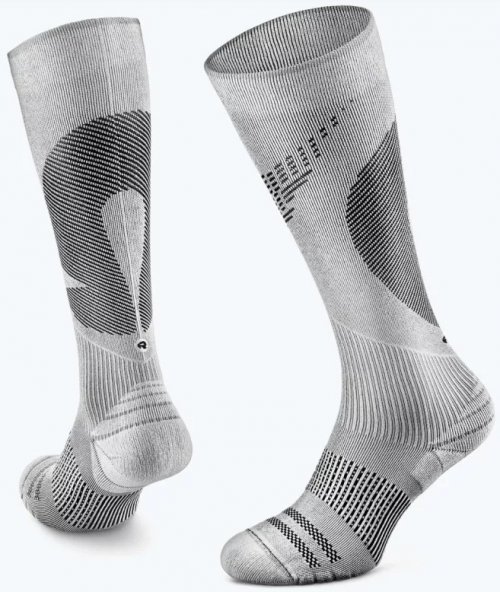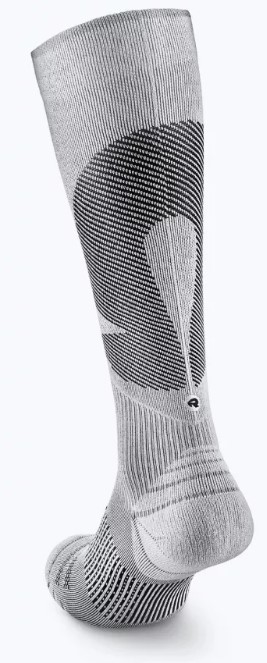 100% Recycled Materials
Graduated Compression
Breathable Mesh Zones
Arch Compression
Aids In Recovery
Not for Everyday Wear
Pricey
At the top of our list is a highly-specialized design; the Rockay Vigor is not only a running sock, but it is a compression running sock. It is knee-high and equipped with features that put it at the front line of this guide: a performance fit, a cushioned footbed, graduated compression, a seamless toe and arch support. On top of all that, the Vigor is also made from 100% recycled materials for a completely environmentally-friendly experience.
Compression is a good quality to have when you're exercising for a number of reasons: it enhances blood flow through your muscles, saves energy for more difficult reps, and it also aids in post-workout recovery, reducing pain and inflammation. The Vigor's graduated compression is measured at 16 - 23 mmHg for a contained, supportive feel.
This design is made from Econyl regenerated nylon, recycled polyamide, and recycled elastane. It has mesh zones in specific areas that improve breathability, as well as a seamless toe construction for protection against blisters. The arch support in the Vigor is there to reduce foot fatigue and help you make the most out of your workout.
The Vigor may be too specialized for everyday wear, but it is an outstanding choice for running, CrossFit, and any other high-impact activities. Your muscles and joints will certainly be grateful for the added support when all is said and done.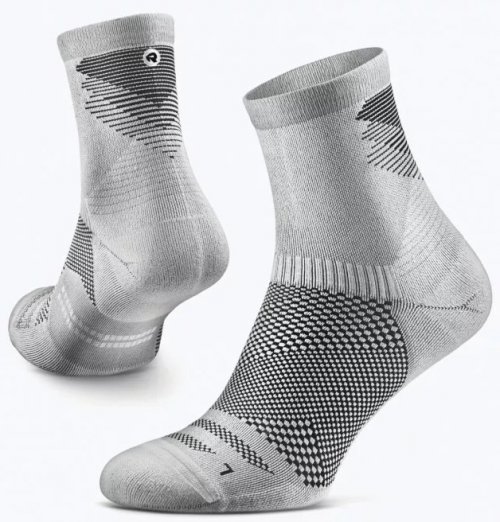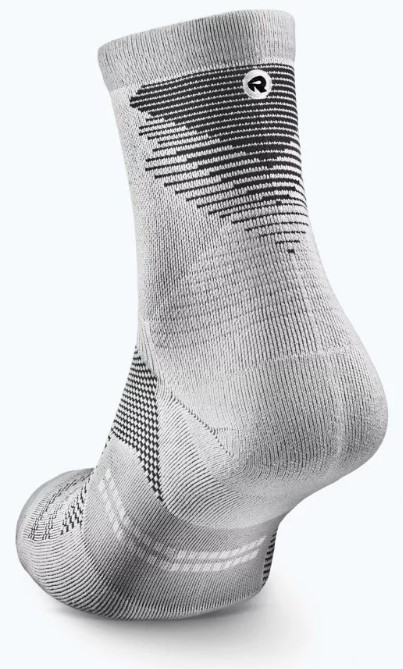 100% Recycled Materials
Ergonomic Left & Right Fit
Comfy Crew Height
Breathable Mesh Zones
Arch Support
Another Rockay option on our list, the Razer Trail is a great choice for any type of running, but especially for going down a trail. It is a crew length that protects from chafing and blisters but that is not too restrictive in the leg, and it comes with many similar features as the Vigor: a seamless toe, arch support, performance cushioning, and in addition, an ergonomic left and right fit for maximum comfort. If you're keen on taking on a new, previously unexplored trail, it will be a good idea to take the Razer with you.
Much like the Vigor, this design is also made from Econyl regenerated nylon, recycled polyamide for durability and colorfastness, and recycled elastane for a stretchy fit. The mesh zones along the top side provide proper airflow, and the ergonomic fit ensures that the design conforms to the shape of each foot for unparalleled comfort.
Amping up those comfort levels is the performance cushioning that provides shock absorption, as well as arch support to keep you going for longer. A seamless toe guarantees that you won't get any blisters as you pound the trail mile after mile.
Rockay is so sure of its products that all of them come with a lifetime guarantee. Seeing as this is one of the best performance socks currently on the market, we'd say that it is definitely worth investing in, no matter what type of running or sports you're taking part in.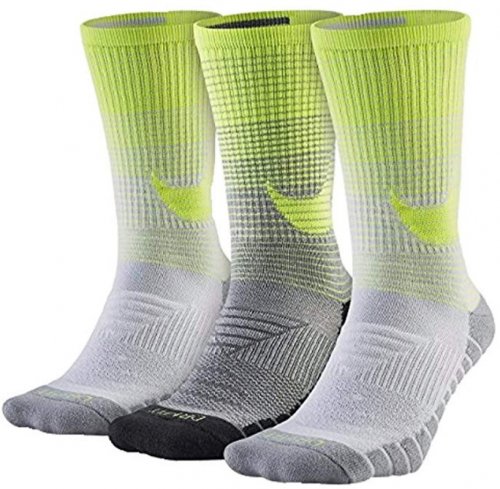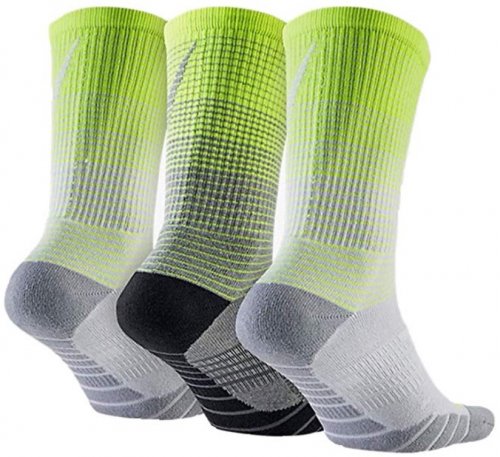 Moisture-Wicking Dri-FIT
NikeGRIP System
Terry Cushioning
High-Performance Design
For High-Impact Sports
The Nike Dri-FIT Crew is packed with all the hi-tech advancements we've come to know and love from Nike. It has the Dri-FIT system for moisture-wicking, the NikeGRIP system for superior grip and traction, a thick terry sole for impact absorption. This crew is all about leaving your competition in the dust and making sure you outperform everyone else, keeping you secure on your feet and providing you with the energy necessary to push forward.
The Nike Dri-FIT Crew is made from a cotton blend which also includes nylon, polyester, and spandex. The NikeGRIP tech we mentioned consists of high-friction fibers embedded in the footbed that reduce slippage. These fibers create more points of contact between the foot and the floor or the shoe, increasing grip and creating what Nike calls their Heel Lock System.
To make sure that no part of your foot is prone to slipping, these socks come with separate left and right fits which also increase comfort. The Dri-FIT system is what pulls moisture away from your skin and to the exterior, keeping you dry even as you work up a sweat.
The Nike Dri-FIT Crew is a great gym choice, especially for more demanding activities. No matter how hard you push yourself or how much you sweat, you can count on these to keep your feet comfortable and protected all throughout.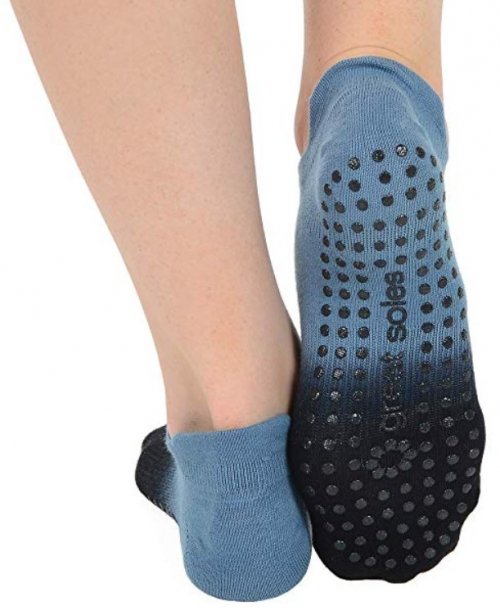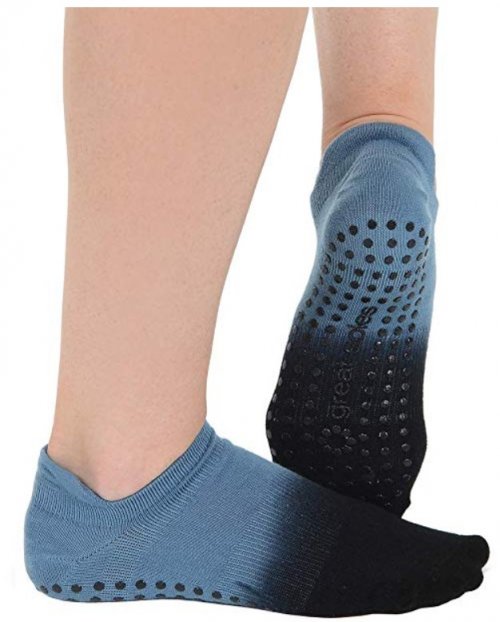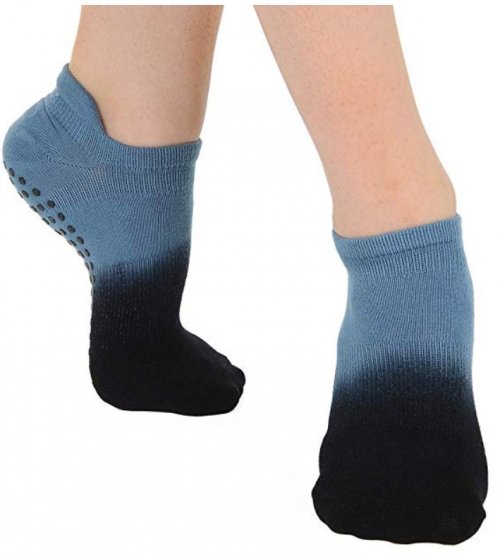 Silicon Grip Pads
Secure Y-Stitched Heel
Multiple Color Combinations
Low-Cut Design
For Yoga, Pilates
With their low-cut athletic silhouette, the Non-Slips from Great Soles are perfect grip socks for yoga, pilates, barre workouts and any other activities that have you crossing smooth indoor floors. Great Soles is a brand founded by two sisters who are certified pilates trainers, and everything about these Non-Slips is geared towards the comfort and the support of their fellow studio or gym members. This design is also great to wear with footwear if you feel like you need a bit more traction during your workout.
It is constructed from a cotton blend of materials, meaning that it is ultra-soft and breathable. The reason this is a good traction option is that it has silicone pads on the bottom of the sole, which provide all the friction you need between your feet and the floor. These will protect you from falling, but they will also keep you safe from overused and potentially grimy gym mats, floors and equipment.
In terms of comfort, the Great Soles Non-Slip comes with a contoured heel area, what we call a Y-stitch, which provides security and prevents the sock from slipping down. It also has a tab in the back which keeps the design up and enables you to slide it on more easily.
This option comes in a vast number of color and pattern combinations. The Great Soles sisters are determined to infuse style, fashion, and playfulness into their athleisure creations, and we see it clearly reflected in these socks. So treat your feet with something cute yet functional before your next studio session! They will certainly appreciate it.
5

. Adidas Alphaskin Traxion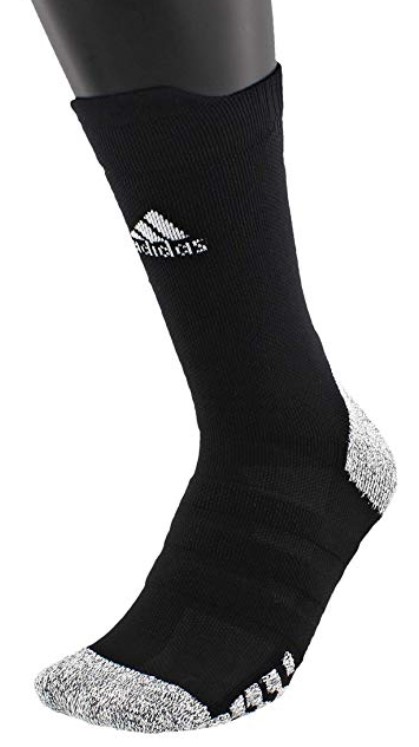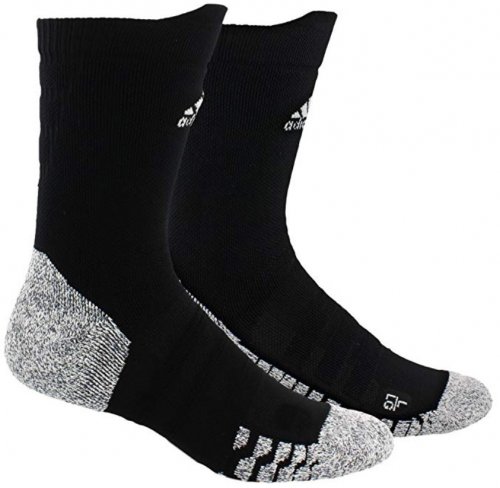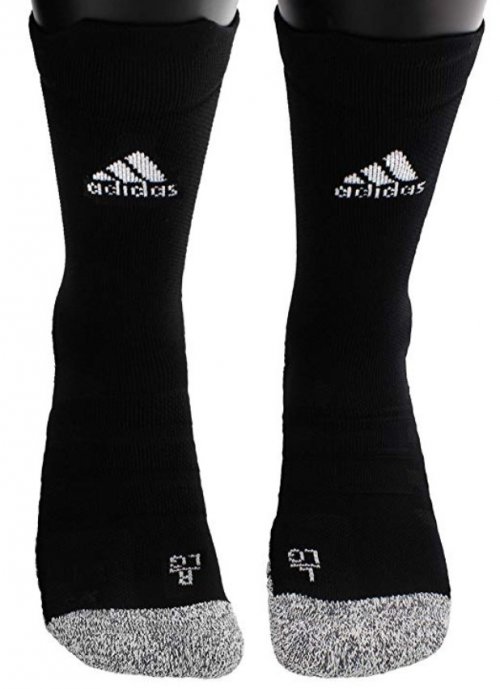 Traxion Footbed
Arch-Hugging Fit
Breathable Mesh Inserts
Targeted Cushioning
For All Sports
One of the best currently available designs of this kind is definitely the Alphaskin Traxion from Adidas. It features not only the Adidas-specific Traxion technology, but also a fit that hugs the arches, mesh inserts for breathability, and target cushioning which delivers much-needed shock absorption. The Alphaskin Traxion is a design meant for sports of all kinds but especially those that include a lot of running, such as athletics, soccer, basketball and similar.
This option is made from polyester, nylon, natural latex rubber, and elastane. It features the Traxion footbed, which includes fibers that have integrated grip to them, meaning they reduce your chances of slipping and provide a secure lockdown heel-to-toe. The cuff of the Alphaskin is also ribbed so it stays on and doesn't slip down during your workout.
Comfort-wise, this design has cushioning in key areas that absorb impact and make you feel safely cradled in the sock, while arch support prevents the onset of foot fatigue. To round the Alphaskin up, there are mesh inserts at the top that enhance ventilation and allow your feet to breathe no matter how hard you go.
The Adidas Alphaskin Traxion is by far one of the best athletic grip socks in this guide. It is a favorite of many, and with good reason. Its cushioning and support properties are out of this world, and you will be able to train as you have never trained before thanks to this innovative combination of features.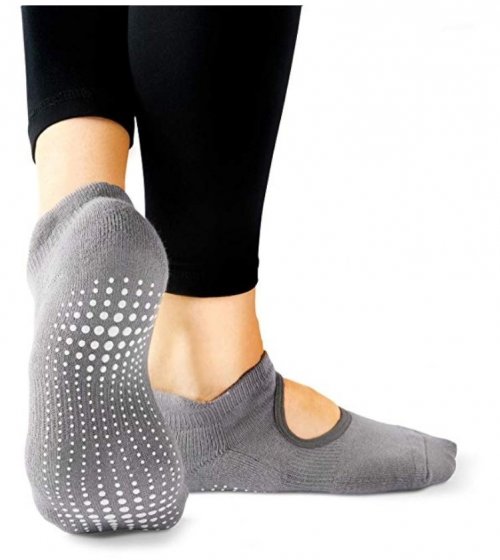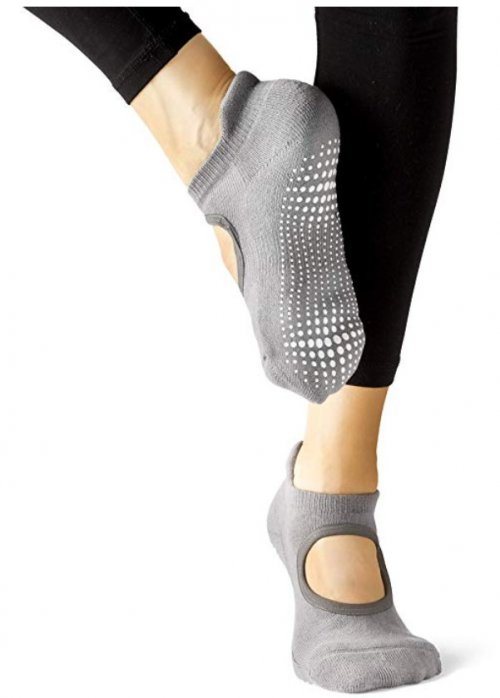 Customized Dot Pattern
Premium Cotton Blend
Instep Cut-Out for Breathability
Easy Pull-On Tab
For Indoor Activities
The LA Active Grip is a design that makes your time in a studio or at home a lot safer, thanks to its special grip dots at the bottom. It is constructed in a slightly unusual manner - featuring a cut-out over the instep for better mobility, more comfort, and improved ventilation. These low-cut socks will quickly become one of your favorite parts of your workout gear, or perhaps even a design that you will look forward to wearing at home. The LA Active Grip is all about comfy performance and worry-free balance.
The grip dots on the soles of the Active Grip completely line the bottom, but they are especially large and prominent in the areas which need the most traction: the heels and the balls of the feet. These dots are smooth and won't cause you any discomfort while you're going through your poses.
Much like the Great Soles option, the Active Grip is also made from a premium cotton blend to be gentle on your skin. We love the cut-out in the top part because this allows for more breathability than a standard sock design. The air can easily pass through and keep your feet cool and dry throughout.
The LA Active Grip is a great choice for those who lead a more active lifestyle and who like to do their stretches or light strength exercises either at home or in a class. Its customized dot pattern will help you preserve your balance, while the extra breathability will make sure you are comfortable from start to finish.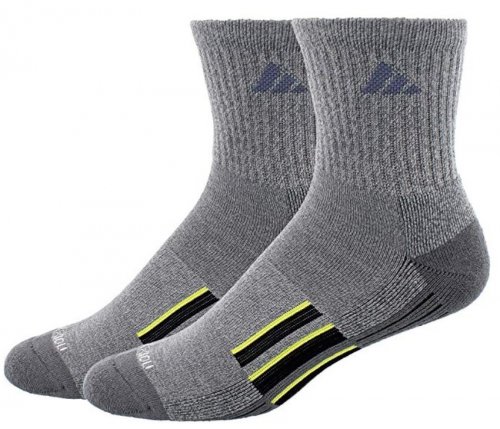 Traxion Footbed
Moisture-Wicking Climalite Technology
Arch Compression
Cushioned Areas
Performance-Oriented
Questionable Durability
May Develop Holes
Thanks to its special Traxion footbeds, Adidas has not only one, but two designs on this list. One of them is the Climalite X II, an absolute champion in moisture-wicking, support, shock-absorption, and cushioning. It comes with the Climalite technology that keeps your feet dry and it is great as a performance sock, both in the gym or for your next run or even hike. The Adidas Climalite X II is a high-quality choice when it comes to any type of sports gear.
Its material blend consists of micro acrylic, polyester, and nylon for durability, and spandex and natural latex rubber for stretchiness. Unfortunately, with the addition of latex, the Climalite X II is not a good design for those allergic to latex.
Its Traxion footbed is ergonomic in shape, and it comes with cushioning ribs that are non-slip and that deliver exceptional cushioning and impact-absorption. Arch compression will offer extra stability and support, while the Climalite system is there for an easy, dry feeling. Climalite pulls moisture away from your skin and to the outer layers of the sock, from where the moisture evaporates and helps the material dry quicker.
The Adidas Climalite X II is perfect for those days when you want to give it your all. Whether you're a runner, a CrossFit-er, or simply a regular gym member, the Climalite X II will be a breath of fresh air to your feet both in terms of ventilation and comfort.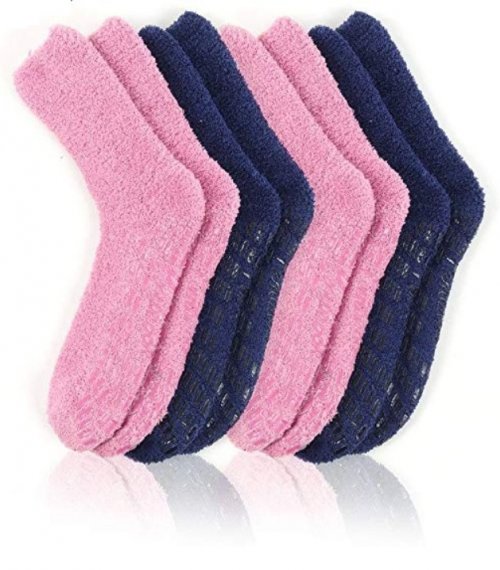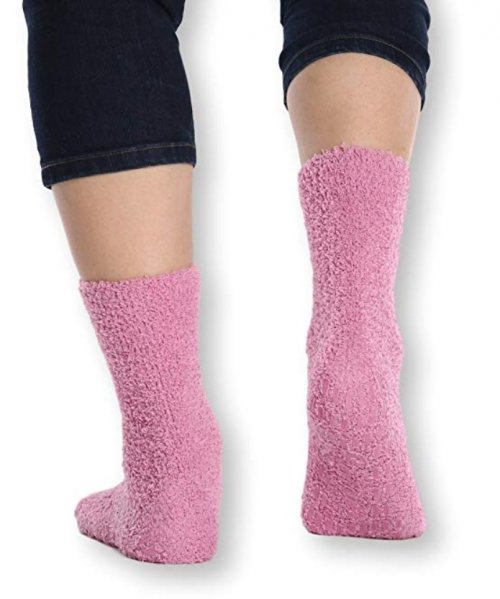 Soft Fuzzy Feeling
Non-Marking Pads
Amazingly Stretchy
For Indoor Use
Great Hospital Sock
Grips Wear Down Quickly
May Develop Holes
Pembrook is a brand founded in 1976, which is committed to creating high-quality products made from premium materials through ethical manufacturing practices. Their Non Skid design is perfect for lounging around the home, or even as a hospital sock, to wear pre- or post-surgery when you don't want to slip or lose your balance on sleek hospital floors. It is best worn without footwear, to get that lightweight feeling of bare feet but still with a protective, traction barrier against the ground.
The Non Skid is made from a soft, fuzzy blend of polyester for durability, elastic and spandex. It is one-size-fits-most, meaning that it is wonderfully stretchy and easy to wear, without digging into your skin or restricting your movements. The feeling of these socks is plush, luxurious, and your feet will feel positively pampered in them.
The grip aspect of the Pembrook Non Skid comes in the form of grip pads on the bottom. They're shaped like rectangles, and their color is the same as that of the sock; they don't stand out or draw attention in any way. What's more, these pads are non-marking, meaning they won't leave scuff marks on the floor.
While the Pembrook Non Skid is not a performance sock and not meant for combining with footwear, perhaps it's just what you're looking for to kick back and relax at home. It is a great design to wear when you're after some cozy softness that will keep you from taking a fall in a number of situations.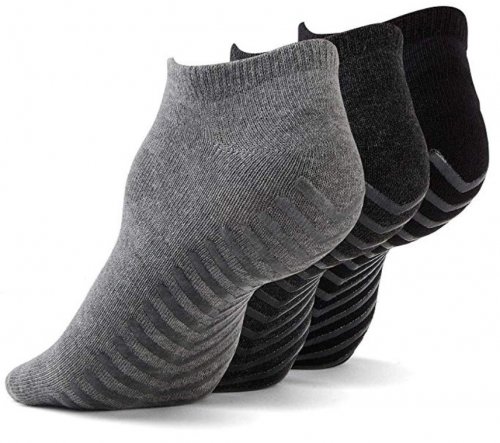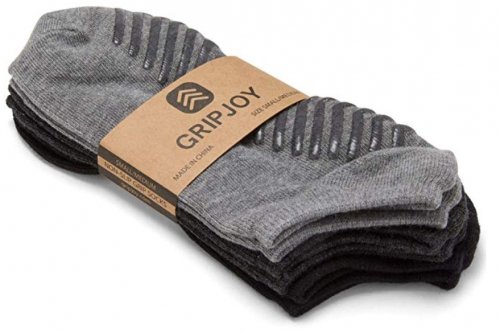 Inside & Outside Grippers
Soft Cotton Blend
Smooth Seams
Reinforced Heel
Works With Footwear
The GripJoy Non Slip comes with a special feature for this guide - it not only has grippers at the bottom of the sock, but there are also grippers on the inside, in the back near the top line! These ensure that the design stays on no matter what and that it doesn't slip down or bunch up even if you wear footwear. The GripJoy Non Slip is made to provide security in every sense of the word, and their smooth-seamed structure will keep your feet happy and light throughout the day.
The Non Slip is made from a cotton blend which means it is soft to the touch and quite breathable. It has a reinforced heel area to prevent the development of holes here, and we are absolutely in love with the inside grippers that prevent the design from sliding down. What an innovative solution to a very common problem!
The grippers are attractively placed on the sole, and the seam of the Non Slip is smooth to provide a blister-free experience. Unlike some other socks with grippers, these are very easy to slide into footwear of any kind, so you should be able to wear them with your favorite shoes without a problem.
The GripJoy Non Slip is endlessly versatile. It can be used for sports such as yoga, pilates, barre; it works as a maternity and labor and delivery design or during a hospital stay of any kind. You can even wear it as a sleep sock, or instead of slippers around the house! Try it all with the GripJoy Non Slip.
10

. Copper Fit Gripper Sock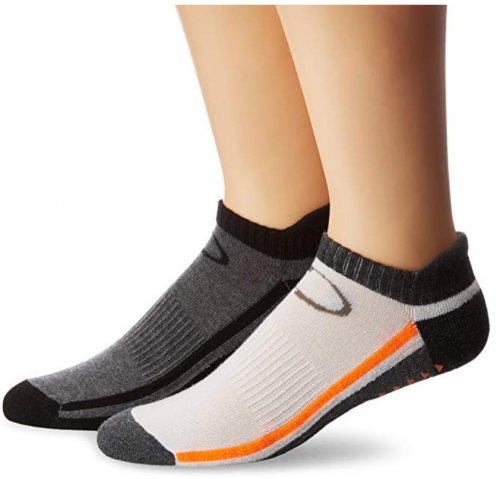 Odor-Resistant Copper Ions
Durable & Colorfast
Triangle Grips On the Bottom
Arch Compression
High Terry Footbed
Painful Seams
Grips Come Off
Copper Fit designs are different than most others in one main characteristic, and that is that they contain fibers infused with copper ions. These have the ability to inhibit the growth of odor-causing bacteria, keeping your feet fresh for longer periods of time. At the same time, the Copper Fit Gripper Sock has compression in the arch and silicone grips that keep you steady on your feet on any type of surface.
These are perfect for the yoga studio, or for simply wearing around the house as slippers. The Gripper Sock is made from 100% polyester, meaning it is incredibly durable and colorfast. The copper ions we mentioned make sure that your feet don't suffer from unpleasant odors, and they're also not easily washed away even after multiple wash cycles.
The silicone triangles at the bottom of the design are why we chose it for our list, as this will make sure that you don't slip or skid at any point in the day. Arch compression provides relief from strain and reduces foot fatigue even if you take these to the studio for some exercise.
The Gripper Sock from Copper Fit is truly unusual in its make-up, but perhaps this odor-repelling uniqueness is just what you're looking for! You will love the easy way these slip on and the lightweight, carefree feeling they bring to your feet, day in and day out.
Criteria Used for Evaluation

Traction
Choose the type of traction that best fits your purpose.
We're talking about grip socks here, so why are we suddenly mentioning traction? Why is this important? What is the difference between traction and grip, anyway?
The basics are as follows: grip is the ability to cling to something. In our case, the floor. When you're standing still, grip is what allows your toes to pinch the floor, so to speak, so that you are steadier and more grounded on your feet. This is especially useful in weightlifting, for example.
Traction, on the other hand, is the ability of the bottom of your foot to create friction against the floor and thus prevent you from sliding, skidding or slipping as you move.
Even though the subject here is grip socks, they are in fact traction socks in many ways, rather than grip ones.
So, how is this traction achieved in socks?
There are two main ways to do it: through special pads on the bottom and through innovative technologies.
Grip Pads: These come in many shapes and forms: dots, triangles, letters… But the thing they have in common is that they are made from high-traction materials, such as silicone, PVC, or rubber. These usually line the full length and width of the sole, so that no part of your foot is slippery.
The downside to pads is that sometimes they can fall off, either through extensive use or in the washing machine. If that happens, the sock automatically loses its traction and thus its purpose.
Technologies: The more advanced form of traction comes with innovative systems that are usually the work of world-renowned brands like Nike has NikeGRIP while Adidas has Traxion. These are either special materials or special construction methods that increase traction in key areas on the bottom of the design, and that don't fall off or lose their properties over time.
It is important to note that no one way of enhancing traction is better than the other. You may be tempted to shell out more money for a famous brand name or a fancily titled tech, but if you don't have the need for it - if you're not seriously engaged in a sport - then perhaps a simple design with grip pads on it will also do the trick.

Comfort
Natural materials, the right level of cushioning, and a seamless toe lead to a comfortable ride.
While grip is necessary to keep you on your feet and prevent you from losing your footing, it is not the only important feature a good pair of grip socks should have. After all, no amount of traction or stability in the world will matter if you have socks that are making you uncomfortable and that you can't wait to take off at the end of the day. (And most likely will never wear again.)
So what exactly does make a sock comfortable? How do we judge comfort, in this case?
The answers to these questions are, in fact, not as complex as you might think.
The first feature that impacts comfort is the material type the design is made from. Natural materials such as cotton, bamboo, and wool are softer than synthetics, and they provide a gentler feel. They're especially beneficial if you have sensitive skin - combed cotton and bamboo are useful in preventing allergic reactions, redness, itchiness, rashes, and similar unpleasant skin reactions.
The second feature you should look at is the cushioning. While this may not be key in everyday use, when you're walking around your workplace or school or to and from your car, or are even relaxing at home, cushioning becomes incredibly important when we're talking about sports.
Not only does extra padding at the bottom of the design provide extra comfort, but it also serves to deliver shock absorption. This is an important feature to have when you're constantly pounding the ground with your heels. Cushioning will prevent the impact from your heel strikes from traveling up your feet and into your joints and muscles, where it could cause damage to them over time.
Lastly, one more tiny detail to look out for when it comes to comfort is the seams of a design. We've mentioned a seamless construction several times over in this guide, and we stand by it: if you want to minimize the chance of getting blisters and if you don't want any uncomfortable rubbing or indentations, go for flat, invisible, or non-existent seams.

Fit
Make sure that the design isn't too loose but not too tight, either. Stretchy materials help in achieving the perfect fit.
In our previous section, we talked about what makes a pair of grip socks comfortable, but we didn't mention how the fit plays a very large role in that. A good fit can mean the difference between a great workout (or a great day) and an abysmal one, as an ill-fitting sock can lead to all sorts of discomforts, pain and even blisters.
If your socks are too tight, they might leave markings or indentations on your skin. These become itchy once you take off the socks, and could even cause some pain. Furthermore, a fit that is too constricting can cut off your blood circulation, resulting in cold feet and numbness. If you keep wearing tight designs for a longer period of time, it may lead to some serious issues later on.
Similarly, the fit shouldn't be too loose either. Loose designs tend to slip down and bunch up. Aside from the fact that constantly adjusting your socks is plain annoying, this excess material around your feet can lead to the development of blisters. This is especially true if you're wearing footwear.
But even if you're going barefoot - a loose fit will cause your feet to slide inside the design, which defeats the purpose of a good grip since you're going to be losing your balance anyway.
To ensure that a sock will fit well, look for those that have a decent amount of stretch in them. Materials such as spandex, Lycra, and elastane are good for this (see: our Materials section below) because they have the ability to take on the shape of the foot. Additionally, ergonomic left and right fits should also help improve the feel, particularly in the case of high-impact sports.

Materials
Getting to know different materials used in sock construction may help you make a better decision on which design is the best for you.
Many features of design depend on the type and quality of its materials. Aspects like comfort, durability, breathability, stretch, weight and more are determined in large part by the fabric types in the construction. Therefore, it would be a good idea to find out more about materials most commonly used in grip socks and what are the advantages and disadvantages of each.
Let's dive in!
Polyester/Polyamide/Acrylic: These are man-made fibers often used in the construction of socks. They are not exactly identical, with only slight differences between them: polyester is more durable, acrylic is softer, but essentially, they behave in similar ways. They are all quite long-lasting and colorfast, meaning that they retain color for a long period of time.
One disadvantage of synthetic materials is that they are not as gentle on the skin as natural ones. Additionally, they are not biodegradable, meaning they are not very good for the environment in the long run.
Cotton: Unlike the previously described, cotton is a natural fiber. It is soft and amazingly gentle, and some versions of it can even be hypoallergenic and suitable for sensitive skin (combed cotton, for example). Cotton is also breathable and great for casual or low-impact use.
However, cotton wears out faster than synthetics and its dye fades out quickly. Moreover, cotton absorbs the moisture instead of wicking it, which makes it a bad choice for high-impact activities.
Nylon: Nylon is another man-made material that is added into different blends to increase their wear and tear resistance. It is amazingly strong and resilient, and designs with a high level of nylon last longer than those without.
Rubber: Rubber is most commonly used as natural latex rubber. It adds stretchiness to the design, and in the past, it was used more often than today. Today, while you can still run into it from time to time, rubber has mostly been replaced with spandex or its equivalents.
Spandex/Elastane/Lycra: These three names are used to describe the same type of fiber - an amazingly elastic material that makes socks stretchy and form-fitting. The higher the percentage of spandex/elastane/Lycra, the more accommodating, and probably more comfortable, a design will be.

Durability
Synthetic materials and reinforced areas increase the durability of a design.
The last but certainly not the least on our list of important criteria to consider before making a purchase is the durability of a design. Durability, in general, is determined by various different factors, such as the materials of a sock, the techniques used in its construction, special features, how often you wear it, how often you wash it, what situations you use it in and so on and so forth.
In terms of materials, we covered a little bit of this in our earlier section: synthetics are definitely more durable than natural materials. More so if they have nylon in their build. These fibers are resistant to wear and tear, and you should be able to enjoy your synthetic grip socks for a long time, possibly even several seasons, depending on what you use them for.
Designs that have reinforced heel and toe areas have an advantage over those that don't. These additionally strengthened parts won't develop holes so easily and won't wear out or fray for a long while.
It is important to also consider the durability of the grips themselves if a design has them. These are, unfortunately, likely to fall off at some point or another. It is impossible to predict how quickly this is going to happen, so all you can do is rely on other customers' reviews to make sure you aren't getting a low-quality sock.
We would like to emphasize that you should not, in any way, hold yourself back from wearing your new socks just because you want them to last longer. They are meant to be worn! The silver lining here is that these designs aren't too expensive, generally speaking and that you should be able to replace them without any problems, should one not meet the durability standards.
Expert Interviews & Opinions
Most Important Criteria
(According to our experts opinion)
Experts Opinion
Editors Opinion
Users Opinion
By Default
Other Factors to Consider

Bottom Line
If at first, you didn't know much about what makes grip socks grippy, we hope that now you have learned something new! Grip and traction are the two main qualities we focused on in this guide, and all of our designs excel at them.
As you can see, there is a little bit for everyone; for those who want a quiet evening at home, for those who love going through their yoga poses, for those who are looking forward to their next CrossFit WOD. Grip socks are varied both in terms of style and performance features, and thus it is important that you know what you need them for before you go more in-depth in your research.
Our Criteria section detailed out what you should take into account when shopping for best grip socks, while the FAQ below will answer your questions if you happen to have any. Enjoy the world of non-slip grippy socks, and we wish you good luck with your shopping!
Frequently Asked Questions
q:

When is grip and/or traction important?

a:

As you might have gleaned from our list, this feature in socks can be used for a multitude of situations. If you have sleek floors at home and like to feel cozy, cute traction socks should prevent you from slipping. In sports, the grip is important to preserve your balance during some exercises, while traction will again prevent a fall from slipping or skidding in some others.

If you are a person who should take special care to protect themselves from a fall, such as during pregnancy or in old age, these types of socks will greatly benefit you.
q:

Can I wear these socks even if I'm not exercising?

a:

Absolutely you can! As we answered in our question above, there is a wide range of people who can make sure of grip socks, regardless of their age or fitness levels. The only requirement is the desire to not slip, really.
q:

Can I wear these with shoes?

a:

Not all of them. Some gripper designs in our list are a bit difficult to slide into footwear, because they tend to be bulkier than regular socks. However, those which feature grip technologies but not actual pads on the soles are definitely suitable for shoes and you should have no problem putting them on.
q:

Are these grippy socks expensive?

a:

It all depends on what you're looking for. Designs that come from famous brand names such as Nike or Adidas will certainly be more expensive than those that are from less-known labels. Also, performance-oriented socks are definitely pricier than those geared towards casual wear or low-impact training.

There is no one universal price range that fits all traction socks, so you might have to search a bit to find a pair that fits your budget.
q:

If I'm looking for sports socks, what other features should I focus on?

a:

The most important features here are moisture-wicking, breathability, and cushioning. The first two will help with reducing bad odors and the risk of infections while the last one will provide protection for your joints in the form of impact-absorption.

Any other features you might have to explore depending on the sport you're taking part in, and you should look up guides for these particular activities.
Subscribe to our Newsletter