Best Elevator Shoes Reviewed & Rated
last updated
Apr 30, 2019
Whether you're here because you're looking to add a few inches to your height, or your trusted pair of elevator shoes needs a replacement, you've come to the right place. This is an awesome, discreet and comfortable method of gaining a bit in height, without having to sacrifice style or comfort. Nowadays made in a variety of models, ranging from boots to sneakers to dress shoes and semi-formal lace ups, you can opt for a number of models that you'll love wearing. However, finding the right pair for you may be difficult, especially considering that not many brands make this type of specialized footwear, and even less of them make it well. That's why we've collected the best of the best in an easy to follow list, with detailed pros and cons for each style, along with descriptions of their best features.
In a Hurry? The test winner after 12 hrs of research

Calto G65771
Why is it better?
2.8" Height Gain
Supple Leather Upper
Adjustable Straps
Elastic Gore
Natural Rubber Outsole
In a
Hurry? Editors choice:

Test Winner: Calto G65771

14
Researched Sources
1873
Reviews Considered
12
Hours Researching
16
Products Evaluated
Features
Support
Comfort
Brand
Value
By Default
In Depth Review Top 10
Calto G65771
Chamaripa Leather Sneaker
Calto G3305
Chamaripa Oxford
Toto X7102
Calden K320021
Calto G1823
Chamaripa Elevator X92H38
Giorgio Brutini Chelsea
Chamaripa Casual Sport
Table of contents
Criteria Used for Evaluation
Other Factors to Consider
Frequently Asked Questions
Sources
Top 10 Elevator Shoes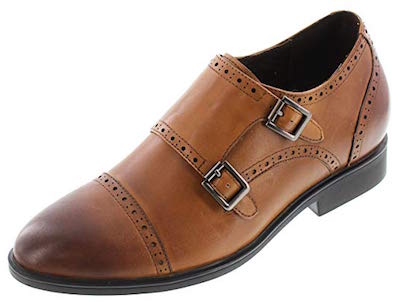 2.8" Height Gain
Supple Leather Upper
Adjustable Straps
Elastic Gore
Natural Rubber Outsole
Limited Size Availability
Unsuitable for High Instep
While a regular Oxford lace-up is something everyone should own, it's nice to switch the style up a bit from time to time. A monk strap is the perfect way to do this, seeing that these shoes are versatile and appropriate for both formal and casual wear. Combine it with a navy suit for a day at the office, or pair with your favorite worn jeans, and you'll be ready for a weekend outing.
Read more
This slip-on style features a slip-on design with an adjustable buckle closure that allows you to determine the perfect fit both lower, toward the toes, as well as over the instep. But don't worry about the lack of laces. An elastic gore ensures easy on and off, as well as some give during the day in case your foot tends to swell.
Handcrafted with care, this pair of monk straps features a cement construction that's durable and lightweight, while allowing you for excellent elasticity that won't cause fatigue by the end of the day. Add to this the fact that this shoe features plenty of cushioning and shock absorption, and you can rest assured that you'll love wearing it as often as possible.
2

. Chamaripa Leather Sneaker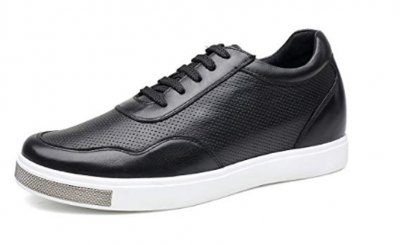 Leather
Sneaker Style
Thick Cushion Sole
2.5 Inch Raise
Perforated
If you're in search of something that keeps a rich look but wears as comfortable as your favorite pair of casual shoes, the Chamaripa Leather Sneaker checks all the style boxes. Leather sneakers are one of the hotter trends in 2018, and with perforations to help keep this sneaker breathable, it's quite functional, as well as posh. With an increase of almost 2.5 inches, it's worth a look, even if you've never considered wearing an elevator style pair of shoes!
Read more
Uppers of the Chamaripa Leather Sneaker keep a luxe look with full calfskin leather uppers and pigskin linings, making them durable and comfortable. Soft flex in the leather allows for a unique fit over time, and perforations in the uppers allow for increased airflow, keeping your feet ventilated and cool. Perfect for casual outings, date night, or even work attire, you're sure to gain some compliments from this pair!
A thick rubber sole helps keep comfort in your stride, while a textured base allows for firm grip and traction, even on slick surfaces. A Polyether whole pad increases vertical height by almost 2.5 inches while keeping good support in areas where you need it most. Lace-up closure gives a snug yet adjustable fit, and its lightweight construction helps reduce foot fatigue for bouts of longer wear.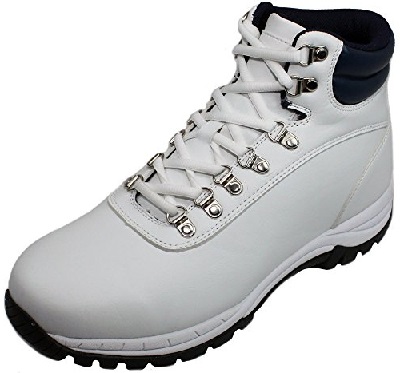 3.2" Height Increase
Patent Leather Upper
Thick Collar
Metal Eyelet
Great For Work
Calto, a leading name in height elevating shoes, brings you the elevator hybrid - high-top sneaker/hiking boot - cushioned like a great sneaker, while secure with the traction of a great hiking boot. This is a great looking lace-up solution for work, running errands, casual occasions, walking the trails or other light exercises. It's lighter weight than many elevators as well.
Read more
This elevator shoe features great looks in a patent leather upper with metal eyelet lace-ups, perfect for work. It has an extra thick collar for comfort and plenty of shock absorption.
This appears to be a more substantial shoe than most of the others on our list. However, it is lighter than most. It's constructed from lighter weight material where possible which reduces the fatigue on your feet.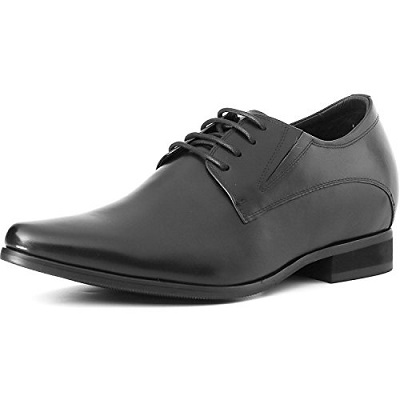 3.15" Height Increase
Superior Comfort
Leather Upper
Very Breathable
Natural Rubber Outsole
Not Available In Wide Sizes
Chamaripa is a leading name in elevator footwear. This oxford is very breathable and features a high-quality leather upper, padded leather insole and arch support. It has a very simple design which will suit both business and formal occasions and you will also appreciate the comfort that Chamaripa builds into its shoes.
Read more
The premium leather outsole is low-odor, flexible and very wear resistant. This lightly patterned outsole will last and provide decent traction on most surfaces.
The insole in this oxford conforms well to the natural curves of the foot and the arch. It is durable and padded for additional comfort. The shoe is also very breathable which keeps your feet cool, dry and comfortable.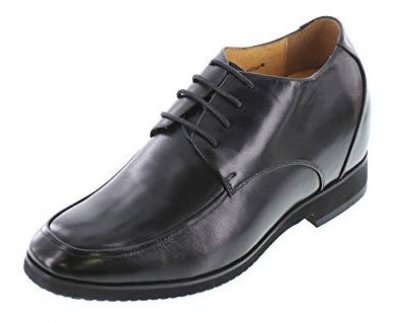 Formal Footwear
Closed Lacing
4 Inch Raise
Apron Toe
Leather
Newer to our list, Toto brand has made some great elevator models of footwear, and we enjoy the look of their X7102, a more formal styled pair of shoe, but giving you a full 4 inch lift in height. Black leather gives them a pulled together look, while apron toe adds some formality to aesthetic. The hidden sole gives the majority of the vertical increase in height, and a stacked heel keeps this lace-up formal shoe looking similar to other oxford styled shoes. Great for business or nights out!
Read more
Keeping a style similar to that of an oxford, a closed lacing system ties the quarters of the X7102 together, giving it a clean appearance with a sharp finish. Full grain leather uppers allow for durability and may require some break-in. Lightweight design helps to cut down on foot fatigue for all day or extended ear.
The Toto X7102 allows for a full four-inch increase in height, without looking like a platform shoe. It hides the lift within the inner sole of the shoe, so you can confidently take steps throughout the day. A leather lining is built in for added comfort, along with extra padding to cushion your steps. The rubber sole also provides great grip and traction so that you can dance the night away at your next formal event!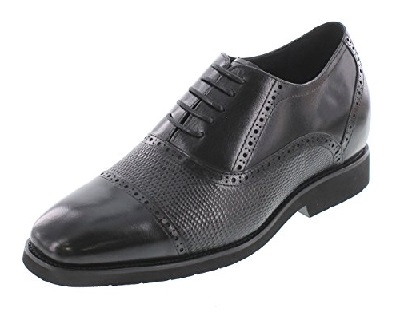 3" Height Increase
Quality Leather
Brogue Accents
Pebbled Vamp
Subtle Elevator
This lightweight oxford dress shoe from Calden features unique brogue accent details with two tones of leather upper - smooth and pebble grain. This shoe will move easily from the office to the boardroom, to formal occasions in a well-disguised elevator. It is also very light compared to many other elevators and it is designed with a number of features to make your foot comfortable while increasing your height.
Read more
You want the height but you also want to look good and this shoe will do it with brogue accent details all over the upper and two-tone full grain leather - pebbled across the vamp and smooth at the toe and heel. Beautiful!
Calden pays attention to detail and quality in the shoes that they make. The leather in this upper is high quality and will feel soft against your feet while being resistant to weather and durable.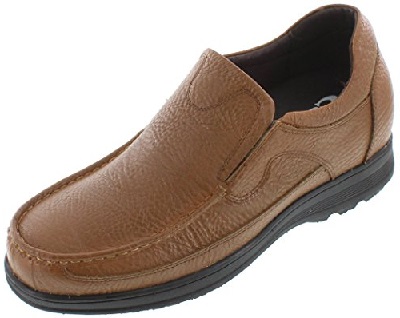 3" Height Gain
Moc Stitching
Supple Leather
Shock Absorbing
Cushioned Heel
This elevator shoe is a slip-on loafer from Calto that features hidden elastic gore and pebble grain accents. Elegant stitching has been added to the upper to increase both durability and style. Calto is an expert at elevator shoes, which they have been making for more than 20 years.
Read more
The insole is a shock-absorbing leather that has a hidden increaser in it. Other aspects of the sole take on traditional aspects of the footbed and insole in a Cato elevator so the height increaser can remain discrete
The loafer has elegant moc stitching in the forefoot and is made of the finest, soft and supple leather. This looks like a shoe from an upscale menswear boutique for a reasonable price.
8

. Chamaripa Elevator X92H38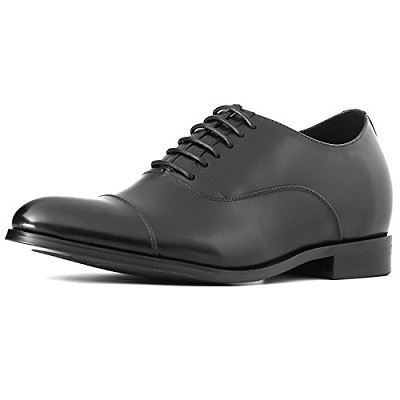 2.76" Height Increase
Wear-Resistant
Weather-Resistant
Comfort All Day
Business To Formal Use
A sleek, simply designed elevator oxford. These are a heavy shoe but they are also warm and weather-resistant. It is engineered to ensure the health and comfort of your feet. This Chamaripa will fit well wherever you go - work, business meetings, banquets, weddings. Business casual or formal, the shoe will go with you.
Read more
Chamaripa is committed to designing lifts that will not collapse and they do a great job of making that commitment. This shoe will stand up to whatever you throw at it without sinking.
This oxford has a polyether insole layer that is light, conforms to the shape of your arch and the natural lines of your feet, making it secure and comfortable - healthy for your feet.
9

. Giorgio Brutini Chelsea



1" Height Increase
Synthetic Sole
Leather Upper
Fashionable
Goring Inserts
Pull-On Design
When it comes to style, flair, and dressing up, there is no better statement piece than the Giorgio Brutini Chelsea. Today, this brand is easily one of the most popular companies and product. These dress-up boots embody most of what consumers are looking for including comfort and durability. Let's explore two of the most impressive facets of this product.
Read more
If you look at the design appeal of this product, it's sleek and quite fancy. Now, this appeal can be attributed to the waxed leather used to construct the actual boot. We were quite impressed by this material choice as it's great for comfortability, durability, and stability.
If you are a frequent wearer of boots, you can attest that sometimes, laces can be quite obnoxious. There is nothing more frustrating with footwear than trying to tie the laces, especially in the cold weather, or if they have frayed. In efforts to alleviate any frustrations, this brand constructed their product to be 100% pull-on.
10

. Chamaripa Casual Sport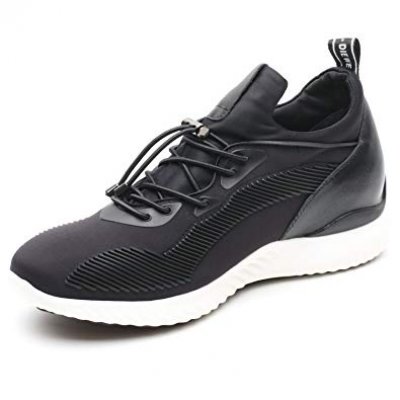 Sneaker
Quick Lace System
Hidden Rise
2.76 Inch Raise
Casual doesn't have to mean your footwear can't have a great look about it. The Chamaripa Casual Sport is a sneaker made from soft leather, beautifully designed to give it a pleasing aesthetic. Boosting height by 2.76 inches, it still takes the appearance of a regular sneaker, and hides an extremely comfortable soft pad insole for cushioning. This insole is the key to the hidden rise in the Casual Sport, allowing you to step confidently out with friends for parties, errands, or weekend events.
Read more
The Chamaripa Casual Sport keeps its height hidden, taking on the appearance of an average pair of sneakers. Whole Insole Elevator Layer will add 2.76 inches of height but also functions to keep you comfortable with every step. This insole conforms to the shape of the foot, with supportive arch features, so you'll not just feel confident in your steps, you'll be supported along the way as well.
The Casual Sport is created from soft leather, giving it a luxe look compared to other sneakers, and a stretch fabric, which helps keep some flexibility for fit and movement. The sole is ample for cushioning your walk, and a speed lace closure makes them easy to put on and remove. Padded collar and a heel tab help with comfort and fit, and it comes in a couple of choice colors to choose one best for your tastes.
Criteria Used for Evaluation


Features
There are so many ways to add height through footwear - heels, wedges, inserts, platforms, for example. Because you are here considering elevator shoes we are taking an educated guess that you want the additional height that is discreet.
We have evaluated a number of elevator shoes and while many offer discretion, many others are quite obvious - with lines or extended heels and midsoles that are very visible. Each of the elevator shoes on our list is designed with a disguised lift for discretion. In every case, the upper for the shoe is designed in such a way to make the elevated heel less noticeable so what people will notice is your height and how great your shoes look and that's it.
There are several ways to disguise an elevator in a shoe:
Curved Heel Box - a smoothly curved heel box will mimic the natural lines of a heel which fools the eye into seeing a normal, nothing-to-see-here, shoe rather than an elevator.
Smooth Rise - a smooth and even rise from the toe through the heel is far less noticeable than a sharp rise,  it is also much healthier for your feet and will give you a natural stand and gait.
Decorative Details - decorative features can also be used to direct the eye away from the heel and toward other aspects of the shoe - for example, brogue detailing, printed leathers and wingtips all do a good job of drawing the eye away from the back toward the front of the foot.
Elegant Stitching - Stitching is required to reinforce and strengthen most shoes that contain elevators. However, well-placed stitching placed in elegant lines will accomplish the reinforcement while appearing to be purposeful style details.


Support
Elevated heels are not a natural position for the feet and can cause damage over the long-term. An elevated foot needs both support and cushion to remain healthy and strong.
There are several important things to look for when choosing an elevator, including the following support aspects:
Heel & Ankle Support - Elevated heels can make heels and ankles unstable and can affect your balance. Look for shoes that have solid support around the ankle and a firm heel box to keep your heel in place and secure. Rubber soles will also take some of the shock-absorbing work from your heel reducing the risk of injury.
Midfoot Support - The midfoot is more important than many people realize in stabilizing the foot and it is the location of many serious injuries from wearing elevated shoes. The midfoot should be cushioned for comfort, but should also be supported in the arch. If an elevator has no arch support, you are likely to suffer midfoot strain and injury.
Forefoot Room & Cushion - The forefoot should be wide enough to offer support to the balls of the feet and cushioned enough to not put pressure on the forefoot joints. Your forefoot should feel secure but never compressed at the front of the shoe.
Toes - a common problem with elevated heels is that toe boxes are often too narrow for your toes to lay naturally next to one another. If the toe box is too snug, you could develop bunions or fracturing of the small bones near the forefoot joints. You should have a snug (like a hug) fit but anything tighter than that could cause damage.


Comfort
There are also a number of ways to cushion the foot, some of which have already been touched on but also include:
Cushioned Insoles - insole cushioning is extra important in an elevated heel that you will wear for extended periods of time. Insole cushioning make the feet comfortable but also help to distribute your weight more evenly. Look for insoles that are shaped to the natural lines of the feet and are thick enough to not break down easily.
Padded Collars - your upper feet take a lot of stress in an elevated heel, padded collars help to increase comfort while reducing the risk of sores and blisters around the most sensitive skin on your foot.
Ventilation - A cool, dry foot is comfortable and healthier than one that is overheated and damp. Not only does it keep the risk of microbial and fungal infection at bay, but a dry foot stays in place better, avoiding injury and stress.
Removable Insole - Removable insoles are important if you want to wear a custom insole or orthotic for personalized comfort.
Cushioned Midsole - the midsole should take some shock absorption but also should provide some cushioning for the feet, reducing stress and increasing comfort.
Shock-absorbing Outsole - the remainder of the shock absorption in a shoe should be taken by the outsole. It needs to be flexible enough to move but also elastic enough to take a beating for you.


Brand
Very few brands make shoes meant for gaining height. You'll find that most are difficult to find, and you'll often be left to ordering online and hoping that you chose the correct size, style, and color. Add to that the fact that you have no previous way of checking the quality of materials and construction; the entire process can be rather frustrating.
Some people will find that purchasing footwear by well-known brands featuring higher heels or chunkier midsoles is easier than looking for the perfect elevator shoe, but this doesn't have to be the case. All you need to do, to ensure a successful purchase, is do a little bit of research and read a bit about the products that have caught your eye.
If you're shopping online, you can make use of the review features on most websites and look at what other customers had to say about a particular model. If it runs small or large, if it's poorly constructed or isn't durable, you can count on people expressing their opinion. After all, nobody wants to invest their hard earned money and get a sub-par product or service in return.
If you're unsure of where to start, we'd recommend looking into brands such as Calto, Calden, and Chamaripa. These make great quality footwear and offer a wide variety of styles that are sure to suit everyone's preferences. From there on, you'll easily find similar items by less known manufacturers that may offer the same (or even better) quality.


Value
The price of a shoe can sometimes be a deal breaker. That's part of the reason why footwear manufacturers invest time and energy into creating cost-effective technologies to incorporate into their shoes to make them durable, long-lived, versatile, and inexpensive.
Durability & Longevity
Footwear, usually, lasts more than a few months, because shoes that are going to fall apart after a few months of use aren't worth the investment of more than a few dollars. Leather and synthetic overlays can be used to make the shoes more durable without sacrificing flexibility. Firm leather or synthetic uppers provide durability and support.
Versatility
Great footwear can be used for more than one activity. Walking and running shoes, for example, can be used in some casual sports. Stylish athletic footwear could be used in informal work environments. Sandals can be used in casual and semi-formal settings. The more situations you can use the shoe in, the more value it offers for the price.
Maintenance
Good footwear is easy to maintain and clean. They don't require a lot of expensive shoe treatments or time-consuming upkeep. Shoes that need a lot of effort, time and money to maintain, don't sell as well as shoes which are easier and cost less to keep.
Removable inserts
As mentioned earlier, removable inserts in footwear make it customizable, but that's not the only bonus to removable inserts. Removable inserts increase the longevity of the shoe, which is why some come with removable inserts.
Cost
A hefty price tag can be a deal-breaker for people on a budget. That's why many can be found in the low-to-middle price range. They're affordable, and if they are priced a little higher than others, then they offer many features to make the footwear worth the extra investment.
Expert Interviews & Opinions
Most Important Criteria
(According to our experts opinion)
Experts Opinion
Editors Opinion
Users Opinion
By Default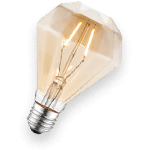 Confidence From Footwear
Many times, our footwear can give us confidence and a spring in our step, just by how they make us feel. High heels give a sexy confidence, while dress oxfords can give us a polished, pull-together feel.
Elevator shoes are no different! Confidence can be gained in a pair of elevator shoes, leaving you feeling like you can accomplish what you set your mind to.
When you pick out your next pair of footwear, consider what it is you want them to help you feel!
The Subtlety Of The Elevator Shoe
One of the best things about elevator shoes, is the subtlety of the height increase the shoe grants the wearer. While they appear like any other shoe, a quality made elevator shoe won't have unnecessarily thick soles, but is able to hide that height increase somewhere in the midsole or insole, while the exterior of the shoe appears as it should.
Other Factors to Consider


Bottom Line
Obviously important in an elevator is its ability to increase your height. The shoes in our list range from an additional 2.36" to 4" in height. This is measured in additional height for most shoes (i.e. the normal heel is not included) and in other models as total height (the height of the lift plus the heel). For this reason, it is important to read the product descriptions for the shoe you are considering so you understand what additional height increase you can expect.
Elevating devices must be sturdy enough to not collapse but sufficiently soft that they don't wear out or harm the heel. The shoes on our list have all demonstrated strength in the elevator and are from companies who specialize in making stable, functioning elevator shoes.
Frequently Asked Questions
q:

Do elevator shoes fit "true to size"?

a:

No, they do not fit true to size. If you normally wear a size 9, for example, there is no guarantee that you will wear a size 9 in an elevator. It is very important to check size guides and charts when choosing an elevator shoe as none of them is standard. Also in an elevator, it is important to measure the circumference of your foot at the midfoot to ensure the size you are looking at will not be too tight. Often users complain that a shoe is narrow or tight in their 'normal' size but the real problem is that the sizing charts were not used correctly.
q:

Only four manufacturers on this list?  Why?

a:

While there are several manufacturers that make height increasing shoes, there are very few that make them as well as the four in our list, who each specialize in making comfortable, safe, subtle and effective elevators. We set out to bring you the best and some just didn't make the cut. We also ruled out shoes where the lift was visible or added only a minimal height.
q:

Will shoe lifts achieve the same effect?

a:

Shoe lifts are made from foam, plastic or cork and will provide the same lift but with some disadvantages over a built-in lift. First, it can move around inside the shoe if it is not designed for the exact measurements of the shoe. Secondly, they are noticeable, especially if you have to remove your shoes to change them (for example, at a gym). Third, they are normally not as tall as internal lifts and finally, your ankle will sit above the support and comfort features meant for the heel and ankle in the shoe. This means a loss of stability and safety that could lead to injury.
q:

Is it safe to wear elevator shoes?

a:

It is as safe or even safer to wear elevator shoes than it is to wear heels or inserts. What you need to keep in mind in all cases is that an elevated heel is unnatural for your foot so you should choose a shoe that is stable and secure. If you feel pain wearing the shoe, you should remove it and try a lower height or a more stable shoe. If you have been feeling severe pain or pain over a period of time, have your feet checked by a podiatrist as you may have sustained an injury.
q:

Can I work out in the sneaker versions of the elevators?

a:

Elevator shoes are not recommended for any exercise more strenuous than walking, as injuries are far more likely with your foot in an elevated position. The sneaker versions of elevated shoes are designed for a casual appearance and the additional comfort that most people find in a sneaker, not for more impact than that.
q:

How noticeable are these?  Really?

a:

If you're looking specifically for an elevator, you will see it but to a casual observer, the elevated nature of each of the shoes on our list are well-designed to be disguised and unnoticeable. A thorough reading of the reviews of these shoes backs up the idea that they are well-disguised shoes.
q:

I'm 5'2" and would like to be at least 5'6". I've never worn elevators, inserts or heels before should I just go for the 4" elevators?

a:

You could but we don't recommend it. First of all, most of your friends, colleagues, and others will notice such a drastic height difference. If you were going for subtlety and discretion, it was lost. It's recommended, to begin with smaller inserts to both see how they feel for you and to graduate in height over time. Most people will not notice a height change of a half inch to one inch at a time.
q:

Can I wear elevated inserts with the elevator shoes to maximize the height increase?

a:

Humans are wonderfully capable of doing anything at all so yes, you could do this. However, it's not recommended to wear an insert that is of any substantial height in an elevator show. An inch probably won't cause you any difficult or injury but every inch in height above the elevator is going to substantially increase the risk of damage or injury. 4" is substantial for most people and can make a significant difference in confidence. However, more than that, with the risk of injury and the changes that will come to your gait and stance, make it completely unworth it. Also, if you can imagine placing your heels on a 6x6" timber while your toes are on the ground, you will quickly realize how unsteady and uncomfortable this would be. You're already fantastic without the injury, trust us.
q:

Are elevator shoes just for men?

a:

No, that would be silly, wouldn't it?  They are for anyone at all who wants the additional height along with the look, quality, and comfort of the shoe. Many of these shoes are marketed toward men because, in large part, they represent the market for elevator shoes but they certainly are not exclusive to one group of folks. If you like them and you want to wear them, go for it!
q:

Are elevator shoes just for shorter folks?

a:

Not at all, it's not about how tall you are but how tall you wish to appear. Elevator shoes are for anyone who wants the height and likes the look and feel of a particular shoe. That's the beauty of a free world, isn't it?  Go for it!
q:

Where can I purchase the elevator shoes on the list?

a:

We've provided links to the shoes on our list above. Remember to read the size charts and reviews to ensure you know the size to order and whether they fit narrow, wide, large or small.
q:

Can I wear inserts or orthotics with elevator shoes?

a:

You can, yes. Most of the shoes on our list have removable insoles for that very purpose.
q:

Aren't elevator shoes heavy?

a:

Some are quite heavy yes,  It does take some weight to make an elevator that will stand up to pressure and not collapse. However, there are many lighter weight elevator shoes that are comfortable. The lower the height increase, the lower the weight - which is also the reason that larger sizes of shoes weigh more than smaller sizes.
q:

Will I need a longer pant length with an elevator shoe?

a:

No, that is not normally necessary, though it will depend entirely on the look you want to achieve. Remember that if your pants bunch on the bottom, they will draw more attention to your ankle and foot and therefore, your shoes.
q:

Will packaging be discreet if I purchase online?

a:

We can't guarantee the packing the shoes will come in but reputable manufacturers and resellers will be discreet in shipping any product that may be personal. You should check with the shipping policy with online sellers before you buy to be sure of discretion.
q:

How long will elevator shoes last?

a:

All of the shoes on our list are designed to be durable. You are investing in these shoes so it is important you get long life from them. With normal, everyday use, the shoes should last more than a year. However, durability relies on care, exposure to weather, walking surfaces, stride types and more, so there is no way to be perfectly accurate on shoe length. With good care, they may last several years.