Best Coach Shoes That Always Make A Mark Reviewed
last updated:
Feb 24, 2019
Coach or Coach New York is an American company that decided luxurious accessories was what will define them. It was founded in 1941 as a family workshop in Manhattan. By 1950, it was taken over by Miles Cahn and his wife. Cahn had a brilliant idea - after noticing how the leather in baseball gloves becomes softer and suppler after repeated use, he tried to imitate that when creating his line of apparel. And he succeeded! He made leather that was softer, more comfortable, but also durable and flexible. And the leather absorbed dye very well, which made it susceptible to easy changes.
Today their brand stands for luxury and quality, and is coveted for its simple but fashionable designs that stand the test of time. Below, you'll find our top 10 picks for Coach footwear.
This is the best product on our list that is currently in stock:

Valintina
Why is it better?
Leather Upper
Leather Lining
Stud Details
Rubber Heel
Day to Night
In a
Hurry? Editors choice:

Test Winner: Valintina

10
Researched Sources
1150
Reviews Considered
14
Hours Researching
17
Products Evaluated
Value
Style
Materials
Comfort
Use
By Default
Top 10 Coach Shoes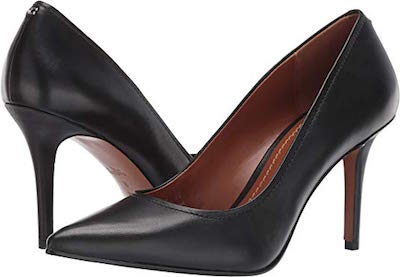 Pointed Toe
Breathable
Leather Lining
3 ¼ Inch Heel
Variety of Style Variations
Dry Weather Only
Unsuitable for Wide Feet
A classic pointed toe pump is a staple in any woman's closet. Be it black or nude, this is one of those shoes that can easily be dressed up or down and worn on a wide variety of occasions, including work, casual outings, parties, as well as formal occasions. The Waverly is the brand's signature pump and it comes in a huge variety of looks. From smooth leather to suede, from simple lines to laser cutouts and scalloped edges - it'll be a breeze finding the pair that speaks to you!
Leather Lining
The best part about the Waverly is the leather lining that's soft, so you can wear it with or without any hosiery. It's also breathable enough so that you don't have to worry about sweating, even if you plan on wearing them for longer than a few hours.
3 ¼ Inch Heel
The covered heel on this pump is of the perfect height. Though it's slightly higher than what podiatrists would consider healthy, it's still not too much, which means that those used to wearing high heels won't feel too much discomfort while wearing them.
Cost and Value
This pair of footwear is averagely priced compared to the other items listed here, and considering that it's a classic style, it really is an investment piece that won't make too big of a chunk in your wallet. It's made with quality materials and looks amazing, so if you're after something you'll be able to wear for years, this should definitely be it.



Leather Upper
Leather Lining
Stud Details
Rubber Heel
Day to Night
Pointed Toe
Lacks Traction
This flat is an amazing pair of shoes that can easily go from day to night, without having to sacrifice comfort at any moment. Made with leather, embellished with studs and available in two color options - white and black - the Valintina is the perfect choice of footwear for those who want to look great, but cannot be bothered with high heels.
Silhouette
This flat has a simple pointed toe, but what makes it truly special is the open design on the sides of your feet that will reveal some skin without being too much for more conservative occasions.
Rubber Heel
The 0.25 inch heel on this model is made with rubber that's more durable and resilient than the leather used in the rest of the shoe, and that should provide you with a slightly higher level of shock absorption so that you can walk for longer without feeling discomfort in the bottom of the foot.
Cost and Value
This is one of the more affordable styles listed in this guide, and is an overall great investment for anyone who is in search of a great looking, office-friendly flat. Made with the quality you've come to expect from coach, this shoe will definitely last you quite some time, with just a bit of care.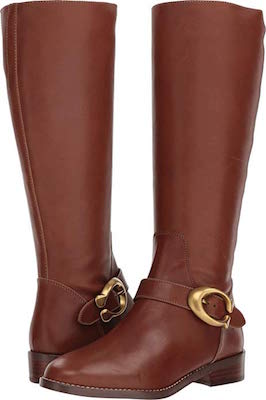 Leather Upper
Leather Lining and Sole
1 Inch Heel
Zipper Closure
Decorative Buckle
Shaft Height
Limited Delivery Options
Seeing that Coach is a brand whose big focus are luxury leather goods inspired by the equestrian look, it comes as no surprise that their flat riding boot, the Brynn, is one of their highest rated styles. Perfect for wearing around the city, this model features a sleek silhouette, made with the quality materials you expect from this brand (and at this price point).
Zipper Closure
The convenient thing about the Brynn is the zipper closure located on the inside of the leg that allows an easy and quick on and off, without having to worry about laces or struggling with pulling the boot on. It's hidden and flat, which means it won't interfere with the line of the boot.
Smooth Leather
The Brynn is made entirely out of leather, including the smooth upper, the soft leather lining, as well as the leather sole. The outsole and heel are covered in a synthetic material to increase durability and performance in less than ideal conditions, but overall, you'll find that this boot will feel great, and won't require much breaking in.
Cost and Value
Being a full leather boot, the Brynn has a price that's higher than most other products listed here. If you're looking for an investment piece of footwear, then this could definitely be it. Choose either the black or brow version, as both will look amazing with a variety of outfits, but especially with a pair of slim fit jeans.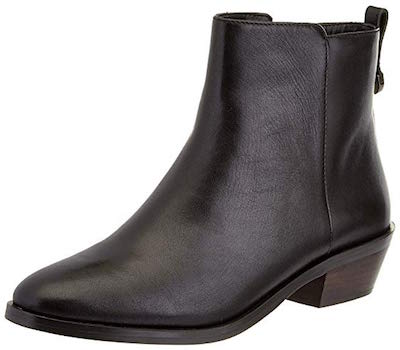 Rounded Toe
Loop On The Back
Calf Leather
Suede Heel
Deep Stunning Colors
And now, something for colder weather! These leather boots are just what you need for the rainy season. A small heel adds the right amount of arch support and just a little bit height to your stature. Zippers make the best kind of detail, and functioning one, for people with high arches - you'd barely be able to squeeze your foot inside if the zipper wasn't there. And a loop is there, to make putting them on even more simple. The toes are narrow and slim, giving your feet an elegant silhouette.
Zipper detail
If you are in a hurry, all the time it takes you to squeeze into a bootie with a small opening can seem like an eternity! It can also be very painful and complicated if you have nowhere to sit and try to push yourself into the shoe. Zippers solve this issue completely. Just slide it down, insert your feet, close up and you're good to go!
Short heel
The heel is what gives these boots just the right amount of sophistication and grace. It will make you more fit for the run-walk, and give your gait an alluring charm. Arch support is also something that your legs crave, so the added short heel does just that - not too short to be uncomfortable, and not too high to be a nuisance!
Cost and Value
These booties are a something everyone needs for their autumn collection. And you can add them to yours for a medium price! Considering the calf leather upper and the care that went into making them, it's not a big price to give for them!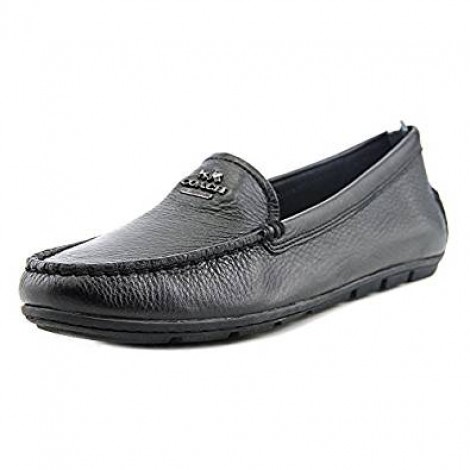 Slip-on
Coach Emblem
Tonal Stitching
Soft Leather
Fit True To Size
The Mary is a classic black loafer everyone should have lined up in their dresser. They are completely made out of leather, so it might take a little longer to break them in, but it will pay off in the long run. The stitching is a raised seam, and that is a great detail and also a way to make the loafers stay together longer. These have rounded toes, making your feet appear graceful and slim. There is a small Coach emblem on the upper, just enough so that people can see who made them, but not enough to be tacky. The insole is also leather, and the outsole is rubber.
Neutral colors
Earthy, neutral palettes are what makes a shoe have the classic, iconic look. They also match with any kind of outfit you might think of wearing, calming the colorful, patterned ones, and completing the more serious styles. You should always have at least one pair of footwear in this color.
Rounded toes
Square toes or pointy toes can make your feet appear much bigger than they are, and for some, that is not a welcome change. We sometimes crave something that will make our feet appear daintier, slimmer, and more graceful, and rounded toes are perfect for that. They make a great choice for casual wear, and for nightlife too!
Cost and Value
This is a standard shoe everyone should have, and it comes from a geat, luxury company like Coach. The craftsmanship is sublime, and every drop of sweat was invested into making them the perfect loafer your feet deserve!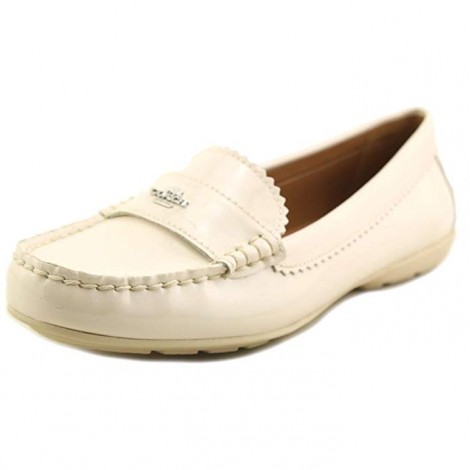 Serrated Edges
Small Logo Emblem
Moc-Toe Design
Everyday Wear
One more loafer shoe from Coach! It seems like they have perfected the crafting of loafers since they are their most popular kind of footwear. The insides have a plush padding and are finished with hand-sewn details. This moc-toe loafer was made from patent leather, complete with luxe texture and an illuminating shine. The linings are leather as well, and the soles are rubber. A spectrum of earthy colors are available, so you will always have an option. The upper also features a serrated edge, and a small logo emblem, which adds to the whole look and feel of the Odette.
Plush padding
When it's raining and it's cold outside, doesn't it feel nice to slide your feet into a warm, toasty embrace? This is exactly what the plush padding achieves. It also has a nice, soft, comforting feel on our skin. And it also creates a more comfortable environment too! Plush padding is a great choice for shoes that were made to withstand a bit colder weather and to be walked around in the whole day.
Hand-sewn details
It's always nice to know that a fellow human has left their mark on something we now own. A lot of care and brain-storming went into crafting the ideal detail, and knowing they were hand-sewn there with tender loving care makes it even more special. It might rack up the price of the shoe a little bit, but we do believe it's worth it!
Cost and Value
These also fall somewhere on the mid-range of prices. They're still a little bit pricier than what you might be used to, but considering it has hand-sewn details and patent leather, we think it's worth to chip in a few extra!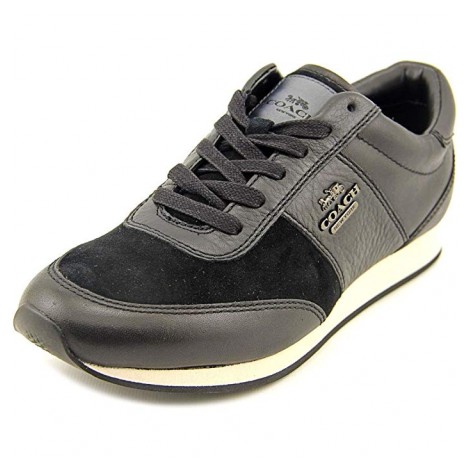 Leather And Suede Upper
Hidden Eyelets
Padded Tongue And Collar
Lightweight
Bold Colors
Tight At First
Blisters On Heels
These are a chic and modern reinvention of the classic sneaker style. They are leather, but the sides are decorated with a metallic color block detail, making you shine bright like a diamond. The eyelets are blind, so the shine of the plastic rings won't contrast the metallic shimmer of the color block. The logo sits at the instep of the shoe. The tongue and the collar are padded, giving you a snug fit and cloudy comfort. The lining is fabric, but the footbeds are ventilated, goodbye sweaty feet!
Metallic block of color
Shine bright! The color block will make you feel like a million dollars! It's a perfect addition to the casual, sporty footwear, making these sneakers a bit more glamorous and sparkly. They are casual, yet elegant, and the radiant colors make them your beacon of light!
Ventilated Footbed
Footbeds are a place where most of our sweat is collected, and of course, where most unpleasant odors reside! When a footbed is ventilated, our sweat can dissipate easily, and most of the odor is abolished, so you can rest easy when you take these sneakers off after a long, hardworking day!
Cost and Value
Cheaper than the previous sneakers on this list, they could be a super fun addition to your shoe collection. And considering their refined design and sporty look, it's no wonder they are a bit pricier than what we are used to!


Buckle Detail
Simple Logo
Slip-on Wear
Great Comfort
Casual Style
Poor Arch Support
Stitching Loosens Quickly
Loafers are the staple shoes of slip-on comfort. They are a moc-toe design, meaning that the seam of the shoe runs on top of the upper, and that makes the loafers sturdier and more durable. The upper is leather, and the sides are textile, which is a great combination of durability, comfort, and breathability. You can see the logo when you look at the loafer from any angle you can think of, and you might think it's only the pattern - but if you look close enough, you'll realize it's actually their logo floating around the upper! There is a lovely golden buckle on top of the upper, giving the otherwise smooth shoe some shine. The insole is also leather, giving your feet the coziness and air they deserve!
Loafer style
Loafers are a great choice for travel, stylish and casual wear! They are a very versatile, light shoe that you can combine with mostly anything. There are many types of loafers, penny loafers being one of the more popular kind. You can even wear special socks with loafers, so don't worry about being cold in such an open shoe!
Leather material
There are many advantages of leather materials, and a lot of people choose this pricier material over other, cheaper options. The leather is very durable, so your footwear will stay by your side for a long time. It also molds to the shape of your foot, and it becomes very soft and flexible after use. Yes, it can take a while to break it in and soften it up, but once you do, you won't be able to keep them off your feet. It is also water-resistant, but you have to take care of it to keep it that way! Leather will always be a classic, smart choice.
Cost and Value
Every item Coach creates will be on the pricier side of the scale, but that is only because they are fashionable luxury shoes. These Olive loafers fall somewhere on the mid-range of their prices, and considering how carefully and thoughtfully they were designed, we think it's worth it!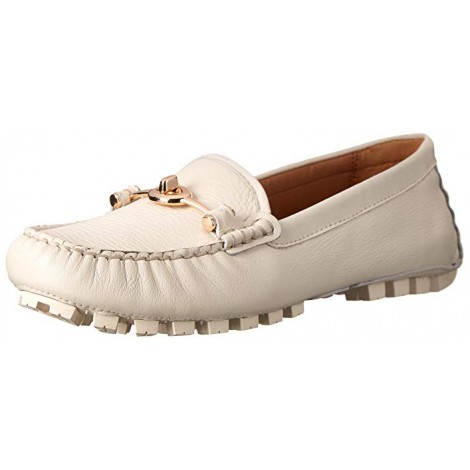 Buckle Detailing
Plush Padding
Pebble Leather
Stitching Details
These pebble-leather loafers make your feet look very slim and dainty. They have a plush padding, which makes it feel like you are constantly being hugged by a fluffy carpet. The finish is with a hand-sewn beef-roll detail, a mature, but still casual kind. The outsoles are rubber, and they are very serrated which gives you a great grip while walking, besides them already being slip-proof. You can never go wrong with loafers!
Serrated rubber outsole
We've already discussed the importance of rubber outsoles, so you know why that matters. But serrated outsoles provide even more protection - not will you stand tall during rainy weather, but you'll also be able to run, even on upright surfaces, because it offers just enough grip! So this combination makes this casual shoe great for travel enthusiasts.
Beef-roll details
This gives contrast to the otherwise smooth surface of the Arlene. A slight deviation from the original loafer design, but still considered to be a penny loafer. These details are named beef rolls because they look similar to how a butcher would prepare a beef roast. These details can be worn any way you like, so this makes them the ideal versatile footwear!
Cost and Value
This is an item that doesn't cost too much, considering it's from Coach. They are a classic, and with beef-roll details, so everyone that loves an iconic style should own a pair!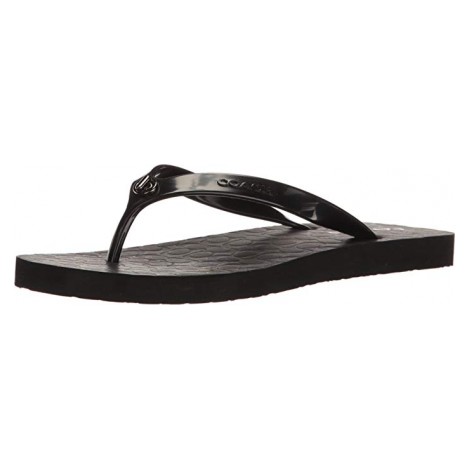 Padded Footbed
Slip-on
Slip-proof Outsoles
Vibrant Colors
Cute Packaging
These rubber flip-flops should make you excited about the upcoming warm weather! A small logo is featured on the plastic upper. The outsoles are rubber, no slipping around when you go to public pools! The footbed is lightly padded, alleviating you from foot and joint pain you might experience from wearing this kind of footwear. Their logo is also dispersed all over the footbed, as their recognizable C pattern. A red, flowery design is available, fit for anyone with a green thumb and a love for nature!
Flip-flop style
What kind of footwear comes to your mind when people talk about summer and beaches? It must be the flip-flop, right? And that is because they are the optimal warm weather shoe! Their open-ness makes them the best option for sweaty feet and for hot weather. And, you can wear them anywhere you like, just be careful not to wear them for a long time, your joints may suffer as a result.
Footbed pattern
This small detail is enough to bring the sandal to life. It would otherwise be a bland, standard shoe. But the flowers or the capital c's bring out their artsy side, and give the otherwise solid colors some variety! Flowers are also great for people who feel they have a great connection to nature, and can also break the monotony of single colors!
Cost and Value
These are the cheapest shoes on our list! And it's not surprising - not a lot went into making them, they are literally just the footbed and the upper, the only added bit is the logo. But they still offer great comfort and style.
Criteria Used for Evaluation

Value
Why do humans crave luxurious things so much? We can even see animals gather shiny and unusual things to woe their partners, but what is the main drive behind all that? Psychologists today say that one of the main reasons behind this is nothing other than pride. There are two types of pride that we can display when it comes to luxury:
Authentic Pride: the actual desire to buy and own pricey items, the very thought of owning something so extravagant can fill us with short-lasting joy, which in turn makes us crave even more - and that explains most consumer problems these days;
Hubristic Pride: the sense of greatness and accomplishment we get when we show off those very luxurious items - our egos can reach mountain tops and we can behave arrogantly even though we may not be like that.
What is interesting is that these two aspects tend to be more pronounced in individuals that show a low level of narcissism. Some people reach for expensive items when they are feeling down in the dumps. Emotional spending is a very real problem nowadays, and sadly a lot of companies that produce posh items rely on this.
But, looking at Coach we can deduce one thing - they may make items that appear to be a luxury, the name of the brand can be seen right away, flashing colors and everything else that goes with that. But, surprisingly, Coach items are really not that expensive at all! So, whenever you feel like having something that appears to be sublime but you don't want to spend a fortune, opt out for Coach!

Style
You'll find that Coach makes a huge variety of styles available for both men and women, and all of their footwear has a certain air of luxury about it. If you're looking for some investment pieces you'll be able to combine with a variety of outfits, that'll last a long time, and that are made with great leather, you've come to the right place.
But, before you make a purchase, you should opt for one (or more) of the styles they offer:
Riding Boots: Always inspired by the equestrian look, it comes as no surprise that Coach offers some of the best looking riding boots both for women and men. From simple, classic silhouettes, to over-the-knee models, to chunky winter footwear and heavily embellished models, you'll easily find the perfect pair to keep you warm on chilly fall afternoons or cold winter mornings.
Ankle Boots: You can never go wrong with a classic Chelsea, and this is a style that Coach does really well. Additionally, you can opt for biker inspired footwear with chunky heels and buckle embellishments, or go with something simple such as a slightly formal cap toe boot, or a more casual desert style.
Sneakers: Finding a pair of sneakers made with quality leather can be quite a task. While athletic manufacturers often focus on performance and materials, lifestyle models are often made with subpar leather. That's where Coach comes in - their shoes are classic in their appearance, but are made with high quality cuts you'll be wearing for years to come.
Heels: Simple pumps or ornate sandals, there's nothing that can complement the female figure like a pair of high heels. You can choose from a number of available styles, and not just those made for warm weather. Even the brand's boots come in high-heeled versions, so if you're after something that'll provide that certain je-ne-sais-quoi, they're a great place to start.
Flats: Flat shoes can be just as elegant as their high heeled counterparts. Whether you decide to go with a simple ballet flat, an ornate sandal, or an Oxford model, you'll definitely look great. Again, these can be dressed up or down as you wish, but their main advantage is that they don't put strain on the foot, and are generally more comfortable to wear for longer periods of time.
Business: The brand has an entire line of business-ready footwear for men who need professional footwear that won't look out of place at the office. Choose from loafers to derby shoes, or even monk straps for a style that'll look amazing with a suit, or just a pair of dark wash jeans and a sports coat.

Materials
The vast majority of the brands footwear (and products overall) are made with quality leather in a number of finishes for a variety of looks that can be appropriate on any occasion. You'll find that their smooth leather products get a beautiful patina over time, while all of their footwear is relatively easy to break in, thanks to the natural materials they utilize in construction.
Leather: Used to make all types of footwear, from boots, to sneakers, pumps and flats, leather is one of the brand's signature materials. It's an amazing material to have in any of your footwear as it's durable, reliable, comfortable, and can be easily broken in with just a few wears. You can even treat leather to be waterproof, while cleaning it is an easy task in most situations.
Suede: Another form of leather, but with a different finish, suede is a great material choice for more casual options. It's softer and slightly more breathable than full grain or smooth leather, but the cleaning process is slightly more complicated, seeing that you have to make sure that the texture isn't compromised. Do note that most suede products won't do well in rain and snow.
Textile: Mainly used in their athletic styles, textile is a great choice for footwear that needs to be breathable and lightweight. Combined with leather and suede, it can result in a quality product that's appropriate for wear in hot summer weather.
Rubber: A number of the brand's styles use rubber in the outsole portion. Whether it's to coat the leather sole (and protect it from deterioration), or on its own, rubber is a great material that's usually slip-resistant, doesn't get damaged by water and moisture, and has a cushioning effect so that you can easily walk and stand in it all day.

Comfort
Coveted mainly for its looks, Coach footwear isn't always the first choice for those who want comfort. Nonetheless, there are a few factors that make the brand's shoes a good option, even for prolonged wear - all you have to do is find the right type for your personal needs.
One of the main things you should do before purchasing a pair is ensuring you are getting the right fit. Consult the brand's size chart to ensure you're getting the right length and width, and read any reviews left by previous customers to check whether a certain models runs small or large. If you're shopping at a brick and mortar store, try the model on (ideally at the end of the day when your foot is at its largest), and check for any problem points.
Another thing to consider that can greatly influence the way a pair of footwear will feel on your feet is the toe shape. While pointed toes look great, and are generally widespread, especially in formal footwear, you might want to consider a round toe option as these will put less pressure on the forefoot, and allow for a more natural gait cycle.
The closures and level of adjustability can also play a big part in how your shoes will feel. If you know that your feet are more narrow or wide than the norm, a good piece of advice would be to opt for a style that offers a higher level of adjustability, either through laces, buckles or elastic goring. This way, you will be able to get a secure fit, but without any rubbing or discomfort.
Last but not least, it's a good idea to consider the fact that most Coach footwear comes with little to no cushioning system, and without any arch support. If these are important to you (and they should be if you want healthy feet), you may want to invest in a pair of insoles or orthotics that will provide you with the necessary support you require in order to avoid fatigue and foot pain.

Use
To ensure a purchase you'll be happy with, the best thing to do is to consider the purpose a pair of footwear was made for. While you may find that a certain sneaker looks great, is made with amazing materials, and is comfortable overall, you may want to think twice before making it your daily running shoe - chances are, it isn't equipped with the right technology to protect your feet from injury, and might even deteriorate more quickly due to the fact that you're using it for a purpose it simply wasn't meant to serve.
Most Coach footwear is built for casual and formal use, which is a good thing to keep in mind when shopping. It'll look great at the office, on weekend outings, or as something you put on when you want to look stylish, but if you need something with more protective features, it might not be a good option.
For example, take into consideration winter footwear. If you live in a place where it rains or snows a lot, a pair of Coach boots are unlikely to be your best choice. Not only will they not keep you dry, they lack the insulation to keep you safely warm in cold temperatures. Similarly, their sandals may look cute, but they aren't exactly made for activities such as hiking or pool visits.
Expert Interviews & Opinions
Most Important Criteria
(According to our experts opinion)
Experts Opinion
Editors Opinion
Users Opinion
By Default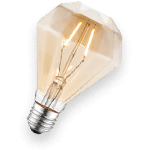 Classic Styling
Coach keeps a classic styling to the design of their footwear, with modern twists reflected in textures, colors, and structure. This makes them a wonderful option for designer fashion that is versatile and durable for daily use.
Mix up textures with solid hues, or pair structured boots and heels with pencil skirts or skinny jeans for a great polished look!
Love Coach? Get In The Know!
You can sign up online on the brand's website to receive discounts and email about the newest releases, events, or products. And, while you're there, check out the career choices and benefits they have listed! As a Coach employee, you may find yourself on the way to not only enjoying the brand's products, but being part of a larger community of fashion and design.
Other Factors to Consider

Brand
Design
It is very easy to see that Coach produces designer shoes. Over the years, they have partnered with a lot of designers to create outstanding items. This fall, they decided to show off a solemn, dark gothic look on their runways, signaling the beginning of a new season. They reimagined feminine floral dresses, adding plush layers and embroidering details and of course, their iconic pattern. Recognizing their apparel is an easy task - when you learn what the pattern looks like, you could spot one of their items from a mile away.
Their latest collection, for the spring of 2019, gives us lovely ideas on what to wear for the upcoming year. It gives post-apocalyptic vibes combined with their dinosaur Bronty in the background - a perfect combination for a romantic and out-of-this-world outfit! And they had a special collaboration with Disney, jumpstarting even the eldest of hearts! If you wish to have some of their sublime choices, we do not blame you. So much effort went into creating all of this that it would be such a shame to skip on them!
Style
Coach has made sure they made footwear fit for everyone. They created shoes of many styles, loafers being one of the most common kind. All of them have one feature that defines them - the Coach logo. You can see it on any kind of item they created. It can be seen as an emblem, a shiny metallic plate stitched onto apparel, with Coach engraved into it. It can be seen as just lettering engraved directly on the material of the item, too. Or, you can see it as a pattern - be it on textile, rubber or leather. The pattern closely resembles snakeskin, but if you look closely, you will realize that it's, in fact, a lot of letter c's rotating and floating around!
If you desire to have something that was made by this company, rest easy, you will have many choices, for any kind of weather. When it comes to summer shoes, various flip-flops and sandals decorate their shelves. Winter apparel is there too - boots of all kinds of lengths, insulated or not, to warm up and beautify your legs. And you can choose from everything in between, be it sportswear or more serious and elegant styles!

Bottom Line
If you've decided to make a purchase you'll be happy with for quite some time, Coach footwear is a great choice. The brand has a huge variety of styles in their offer, and manufactures their products with quality materials that are easy to maintain and last for a long time with just a little bit of care.
To ensure that your money goes into buying a pair (or several pairs of) shoes that you'll enjoy wearing, it's crucial that you follow a few simple rules when shopping:
Make sure you're getting the right fit
Check the design of the shoe and consider how it'll fit in your wardrobe
Opt for materials that provide you with the right features
Add inserts or orthotics as per need
Take good care of your new pair of footwear
Use it for the type of occasions they were intended for
Frequently Asked Questions
q:

Does Coach have many famous people as their representing faces?

a:

It is expected of highly renowned companies to have famous people represent them. Otherwise, how will they become even more well-known later in the game? Coach is one of those companies, and they made sure that they have someone very well known on their team. They have one, but we are sure that anyone can recognize this global star. In fact, the newest addition is the one, the only basketball star Michael Jordan! So hop on the hype train and treat yourself with the same things he is having.
q:

Where can I get Coach shoes?

a:

One may think that famous brands only like to open shop in their home country. And again, why would you spend money on stores and employees when you can simply order online, right? Coach was not one to think like that, and lucky for you, their brand is recognized worldwide and so they have stores all over the world! If perhaps you can't find one near you, don't worry, you can always order online - they have worldwide shipping as well!
q:

Are there wide width options available?

a:

A lot of people have a wide foot, and some may even wear the wrong size, thinking that their foot is longer instead of wider. Having a shoe that fits you properly is very important - it helps you with your balance, it adjusts your gait, and it improves your health. The items we have listed here do not feature an option for a wider fit - but we are sure if you get a shoe that is half a size bigger than you normally wear, you could fit very easily!
q:

Will I be able to afford Coach shoes?

a:

Not everyone can afford higher-end designer items, and we understand that. You'd rather choose a more functional, less expensive shoe than go for a costly looker. While they may have some pricier items, Coach also made sure that everyone can have a piece of their cake. You can choose from a variety of affordable items!
q:

How is Coach related to Tapestry Inc.?

a:

Tapestry Inc is one of the biggest fashion houses of today. They hold seasonal fashion shows, where a lot of grandiose new styles and a lot of well-known people of the fashion world appear. .As we have already noted, just recently Tapestry Inc. bought out Coach, along with Kate Spade and Stuart Weitzman. So, they just have a new parent, nothing else has changed, the quality and design have remained the same!
Subscribe to our Newsletter