Best Baseball Cleats Reviewed
In a
Hurry? Editors choice: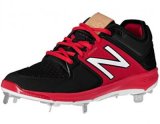 Test Winner: New Balance L3000v3 Metal

Legitimate baseball cleats are a critical piece of gear on the field. They will not only allow the player to move more efficiently but also
provide the comfort needed
for them to play effectively. Some say they are just as important as a proper baseball glove. That might be true because you are standing on your feet for the full game and maneuvering in ways that require a firm grip. The proper and highest rated baseball shoes will allow for such movements, giving an overall better performance. Check out the best baseball cleats available!
Standout Picks
Criteria Used for Evaluation
Materials
Just like other sporting activities, baseball happens to be a game of full-on inches, ranging from the painting of the corner by a pitcher to beating out the tag by a runner. These inches at the end of the day will play a part in determining the winner and the loser. With this in mind, players always thrive to take advantage of any opportunity that might arise. That's why as a baseball player you will look for one that will give you swift movement with ample flexibility. This means you will have the ability to make fast explosive movements while in the field. Those offering you superior traction will be given more consideration compared to others with less traction. Players look for products that offers maximum support around the ankle hence no possible injuries.
With all these in mind, it narrows down to having the best pair that you can buy. When picking our list we looked at the factors that many players take into consideration when buying these products. These factors help you in understanding the functionality and effectiveness of a pair of these shoes. The first is material:
Most baseball options will be made from genuine leather or synthetic leather. However, in our shoe collection, we have noticed that those made from synthetic materials have been more preferred because of the advanced technology they have. Nevertheless genuine leather has survived for long because they are supple, durable and also breathable. Genuine leather is definitely a plus compared to the synthetic leather and it's also more costly and that's why it's rarely used in making many baseball shoes. Leather is indeed superior in quality but also it has a heavy price tag. The synthetic fabric, on the other hand, offers extra support to the foot, especially at the ankle part of the foot. They are also more affordable compared to those made from genuine leather. You will find all types of cleats when shopping mostly price determined by the price of the material used in the construction. Go for some that you can buy, however, be cautious of the very cheap ones since they are not comfortable nor are they durable.
Support
When looking at the ankle support offered by baseball cleats, you have to take into consideration the type of baseball shoes you will be buying. We have three categories of baseball options:
High Tops: tend to extend upwards until they reach the ankle hence offer additional support to the foot, especially when a player is moving laterally. The only challenge is that they can restrict a player's movement, but then they will surely provide maximum protection from any ankle injuries.
Mid Tops: if you a player who wants to enjoy easy movement and still have average ankle reinforcement, then these are the best option for your baseball game.
Low tops: they offer maximum speed with less stability, they enable the player to make very fast lateral movements. Since they are minimalistic in nature, then a player can sprint easily across the pitch or while going down the pitch's base with quicker speed.
Toe drag is very important for a baseball player, especially for one who has to spend plenty of time mounding. The perfect ones for pitchers are those that have a toe area that is reinforced. This is due to the rubber being pushed off when the player is delivering. This unique issue or experience is only experienced by pitchers, and if the toe section is not reinforced, then they will start wearing out fast. If you are a player looking for an option that has reinforced toe parts, then you will find plenty of options to work with.
Heel
When shopping for a new pair of baseball shoes, you will find yourself bumping into three types of options. Those that are differentiated depending on the materials used in making the studs. This is a closer look at the types:
Metal Cleats: this option is known to offer the highest level of traction, this is because they can firmly dig into hard fields. This means they also have very firm grips. The grip offered works well even if you are running or just standing. For the batter, the metal ones are very useful since it helps them in digging a firm toehold, hence they will not slip when hitting the ball. The only challenge is that since they have is that they are known to cause injury due to the limited flexibility, they don't permit a sudden change of direction by players. If you wear them on other surfaces that are not made of dirt or grass, then they will wear down very fast.
Molded Plastic Cleats: they are normally made of rubber or plastic. They are also permanently designed to be fixed to the shoes' sole. They are strong and stable and can be worn in all types of surfaces, even on concrete without the fear that they will wear down. Compared to the metal ones, the plastic ones are cheaper and also more durable, however, they do not offer the same amount of grip offered by the metal products. Hence they are more worn and preferred when the ground is muddy or soft since they will easily bounce off ( allow a player to continue going with ample flexibility instead of getting stuck in a muddy field).
The Turf/Trainer Shoes: turf shoes are also common among baseball players are highly recommended when going for training or practice (though not encouraged for a game). For those who have their practices on training platforms that are not the usual playing fields, then turfs would be the perfect footwear. The turf will be more comfortable and they will not damage the training grounds compared to the metal options. The other thing to note is that when you wear the turfs, they should also be worn together with artificial turf so that you are able to enjoy the amount of grip offered if the surface is a little hard. They offer maximum traction by keeping the feet and the ground very close. There will be very minimal chances of one getting injured. When wearing plastic spikes don't add artificial turfs on them, since you will be subjecting your feet to possible injury. They will also not offer any amount of traction for your feet because the studs will not be able to have any grip on the ground.
Use
Baseball shoes are also determined by the position/ role that a player will be playing in the field. Taking into consideration the varieties of surfaces that players play on. Remember a base stealer will need a product that is very flexible, allowing him/her to easily move from one base to another very fast. While a cleat that offers multi-directional ability will best suit a player, who is playing the defense position. The field also has to be well maintained. Before each player laces up and heads to the field, they need to have a pair of cleats that fit their playing position.
Infielders: if you are an infielder you will have to pick between plastic ones and metal ones. When picking an option, it's good to always take into consideration that the field is well maintained. A compact ground that is dense will be perfect, infielders will have to stay away from plastic studs since they can gather excess dirt. This will prove to be very problematic since the soles can collect gravel and sand hence making it difficult to navigate around. When playing such fields then it's best to go for metal products.
Outfielders: in case you will be playing in an outfield that has been properly maintained, (firm and lush), then metal spikes ought to be used, this is because they will not be able to pick patches of dirt or grass (which normally happens when molded ones are used). When chasing a fly ball, an outfielder will have to plant his toes very hard and extra deep into, hence they will need metal ones as they will dig in and outside the surface of the field more effectively and easily.
Pitchers: pitchers depend on their push-off foot, to throw good stuff. Support and power are used to make sure this is possible. In case the bottoms fail to stick, then the base of the cleats will be very unstable (hence can be very wild when playing). If the ground you are playing on is densely packed, you will need the maximum stability that can only be provided by those that are metal studded. It's also recommended that pitchers go for the low top option since the shoe's side travels down to the bone of the ankle. The high top products can cause rubbing.
Youth/ Kids: kids playing baseball will require high-quality products because they are stylish or because their pals have the same ones. Of course, these are not the ideal reasons why someone should be buying these, and that's why it's good for parents to understand the importance of their kids having high-quality options. Comfort, flexibility, and durability happen to be the main factors. This is because having the incorrect pair will not only make the whole game uncomfortable and unbearable for your kid but then they will possibly cause an injury to your child's foot. That's why when looking for cool options for your kid, it's good to make sure that they are very comfortable and that they fit properly. However, it's good to note that a kid can enjoy a game much better if he/ she is wearing the shoes they like
Fit
When shopping for a new pair, it's good to check on the size. When looking at correct sizing, you have to check how much room is left around your toe (ideal space should never exceed ¼ inch from the shoe end). The heel needs to have a snug fit. If you can't pick the correct size or you are in a dilemma about what size to go for, pick then one that has a tight fit instead of the one with the loose fit. This is because after breaking in, the shoes will be able to expand and hence give you a more comfortable feel. With a shoe that fits snugly, you will be offered enough support hence be able to make quick movements and twists. With the correct sizing comes ample cushioning, with good cushioning and the correct foot type, then the fit will be perfect.
Some players will take into consideration the length of the studs/ spikes. If it's not their preferred height or length, then they will seek to change the length. This is because they will have a different playing field, and each field needs a different stud length for the player to enjoy a comfortable and fun game. Harder fields require shorter studs. While softer fields will need studs that are longer. Longer studs can dig more into the surface.
10 Best Baseball Cleats
1

. New Balance L3000v3 Metal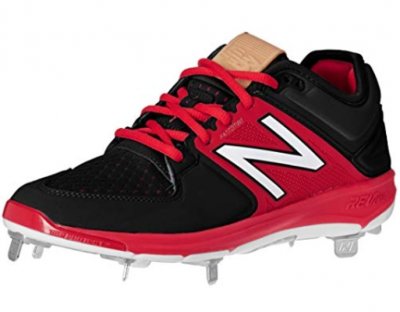 The eight spike configuration in these cleats is Major League proven, in a clean, ultra-lightweight shoe. It is metal, so be aware of the regs where you play. This shoe comes in all manner of colors to suit your team uniform or just express your style while you're on-field — performance and durability to boot.
Metal ones are prohibited in many places and by many leagues but they do offer superior grip on grass fields and the 8-cleat design on the outsole plate of this shoe has proven performance. These are laser etched for accurate design. This New Balance uses its FantomFit technology to engineer a synthetic mesh upper that is lightweight and supportive at the same time. It will hug for feet without weighing you down.
This shoe falls into the higher third of prices on our list, but they are worth the money. New Balance has designed them to fit you well and to perform like you were a first-round MLB draft pick. They are incredibly light and comfortable.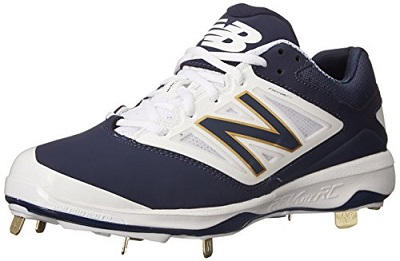 New Balance is one of the best athletic footwear makers in the world and they make a mean baseball shoe. This lightweight option won't hold you back from your game. The quality of the shoe is outstanding and will quickly become your favorite game-winner.
The upper is made of synthetic leather to stand up to sliding through the bases. It has some padding in the collar to resist blistering and to provide some comfort. It is also no-sew FantomFit for lightweight fit and support. The tongue in this is designed to keep debris out of your shoes during play. Nothing is more uncomfortable and will wear shoes faster than grit, sand, and other debris getting inside.
This is the most expensive baseball shoe in our line up but well worth the money for the performance you achieve and the hugging, lightweight fit.

3

. Under Armour Deception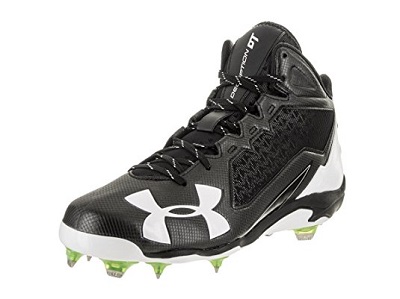 These perform really well on the field but check the regs - they are metal. If you can wear them, you'll be experiencing one of the finest sets on the market with a lightweight design, snug fit, and amazing traction.
The Deception features a full-length midsole of charged foam for a bounce-back, comfort and shock absorption. You can play so hard in these; you'll be tempted to run those bases twice. These metal ones are metal tips to provide the traction of metal but topped with molded Pebax for comfort. All the performance without the pressure.
These performers will make any player happy. They are mid-ranged priced, comfortable, and have fantastic shock absorption. With all that traction, you'll be turning bases so tight the opposition won't know what happened.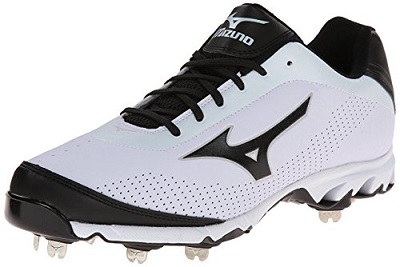 The Mizuno Vapor Elite 7 is a very comfortable metal option that is designed for fit and comfort. This is a great shoe for the beginner who plays where they allow the metal ones. Perfect for catchers who spend a lot of time squatting on their heels.
Mizuno's standard is the 9 spike design that allows for grip, acceleration and stopping on any field surface. The metal options will provide improved traction on a grass field over plastics and rubbers but check the regs first to avoid being disqualified from your game.
The Proflex sole allows your forefoot to flex naturally through multiple flex zones. Natural flexing provides no-strain comfort while throwing, catching, running or hitting. When your team is up, you're ready to go. This is the least expensive of the shoes on our list and that makes it an excellent value. You get all of Mizuno's design know-how for a very, very reasonable price.

5

. New Balance 3000v3 Turf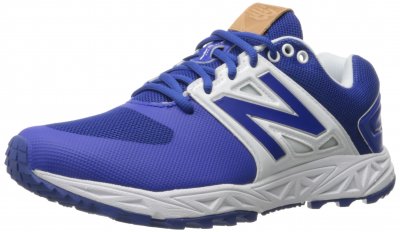 Like our top pick in terms of comfort, support, and performance, the New Balance 3000v3 Turf keeps all that performance quality, but without the spikes, so you can play on turf. Still, with plenty of grip and traction found in the lug patterned sole, you'll be able to sprint quickly on turf to round bases or catch fly balls. Revlite midsole provides support and structure so you can go into extra innings, all in comfortable and functional gear.
New Balance technology always keeps new composition materials coming year after year to provide a comfortable ride, with support for activities tailored to where you need it most. Revlite Midsoles are comprised of a foam compound which allows structural stability and responsiveness, but with a lightweight build. Lighter load on your feet means quicker sprints, less foot fatigue after extended innings, and a more energized play!
Designed for turf only, the New Balance 3000v3 Turf still gives superb traction with lugged pattern soles and grippy rubber. The low cut design allows for maximal mobility for quick movements and lunges. Tie it all off with lace-up vamp with adjustable fit at the top, and a plush padded collar, you'll be going those extra innings without irritation or sore feet!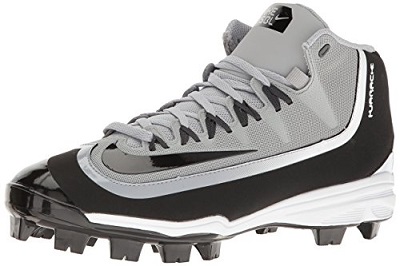 Nike took their inspiration for these from the professional baseball players. They are a synthetic upper with synthetic clears and Nike's Flywire fit. These shoes will remain comfortable for all nine innings and with the non-metal ones, you won't have to worry about regulations.
These need to be durable if you're going to be sliding into base, running on dirt and grass surface, and generally beating up your shoes. These shoes are made of TPU mesh and synthetic leather for durability.
Dirt tends to cling to the bottoms making them more work to maintain and clean. These feature geometric divots that provide a slick surface that will keep the dirt off, making it much easier. These shoes are priced in the mid-range but include a number of features that make them a great value. They are lightweight, easy to clean and maintain and feature Nike's Flywire cables for fit. You won't regret the investment in a solid pair.

7

. Under Armour Men's Harper 2 RM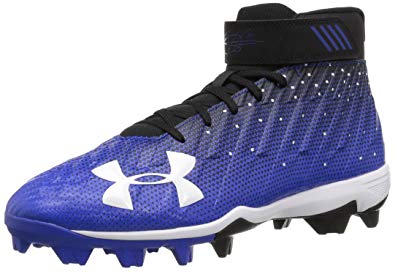 These rubber molded baseball shoes come with Under Armour's superior engineering so you can hit the field in comfort, sure your product will perform. These are a shock-absorbing, cushioned and breathable cleat that will become your new favorite.
These have a variety of features to keep your feet comfortable. They're perforated for breathability, have a padded tongue and collar, and a molded EVA foam insole for great fit, comfort and shock absorption.
This shoe features a rotational traction configuration of them which optimizes your rotational capability. This means you get maximum acceleration and power to hit those bases faster and harder.

8

. Mizuno 9-Spike Classic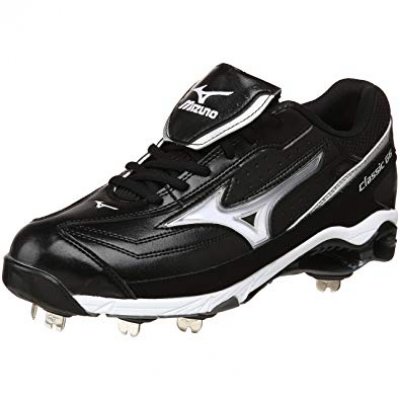 A great all-around option for Mizuno, the 9-Spike Classic baseball option provides traction and stability that translate into performance with the construction and design of this one. Based on baseball player movements, they've designed 'cleat triads,' giving a stable platform and clustered to boost performance for lateral moves, sprints, and pivots. With plenty of Mizuno brand technology packed in the 9-Spike Classic to give you mobility and comfort, it's well worth a look if you're hunting for a new product.
Along with the design of the 9-Spike Classic, Mizuno incorporated its Wave technology in the cleat, helping to increase the durability and integrity of these, as well as a cushion, stability, and weight reduction. A lighter one means faster sprints! Proflex construction, unique to Mizuno, helps boost performance in movements that require some flex and give such running and throwing.
The Mizuno 9-Spike Classic gives you 'cleat triads' to help dig into the ground for lateral movements, running, throwing, and batting. Three spikes can be found at the heel, and 6 in the forefoot, all of which are further cushioned through the VS-1 compound. VS-1 compound helps to absorb shock and impact and is found at the forefoot and heel. Top it all off with snug lace-up closure and overlaying tongue, padded collar for comfort, and synthetic uppers for easy cleaning and durability, and you have one solid shoe!

9

. New Balance PL404v3 TPU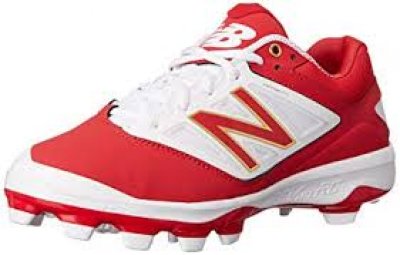 If you're in search of a good product with a bit of multi-purpose without requiring the care metal ones do when cleaning and wearing, a TPU can be a perfect fit. The new Balance PL4040v3 TPU is lined with traction and grip throughout the forefoot and heel with TPUs but also has a quality durable upper constructed to withstand wear and tear. Revlite midsole and a toe protect give cushion and additional protection against field hazards.
The New Balance PL4040v3 TPU is lined with TPU along the forefoot and heel, made to withstand pressure, wear, and tear while making your shoes easier to clean and care for. You'll be able to dig on into the ground for fast sprints and lunges while maintaining stability during throws and batting. Revlite midsole runs the full length of the bottom, giving you a lightweight cushion and support on top of the shoe.
The uppers of the PL4040v3 TPU are synthetic in material and have New Balance's Fantom fit, which is designed to be super lightweight but protective and durable, giving you the best foot feel when wearing this product. A debris-free tongue is found atop the lace-up vamp, and toe protect does just what it implies-protects your toes from bumps with reinforcement in the cleat's construction.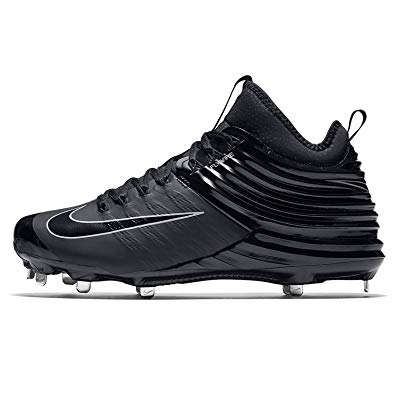 The Nike Lunar Trout 2 is the next generation of the Trout line. It has a Lunarlon midsole which is used in several Nike athletic shoes along with their Flywire cables for fit. It is available in a variety of colors to suit your team uniform.
Flywire cables are built into the lacing system in this shoe to provide a dynamic fit that stretches when it needs to and comes back when it needs to. No need to adjust your laces time and time again while you're playing.
The 9 metal products give you the best traction possible on any field. But check the regs to be sure you can wear them. These shoes are mid-range priced. For the money, you are getting a shoe with great traction that will work well for batters and outfielders alike along with a dynamic fit that will stay comfortable as you move.

Subscribe to our Newsletter