Best Bandolino Shoes Reviewed & Rated
In a Hurry? Editors choice: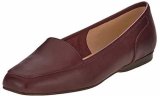 Test Winner: Liberty

Bandolino is a brand that has for decades provided fashionable but affordable footwear to people all over the world. This label makes all types of styles, for all seasons and all occasions. It uses innovative contouring to be on top of each season's hottest trends while ensuring that each design comes with great aesthetic as well as with functionality and style.
The Bandolino brand also doesn't skim over the fact that people's feet are built and shaped differently. Hence, they offer open-toe options,
wide-size options
, along with flat formal footwear and many other designs to make your life easier. Take a look at the top ten Bandolino shoes listed below!
Standout Picks
Criteria Used for Evaluation
Style
When choosing the best Bandolino shoes, you should keep in mind that you need something not only comfortable and sturdy but also trendy. Bandolino mostly offers designs that are great or evening events such as dinners, cocktail parties or galas. These include high heels, dazzling colors, polished leathers, and pointy toes.

Footwear is there to compliment the overall outfit and so the color is very important. Choose one that matches your clothes rather than a color that competes with your clothes. And by matching here, we mean that the color of your footwear doesn't have to be the same color as the one you're wearing.

Black designs go with just about anything, neutral or nude footwear goes with sparkly evening outfits, and bright colors go with neutral, simple outfits (such as black, grey or brown clothes). For professional settings, black or brown designs are safe choices, but grey, navy, and red (though not too red) are great too.

The style is also determined by the season you are shopping for. Footwear that you wear in the winter is definitely not the same one that you will wear in the summer.

For winter, of course, to protect your feet against frigid temperatures, you'll need designs that are well padded, insulated and which cover the feet well. The best designs for this time are sneakers, loafers, and boots, most of which Bandolino offers.

For the summer, you will need footwear that is well ventilated. Sandals and espadrilles are great in that regard, as they usually keep your toes open and happily wiggling in the warm air.
Comfort
Whether they are formal or casual designs, you need footwear that will fit your feet properly and help prevent injuries. The items offered by Bandolino are mostly for formal and nightwear, meaning they are usually not meant to be worn all day. (Though there are exceptions.)

Even if you are only wearing your Bandolino shoes for an hour, you need a design that won't cause any blisters and calluses. The footwear that you wear should be fairly lightweight and with good shock absorption.

The most uncomfortable part of formal footwear is most likely the toe box, as it is usually not roomy. However, great footwear will provide slight cushioning in that area and not have your toes rubbing against material that could cause further discomfort. For more casual options, you should look for ones that provide sufficient space for the toes. The best footwear has roomy and round toe boxes.

Make sure that the design that you pick is the right size as well, or it won't lock around your heel and could potentially cause damage to your Achilles tendon. Other parts of a design that you should be focusing on are the insole, the outsole, midsole, and the heel. All of these parts should be well cushioned and made of a material that is lightweight and that allows ventilation.

Finally, when choosing the best design, you should see how your feet are arched. The three types of arches are neutral-arched, low-arched and high-arched.

If your feet are neutral-arched, they are not overly arched or overly flat. With feet like these, the best designs are those with firm midsoles, with moderate rear-foot stability.

If your feet are low-arched, or flat, the designs that you should look for are those that are flat, with good motion control and that are also straight.

Those with high-arched feet should look for options which have great cushioning and shock absorption to prevent excessive strain on joints and muscles.
Materials
The quality of the material not only includes the materials on the outside, but also the materials on the inside of a design as well. The Bandolino shoes in our list are mostly made from leather and synthetic materials.

Leather is a more high quality material, which is highly durable and flexible and is the most used material for footwear. It is excellent for both outdoor and indoor settings, and in most cases it offers the highest level of comfort. The downside to leather is that leather footwear is usually heavier and thicker than that made from synthetic materials, not to mention more expensive.

Synthetic materials that are used to make footwear include nylon, polyester, acetate, acrylic, spandex, orlon, latex, and Kevlar. Of course, not all of these are used in making of the designs that we have in our list today.

Designs made from synthetic materials are lighter, more breathable and are able to perform better than those made of natural fibers. With special additives, these can also be water resistant, wrinkle-free and stain resistant. Also, for those who are a pro-environment and anti-animal slaughter, synthetic footwear provides a great alternative, as it is usually vegan. (However, as we have no information of the ingredients of the glue used in putting these items together, it is best that you contact the brand directly and learn which designs are 100% vegan.)

Bandolino offers a variety of synthetic designs, as well as a few that are made from genuine leather and suede. In any case, the brand clearly declares what each product is made from, for your convenience. The one you pick will depend on what you need this design for and how you plan on wearing it.
Heel
High heels make us feel more confident and sexy, but they also bring discomfort and an increased risk of back and joint problems and painful calluses. The higher the heel is, the more probable that muscular imbalances happen, causing knee pain, heel pain, and hammer toes from some muscles working too hard.

As we discussed before, always choose footwear that fits your feet properly, and also fits your arch type, or you will find that you are uncomfortable and in pain the whole time wearing it. Not only should you measure your feet for length, but you should also measure their width as well.

If you choose a very high heeled design, make sure you have a high arch type, or you will mostly find yourself in a lot of pain. This brand offers trendy and sexy footwear that is low- and flat-heeled, and therefore you don't have to sacrifice comfort to feel good.

High heeled shoes also need to properly anchor your feet as well. You could find yourself in an embarrassing situation of wobbling and ankle spraining if your feet are not properly anchored. Thick heeled designs are great, but if the heels are thin, then the shoe should have straps around your ankles, or a cage over your instep such as with the Marlisa. Best high heel designs also have an open or round toe box, as pointy toe ones are pretty much torture your legs in high heels.
Durability
Lastly, we need to consider how durable Bandolino shoes are. When you get a great-looking design that is comfortable and easy to wear, you expect it to last for quite a while, no? After all, no one wants their shoe to fall apart after taking it around the block only a couple of times.

The durability of a shoe largely depends on the materials it is made from, as well as on the techniques used in its construction. The general principle is that the choices made from synthetic materials don't last as long as those made from genuine leather and suede. Natural materials such as these are quite durable, especially if layered thickly like in booties, and you can expect designs made from leather to last you for several years.

However, synthetic options are also not as pricey as leather ones, so it stands to reason that you could afford to replace them more often, if anything should happen.

You may think that not wearing your new footwear often will help it last longer. While that may be the case, there is one factor here that we should also take into account: the fact that, even if you're not wearing a design, it still goes through some, minor, deterioration as it idly sits in your closet. No material is immune to the passage of time, regardless of how often it is used, and so sooner or later your pumps or loafers will see their end.

We would advise you to not, by any means, hold yourself back from wearing your favorite footwear. In the end, you purchased it to show it off and to feel confident and stylish in it, so why limit yourself to wearing it only occasionally? Embrace your inner - and outer - fashionista, and show everyone what great style you have!
Top 10 Bandolino Shoes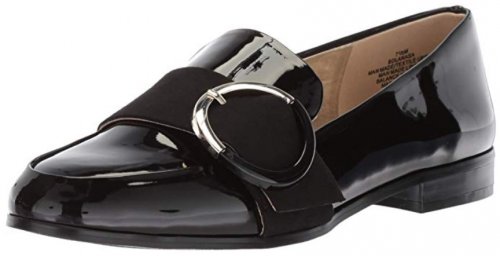 Androgynous and gender-neutral fashion is all the rage this season, and the menswear-inspired Lanasa flat is just what you need to complete your elegant, suave outfit combination. This loafer design is made from textile and synthetic materials and is great for pairing with your pantsuit or even your tux, to redefine what it means to be fierce and fashionable in the current era.
The Lanasa is a gleaming, polished loafer flat that comes without any closure. It is a simple slip-on design which you can slide into at a moment's notice. There is a strap accent with a decorative buckle over the instep, done in plush black material, providing a nice contrast to the shine of the upper.

In regards to comfort, you don't have to worry about anything because the Lanasa has a padded footbed and a flexible sole. This design will move along with your foot, and it will be the lightest, most comfortable dress design you have worn to this date, not least because it doesn't come in a high heel.

We understand that not everyone is about that menswear flair, but we can't help but admire Lanasa's quiet sophistication. This loafer is great for a business meeting, for a fun time with your friends, and even for a fancy dinner date with your significant other. There is hardly anything you can't do in this gorgeously refined loafer!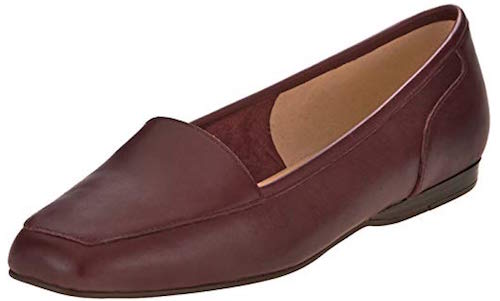 If you're not into high heels or would prefer something lowkey, then the Liberty is the perfect choice for you. This flat is made for all kinds of events, but its design is most suited to a professional setting. It goes best with a great looking pantsuit and could even go with a two- or three-piece suit. The Liberty comes in black and is made from genuine leather. Even though it is stylish, it is one of Bandolino's more modest offerings, with the only highlights being a nude accent inside and at the bottom of the shoe, plus intricate stitching.
There are no laces, clips or buckles on the Liberty. It is easy to slip on and off your feet. Even though the soles and the footbed - and especially the insoles - curve right along your feet, the design is still roomy enough to fit even wider feet. The toe box is not pointy, meaning that your toes won't be pinched or squished any time soon.

The Liberty doesn't come with any bows, no laces, or buckles, though it is still a customer favorite precisely because of its simple design. The footbed has a beautiful nude color, and the outsoles are also nude, to fit any occasion.

Unlike some other options on this list, the Liberty is constructed from premium, genuine leather materials. It is undeniably comfortable and easy to wear, and its understated elegance fits practically all outfits, be they casual or semi-formal. There isn't anywhere you can't go in the Liberty flat!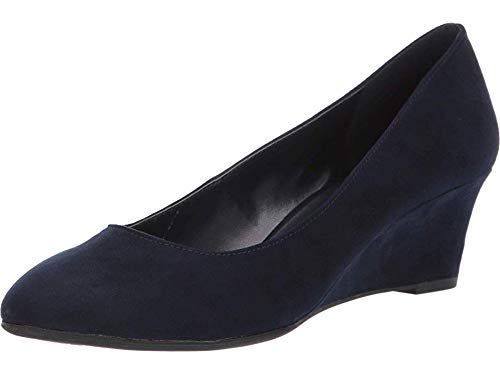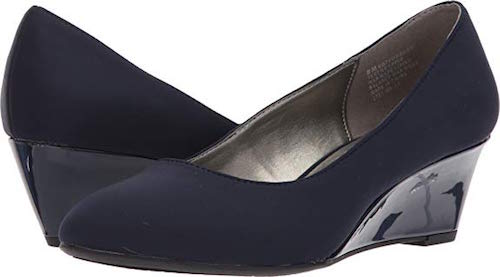 When you need a shoe that will easily go from day to night, from the office to a party, the Bandolino Forrest is a truly great choice. This pair of wedge pumps has an elegant, contemporary design, and it comes in a number of color choices including faux patent leather uppers, faux suede versions, as well as textile materials for those who prefer a bit more breathability in their footwear.
The silhouette of the Forrest is fairly simple. These pumps feature an almond toe which looks great but won't cause as much discomfort as a pointed toe would. The heel is approximately 2 inches high which is great for foot health - not too tall, but still stylish enough to be worn with a pencil skirt or cocktail dress. The footbed is lightly padded to protect the sensitive ball of the foot area, and so is the heel which has a bit of cushioning to make walking more comfortable.
Seeing that the materials are manmade, you can comfortably invest in this model if you're looking for stylish vegan options to wear. Additionally, there are great functional features included as well, one of which is the rubber outsole that is meant to add grip and ensure long-term durability.
As for cost association, this model ranks around average compared to the other shoes listed, making it an excellent choice for anyone looking for something stylish, versatile and comfortable. The color choices include light pink, black, navy, as well as grey that will go with anything.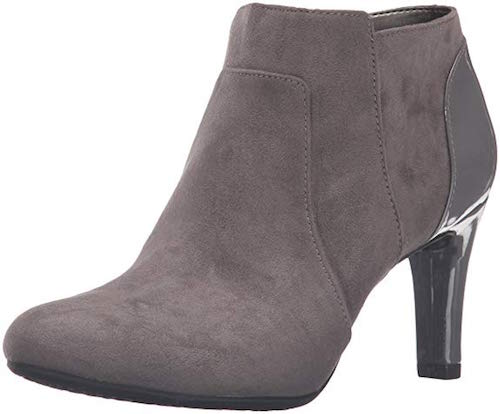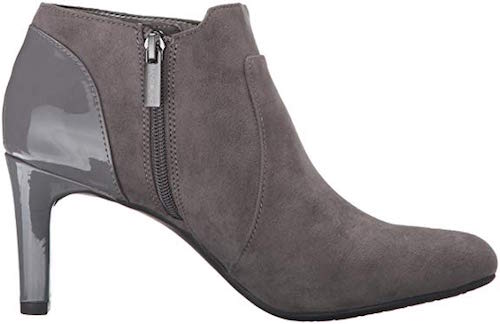 The Liron is mostly made up of suede leather, with touches of smooth leather here and there, and with the exception of the black option that is in our picture, which is made entirely out of genuine leather. The soles, as usual, are made of rubber. The heels of the Liron are 2.75 inches high, wide enough to prevent any wobbling. The zipper placement is in the inner side, and the stitching follows the lines of the foot and accentuates it in elegant ways.
This unique stitching pattern starts from the middle of the sole up across the vamp to the other side of the design. It does this again closer to the heel and adds much-needed dimension to the design. The heel of the Liron comes in a contrast material - a smooth or polished leather - for even more interest.

With an opening of around 10.5 inches and the zipper in the inner side of the boot, no one will have much of a problem slipping in and out of these beauties. The toes are pointed, but there is sufficient room inside, plus the heels are not too high for comfortable wear.

The Liron bootie comes with a sophisticated, professional look that you can wear anywhere. It has that all-day wearability that we love, and it will look great both with jeans and leggings and with a pencil skirt or an A-line dress. You will love taking these out and showing them off to everyone you know!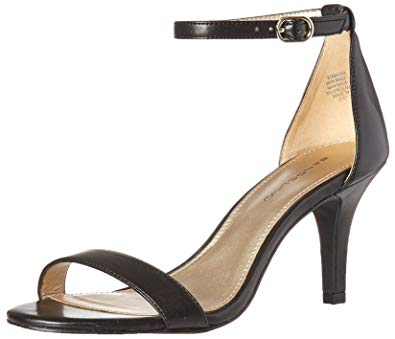 The Madia sandal is a very stylish design which ensures that your feet are as comfortable as possible. It accomplishes this by having a good ankle strap, plus an adequate heel cover and an open toe box. With the Madia, you may even forget that you have something on your feet. The gold footbed of the design is a nice compliment if you choose a darker color.
The Madia sandal will not cause you any discomfort, and will elegantly follow the contours of your feet. Don't worry about having to break these beauties in - trust us when we say that you'll be able to slip them on right out of the box and walk out in confidence!

You won't have any problem with wobbly movements in these sandals, as the Madia has a good ankle strap that is even adjustable thanks to a buckle closure. Your heels are well-housed and anchored, and the design is open-toed so you can show off that cute pedicure.

The Madia sandal is that staple piece that we all need in our wardrobe. It is cute, it is feminine, and it goes well with absolutely any outfit. You will not regret investing in these cute heels, as they will take you from a lunch date with your friends to a cocktail party in a blink of an eye!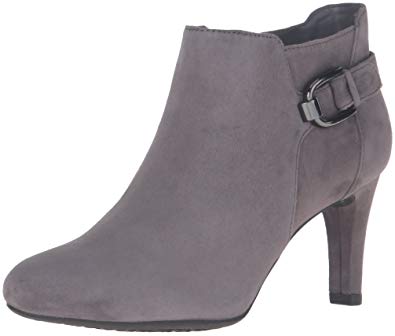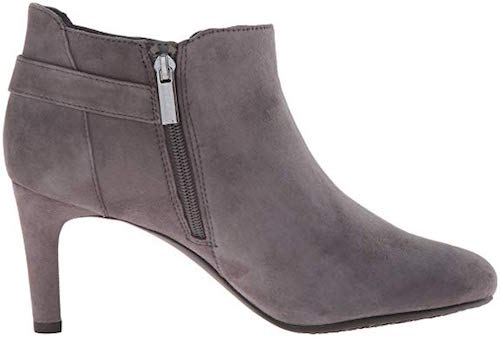 The Layita ankle bootie comes in a variety of colors for you to choose from, such as white, black, brown and grey. It is similar to the Cambria in that they both have narrow heels, but the Layita doesn't quite hit 3 inches and instead lands at 2.75. The Layita also has a zipper closure, but on the outer side of the design this time, and there is a noticeable buckle which is mostly decorative.
The Layita has a decorative buckle on the outer side that compliments the color of the design. We are most impressed with the finish of these booties in the black, white and grey options. The stitching is minimal, and the entire look is smooth, simple and amazingly elegant.

The opening of the Layita is six inches in circumference, and thanks to the zipper closure it is wide enough to slide your foot in without any trouble.

The Layita is a versatile, fashionable bootie that we love to wear come colder weather. It doesn't compromise between style and functionality, and now we can also feel cozy and warm while being wonderfully chic at the same time. Thanks to its neutral color choices, the Layita goes well with everything, and is just the bootie you need for the beginning of the cold season!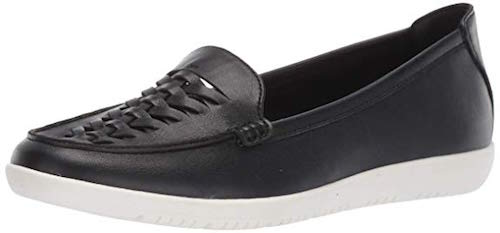 The Logan is a fairly new release by the brand, and it makes a great choice for occasions that call for comfortable casual footwear that will look a bit more put together than your favorite worn-out athletic sneakers. The loafer silhouette combined with the sneaker sole make for a great summer pair of shoes, as well as for an excellent choice when it comes to travel, weekend outings, running errands or Sunday brunch with the family.
The Logan can be purchased in a couple of color versions - black and brown, with some metallic options available as well. This means that it's a neutrally colored pair of footwear that can be easily combined with the rest of your wardrobe. The upper of the Logan uses manmade materials that look like real leather, while the woven detail at the front elevates the style, making it an overall fun style choice.
The outsole is lightweight and flexible for a comfortable wearing experience, and there's the added benefit of a cushioning insole which makes these feel like your favorite sneakers. The lining used is made to allow for moisture management, so you won't have to worry about sweaty feet and bad odors.
As for price point, this pair of footwear sells for a price that's quite low compared to the other models listed, making it an excellent choice for those on a budget who still want to look polished and put together, all while remaining comfortable.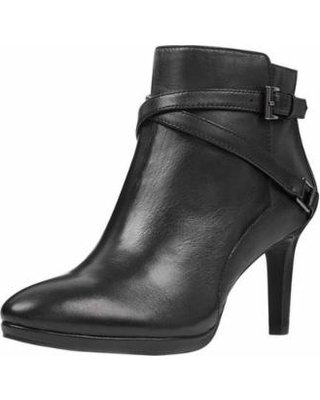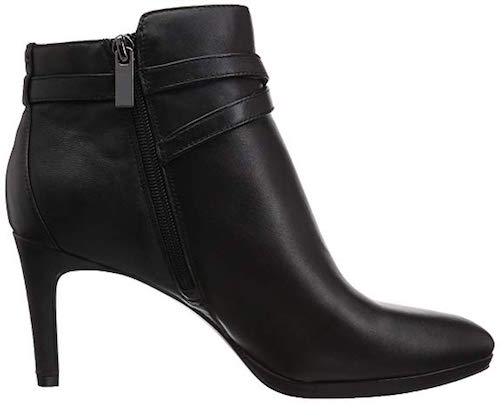 Sometimes, we just want a cute ankle bootie to wear. This is where the Baruffi comes in, as it one of the cutest options on our list. These booties are made of leather and have the type of heel that you'd find on the sexiest pumps. To secure the ankles, the Baruffi has criss crossed straps wrapping around the design, which adds a nice compliment to the luxurious leather finish.
The heel of the Baruffi is moderate height, with a small platform. Many boots and booties tend to go the block heel route, so seeing the Baruffi take the skinny heel route instead is refreshing. It also has a zipper along the inner side, and on the outer side, there is a criss cross buckled strap embellishment.

Bandolino doesn't sacrifice comfort for looks. The soles of the Baruffi are synthetic, and the inner portions are padded. The opening of the boot is well sufficient, however, the zipper ensures that you will have an easy time putting the boot on. The shaft is moderate so that you'll have a bit of ankle coverage.

The Baruffi comes with customer satisfaction, and the materials that it is built out of are made to last and provide comfort, all the while looking really good. Autumn has never looked as good as in the Baruffi bootie!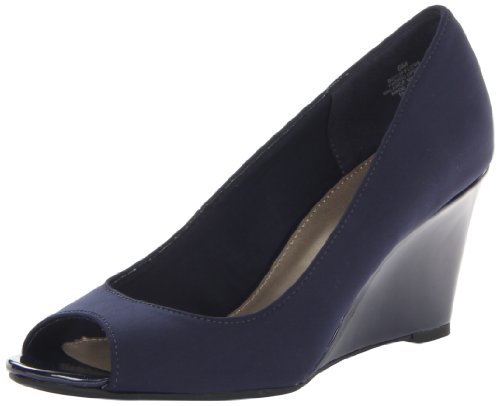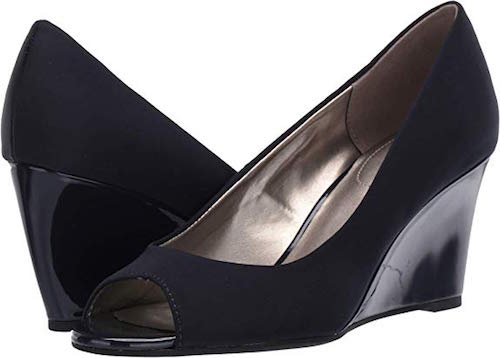 Nothing beats a peep-toe when it comes to parties, clubbing and nights out. This little detail can increase the style and look of any of your outfits, not to mention that it allows you to show off your fresh pedi. The Bandolino Tufflove is a peep toe wedge made for both fancy and casual occasions, and it's one of those designs that will find their home in anyone's wardrobe. Whether you decide to pair it with jeans or a dress, the Tufflove will be sure to make you look and feel amazing.
The Tufflove comes in three simple color choices - nude, navy, and black. The upper is made out of synthetic patent leather or fabric, which makes it both affordable and stylish, with the added benefit of the fabric version being more breathable than most pumps. The wedge heel is approximately 3 inches high, which is a golden standard when it comes to special occasions, and the wedge design allows you to distribute weight evenly over the entire foot, allowing you to go longer without any discomfort whatsoever.
The lining on the Tufflove is made with smooth manmade materials so you can easily wear this model without having to worry about blisters or rubbing, and the outsole is reinforced with a synthetic material to increase durability as well as performance on smooth or slippery surfaces. A great bonus is a padded footbed which makes for an excellent shock-absorbing feature on the Tufflove.
As for cost, you'll find that this model ranks higher than average, but the price is still quite affordable and half of what you'd have to pay for shoes of this quality.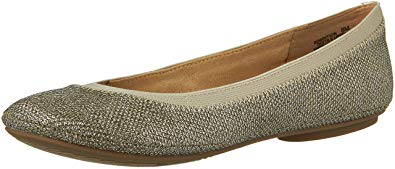 We're adding to the great flats category with the Edition. This flat has a round-toe design and is made from a versatile and stretchy fabric. The amazing thing about it is that it comes in a variety of colors and patterns to choose from. The Edition is great for both the dance floor and for a casual walk through the city, and you will love the versatility that this adorable, sparkly design has to offer.
The color palette of the Edition is truly out of this world. You can get these flats in white, black, blue, purple, pink, and even have them in pretty and colorful patterns. Just the choice of colors alone will make anyone want to go for them.

The Edition comes with an elastic topline that stretches out and accommodates your foot no matter what its shape is. The outsole is also made of a synthetic material that is very flexible, so you can move any way you want in these cute flats.

We all need a good, comfortable flat in our footwear closet. The Edition is a great choice since it comes in a wide selection of color options out of which you are bound to find at least one that you like. It is also perfectly comfortable to wear all day long, and there is no reason you can't dazzle the world in the wonderful Edition flat!

Subscribe to our Newsletter