Best Infant & Baby Sandals Reviewed for Functionality
In a Hurry? Editors choice: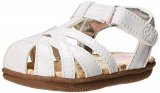 Test Winner: Stride Rite Lil Nandini

Your
little one
is just starting to explore the fascinating world around them. Whether it is by sitting back and looking out from a stroller, by crawling around the entire house at the speed you never thought possible, or maybe by taking their very few steps – there is no turning back. The baby is getting bigger, and is ready to embark on new adventures in life. In summertime especially, proper footwear becomes essential. We all feel the heat, the discomfort of wearing confining shoes when temperatures outside become sky-high, and we all get cranky when we get sweaty feet. The same is true for your little one and their cute cherub feet. So sit back, scroll down, and dive into the world of the cutest sandals known to man before you settle on a pair that will make your baby pound its little feet in excitement and happiness.
Standout Picks
Criteria Used for Evaluation
Features
It is not an exaggeration to say that trying to fit chubby little feet into a shoe is difficult work. The owner of the feet wiggles and giggles, or maybe even complains when getting dressed, and it can take quite some time to get your those feet into their shoes.
For this reason, slip-on shoes are not the most favorable when it comes to infant footwear. Not only are they difficult to put on, they can also be ridiculously easy to slip out of. Especially when your kid starts crawling all around the house – losing a shoe can become a constant.
This is why other types of closures, such as lacing systems, or even velcro, are much more suitable. With these, you can adjust the fit of the shoe on your child's foot so that it's not too tight, but also that it's not so loose that the shoe slips off in a blink of an eye.
While we admit that laces are a bit time-consuming – especially if your child is of the wiggling, complaining kind – definitely the best option when it comes to infant shoes are velcro straps. Just slide on the shoe, fasten the strap in one easy move, and both you and your kid are ready to go!
Durability
If your baby is safely lounging in a stroller, or practicing their walking skills, the durability of the shoe is not much of an issue. In the former case, the shoe doesn't actually get in contact with the ground and thus doesn't get worn; in the latter case, your child will outgrow the shoe before it gets to fall apart.
However, there is a stadium in between sitting in a stroller and walking around, when the question of durability comes into play, and that's crawling.
Despite the fact that their age is measured in months and that they are tiny by stature, babies are mean little crawling machines. They are curious and bold, and they will go where no baby has ever gone before. Indoors, outdoors, on hard surfaces, soft surfaces, rough, smooth, slippery, wet, dry – you name it, your kid will explore it.
Unlike in walking, when the part of the shoe that is most in contact with the ground is the sole when it comes to crawling, it is the front part – the toe box – which gets scuffed the most. In order to prevent your kid's shoe from getting torn open in the front, you will need some added protection in that area.
The best option for crawling babies is closed-toe sandals, especially those which have a bonus rubber layer covering the toe part (think Converse). If, for whatever reason, you're not a fan of this design, then at least look for ones which don't have stitching in the toe area – the stitches will practically dissolve in a matter of days under the constant traction from crawling.
Support
While your kid is still mostly sitting back and/or crawling, arch support and cushioning in the sole are not significant factors.
However, once the little one starts standing up and taking its first steps, features like these become very important, very quickly. The time comes to throw away soft-soled shoes and go for something much more solid, preferably shoes that have a hard bottom, lateral stability, and arch support. Brands such as Stride Rite, Puma, and New Balance are famous for their well-cushioned and all-around supportive footwear for the youngest.
The bones of the baby's feet are growing at a rapid pace, and they need support to develop a well-formed arch, a proper stance, gait, stability and more. You may think that it is strange to buy supportive baby walking shoes at such a young age – after all, this is something that we associate more with the elderly – but there have been actual studies which have shown that children learn how to walk faster and better when they are properly supported.
Comfort
The problem with comfort lies in the fact that children up to one year old can't articulate that they are feeling uncomfortable. Even if they can, they can't point to the exact problem their footwear is giving them.
So in the case of infant footwear – use your best judgment. If your child is screaming as you're trying to squeeze their foot into a shoe, the shoe probably too small. If it takes you too long to put on a shoe, it is also probably too small. If the shoe is constantly slipping off, then it's either too big or poorly fastened. Definitely make sure to check over your baby's feet for any blisters or hotspots, so that you're not making them wear shoes that rub them the wrong way.
Value
The price of a shoe can sometimes be a deal breaker. That's part of the reason why footwear manufacturers invest time and energy into creating cost-effective technologies to incorporate into their shoes to make them durable, long-lived, versatile, and inexpensive. It's especially important to look at value when it comes to kids' shoes.
Durability & Longevity
Footwear, usually, lasts more than a few months, because shoes that are going to fall apart after a few months of use aren't worth the investment of more than a few dollars. Leather and synthetic overlays can be used to make the shoes more durable without sacrificing flexibility. Firm leather or synthetic uppers provide durability and support.
Versatility
Great footwear can be used for more than one activity. Walking and running shoes, for example, can be used in some casual sports. Stylish athletic footwear could be used in informal work environments. Sandals can be used in casual and semi-formal settings. The more situations you can use the shoe in, the more value it offers for the price.
Maintenance
Good footwear is easy to maintain and clean. They don't require a lot of expensive shoe treatments or time-consuming upkeep. Shoes that need a lot of effort, time and money to maintain, don't sell as well as shoes which are easier and cost less to keep.
Removable inserts
As mentioned earlier, removable inserts in footwear make it customizable, but that's not the only bonus to removable inserts. Removable inserts increase the longevity of the shoe, which is why some come with removable inserts.
Cost
A hefty price tag can be a deal-breaker for people on a budget. That's why many can be found in the low-to-middle price range. They're affordable, and if they are priced a little higher than others, then they offer many features to make the footwear worth the extra investment.
10 Best Baby Sandals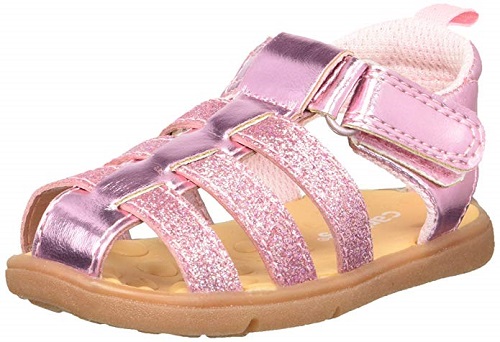 It is a fisherman sandal by design, but it is irresistibly eye-catching with its glittery straps and pink metallic shine. The Carter's Perry is the cutest option when you are looking for closed-toe sandals to protect your little one's toes, but when you want them to look adorable at the same time. There is an adjustable strap with a hook-and-loop closure at the front, sensory insoles and outsoles, and seamless linings for comfort. The outsole of the Carter's Perry allows for flexible movement, and the fit is roomy enough so that your kid's foot can develop naturally. If you think they will enjoy all the glitz and the sparkle that comes with this beautiful design, then you should definitely go for it!
Sensory Insoles and Outsoles
When they are just getting the hang of walking, little toes need to feel the ground and learn how to properly push off and land to make a nice, solid, step. This is where the sensory insoles and outsoles of the Carter's Perry come in. They allow your child's foot to better feel the surface they're walking on, and thus to develop their walking skill in a shorter amount of time.
Seamless Linings
Too often a stray thread here or a knot there in the lining of the shoe can dig into the skin and cause discomfort during walking. The Carter's Perry has no such issues, however, as its linings are designed to be seamless, and thus to prevent any abrasive rubbing against the foot.
Cost and Value
The Cater's Perry is the least expensive option on this list. It is fun and playful in design, it offers solid comfort and support for someone who likes to crawl around, or who is spending most of their day perfecting their walking skill. However, it is made out of synthetic materials - not genuine leather, hence the price - so be aware of that when you are deciding on the purchase.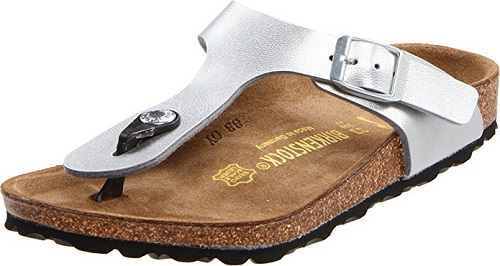 Birkenstock is a company over 240 years old. It has an almost quarter of a millennium-long tradition of serving only the best and most comfortable footwear to meet all of your casual summer needs. Now, their most popular product, the Birkenstock Gizeh, is also available in infant sizes. This design has a Birko-Flor made upper, a contoured cork footbed for maximum comfort, and a lightweight EVA sole for bonus padding and shock-absorption. When the little ones are taking their first steps, they need all the support they can get, and the Birkenstock Gizeh is just the right shoe to help them feel stable and comfortable, and to take on new challenges in life with a confident step.
Birko-Flor
Birko-Flor is a Birkenstock trademark material, durable and entirely synthetic, with a leather-like finish and gentle backing to prevent abrasions and blisters on the feet. Not only is it nothing short of heavenly when it comes to comfort, but it is also very easy to clean - just wipe it down with a damp cloth, and it's as good as new!
Cork Footbed
The contoured footbed is what the Birkenstocks are most famous for. This feature conforms to the shape of the foot and provides exceptional arch support, as well as a deep heel cup and a spacious toe box. Furthermore, it is lined with suede for that touch of plush, luxurious comfort.
Cost and Value
Yes, as you may have suspected, the Birkenstock Gizeh is the most expensive option on this list. However, with everything we've said about it - the innovative materials and the long-standing quality guarantee - we feel that it is absolutely worth the price. Only the best for our kids!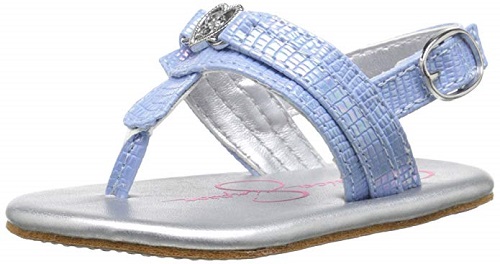 Jessica Simpson is a fashion brand famous for its flirty, feminine styles made to draw attention and garner compliments. The same is true for their baby lines as well, as evident in the Cupid thong. This is a ridiculously cute design constructed out of man-made leather, with straps across the instep and around the ankle. It has a buckle which seems like a closure, but it is actually velcro. The loveliest little detail of this thong is the heart-shaped accent at the front for a touch of bling that your child will absolutely adore. We are also in love with the Jessica Simpson Cupid and are a bit disappointed it doesn't exist in adult sizes.
Velcro Closure
The buckle detail at the side of the ankle which is actually a velcro strap is a genius idea. Velcro is a type of closure that is easy to handle for all ages. It is also secure enough so that your little one's feet are not slipping out of the beautiful sandals no matter what they're up to during the day.
Toe Post
Even if your child is not walking much yet, it is important that the toe post of a flip-flop-like design doesn't rub them the wrong way, or leave any blisters. Fortunately, the toe post of the Jessica Simpson Cupid is soft and comfortable, and your kid won't feel even a hint of discomfort regardless of how long they're wearing the sandal.
Cost and Value
Despite the fact that the Jessica Simpson Cupid comes from a famous brand name, and that it is such a gorgeous design, its price is surprisingly reasonable. For relatively little money you can treat your baby with the most fashionable of shoes, and both of you will enjoy this wonderful design until it's time to replace them with a size up.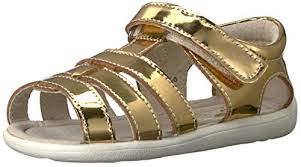 Here is a design made for a future fashionista. The See Kai Run Fe Flat is a shoe absolutely breathtaking with its golden metallic shine and multiple toe straps. It is made out of butter-soft genuine leather, and it has a breathable leather lining and insole. The outsole is made out of rubber, and there is a hook-and-loop closure at the front so that you can adjust the fit of the design however tight or loose you'd like. The Fe Flat is a touch of girly glam that any kid needs, and it is perfect for both everyday summer fun and for special occasions when the whole family has to look put-together.
Wide Toe-Box
Don't get disheartened by the peep-toe shape of the front of the Fe Flat! We are here to assure you that the toe area of this sandal is more than enough to accommodate the wide foot of your child and that no little toes will be squished or otherwise uncomfortable in this metallic design.
Rubber Sole
The sole of the See Kai Run Fe Flat is made out of rubber, meaning that it is sturdy enough for any outdoor activities, regardless of how challenging they might be. At the same time, this sole is also flexible, and it moves with your child's foot in all the right places, allowing them to properly learn the art of walking.
Cost and Value
The price of the See Kai Run Fe Flat is leaning a bit towards the high range. As most other options on this list, it is made of high-quality leather materials and is medically certified in promoting good foot health, from the American Podiatric Medical Association. The Fe Flat is remarkable in terms of its design, and you will hardly find a more fashionable baby sandal than this one.

5

. Stride Rite Lil Nandini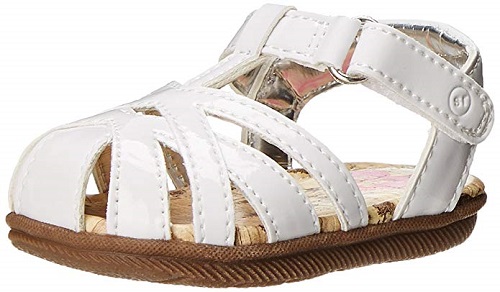 Stride Rite is a company which, in their own words, "has been helping kids run, jump, leap, grow and playfully express themselves since 1919." That is almost one hundred years of experience in constructing footwear for the youngest generations! Stride Rite Lil Nandini is a fisherman sandal with cutely woven straps all over. It has a closed-toe, a rubber outsole, and a cork footbed. The closure on this design is a hook-and-loop strap which provides both an adjustable and a secure fit. This model is wonderfully lightweight and flexible, not to mention stylish, and your child is going to instantly love it.
Cork Footbed
The benefits of cork footbeds are endless - this type of material takes on the shape of the foot over time, providing healthy support while your baby learns how to walk. It is also lightweight, flexible, and has amazing impact-absorbing properties. Not only that, cork is odor-resistant as well, because it allows the feet to breathe and prevents a build-up of moisture.
Closed-Toe
The Stride Rite Lil Nandini is great for babies kicking back in their strollers, for those cautiously walking around, but also for babies who are crawling everywhere. The closed-toe silhouette of this design provides protection against hard surfaces and objects and makes sure that your child's wiggling toes are safe no matter where they go.
Cost and Value
The Stride Rite Lil Nandini is not expensive at all, especially compared to some other, more famous brands in this guide. It is a great option for an inquisitive kid, one that likes to explore and inspect every corner of the house themselves, because it keeps them protected and secure. The Lil Nandini is also very trendy to boot and will go well with all the fun skirts and dresses your little one loves to wear.

6

. Pediped Originals Daisy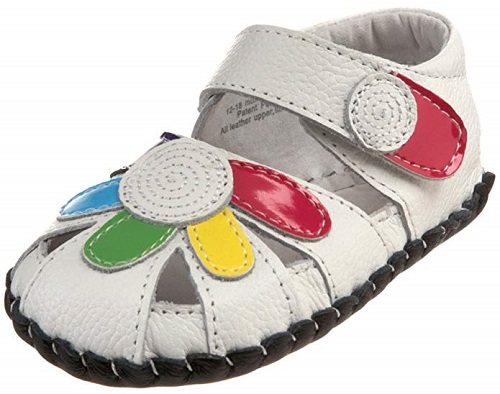 If your little one has just started mastering the skill of walking, then you definitely want to get them a pair of Pediped Originals. And what better product to go for, than this lovely closed-toed Daisy sandal! This design is made almost entirely out of genuine leather. It has a leather upper, leather lining, and all-leather sole with a diamond tread at the bottom. Additionally, the Pediped Originals Daisy also has a velcro strap for that secure fit. It is an absolute favorite with moms all over, not least because it has been certified by the American Podiatric Medical Association for promoting healthy foot development. You can never go wrong with a Pediped Originals!
Genuine Leather
The reason we love genuine leather is because it has several great qualities - first of all, it is a breathable material. In the Daisy, your child's foot won't sweat or feel uncomfortable, regardless of how warm it gets. Second of all, leather is a malleable material, gently hugging the foot and providing the ultimate comfort. And lastly, it is incredibly durable.
Sole
The sole of the Pediped Originals Daisy is flexible and slip-resistant. It is made from lasting, non-toxic leather with a specially designed diamond tread at the bottom to allow for a good grip. You can be sure that your beginner walker will be safe from skidding or sliding across the floor in these cute little sandals.
Cost and Value
The Pediped Originals Daisy is a design which belongs in the middle range when it comes to cost. Only the highest quality materials go into its construction, and special attention is paid to all the features which provide your kid with the comfort, support and stability that they need to improve their walking skill. We have a hard time finding a flaw in the Daisy, and we are sure that you won't regret this purchase.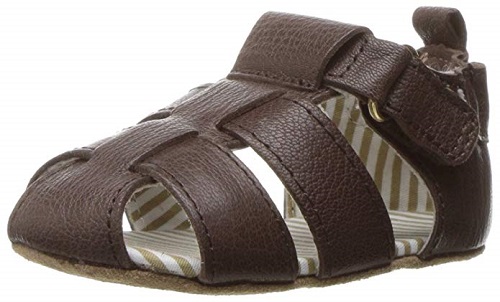 Ideal for indoor and light outdoor activity, the Robeez Samuel is a very classy design. Its upper is made out of premium leather which is ultra soft on the skin, while the sole has a suede bottom. It has a snug, shoe-like fit, and there is a cushioned insole for added comfort, as well as a hook-and-loop strap at the ankle. This cute little shoe is very easy to clean, with the use of a mild detergent and a damp cloth. The Robeez Samuel is a great choice for a walking beginner, as approved by the American Podiatric Medical Association.
Cushioned Insole
The construction of the Robeez Samuel promises flexibility and lightweight comfort, mainly due to its cushioned insole. This provides your kid with the necessary support and padding for healthy foot growth and for learning the correct way to walk.
Elastic
The ankle strap and the hook-and-loop closure on the Robeez Samuel aren't just a great way to keep the shoe on and to adjust the fit of it to be right. These features are also elastic, meaning that they are very easy to slide onto the baby's foot, and equally easy to stay in place and not fall off when no one's paying attention.
Cost and Value
When it comes to price, the Robeez Samuel doesn't stand out in any way. This is expected, because it also doesn't stand out when it comes to special features and technologies. This is a solid, reliable, comfortable shoe for an infant, one that that they will enjoy wearing and practicing their first steps in, and which at the same time won't break your bank.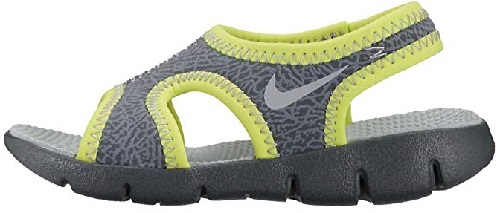 This guide wouldn't be complete without a world-renowned brand name like Nike. Much like they do with adult footwear, Nike also takes special care in designing sports sandals for the youngest ones. The Sunray 9 has an upper made out of stretchy fabric, with an elastic back and a bold trim to add interested to the design. Its midsole is molded EVA, and its outsole is EVA as well, ensuring traction on any type of terrain, from sand to asphalt. The Nike Sunray 9 isn't designed for uncertain, wobbly steps, but for someone who is more confident in their walking and isn't afraid to break into a spontaneous run.
Stretchy
The fabric and the backstrap of the Nike Sunray 9 both have elastic properties, stretching as wide as they can to accommodate the size of the foot. This sandal has no closures on it, which on one hand makes it a bit more difficult to put on, but on the other, it also makes it difficult to slip out of.
EVA
EVA is the type of material mostly meant for high-impact activities, such as running and athletics. It has excellent shock-absorbing properties which spread the force of the impact through the midsole and prevent the damaging effects it has on the sole of the foot. All of this makes the Nike Sunray 9 perfect for that unstoppably active child.
Cost and Value
The Nike Sunray 9 is in the middle range of cost. It may not be for the crawling infant, but it is an excellent choice for when your kid starts moving around more and starts needing more support in the form of cushioning and shock-absorption. With a brand name like this and all the features this design offers, we feel like this is a great deal.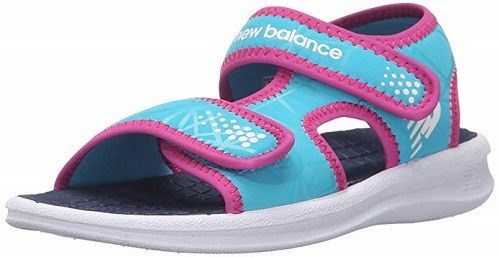 With the New Balance Sport Sandal, your child will be ready for their next adventure! This design has an upper made out of water-friendly synthetic material, with not one, but two adjustable straps with hook-and-loop closures, for maximum customization. The footbed of this shoe is made from EVA and it has a heel cup, while the outsole is also EVA, lightweight and flexible. The lining of the upper is Lycra, which is a specially trademarked material from a company with which New Balance works closely together. Encourage the inner explorer in your kid with this colorful, sporty design!
Water-friendly
In summer, it is only practical to wear water-friendly footwear, since a kid can never know when they might find themselves near a pool, a lake, or even a fountain in which they can play and cool off for a little bit. With the New Balance product, they can now splash around as much as they'd like, without the fear of slipping, falling, or even having wet feet for too long.
Lycra
Lycra is a type of synthetic fiber which can stretch up to six times its length, and which enhances the shape, comfort, and appearance of any garment it is included in. This means that the New Balance sandal is designed to flex and stretch with the movement of your kid's feet, no matter what they decide to do.
Cost and Value
The New Balance Sport Sandal is quite inexpensive. For an affordable price, you get a well-designed shoe made out of materials which keep your kid's foot comfortable, and which are also water-friendly. With the straps, you can easily adjust the fit, and send your little one out to take over the world!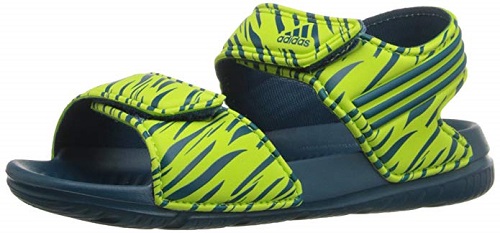 In the unrelenting summer heatwaves, open toes are a must-have. Your child will love the Adidas Akwah 9, a snazzy marble-patterned open-toe sandal. It has two fully adjustable straps with hook-and-loop closures, a quick-drying upper, and a molded EVA outsole. While this design is not ideal for crawling babies, those who are already steady on their feet will love the lightweight, comfortable feeling, and will have a hard time stopping their toes from wiggling happily. The Akwah 9 is that perfect sandal for a stroll along the beach or fun play time around the pool.
Adjustable Straps
Baby feet have strange shapes - they are usually wider than they are long, and they may also have high insteps, which is why it is sometimes difficult to find the right fit. With the Akwah 9, there will be no such problems, as its two straps allow for a completely customizable experience.
Quick-drying
The Adidas Akwah 9 is a godsend for splash-prone zones. Your kid might love to play in the kiddy pool or chase the waves as they recede from the shoreline, and you want them to be protected and comfortable while they do that. If the upper of the Akwah 9 gets wet, you can rest assured that it will dry in a blink of an eye.
Cost and Value
Price-wise, the Adidas Akwah 9 is neither expensive nor cheap. Of course that it comes from a famous sportswear manufacturer, and it has numerous features which ensure that your kid's feet are happy and safe. We have nothing bad to say about this design, and if you are looking for open-toed active sandals, you shouldn't hesitate in getting these!

Subscribe to our Newsletter