Best Arche Shoes Reviewed for Comfort & Style
In a Hurry? Editors choice: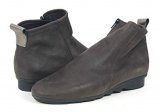 Test Winner: Bibiki

Perhaps you are not super familiar with the history of Arche shoes, but they are a staple in the fashion world. The company credits the attention to detail as the top reason they are still an icon so many years later. As the company has grown, their values have stayed the same: create a fabulous shoe that is
insanely comfortable
. Rinse. Repeat. Their shoes started with the thought that not every shoe must be
black
or brown. Shoes are an accessory and are meant to
stand out
. Arche has created shoes that catch your eye with bright colors and funky designs. Some people see a far-out shoe and marvel at the craftsmanship that went into that shoe.
Standout Picks
Criteria Used for Evaluation
Style
The style of a shoe is very important. There are no right or wrong styles when shopping. It is a matter of personal preference and why you are searching for the shoe. Are you looking for an everyday shoe that can take you from work to home? How about a dress shoe that is only for special occasions? Maybe you are looking for a seasonal only type shoe. Whatever the reason here is the most common shoe styles in our list.
Boots - Boots make a great choice for so many situations. Not only are they able to be worn pretty much all year, they are fashionable enough to be worn that much. You can wear boots in the rain, snow (most fabrics), and sun. Boots are the perfect style accessory to leggings, jeans, skirts, dresses, and shorts. Of course, that depends on the physical look of the boot, but for the most part, they go well with everything in your closet.
Heels - Some women love them and some have more of a hate relationship with high heels. They can be sexy in their own right as the entire premise of your outfit or that can be just a simple addition to your outfit. Some women won't wear any other shoe but a high heel because they love the way their legs look in them or how they make them have more confidence. However, heels can be tricky to the get grip on walking in, but once you do it opens a whole new shoe world to you.
Sandals/Flats - This could arguably be one of the most popular styles of shoes in any brand. Sandals and flats are a versatile and easy shoe. You don't have to know how to walk in them, they can be worn all year in most cases, they are lightweight, and the designs are practically endless. Sandals are usually very breathable as they are a somewhat to a mostly open shoe. This creates a great airflow so people that have hot and sweaty feet love sandals and flats.
Comfort
One of the things this brand is known for is the fact that their footwear is made not just to look great, but also to provide the wearer with one of the highest levels of comfort available in the market today. In order to achieve this, their designs are always minimalistic, with flat seams, well-thought-out materials in the upper, and cushioned insoles and outsoles that serve the dual purpose of adding to the shoes' aesthetics, as well as to serve the purpose of keeping you happy.
What greatly contributes to the level of comfort allowed by Arche shoes are the materials used in construction, which we will address later on, but there are also other elements to consider.
One of such is the design. You'll notice that none of the models listed above features a silhouette which could cause discomfort (such as a pointed toe) and that all of the models take into consideration closure placement to ensure high wearability.
Some even have special features such as the Arche button closure which is superior to traditional buckles in several ways. For one, it's made with a softer material that doesn't pose the threat of digging into the skin. Second, the elastic material in it allows for a high level of customization that's hard to get even in athletic models.
On the other end of the spectrum, if you look at the brand's styles that feature metal hardware, such as those flats that have a zipper closure, you'll notice there's always ample material covering these part, ensuring that they don't cause discomfort.
Last but not least, a great contributing factor to the way an Arche shoe feels on your feet is the fact that it's not only made in the brand's own factory in France which is closely supervised, but that each shoe is carefully checked before shipping out to ensure only the highest level of quality reaches their customers. Not only does this result in footwear that looks and feels luxurious, but it also eliminates all those small imperfections that could cause them to feel anything less than perfect while wearing.
Materials
Most shoe companies use different materials in their designs. However, this is not the case with Arche shoes. This company only uses leather in their products. The leather they use is sourced from only the finest producers across certain regions in Europe. If it does not pass the companies own criteria, it most certainly does not get put into production for the shoes.
A common misconception regarding leather is that it does not breathe. This sentiment could not be further from the truth. In reality, leather is more breathable than some other well-known materials. Leather is naturally a breathable material to cool the feet and keeps the feet warm in the colder months. It is an oddity like that.
In addition to being breathable, leather comes in various forms that are produced by either sampling different parts of the hide, or by treating it in different ways. You'll notice that Arche footwear often comes in nubuck, full-grain and even patent finishes, all of which have their own advantages and disadvantages when it comes to performance.
Smooth leather uppers are perfect for those looking for a more elegant look. They have a shine that's not too much, and should usually be more resistant to staining and water than their brushed counterparts. They are often more durable than suede or nubuck versions, and don't shoe scuffing as easily as patent variants.
Nubuck styles are great for those looking for a more comfortable upper material. Being softer to the touch and more flexible, they'll quickly mold to the foot, giving just the right amount of stretch in key areas such as the instep and forefoot. Though more sensitive than untreated leather, nubuck can be made water resistant with the use of sprays, making it a great autumn choice.
Patent leather footwear should usually be left for special occasions, as this version of leather will quickly show signs of wear. Highly polished, it's the most elegant option out there, but will definitely require some extra care to prevent scuffing and creasing from making your shoes appear worn out.
Outsole
Regardless of the style of shoe, most consumers want traction in the soles of the shoe. It is understood that specific styles such as high heels don't typically offer the best traction. On the other hand, shoes such as boots and sandals are expected to be highly gripping footwear.
Soles are designed sometimes with lugs or tread patterns, almost like a car. The tread is laser cut into the sole or could possibly be meticulously carved. The higher the lug or tread pattern, the better the traction. There are some shoes that are completely "soft" on the bottom and offer no grip whatsoever. If the shoes you choose are the type with no grip, be very cautious about walking on wet surfaces, slick floors, sand, etc. No one expects to fall and break a bone or injure themselves.
One of the things that Arche does differently from other brands, when it comes to the outsole, is the use of Lactae Hevea® products which are some of the best in the industry. Their high price is explaine through the production process - made from tree milk harvested in Asia, these soles are handmade by pouring into special molds, then treated at high temperatures to give them their structural integrity. The entire process results in a highly cushioned outsole that does excellently at absorbing shock and distributing pressure, and that's even recommended by medical professionals for those who suffer from knee or back pain.
Value
An important thing to consider when it comes to products by this company is the price tag, which is considerably higher than most other footwear available. With prices that are three to four times more than what you'd pay from perfectly reputable manufacturers, you may wonder what the deal is.
Well, Arche footwear is made in France, from the finest materials, is hand-crafted, and is designed with care so as to provide you with excellent comfort, wearability, and durability. If you've decided to invest in a model by this brand, you're probably aware of the fact that designer footwear is often much more expensive, but rarely made with such comfort features.
Arche shoes are recommended for those who are fans of leather, who want a simple and functional design, who like a bit of color and are ready to experiment in terms of silhouette and line. Additionally, if you go with one of the models that feature a Lactae Hevea® outsole, you'll definitely fall in love with the level of comfort they offer, making them your go-to pair of footwear.
Top 10 Arche Shoes


A minimalist boot with an "extravagant" construction, the Bibiki boot is a great choice for both casual and office wear. It features the same Lactae Hevea® that most Arche shoes boast, making it great for long days on your feet, while the full grain leather insole ensures the right amount of padding, breathability, and durability. The leather upper is easy enough to keep clean and looking good, which means you'll be wearing these boots for years.
If you know anything about shoe materials, you're likely aware that you can't go wrong with full-grain leather as it's made from the best parts of the leather, chosen for its durability and strength. The nubuck treatment gives the Bibiki a softer, more feminine finish without sacrificing said structural integrity, providing you with the very best of both worlds.
The .75 inch heel means you have a very subtle lift that won't cause discomfort that usually comes with higher heels. The wide opening, that sits around your ankles, is large enough to fit wider legs without being sloucher for slimmer ones.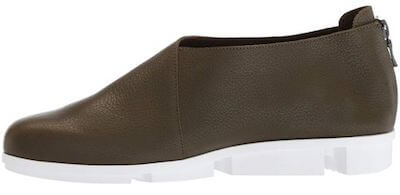 An extremely simple slip on model, perfect for a variety of weather conditions, the Kymene is a sporty pair of loafers that'll definitely stand out, wherever you decide to wear it. It's one of the few models on this list which is lined, this time with leather, making it a great choice for those after a more durable and supportive style. The square toe is both modern and comfortable, seeing that it won't cause any discomfort due to lack of space - this means you'll happily spend all day wearing this style.
The Kymene features a back zipper closure that isn't found too often on this type of shoe. It allows easy entry without too much of a hassle, while a leather back tongue prevents the zip mechanism from putting unwanted pressure on the back of the foot, saving you from blistering and chafing.
On the bottom, a contrasting rubber outsole provides both an aesthetic appeal as well as great traction and a level of cushioning that should keep you comfortable for longer periods of time. Thanks to a unique traction pattern with two deeper lugs in critical areas, you'll benefit both from great grip on all types of surfaces, as well as some much-needed flexibility that'll allow a natural walking motion.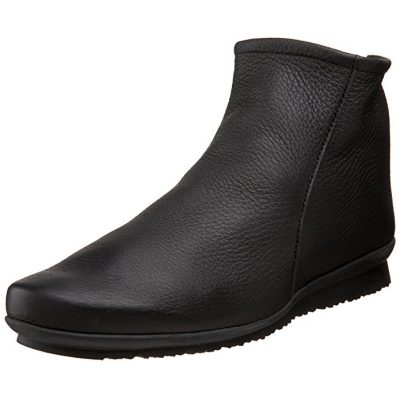 This is a great looking boot! It is very simple but sometimes simplicity is a good thing. You won't see fancy adornments on this boot but you will see a boot that can be work, yard, date, snow, or rain ready as soon as you slip them on your feet. It has a nice texture to the leather upper that gives it some simple styling as is not a smooth finish.
The opening of the boot has a doubled-over leather piece that keeps it from rubbing or chafing the skin. The softness will prevent blisters as well.
The boot has a plentiful 9.25-inch opening for you to easily slide your foot into. It won't crowd your ankles or calves at that size either. There is also a zipper to make it so easy to get on your foot.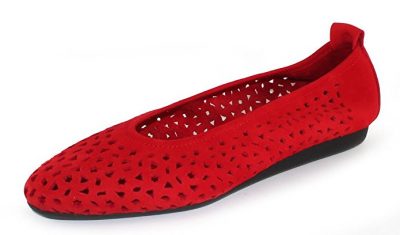 The Lilly flat makes a great alternative to a completely closed shoe if you still need something relatively covering. The shoe is trendy and stylish enough to go from working in the day to out for dinner at night. It could also be worn for semi-formal events. It has a very soft upper made from leather and holes that promote breathability.
You can be assured that since a laser cut the holes on this design they are uniform and will not fray as they are done with exact precision across the entire upper of this shoe.
The soft material added to the ankle pull tab allows you to put this shoe on with exact ease. It will be very simple and the tab keeps the fabric from scrunching under your heel. Over time that can lessen the integrity so prevention is key.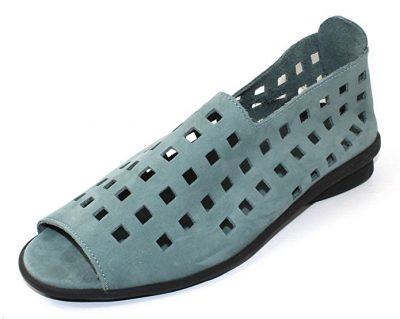 This sandal lends itself to more traditional styling with its slip-on functionality. It has an ankle pull tab to assist you in getting your foot in with ease. There are cutouts around the entire shoe which aides in the breathability. A soft leather upper will conform to your foot and support it with ease.
The tab at the ankle helps you hold the shoe while you put it on. It will also keep the fabric from scrunching under the heel which will prevent creasing over time.
The 100% latex soles under the footbed are made of Havea milk. This adds an unbelievable comfort to the soles. It has also been shown to increase durability.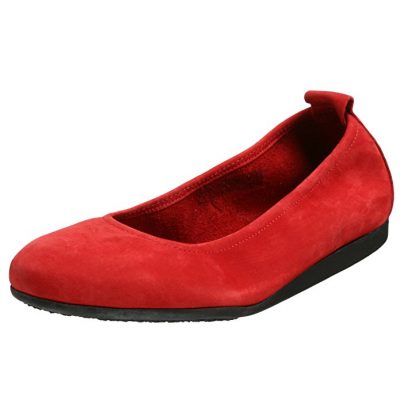 This shoe is ultralight and very flexible. It has a slight curve to the sole to promote proper stepping. This guarantees to improve your gait or stride. Not only does it improve the walking posture you have, it will absorb much impact to the foot thanks to the premium footbed that is in the shoe. This one could easily become an everyday shoe.
The sole of the shoe is made from milk which might seem odd but it improves the stability and the durability of the shoe. Furthermore, it adds a new level of comfort and flexibility.
You will have ultimate gripping power with the rubber sole that is on this shoe. The last thought you will have is falling on a wet floor or a slick surface.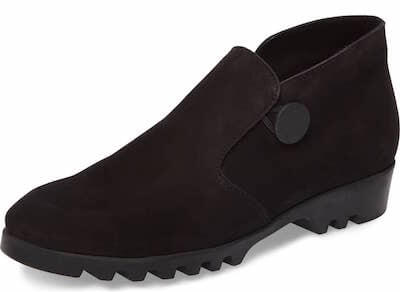 A bootie perfect for autumn wear, the Jimara combines simple styling with great comfort and superior materials that work together for a wonderful wearing experience. It features a supple leather upper, and a monoblock outsole of the same color, giving you a pair of shoes you'll easily pair with both jeans and a suit. It makes use of Arche's button fastening that allows for greater adjustability than traditional closures, making this a great option for anyone with a high or low instep.
The unlined nubuck upper of the Jimara is one of the best materials if you're after elegant but comfortable. Not only does it look luxe, but it'll also perfectly mold to your foot, with a high level of flexibility thanks to the lack of lining. What this also means is a decent level of breathability, allowing fresh air into the shoe, and letting moisture out.
A natural sole made out of hevea milk, the outsole found on the Jimara gives you the benefit of a shock absorbing and pressure distributing surface underfoot that will reduce the shock of each step by up to 50%. As the natural manufacturing process (this sole is completely handcrafted) renders a large number of air bubbles inside the sole, you'll find this material to be just as comfortable, if not more, like your everyday running sneakers.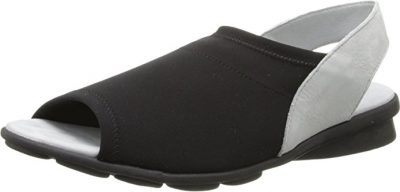 This sandal is a slight differentiation from the typical all-leather shoe that Arche is known for. The sandal has leather incorporated into the heel and back portion. However, the top front portion is neoprene. This sandal molds to your foot shape ensuring the all-day comfort that Arche is known for. Finally, a soft footbed is not overlooked.
Unlike other shoes that have straps that cut into your skin, this one is made from suede leather. It is so soft against the skin and rests easily. No worries of chaffed skin.
Neoprene is known to be water tolerant as well as breathable. Also, if it does get wet, it dries relatively fast. The neoprene is moldable so it contours to your exact foot shape.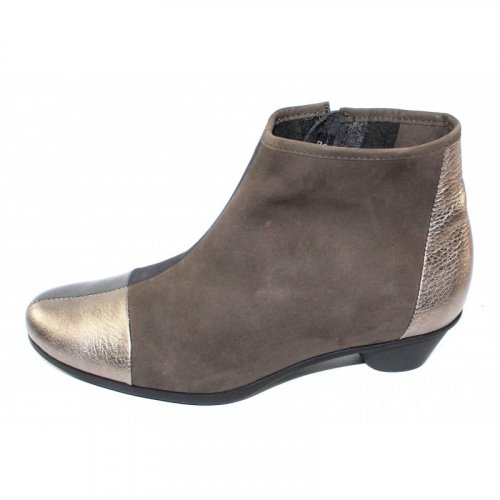 The Arche Cunqua bootie is a comfy and classic shoe that can dress up any outfit. With a short 1.5 inch heel you won't have to worry about being on your feet for long periods and you'll feel happy to wear them.
The leather lined insole provides ultimate comfort as it is very cushioned. It will absorb impacts from your steps and keep your legs and feet from not feeling fatigued from the ongoing walking.
The roomy toe cap ensures that your feet won't feel squished while you're out and about. What this means is a higher level of comfortability when worn for long hours, as well as a lower chance of developing foot health issues down the line.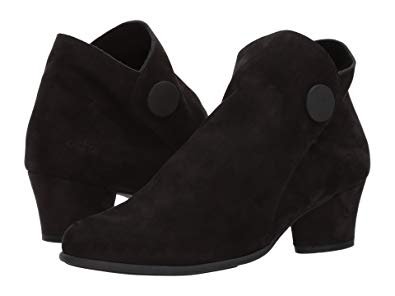 Sophisticated styling exudes straight from this shoe. It has a nice arch that is not too high but a slight 2-inch heel gives an easy lift to the frame. The upper has cutouts equally spaced from the heel to the ankle. An ankle heigh boot adds a bit of glam and elegance. They are a perfect shoe for both warm and cold-weather events.
You won't have to worry about the material scratching and showing scuffs as it is resistant to that. The shoe will last longer and look newer for longer.
Those stray spring showers won't be a concern in these shoes. They are made to withstand rain and water and not leave stains behind when they dry. The footbed is also rigid enough to keep your foot from sliding when wet.

Subscribe to our Newsletter