Best Almond Toe Shoes For Soft Vibes Reviewed
In a Hurry? Editors choice: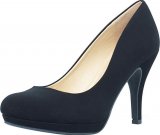 Test Winner: MarcoRepublic Rome

Almond toe shoes are sometimes considered the most popular of designs, as it is the perfect balance between the pointed, round, and squared variants. Whether we are searching for that next pair of ankle boots or dressy numbers, the almond toe design is certain to lift up the visual aesthetics to greater heights in our level of satisfaction. After all, the gentle tapering of the almond's appearance is what makes it so special and inviting to us. Moreover, there is a softer touch of elegance having the right amount of attitude, which signifies our wardrobe is now complete.

Standout Picks
Criteria Used for Evaluation
Effectiveness
For this purpose, we will define effectiveness as being part of the style, the aesthetic appeal, functionality, and longevity. The style is easy in a sense. If we are examining a pair of stilettos, then we are only examining how the almond toe translates to another design. The same is true with a pair of ankle booties, and so on. If the original style becomes enhanced because of the almond toe, then the number goes up. If, however, the style becomes burdened by the toe shape, then the number decreases.
The aesthetic appeal is directly reflected by the previous number. In addition to this, the overall appearance of the upper, also, comes into play. Are there accessories attached to hide a gaudy-looking shoe, or are they in place to enhance an already beautiful work of art?
Functionality is how the footwear will perform as designed. That is, we are not comparing a formal shoe to a running shoe; but instead, we are comparing a shoe to how it behaves while heading out for the evening to a nice restaurant, so to speak. If you cannot wear it for more than an hour before you are bleeding, then it isn't very functional. And if you find your ankles are twisting because of a terrible offset in the location of the heel, then again, it isn't very functional.
Longevity is, also, in relation to the type and style of the shoe, itself. But for the most part, we do expect footwear to last longer than a few wearings before breaking down. If a few hours causes the seams to fray or a heel to split, then the longevity score is going to take a major hit. And with all of these combined elements considered, we are able to better determine what constitutes effectiveness in our footwear.
Materials
Materials vary greatly among varying companies and styles. We expect leather uppers when purchasing from a leather company, more or less. And if we see that something is being sold as leather, when it is, indeed, faux leather, the score will lower. But for the most part, companies are pretty good about announcing the material make-up of the upper.
Since the almond toe is part of the upper, the material makeup becomes part of the evaluation. We are not, however, comparing a leather upper versus a velvet upper, per se. What we are doing is to compare the overall longevity of the materials when under the duress of natural, expected environments. That is, a running shoe is expected to be running, whereas a heel is not.
If the upper fails during its expected natural environment, then the number is going to fail along with it. Likewise, if it excels, so does the number. Along with our evaluations, we discovered that some materials fail because of improper preparation among the buyers. Unfortunately, not all shoe companies care about whether or not we have an understanding of proper care, but they are quick to refuse a return if we lose our footwear from an oversight. Because of this, we thought it pertinent to give a pointer or two.
Many leather uppers are not pre-treated to handle rain. When exposed, these uppers can begin to rot. There are, however, water-resistant treatments that we can add to our footwear to prevent this. Just be mindful that some will darken the leather. Velvet is another area of concern. Velvet snags and stains easily. There are pre-treatments that can minimize the potential damage. And as with the leather treatments, some of these solutions may darken the end result.
At the end of the day, a little research can go a long way in preventing undesirable damage to our footwear.
Model
The model number is a little trickier. On one hand, we have the model in its relation to other models of the same type. This isn't so bad to evaluate. On the other hand, however, we have the model in its relation to how well the almond toe enhances or decreases the overall appearance of the model itself.
For example, the classic, Mary Jane style is gorgeous with the almond toe. We can exaggerate the shaping or make it as subtle as possible. Either way, this model goes well with the almond shape. When we compare the shape to the model as a single unit, the score is going to rise. On the same side of this coin, we, also, need to evaluate the particular model of the classic, Mary Jane to other Mary Jane styles. When we exaggerate the shape, does it look better on the other models versus this one? If so, why? If it is a design flaw (aesthetic or otherwise), then the number decreases.
Another thing we consider is whether or not the model in question is fashionable. A classic style is a classic for a reason. It has been on top, left the scene, and is on the return. This is because the style works so well, it never really left in the first place; albeit, we may believe it did. The Mary Jane style is then one of those styles that will score high because of its potential to hang around. And, obviously, current fashion models will score high because they are the ones currently on top.
The almond toe can be found in many areas of the footwear industry. But the more frequent of areas will be in casual and dress. So, if a casual model does work in a casual setting, then the number goes up. And if this same casual wear can be applied, also, to a dress setting, then the number goes up further, and so on.
Although the scoring system is a bit tricker than some of the others, it is not overly complicated. The main thing to remember is that the model comparison is in relation to its practicality, in a manner of speaking.
Upper
We touched on uppers rather extensively in the materials section, so we will not touch on those particular aspects. In addition to those elements of interest, we, also, consider performance.
Performance is key when determining the overall functionality of the footwear, and whether or not that footwear will be practical in the environment in which it is intended. For instance, if we are to wear a new pair of red shoes out on the asphalt after it is freshly laid, we can expect some possible running of paint or peeling, thereof. After all, these are not intended to be worn in such conditions.
But if we are to place them on our feet, head out for a much-needed break and night out on the town, and upon our arrival to our destination, we notice there is peeling at the toe area, then our night becomes ruined. At least, it might seem that way. And in some regards, it has. This is because the upper has failed miserably in the condition for which it was designed.
The next consideration (within this same scenario) is how many times we can go out before the upper begins to fail. This number is more centrally placed within us as individuals, but, in a general sense, there is a minimum number in which most of us will agree should be met. For our purpose, any upper that begins to fall apart prior to 3 months of recommended usage receives a lower score. Those that exceed 6 months of usage gets a higher score.
Value
Okay, let's face it. Many of us are guilty of spotting a gorgeous pair of shoes at an unbelievable price, and we lose our heads and hit the buy button. Come on, you can be honest. Most of us have done it, at least once. We may even skim over a few reviews (the ones with best ratings) to solidify and justify our momentary lapse or reasoning with a touch of compulsive tendency. Unfortunately, however, we may end up with a terrible buy and feel like our heads are crashing in from the unbelievable waste of money.
The price of any item, no matter how budget-friendly it may seem, is only part of what it means for that product to have real value. Value has many elements with the monetary property as being one of those. Some of the other elements, we may want to consider, is the longevity and quality of the item in relation to that price. If both the quality and longevity exceed the asking price, then the value becomes high.
What about fashion footwear, such as ankle booties? In addition to the aforementioned elements, we, also, have the 'wow' factor. That is, do we receive compliments when we sport this new purchase? If we do, then the value becomes higher. If we, however, receive nothing but insults by way of verbal or rolling eyes, as it were, then the value becomes lower.
So, although a pair may be the most expensive on the list, it may receive the highest value, but only if it excels in every area of what we consider to be a value for that particular model. On the flip side of the same coin, it could very well hit the bottom of the ranks if it were to fall short in these areas.
Top 10 Picks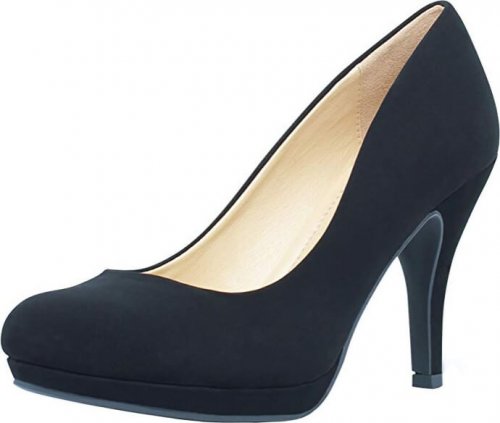 For those searching for a comfy high heel which is, also, vegan-friendly, MarcoRepublic offers the Rome. Made with memory foam that shapes to your individual foot while you walk, these 3.5-inch heels become surprisingly comfortable to be in. After all, every curve of your foot is met with personalizing joy. The platform height is 0.5 inches and the interior lining is smooth and soft.
For added traction, the non-skid outsole is textured. This provides a little more stability while standing in these 3.5-inch heels. Your pick of the color wheel allows for a minimal choice in colors, but they are the basics; thereby, the wardrobe choices are still wide in matching to your favorites.
We love the padded footbed and cushioned insole made with memory foam, as they conform to your feet. Vegan-friendly, these are not made with any animal products.
This pair of low-platforms (0.5-inch) have a touch of elegance to them while remaining practical. The sizing runs about a half-size too small and will feel a bit tight until they conform to your feet.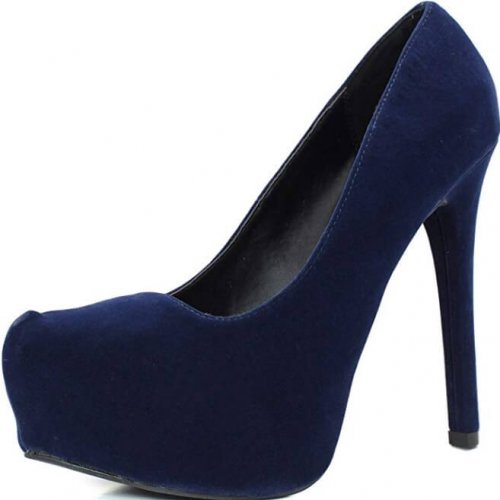 This is where stilettos start feeling real with 5 inches of heel height. If you are new to heel walking, these are definitely not the place to start. For those who love the heels, however, these sport the fashion in marvelous wonder. Add to this the 2-inch platform height, and we have quite the scenario for nice heels. But the standing out feature with this pair is not in the height itself, but rather, the distinct almond toe shape. It is well-defined and puts a staple on the style.
These stilettos take the concept of the almond toe and concentrate the design. That is, they reflect its strong points of creation by building the shoe around the shape, as it were. The end result is both satisfying and beautiful.
The upper is made of velvet. It is eloquent and can really accessorize an already beautiful clothing choice. Since it is velvet, however, special consideration should be taken when evaluating the best places to wear these. In other words, a rainy day might not be the best of days for this particular pair; especially, if it isn't pre-treated to withstand the conditions.
These will place you on the ball of your feet. Adding pads to the forefoot and possibly heel grips will help with stabilization; not to mention, your feet will be thankful for the reprieve.



Oh yeah! These have dual straps with buckle closures and 4-inch heel height to take them to the next level. They are breathtaking with a sense of purpose. Ready for the day or evening, the classic, Mary Jane style is practical, yet magical at the exact same time. With a 0.3-inch platform height and stiletto heel, this retro style is begging for a vintage wardrobe matching.
The styling is great for photo opportunities and for that retro appeal. Just imagine how well a polka-dotted dress amplifies with a pair of these complementing each step. And with over fourteen colors available, there is no shortage of mix and matching to all of your vintage looks.
The 0.3-inch platform works well at adding stability for standing and walking. After all, these are 4-inch high heels and every bit of stability counts. Furthermore, with the dual-buckle closure system, the fit is a bit more secure.
Overall, this is a pair which is kind to the budget. Moreover, they look great, and for high heels, they may be more comfortable than what you first might think. At the end of the day, this is a pair worthy of the small investment, even if you are to wear them only once.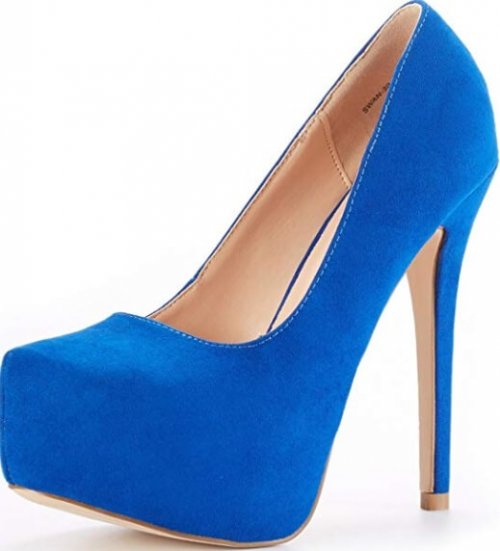 This item propels feminism to new and exciting heights. Having a 5-inch stiletto heel and 1.25-inch platform height, these will have you leaning forward quite a bit. As such, a pre-purchase of a heel and pad cushioning may be the smart thing to do; especially, if you plan on wearing these for more than a few hours at a time. The outsole is TPR and the insole is made of faux leather.
The color choices are nice with this model, as some of the colors include rhinestone settings. In addition, there is something appealing with the simplistic, yet extravagant look. It's as though we are witnessing two opposites coalescing as a single unit.
This is a pair which should be worn in small bursts and not for heavy hours with each passing day. After all, the design takes away from your natural center of gravity, thus long-term usage can compromise your natural gait.
With all of this being stated, this product does well in the area for which it is designed, to look really great! That is, these enhance the artistic balance of beauty and elegance.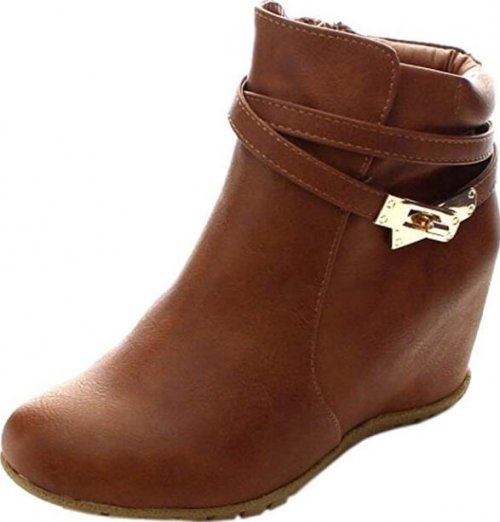 Overall, we love the cute factor of these adorable ankle booties. The wraparound buckle closure adds the finishing touch to a simple, yet pleasing design. A side zipper at the instep makes for easier on and off, and the textured leather kicks things off. We did find, however, that adding an insert to the boot will increase overall comfort levels if wearing these for longer hours.
This product has dainty visual aesthetics. The pair is cute and inviting; perfect for casual wear. We really do like the buckle closure, aesthetically, but at times, there are performance issues with the clasp remaining fastened.
As for general performance, these seem to offer better longevity if not worn as everyday footwear. We will say, however, a lot of this is going to depend on where the product is being worn, how it is being worn, and so on. After all, these are not hiking boots and should be worn as such.
They are naturally comfortable, and that is a major plus. But if you want to get more from an already good shoe, then we recommend adding an insert for your particular arch, as these provide minimal support in this area.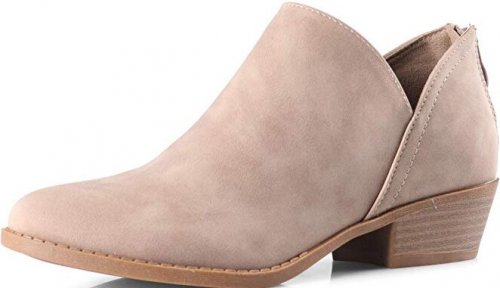 Available in sixteen colors, matching is not a problem to your favorite clothing style. The almond toe is influenced by the western feel, so it is not as defined as some of the others on this list. The bootie style, however, accents and plays to this subtle shaping. And with the rear zipper closure, these are rather easy to take on and off. Furthermore, for those looking for something perfect for jeans, this might be it.
These feature either micro-suede or distress PU upper; dependent on color choice. The overall shape is adorable for casual wear and the single sideseam adds the perfect amount of simplicity.
Shock absorption is found, mainly, in the manmade outsole and heel. The footbed is cushioned, but you may need an added insole insert to raise overall comfortability; especially, if these are going to be worn as everyday footwear for long hours. That's not to say these are not comfortable, because they are to some wearers. As such, it never hurts to keep something like this in mind. After all, feet vary greatly.
For the price tag, these are not a bad investment. They do the job expected of them and look good while they perform. They are not overly glamorous and work well in casual settings; that is, these are rather cute.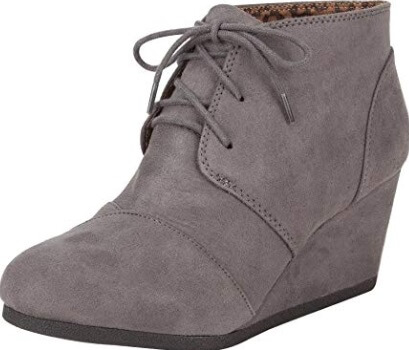 Having a wedge heel, this pair of ankle booties seem to fit true to size. They do fit a narrow foot better than those with wider feet. Furthermore, the arch support is minimal at best and this requires an added insert to compensate. For the price, this is a pair which isn't bad, but we are not overly impressed, either. They are, however, cute and would make a good pair outside of everyday wear.
The non-skid outsole is felted rubber, which means that it will wear thin and become slick over time. Again, this product is better suited for not utilizing as an everyday wear item. They are budget-friendly enough to warrant a purchase for those days when you just want to wear something different, as it were.
These come with 0.5-inch platform height. The shaft height includes the 2 3/4-inch wedge heel and measures in at 6 inches. The footbed is cushioned; albeit, it is minimal at best. This means these are better suited for short excursions rather than a day's journey.
We do love the way this design lays the seam work on the upper. It is practical, yet it brings a subtle attitude to the aesthetics. Top this off with the lace-up closure, and these become casual eye candy, per se.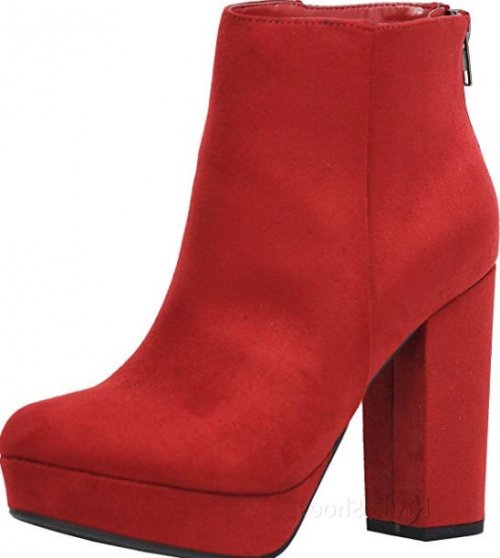 We love these and how the varying color choices will, also, change the styling of the rear closure. For example, while the red cherry utilizes a zipper closure, the gray clay deploys a cute lace-up feature. The heel, also, changes in style, accordingly. The approximate height of four inches remains between the models, but one utilizes the chunky style of heel, whereas the other is reminiscent of a shoe with a thicker heel. No matter your choice in heel style or color, these most definitely make a statement.
These are great for cooler weather around the fall. They are snug and warm. Better yet, the colors available go well with autumn. The almond toe design is moderate in appearance so as to showcase the footwear as a whole.
The unfortunate downside to this line is the sizing. Although it is rather spot-on for those who can fit into them, sizing availability is minimal. And even though many will be able to enjoy these, there are some who will not. Whether it is a manufacturing oversight or for some other reason, it lacks in this area.
At the end of the day, however, this product has a good build and accomplishes exactly what it is intended for. They keep your feet warm on cool days, fit well, and have decent longevity.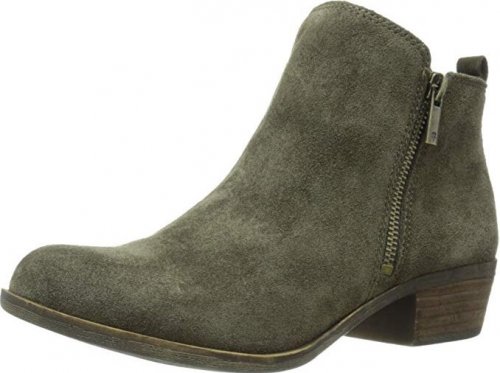 With over 36 colors to pick from, we can only say, "wow!" The style is rooted in rock 'n' roll and the zipper closures located at the outside and instep flavor, accordingly. These feature a 1.37-inch heel with padded insole. In other words, these have everyday wearability in mind, in terms of both comfortability and usage. Unfortunately, however, the wearability factor is low-milage and they tend to fall apart at the seams, per se.
These are extremely cute and the rock 'n' roll feel is great. There are many colors to choose from, but this does not change that these tend to fall apart after only a few wearings. This means, in order to get the most out of your investment, you will need to pick and choose when and where to sport these.
If it is raining, forget about wearing these unless they have been treated to handle it. Out of the box, these are not water resistant. And although these are rather comfortable, we advise not utilizing them as everyday wear, simply due to the frailty of them.
These do have varying widths to accommodate narrow to wider feet. This is, definitely, a plus for this style. Furthermore, if you are searching for something cute for a specific outfit or two, then these might be worth considering.

10

. Bella Marie Helena-13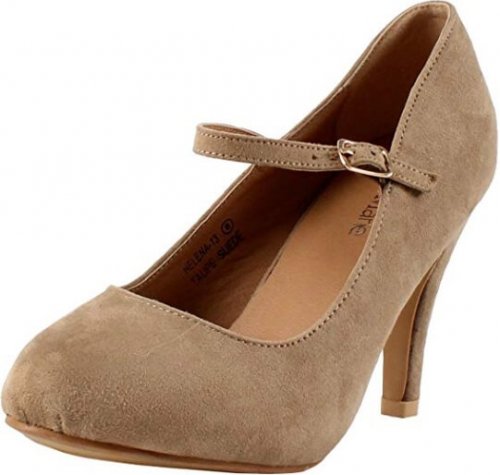 These are made with either a synthetic or suede upper; dependent on color choice. And the ones with glitter are rather fragile in this department, as the glitter seems to fall off in your hands right out of the box. This causes this particular shoe to be of a special occasion and not ideal for everyday wear. The Bella Marie Helena-13 model does have a strap with a buckle closure, which is nice for added stability while walking.
This item has an approximate 3-3.5-inch heel with a 0.5-inch platform height. And as long as you stay clear of the rain of glitter styles, the others seem to hold up well for what they are designed for.
Those with wide feet seem to benefit from this particular model; albeit, the toe box may seem a bit tight for a few. On the other side of the same coin, those with average to narrow feet seem to struggle with the toe box being too large. In essence, the structuring is a bit off in the toe box area from the bottom of the forefoot to the topside.
And although there isn't any make or break issues with this item, this is one of those cases where you know that you will be getting what you pay for. That is, don't expect something absolutely great from this particular model.

Subscribe to our Newsletter