Best 30 Dollar Shoes For Poppin' Style & A Happy Wallet Reviewed
In a Hurry? Editors choice: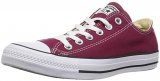 Test Winner: Converse Chuck Taylor

If super-economical footwear is what you are looking for, even if you may have to discard it sooner rather than later, then we have your back. Fashion and shoe choices are so pricey these days, it is unbelievable to think that there could be 30 dollar shoes found anywhere on the market; yet it's true!

We have diligently researched and unearthed numerous options for you, in various styles, for a low cost (but with high quality!). We've carefully made a list of options for you, which will be your help towards building a perfect outfit. Keep reading our guide and discover the magical world of 30 dollar shoes!
Standout Picks
Criteria Used for Evaluation
Materials
Of course, as you may have expected, materials used to make 30 dollar shoes is one of our key criteria. Because, thanks to them, you get to enjoy a comfortable, durable shoe with good style and an appropriate fit. One may think that cheap shoes are made out of cheap materials, which is often the case - but as we mentioned before, if the materials are used the best ones possible, the end product can turn out to be valuable!

Believe it or not, you can find 30 dollar shoes made out of leather! But the leather used in this case will be the regular kind, compared to full-grain premium leather.
The main difference between the two is from where the leather is gathered. Full-grain leather comes from the part of the animal skin that is the closest to the hair. This means that it will be hardy because it guards the animal against danger. It will breathe very well, and after you break it in, it will bend with your foot and become super soft.
This is not the case with cheaper leather. It might be even harder to break it in, and it may not end up so soft. It will crack, and it will not last as long. One way you can keep that from happening is if you take care of it well. Wash it daily, use creams that bring out that high gloss on it, and help keep it water-resistant - the less water penetrates the inner side, the less chance it has to start peeling and cracking!

Rubber is a natural material that is always cheap, no matter how you look at it. It is a material that is the absolute champ at keeping all that nasty water and moisture away from your precious feet. Coupled with a mesh or textile liner or upper, you get a protective casing that breathes just enough to keep your feet from suffocating.
Besides being used as an upper for rubber boots or shoes, it is most commonly used for outsoles. The reason is quite simple: it gives you enough traction and grip to keep you from falling down even in the slickest of environments! The drawbacks are that rubber can start to peel, you might feel like you need more air and lower temperatures, and sometimes it even blooms - white patches start to appear, but that can be solved with a cloth and a little bit of olive oil.

Lastly, we have textile, a super simple man-made material. Synthetic threads are woven in a loose-ish pattern, creating a lightweight, porous product. Textile is the best choice for footwear used in the summer (or any warmer month) and is the most popular choice for sneakers and skate shoes. It flexes like a proud gym rat and wicks away moisture like a champ.
But just like everything that was ever created, it has its drawbacks. Textile is very prone to tearing, and your toes might start to play peek-a-boo after a short period of time! But it takes on colors very well, which leaves plenty of room for designers to be enchantingly creative!
Comfort
It's easy to understand why you may think that the comfort of 30 dollar shoes may be compromised. After all, how can you even make a comfy shoe with a limited range of technologies? Well, we are here to knock down that doubt you have, and to show you that it is very possible to achieve comfort without the price skyrocketing!

Ortholite footbeds are a super popular technology and are used by brands like Clarks, Rockport, and many more. The reason is simple: they're removable, cheap and insanely cozy! Their PU and recycled rubber formula is the only one in existence that combines durable cushioning, enough airflow and moisture management.

Compared to traditional insoles, the compression rate of Ortholite footbeds is less than 5%, meaning that no matter how much stress and weight you apply to them, their shape will remain stubbornly the same. So whenever you slide your feet in, the fit and comfort will remain the same!
The open-cell PU foam also breathes very well. The moisture will be able to escape, leaving you dry and fresh and bacteria free. And the best part - you can wash the Ortholite footbeds in a machine, so it always feels like you have a brand new set to insert in your 30 dollar shoes!

The gore is a part of some 30 dollar shoes, inserted on the sides of the upper. It's made out of elastic rubber that stretches when you need it and returns to its original shape when not used. It joins two parts of the upper together.
But why is such a piece integral to the comfort of the wearer? Putting on a pair of boots, for example, will be much, much easier. The gore panel will stretch out, and you'll be able to slide into your boots without any actual effort. If your feet are on the wide side, the gore will ensure you've got plenty of room in there, so nothing will clamp down on your toes and sides, saving you from unnecessary pain and discomfort.

Many customers complain about the lack of arch support of many models that exist on the market today. Latex arch inserts bring just what you need to the table, and help you stay in the right position, saving you from aches and eliminating the need to reach for pain meds!

Finally, molded sock liners might not be the first thing you think about when comfort comes to mind, but they are very good at ensuring you have a cozy ride! They usually come in single layers, double layers or are multi-density liners. One of the most common purposes for such a sock liner is to create the perfect fit when handcrafting footwear - for custom fits and sublime comfort.
Durability
Durability is surely a concern for 30 dollar shoes. Were they just glued together without care? Are the stitches superficial, or maybe even purely decorative? We understand your concern, but be sure that none of the shoes on our list were created with zero care.

Leather uppers appear numerous times, and we all know how hardy leather is. It's well known as the absolute champion of durability, lasting even for decades to come. And if you put just a little bit of effort into taking care for it, you will be rewarded without a doubt.

Reinforced stitching is also one way to ensure that 30 dollar shoes do not fall apart when the wind blows lightly on them. Not only can the stitches look stylish, but they reinforce the construction significantly and make the life of your shoes last much longer.

Usually, the outsoles are the first part of the shoe that break off, because, as common sense dictates, it's the part we use the most. Using a special kind of mixed rubber, or vulcanized outsoles, makes sure that you don't lose them somewhere along the way. Vulcanized cupsoles are well known in the skating industry, as they make the fit flexible, durable and very soft. And, if special welts are used, be sure you won't lose your outsoles even if you try!
Versatility
What's better than having a 30 dollar shoe that can be worn with any outfit you can come up with? Versatile 30 dollar shoes might feel like winning the lottery because you will get a pair that you can mix and match, saving you plenty of cash, alleviating the need to buy additional footwear!

If the style of the shoe is very specific, like stiletto pumps, be sure that there is no way you will be able to wear those whenever you wish. If, however, you choose sneakers or loafers, the number of choices you have will increase tenfold. And if they have details that only improve their style, you'd be able to wear them with outfits that are more formal.

The colors also affect the versatility of our footwear. If you choose 30 dollar shoes that have patterns or vivid colors, you won't be able to combine them with many outfits. But if you choose neutral colors or classic colors like brown or black or nude, be sure that the options you have are infinite.
This is especially true for 30 dollar shoes that come in a huge variety of colors, making it possible to buy multiple pairs in different colors, so you can look your best no matter what you wear!
Value
Obviously, the value of 30 dollar shoes is questionable. Their price may be low, but how much do they exactly bring to the table? Many cheap shoes provide value proportional to their price, because which manufacturer wants to receive less than what they gave? Exceptions exist, and may they be blessed.

Many famous companies, like Adidas, New Balance, and Nike, have realized that sometimes it's better to increase the value of their shoes and lower their prices - thus 30 dollar shoes were born! This creates customers that will always come back to them, knowing that they will get the best possible shoe for the price it is being sold for!
Sometimes their durability might suffer, but if you end up with a shoe that hangs on a thread, you can always go out and buy the same exact pair without spending a fortune on them! While we all want our footwear to last as long as possible, the true value of 30 dollar shoes lies in the fact that you can go out and buy new ones whenever you please!
Our Favorites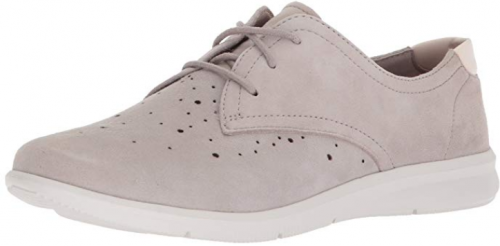 Rockport is credited as the brand that created the walking shoe and popularized walking as a viable form of exercise. The Ayva oxford is a great example of how fashionable you can look while you walk to keep your health optimal. Its upper is completely made out of leather - not something you see every day on 30 dollar shoes - with small laser-cut perforations decorating it and enhancing the airflow. The lining, however, is textile, which creates a soft and dry environment for your delicate feet.
The Strobel construction of the Ayva, used for most athletic shoes, makes sure the upper is sewn to a fabric bottom, creating a sort of sock. This makes them very flexible and durable, great for running and walking for prolonged periods of time.
A removable Ortholite footbed resides inside of the Ayva, creating cushy comfort and safe, dry surroundings for your feet. Both the midsoles and the outsoles are EVA, lessening the impact when you hit the ground, and also ensuring these 30 dollar shoes fit the same way they did when you first got them!

2

. Adidas Cloudfoam Advantage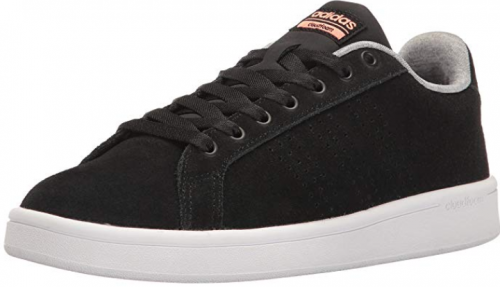 The Adidas Cloudfoam Advantage borrows its style from chunky skating shoes and combines it with improved comfort for pain-free wear! The upper is suede, known for its opulent look, its light weight, and durability. It's also very smooth - the upkeep may be tougher than usual, but it sure pays off! Perforated three stripes give the air a chance to sneak into these 30 dollar shoes, keeping you cool and odor-free. A woven heel logo makes the creator very apparent, and the embossed heel logo only completes this classic look.
A textile lining sits on the inside of the Advantage, increasing their comfort and making them silky to the touch. The molded sock liner has memory foam which molds to the shape of your feet, acting like a gateway for an optimal fit each and every time you put these on. The Cloudfoam is a very lightweight system added for cushy comfort and for avoiding unnecessary pain.
The rubber cupsoles on the Adidas Cloudfoam Advantage provide a good amount of traction and grip. They also make them even more flexible, and easy to wear right out of the box. For such a low price, these 30 dollar shoes do come with some top-notch comfort and easy, laid-back style!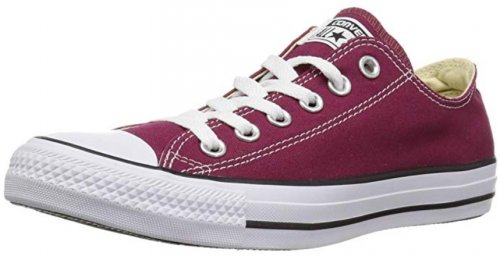 Nowadays Converse Chuck Taylors come in so many colors and patterns and even material options that they greatly vary in prices. You can get custom-made ones which are pretty steep in cost, but you can also get 30 dollar shoes from the brand without any effort. The Chuck Taylor is an iconic sneaker, one that will fit seamlessly into your wardrobe and that you will love wearing day in and day out.
This low top version of the Chuck Taylor has a canvas upper that is both breathable and durable. It may not be made for inclement weather, but it will definitely help your feet stay dry and cool on hot days. The comfort factor is greatly increased by the Ortholite footbed inside, which provides amazing cushioning and has moisture-wicking properties as well. Finally, the classic rubber outsole and rubber toe cap of the sneaker keep your toes safe and prevent you from slipping on any type of surface.
The Converse Chuck Taylors are 30 dollar shoes that you simply can't pass up. They are versatile enough to be worn with jeans, pants, shorts, skirts, dresses - pretty much anything you can think of! And you can easily wear them for as long as you'd like without feeling even a twinge of discomfort. What an amazing deal!

4

. Keds Champion Originals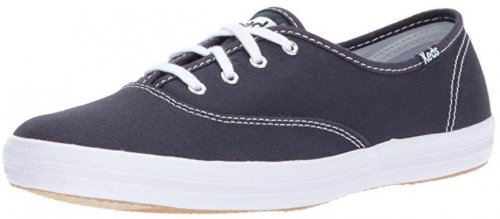 Can you believe that the first Keds Champion sneaker was introduced over 100 years ago? That's right; this simple, minimalist design that is so relevant today and that everyone wants to wear in one way or another, is over a century old! The Champion Originals are 30 dollar shoes made from canvas and with such a timeless style that they are likely to last for a century more!
This design has a clean look in several different color choices that make it easy for you to find the one that fits your personal aesthetic. It has a lace-up closure with 4 eyelets and a soft lining that enables proper ventilation. The insole of the Champion Originals is cushioned for comfort, and the outsole is both flexible and textured for enhanced traction.

The Keds Champion Originals is a sneaker that goes with absolutely everything. The reason everyone wants to have this design in their wardrobe is that, much like Converse, these 30 dollar shoes are endlessly versatile. In them you will feel cute and stylish and your budget won't suffer!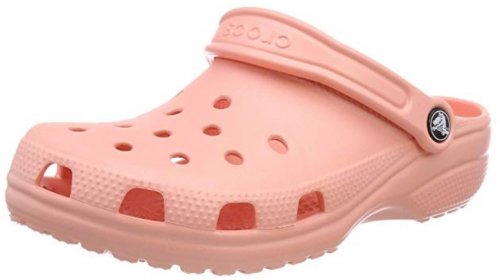 We all know that Crocs are some of the most affordable footwear options out there. This is why we shouldn't be surprised that their Classic clog found their way to our 30 dollar shoes list. The Classic clog is perfect for a casual stroll around the neighborhood, for a fun day at the pool or the beach - it is comfy, it is water friendly, and it will keep your feet happy during hot summer months!
The Classic clog is made from Croslite, which is a material specific for this brand. This is a closed-cell type foam that doesn't stretch or lose its shape when it comes in contact with water, and it provides you with all the cushioning you need. Additionally, Croslite also has antimicrobial properties, meaning that the Classic clog is resistant to odors and helps fight off bacterial infections. You can choose to wear it as a slipper, or you can rotate its strap back and have a cozy slingback!

These 30 dollar shoes may not be the most fashionable choice, we'll admit to that. But Crocs are a league of their own, and they are virtually irreplaceable if you're looking for that staple water shoe you can bring with you on your next summer vacation. Bring on the Crocs!




Another brand well-known for its comfortable and stylish footwear, Clarks is not a stranger to creating affordable options. The Breeze Sea is a sandal, meaning it is made from less material than a regular shoe, and thus it slides right into a spot in our 30 dollar shoes guide. It is adjustable, it is comfortable to walk around the entire day in, and it is practically a steal!
The Breeze Sea comes in a variety of vibrant colors you can choose from, out which we have selected this bright rose one to grab the attention. It has an EVA midsole as well as an EVA footbed, meaning that it provides maximum impact absorption. Your joints and feet no longer have to feel any pain even after hours of walking. The strap on the Breeze Sea is adjustable, and you can easily customize it to provide a secure fit.
The Clarks Sea Breeze is not your ordinary flip-flop. These come with supportive features, are made from high-quality materials, and will brighten up your entire summer! Enjoy your next tropical getaway with these 30 dollar shoes!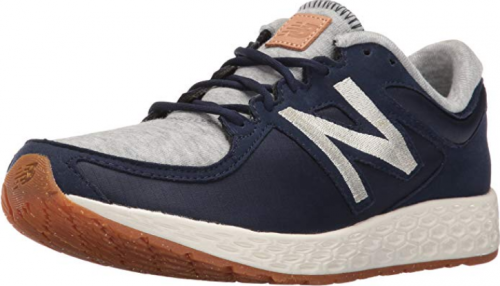 New Balance creates footwear meant for various athletic activities - but many people adapt them to their everyday lives, making them their number one choice for all kinds of activities not related to sports. Their shoes tend to be on the pricier side, but the company believes they make this right by offering technologies unique to them that are meant to improve your experience. The Zante v2 is an exception, however. These 30 dollar shoes have everything you need out of a good New Balance model, at a ridiculously low price.
The sleek Zante will be your new partner in helping you achieve your top running speed. A snug bootie fit makes sure they don't fly off while you run around. The upper is a combination of synthetic and mesh materials; this innovative blend makes sure you get just the right amount of air while making them very hardy and resistant to tearing. The mesh is engineered to let the air flow just the way it is supposed to, cooling you down and keeping you odor free.
The HypoSkin upper adapts to the shape of your feet, creating the same perfect fit every time you put them on. It's also very elastic and allows your feet to move naturally, making your run feel like a walk through the park. The solid rubber outsole on these 30 dollar shoes is lightweight, fit with Fresh Foam - their way of making sure you get all the comfort you need while running (or walking). The no-sew application of materials removes the possibility of the stitches rubbing your skin raw, keeping you safe from infections and blisters!

8

. Dream Pairs Oppointed-Mary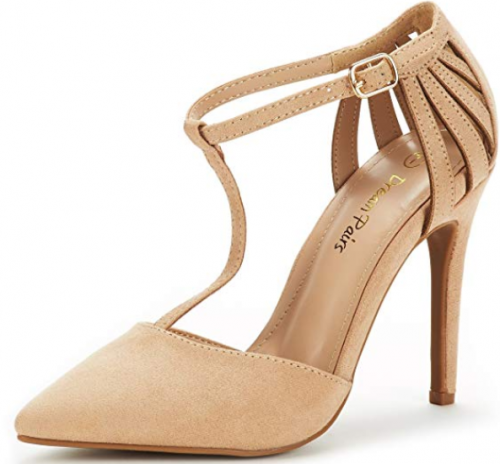 Dream Pairs is a very young company, launched in 2013. Their motto is "Fashionable footwear at the fairest price possible", so you know you get the best of both worlds! The Oppointed Mary Jane pump fits right into their motto, as these 30 dollar shoes are everything you need to look stylish and flirty at a more than reasonable price!
The Oppointed-Mary is a summer shoe made to bring out your frisky side. Its upper is faux suede, made to look and feel like the real deal, giving them the same luxurious finish and soft touch. The very first thing you may notice are the side cut-outs on the heels. This trendy detail lets your heels breathe and soak up the sunlight (or moonlight), and tickles the minds of curious onlookers.
An adjustable strap with a buckle makes it easy for you to loosen the fit or to tighten it up, adapting these 30 dollar shoes to your shape and size completely. The T-strap visually slims down your feet and makes them elegant and dainty. A stiletto heel takes your style to new heights, and makes you a definite head-turner! The rubber outsole keeps you injury-free, and the lightly padded footbed shoos away pesky pain and aches!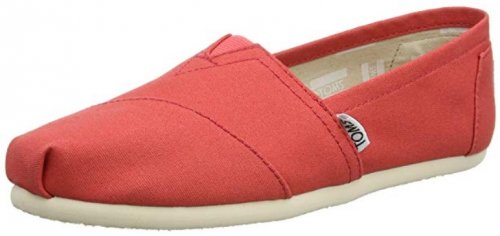 TOMS is a relatively young shoe company, founded in 2006 by Blake Mycoskie, an entrepreneur from Texas. The brand creates and designs shoes based on the Argentine alpargata model, a sort of a cross between an espadrille and loafer. Usually, they have rope outsoles, but TOMS opted out for rubber outsoles. They produce affordable footwear, and you will be glad to know that their most beloved model belongs in the 30 dollar shoes category!
The Classic slip-on is what every casual pair of shoes aspires to be. The canvas upper is what makes them so recognizable. It has many teeny tiny holes, which let all that extra heat escape and make it easier for the cooler air to come in, making it easy for you to regulate your temperature. The TOMS toe-stitch reinforces the construction, and also gives them a unique shape. An elastic insert makes it easy to put them on and to take them off.
The logo can be visible in two places, so anyone can notice who made your cute 30 dollar shoes. The colorful liner acts as a surprise when you take them off and breaks apart the monotony of the upper colored with one hue. One-piece mixed-rubber outsole is a unique aspect of TOMS, creating a pair that is resilient and flexible!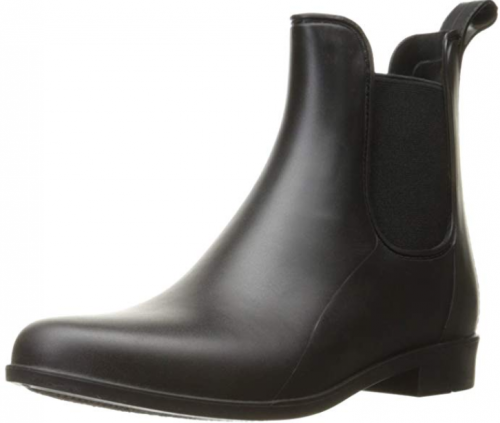 Sam Edelman is a well-known designer that creates exquisite footwear available for anyone who dares to wear them. The Tinsley is a great example of how fashionable 30 dollar shoes can be! As you may have expected, the upper is made out of rubber, keeping all of that pesky water away from your feet, while keeping you dry and toasty inside. The textile lining makes sure that you get all the air you need.
What makes the Chelsea boot so recognizable is the deep elastic gore insert. This gore makes it easy to put them on, as it stretches just enough for you to slip into them. But it also creates a snug fit, keeping all kinds of debris out of your boots, and it moves while you walk, without squeezing you more than you'd like.
The pull-on loop makes it even easier for you to put them on - just slide your finger through and pull, and voila! - the boots are where they are meant to be. A padded footbed cushions your every step, leaving you without a care in the world. And the outsoles are rubber as well, so these 30 dollar shoes also help you stay upright when it rains, besides keeping you dry.

Subscribe to our Newsletter