Best Men's Rash Guards Reviewed
In a Hurry? Editors choice: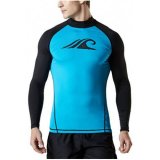 Test Winner: TSLA Rashguard

The sun, a pristine beach, and your favorite water sport sound like the perfect mix for an ideal holiday or weekend. Men's rash guards come in to save you from trouble and much more. We already reviewed
women's rash guards
. So let's tackle men's.
Thanks to their unique designs, rashguards for men shield you from the abrasive elements that Mother Nature throws at you. They act as a protective layer between your skin and the chafing surface of surfboards and the impact of waves. Rash guards also insulate your skin from harmful UV rays and the chilly force of winds.
The best men's rash guards offer you all that protection while being stylish and comfortable to wear. If you are looking to find the best option, below are some of the best that the market has to offer
Standout Picks
Criteria Used for Evaluation
Style
Aside from proving decent coverage, various types of men's guards provide additional protection.
Thermal men's rash guards; are ideal for chilly weather as they provide extra warmth in cold water for an extended period of time. Thermal men's rash guards are common in activities that are too warm for wet suits and too cold for bare skin like aqua aerobics and ocean sports.
They are made from thick and insulating fabric - mostly neoprene. Thermal men's rash guards are sold based on the thickness of the material, usually measured in millimeters (mm), e.g., 3/2 mm; the first number corresponding to the torso thinness and the second refers to the arm/limbs and thinness to the sides of the rash guard.
General-purpose sun protection Men's rash guards; are generally used by surfers. They can be worn alone for sun protection or under a wet suit for counter-irritation. They are usually light in weight and come in a snug/tight fit.
You can also get general-purpose men's rash guards in with either long or short sleeves. Long sleeve men's rash guards provide additional support while short-sleeved options offer more freedom of movement. General-purpose men's rash guards also come with board connectors that attach to rash guard shorts to prevent them from riding up.
Surf shirts and Tees men's rash guards; are specially designed men's rash guards that look like regular t-shirts. They are loose-fitting to allow you to layer them on top of other clothing. Surf tees offer optimal sun protection.
Men's rash guards vests; they lack sleeves but enhance freedom of movement and offer additional warmth in ocean sports. They are similar to general-purpose men's rash guards as they feature a Lycra construction. They provide optimal thermoregulation but are not ideal for extended use in cold waters.
Full body men's rash guards; are made from the same material as general-purpose men's rash guards, but feature a full body cut of a wetsuit. They are thick enough to use on their own, and light enough to wear over or beneath a wetsuit. They are ideal for ocean sports as well as white water sporting activities like kayaking and canoeing.
Effectiveness
Capable Men's rash guards protect you from a variety of elements.
Men's rash guards hold various advantages to wetsuits and other types of water wear. These built-In features give the user a performance boost and a competitive advantage in multiple sports. Here are some of the ways men's rash guards protect you from a variety of elements.
Chafing and rash protection: Putting on men's rash guards in water sports is an effective way to counter skin abrasion. Men's rash guards cover areas on your body that are prone to friction from your aqua gear, which typically causes rashes and chafing. Men's rash guards can also be worn under wetsuits to reduce chafing.
Thermo protection; men's rash guards vests provide an additional layer of heat retention. This heat retention makes them ideal for activities such as snorkeling in cold and deep waters. However, their lack of arm protection doesn't make them ideal for use over extended periods.
UV and sun protection; men's rash guards typically have fabrics that offer ultraviolet protection (UPF). The ideal Men's rash guards provide UV protection by a UPF factor of 50+. Long sleeve men's rash guards give better sun protection than even the best sunscreens because they cover the body altogether, leaving no room for the sun to penetrate.
Ease of movement; unlike wetsuits, rash guards feature lightweight materials and body wrapping snug fits. These two features make Men's rash guards easier to move in while submerged in water.
Jellyfish sting protection; Ocean sport professionals and enthusiasts like surfers and snorkelers often opt for Men's rash guards. They are lighter than wetsuits and provide optimal protection for jellyfish stings and other ocean-borne irritants.
Versatility; men's rash guards offer versatility in the way you wear them. You can wear them alone or layer them over or beneath other garments. They also come in a variety of sleeve lengths for various coverage needs. Men's rash guards are also ideal for use as casual wear in a tropical environment.
Quick-drying fabrics; Men's rash guards have fabric blends that dry quickly. This quick-dry aspect makes these Men's rash guards prevent rashes that occur from prolonged water irritation on the skin. Some premium Men's rash guards also come with a special anti-bacterial coating that prevents bacterial growth and helps keep the suit dry.
Skin protection; Men's rash guards protect sensitive areas like nipples, neck, and armpits from the abrasive qualities of saltwater, fiction through movement or rubbing against your aqua gear. Joggers nipple specifically can be painful, so take precautions to protect your skin.
Materials
Specific fabrics address define men's rash guards suitability to your particular.
Neoprene
Men's rash guards made from neoprene keep you warm when submerged in water. The fabric's textile engineering makes it thermo-insulting. Neoprene also maintains its flexibility allowing for a versatile range of motion in a variety of water and out of water temperatures.
Lycra
Men's rash guards made from Lycra are breathable and offer a lot of flexibility. Lycra is also a fast-drying fabric, which prevents chafing and rashes.
Nylon-Spandex
Men's rash guards made from this fabric blend are form-fitting, breathable, and stretchable. Apparel made from this fabric also dries quickly and offer sun and wind resistance.
Polyester
This fabric is breathable and very effective at wicking moisture and sweat. Men's rash guards made from this fabric blend are highly durable but offer limited flexibility and stretch. They are ideal for activities that don't require a lot of movement.
Fit
The activity you intended on participating in can determine the fitting of Men's rash guards.
Men's rash guards come in two types of fittings, loose fit, and skintight fit. The skintight fit is body-hugging and comes highly recommended for all kinds of water sports. These skin-tight Men's rash guards allow for unrestricted movements, even when the user is submerged in water.
Loose-fitting Men's rash guards, on the other hand, create water resistance, hindering movement and reducing speed. They are useful for relaxing at the beach or poolside. Loose-fitting Men's rash guards can also be helpful in non-water sports like MMA, Capoeira, and Judo to reduce the chafing caused by rubbing on gym surfaces.
Aside from the overall fit, you should also pay attention to the ergonomics of the material cut. Four-way stretch Men's rash guards, for instance, have a more contoured fit for enhanced support and maximum flexibility. This form-fitting cut also helps in the reduction of wind and water resistance.
Features
Manufacturers use many characteristics to try and make well rounded men's rash guards.
Stitching
The ideal Men's rash guards feature Flatlock stitching at the seams. The fabric panels on this type of garment are stitched on top of another so that they lie flat against your skin. This construction maximizes durability and reduces friction. Flatlock stitching is also stronger than traditional over-lock stitching.
Zippers
Some Men's rash guards feature zippers at the shoulders, sides, or front. Zippers make donning and doffing Men's rash guards easier. Zippers make life easier but are not a deal-breaker when it comes to Men's rash guards.
Thumb holes
Long sleeve Men's rash guards feature holes at the cuffs. You can use these holes to prevent the sleeve from riding up in the face of water resistance. This support ensures the sleeve doesn't move around to distract as you maneuver in the water for various activities.
Sleeve length
Men's rash guards come in long, short, and sleeveless variants. Each sleeve type is suited to a particular use. The differences are mentioned in the style criteria above.
Art style
There are two methods manufacturers use to put graphics and artwork on Men's rash guards. Sublimation printing creates permanent graphics that will never tarnish or crack. Heat transfer, on the other hand, uses hot irons to impose artwork to garments, these graphics peel off and fade away over time.
Top 10 Picks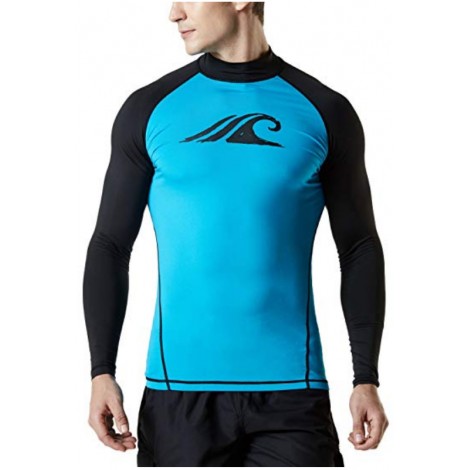 The TSLA is a long-sleeved men's rash guard comes in 25 colors with sizes running from small through XX-large. This shirt is appropriate for both swimming and snorkeling since its sleeves have a snug fit without restricting movement. The TSLA features durable high-density 100% polyester that provides UPF protection of 50+, making appropriate for use as a snorkeling vest as well.
The polyester fabric means this rashguard for men when wet from water, dries fast. This material also gives the shirt excellent elasticity, which enhances your comfort and freedom of movement. Even when you're out of the water, the shirts ventilation and breathable fabric help you stay cool.
TSLA guards fit as snuggly as traditional water shirts with its long sleeves and torso. The shirt also features a demi-turtle neck design, which protects the neck from abrasive natural elements. It's even comfortable for non-water sports and activities like hiking, biking or running.
Unlike most clothing, the TSLA rash guard is meant to fit as snuggly as possible, which is confusing. Therefore, don't order a size above unless you want a baggy fitting shirt. The TSLA comes In a wide array of attractive colors with beautiful graphics; it offers excellent value as well as total protection from the scorching sun.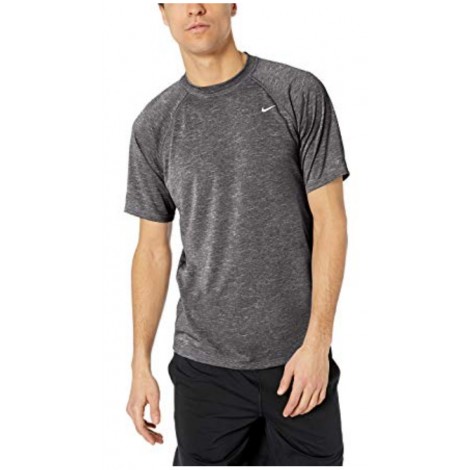 If you like matching your Nike apparel, then the Nike men's UPF 40+ plus swim tee will come as a natural and stylish choice for you. This swim tee has a slightly baggy fit to allow you to layer it over other clothing. These tees are also fast drying thanks to the high percentage of polyester fabric used.
This Rashie features Nike's trademarked Dry-Fit technology that helps keep you comfortable and dry. This top is flat seamed to reduce chafing and rashes that come with friction, and the polyester blend is very breathable.
It comes in subtle colors like black, gunsmoke, light blue fury, indigo fog, and obsidian, which are the perfect blend of light and dark. This blending of colors is proven to refract sun rays while keeping you at optimal temperatures. Aside from the colors, the shirt also features UPF protection of 40+.
While it can wick effectively at sweat, this swim tee is not appropriate to wear inside the water. However, it still makes a great swim tee that you can wear at the pool or beachside to block the breeze and sun rays. Sizes run from small to XXL, but keep in mind that this is a baggy shirt so choose a size appropriately.



Baleaf rashies are light and comfortable men's rash guards that make an excellent option for surfers and swimmers. This rashie has a slightly loose fit to it, which allows for comfort and maneuverability at the same time. The Baleaf rashie has short, raglan sleeves that allow for a wide range of motion in wet conditions.
The 100% polyester material makes these rashies lightweight and fast drying. It doesn't weigh you down like most clothing does when it is wet. It also offers an optimal UPF protection of 50+ like the best models available on the market.
This rashie fit well with plenty of arm and torso space. The Baleaf's men's swim shirts bottom seaming features a loop, to which you can attach your rashie shorts to prevent them from riding up your waist. The construction features competition standard Flatlock seaming that reduces friction.
This seaming also reduces irritation by minimizing the surface area of contact with skin. This model comes in six neutral color hues like black, blue, grey, and a subtle shade of orange. This rashie tee is also one of the most affordable options currently available in the market.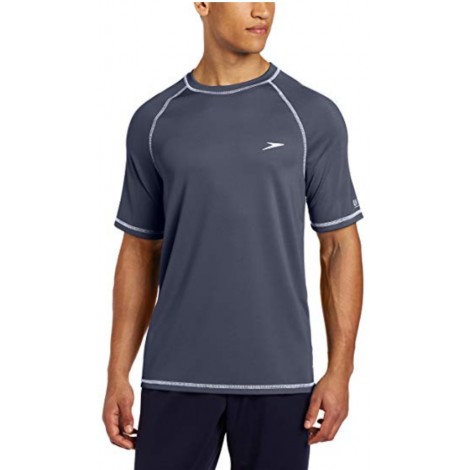 Speedo is a well-established water sport and fashion brand offering apparel for swimming, surfing, and every other water sport in between. Flexibility and comfort is a guarantee with these short-sleeved men's rash guards. Despite having short sleeves, this model offers the same level of UV and chafing protection as long sleeve rashguards for men.
This speedo swim tee is made from 100% polyester, which makes it breathable and stretchy. They have a loose-fitting design; so take care not to order a size above for the right fit. Flatlock seeming is implemented to limit friction and rubbing for comfortable wear.
Just as other quality rash guards, the speedo tee has a UPF protection factor of 50+. This level assures optimal skin protection from harmful cancerous sun and UV rays that cause sunburn. The loose fit combined with the Flatlock seaming also prevents friction-related injuries in case you flop or suffer a wipeout while in the water.
This model comes in very fresh and beach-ready colors like bright ocean and white, which also reflect sun rays for comfortable wear. The speedo short-sleeve comes at a fair price when compared to other name brand options. The only drawback is that as a short sleeve option, it offers less protection than long sleeve varies, but its durability and comfort provide value for money.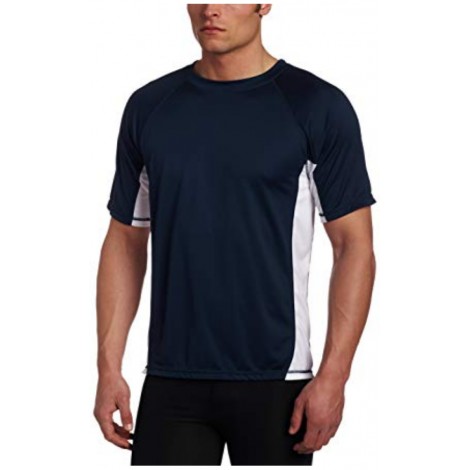 New York-based Kanu surf started in 1997 with door-to-door sales promotions of swimwear. Since then, it has grown into one of the most trusted outdoor sporting wear brands in the world. Their men's rash guards offer superior protection from the elements and at a very reasonable price.
This lightweight shirt is fully polyester for a thin finish and a comfortable wearing experience. It also provides UPF of 50+, making it ideal for all kinds of fun in the sun and water. Quality, lossless seaming further enhances this rashie's comfort for a fit that makes you feel like you aren't even wearing a shirt.
This product has a very subtle design, which features flat natural colors, a simple dark striped underarm and features no graphics or logos. Despite the Kanu rash guard's short sleeve design it still offers optimal protection from the sun, wind and other abrasive elements. It also has fewer points of friction, and the fabric's finish is soft even for the most sensitive of skins.
As for color options, Kanu shot beyond the rainbow's spectrum for a seemingly endless choice of colors. This rashie is so affordable that you can even buy a color for every single day of the week or month. This sleek rashie tee is also easy to maintain with detailed care instructions on the tag.

6

. DRSKIN Compression Base Layer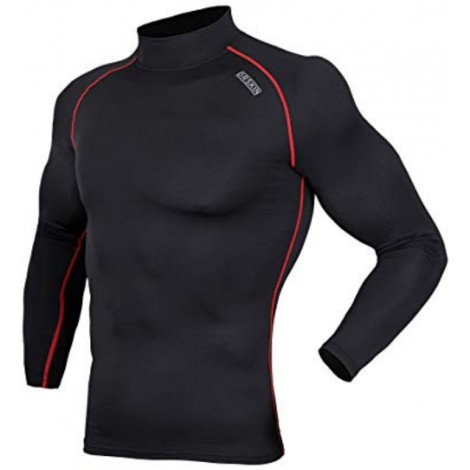 The DRSKIN boasts of an impressive 98% UPF protection factor, which makes it ideal for extended periods of frolicking in the sun and water. It has a very snug fit but feels great to wear under other clothing or alone. The DRYSKIN brand also has a compatible pair of compression pants that have enjoyed top seller status on Amazon for a while now.
This rashie's fabrics have three different layers. These rashguards for men include a water-dispelling layer, a water metastasizing layer, and a water-absorbing layer. Another significant aspect of this rashie is you can throw it into the washing machine when it gets funky and dirty.
The DRSKIN has odd ramp stitching that has no overlapping seams for comfort. This seaming also prevents the rashie from having any marks of wear and tear even when worn for long periods of time. It also reduces friction on the skin when you face rough water and wind conditions.
It is worthwhile to note that this is a compression shirt, which offers muscle support, reduces the stress that comes with strenuous sporting activities. The DRYSKIN is available in a variety of colors and has a unique design to suit everyone's taste and preference. What's more, you can have the DRYSKIN rashie for the same price you get a decent t-shirt.

7

. Billabong All Day Wave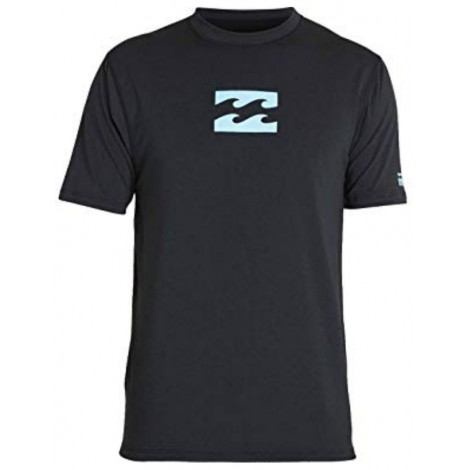 Billabong is a surf apparel company from Gold Coast, Australia offering high-quality water-sport apparel and gear. The billabong men's regular short sleeve shirt is a great all UV ray rash guard with the classic billabong logo on the chest and arm and a small logo on the back. It comes in black with sizes running from extra small to XXL.
The All Day Wave is 13% elastane and 87% polyester, which makes it both stretchy and comfortable. The t-shirt is soft thanks to a 6-ounce touch of silk blended into the textile process. This innovative fabric blend also makes the t-shirt more durable than other rash guard tees.
The billabong rash guard t-shirt offers UPF 50+ protection, which makes it ideal for a sunny day at the pool or beach. It features a loop at inside the bottom front hem that is handy for tying your swimming trunks, giving you peace of mind when participating in activities such as surfing. This loop can also prevent your shirt from being pulled from your body should you wipeout.
It has a slightly loose fit to it, so take care when consulting the sizing chart. Please ensure when washing the t-shirt that you use the recommended detergent, as strong detergent will make the colors of the shirt leach. For the best results, wash and dry in the shade.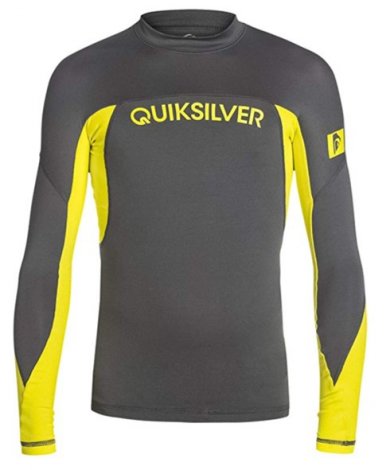 Quicksilver is one of the names that should pop into your head when thinking of amazing surf competitions and your favorite pro surfers. They've been making boards and gear for surfers for well over a decade, and their attention to what athletes need from their brand is apparent in Quicksilver's designs. The Performer rash guard is no exception to this quality design, and will allow you to hit the waves feeling confident you're protected while you push your limits.
Materials are important when you're in search of a quality rash guard. Having a bit of stretch is important for reaching, paddling, and hopping up on the board. The Performer rash guard is comprised of 8% Elastane, which keeps the fabric stretchy without feeling too form fitting. Polyester forms the other 92%, which is great to keep you toasty warm in cooler waters or lakes for wakeboarding. Long sleeves will protect against abrasions, and add to the insulation.
The Performer rash guard has a bit of a higher neck than regular long sleeve fashion shirts, sealing in warmth and keeping sand out. It's also rated for a UPF 50 sun protection, so you'll be able to shred from dawn till dusk feeling confidently protected from sunburns. With a few color combinations to select, this rash guard is a must have for your surfing needs!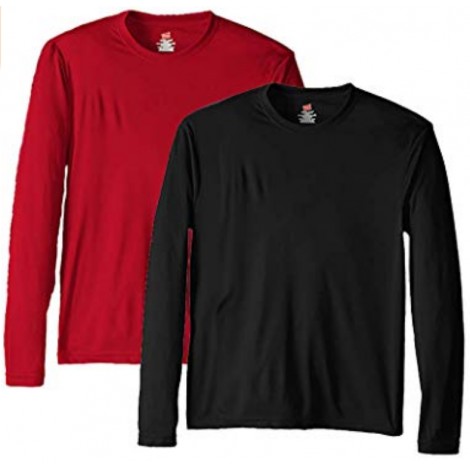 Hanes is a North Carolina based company that has been providing quality clothing for men and women since 1901. They make the most comfortable socks, underwear, and t-shirts. Their cool DRI long sleeve rashie keeps in step with this class of excellence.
The Hanes Cool DRI rashguard for men is simple, comfortable, and colorful, ideal for use as day-to-day wear or even as an undershirt. It is made from durable and sturdy polyester with double stitching on the bottom, neck, and sleeves for additional durability. It also wicks moisture and has a UPF factor of 50+ to allow you to stay dry and fresh all day.
The Hanes cool DRI long sleeve rashie comes in a two per pack, with the shirts in different colors. Its sizes run from small to 3X with a contemporary fit and crew neckline design. The Hanes Cool DRI features no tags on the side or back of the neck, and the care information is printed inside the fabric, which makes the shirt less irritating.
This shirt is easy to wash by hand and or can be cleaned in washing machines. It dries faster than cotton alternatives, which makes it great for traveling. Just as with all other Hanes products it can be worn daily and by a diverse group of people from lawyers to carpenters. While they are not well suited for use inside the water, these rashguards for men can serve you well in providing sun protection while sitting at the beachside enjoying the scenery or warmth.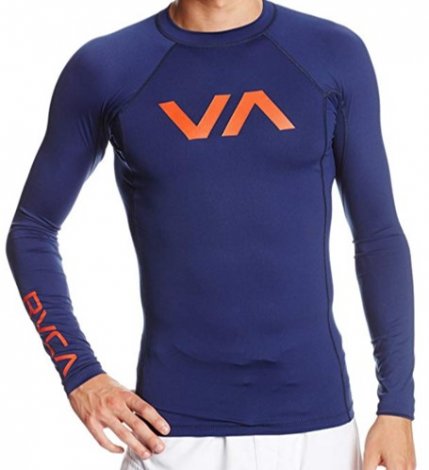 RVCA is a surf brand that's long been in the business of helping water loving sports enthusiasts enjoy and perform their best. This rash guard is a long sleeve option, which helps when the water or air temps drop and you are out in the surf or lake. It comes in a few different color options so you can find one you prefer. Read on for a few great specs about this rash guard that will keep you protected, comfortable, and warm!
Most clothing we have we want to fit us correctly, and having a bit of stretch and give to the fabric can really help, especially when you need some range of motion for paddling. The RCVA rash guard is made from 9% spandex, with the other 91% comprised of nylon, so you'll be able to stretch and reach as much as you need to, in a comfortable fit. Nylon gives is a softer feel against skin, and will help keep you warm.
Speaking of range of motion, this rash guard also has raglan seams, which, compared to regular seams that come across the top of the should and down under the arm, these come across the chest and under the arm. This helps make the shoulder area a bit roomier. Longer sleeves on this rash guard will help keep you warmer, and protect your arms from sun, sand, and irritations. With the RCVA logo across the chest and down the arm, it's a stylish look as well!

Subscribe to our Newsletter