Best Rash Guard for Women Reviews
In a
Hurry? Editors choice: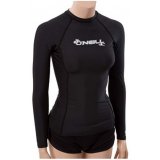 Test Winner: O'Neill Women's Rash Guards

A peaceful afternoon on a sunny day at the beach has therapeutic effects, but your skin may that if you do not take the necessary precautions, especially if you have sensitive skin. Too much exposure to the sun, contact with sand, and other abrasive features at the beach can affect your skin; therefore, having the best women's rash guard become indispensable on such days.

Despite the existence of a variety of protective outdoor wear in the market, women's rash guards are essential in a unique way. The name is synonymous with its primary function, which is protecting you from harsh conditions that cause rashes. That one function should be reason enough to attract you to the garment. Rash guards for women are available in trendy designs, which enable you to look fashionable while giving your body the protection it requires.
Standout Picks
Criteria Used for Evaluation
Fit
Choose what's most appropriate for your needs.
Generally, women's rash guards have two types of design; the skintight fit, and the loose fit. The mistake people make is purchasing one according to their body type when really, the intended use ought to dictate the fit. There is no harm in wanting to flaunt your curves, but the difference in fit plays a crucial role.
Skintight fitting rash guards are better used for water sports like surfing, swimming, and diving. The fabric clings on to your body and flexes with your every move. Excess material gets in your way, by creating resistance in the water and adds on weight, hence slowing you down. Excess material can also get you stranded by getting you hooked onto twigs; you do not want to find yourself in such a situation when diving. You may freak out before you realize it's just twig or coral pulling you back. A snugger fit is much more appropriate for water sports.
Loose fit rash guards find their use during lounging on the beach. You need comfortable outfits on days when you just want to soak in the sun, enjoying the weather with friends or family. Loosely fitting rash guards for women that block the harmful rays do the job just fine. The only aspect you should be keen on is the rating of the UPF50+. Ensure the sun protection factor is legitimate enough to guard you well.
Style
There are varieties of guard designs available in the market.
Manufacturers of women's rash guards try as much as they can to present you with the ability to look good while still staying protected; that is why the designs in the market are numerous. The sizes run from extra small (XS) to extra-large (XL) to cater to all individuals, plus you have a wide range of designs to pick from with the products in this review. Rash guards for women can have either long sleeves or short sleeves, with the most common model is the sleeves type.
Short sleeves only cover the upper arm leaving the lower arm exposed. This variety like the Kanu Work Top is preferable when the temperature is moderate to avoid getting your lower arms burnt. On the top side, these allow you to stay cooler in hotter areas with much-given allowance for paddling.
Long sleeves protect your whole arm from abrasion and the sun. Some long-sleeved women's rash guards have thumbholes to allow you to keep the sleeves in position the entire time. Long sleeves keep you warm in cold water due to the full-body coverage.
Tank or vest rashguards for women do not provide any coverage for the arms; they are common in warm climates, and you can wear them under long-sleeved wetsuits. The long-sleeved wetsuits already create some form of paddling resistance hence why the vest rash guards go along with them. The combination is excellent for thermal insulation.
Side drawstring is another exciting design for women's rash guards. Tying the cords brings out beautiful ruffles while loosening them turns the cloth into a cover-up. There are multiple brands in this review with this design.
Different types of necklines – women's rash guards with mock turtlenecks have fabric extending to half your neck which help protect your neck. Some models have crew necklines or a round neckline without a collar.
Zippers are convenient when it comes to donning or removing your gear. Washguards have either a full zipper or a half zipper. The full zipper is the most convenient and makes the guard more stylish. A half zipper runs from your chest to your neck.
Other designs -Some brands print their logos on their rash guards while others manufacture patterned and color-blocked products, and some are transparent, allowing you to show off what you have underneath your beachwear. In other words, the choices are plenty, and you have the liberty to select the brand that stands out to you.
Materials
Each fabric has its advantages over another.
Rash guards are a combination of synthetic fabrics; they can either be a mix of polyester and spandex, or nylon and spandex. Don't be surprised to come across some women's rash guards made of neoprene, Lycra, and elastane; these fabrics are common in most rashguards for women brands. The blending of these fabrics produces an attire that is very elastic and sturdy to provide you with the protection you need.
Nylon-spandex rash guard offers much stretch as well as a tight fit. Nylon is a light material, which dries up fast. Rash guards for women with quick-drying properties ensure that you stay dry and comfortable after you are out of the water.
Neoprene rash guards are designed for chilly climates and are standard for providing insulation in cold water. Other than that, the material is used mostly in wetsuits; hence, this shirt likely has some level of water resistance.
Polyester-spandex - Ladies love these women's rash guards for their moisture-wicking capabilities and breathability. The dry comfort is worth a try.
All these different materials have their peculiar benefits; your preference will guide you in selecting the product you decide to purchase.
Effectiveness
The primary function of rash guards is protecting the skin from abrasive elements.
Initially, surfers were the most frequent users of this attire. The surfers spend more time laying on their boards to paddle as compared to the time they spend standing on it. The activity is so vigorous that friction develops between the skin and the board. Innovation saved the day by introducing rash guards to reduce the friction between these surfaces and letting you enjoy your sport even more.
The significance of this garment stretches beyond surfing, and it comes in handy in so many other water and regular sports. Other than resisting friction, people also wear them over swimsuits to keep warm in cold waters. The uses are many, so it is not restricted to athletes only. In fact, the material has properties that curb harmful UV rays; you can wear it to cool off at the beach without taking part in any sport.
The attire has the edge over regular beachwear, therefore, spending an extra coin for your safety goes a long way. You need at least one of the garments featured here in your wardrobe, to have a leg up.
Versatility
Some women's rash guards are suitable for many uses.
This trendy invention has given the outdoor environment a completely new outlook. Rash guards have given people the freedom to enjoy nature regardless of the weather conditions.
Running or bike riding in scorching places can get your skin sunburnt or irritated, hence the need for rash guards to keep you comfortable. The seaming of your regular sport wear may not be that friendly to your skin, and they could lead to chaffing. Switching to rash guards could be the best decision you ever made.
Water sports such as surfing, boating, diving at sea, and snorkeling have their downsides too. The substances we come across in the water, and the harm surfboards do to the skin are annoying. The cold under deep waters is another thing that takes the limelight off water sports. Rash guards protect you from all these and make the downside of these activities more forgiving.
Relaxing at the beach seems fun until you end up getting sunburns. Rash guards for women can also be used as cover-ups, so you get to relax by the water while protecting your skin.
Top Rated Rashguards for Women
1

. O'Neill Women's Rash Guards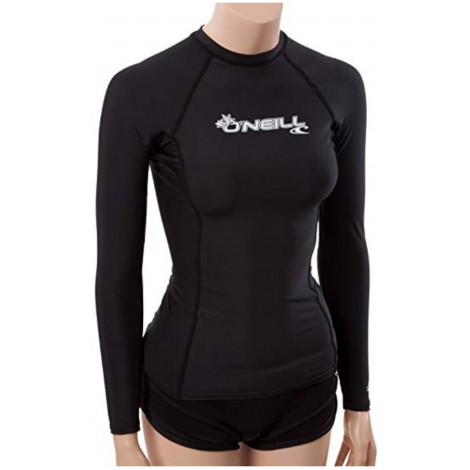 The Skin Cancer Foundation highly recommends the O'Neill women's rash guards. The Ultraviolet Protection Factors (UPF) in these rash guards for women are efficient in shielding you from destructive sun rays. This model allows you to have fun without the worry of putting yourself in harm's way. It also has long sleeves, thus guarding your entire upper body.
The blend of polyester and elastane in the material gives the gear its tight fit and an A-okay level of elasticity that will not hinder your movements. However, this feature takes the option of wearing a swimsuit under the rash guard off the table as the fit is body-hugging and intended to be worn without anything underneath. You could order a size up to avoid having an uncomfortably tight fit, though, although it may still not allow for a swimsuit to fit comfortably.
The quick-drying properties of this model help to keep you warm, making it suitable for use in activities such as boat riding, surfing, and swimming. Heavier materials tend to dry slower, hence the add on weight, while keeping you cold for a long time. The O'Neill rashguards for women should be on top of your list when you are looking to settle on a purchase.

2

. Baleaf Women's Rash Guards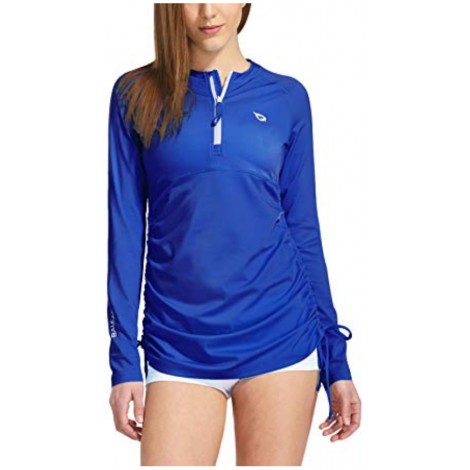 Baleaf offers you a product made entirely of spandex, with a zipper included. This combination instinctively tells you how easy it is to put on or take off these rash guards for women. Spandex is super stretchy, and the zipper runs from your chest to the neck, giving you the much-needed allowance required to get it on and off with ease. Putting on, and wearing your rashguard, should not feel like a workout.
Having a cloth that serves as a cover-up, and as a rash guard, relieves you of the burden of having to carry two clothing items to the beach. The trick to this is in the drawstrings on both sides of the rash guard. They are adjustable, meaning you can loosen them to give the Baleaf women's rash guards a bit more length and use it as a cover-up or tighten them to use as a rash guard.
The amount of coverage offered by this model assures you of a superior level of protection to your skin. It has long sleeves and collar to cover your neck. These garments perform the function you buy them for, that is guarding you against abrasive elements, giving you your money's worth. The material is exceptionally breathable, hence, too much heat should not be a concern.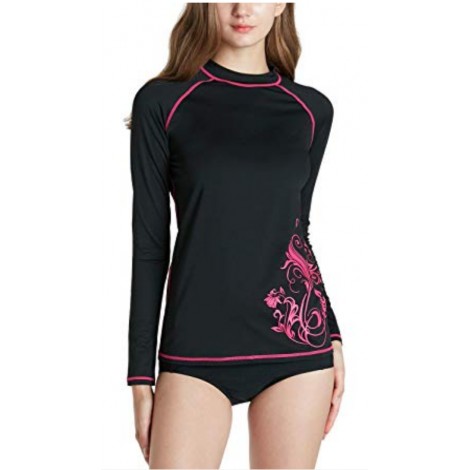 TSLA rash guards for women are made of high-density fabric, making them sturdy enough to resist all types of abrasion you may be exposed to at the beach. The brand offers so many color options, with very bright or darker colors and shades. Some colors are combined so wonderfully they might tempt you to buy a couple of them. Purchasing a few in various assorted colors lets you mix things up on different days.
These women's rash guards are no plain old t-shirts; the manufacturer added a touch of beauty by branding 3D patterns with exquisite designs at the chest, and they elongated the neck fabric making it look like a mock turtleneck. This model is something you would want to rock outdoors.
Although it is not fitted with breast pads, the material is tough enough to hold your breasts in place since it does not expand too much; you can wear it without a bra underneath. However, ensure you order one that is tight enough if you want to wear it on its own.

4

. AXESEA Surfing Shirt Tops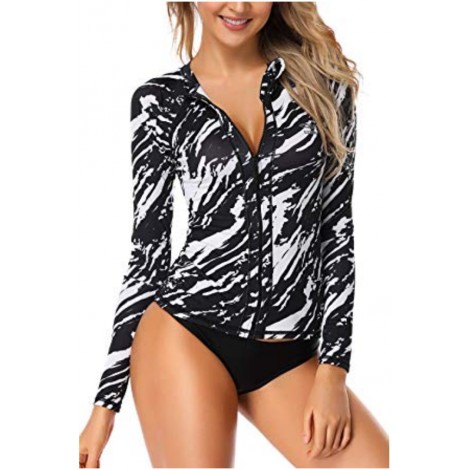 Sports meet style in the case of this product. If there were an award for most stylish women's rash guard, it would go to the AXESEA brand. Not only is the beachwear printed with a fantastic color pattern, but it is also fitted with a front zip that has seams on either side, making it stand out. The AXESEA rash guard has an extended collar for extra neck-coverage, giving it a trendy jacket look.
The best part about these women's rash guards is that the fabric has anti-chlorine properties; meaning the color does not fade when in contact with chlorine. You can wear it to the beach, and your garment will look as good as new all the time. This property makes it suitable for swimming pools as well; on top of the fact it dries up fast. Therefore, indoor pools are also a viable option with the AXESEA women's rash guards.
The garment has a perfect tight fit, allowing you to flaunt your curves. The material is stretchy; as a result, you don't have to worry about restricted movement with the tight fit. Nevertheless, you can always size up supposing you want it to be a bit loose on your body.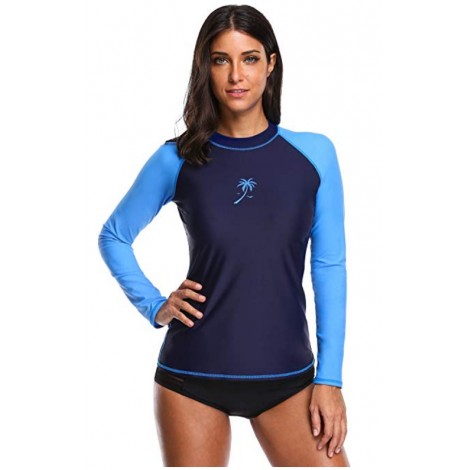 ATTRACO prides itself with high levels of professionalism in regards to manufacturing their garments, which makes you want to try out their women's rash guards to test if they are true to their word. They produce their apparels locally, and they are highly recommended; the high number of positive reviews should give you an inkling of their quality.
The detailed stitching ensures the seams do not chafe your skin, which raises the bar for similar products. This feature, and many more, make it ideal for vigorous activities such as surfing, swimming, and snorkeling - rather than just sunbathing at the beach. Some stitching designs are rough on the skin; hence, the garment protects you from elements on the outside but leaves the skin sore.
Designed by a team of professionals open to new fashion ideas, you are bound to look good in their rash guards for women, which have beautiful designs. They either brand the shirts with logos or print them with beautiful patterns. You have a variety of options to pick from to look your best as you enjoy nature.

6

. Beautyin Athletic Tops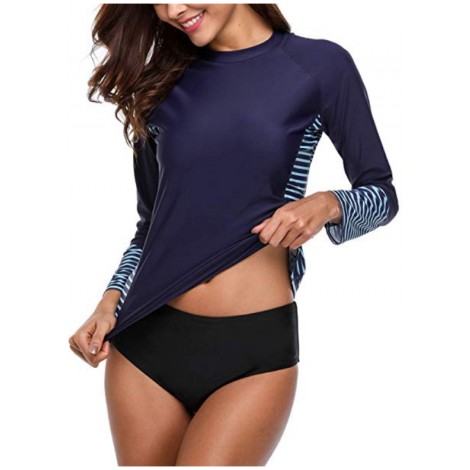 Finding the perfect beach piece when summer draws near is not an easy task, given the multitude of brands in the market. The secret is finding one that suits all your needs, such as the Beautyin rashguards for women, a model that does not restrict your movements and keeps you safe from harmful UV radiation, keeping your skin beautiful. The Beautyin women's rash guards are meant for all level athletes and activities.
This product is a real bargain compared to other varieties providing similar fit options and stretchiness. The garment holds nicely at the bottom, so you do not have to keep on tugging at it every minute. Many brands don't consider the fit around the hips. For that reason, you have to get a very tight fit to prevent the rashguards for women from rising, as seen in many competing brands.
Every wardrobe needs a Beautyin item; they come in handy during scorching summer days when you need a super lightweight cover to get you through the day. You will not sweat too much in it, besides; the material dries up very fast.

7

. CharmLeaks Athletic Tops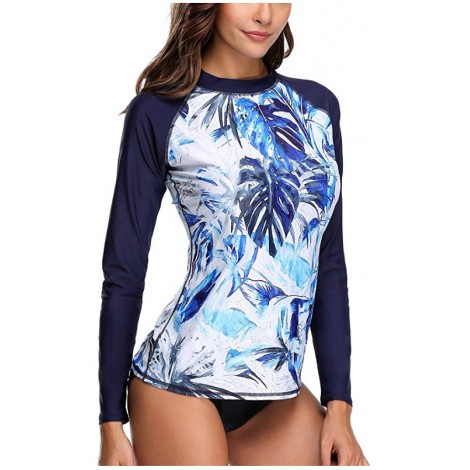 Rashguards find their use mostly during sunny days; therefore, they should be able to prevent you from soaking up in your own sweat. CharmLeaks considers this aspect and provides you with a product that has moisture-wicking properties. This feature means it will draw away the sweat from your skin and draw it to the outer layer of the cloth for evaporation. You will stay comfortable the whole day in the sun with a product like this since it will keep you dry.
The beautiful patterns printed on these women's rash guards will flatter you, and they stick for the longest time due to the color retention property of the fabric. It sucks to have your patterns fade after a few washes, which beats the purpose of having them in the first place, so you don't need to worry with this rash guard.
Working with international standards, CharmLeaks has a sizing chart that suits women with all types of physiques. It's easy to find your fit with their brand since they have a considerable market, dealing with diverse body types. The chances of finding your desired fit at the first instance are higher.

8

. Aleumdr Women's Rash Guards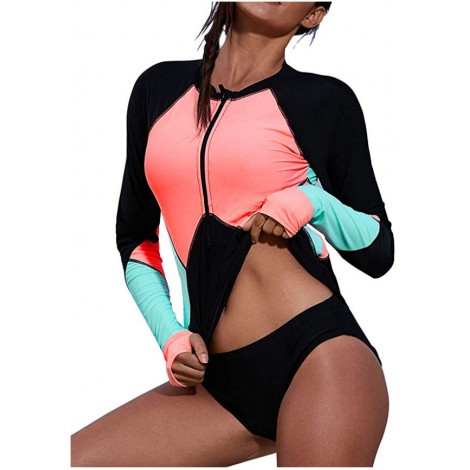 If you are looking to change your summer wear and spice things up a bit, then a tankini might be what you need. Changing your swim drawer is not an easy task. Still, if you have never gotten your hands on a tankini before, this is the time. They have always been trendy and you will be happy to grab one of these rashguards for women.
Fitted with a full front zip, you will adore how easy it is to take it off or put it on. In case it gets too hot while you are riding, running, or sunbathing, you merely pull down the zip to increase air circulation. Having to take the whole gear off whenever you need some air eventually messes up your hair, so without a doubt, you will enjoy the convenience of the zip.
Many guards have long sleeves for arm protection, but this particular model has an extra feature that gives it an edge over other products. It is fitted with thumb holes, so you do not have to keep pulling the sleeves down. The holes enable you to hold down the sleeves at all times, and many consider this a relief. It's common to see people improvise their sleeves after purchase because of the annoying ride up; how about buying an item that has already solved that problem for you?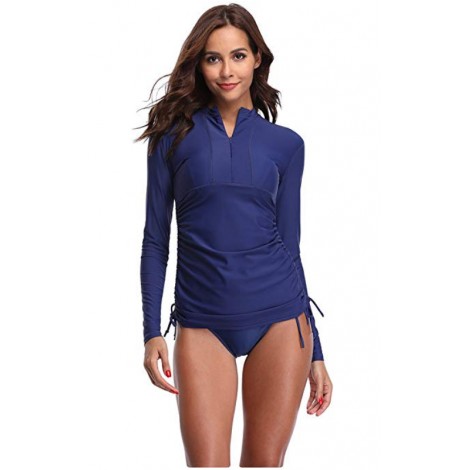 One thing is for sure, the Sbart brand offers two types of clothing items for the price of one; this cost-effective offer saves you some extra bucks. The cloth is fitted with side cords giving you the ability to switch up the design of the model according to your needs. When the strings are tightened, you get a rash guard that protects you from a bunch of elements. Loosening them up turns the garment into a dress, which doubles as a cover-up over your bikini. Both designs translate to packing one less item for your day at the beach.
Tying up the cords creates some form of ruffles on your midsection giving these women's rash guards a completely new design. Daily schedules get so busy you barely have time to work out, but your dreams of looking good during summer do not have to go down the drain. The ruffles can help conceal love handles; no one will have to know you gained some extra pounds.
Showing off new swimsuits is a common trend over summer and wearing a cover-up comes in the way of the flaunting, but not this model. It is transparent so you can show off your swimsuit while protecting your skin at the same time.

10

. Hurley Sun Shirt Rashguard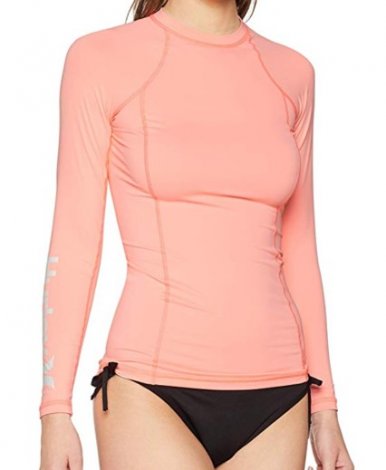 The last thing you want when you're hitting the waves or planning to do other watersports, is a bagging loose-fitting rash guard that can get caught. Hurley, a well known surf brand, created the women's Sun Shirt Rashguard that is fitted to keep you snug and safe. It's also available in several color options, with Hurley logo along the sleeves. It's a solid option to consider if you need a rash guard that protects from the sun while you carve out a few wave sets.
The Sun Shirt Rashguard is a pull-on style shirt, so you don't need to worry about any front zipper that could irritate or get caught during watersports. As it's a fitted style shirt, it keeps sand out as sleeves and neck are sitting snuggly against the skin. Raglan stitching around the shoulders also helps prevent seam irritations, but gives more range of motion to your arms for paddling.
This rash guard for women is rated with SPF 50+ protection, so even when the sun is beating down on you hour after hour, you can feel secure knowing your skin is protected from harmful rays. Hurley logo along the long sleeve design let's you sport your favorite brand of surf wear proudly. And with a few color options to select, such as black, white, red, or pink, you can find a color you love. A great option with quality brand backing to get you out on the water!

Subscribe to our Newsletter