Best Weighted Vests for Men Reviewed
In a Hurry? Editors choice: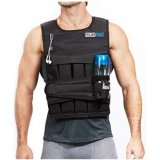 Test Winner: RUNmax RUNFast/Max Pro

Being in peak physical condition is a journey that takes you through an endless workout target. Have you reached a point where you feel like taking things a notch higher? Well, weighted vests for men can be a way to add an extra level of challenge to your exercise.

Weighted vests for men are a great way to build and condition muscles without switching the exercise routines you currently doing. They are widely used by athletes and average gym heads to supplement workouts while burning calories and sculpting muscles.

This review will take you through some of the best weighted vests for men on the market. It will also touch on what you should look for in a product. Keep reading to find answers to all the questions you may have on weighted vests for men.
Standout Picks
Criteria Used for Evaluation
Use
You can use a weighted vest for men every day, even if you aren't a professional athlete.
Wearing a weighted vest while performing daily tasks improves your metabolic rate by a significant margin. You can start with a lighter weight and gradually advance to a heavier one. Here are some of the ways you can use weighted vests for men in your daily life and workouts.
Weighted walking: you can wear weighted vets for men while on simple walks like through nature trails. A weighted vest that's between 30 and 50 pounds will work very well while you are on a hike. Weighted vests for men are not restricted to hiking; you can wear one for a walk around the neighborhood, the mall, a park, and anywhere you want.
Weighted biking: weighted vests for men can be used in both outdoor and indoor biking. While trail riding, the vests give your upper back a great workout on uphill/downhill transitions. With stationary bikes, it is vital to stand and sit on regular intervals to simulate uphill-downhill shifts.
Wearing a weighted vest while performing basic chores such as raking, cleaning around the house, and any activity that requires some walking, burns many calories. Household chores expend many calories, therefore, adding a weighted vest to the mix enhances the experience.
Plyometrics with weights: weighted vests can help improve the height of your jump. Weighted vests and plyometrics blend well because the latter is all about enhancing the force and speed of muscle contractions. An adjustable weighted vest is ideal for this type of training.
Weighted running: When you run while wearing a weighted vest, you have a more challenging experience. Your body takes some time to adapt to the additional resistance to maintain a high pace. When you take the vest off and go for a run, you will notice an improvement in speed.
Weighted bodyweight workouts: Continued use of weighted vests is an excellent way of overcoming the physical limitations of your body weight to enhance your physical strength. Doing regular exercises like squats, dips, pull-ups, and others while wearing weighted vests for men, increases the intensity. You should focus on attaining the right form before attempting to use weighted vests to avoid injury.
Weight lifting while wearing weighted vests for men adds more intensity to your session. These vests help you increase your load without causing any injury or damage to your body. To amp things up a bit, you can also include weighted leg wraps while doing leg lifts.
Comfort
Focus mainly on padding quality, strap placement and design/built quality.
The last thing you need is a heavy rigid piece of metal rubbing and bumping against your body as you carry out a range of physical activities. Low-quality products from inferior brands have this problem, and you should avoid them. Exercising not only builds your body but also sharpens your mind; anything irritating or distracting should be eliminated.
Comfortably weighted vests for men need to have straps placed in sensible areas. When doing physically engaging workouts like CrossFit or Murph, there's going to be a lot of running and jumping. Straps that bite at your skin are uncomfortable, especially after you sweat, and they present an injury risk.
Weighted vests for men with sufficient padding are very comfortable. However, you need to pick a model which features padding that doesn't restrict movement. There are also weighted vests for men that feature removable padding.
Materials
The materials used in creating weighted vests for men say the most about built quality and durability.
Nothing is as frustrating as buying a product, and then it breaks into pieces before you even get the chance to break it in. This problem is common with cheap weighted vests for men. Their design, build-quality, materials, and features are cost-cutting measures with no regard for durability or enhancing user experience.
Neoprene has more benefits than any other foams used in protective equipment. It is extremely tough, breathable, and comfortable. It makes a better alternative to rubber as neoprene is resistant to oil, moisture, and a variety of weather conditions. These features mean that you can take your vest through wet, hot, and dusty conditions without worrying about it getting soiled or stinky.
This material also provides a soft cushioning between your body and the abrasive weights. It comes at a higher price but is better than regular fabric or rubber. Please note that it is also easier to clean.
Velcro is one of the best materials used in straps and fasteners. It is preferred over laces and buckles because its adhesive qualities make it stronger and easier to use. Velcro is also easier on the skin as it doesn't pinch skin like buckles.
Iron weights feature in many of the weighted vests for men on this list. Iron is durable and less prone to oxidized coating and rust. Many of the adjustable vests in this list feature iron because it is easier to remove and handle.
Sand is a cheaper alternative to iron as it is readily available and weighs a lot. It is softer on your body and won't hurt as much as iron when it bumps into you. It features in some of the best weighted vests on this list and on the market.
However, weighted vests for men that feature sand are prone to leaks, and the sand absorbs a lot of moisture. Therefore, when choosing a weighted vest that uses sand look at how well insulated the weights are from humidity.
Features
Weighed vest for men can be categorized according to their characteristics.
There are various types of weighted vests. Each possesses specific characteristics that make them appear and function just slightly differently.
Removable weights
These vest feature weights, which you can remove or rearranged to alter the level of challenge and resistance. They are the best choice for novices or if you want to alternate between strength training and cardio workouts.
Fixed weights
These vests feature weights that have been sewn into the material. You cannot change the weight of these vests, therefore, pay close attention to the features and consider your needs if you opt for one. The main advantage of these types of vests is the weights will not shift when you work out.
Male
Weighted vests for men are heavier than weighted vests for women. They are designed to enhance muscle toning and building. Weighted vests for men also have a tighter fit compared to women's weighted vests, to prevent the weight from shifting when you move.
Female
Weighted vests for women are lighter and come with fixed weights. Most of them have a V-shape design that has a closer fitting waist to compliment the curvy female form. They are far more comfortable, and even men can use them for cardio and plyometric workouts.
Weight
Listen to your body; it knows how much weight it can handle.
When considering the weight, look at how much the vest weighs without the loads on and how much weight it comes with. A common rookie mistake is underestimating how much weight one can handle. The best weighted vests for men have even weight distribution to allow for weight repositioning for comfort and stability.
You need to gauge your current fitness level and pick a vest that will enhance your strength. If you purchase a coat that is too light it will not be helpful, and a heavy one will injure you. You should take some time in choosing the right weight for you, even if you end up buying an adjustable option.
It is also handy to note that when you wear a vest that is 20% of your body weight, you burn 14% more calories. However, you still need to build your form and resistance, don't pile it all on the first go. Start with a lighter weight and increase it by a factor of 5% percent every week or two until you reach 20%, this mitigates injury risks.
A basic rule you can apply in cardio training is to start small and build your way up. Weighted vests for men vary from five to 80lbs. A 5 to 10lb coat can serve you well in running and HIIT training since you need flexibility.
Weight training and bodybuilding are all about progressive conditioning; this minimizes the risk of injury and regression of form. The same rules that apply to dumbbells and other weight lifting equipment also apply to weighted vests for men. You want to start from at least 10 -20lb vests (depending on your physical conditioning) then you can build your way up to heavier weights when you start to feel the need for more resistance.
Top Rated Men's Weight Vests
1

. RUNmax RUNFast/Max Pro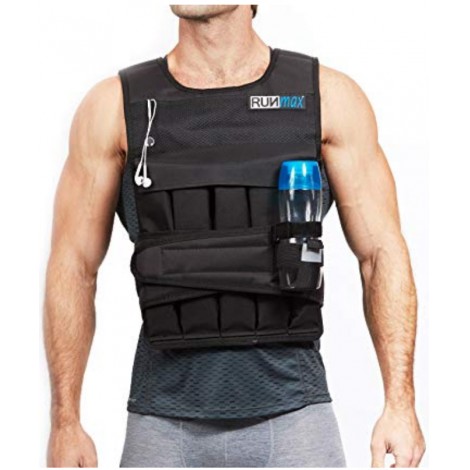 RUNmax has a practical approach to weighted vests for men; it's highly adjustable, comfortable, and less restrictive on body movement. It's a one-size-fits-all model, and the strapping is designed to ease callisthenic movement for better flexibility. This product also comes with its removable weights that range from 12lbs to 140lbs.
The sandbag weights featured in this product are more effective than steel variants. For one, sandbags are more pliable and comfortable against your skin, and they won't rust so that you can take the vest into wet conditions. Comfort is vital since you will want to wear a vest during daily physical exercise activities.
This product has a unique ergonomic fit that conforms to any body type, size, or weight. This men's weighted vest also has unique Velcro belts that make adjusting and removing the vest easier; eliminating the hustle that often disrupts workout routines.
Few workout vests for men offer as much customizable resistance as the RUNmax. Typically, you are forced to use the same weight until you buy a heavier vest. The RUNmax features a removable weight system that you can use to adjust in 20lb increments.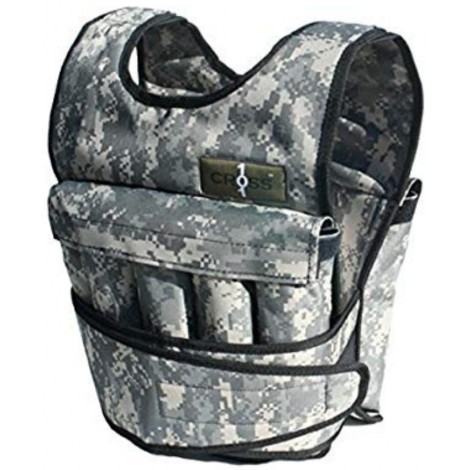 The Cross101 is one of the few men's weighted vests that adds some flair to your workout. It offers a variety of weights that range to 80lbs and a choice between two eye-catching camouflage patterns. For a snug fit, the Cross101 has an adjustable area on the shoulder as well as around the waist.
Except for the 12lb desert option, the rest of the weights are removal. The manufacturer also offers optional pads at an additional cost for extra stress relief. These soft and flexible inserts only come in the desert pattern but are perfect for reducing fatigue, primarily if you cover long distances.
You can go for the arctic pattern that is a beautiful blend of grey, black and white; it's a great option as it will match most of your clothing. The desert camo pattern has a more modern digital mix of various shades of beige. Both designs look tough and add to your machismo; they will make you look great in the gym or outdoors.
These rugged weighted vests for men not only look great, but are built to last, and you won't even have to break the bank to get them. They feature a handy front pocket where you can stash a workout water bottle, phone, or wallet.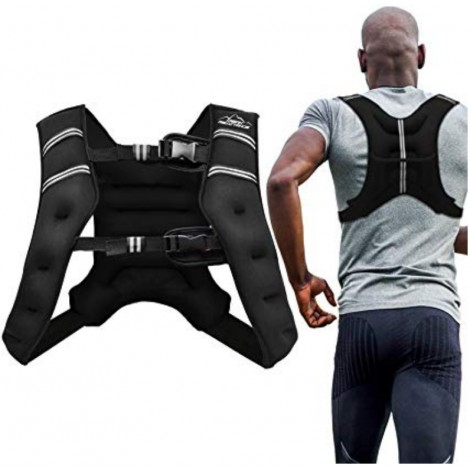 There aren't as many men's weighted vests that come at such a reasonable price. The Aduro has an x-shape design and offers more significant weight variations than other models with the same design. It comes in an all-black color that makes it easier to clean and not show signs of dirt.
It's also handy to note that the Aduro's unisex design is curvy therefore appropriate for all body shapes. The supple neoprene construction conforms to the body and adds some breathability to the vest. These design cues make it more comfortable to move, which make the Aduro great for intense workouts, hikes, and long-distance training.
This model is available in three weight loads 6, 12, and 20lbs. The pocket is larger than the average weighted vests for men, so you can stow anything from phones to snacks in this compartment - which comes in handy on activities like hiking.
The Aduro has an easy to adjust front strap. The best thing with this model is how it adds resistance to your training without getting in your way. Aduro sport's manufacturers are so confident in their craftsmanship that they offer a lifetime guarantee on this quality product.

4

. Titan Fitness Adjustable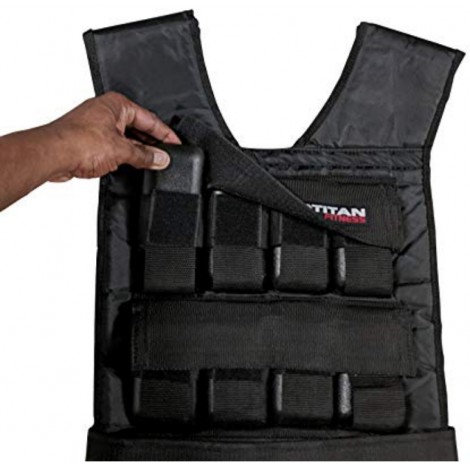 If you are looking for a more traditional and affordable men's weighted vest, then look no further. The Titan has a slim waist profile that makes it ideal for CrossFit and callisthenic training. Unlike most men's weighted vests in its price range, the weights are solid steel ingots, as opposed to cheap, sand-filled plastic bags.
It comes with a default weight load of 20lbs but can be weighed-down to 60lbs with 2.5lb increments. These removable weights make it easier to dial into the perfect weight for your current training. The Titan features heavy-duty materials that are wear-resistant so you can take it through the harshest conditions.
This men's weighted vest also has 24 pockets with rounded corners to prevent wear and tear. It is a one size fits all model with a handy security belt and well-placed padding for comfort. The shoulder area also features extra padding to reduce strain and prevent fatigue.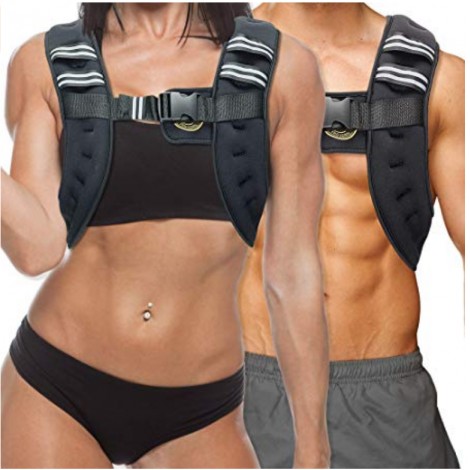 The TNT Pro series' focus is to help you rise above the competition. This iron-loaded vest provides all the support and resistance you would need to rise above expectations. The incorporation of balance technology serves to intensify calorie burning with less struggle than other weighted vests for men on the market.
Even weight distribution works throughout the men's weighted vest reducing shoulder and lower back strain. What's more, the manufacturers have included an adjustable strap for that customized fit. The metal pellet loads are more hygienic than sand weights, which tend to absorb sweat and reek of perspiration with continued use.
For additional comfort, the vest has adequate padding to relieve strain. There is a female version, which has a pink logo, and the male type is distinguishable by its yellow logo. This vest is very durable and comes highly rated by CrossFit enthusiasts.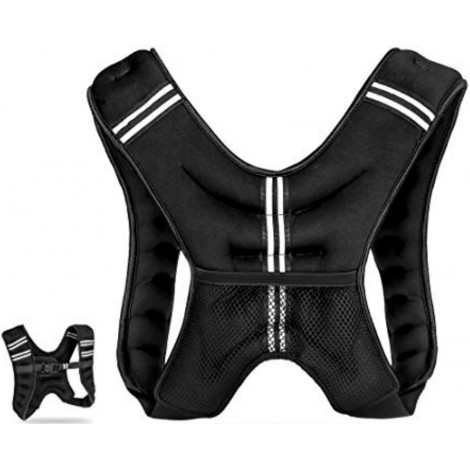 The JBM International men's weighted vest is designed to add a level of resistance to your strength-training while still allowing for the flexibility required for cardio exercises. This means that when you train using this belt, you can increase your core strength without compromising on your agility and speed. The JBM International also features a soft neoprene fabric that makes this vest breathable, allowing you to be comfortable in hot weather. The JBM International men's weighted vest is a one-size-fits-most model with enough elasticity to fit even the beefiest of men.
This men's weighted vest has mesh pockets that are spacious enough to stow anything. It also has stylish trimmings made of reflective tape that ensure your visibility and safety during nighttime jogs, runs, or any other activity. The JBM international come at a far more reasonable price point than similarly weighted vests.
The vest has front buckled straps that effectively fasten the men's weighted vest to your body and make adjustments a breeze. Aside from its moisture-wicking properties, the neoprene material featured on this model is so soft that it cushions your body from the weight and the clasp of the buckles. The mesh pockets are very secure and strategically placed; therefore, it's easy to reach for your stuff even while on the move.
The JBM features among some of the most affordable weighted vests for men. However, it also works well for women. The only major drawback is that it comes in 12-pound weight with no adjustability options.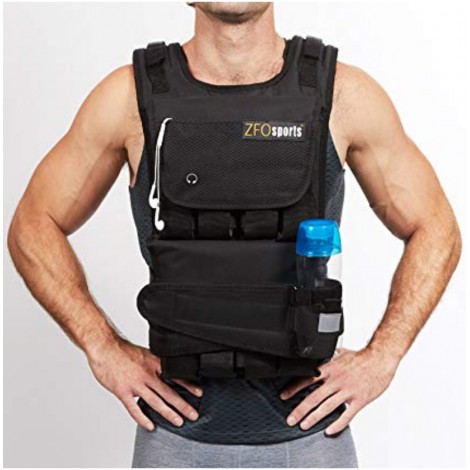 The ZFOsports is one of those weighted vests for men that make a worthy investment for your strength training. It's comfortable, simple to clean, and retails at a very fair price. The ZFOsports men's weighted vest also features a deep-seated pocket that is handy of stashing anything.
The ZFOsports has two adjustment straps, one around the stomach and another at the shoulder. These two straps clasp securely for a superior fit. They also make the vest more comfortable and easier for you to run and do several maneuvers, which is vital while working out.
This men's weighted vest features weights made of a mixture of iron ore and sand. This material ensures a tighter but comfortable fit. It holds a total weight of 40lbs that still leaves space in the pockets for storing other items, unlike most weighted vests for men.
For additional comfort, this weighted vest features an outer shell that's smoother and airier than the inner shell. This dual shell design eliminates the friction that can cause discomfort. ZFOsports is one of the most trusted brands when it comes to weighted vests for men. You shouldn't look further for versatility and durability.

8

. Hyperwear Hyper Vest PRO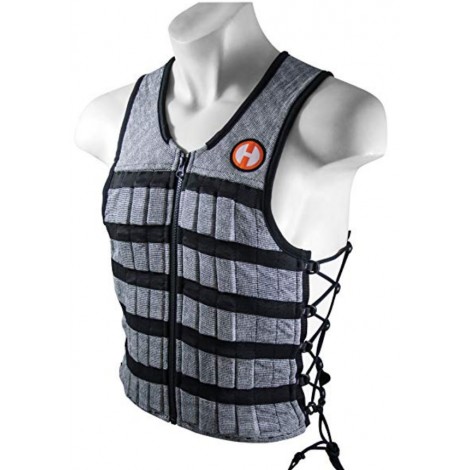 Hyperwear is one of the most trusted brands in weighted vests for men since they deliver high-quality training equipment. Their products provide excellent results for individuals following a weight loss program, the building of muscle mass, or be it in sports. This model serves as a unisex vest with an upper zip for ease of use.
The Hyper vest is versatile, breathable, and less restrictive of movement. The design features horizontal flexes, which allow air to circulate better than vertical flexes. Horizontal flexes also enable the user to have a fuller range of chest and shoulder movement.
The Hyper Vest features side lacing that helps the user get a shirt like fit. The vest comes with a preloaded weight of 10lbs that can be increased or redistributed throughout the men's weighted vest. The pocket that holds the loads and lace-up technology allows for more room for expansion and more form-fitting wear.
It also comes in a lovely silver color. Another significant aspect of the Hyper Vest is its moister wicking material that makes the vest odor resistant and more comfortable. Unlike most weighted vests for men, this model is less cumbersome to the point that you can wear it and not feel like you are wearing a weighted vest.

9

. Strength Sport Systems Short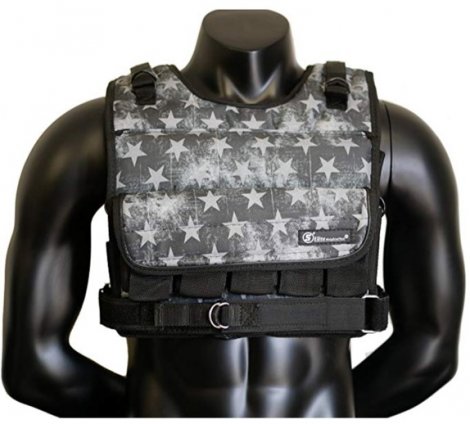 If you're in search of a weighted vest that's got a little less length to it, the Strength Sport Systems Short is worth a look. Not only does this one have the ability to hold up a significant amount of weight, it has padded shoulders for comfort, and adjustability throughout. With a few comfort and functional details also added in this vest, it makes for a great training partner for pull ups, running, rucking, or any other fitness adventure!
Adjustable shoulder pads on this weighted vest help protect you from feeling fatigued or the pull of any extra weight added for as long as you plan to wear it. In the front of the weighted vest is a practical addition of a pocket to hold your phone or your keys, with waterproof zipper. Now, when you're out running in the rain, or working up sweat, you know your belongings will be safe and dry. With several pattern options, you'll find one you love wearing as well.
Waterproof fabric makes the weighted vest ideal for training in rain or wet conditions. Weight pockets are backed with a triple layer for the utmost support. With a shorter length of about 17 inches from shoulder to vest bottom, it's suitable for shorter, or taller individuals and won't rub during training. Velcro closure wraps from the front, through 2 D-rings along the sides, and closes in front again, holding up any weight added with solid grip. It's a great weighted vest if you're looking for an option that won't break the bank!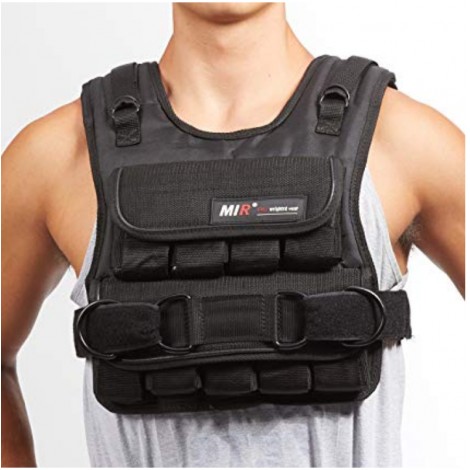 If you are looking for weight vests for men with a more compact design, then the Mir is the best option. It has a low-profile design that covers just 11 inches, which rests all the weight to the shoulders and upper body. This weight distribution is less strenuous and allows you to choose from 20, 40, 50, and 60lb loads.
The Mir uses steel weights that come in 3-pound increments for the optimal workout weight. The back and front pockets not only distribute the weight evenly but also hold it very securely. These weighted pockets ensure that the vest won't disrupt your training by bouncing around when you move.
Most weighted vests for men load weight around the torso, which causes shorter users to have a harder time getting the right fit. The Mir's compact design comes as a blessing to such users. The Mir men's weighted vest allows them to do exercises like squats and hinge patterns without the restriction that comes with more extended men's weighted vests.
When your vest becomes dirty, simply remove the weights, give it a gentle scrubbing, and hang it in the shade to dry. The Mir comes at a slightly higher price than many weighted vests for men. This price point is fair because the Mir provides a more superior experience, has excellent construction quality, and comes with a lifetime warranty.

Subscribe to our Newsletter