Best Weight Vests for Women Reviewed
last updated:
Mar 31, 2020
Staying in shape and maintain peak performance is a constant struggle that demands a lot of time, effort, and sweat. There reaches a point when even the most determined athlete needs a smarter and more effective way of achieving greater heights. Women's weighted vests are a simple yet often overlooked way of increasing resistance to your cardio and strength training.
Weighted vests are an effective and safe way to get results without hiking up the intensity of your training. Whether you want to lose weight, build more muscle mass, or maximize your training results, weighted vests for women offer a credible solution. What's more, weight vests for women fit intuitively into any workout and are easy to maintain.
This guide will take you through the best weighted vests for women that the market has to offer and will serve as a handy buyers guide.
In a Hurry? The test winner after 9 hrs of research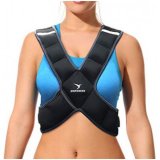 Empower Adjustable
Why is it better?
Female-specific design
Cooler user experience
Foam padded
In a
Hurry? Editors choice: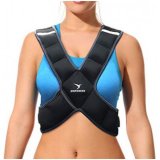 Test Winner: Empower Adjustable

30
Researched Sources
1.5k
Reviews Considered
9
Hours Researching
10
Products Evaluated
Effectiveness
Use
Weight
Adjustability
Features
By Default
Top 10 Picks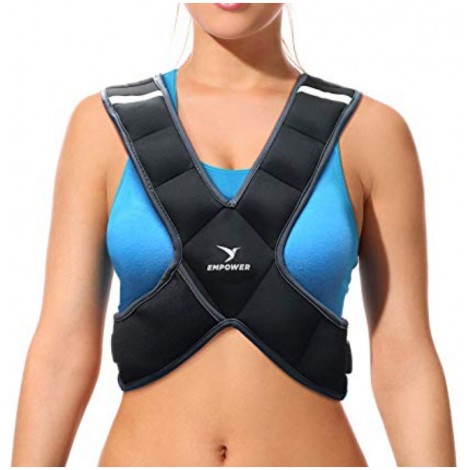 Female-specific design
Cooler user experience
Foam padded
Empower is designed to address the specific need users look for in weighted vests for women. It has a manageable weight and an X-shaped design, which make the model comfortable for strength and cardio training. This option also comes with adjustable weights that can be arranged to give you optimal balance and weight distribution.
The X-shape conforms to a woman's contours and curves, giving you less restricted movement when compared to other weight vests for women. Empower weighted vests to feature a soft neoprene foam padding to cushion your skin from the weights. There are also adequate adjustment options for the best possible fit and extra comfort.
This product is one of the lightest weight vests for women with a four or eight-pound option. This weight might be light for hardcore gym heads and athletes, but it's the perfect amount to start. Within time, you might have to get weighted vests with higher weight loads.
Empower weight vests are adjustable and cover user waists that fall between 24 and 48 inches. The open x-shape design makes it very breathable as it allows for adequate airflow keeping you relatively cool as you work out. The ease of use, breathability, and durability give the Empower great value for money.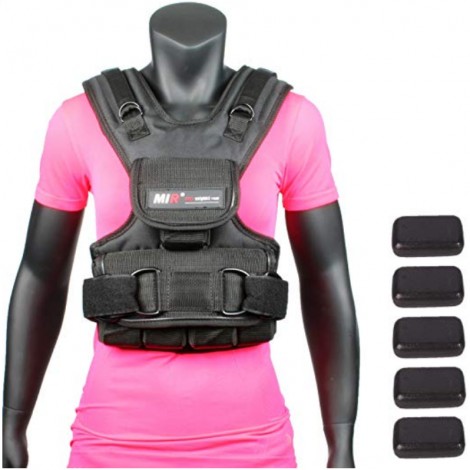 50-pound limit
Adjustable weight
Abrasion-resistant shell
Mir adjustable weighted vests are suitable for use by individuals of any fitness level. Mir adjustable vests come with a variety of weight options, ranging from 10 to 50 pounds. This model also features a Velcro belt that enables you to get a comfortable custom fit as well as to keep the product from moving as you exercise.
The weighted vest features steel weights that come in 3-pound increments, which are removable, allowing you to reposition them for a customized weight. This product also has a roomy front and back pouch that is convenient for adding and removing weight bars. The short design profile also allows you to alter weight loads in a less cumbersome manner.
Unlike many weight vests for women, the Mir is hand and machine washable. When it gets dirty, take the weights out, pop the empty shell into the washer or give it a good scrubbing and hang it to dry. This product is one of the most durable on the list; the shell resists scratches, tears, and abrasion.
The compact design also gives you more mobility and versatility in movement. It also has adequate ventilation thanks to the design and the breathable fabric featured in the construction. The price of the Mir varies; heavier weight options cost more, but with the vest's durability and the manufacturer's lifetime guarantee make this vest a worthy purchase.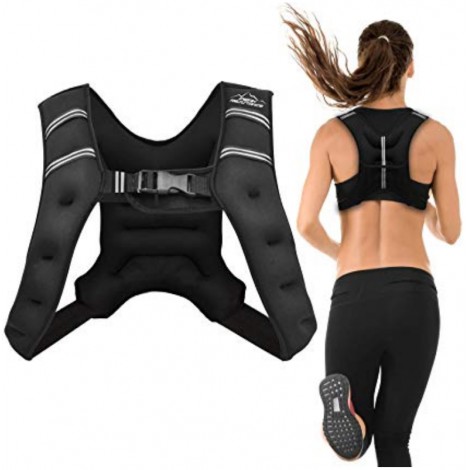 Back mesh pockets
20-pound weight resistance
Soft outer shell
Aduro sport weighted vests for women come at a reasonable price when stacked against the advanced features packed into the product. Despite having the X-shape design, it offers more resistance than weighted vests featuring the same specifications. It has a soft finish, is breathable, and has a mesh pocket on the back for storing personal items.
The Aduro features a neoprene shell construction that helps the vest gel comfortably to your shape. The general shape and design of the vests are less restrictive when compared to other weight vests with a similar weight profile. This sleek design creates more balance, which is vital for intense exercise, hiking, and long periods of use.
Aduro vests come in three weight options 6, 12, and 20 pounds. Even with no weight adjustment options, the 20-pound option will give a more than adequate resistance to seasoned athletes. You can also use the back pocket to add to your weight load for activities such as running.
The Aduro features a front belt with a secure plastic buckle that is easy to open and close. You can also adjust the strap for a perfect fit. When you consider all features, it is easy to see why the manufactures of Aduro weight vests for women offer a lifetime guarantee on their products.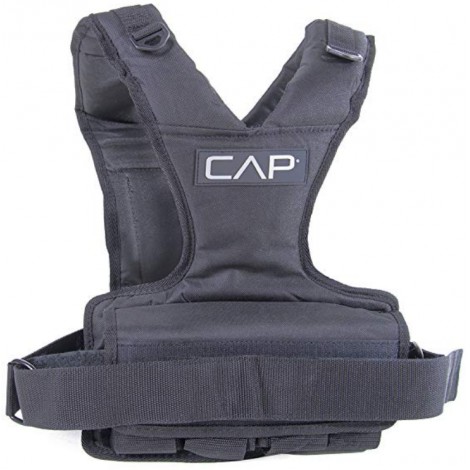 Wide weight selection
Features reflective elements
Adequate pockets
Cap barbell adjustable weighted vests for women are designed for users that require more substantial weight resistance in their training. This vest has a 30-pound weight that sits over the waist allowing for a fuller range of motion. This weight positioning enables a user to perform squats, burpees, sit-ups, and other exercises comfortably.
Cap barbell weighted vests have a full vest design contoured at the chest to fit women comfortably. These vests come in a one-size-fits-most option although it might be a bit lose on particularly petite users. This product has padding for comfort and has an adequate ventilation system that features a breathable fabric mesh to prevent overheating.
Another notable feature is the adjustable clips that make the vest easier to adjust for a proper fitting. This vest also has a front pocket specifically designed to fit a smartphone so you can listen to music as you exercise. There are even reflective trimmings throughout the external shell for enhanced visibility when you train in the night or early mornings.
The vest is made of high-quality neoprene, which ensures that it will last you for a long time before seeking a replacement. The cap barbell comes in an all-black color that doesn't show signs of dirt as fast as lighter colors. This product is reasonably priced and is built to last, making it a worthy investment into your health and fitness.



Ideal for beginners
Compact design
Features a phone-holder
The tone fitness is a 12 pounder ideal for athletes and gym enthusiast seeking a comfortable, low-cost option. This product has a sleek design profile and weight distribution, which makes it ideal for extended periods of use. The vest also straps to your shoulders in a less constrictive manner that allows you to enjoy a wide range of exercises without feeling encumbered.
The Tone fitness comes in one standard weight and design without a smaller or larger option. The 12-pound weight of the product may make it unsuitable for hardened athletes. However, this compact and lightweight option is ideal for the needs of less experienced individuals.
The agronomical design is tailors to compliment female curves, and this model features an extra soft neoprene material for additional comfort. It's also useful to note that the strap placement and one-piece design make putting and taking off the vest very quick and easy.
The tone fitness also features reflective tape trimmings that provide additional visibility when training on poorly lit road. It also has a strategically places build-in pocket that is a convenient place to stow a phone or an mp3 player. There are few weighted vests for women that can offer as much functionality at such a low price.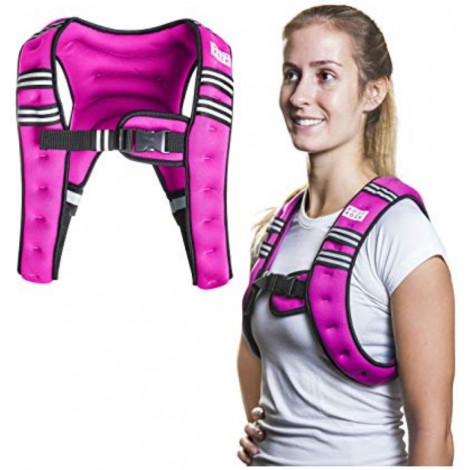 Effeminate color options
Comfortable strapping
Multiple weight options
SWEATFLIX is another quality product from the ever-innovative body rock. This product is designed to help users that have reached a plateau in their resistance training or those that wish to kick things up a notch. SWEATFLIX weight vests for women fit very well into any workout routine and increase resistance, helping you burn more calories and tone your body.
You get to choose from 6, 8, 10, and 12-pound weight options making it ideal for a broad range of exercises. The straps are adjustable for a snug fit and comfortable user experience. This X-shaped design vest also conforms well to the contours of the female anatomy.
The vest's weight is distributed evenly across the shoulder to enhance the intensity and effectiveness of your workout. This weight distribution, as well as the comfortable strapping, allow for a more versatile range of activities when compared to related weighted vests.
Aside from black, The SWEATFLIX comes in the fresh and effeminate colors, which include pink, violet, and olive green. These color and weight options allow you to mix and match two differently colored and weighted vests for a completely personalized look and exercise routine. This vest is affordable and so stylish that you won't wait to put on and show it off.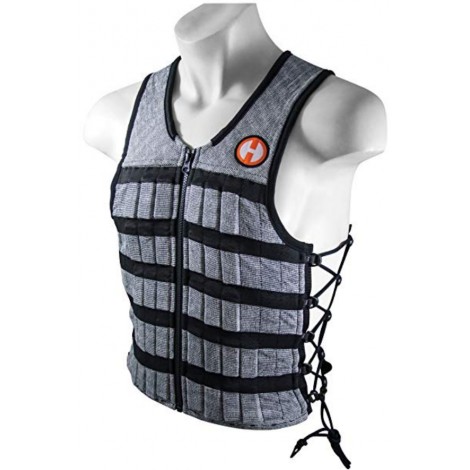 Vest-like design
Excellent ventilation
Highly customizable
Difficult weight adjustment
Hyperwear weighted vests for women are synonymous with high quality production and broad flexibility. This product is the perfect training partner for enhanced results, be it in weight loss, burning calories, or building of muscle mass. This vest has a unisex design and features YYK zipper on the front for quick donning and doffing.
The vest fits and covers as much area as an ordinary tank top or jacket, making it more breathable, versatile and act like some kind of armor. It is also better ventilated than most weight vests for women since it features horizontal flexes as opposed to vertical flexes. Vertical flexes enable a user to have an exceptional range of motion and flexibility on the shoulder, torso, and chest areas.
The Hyperflex pro weighted vests for women feature side lacing, which allows users to adjust the vest to a form-fitting profile. This model comes with a default 10-pound weight that you can redistribute throughout the vest or increase to a comfortable resistance level.
The material featured on this model also wicks and moisture and is resistant to odor and bacterial accumulation. The Hyperflex pro comes in an attractive silver color that will make you stand out even when jogging or running in a poorly lit area. A major selling point is the vest design that makes the Hyperflex pro less taxing on the shoulders when compared to other weighted vests.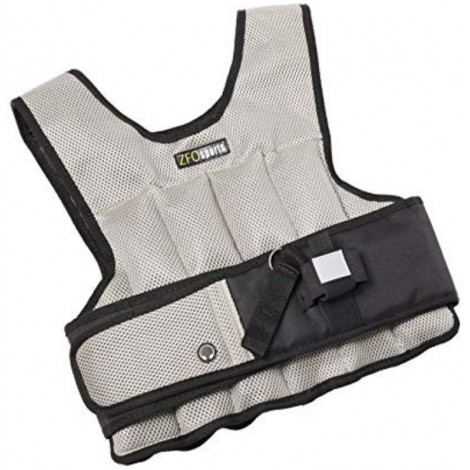 Sleek fit
Unisex design
Pro-standard weights
ZFOsports weighted vests are premium quality products that can be used for many years. This vest is widely available and at a fair price. The ZFOsports has a simple design, is simple to clean, and gives a relatively comfortable user experience.
This vest features strategically placed and spacious pockets, which makes storing and retrieving items easier. Its adjustment straps are conveniently located on the shoulder and stomach, enabling quick and simple adjustments. The straps also feature secure clasps that allow you to move as much as you want with the vest remaining securely in place.
The weight featured on this model is an iron ore and sand mixture. This mixture compacts very well into the pockets of the vest that in barely gives or shifts as you use the product. Unlike most weighted vests that feature sand weights, this 40 pounder still leaves plenty of space for stashing things in the built-in pockets.
This vest has a dual shell construction the inner shell holds all the weights, and the outer shell is soft and airy for comfort and ventilation. This double shell design also reduces friction and static, which cause discomfort, especially once you sweat. When it comes to weight vests for women, you shouldn't look further than ZFOsports for flexibility and durability.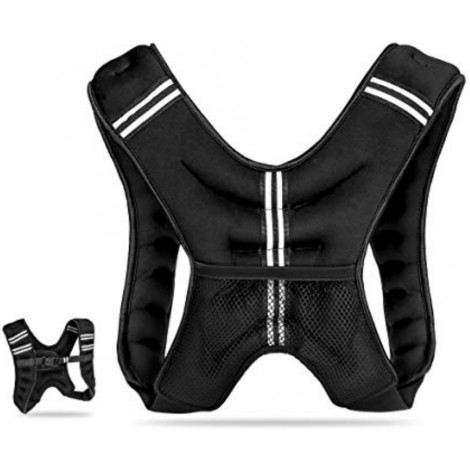 Numerous mesh pockets
Soft neoprene shell
Fits most
JBM weighted vests are specially designed for users with a strength-training mindset but can be used in other activities. The general design of the JBM international allows for the flexibility needed for cardio, calisthenics, CrossFit, and different types of training that require acrobatic movement. This vest is a sure way to increase resistance training without affecting your agility and speed.
JBM international weighted vests come in a "one size fits most design" with adjustable straps for a proper fit. Its shell is made of a soft neoprene fabric that is soft on your skin and breathable. It also features a spacious mesh pocket that can accommodate a variety of items; this can be handy on long runs, hikes, and training sessions.
For additional safety in low-lit outdoor environments, the JBM weighted vests have reflective straps worked into the design. The vest has a front buckled strap for stress-free donning and doffing. The breathable neoprene material also wicks at moisture and cushions your body from the stress of additional weight.
The JBM offers a lot even though it is one of the most affordable weighted vests. It has a unisex design, meaning that even men can use it. The price point and features make the 12-pound weight limit not much of a deal-breaker.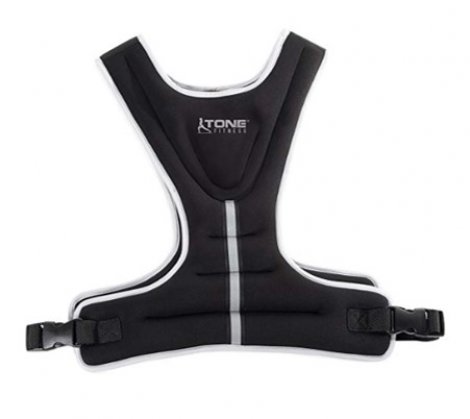 Lighter Fixed Weight
Superior Fit
Neoprene Build
Reflective
Weight Distributed Unevenly
Many weighted vests for women can sometimes seem a bit bulky, or perhaps a bit too heavy for what you want from your workout. Tone Fitness created an easy fit 8lb vest, that is perfect for runs, plyometrics, or walks, that will have you burning more calories without risk of injury due to heavy weight. This weight vest also has a unique design element to it that makes it comfortable to the female physique.
Neoprene fabric makes this weight vest soft and comfortable when wearing. It's also just over 17 inches in length, with an adjustable belt to wrap around the waist up to 42 inches. Larger arm cut outs allow for wide range of motion in the shoulder and arms, so you won't feel restricted in this weight vest!
Not only can you wear this lighter weight vest when walking or running during the day, it also has reflective strips that help for better visibility when the sun drops down. Even when you're training in low light, cars and others will be able to see you. It's perfect for running, but also for training body weight exercises, like squats, lunges, even jump movements. For those looking for a lighter weight vest, this is a must try.
Criteria Used for Evaluation


Effectiveness
Weighted vests for women have various effects on your physiology.
Varied workout loads: With time, the human body gets used to repeated tasks and loading weights. For the first few weeks and months, of exercise, you'll notice an incredible increase in muscle mass and a change in body shape. This progress comes to a pause because the body gets used to the routine.
Incorporating a weighted vest throws off the muscle conditioning you had received from your routine. Weighted vests for women do this by introducing unconventional stress to your body, forcing it to build new resistance against the added strain. This factor is why weighted vests come highly recommended for athletes that have reached a plateau in their endurance training.
Enhanced strength and endurance: weighted vests load the body with the additional weight that calls for extra muscle strength. These products strengthen the core muscles, just like dumbbells and other equipment. These vest forces a more exerted effort on the muscles of your torso, hips, and joints but still allow you to move normally resulting in enhanced endurance.
Improved Cardio: As your strength and endurance improve, so do your cardiovascular muscles. The additional weight forces these muscle groups to work harder, requiring greater oxygen circulation throughout the body. Rapid and heavy breathing strengthens the lungs.
Weighted vests add resistance, which improves the efficiency of the body in delivering oxygen to all the muscles every minute. This property helps you take a long time before running out of breath. It also enables you to last longer during physical activities, taking a long time before you tire out.
Improved bone growth: resistance training strengthens bones. Weighted vests introduce an additional load that shocks the bones into reinforcing their structure. The result is thicker bones that can withstand the extra muscle mass and weight.
Faster weight loss: When a weighted vest is 10% of your body weight, a proportional amount of energy is required to complete any activity. The enhanced resistance brought by weight vests for women forces your body to use more power. The body burns more calories and fat as a result.
Improved balance and posture: wearing weighted vests also exerts some pressure on your spine. This spinal pressure forces you to adopt the correct pose to maintain balance. This practice is the best way to avoid back injuries when working with weighted vests.


Use
There are varieties of ways to incorporate weighted vests for women into your training.
Cycling is an excellent way to strengthen your legs while getting some cardio training. The only drawback to cycling is that it doesn't have that much effect on your upper body. Using weighted vests while cycling increases resistance to the upper body.
This added resistance makes cycling while wearing a weighted vest more effective. With routine use, you get to condition your body faster. This resistance makes you burn even more calories at a faster rate.
Walking and hiking help you effectively burn calories while getting some cardiovascular training and keeping fit. Unfortunately, the effects of such training take a lot of time, and they don't get you far with tough fitness goals. Weighted vests for women add some resistance, making the workout more challenging as you burn more calories.
Bodyweight exercises like lunges, sit-ups, and pull-ups are an effective means of enhancing your strength level. However, with time, your body gets used to the resistance your body weight provides, resulting in diminishing returns. Weighted vests for women add some weight to your body that makes sit-ups and other bodyweight exercises more challenging and rewarding.
Weight lifting is challenging but may not be as challenging for an athlete who is at peak performance. A great way to up the intensity is to add a little more weight to your upper body. Incorporating weighted vests for women to weight lifting influences more muscle groups and stresses the cardiovascular system.
These vests also help you burn more calories and convert body fat to lean muscle. These effects help you gain more muscle and at a faster rate. It's also an effective way of intensifying your resistance without doing more exercises.


Weight
An ideal vest provides adequate resistance and a way to adjust its weight.
When purchasing a weighted vest, you need to consider a product that has a weight you can handle. Finding a vest that enables you to add or remove weight as you see fit can be advantageous. Weight adjustability doesn't affect sizing or the general effectiveness of a product; it's just a handy bonus feature.
Gauging your current fitness levels is vital when considering the weight of the vest you wish to acquire. A vest that is too light for your current level of endurance won't be of much help. Likewise, if you are not in the best form, a heavy vest will injure you and set your form and endurance level back.
The safest way to approach weighted vests is starting with the basics, ensuring you have a proper form. You know you've attained proper form when bodyweight exercises like pushups feel less strenuous. Once you have a proper structure, you can start with a 12-pound vest and add more weight as you build endurance.


Adjustability
An adjustable weighted vest fits appropriately and is comfortable to wear.
Each person has a specific body type, weight, and other dynamics that make him or her unique, thus, what works for one person won't work for another. Your body even goes through daily changes that can affect its shape. You could get a little bloated or also lose some pounds since the last time you used your weighted vest.
The weight vests for women provided on this list are affordable and will serve you for years to come even with significant changes to your body shape. For this reason, it is highly recommended that you purchase a vest that fits well and is highly adjustable. Many adjustable weighted vests have straps with closures that make this task more intuitive.
While a majority of these vests come with a one-size-fits-most sizing option, there are alternative products built specifically for women or offer more sizing options. Some feature multiple sizing straps others have strapping across the shoulders or torso. A narrower fit comes highly recommended, as it will not restrict overhead arm movement, which is vital for calisthenics and weight lifting.
Some vest offers a way to adjust their weight through removable weights. These weights come as sandbags or iron bars that you can add/remove, or reposition to alter your vest's resistance. This weight distribution prevents muscle strain injury and helps you regulate the amount of strain your spine endures.


Features
Great features enhance appeal and user experience of weighted vests for women.
X-shape
The x-shape make weighted vests distinct from those made for men. This shape silhouettes with the female form by having a closer fitting waist and the least amount of weight on the chest. This design feature makes the vest more comfortable, airy, and versatile enough for cardio and aerobic training.
Padding
Some weighted vests for women feature padding (usually neoprene) for enhanced comfort. Padding is vital in these products as it cushions your body from impact with the weights when you move. It is especially crucial in the event you suffer a fall.
Strapping
A weighted vest needs to have some system that makes putting it on and adjusting the fit easier. Some vests feature shoulder straps or waist straps other feature both. These straps also keep the vest in place, preventing it from moving around as you work out.
Ventilation
An ideal weighted vest features plenty of ventilation all through the product. Proper ventilation is vital, especially when you have to use the model over an extended workout. Some manufacturers use mesh construction others use breathable materials.
Pockets
Aside from the compartments that hold the weights, some products feature additional pockets. These pockets are usually not that spacious but can hold a phone, mp3 player, loose change or even the lower half of a bottle. You can also add some more weight into these pockets for additional resistance.
Removable weights
Some vests have a fixed weight, which means there is no way to alter the amount of physical resistance it offers. Others come with removable weights that can be used to modify the amount of resistance. These weights are usually metal bars that offer weight adjustment in 3-pound increments.
Reflective elements
Some weight vests active elements like logos, trimmings, and reflective tape incorporated into their design. These elements reflect even the dimmest of light in poorly lit environments. This feature makes you more visible to other road users', especially to offside vehicular traffic.
Expert Interviews & Opinions
Most Important Criteria
(According to our experts opinion)
Experts Opinion
Editors Opinion
Users Opinion
By Default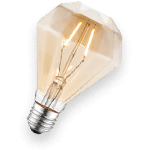 Build from the basics
When training in weighted vests; you start with a lighter load and build the endurance needed for a heavier option. However, before donning a weighted vest, you must attain good form. You know you have proper form when you can do basic bodyweight exercises properly. An example is your hips don't dip when doing push-ups or you can perform chin-ups without a lot of arm strain. If bodyweight training doesn't offer that much of a challenge, then you are ready for weighted vests.
Mind the heat
Outdoor temperatures and physical exertion during workouts cause dehydration. The warmth generated by a weighted vest multiplies this by a significant factor. Unfortunately, the current markets don't have a truly breathable weighted vest, so avoid using the vest on scorching days, and invest in a workout water bottle.
Other Factors to Consider


Bottom Line
The most important factors to consider when looking into a weighted vest are comfort, weight, and durability. A durable products feature solid construction from quality materials, so pay attention to the materials used. For a comfortable option, consider a vest with adequate padding and strapping.
Weighted vests for women offer a way to get more resistance from your training without doing more exercise. They provide elite athletes a way to overcome conditioning plateaus, which make them feel like their exercise is not as challenging. Weighted vests for women are also an excellent way for runners to work out their upper body and legs in one go.
Frequently Asked Questions
q:

What is the difference between weighted vests for women and those made for men?

a:

For starters, weighted vests for women are lighter when compared those weighted vests for men because men need more weight for effective resistance in physical training, which means that weighted vests for men also fit tighter as to prevent this additional weight from shifting. Men's vests put more emphasis on muscle building and toning.

Most weighted vests for women come with fixed sandbag weights, which makes them more comfortable. Women's vests also cave a characteristic x or v shape that conforms to the curvy form of the female body. Weighted vests for women are also considered unisex as even men often use them for plyometric or cardio workouts.
q:

How heavy a vest do you need?

a:

The weight of a vest depends on the type of lifestyle you lead and general physical conditioning. If you maintain a sedentary lifestyle that involves a lot of sitting, then a heavy option may not be appropriate. A weighted vest ranging from five to 12 pounds is ideal for a beginner, as it doesn't exert a lot of stress on unconditioned muscles.

Some of the bulkier options go all the way up to 140 pounds. Seasoned athletes and gym pros with a lot of experience are the only ones that should use such products. When you feel unsure of the right weigh for your needs, consult a trainer, or read up on more publications like this article.
q:

Why is sizing so important when it comes to weighted vests for women?

a:

Getting a vest that is too big or too small can lead to uncomfortable user experiences. It also introduces some instability to your spinal arrangement and center of gravity. An improper sizing leads to injury as the weight pockets may not align to your shoulders and torso.

Measuring your waist and shoulders can help you get the best fit. Retailers and manufactures include sizing charts that can help you zero in on the best fit. Use this information to get the snuggest possible fit for your torso and chest area.
q:

Does running while wearing a weighted vest have any benefits?

a:

Running while wearing weight vests is an excellent way for experienced users to accelerate their training. Using these vests on runs helps you burn more calories and fat, helping you attain and retain the benefits of your workout regimen. It also works out more minor muscle groups on the upper body than solely.

It's a fun way to increase the intensity of your exercise without varying your regimen immensely. Combining weighted vests and running can improve your cardiovascular output while strengthening your core muscles and lower body more than other exercise equipment as long as you get the right size, fitting, and weight.
q:

Are there any risks associated with training with weighted vests for women?

a:

Pre-existing conditions like lower-back, knee, and ankle injuries may disqualify you from using weighted vests. Any additional weight puts a lot of strain on the body parts mentioned earlier as they bare all the body weight. The added load a weighted vest creates a stronger impact when you move to exert further pressure on injured joints, which weakens them.

Weighted vest for women also throw your center of gravity off by a fraction, thereby altering your posture and spinal alignment. This instability may affect you negatively if you don't have a perfect form locked in. Therefore, it's a good idea to practice for some time to attain proper configuration and heightened resistance.