Best Wool Running Socks Reviewed & Rated
In a Hurry? Editors choice: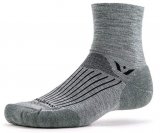 Test Winner: Swiftwick Pursuit Four

Wool socks have been around for ages, and they're a favorite among many because of the material's superior features such as comfort and softness, moisture wicking, and temperature regulation. Precisely these aspects make wool socks a good choice for running as well.

You may think that these are meant to be worn only in winter, but we are here to assure you that this is not the case. Wool has the lovely ability to keep you warm in winter and cool in summer, and thus it is a wonderful option for running all year long.

Take a look at our best wool running socks and walk away with a new design to take out on the track (or trail!) as soon as possible!
Standout Picks
Criteria Used for Evaluation
Breathability
Breathability and moisture-wicking are essential in keeping your feet healthy and odor-free.
In any activity or situation where your feet are sweating - say, when you're exercising or if it's hot outside - there's a potential of developing a number of unpleasant conditions or diseases. The most harmless of them is probably bad odor, which is produced by microbes that thrive in hot and damp environments, such as in your sweaty footwear.
The more dangerous issue would be an infection, either bacterial or fungal, which could take a while to cure and could set you back in terms of your training and physical fitness levels.
To avoid these problems, breathability is essential. Air needs to be able to freely flow in and out of both your footwear and your wool running socks as this is what cools down your feet and helps combat the sweat.
Fortunately, wool is a pretty breathable material. It promotes air circulation, and this feature is even more enhanced when wool designs have mesh parts built into them. Mesh is a porous fabric that is even more breathable than wool, and together these two make a winning combination in terms of keeping you dry and cool as you run.
When we talk about breathability, we can't mention moisture-wicking as well, as these two go hand in hand.
Moisture-wicking is the ability of the material to pull droplets of sweat away from your skin and to the outer layers from where it can evaporate. In high-impact sports such as running, having moisture-wicking socksis crucial in maintaining a healthy foot environment.
This is usually achieved through various engineered fabrics and technologies which add moisture control to design. Look for names such as Coolmax (a type of polyester that is moisture-wicking), and systems like Nike's Dri-FIT or the iWick fibers in Features designs.
We're not saying that you won't be able to complete your run without breathability and moisture-wicking, but they will certainly make you more comfortable and improve your performance overall.
Shock Absorption
Choose a level of cushioning you feel the most comfortable with.
While cushioning is mostly provided by your running shoes, it won't hurt to have a little extra in-store in your wool running socks as well. Cushioning not only provides comfort and a soft, supportive feel underfoot while you run, but it also serves the purpose of protecting your feet, your muscles, and your joints from impact damage.
What exactly is this impact damage?
As you walk, and especially as you run, your feet hit the ground with every new step. This landing, or heel strike as it's called, generates a certain amount of force or shock that travels from the ground up into your foot and leg. This shock may cause micro-injuries to your joints (ankles, knees and even hips) and muscles which can compound over time, leading to pain and certain foot and leg ailments later on.
In order to reduce the shock that reaches these sensitive areas, sports gear manufacturers add cushioning to their footwear and apparel.
Cushioning can be thicker or thinner, depending on whether or not you favor a more minimalist feel, or if you prefer plenty of bounce on your run. In this type of socks, it can also be concentrated in certain areas, such as the ball and the heel of the foot, or it can be full-length cushioning, all along the bottom of the sole.
We ranked the designs in this guide according to the level of cushioning they provide. At the top of the list are the ones which have the most cushioning, while the ones which have less are at the bottom. Depending on your personal preferences and style of running, make sure to choose which level of cushioning suits you best.
Support
Arch support will keep you going for longer and stave off foot fatigue.
While cushioning is important in protecting you from impact and keeping you comfortable, there's something to be said about support as well. Support is essential in reducing the strain your feet go through to maintain proper balance, a natural gait and to propel you through your run. It also prevents foot fatigue and is a must-have when you're spending a lot of time on your feet, or when you're engaged in serious sports activity.
Similar to cushioning, support is mostly provided by your footwear. However, there is a number of wool socks for running which also offer support that works together with your footwear in helping you give it your all in your next training session.
In this case, support comes in the form of arch compression. One part of a design, the one which goes around your arch and instep, is tighter than the rest, and this provides a bit of compression to the arch area. This compression helps keep your arch elevated and prevents it from falling as your run. It is a great feature to have whether you're a neutral runner or an overpronator.
Support can also be a deep heel pocket of the sock. Y-stitched heels are something you may have run into in this guide - they provide a special fit around the heel area. This makes the heel sit more comfortably inside the sock and keeps it more secure as you pound the track.
If you're serious about your running and want to make sure that your potential is maximized, then opt for designs that come with one or more forms of support. It will only improve your performance and keep you going for longer and harder than you ever thought you possibly could.
Fit
The fit of your socks should be snug but not too tight.
In order to make the most out of your new wool running socks, they have to fit properly. A poor fit may mean the difference between a successful run or a new personal best and a workout that is abruptly ended because of blisters or discomfort. There is nothing worse than a sock which is too tight that it hurts us or too loose that we constantly have to pull it up as we go.
Which is the main thing about fit: it needs to be just the right amount of snug, but not too snug. It shouldn't be leaving dents or marks on your skin, and it definitely shouldn't be cutting off your blood flow. A lack of circulation will lead to cold feet and potential numbness, and perhaps even worse consequences later down the line.
Equally, your socks shouldn't be too loose, either. Aside from the fact that they will be slipping down and will be plain annoying, they will also bunch up in your footwear. This excess material will rub against your skin and sooner or later, due to constant movement on your run, it will cause a blister or a hot spot to appear. Needless to say, no one wants that during their training.
This is why it is vital that the fit of the design is just right for you. Options with spandex/elastane/Lycra in them have more stretch than those that don't, and as such, they are more accommodating to different foot shapes. This material along with nylon ensures that a design fits closely to your foot and that it doesn't slip or bunch up as you move.
Make sure to consult the brand's size chart before you decide which size would be the right one for you.
Durability
Durable materials and reinforced heel and toe areas will increase the lifespan of your socks.
Seeing as running is a demanding, high-impact sport, it is only understandable that the gear you use for running is not too long-lived. Depending on the frequency of your runs, their duration, and type (such as what terrain you're taking on), a good pair of wool socks for running can last you anywhere from a couple of months to a whole season or maybe two.
The harder you go, the more challenging environments you take on and the more often you wear your new socks, the more quickly they will deteriorate. This is just the nature of things, and there is no design from any brand that can circumvent this issue.
However, there are some features you can look for to make sure that you are getting the most durable option for the price you're paying.
The first of these would be the material type. Wool in itself isn't very durable and tends to lose shape over time, especially with regular wash cycles. This is why materials such as polyester, acrylic, nylon and other synthetics are added to increase the longevity of these designs. Try to find a good balance between wool and these fabrics.
Additionally, reinforced areas of the design, such as heel and toes, will stop them from thinning out too soon. These parts are the most prone to developing holes, and added strong fibers or layers of material here will make sure that your toes don't poke through the fabric too soon.
Finally, it is important to emphasize that you shouldn't hold yourself back from wearing your new favorite socks just because you're worried they will fall apart. They will do that anyway, sooner or later, and it is important that you make the most of them before that happens.
So throw them on, lace up your running sneakers and hit the track with confidence! If something happens to your socks along the way, you can always opt to buy a new pair, with a different material make-up if you so desire.
Top 10 Wool Running Socks Reviews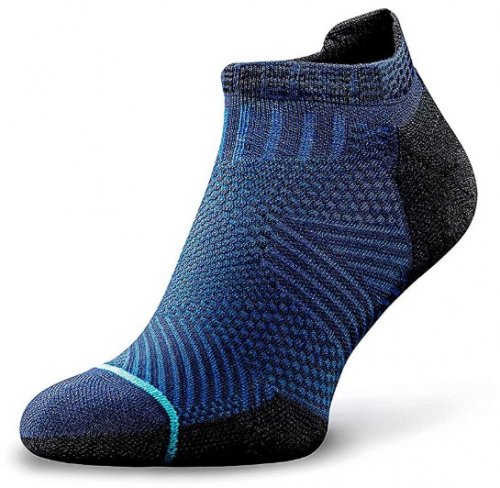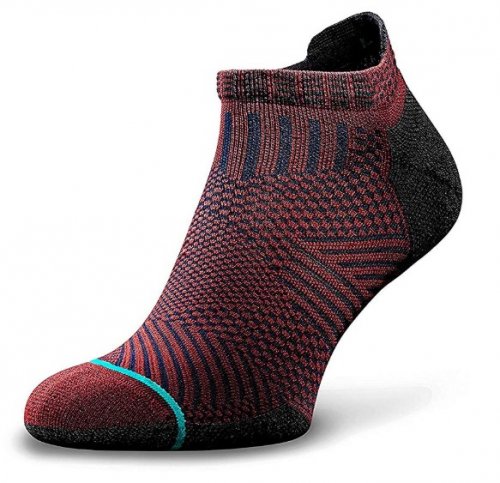 The Rockay Accelerate has been selected as the best in the category of running socks by leading magazines and portals such as Forbes, Business Insider, Runner's World and similar. It is made from organic merino wool in combination with synthetic materials and elastane, and it is an absolute favorite among runners everywhere. Check out its special characteristics and why you should treat yourself to a pair of these as soon as you can.
The Accelerate's main feature is that it has padding in the toe and heel areas. This prevents blisters and irritations in sports such as running, walking and hiking. The seamless build in the toe area also puts a stop to blisters and painful chafing, making this design one of the most comfortable options you will ever wear.
Compression in the arch area and a tight band at the top keep the Accelerate up around your ankles and prevent slipping and bunching. The compression also provides the support that your feet will be grateful for after a particularly grueling run. On top of that, there are also breathable zones made of mesh which enhance ventilation and keep your feet cool throughout.
The Rockay Accelerate is not only a great performance option, but it is also made from partly recycled materials - meaning it is environmentally friendly - and it comes with a lifetime guarantee. It is durable enough to withstand obstacle course races and marathon runs and pretty much anything in between. When we're talking about quality, we're talking about the Rockay Accelerate.

2

. 20four7 Athletic Fitness Socks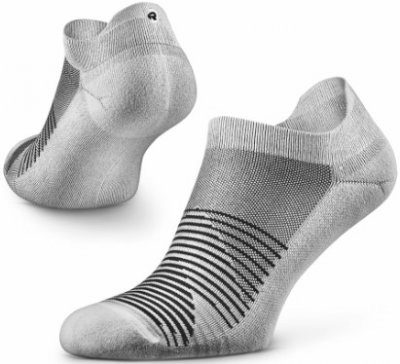 Coming in at second, the 20four7 Athletic Fitness Socks are an incredible option for your wool sock needs. This specific product has been designed for sustainability, comfort, and miles and miles of use. Socks so good, you never want to take them off!
The 20four7 is made from recycled plastics that are harvested from the ocean and spun into fabrics with wool. With this, the added benefits include moisture-wicking, cooling, and reduced friction. As well as supreme comfort. They are designed to support what would usually be an annoyance!
The added benefits to comfort in this product is typically something you do not see in other products, alike. The 20four7 comes with tabs so you do not have the blisters, top-line arch support, seamless toe, all aimed toward a pain-free workout!
Like some of the other brand names on this list, the 20four7 offers a lifetime warranty. Rockay believes in its products and their mission. The goal is to make friends, rather than enemies, which is why this product is so great.

3

. Agile Thin Running Socks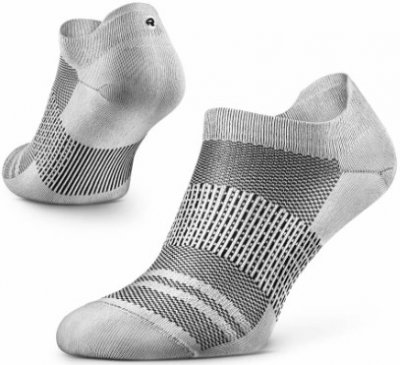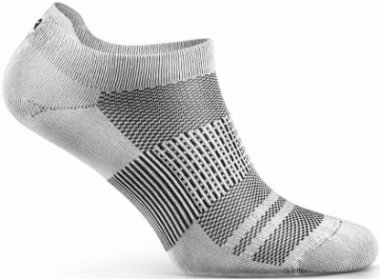 The Agile Thin Sock was created and designed with you in mind! With all of the benefits that these socks have to offer the wearer, they are a definite top of the line pick. Backed by a lifetime warranty, these socks will be around to support your feet for years to come.
The Agile Thin Sock has been designed to maximize comfort for all situations and activities. The construction of this product is like no other. Added comfort in the sole, arch support and compression, as well as a seamless toe, to prevent those annoying blisters. With that said, you can't turn your back on this great product!
When you think wool, you think warm. The Agile will not only prevent sweating but also has mesh zones to keep your feet dry and temperature regulated. As impressive as this may be, the sock is also a thin fit. So there is no need to worry about the bulking and tight fit, within your shoe.
With a host of innovative technologies and carefully engineered systems, the Agile Thin Running Sock is a design you don't come across every day. It is exceptional in almost every category, and you can be sure that it will make a useful addition to your sock collection.

4

. Swiftwick Pursuit Four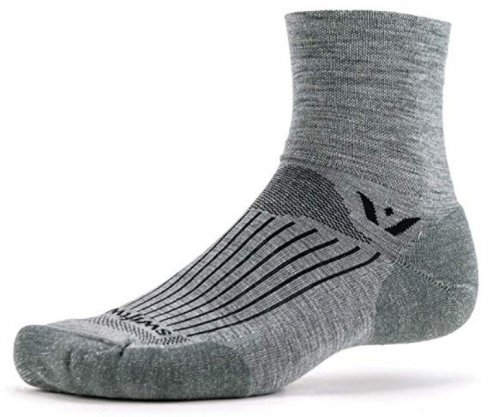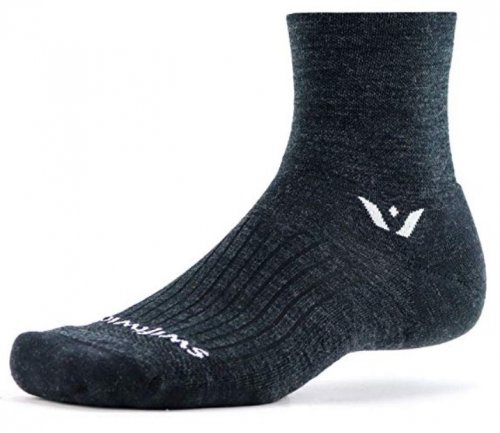 The Swiftwick Pursuit Four is an option meant for two specific sports: trail running and cycling. It is made from fine gauge Merino wool that ensures heat-retention in the winter and an easy cooling in the summer. It wicks moisture away and provides an itch-free touch from cuff to toe. The Pursuit Four has moderate compression, a contoured fit and a seamless toe for maximizing comfort. It is a great design for chasing new adventures and pushing your body to the limits.
One of the advantages of the Pursuit Four is definitely its mid-level compression that hugs every part of your foot. It makes sure that the design fits snugly and that it stays in place no matter what you're doing. This is also aided by a contoured fit that reduces the chances of blisters or bunching at flex points.
There is moderate cushioning that provides impact absorption, as well as an invisible toe seam that decreases friction. Since seams are usually the ones causing blisters, this greatly reduces your chances of getting them. Furthermore, the Pursuit Four is crafted using high-strength yarn that is abrasion-resistant.
As a durable, no-nonsense design, the Pursuit Four from Swiftwick is just what you need to keep you comfortable and supported as you take on new trails and explore new paths on your next run.

5

. Smartwool PhD Run Cold Weather
In our introduction, we mentioned how wool socks are not only meant to be worn during the winter. Most of the options on our list here support this. However, in the case of Smartwool PhD Run Cold Weather, as its very name says, the design is geared towards running in frigid conditions. Just because the temperatures dropped outside doesn't mean that you should miss your workout, and thus you better be well equipped for these types of situations.
The Run Cold Weather is made from Merino wool, or rather Indestructawool, for moisture wicking, temperature regulation, and undeniable comfort. It also contains nylon for durability, and elastane to keep the sock moving along with your foot and not holding you back. Mesh zones increase ventilation and promote airflow without letting warmth escape.
Smartwool incorporated their 4 Degree elite fit system into the Cold Weather as well, for a better fit and flexibility at the ankle, and there are also two elastics so that the design stays in place and doesn't slip down or bunch up. Of course that it also comes with lightweight cushioning under the ball and heel of the foot.
The Smartwool PhD Run Cold Weather is a lifesaver when the winter sets in and everything becomes cold and dreary. We know that it takes a bit of extra motivation to go out for a run on those types of days, so a pair of warm performance socks will be just what the doctor ordered. Go for the Run Cold Weather and keep your toes toasty and your fitness levels up even during cold seasons!


Pembrook is a brand founded in 1976 that is proud of its ethical and sustainable manufacturing practices. They utilize only the finest materials and are deeply committed to their customers. The Wool Sport is from their activewear collection, a design that uses Merino wool at 60%. It is from the non-itchy kind so that you don't have to worry about any annoyances while you run. The Wool Sport will keep you supported and cushioned, and it is great for any season.
Not just any season, but this design also works for hiking, hunting, simply working outdoors or any other form of athletic activity. It is made from a blend of Merino wool, elastane, acrylic for durability and a soft feeling, and nylon. This combination is easy to take care of, as you can simply throw them in the washing machine without worrying about them losing their shape.
The Wool Sport comes with a Technical cushion, as well as breathability and support features. They will allow the air to freely circulate through the design and yet they will keep you warm if it is too cold outside. On top of that, the insole and the toes are reinforced so these socks can withstand anything you throw at them.
The beauty of the Pembrook Wool Sport is that it is amazingly versatile. You don't have to wear it only for running but can easily incorporate it into other activities and into your daily life. These will keep you comfy and warm, and your feet will be grateful for their non-irritating material blend, that's for sure.

7

. Zensah Wool Running Sock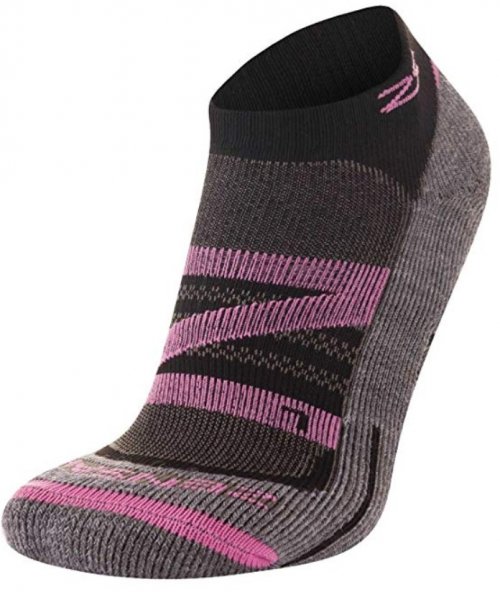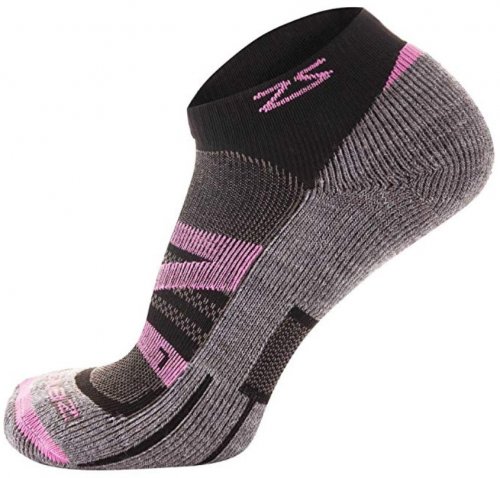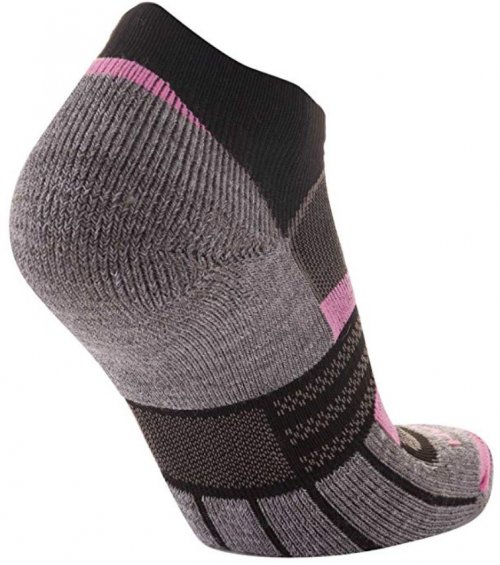 The Wool Running Sock from Zensah is not only limited for running. Its performance features are also suitable for cycling, basketball, soccer, obstacle course racing, trekking and a number of other high-impact sports. It is made from what is called Climayarn, a combination of Merino wool and polycolon, and we appreciate the fact that these fibers are eco-friendly. This design from Zensah has mid-weight cushioning and is one of the softest options you will ever put on.
Thanks to the aforementioned Climayarn, the Wool Running Sock has anti-odor and moisture-wicking properties. It won't let your feet get smelly no matter how much you sweat, and it will prevent the growth of odor- and infection-causing microbes. On top of that, Climayarn pulls moisture away from your skin and ensures a comfy, dry run.
The cushioning on this Zensah design is medium in weight and concentrated in the toe and heel areas, to protect against impact with each heel strike and to help with the toe-off. There are also mesh panels that increase the airflow through the sock and allow your feet to keep cool during the workout.
Zensah is a familiar brand in the world of performance socks, and this pair of wool socks for running is an option that you shouldn't overlook. It may not come with as many fancy technologies as some of our other choices, but it will definitely ensure a safe, sweat- and blister-free run that you will want to repeat as soon as possible.

8

. Feetures Merino 10 Ultra Light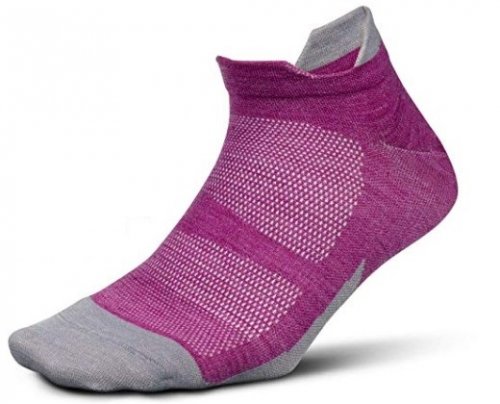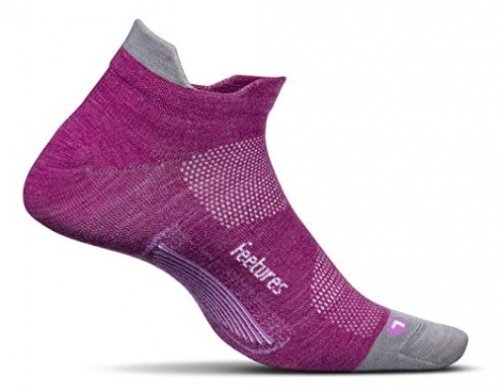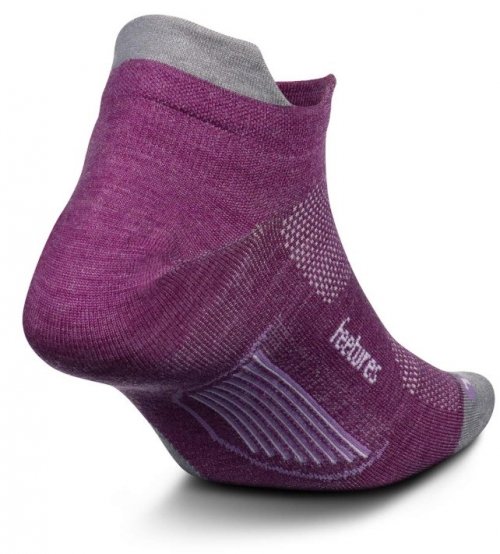 The Merino 10 Ultra Light from Feetures combines Merino wool with Tencel fibers which are known for their superior strength and moisture-absorbing and gentle properties. This elevates the entire construction to a more advanced level and puts the Merino 10 at the front lines when it comes to keeping you cozy and dry in all sorts of conditions, including wet and cold weather.
Despite being a combination of two types of fibers, the Merino 10 is an ultra-thin design that won't take up too much space in your footwear. It has an anatomical shape, meaning that there are different fits for the left and right foot for a reduced chance of developing blisters. The Merino 10 also comes with the Perfect Toe construction without any seams.
In terms of moisture-wicking, there are iWick fibers that wick moisture away for a dry experience, and when it comes to support, targeted compression in the arch area will help keep you on your feet for longer. To round up the design is a no show tab in the back which makes sure the sock stays up without the need to pull at it constantly.
The Merino 10 Ultra Light from Feetures puts an emphasis on the quality of their materials, as well as on a great fit and support. In it, you will feel light and carefree and yet at the same time you will be protected from sweat, abrasions and hot spots, and even bad odors. There's nothing more we could possibly want from a design of this kind.
9

. CloudLine Merino Ultra Light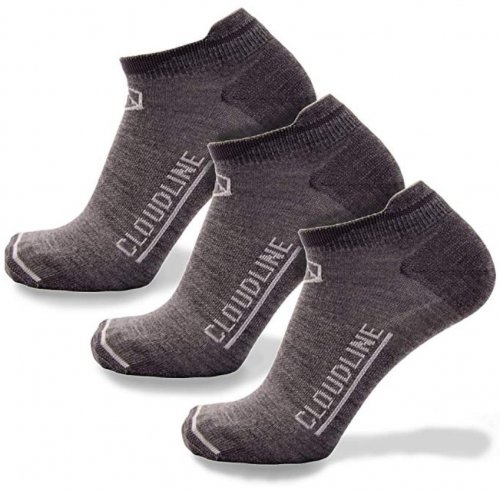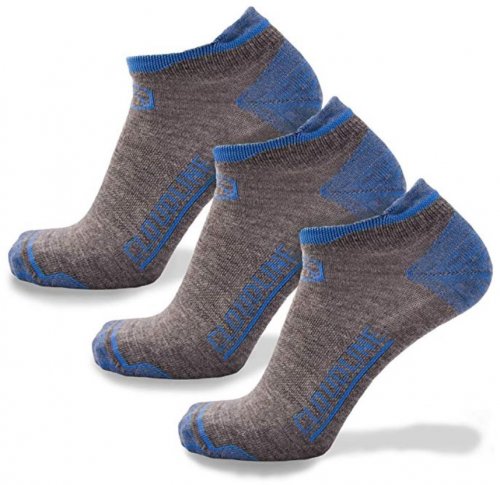 To quote the brand itself, "Founded by two dudes who love the outdoors, CloudLine pushes the limits of comfort and durability." For all of those who are fans of minimalist barefoot-like running, here are the socks for you. The CloudLine Merino Ultra Light has no cushion in its design and is for light and fast runs on warm days. If you're investing in some minimalist footwear and would like your socks to match it, then this ultra-fine build will be the right one for you.
The Ultra Light is made from a combination of merino wool, ultra-fine gauge, for a thin, lightweight feeling. It also includes nylon and spandex for longevity and elasticity. This combination of materials naturally prevents blisters and unpleasant odors and increases moisture-wicking. The Ultra Light dries quickly and can even be worn while camping for multiple days.
As we already mentioned, the Ultra Light has no cushioning in it. There is only slight padding under the foot for warmth. Instead of cushioning, arch support in the form of arch compression is there to reduce soreness and foot fatigue. The heel and toe are also reinforced for a longer lifespan.
The CloudLine Merino Ultra Light is specific in its simple, minimalist construction. It is not meant for everyone; if you are suffering from a foot ailment or you prefer more bounce and softness under your foot, perhaps a better-cushioned option is for you. However, for all those ultralight enthusiasts, it doesn't get any better than this CloudLine design.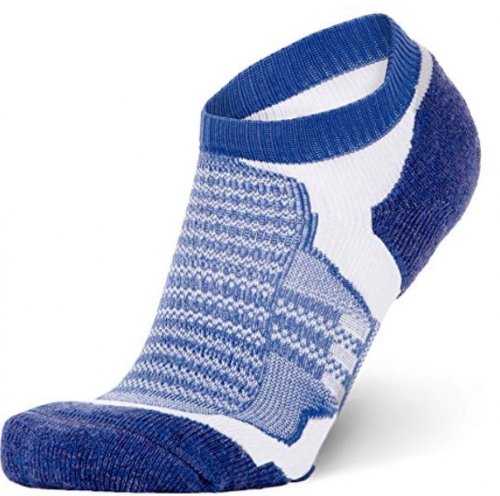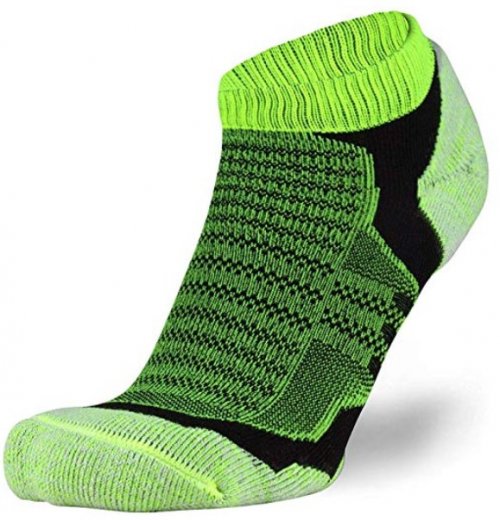 The reason why the Low Cut from Pure Athlete made our list is that it is constructed from a special type of wool blend. These next-generation fibers are all about soft comfort without irritating your skin, while also providing your feet with the optimal temperature so you can wear the socks all year long. The Pure Athlete Low Cut will keep you dry, cushioned and comfortable on your every run.
Too often we find ourselves reaching for wool clothing that looks cozy and soft but actually feels itchy and can cause redness and irritation. This is why Pure Athlete made sure to incorporate special non-itchy wool into their material blend, to protect your sensitive skin. Other materials included in this design are polypropylene, nylon, and spandex.
Like all other options in this guide, the Low Cut also comes with a cushioned heel and toe, a mesh top for ventilation, and its moisture-wicking properties are nothing to sneer at. They will keep you dry even in inclement weather or if you accidentally step into a puddle during the run. The fact that they're no-show means they can easily match any of your running sneakers.
The Pure Athlete Low-Cut is a simple, uncomplicated design that meets all of our requirements for this list and then some. You will enjoy all the benefits of a performance-oriented sock, but your skin will also be grateful for the soft, non-itchy feeling of this special material. An irritation-free workout is what everyone deserves!

Subscribe to our Newsletter