Best Waterproof Hiking Shoes Reviewed
In a Hurry? Editors choice: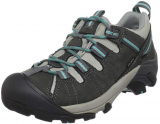 Test Winner: KEEN Targhee II

Shoes are the most important gear to a hiker. You will need the right footwear, whether you're scrambling through mountain ridges, gullies, or weaving your way through groomed trails. If you don't have the right pair, then you're only setting yourself up for failure.

The waterproof hiking shoes featured in this list were designed using the latest fabrication methods and the best materials. At some point, all hikers have to face some form of water bodies on the trail. For this reason, you can have a considerable advantage when hiking in these types of shoes. If you're looking to add a pair to your hiking gear, here are some of the best waterproof hiking shoes that will give you an upper hand on a trail.
Standout Picks
Criteria Used for Evaluation
Comfort
Coziness starts with you.
You wear shoes to be comfortable on the road. For this, you need to account for factors like breathability, flexibility, fit, materials, and many other characteristics you choose in a shoe. For example, when looking at fabrics, many hiking shoes are made of a nylon upper mesh. Such types are usually breathable, at the expense of being waterproof. For such reasons, comfort should start with you choosing what works, where, and when in your excursions.
The shoes featured here are waterproof, and most of them are still breathable. When sweat builds up in your shoes, you want it to dissipate as soon as possible. With adequate ventilation, this can happen. Additionally, with respectable breathability, you can keep going for long, before feeling too hot inside the shoes.
One pertinent way manufacturers try to make shoes comfortable is the cushioning. You can find terms like shock absorption to convey the same. Some people like to feel like they are walking on clouds, others like the cushioning to be firmer. It's usually down to people's preferences.
In some shoes, you have to break into them and see how the cushioning holds up over time. Lacing also contributes to comfortability. Some waterproof hiking shoes featured here have thick traditional laces, whereas others feature bungee type of laces. The latter offers more flexibility.
Another factor that determines comfort is you wearing the correct sizes. For this reason, you will find that this list has shoes that come in many sizes to fit all types of feet. Recall that you will be wearing the shoes for long periods on very long treks on uneven terrain full of obstacles. If you don't wear the correct sizes, you might rue the oversight, let alone not enjoying your walk.
Properly fitting waterproofing hiking shoes should have little wriggle room, where your toes tips can move around a little bit. When you move your feet forward while wearing the shoes, you should be able to graze the front of the shoe slightly. After lacing up, your leg should not slide up and down. You are almost guaranteed of blisters if that happens.
Ensure your feet fit snug, without constrictions, no matter what type of shoe. If you feel odd in any way, switch to another pair if you can, since some things cannot be broken into. Also, remember to take into account the type of socks you will use on a hike, and if they will cause any sizing issues.
Durability
Waterproof hiking shoes are a worthy investment. Therefore, you need to ensure the ones you get are durable. Factors that determine how long they will last you can be materials, design, and how you use them. On this list, we carefully explored products from top brands. Some even offer warranties because their shoes are quality.
If you're an avid hiker, getting different pairs will help, as you run the shoes down evenly. Besides, when one pair goes haywire, you need to use the other as you wait for the new ones, rather than be stuck. When looking at durability, remember you will be taking on a rough terrain off the road. Ask yourself as we have if a particular pair will be able to take the beating.
The best way to figure out if they genuinely last is not to take the manufacturer up for their word since they can't be negative towards their product. Instead, check out what others who have used or still use the product say about its durability. By looking at what other customers have to say, you can gauge whether you're getting a pair that will stop you dead in the tracks unexpectedly or a product that will last you through many adventures to come.
Weight
On a trail, you probably want to move light.
While weaving your way around the bush, searching for the next breathtaking view, your back will probably be carrying a few pounds. Adding more weight than what is necessary is just a hassle. Sometimes, you may need to attach your waterproof hiking shoes to your backpack. With lighter shoes, you won't feel them too much of a burden than if heavier.
Shoes are the best for when it comes to well-maintained trails. After all, similar terrains are where you will find most hikers, where they enjoy a more relaxed pace. They only need essentials and not heavy boots, laden with materials for better traction on slippery terrain. You will also find avid hikers opting for shoes where they feel they can, rather than boots, because of the weight.
Most hikes typically involve flatter trails from sunrise to sunset. During such times, you probably only need a few essentials for nutrition, a bottle of water, and perhaps your camera phone to keep hold of the memoirs. You will navigate more quickly and stay comfortable doing so with shoes on rather than boots for most hikes because of the lighter weight.
Most hikers try to achieve the most distance covered in a single day. Even this aspect has a name in fast hiking. Sure, the name is confusing, and it's not that hikers would be trying to move fast but further. Nevertheless, light shoes would help a great deal.
Most hikers familiarize themselves with an area after hiking through one or two times. Naturally, they want to move faster, and with lighter shoes, they can achieve this. As a hiker, you need determination, smart preparation, and high endurance levels. Some situations need heavy-duty boots (literally and figuratively), but most people simply need light shoes.
For these reasons, shoes are not only lighter and for many more convenient than boots. The waterproof hiking shoes reviewed here would perform exceptionally because of their lightweight nature. In them, you will be able to cover more ground effectively and not be fatigued as much as you would in more burdensome alternatives. You don't want to move around feeling like you have anchors on your feet.
Water Resistance
Dry feet are synonymous with warmth and comfort.
There are so many types of hiking shoes in the market, many of which are not water-resistant. Manufacturers use one of two ways to achieve this attribute in a shoe. The first one is through an inner membrane, which does not allow water to pass through. The second method is by using the chemical treatment that makes the outer material waterproof. For the latter, the shoe remains breathable, as seen in many of the products reviewed here.
Understandably, these products reviewed here are low cut, and that gives them less water resistance level, as compared to boots. However, you will still have ample foot and ankle support without the added bulkiness of a boot. Consequently, you may be able to dodge pools and streams better on the trail, leaving your feet dry.
The last thing you want to have is a soggy shoe. Prolonged exposure to moisture can offset diseases like athletes foot and bring about bacterial fungus on your feet. Even on trials without much rainfall, will have some water barrier on it. Because of that, it's only logical you find shoes that have at least a waterproof liner when off the road.
Features
There's so much variation in shoes nowadays.
Water-resistant hiking shoes come in all manner of shapes, sizes, and designs. The last factor is where manufacturers can show what their products are really made of. It's only right we expound on what goes into making these shoes great on a trail and much more.
Traction
You need your waterproof hiking shoes to give you the required traction on a trail. Just one slip is all it might take to have dislocated ankles or fractures while you're out and about on a hillside or trail. Your foot must stay where you plant it. Most manufacturers use rubber on the sole, which has lugs on the bottom side to ensure your foot doesn't shift from side to side.
The design of the lugs is also fundamental. Deep channels allow you to find traction on murky surfaces, while smaller lugs ensure grip on small loose aggregates. Deep multidirectional lugs efficiently cut through mud and other surfaces well, to keep you on your feet.
Support
When scrambling through rough terrain or hopping boulders, you need adequate support for stability from your shoe. Manufacturers try to switch the thickness and rigidity of the midsole, outsole, and to a lesser extent, the insole. Hiking shoes are taking a leaf from modern designs, where shoes are now more flexible, rather than stiff in their construction. For less technical terrains, go for semi-flexible and lightweight varieties.
The midsole plays a crucial role in absorbing impacts by providing a layer protecting your feet from sharp rocks. The varying thickness in this area determines the stiffness of the shoe. TPU and EVA are used in isolation or a combination of both materials in most of the shoes featured here. EVA is the most common and can vary from mildly stiff to super soft. Even though TPU is significantly more expensive, it can handle heavier loads better, without it losing its shape quickly.
Lacing systems
This feature is sometimes overlooked but might play an essential role in your overall comfort. If the laces are prone to loosening, you will need to adjust them continuously, rather than focus on the trail. If the system is not well designed, it can create pressure points that may cause blisters. Fortunately, laces are easy to replace, and you can find creative ways to tie them so that they don't become a bother to you.
Toe protection
Trails are full of potential safety hazards, like rocks and tree roots. For this reason, get shoes that have some toe protection when off the road. Some impacts can stop you on your tracks, and you won't get to enjoy the scenery. Most of the manufacturers featured here add rubber toe caps to their hiking shoes, significantly reducing the chances of injury.
10 Best Waterproof Hiking Shoes for Women and Men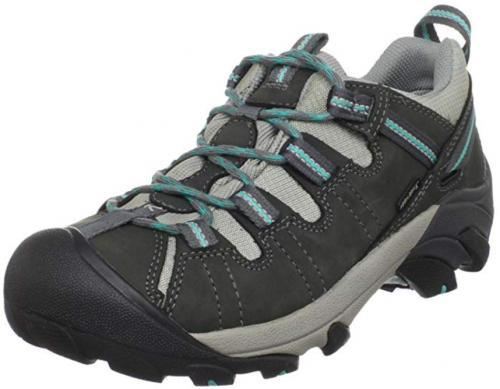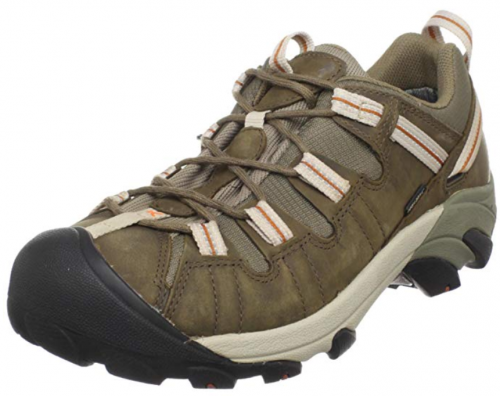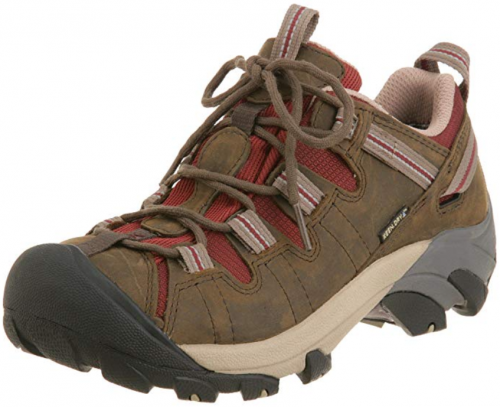 Keen was started in the year 2003, and from then on, this company based in Portland, USA, has quickly taken up a significant market share in shoe brands. The Targhee line is specially made for hikers and has been very popular amongst them as well. The Targhee is full of features, meant to keep the adventurous hiker as comfortable as possible.
The Targhee II is available in so many color options, too many to list here. It's light in weight, and the sole is playable, making it very comfortable to wear. The outsole has features 4mm deep multidirectional lugs for traction. The midsole comprises of compression-molded EVA for excellent shock absorption. The upper is made of a waterproof breathable layer for comfort irrespective of the weather.
These waterproofing hiking shoes are inexpensive compared to others. However, don't let the small price tag dissuade you that they are no good, as is the case many times. They are comfortable to wear right out of the box, meaning they don't require a break-in period for many. It's difficult to fault these well rounded, classic keen looking shoes.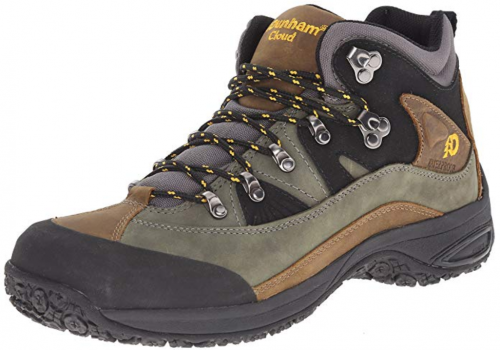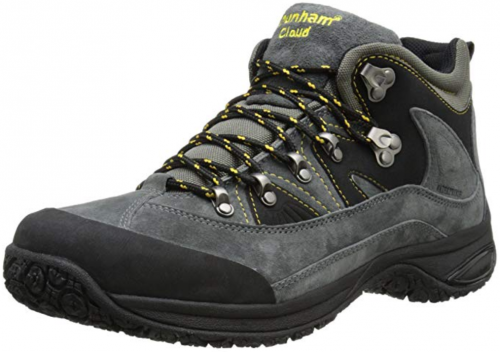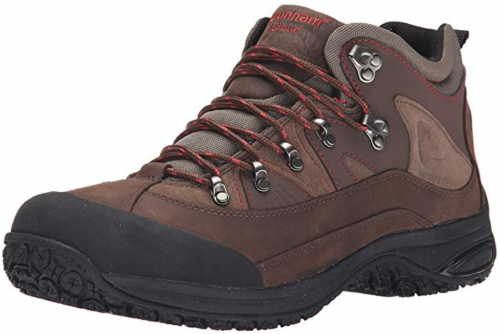 These waterproof hiking shoes from Dunham are of high quality, guaranteed to make your feet comfortable. They offer great traction at a low cost. They feature an innovative EVA midsole, which absorbs shocks over diverse terrain. The midsole supports your foot arch for a smooth gait, thanks to the fiberglass stability shank inside.
These shoes also feature a removable insole, lined with a mesh with dual density ABZORB. The memory foam footbed also provided excellent shock absorption. The mid-cut collar design gives ample support to your ankles as the proprietary Graphite Rollbar technology offers superior heel stability.
The gusseted tongue and seam design on the Nubuck leather upper ensures water does not penetrate inside. This top fabric is also tough enough to withstand vigorous hiking activities. For traction, the Dunham line features the TRU-Trak rubber outsole, which has aggressive tread patterns. The laces can be fine-tuned to fit narrow and wide feet.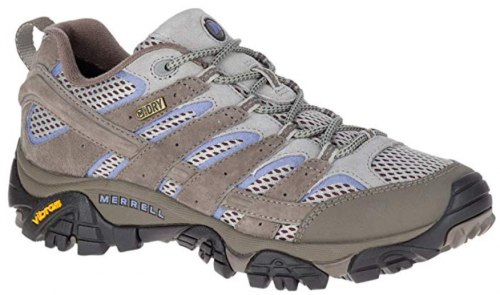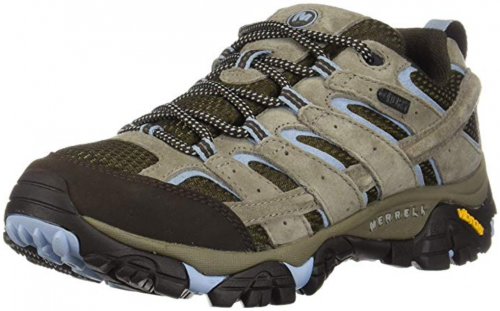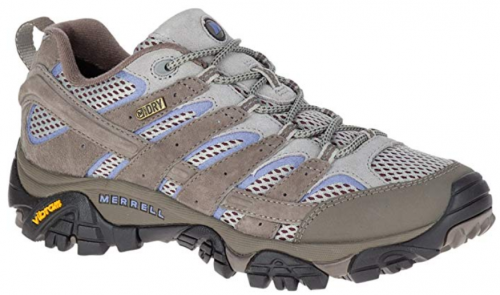 These dependable hiking shoes are guaranteed to keep you on your feet thanks to their excellent traction, because of the sticky soft rubber outsole. However, you need to take some time breaking into them, because they are inflexible and tight, out of the box. When you do get used to them, you will appreciate how they are supportive and firm they feel on your feet.
The Moab 2 has a high ankle opening, which ensures excellent heel support. The only downside to that is that water in shallow water can penetrate much easier. For that reason, try and stick to hiking on dry days, since these hiking shoes offer excellent breathability.
On the outer sole, it features unique tread patterns to keep you from sliding. The double stitching nearly all over the shoe makes it durable. You can use these shoes for technical terrains, shallow creeks, rock slabs, and just about any trail without issues.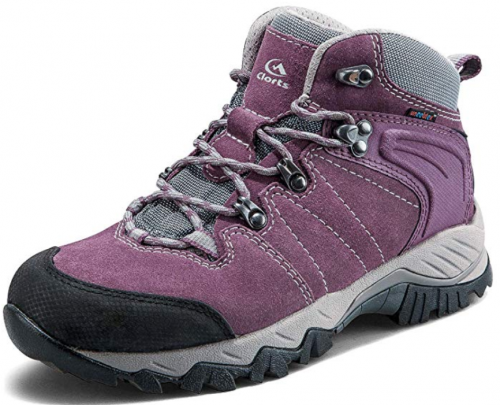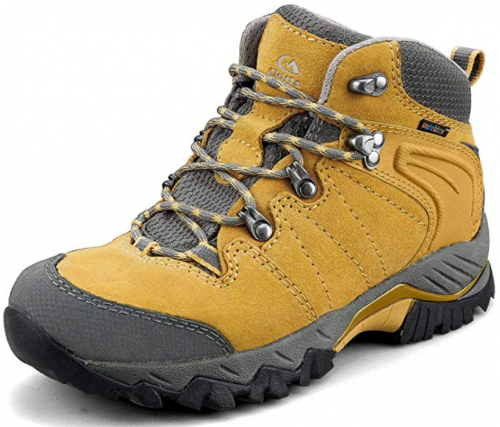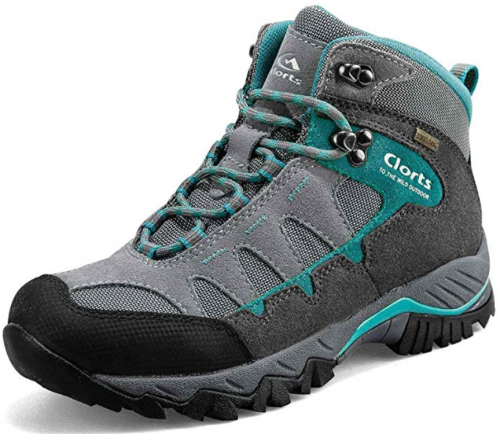 Clorts is one of the leading brands when it comes to hiking products. The name is a merger of climbing and sports, which goes to show how steadfast the company is towards those two aspects. Looking at the fine print, this company established in 2006, labels itself as an all-weather outdoor shoe company. For all those reasons, they ascertain a positive outdoor experience in any of their shoes.
The uneebtex membrane made of high-quality suede leather they use is waterproof, soft to the touch, and breathable. Water, sand, gravel have little chance of getting inside the shoe, thanks to the one-piece tongue design. The EVA midsole cushions your foot splendidly. The rubber outsole is abrasion-resistant and skid-proof.
Clorts call on renowned designers based in Korea and Italy to make the perfect shoes. All their models are tested before being launched to an eager market. You can trek in them in the most rugged and muddy terrains with little to no worry. They are lightweight, making them ideal for long-distance hiking as well.

5

. Columbia Granite Ridge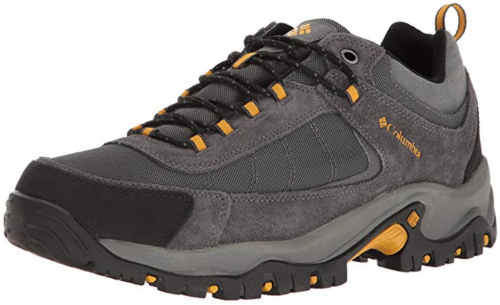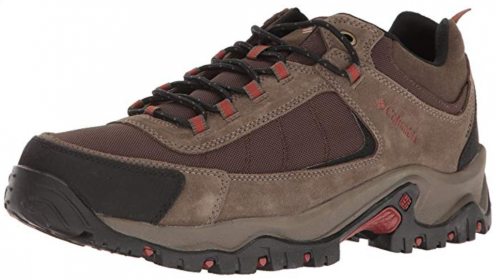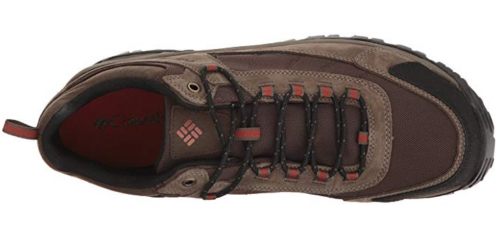 These shoes are a culmination of breathability, durability, and lightness. As a result, you can comfortably chart your way through a long rainy trail, as your feet remain dry. Columbia is known for making high-quality products, and the Granite Ridge is no exception to the rule.
The lace-up construction makes the shoe accommodative to narrow and wide feet. The signature midsole offers excellent cushioning for comfort and high energy return. Thanks to the multi-terrain treads, you can walk confidently through many terrains, without the fear of falling. The treads are also designed to give you a sound footing on snow or icy surfaces.
The tongue is well ventilated to let in air to cool your feet, suitable for hot day hiking. Additionally, you won't sweat a lot, and if you do, the moisture will evaporate quickly. These shoes are quite light, so you won't feel bogged down as you ascend a steep slope.

6

. Adidas Terrex Swift R2 GTX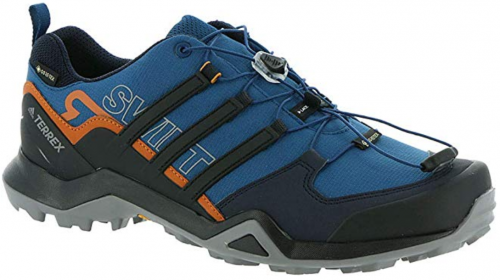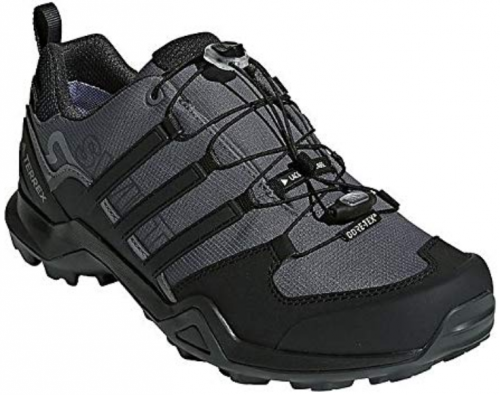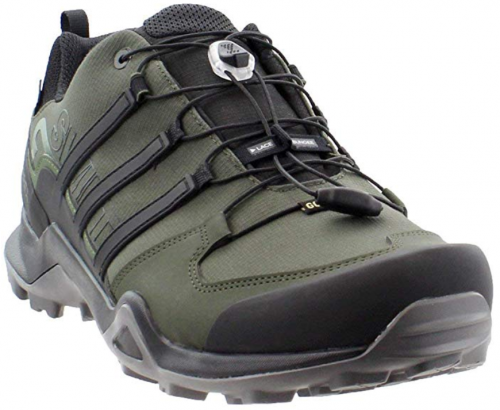 From the second-largest sportswear brand by market value, their waterproofing hiking shoes unsurprisingly exceed expectations. They are fun to wear because of their well thought out design and lightweight nature. In them, you can speed your way through the trail, head to the gym, or use them casually without fault.
Straight out of the box, the R2 doesn't have a long break-in period, they don't have hotspots or loosen up easily. They offer excellent protection to your feet, durability, and traction. Very often, manufacturers add protective features to their shoes, and they have to sacrifice on the weight. Somehow, Adidas is able to make these hiking shoes choke-full of protective features, while remaining lightweight at only one pound in weight.
Adidas partnered with Continental (tire maker) to make tread patterns on the R2 that look similar to what you'd find in car tires. The lugs are deep and hard to ensure you stay on your feet. The rubber used is noticeably sticky and tough, increasing the longevity of the shoe.
The Gore-Tex liner ensures water does not penetrate inside the shoe, while still enabling your feet to breathe. You also find a quick lacing system, but some users don't like it that much. They say its too rigid or clunky.

7

. Skechers Blais-Bixford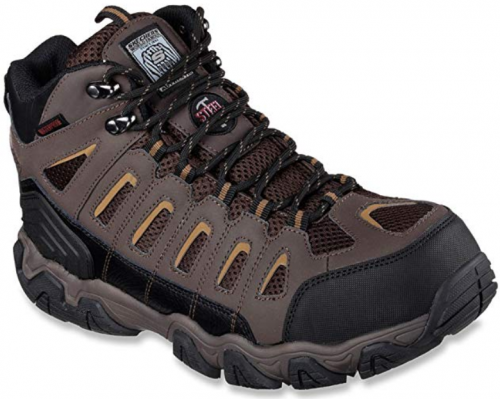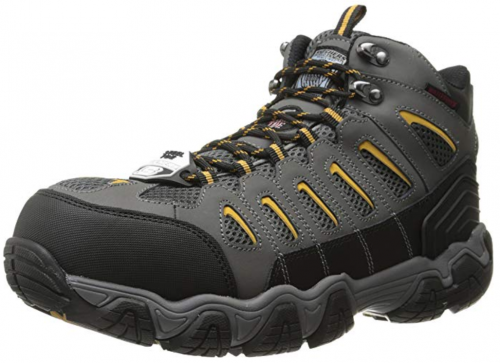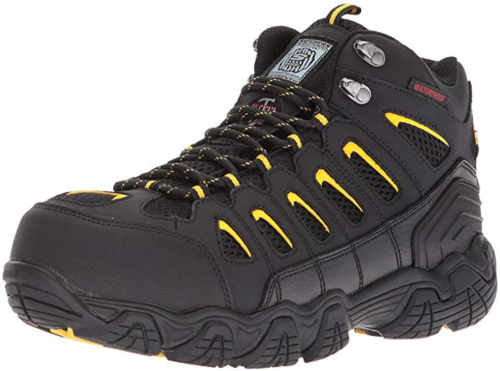 What sets these shoes apart from others in this list is the steel toe design to protect you when undertaking hard-hitting activities. The synthetic waterproof mesh upper is up to the task when it comes to outdoor activities. The rugged outsole offers you a stable footing, and the memory foam insole guarantees plush comfort.
Many might think that because of the steel toe, it would be hefty, but it's not. Therefore, you can walk, run, or work in them comfortably. The break-in period is long. However, they fit like a glove after. The Blais-Bixford offers excellent support to your feet, and the lacing system ensures a secure fit.
Even with their robust features, your feet feel as though they are massaged all day long inside the shoes. It would seem difficult to clean the upper fabric, that looks somewhat like a cloth, but it's effortless. What's difficult is a company being able to stand the test of time since the early nineties. That's precisely what Sketchers has done, and its perhaps because they make quality products.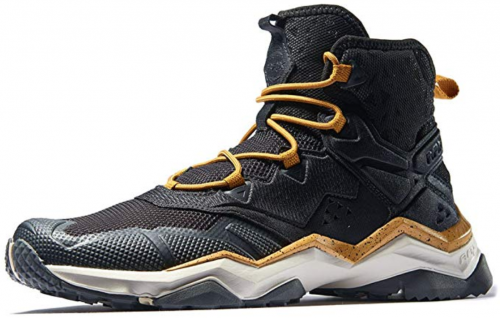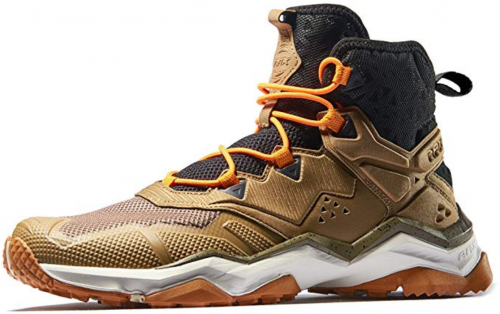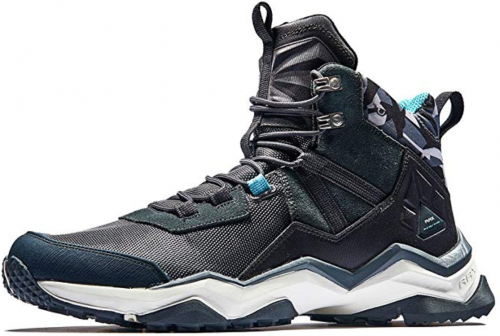 These hiking shoes style and quality are apparent from the onset. The brand prides itself on blurring the lines between busy city life and outdoor sporting activities. These shoes also look more like trendy sneakers, and it's hard to flaunt them. Nevertheless, they perform their core functions admirably.
You can get a pair in from four attractive color variations. They are so light you even forget you have them on sometimes. The breathable Lycra upper is also waterproof. The outsole has antiskid rubber with practical multidirectional lugs attractively decorated. The padded tongue and collar offer decent cushioning as well as keeping debris out.
The compression-molded EVA midsole offers excellent shock absorption, which also helps in cushioning your feet and gives a phenomenal rebound rate. The design makes these shoes accommodative to many types of feet, whether flat, narrow, or wide, not an issue. They offer ample room for your toes and socks.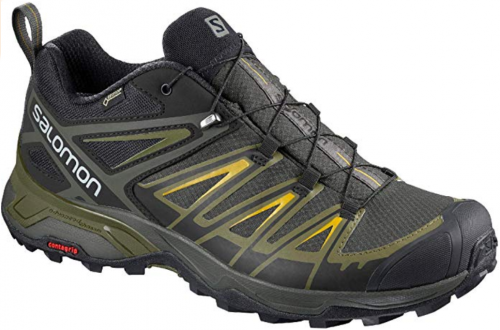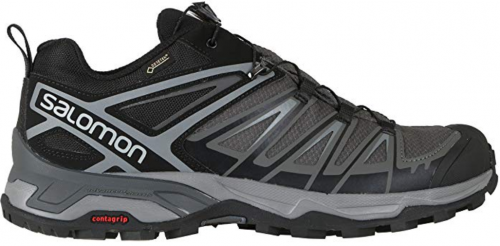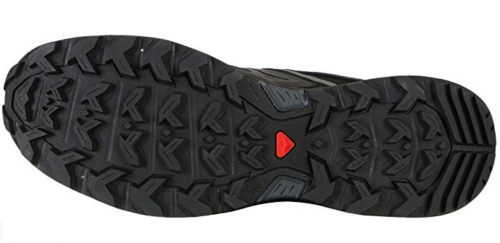 The Ultra 3 GTX is a fan favorite for backpackers. They are nimble, light, and offer a firm grip to just about any surface. Additionally, their durability ensures they will hold up well through extended use. They have lush padding on the collar and tongue for cushy comfort. The well-sculpted insole makes them ideal for use straight out of the box.
They are one of the lightest shoes in this review, yet as tough as they come. For traction, the gill-like cutouts on the outsole bite the surface without lacking the required grip. They perform admirably on hardpack dirt, soft mud, and even some level of snow.
This version offers a low-profile midsole and a stable platform that Salomon refers to as the advanced chassis. For that reason, you will hardly rollover your ankles, giving you peace of mind on treacherous terrains. The waterproof mesh is protected by the reinforced synthetic upper, to retain the shape as well as increase durability.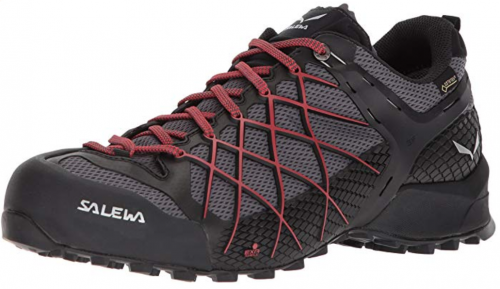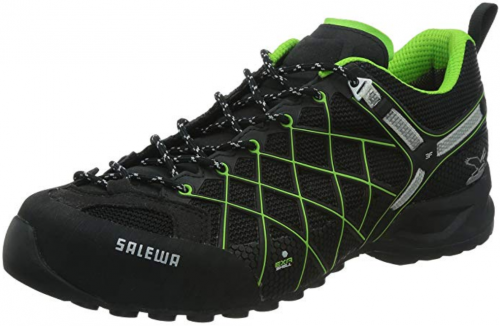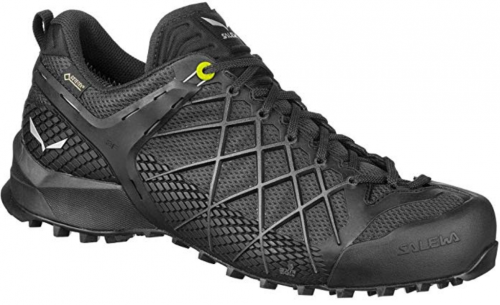 Salewa sacrifices underfoot cushioning, for heightened sensitivity to the climb. It fits your foot like a glove as you scramble through technical terrain. The lacing uniquely starts from the top of the tongue to the rubber toe cap. The webbing for lace eyelets extends from the arch, up to the heel for stability.
These waterproof shoes are so light; it makes it easy to climb steep slopes with them on. The midfoot is moderately stiff, and the forefoot is very flexible. These attributes improve your precision and sensitivity to the surface.
This specialty approach shoe, but still outperforms many others that are more for hiking. You can run in comfortably because of the ample cushioning on the heel. Even though the sole is not durable on the pavement, the firm grip it offers on rocks overshadows that detail. Rather than going on a trail with other shoes in your backpack, why not get a pair that will lessen that burden?

Subscribe to our Newsletter