Best Tracksuits Reviewed and Rated
In a
Hurry? Editors choice: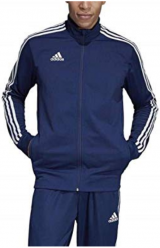 Test Winner: Adidas Tiro 19

Tracksuits offer a delicate balance between athletic wear and casual yet practical fashion. These garments are a fashion trend that seems to renew itself with every passing decade. Not only does this 2-piece ensemble add to your fashion statement, but it's also probably the most comfortable thing you can have in your wardrobe. You can lounge in them at home, go to a casual engagement, or comfortably run your errands.

With so many brands and styles available, choosing the right tracksuit can present a challenge even to the most fashionable of personalities. This review features some of the best quality men's sweatsuits you can buy. Keep reading and see all the facts that you would need to get the most out of your purchase.
Standout Picks
Criteria Used for Evaluation
Materials
Fabric is the basic building blocks of any item of clothing.
The materials used in the manufacture of an outfit speaks volumes on the durability, insulation, and comfort the clothing can provide. The right fabric will also enhance the outfit's breathability and sweat-wicking properties. Textile production has many innovations that breed newer fabric blend each year; below are some of the most common fabrics.
Cotton is a natural plant fiber widely used purely or in fabric blends to manufacture clothing. This material is soft to the touch and quite durable. The only drawback to pure cotton is that it is too absorbent and not as stretchy as other fabrics.
However, many textile producers mix it with synthetic fibers to take advantage of the natural strengths that cotton provides. When polyester is mixed with cotton, the result is a warm, comfortable, and stretchy fabric. Plenty of products on this list feature a cotton blend material.
Polyester is a high-performance synthetic fiber specifically designed for the manufacturing of clothing. It is tough to find an item of clothing that doesn't feature polyester in the construction. Outfits made from such materials are durable and stretchy enough for diverse movement. The production cost of polyester is low; therefore, it can support the mass manufacture of clothing.
Polyester is also a lightweight fabric that makes it is easier to pack. Clothing made from polyester is also less cumbersome on your body. This fabric doesn't wrinkle as much as other materials; therefore, it saves you a lot of time since you don't have to iron it as much.
Viscose is a material that has the same consistency and feels like silk. It is a cheaper synthetic alternative to silk and can be used solely or in fabric blends. Most outfits contain a viscose in their inner inning to reduce chafe inducing friction.
Spandex is polyurethane-based synthetic fiber, also known as Lycra. Such material offers the compression and support required in form-fitting clothing. Spandex has latex constituents and should be avoided by users with allergic reactions to latex.
Acetate is a semi-synthetic fiber made from spun cellulose filaments extracted from wood pulp. This fiber is mixed with cotton to make it stronger. It has the same consistency and feel of rayon does and is commonly used in the lining of various items of clothing.
Fit
Tight or baggy? The choice is yours to make.
When shopping for items of clothing online, you have to get the fitting just right. Depending on your exact needs for the outfit, there are two types of fittings, namely loose and form-fitting. Form-fitting clothing is tight and tends to hug or accentuate your features. Apparel made with such fitting is ideal for people with a high sense of body positivity and overall confidence.
Outfits made to form-fitting specifications are also more suited for indoor activities as their material layering and construction offer less protection from wind and cold. However, with a concerted effort, one can find a form-fitting outfit ideal for use in the outdoors. The puma fleece sweatsuit is an excellent example of an outfit that can be worn in the outdoors as it has a fleece material.
Form-fitting clothing is ideal for cardio workouts and other types of exercises that involve many rapid movements. Such clothing is suited for these activities because they are streamlined and lay flush against the skin. This design eliminates any drag that would impede fluid and rapid movement.
When it comes to loose-fitting sporting apparel, you should look for something that enhances your comfort without restricting movement. The extra fabric on the outfit provides more insulation and support than form-fitting clothing. However, this additional fabric may get in your way as you try to make certain types of motions.
The main advantage of loose-fitting clothing is they offer you a way to keep your muscles limber after a warm-up session. Such clothing provides additional warmth that keeps your muscles taunt by ensuring that warm blood keeps on circulating. Settling on fitting is a balancing act between your overall confidence and your needs.
Brand
The right brand allows you to make a statement without saying anything.
When it comes to functional and fashionable wear, the choice of brand is a vital factor. Famous brands keep up with contemporary styles and look. Therefore, wearing a jogger suit from a reputable brand makes you stand out and improves how you appeal to other people.
Aside from improving your allure, popular brands also give you a sense of luxury and class. The marks of a quality brand are superior material, detailed craftsmanship, a recognizable logo, personality, contemporary design, professional color blocking, and comfort. Such brands allow you to make a statement by just walking into a room.
Features
Excellent features enhance the user experience.
The market is flooded with many jogger suits that come in various shapes and sizes. Several models offer advanced features, and this may be confusing when shopping for a new jogger suit. Below are some of the basic features you should keep a keen eye on when shopping online.
Cuffs feature at the edge of the sleeves. Cuffs allow you to adjust the length of the sleeve when the weather changes to help you regulate your temperature. This feature also helps to insulate your body from the cold and rain.
Hoods are extensions to the collar that can be pulled over the head to protect it from the elements. Some hoods have pull cords at the bottom that tighten or loosen the hood. Jogger suits with hoods are appropriate for training in very windy conditions.
Drawcords are laces that are built into the waist hem. These strings allow you to adjust the fitting of your waist to a comfortable size. You can either tighten or loosen them.
Pockets are convenient for stashing various items provide that the items can fit. Most jogger suits in this list feature pockets on the jacket or pants some even have hidden pockets. The number of pockets that a particular product has should not be a deal-breaker as it is only an additional feature.
Breathable materials pull sweat away from the skin to the surface of the skin where it can evaporate or drop. This factor allows joggers to keep you fresh and dry even when training in the sweltering heat. This factor will enable you to remain focused on your exercise.
CFM (cubic feet per minute) is a metric used to determine how waterproof an item of clothing is. The higher the CFM number, the better it can protect you from the rain. Any piece of clothing with 1 CFM or higher is considered waterproof to a complete degree.
Pit vents can be found on the underarms of some jackets. These holes allow for more breathability and ventilation. These pores will enable you to stay cool when training in cold environments.
Zippers need no introduction as they feature in almost all types of clothing. When looking at jogger suit zippers ensure that they are lockable and feature lanyards. It can be handy to take a keen notice of what other customers have to say about zippers on reviews to avoid disappointments.
Effectiveness
Tracksuits have some benefits that may not be as obvious at first.
These outfits may be a fashion trend used by people to look more stylish. You will spot various celebrities and fashion icons casually wearing these outfits. However, for the sake of this article, the focus will remain on how these outfits work as sporting gear.
Enhanced calorie burning
These outfits increase body temperatures while you are engaged in strenuous exercise. This increase in temperature induces a physiological response that forces your body to work harder, exerting more energy. Please take caution when working out in a bulky suit excessive sweating leads to dehydration so carry enough water with you during such workouts.
Body temperature regulation
You can use such clothing to increase your body temperature while exercising or lower it from a resting state. These outfits have adjustable features like cuffs on the arms and ankles that allow you to adjust them according to the weather. Such clothing also protects and insulates you from the wind, sun, and rain, ensuring you can retain your body temperature.
Fashionable comfort
These outfits were all the rage back in the 1980s and early 2000s you would find sports and cultural icons wearing them for casual events. The same cultural and fashion phenomenon has found its way into this age. Many celebrities can be spotted even on the red carpet rocking the hottest sweatsuits.
Advances in textile technology have also made the manufacture and branding of these outfits easier so producers can reach higher market segments. Easier access and the comfort that sweat suits offer more people can afford to wear sweatsuits. With branding and merchandising, many of your favorite teams manufacture branded outfits you can wear to show your team spirit.
Improved mobility
Having a decent jogger suit can enhance your movement while keeping your body warmed up and ready for action. Warming up before a workout allows you to stretch your muscles for improved overall performance. This type of activity also gets adequate amounts of blooding pumping into your lower extremities for the remainder of your exercise.
Warming up while wearing joggers is one of the best ways to prepare yourself both physically and mentally before a tough workout. Once your body is in a warmed-up state, the likelihood of injury also reduces, as you are more alert and less likely to stumble or make mistakes. Warming up also puts you in the right psychological state for working out and significantly improves your focus.
Moisture-wicking
There is nothing worse than when the cold and wind mix with sweat; it's a phenomenon that can even cripple you. Specialized materials in some jogger suits allow moisture to seep through and dry quickly. This provision may not necessarily keep you warm and dry during the winter, but it will reduce the chances of catching a nasty cold or the flu.
Protection from environmental elements
Wearing a sweatsuit during summer months may appear counter-intuitive, but there is more to be concerned about than how much you will sweat while wearing one. These outfits have features that shield you from harmful UV rays that hit you when exposed to the sun. Wearing a sweatsuit while training outside also reduces the chances of getting mosquito bites and being stung by other insects.
10 Best Men's Sweatsuits & Tracksuits in 2020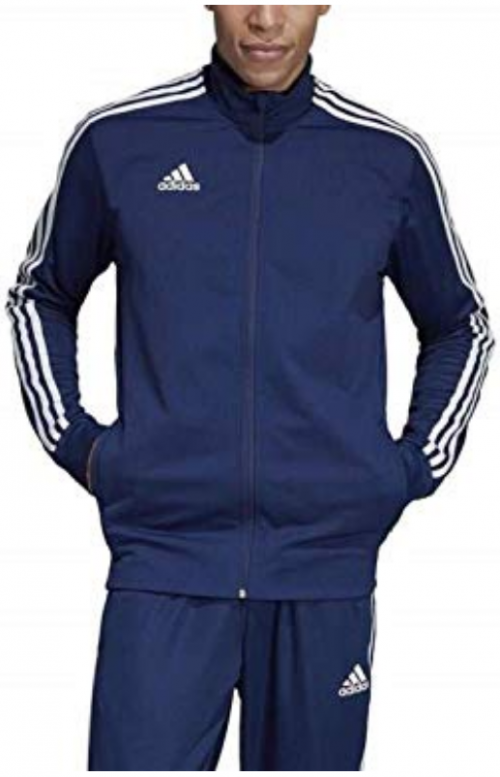 Very few athletic and fashion brands can boast of the same appeal as Adidas' long line of sporting and fashion accessories. The Adidas Tiro 19 is no exception to this long-standing rule. From the 3-stripe side trim, to the logo and down to the sleek feel and look of the fabrics used.
This outfit is made from recycled 100% tricot material, which is an assurance of comfort and durability in itself. This material is smooth to the touch, and elastic hemming on the cuffs and hems ensures a snug and proper fitting. This iconic 2-piece ensemble features a full-length zipper and a standup collar for optimal coverage and style.
The Tiro 19 has a comfortable jacket and a matching pair of track pants. You can wear the whole ensemble together; you can use the pants with any casual top or wear the jacket with a pair of jeans. The Tiro 19 also features raglan sleeves that allow you to move as you exercise freely.
Both the jacket and pants feature seam pockets to the side that are spacious enough to stow your phone and other personal effects. The general look and features of the Tiro 19 make it ideal for use in a workout as well as daily use. It's also worth noting that the modal price range of this iconic jogger suit makes a worth bargain and you will get years of use out of the Tiro 19.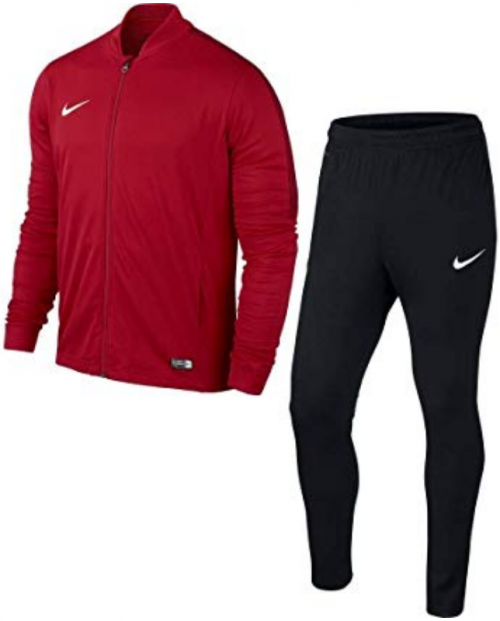 Nike is the number one sporting and activewear brand in the world with many decades of experience and hundreds of successful fashion lines. Nike produces the highest quality products like the Nike air max shoes from durable materials, and the Nike academy warm-up jogger suit is a testament to this standard. This 2-piecer comes in multiple styles and colors to fit even the fussiest of consumers.
This popular and practical option is durable enough to withstand the toughest of conditions and repeated use. Unlike many jogger suits, the Nike academy warm-up allows you to stretch and move in any direction. This less restrictive movement is thanks to the intertwined fibers used in the material.
The Nike academy warm-up sportswear features ergonomically placed flat seams that overlap to prevent chafing even with extended usage. A stretchy waistband featured on the pants gives you snug but unrestrictive fitting. The jacket also has a mock neck design that provides optimal coverage and enhances the protection of wind and other natural elements.
While the Nike academy warm-up jogger suit pants feature no pockets, the jacket has two secure zippered pockets. The fabric featured on this product is enhanced with Dri-FIT technology to ensure that it dries quickly and lasts longer. Anything that features the trusted Nike tick logo is worth purchasing; their products are efficient and look great on anyone.



If you are in search of a jogger for use in windy and wet conditions, then the ASICS Cabrillo pants and jacket set will cater to your needs. This jogger suit will protect you effectively from all the elements as you work out in the outdoors just like their excellent running shoes. This set features 100% polyester material that is light enough to wear in the sun and resistant to many natural elements.
The ASICS Cabrillo set has elastic cuffs around the waist and cuffs to keep you protected from exposure from the wind and rain. In addition to the waistband, the pants also have a drawcord to ensure a custom fit. This set comes in various colors to match any user preference.
The jacket features a full-length pull zipper that has a lockdown function to keep the zipper securely locked. The coat also has recessed pockets to secure personal items and light travel necessities. The pants have zippered pockets as well as a hidden recessed pockets hand for stowing keys or other things you wouldn't want to lose.
You can wear The ASICS Cabrillo as a set or break it and pair the pant or jacket with other casual clothing. While exercising, the wind and water-resistant elements can also keep you from getting a cold or other related ailments. The ASICS Cabrillo set is not only functional and practical to its purpose, but it is also quite affordable.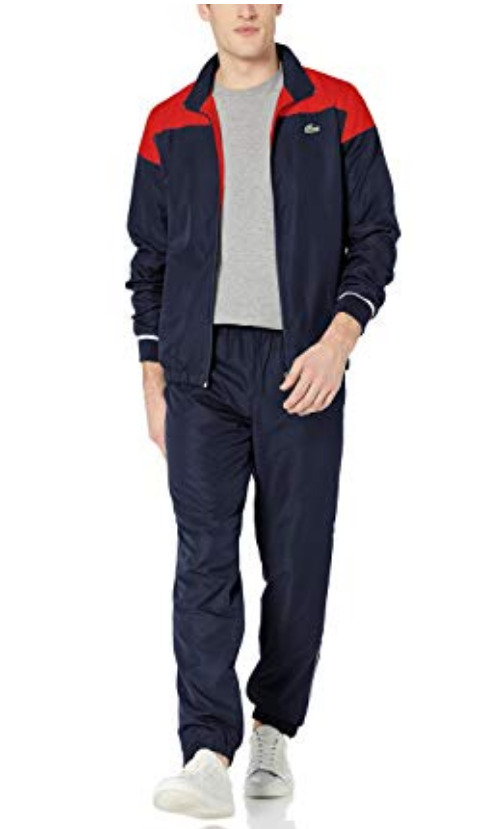 Lacoste is a French luxury fashion and sportswear brand that has been churning out a wide range of related products. Hence, the iconic crocodile logo is not only a brand identity but also a mark that distinguishes you from any other person wearing a jogger suit. The Lacoste sport Taffeta is color-blocked to enhance your style and features high-quality construction and attention to detail.
This set is made from 100% polyester. This lightweight material gives the ensemble usability in hot conditions as well as insulation from the cold and wind. This weight profile ensures that your stamina won't wean as is typical when wearing a weighty option when exercising.
The Lacoste sport Taffeta has an elastic waistband for a more secure and snug fit. The jacket cuffs also feature ribbed cuffs that effectively reduce exposure to cold climatic conditions. These features afford you comfort as well as all-round protection.
The color blocking and subtle trims make this suit also practical for use in daily casual wear as well as sporting activities. The pants feature an elastic waistband, adjustable drawstring, and are contrast tapped for a fresh pop of color. The pant legs also feature entry zippers that allow you for donning and doffing without removing your shoes. The Lacoste sport Taffeta is a bit up on the price range, but it's worth noting that you will be purchasing a luxury brand, which you can match with their fashionable shoes.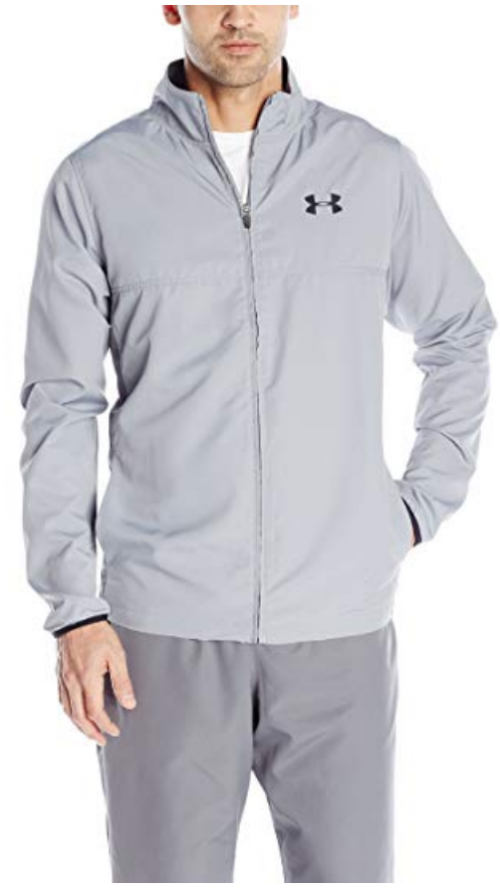 Despite being two decades, old Under Armour is still considered one of the newer big-name sporting apparel brands. The under Armour jogger suit sticks to the trendy and casual approach, which the brand has maintained in their style of clothing. This model is also very functional when it comes to sporting and exercising needs.
This product features a nylon fabric blended with other materials for a lightweight profile and comfortable wear. This fabric is woven using ripstop technology to enhance its durability and to prevent the outfit from suffering tears too quickly. This material blend also gives the outfit-enhanced breathability and allows it to wick sweat and dry quickly.
The waistband on the pants is encased in an elastic material and has an internal drawcord for adjustability and proper fitting. The jacket has a thin breathable mesh lining that ensures more refreshing user experiences. The jacket also features a spacious mesh pocket on both sides, ideal for storing small items.
The thin mesh layer featured on this model is also useful in reducing friction, which causes chafing. The best thing with this outfit is the general, lightweight construction that makes it ideal for use in warming up as well as going for runs. Despite being a name brand, you will be delighted with the modal price range and years of use; you get out of the Under Armour vital.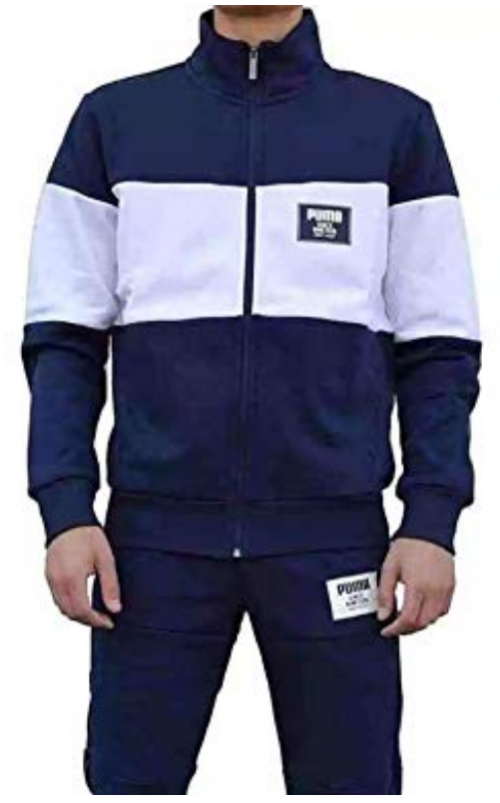 Puma is one of the most trusted sporting apparel and equipment manufacturers in the world. Just like their long line of products like their superb running shoes, the Puma jog suit has quality materials and fine stitching. Not only is this outfit seamlessly put together, but also all the stitches are reinforced to enhance the durability of the gear.
This outfit has a 66% cotton and 34% polyester fleece material. This blend of fibers gives the outfit a warm and comfortable finish. Avid athletes and followers of fashion trends alike will love the contemporary slender cut of the outfit.
The pants feature an elastic waistband and drawcord for adjustment and proper fitting. These pants also feature front pockets for storing personal items and cuffed hems at the leg openings to enhance insulation. The jacket has a full-zipper, a stand-up zipper, and a pocket on both sides.
The iconic puma rebel branding also features on the jacket as well as the pants. This men's sweatsuit comes in subtle dark colors that make it ideal for sporting as well as casual use. The price of the product is also very reasonable considering the high quality of the outfit and the excellent reputation of the Puma brand across all markets.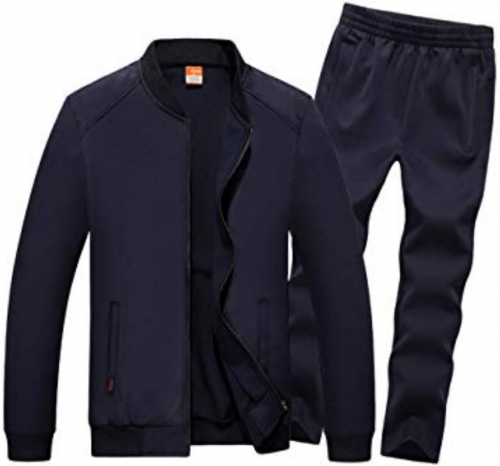 INAVACHI is a relatively new but trusted fashion and functional-wear clothing brand. The INAVACHI casual 2-piecer jogger suit set has all the elements necessary for sporting as well as casual wearing. From the robust design, quality materials, and attention to detail, this ensemble looks terrific and serves a practical purpose.
This set features a material blend of Viscose 66%, Nylon 29%, and 25% spandex. This material blend enhances the durability, maneuverability, and, comfort, of the pants and jacket. This enhanced comfort allows you to be as active as possible without compromising on your comfort.
The INAVACHI comes in dark colors unlike most tracksuits, which come in loud colors; this muted color pallet makes the suit a respectable casual wear option. The jacket has a full-length contrast design. This jacket also has a standup collar and zippered side pockets that can hold a range of items.
The pants have zippered side pockets as well as a cozy elastic ribbed waistband. The waistband also features an internal drawstring that makes it easier to adjust the pants. The INAVACHI tracksuit set comes to you at a fair price and will serve you in all your casual and exercise needs.

8

. YSENTO Sweatsuit Sportswear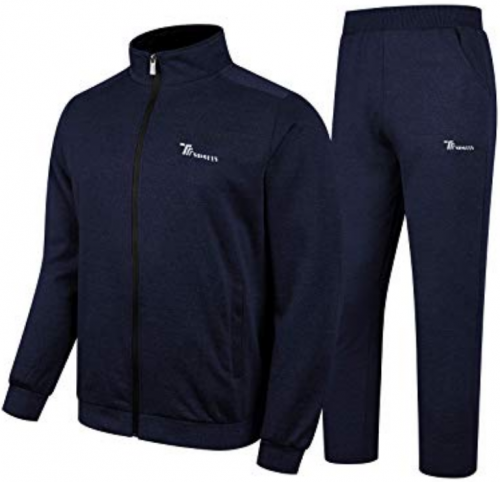 The YSENTO tracksuits are one of the most comfortable fleece options on this list. These jogger suits have a sleek design profile and are warm and soft to the touch. This model is ideal for casual wear and a variety of other training activities like running, basketball, tennis, gym workouts, hiking, soccer, and many other outdoor activities.
The YSENTO features a full-length zipper to the front of the jacket that makes putting and taking off the coat easier. This set of men's swimsuit is made out of a 100% polyester based fleece fabric. The jacket and the pant feature this thin and full fleece material makes them very supple to the touch and warm to wear.
This set has a thick fleece shell that makes it ideal for cold climates as it offers adequate insulation from the elements. The soft inner fleece makes this model very cozy to wear, even with a lot of movement. This design feature also enhances the user's maneuverability through various activities.
The YSENTO pants feature an elastic ribbed waistband and an internal drawstring that makes the pants more adjustable and prevents them from riding up. The jacket also has a standup collar for optimal coverage and insulation from the wind and cold. Both the pants and jacket have secure and spacious side pockets ideal for storing small items like your keys or phone.

9

. Lavnis Athletic Sports Set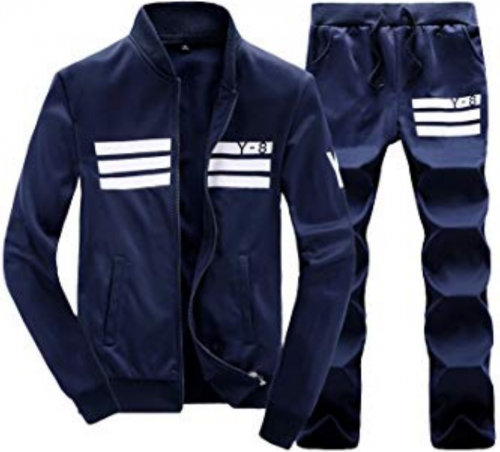 Lavnis is an urban styled option with subtle color blocking and a form-fitting overall design. This outfit is ideal for daily casual use as well as various outdoor and indoor exercise activities. This ensemble features a 65% polyester and 35% cotton fabric blend.
This fabric blend makes the outfit soft to the touch, comfortable and makes for warmer user experience. There are various color options for this set, and sizes run from extra-small to extra-large. You can consult Lavnis' sizing chart for a tight or baggy fitting choice.
The baseball style jacket zips up to the edge of the standup collar and has two slant pockets to the side. The pants are easy to put on and adjust thanks to the delicate waistband and drawstring. Both the jacket and pants have an elegantly designed logo printed on them, which enhances the outfit's aesthetic appeal.
The jacket features elastic cuffs that enhance insulation from cold and windy conditions. When the suit gets dirty, you, can hand wash it and drip dry in the shade. The Lavnis set comes at a fair price, considering it is an all-season option.

10

. X-2 Jogging Sweatsuit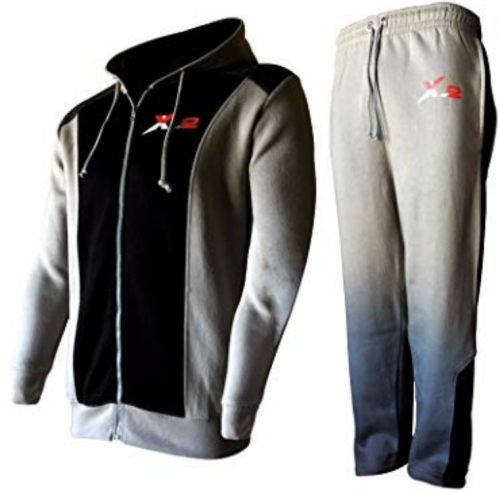 If you are looking for a hooded model, then the X-2 will serve your needs. This high-quality sweatsuit has a fierce look to it but a soft and supple feel. The X-2 is also durable thanks to the combed cotton material featured in the outfit's construction.
The cotton fleece material features a 50/50 blend of polyester and cotton fiber. This fabric blend makes the outfit soft, warm, and flexible. Both the pants and top have spacious pockets on the sides' ideal for storing various items.
High contrast piping on the jacket sleeves and the sides of the pants enhance the outfit's aesthetic appeal. You can hand wash the X-2 or machine wash in cold water for the best results. The general design and features make this outfit ideal for casual use and use across various training and sporting activities.

Subscribe to our Newsletter