Best Puma Running Shoes For Athletes Reviewed
In a Hurry? Editors choice: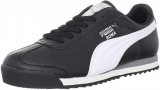 Test Winner: Roma

Puma is one of the most recognizable brands out there, and it's no surprise they have their own running line. You could try to run in regular sneakers, but your feet (and more) would probably start to hurt after one session or so. Running shoes are not a luxury, they are meant to improve your life and keep you safe and healthy.

Whether you just started running, or if you've known nothing but running your whole life, Puma's got you covered. They offer choices for novices, experts, and casual runners, and it's all thanks to their innovations and technologies. If all the choices confuse you and you don't know where to start from, or you're just looking for a brand new pair, scroll down to our cascading list of 10 best Puma running shoes and we are sure you will find just what you're looking for!

Standout Picks
Criteria Used for Evaluation
Comfort
If you've ever been to a sneaker specialty store, chances are you've been put through some fancy, sciencey machines to determine which kind of shoe works best for you. But why is that exactly need, why go through all that trouble just for a pair of sneakers? Is it important whether you pronate or not, how much cushioning you've got?
Even if you have gone through this process, chances are you still suffer from pain and discomfort. Your pronation does matter, but cushioning is where the key to a great run lies. The type of cushioning you need and where you feel the most pressure points are determined by the type of runner you are. Or, whether or not you're even going to use them for running! If the primary purpose you're buying running shoes is for walking, going to the gym, or fashion, maybe you should skip them. Yes, we are all about fashion, and if you want to buy these sneakers to look great you should!
But don't try to run in them, since they are probably not catering to your needs. If you've just begun running, do not even glance at the pairs meant for experienced runners. Minimal cushioning or supreme stability does sound great, but you're feet and muscles are not adjusted to this and you will end up suffering. The brand of the shoes should also not be overlooked, and Puma does create great shoes for running, so you can trust your comfort to them.
Also, consider your health, previous injuries, and budget! Running sneakers can be quite pricey, and the more specific inventions they have, the pricier they will be. Neutral shoes are best for most of our population, with an average amount of padding. Unless you have health issues, you will probably do well with sneakers that don't fix gait issues, like over-pronation.
Cell cushioning is just one way your comfort can be improved. This type of cushioning was first introduced in the 90s and is one of the most resilient types of cushioning out there. These pads are called cells because they are hexagonally shaped, resembling cells, and for no other reason. These cells are just what runners needed though because their feet benefited the most from a pattern of this type. This padding is stable, and that stability comes from the TPU that was puffed in that pattern. It's also light, and it provides great bounce-back, so you'd be getting a super cozy shoe with many added benefits.
One more way Puma running shoes have increased comfort is by adding an Ortholite sock liner. These sock liners have managed to sneak their way into plenty of brands known worldwide since they offer a lot of great benefits. First things first, they are removable, so if they are a nuisance, or if they've gotten dirty and need some cleaning, you can simply slide them out and replace or clean them!
Their unique structure keeps its shape for a long time while keeping the compression rate at 95%, which means you will have the same level of padding and the same optimal fit for time and time to come. This liner is light and has many small open-cell which allow air to escape and circulate in and out of your shoes. Say goodbye to bacteria, sweat, and bad odors, every runner's worst enemy!
The amount of cushioning you need is something you will figure out by trial - you cannot figure that out without running at least a few miles! Just make sure you've chosen a proper shoe, one that both feels great and looks great!
Effectiveness
Yes, running shoes are great, but why should you wear them for running? Can't you just wear a pair that was made for walking, or for skating, or everything else in between? There are quite a bunch of reasons why you should wear running shoes since they were specifically made to enhance your workout. Technically, no one is forbidding you from using anything else for running, but you will injure yourself, without a doubt!
Sneakers made for different sports tend to have different shapes, and different innovations integrated into their construction. All of this makes one pair ideal for the sport they were meant to be used with, and it's the same with running shoes. Different types of movements put different kinds of pressure on your feet, knees, and muscles, so it's important you take care of them properly. For example, compared to running shoes, cycling footwear has a rigid bottom that is really not made for walking or running, but they provide a whole new set of benefits when used for their purpose. It's the same with running shoes - their properties make sure your run is effective.
Runners also do not like to wear their running shoes when they walk, or vice versa, for the very same reasons mentioned above. When you walk, a whole different set of actions happen, and they do not fit with the running sneaker. You sort of sway back and forth, changing the center of your gravity to the leg that takes over. Said in simple terms, you slowly roll on your toes. On the other hand, running has a consistent center of gravity, one central to your torso. This drains your energy and increases the level of impact when you hit the ground. Running makes your feet pronate, or in other words, your feet hit the ground on the outside of your heel and then start to roll towards the inner part of your feet. So, if you want to maximize the potential of your next run, buy shoes specifically made for this purpose. After all, they were made just to make your life easier, and they do a great job, so why should you skip out on them?
Durability
The life duration of your running sneaker depends on a lot of things. There is no accepted general rule of thumb on how long your shoes will last, not in miles or months. Sometimes, your new pair might surprise you and last much longer than you expected it to, but the other time they might give in and fall apart after only a few seasons.
There are a few sets of rules when it comes to running footwear durability. For starters, it is believed that a runner will need a new pair of shoes every 300-500 miles he or she runs. You might want to keep track of this, since a pair that has expired can impact your exercise, due to their changed shape and support. Once you reach that threshold, try to replace your pair - both you and your feet will benefit!
You should also consider other factors besides mileage. How do the sneakers feel when you put them on, is there any difference from when you first broke them in? Maybe you started to feel knee or back pain after running over 200 miles or so, and maybe you attributed it to your bad joints or a different health issue, but have you stopped to think that maybe it's the shoe fault? If the pain lasts for a few days and doesn't worsen, then it was a temporary problem not related to the shoe, but if you've got pain all the time, your shoe has reached the end of its life and should be replaced.
You can also gauge the amount of time a running shoe has left by the time you spent wearing them. Generally speaking, a sneaker loses its form after about six months of usage and should be discarded after that. There are exceptions to this rule as well, you might replace them more often, or not as often, all depending on what kind of runner you are and on your weight as well. Time and mileage are important, but other factors should be considered too since they can affect the durability of a shoe as well. Your best bet is to maintain a log where you keep all important information about every run you do and then replace your Puma running sneakers according to that and the way you feel!
Midsole
The midsole of a shoe is the part sandwiched between the insole, which touches your feet, and the outsole, which touches the ground. For a lot of runners, the midsole is one of the key elements to a good run. The midsole has a very important job to do - it needs to cushion your feet, while also controlling movements that are excessive. Puma uses a variety of different midsoles, and we will mention some of them.
EVA is used in some sneakers, and it is the very first material that was used in these types of shoes. PU and TPU are also used, and they share many qualities with EVA midsoles. Ethyl vinyl acetate, or EVA, is a foam-like material that has optimal padding, a low weight, and a lot of airflows, but all on its own, it wears down quickly. When compressed and molded, its life is increased and you get a more durable shoe. PU, on the other hand, lasts much longer but is not as cozy and light as EVA is.
Today, most of the midsoles are made out of gel, foam, or anything else. Imeva midsoles can be seen in some Puma models, and are a foam variety that is consisted out of many different parts. These parts can work together to improve your comfort, but if not done the right way, gaps and ridges can be overlooked, affecting your overall comfort. Ignite cushioning is also one way Puma solved this, and it works great. This padding creates a durable midsole, while the stability and shock absorption are improved.
In order to select the best kind of midsole for your gait, we need to know its type. Depending on whether you pronate or supinate, a different variety of midsole will work better for you. Midsoles for supination have a denser foam on the edges, while midsoles for pronation have a denser foam in the inner part of the midsole. A neutral shoe has neither, and usually works the best for plenty of runners. Choose the right type of midsole for you to ensure a great run.
Weight
Plenty of runners tend to look for sneakers that are lightweight. They don't strain your feet, and you perform better since there is no extra weight present to drag you down. But surprisingly enough, this is not always the case. Lighter shoes mean better athletic performance, and for each gram added more energy is spent. So, it's only logical to believe that you need shoes that are light in order to perform well.
But, when does a shoe become too light? There are models out there that are too light, whether you believe it or not. And it's not in a way you might think - if a model is lighter, it means that the amount of support provided by that certain model gets worse and worse. The amount of weight a shoe needs to have will vary depending on your weight, your running style, your gait, and the type of terrain you enjoy running on. If you need plenty of support, sacrifice weight and go for a model that might have a few extra grams. If you don't need that much support, you can experiment with lighter varieties and see what happens. All in all, if you want to run faster and longer, go light, but if you want normal or extra support, choose a pair that is slightly heavier!
10 Best Puma Running Shoes for Men & Women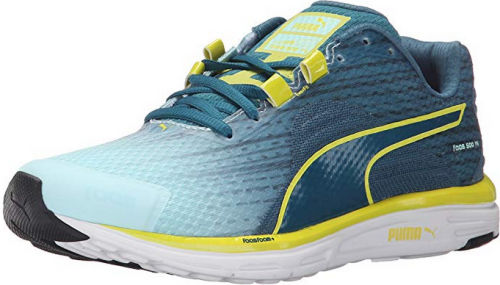 The Puma Women's Faas 500 V4 running shoe has a fit meant to accommodate a problem we've all encountered before - bunions! The extra width makes it easy for your forefoot to relax without being pinched and squeezed. The upper is made out of Airmesh; a certain type of knitting that provides insane amounts of breathability and padding. Everfit 2.0 is an improved lacing system that locks down your midfoot and heel, without affecting the natural movement of your feet.
A molded ortholite sock liner sits on the inside, a lightweight and breathable marvel that is antibacterial and with an excellent compression rate, providing the same cushy fit every time you put the Faas 500 on. The tip of the sneaker has protective TPU on it, to shield your sensitive toes from injury. Reflective overlays make you shine like a lighthouse in the night, protecting you from the dangers of running when the sun goes down. FaasFoam+ is what makes these sneakers what they are; this blend of foam and rubber is lightweight, responsive, and super durable. The outsoles have Evetrack+, Puma's invention that is a lighter, strengthened version of regular rubber outsoles.
The Faas 500 Puma running shoes for women are also super flexible sneakers. The flex notches work together with the forefoot flex grooves that make it possible for your toe-off to be smooth and balanced. Lateral release grooves and the decoupled heel ease your pronation and make running a joy.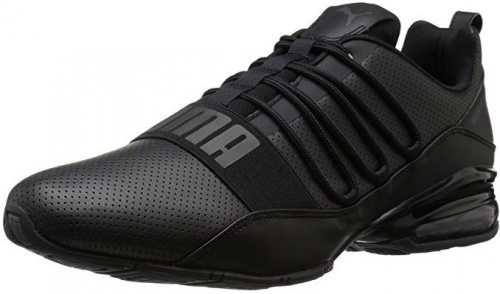 Combining progressive design with well-known cell technology, the Cell Regulate has a lot to offer. The textile and faux leather upper present a smooth, polished silhouette combined with sporty details. Multitudes of tiny perforations lie scattered all across the upper, giving these Puma running shoes an urban vibe, and giving air the opportunity to circulate in and out, saving you from moisture and bad odors. A thick strap runs across the toes, anchoring your feet in, with a thick Puma logo centered for everyone to see.
The exaggerated lacing system helps you create a perfect fit, one that will remain the same for a long time. They also trap your feet in one position, so friction and aches are a thing of the past. Cell-cushioning technology makes game-changing soles a possibility, due to their low weight, optimal support, and great impact force protection. The rubber soles are reinforced around the heels, softening the blow your feet take once they reach the ground.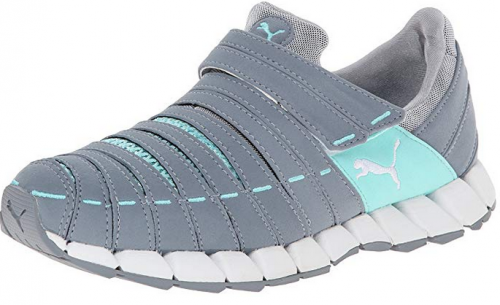 The laceless design on the Osu gives it a sleek silhouette and an eye-catching style. This futuristic sneaker has a 100% fabric upper with a Puma logo sitting on a vibrant backdrop on the side. The hook and loop straps give the best possible fit and plenty of adjustability, for the best running experience. Let's face it, their design is what makes them so unique, since no other running shoe has dared to look so dramatic, as if their sole was exposed by the upper being sliced open!
The midsoles are cushioned, created for long runs, and pain-free feet! The chunky white outsole follows the sliced upper and has grooves all across it, making them even more unique. Both the tongue and collar are mesh and have pads. The mesh will help the air escape out of the cage-like construction, while the padded collar and tongue make sure your feet don't feel so tired and angry. Those grooves span out to the bottom of the carbon outsole, and give unprecedented traction and grip!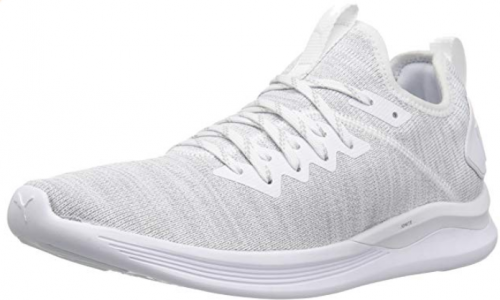 The ignite flash lets you own the city runways boldly and without fear. Their upper is 100% textile, offering evoknit technology for a cheaper price. Evoknit is an amazing invention that brings together the upper in a certain way that helps you perform better. If you look closely, you can see the knit pattern running up and down the whole shoe, and it's that pattern that does most of the work here. Besides doing a good job, it also looks quite fashionable and comes in many different colors for you to choose from.
The lace-up pattern also has an interesting design. There is a double amount of eyelets, coming in at 10 on one side. This makes it possible to create a unique lacing pattern that secures your foot in even better, not letting your heels slide out or your feet move around. A molded rubber heel clip secures you even more and gives plenty of bounce back. The soles feature ignite cushioning, which gives enough padding and stability all around the Puma running shoe, making it possible to run for miles.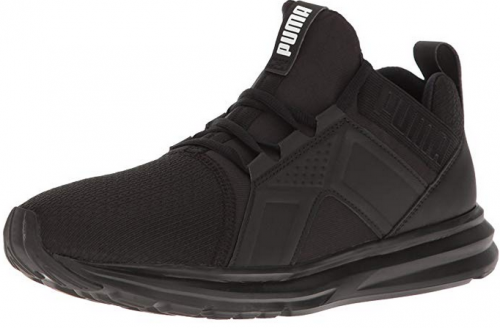 The glorious Enzo captures contemporary style to cater to its youthful audience. The exaggerated collar height looks trendy and wraps your legs neatly, making their fit secure and stable. Their mesh upper breathes like a true set of lungs and stretches to accommodate your wiggling toes while you run. The supportive rubber panels give them a sharp line and cage your feet in, immobilizing them almost completely.
A midfoot strap locks your feet onto the platform, improving arch support and stability. The Imeva midsole is a reinvented EVA midsole, which is known for its low weight and padding. The only problem with EVA midsoles was their durability since they had a tendency to lose their shape and support after a short period of time. This is solved with the looks midsoles, making the fit perfect every time you slide your feet in these Puma running shoes. A soft foam sock liner gently caresses your feet and encourages you to try running without socks!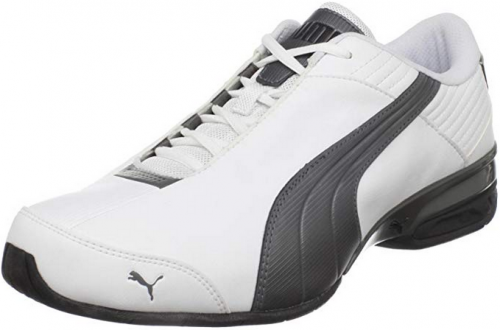 The Super Elevate provides an optimal cushioning unit unmatched by the rest of the crowd. The faux leather upper is decorated with foamstrip overlays that contrast its color, giving their silhouette a dose of excitement. The laces are hidden under parts of the synthetic leather but are stretchy enough to accommodate every shape and size thrown at them.
They sit on top of a mesh padded tongue, that cushions your arches and lets air circulate. The collar of the Super Elevate is padded as well, so no part of these Puma running shoes will rub against your ankles and cause irritation and blisters. The heels have an EVA cup and TPU cushioning, so if you've ever wondered what's it like to run on pillows, now's your chance to find out!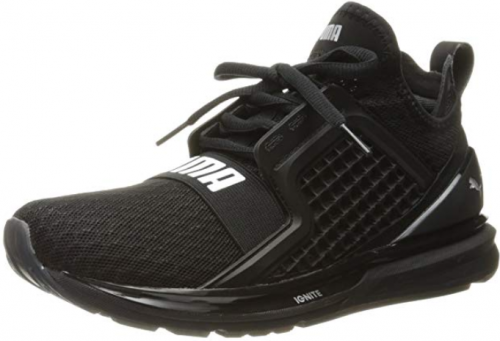 This modern sneaker helps you stay looking fly while on the tracks. Their upper combines textiles with synthetic materials. The textile comes in the form of a mesh, with a palpable honeycomb pattern slightly visible on the top. Mesh is one of the best materials for running shoes since it's soft, flexible and it breathes so well you won't even feel your feet heating up. The synthetic rubber-like panels act as the vamp, and they give your feet support, while preventing them from sliding around inside, never letting blisters form.
The sneakers itself is low-cut, but the tongue and the heel cup raise up and envelop your ankles, stabilizing them and preventing rolling. There is extra support on the heel cup as well, that makes it possible to run without your heels slipping out. The soles are equipped with Ignite cushioning, that disperses impact forces, has great responsiveness and plenty of energy return, making your run a painless and rubber-like experience. The outsoles are rubber and feature a unique pattern that gives you enough grip to keep you running forever.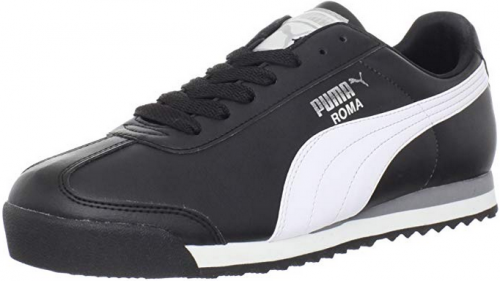 The Roma is the stuff of legends, and this resurrected retro style features all new technologies to make you run better while reliving the past. This sleek sneaker has a 100% synthetic leather upper. This upper gives you much of the benefits leather does, without the extra weight and guilt involved. It won't be as durable though, so keep that in mind. Something Puma is known well for is their logo, be it the jumping ferocious cat or the signature foam strips. This sneaker has the vintage foam strips, enhancing their retro feel.
The t-toe overlay slims down your feet and strengthens the construction, giving you a long-lasting puma running trainers. The soles are cushioned, with added arch support for easier running and painless joints. Arch support is one of the most important things when you run, and any extra amount of it will do you wonders. The sawtooth traction outsole is also one of Puma's classic staples, both because of the good looks and their helpful nature. This outsole provides enough traction and grip on most terrains, transforming you from an urban to a wild runner in a jiffy!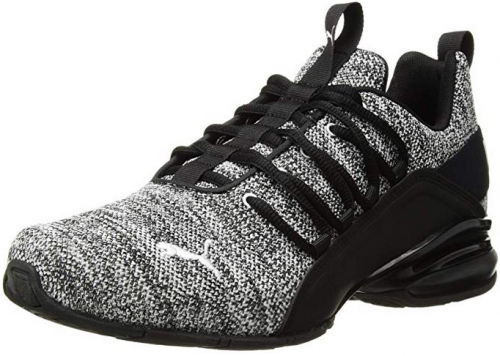 The combination of fashion and the way they help with running makes the Axelion a needed companion for your weekly exercises. Their evoknit upper combines two colors to soothe the eyes and add drama to their appearance, while it also makes running feel like a walk in the park. The innovative lacing system offers support all around the sides, not only to the arches, so you will be strapped in for the ride. The dual pull tabs make it easy to transition from your work life to your sporty persona.
A strengthening panel sits under the laces, and stabilizes your ankles and arches, lowering the possibility of pain and aching happening. A TPU shank stretches through the middle of the shoe, giving enough motion control and support for your heels and midfoot. The chunky rubber outsoles complete the trendy sneaker look and make running in the rain a reality.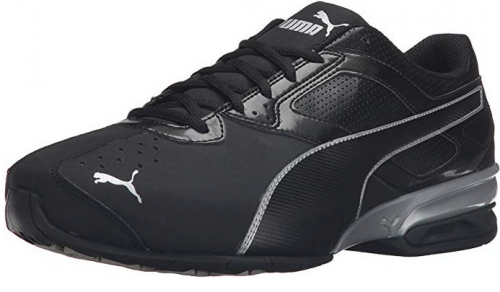 The streamlined silhouette is a true game-changer, making the Tazon 6 stand out from the crowd. The upper has a lot of dynamic details clashing together to create a visual miracle. The synthetic leather upper features T-line toes, for reinforcement and perforations hugging the line from both sides. These perforations will exhaust air as you run, kicking the warm humid air out and welcoming the fresh cool air in.
A thick, ribbed strip runs along the vamp, while the polished details stand out from the rest of the upper, enveloping even more perforations within their center. A midfoot saddle provides maximum fit and comfort. The heel features an EVA cup, that will absorb all impact once you reach the ground, saving you from all the pain you might experience once you come home to rest from your run!

Subscribe to our Newsletter