Best Headphones for Running Reviewed
In a Hurry? Editors choice: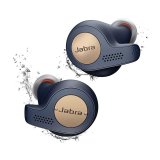 Test Winner: Jabra Elite Active 65t

Running headphones are an essential piece of equipment for many runners. Headphones let them zone out to their favorite tunes while they sweat through a solid workout. These products operate just like traditional headphones. However, they have some advanced features, such as water or sweat-resistance, that ensure top performance levels despite less than ideal conditions. Furthermore, they can come in wireless and wired models which allows runners to pick the version best suited to their needs.

Whatever your fancy, these handy little gadgets can improve your running experience. Runners are understandably choosy when it comes to their headphones, so we took our time and put together ten solid options for our list. We focused on comfort, style, ease of use, advanced features, and value, bringing you the 10 best running headphones currently available for purchase.
Standout Picks
Criteria Used for Evaluation
Features
There are some special and very practical features that make headphones for running stand apart from traditional options. The features make them more comfortable to wear while in motion and make them much more functional to wear outside and during physical activity.
Sweat Resistance: You are going to be wearing earphones while jogging, training, or walking and the likelihood you will produce some natural moisture is inevitable. The ability to work through the moisture is an absolute necessity. If you like to workout outdoors, you may experience the elements including rain or snow, you may even accidentally get hit by a random sprinkler. For these reasons, waterproofing is a must.
Weight: Models that are comfortable to wear, that won't make you feel weighted down will help you go the distance. A lighter design will help improve that comfort. Many options that are made for activities such as running will have a more minimalist style. This will reduce stress while you are exerting yourself and working towards your full potential during a run or in your session. They shouldn't be too bulky, or cumbersome to wear.
Ambient sound: When exercising outside, while it is nice to hear your favorite tunes, you still need to be cognizant of your surroundings. Safety is important and so features that incorporate safety will be something you should definitely consider when shopping for this type of tech. Many designs will be open which allows for some amount of noise to be able to be heard even with the audio you have on. This helps you hear potential outdoor hazards like cars whizzing by or even an individual yelling for your attention.
Style
There are a couple of different headphone types and the style you choose is really up to your personal preference. While most will use an earbud style that is more minimal, small, and light, some have additional style options such as attachment features for your ears.
In-ear options are actually pushed into your ear. They stay in place through friction, which is why the tips are crucial in determining the correct fit. They will generally use rubber tips that have various sizes to fit better into the openings of your ear. These may sound a bit awkward, but they tend to be very comfortable, and when they fit properly, you may forget you are even wearing them. The only downside is that depending on the fit, some may not stay put which can cause problems if your earbuds are always falling out.
Clip-ons also fit inside the ear but instead of just relying on friction for staying power they have a clip that secures them in place. The rubber tips also come in various sizes to help you achieve the right fit. Due to the clip, if you have had issues with the in-ear options falling out, these may be a great alternative that stays in much more securely which is particularly nice when you are hitting a very strenuous or intense run.
Ear hook headphones fit inside the ear and have an external feature of arm-like structures or hooks that aim to form around your ears and form a secure placement. These won't easily fall off, so if you need the extra support, these are a great option. However, they do lack some of the comforts that you'd ideally want in a running headphone especially if you are engaging in longer runs. For those that need glasses, these could also pose potential issues.
On-ear/over-ear is a traditional style which covers the entirety of your ear. These can be used for exercising but they tend to be much bulkier which can dilute their overall comfort and practicality. even though these cover your ear they have a tendency to fall off more easily especially if you are engaged in a vigorous session or cha-cha-ing down the dance floor. These can have water-proofing materials but the large size could cause you to sweat more and they don't tend to have noise filtration features which make it much harder to hear any external noises.
Ease of Use
When it comes to running headphones there are two basic options to choose from which are wired and wireless.
Wired options have cords, obviously. Therefore you have to pay close attention to the style of the cord and make sure that the cord won't interfere with your workouts or cause you irritation, it needs to still allow your earbuds to be as practical as possible. A thick, durable cord that is tangle-resistant will tend to work well. These cords can often be flat which helps reduce the possibility of curling in on itself and causing knots.
The length of the cord can also play a part in practicality. Very long cords could snag, tangle easier, and just be plain annoying when you are in motion. A good size is about 40 inches long to give you just enough slack for keeping your devices secured in your pocket. Should you prefer an armband, you'd ideally want the cord to be much shorter.
Wireless models are going to be much easier to use and they cut the cord out of the equation and out of your way altogether. The way this works is through the use of Bluetooth versus having to be physically connected to a device in order to get your desired audio. The downside to these is they won't have as strong of a connection to get the best sound quality as you'd have with a hard-wired option but what you give up in crisp sound, you get back in uncomplicated freedom to move. When it comes to maximizing your performance, movement may trump sound quality.
Additionally, charging time can add how easy it is to use your running headphones. Wireless options use an internal battery so they can keep that connection with the Bluetooth. What that means is that you have to charge them regularly. The best options are going to be those that have a short charging time and that can hold a charge for a decent amount, especially if you want to go out on a longer run.
Other factors to consider when it comes to charging are the functions that contribute to the overall charge time a device can hold. Higher volumes can actually reduce your charge faster, for instance. If you can find an option that offers at least six hours of playing time on a single charge, you are in a good position.
Advanced Features
Most models have controls to customize things like the volume so that you can better adjust the audio to your preference. These could be on the cord, for those that have them, or they could be on the actual earpiece themselves. Some models have buttons which can help you switch your tracks to get to the exact song or clip you are most interested in hearing when you want to hear it.
Some headphones can have fancy features like the ability for hands-free calling and these would be built with microphones. Brands that have this function make it really easy to go out access your phone without having to actually take the time and energy to pull it out of your pocket. This could help you keep your stride without missing a beat and still take an important call all at the same time.
Protective cases provide strong storage that you can toss your gear into and it can sit in your purse or gym bag safely. These allow you to keep your gear much more mobile without having to worry about any damage being done.
When you are exercising and you want to gauge your zones or if you have a medical condition, heart-rate monitors can be extremely useful. Some items have these monitors built-in with a sensor that is located in the earbuds. These will monitor your heart rate while you are active.
Value
The price you pay for your running headphones will have a wide range and the final tally will come down to the extras that you want. The style, wireless or not, as well as other fancy features, can all contribute to the overall cost. The value really comes down to your preference. One product that has a lot of fun and useful features may be a bit pricier but for some, these features are necessary while for others, basic models at a lower price range are going to be better used. In general, you are going to be looking at a range of about $5 on the lowest end to upwards of $100.
The other thing to look at when purchasing tech is durability. Check reviews and see which options have the ability to hold up to use, there are some that are more affordable that can last a lifetime. They may not have all the neat features but they will be reliable, whereas some of the higher-tech models that are more pricey may have a lot of fun features but can have a tendency to have issues with at least one of their components sooner than that of a simpler model. The material a headphone is made out of can also add to durability, for instance, if you don't have materials that can hood up to the outdoor elements or moisture, you may wear them out very fast between sweat as well as any other moisture they can come into contact with. Very bulky headphones could be more liable to break when packed as it can be harder to provide protection for them especially when put into purses or bags, or when traveling due to their larger size.
So, think about your budget and then think about what is most important to you as far as features. Check out various models of running headphones that have the features you are looking for and look through their varying pricing. Read reviews and check guides like this one, for detailed feedback on specific models to pick the best options.
Top 10 Running Headphones
1

. Jabra Elite Active 65t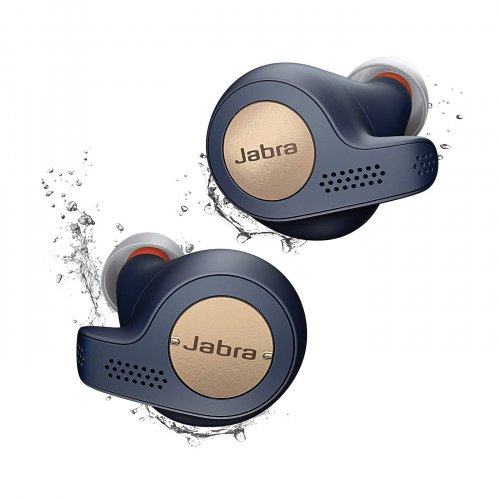 The Jabra Elite Active 65t offers tangle-free wireless audio. These wireless headphones allow you to do everything from listening to your favorite tunes to taking calls, and all the bells and whistles including a secure-fitting design for greater stability in your ears. They are designed with resistance to both sweat and dust with an IP56 rating. They include an integrated motion sensor for better activity tracking, and boast a massive 15 hours of battery life. This impressive lifespan is possible because of the five hours that you get from the earbuds alone and 10 additional hours offered by an included charging case that can fit right into your pocket for easy storage and portability.
These are the creme de la creme of running gear, designed with a sleek, modern look that fits comfortably and securely in your ear. They are IP56 rated and offer you a solid 2-year warranty from debris and moisture - which these will undoubtedly be exposed to.
These headphones by Jabra provide clear audio for music, podcasts, or audiobooks as well as for taking calls. The headphones track your fitness throughout the day with a built-in motion sensor, and come with a portable, pocket-sized charger that offers a 10-hour charge. The Jabra Sound+ equalizer app allows runners to better optimize their listening experience on the go.
These are top of the line when it comes to earbuds. So if you are looking for style, technical superiority, quality construction, and high end comfort you've got it with the Jabra Elite Active 65t.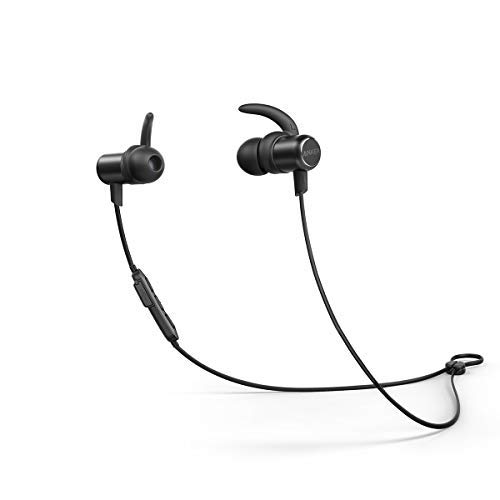 The Anker SoundBuds offer a very light option with their SoundBuds. The earbuds weigh only 15g! You will barely be able to feel these, and that is especially nice when you are in the zone working your way through a tough session. The earbuds offer a customizable fit, which allows you to better personalize their placement. They also come with various sized accessories so you can ensure these will stay put. Anker SoundBuds are a practical, versatile, comfortable, barely-there option for your ear gear.
These offer a solid amount of playtime at 10 hours. That is plenty for a long run, a full week at the gym, or a leisurely hike. You have the ability to manage your music or phone calls hands-free, thanks to the in-line microphone and accompanying remote. The SoundBuds also come with a convenient magnet that clips them together for better storage when they're not in use.
These running earbuds are perfect for high-impact athletes who don't want to miss a beat. They have a 33 ft Bluetooth range that provides you with plenty of power and skip-free sound. Runners can also work up a sweat without fear because these are rated IPX7 waterproof against all liquids. This includes rain and sweat.
They with various ear tips and hooks in a variety of sizes, fit clip, shirt clip, micro USB cable, travel pouch, an informative welcome guide, and 18 months of customer service.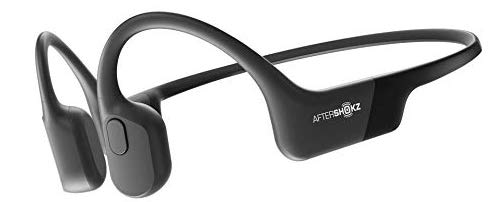 Whether you're looking for regular headphones or a product that will allow you to listen to your favorite music (or podcast) all while leaving your ears completely open, you'll definitely want to check out the latest release by American company AfterShokz, the Aeropex. These are ideal for jogging, cycling, walking and even driving, seeing that they deliver sound through bone conducting technology (they deliver music through your cheekbones!) that allows you to be fully aware of ambient sounds.
As far as what you get with these, they come together with a carrying pouch, two charging cables as well as some earplugs you can use to cancel out noise in situations where you want to be fully immersed in your listening. The design itself improves on previous Air versions, allowing these to be louder than their predecessors.
You'll also find that the ergonomic design of these headphones has changed, with a smaller and re-angled transducers for an improved fit you can customize. In terms of weight, they are only 26g, which you're very unlikely to notice even if you happen to wear them for hours, and they're IP67 rated, which means that they won't be damaged by sweat or rain.
Other notable features of these include a Bluetooth v5.0 connection that allows reliable connectivity to up to 10m (33 ft), dual noise-canceling microphones, and a rechargeable battery that will work up to 8 hours of listening time and 10 days of standby. As for price, these don't come cheap, and boast one of the more expensive price tags on this list. Nonetheless, seeing that they're a unique product with a huge number of benefits for athletes, they're a good investment for those more serious about their workouts.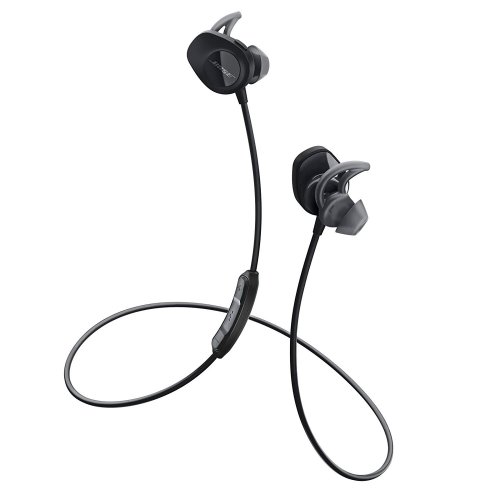 Bose is known for quality sound systems that bring the beats. Their wireless earbuds carry on this tradition and then some. They have additional security features that help them fit more snugly in a runner's ears. A combination of Bluetooth and NFC allows runners to easily access their music. They can use the inline mic or the paired remote, which controls volume, allows runners to skip tracks, and enables hands-free phone use for important calls.
These headphones pair with the Bose Connect App, which lets users switch between multiple devices like it's nothing. Sweat and weather resistance make these earbuds great for athletes and runners of all stripes. And there's no need to worry about losing power in the middle of a workout, thanks to a lithium-ion battery that provides a healthy 6-hour battery life.
Bose includes several great auxiliary pieces of equipment for their products. Stay Hear+ tips keep these in nice and tight. A USB charging cable makes them easy to power up and a carrying case adds an extra level of protection when they're not in use. They only take about two hours to fully charge which makes them great for runners who live in the fast lane. They are lightweight, comfortable, and ready to go.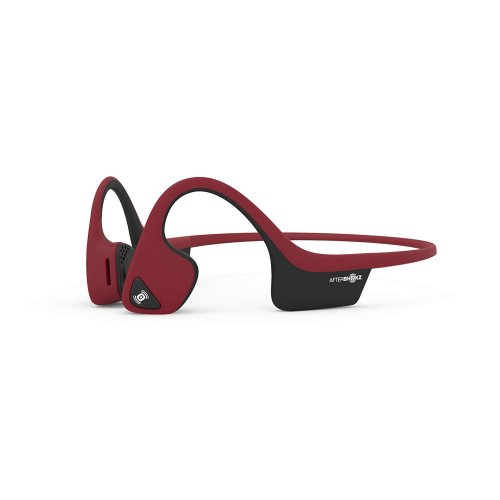 AfterShokz designed their Trekz Air running headphones to be extra light. This wireless stereo earpiece uses a safe bone conduction technology and open-air construction to deliver crystal clear sound. Made for athletes, these are sweatproof, fairly stable, and have safety features that allow you to still hear your surroundings.
Bone conduction technology may not be common but it is an effective and safe method that delivers top of the line sound. And although the delivery method is unique, the product's design is familiar and easy to use. This technology helps deliver crystal clear sound while still allowing the wearer to hear ambient noises so they aren't completely cut off from their surroundings. And whether you're working out in a gym or in the open air, this provides an extra layer of safety.
AfterShokz went in a new direction with this product and it shows in the design. It is made to be 20% lighter than previous or similar models. And when it comes to exercise gear, the lighter the better since they are less likely to slip or become a distraction. The light design is also flexible which helps improve their fit as well as their comfort.
Trekz Air come with Bluetooth v4.2 connectivity and convenient multipoint pairing that makes this versatile electronic device compatible with both iOS and Android smart devices. They deliver multi-layer, deep ranging, and dynamic sound with rich bass levels. The battery lasts for up to 6 hours of continuous use and charges in only two hours. This turnaround time is just one more feature that makes these a convenient, comfortable, and practical option.

6

. Jabra Elite Active 45e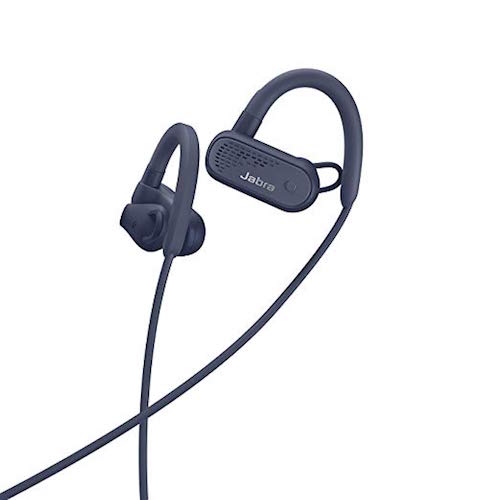 Slightly different in terms of design from Jabra's flagship product, the 65t, the Elite Active 45e is a pair of running headphones that is a bit more affordable, but still delivers excellent sound quality and functionality. This model is not fully wireless. Instead, it features an Earwings & Earhooks design connected through the back with a single cable. They also have an open Eargel design that allows you to hear any ambient noise, ultimately making your runs and workouts safer.
One of the things that differentiates these running earphones from models by other manufacturers is that they have an accompanying Jabra Sound+ app that lets you fully personalize your experience. These are also compatible with Alexa, Google Assistant and Siri, and are easy to use on the go.
The battery life of these running earphones ranks rather high compared to other products. They can provide up to 9 hours of listening, as well as 12 full days of standby time, and are charged through the included USB cable. Another notable feature is that they can be paired with up to 8 devices, and you can even use two of those simultaneously.
The Jabra Elite Active 45e is IP67 rated, which means it's sweat resistant and can be used in rainy conditions. It comes at an affordable cost, especially compared to other high end tech, and is an excellent solution to anyone looking for an open design that ensures a great listening experience.

7

. Plantronics BackBeat FIT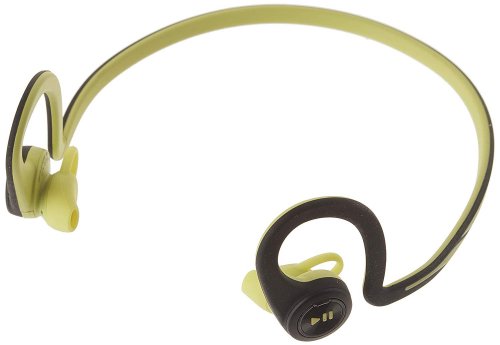 Plantronics BackBeat FIT is a set of wireless running headphones that was constructed to fit perfectly into an active lifestyle. It is a sweatproof stereo option that has a safety-oriented design which allows you to clearly hear both your music and your surroundings. Its reflective surface also makes you a little more visible at night or in dreary conditions, amping up the safety when you're running outside.
If safety is your thing these are a great option. Whether you run in high-traffic areas or rural locations, awareness of your surroundings is important. The BackBeat FIT let you have music and security all at the same time. They are also designed with a comfortable flexible fit and waterproof coating that meets IP57 requirements. This means you can wear these in the rain and they will still work like a charm.
Controlling the BackBeat FIT is easy and convenient with the on-ear control panel. It helps you sort your music and easily take those phone calls you can't miss. Up to eight hours of battery life means that you can go on a long run or make it through the week on a single charge. You can preserve the charge even longer by using the standby time or the hibernation mode when you aren't actively using your earpieces. And when you need status updates, you will get seamless light notifications.
This pair also has its own free app that wirelessly updates the firmware. Plantronics is known for its intuitively designed products and their BackBeat FIT is just another step in their innovative line.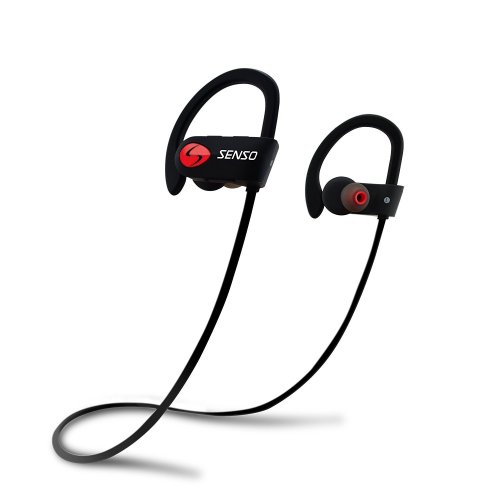 SENSO is the brand to turn to if you have been disappointed by the sound quality of other headphones. They offer great sound with impressive bass and excellent volume control. You will not miss the treble with these headphones for running. They use Bluetooth and are wireless with IPX7 waterproof materials.
These have an excellent battery life which works like a charm right out of the box. You can literally take them out, put them on and head out for a run as they arrive at your door. There's no need to impatiently wait as the batteries charge up. You can jump right into your workout, favorite tunes blasting.
Pairing is simple, too. You aren't going to waste too much time fiddling with that process. Between the battery charge and pairing process, you are all set pretty much from the start. And you won't have trouble finding the right fit because there are multiple sizes of accessories and ear tips to help you find the best fit.
The ease of use is spot-on as the controls are located right on the headphones themselves. You can easily use Google Assistant while your phone is asleep which is a really convenient feature if you just need to do a quick search.
They are a functional and well-rounded option with decent call clarity. They are well-suited for workouts, passenger commutes, or just general housework. They are slim and low-weight which makes them a portable option that can be stowed in a pocket when not in use.

9

. ROVKING Over the Ear Headphones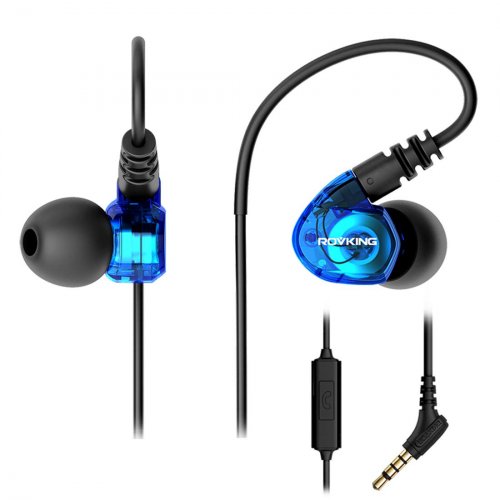 ROVKING headphones have a secure design with a loop that is put around the ear so that these headphones will stay in place. A strong bass stereo helps you bop to your beats and gives you the motivation and energy to pump your way through your workout. The music is clear even in the loudest environments which will help you stay focused on your form and fitness.
Four vibrant color options make up this line of earpieces. They hook over your ears so that even smaller sized ears can have a secure fit. There are four different ear piece sizes that you can pick from so comfort is not a problem. Once you find your fit, the ability to clearly hear your audio with a solid bass line provides depth to your music while the isolating noise helps you hone in on your workout and nothing else.
These are perfect headphones for runners because they were designed to include hands-free operation to take calls or control the tracks you want to listen to while active. There is no need to fiddle with your phone when you want to make adjustments. All of it can be done on the headphones. They also pair easily with most devices, including Apple products, Android products, mobile devices, music players, and desktops.
If you find yourself unhappy with these running headphones, the company has you covered! They offer a warranty and a money back guarantee. The company really backs up their quality, safety, hygiene with hands-on customer service.

10

. Philips SHS3200BK Model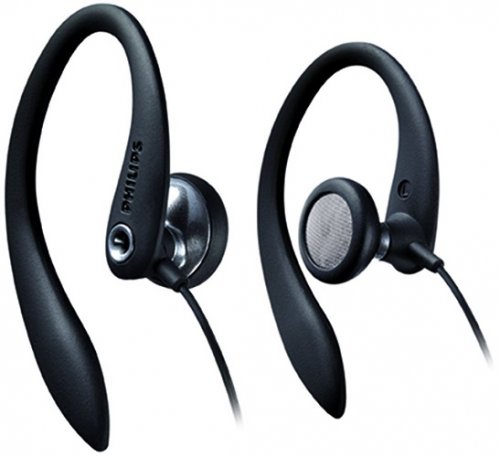 Philips rounds out this list with a pair of high durability headphones for runners that will last throughout consistent use. Their products are very affordable and these headphones are designed with minimalism in mind. These are a stable, lightweight, and functional option that offers an impressive lifespan.
This simple design has all the basics and features that you'd want in an active option including sweat resistance and rain proofing. There are 3 size choices to help you get the best fit. They are light and fit well in your ear using soft silicon caps.
Keep these easily tucked away and protected from damage with the included carrying case. There are also built-in safety features such as a reflective stopper in the cable.
If you are looking for simplicity and ease of use, these are an affordable pair of headphones that offer you exactly what you need.

Subscribe to our Newsletter