Best Protein Shaker Bottles for Athletes on the Go Reviewed
In a Hurry? Editors choice: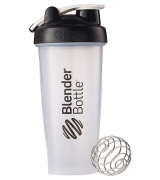 Test Winner: BlenderBottle Classic

We are in the age of technological advancements, where we have managed to achieve most of what previous generations only dreamed of. The downside is that as much as we have reached certain levels of sophistication, there is also a prevalence of lifestyle diseases. Thankfully, with continuous efforts by health organizations to spread awareness, people have started retaking charge of their lives.
With healthy diet plans and newly adapted active lifestyles,
fitness gears
are in demand. Some of the most sought after products are shaker bottles. They have become must-haves, because of their portable nature and the convenience they offer. They make it possible to have your supplements, vitamins and other healthy shakes on the go. The best shaker bottles have played significant roles in helping people attain their fitness goals. So, grab one today and finally kick-start your fitness journey. Don't get left behind!
Standout Picks
Criteria Used for Evaluation
Size
Be cautious when selecting the mixer capacity
Each brand has its own set of product sizes. You can get one measuring 45 ounces, 32 ounces, 28 ounces, 22 ounces, or even 20 ounces. As you can see, getting one in different capacities will not be an issue. However, that does not mean that you should purchase any size at random. Most people that do so end up with models that even fail to fit standard-sized cup holders. There is no reason why you should inconvenience yourself because there are several factors that will help you make up your mind.
As mentioned above, you want to make sure that the model will fit your car's cup holder. So, when making a purchase, ensure that the product doesn't have an extensive base. Second, you need to decide on the quantity that you will be taking daily. Doing so gives you an idea of the size you should buy. Once you have the amount in mind, the smart thing to do would be to select a size up. It may not make sense to you at first, because you already have a specific quantity in mind. The thing is there always has to be a shake margin. You will need enough room to mix it thoroughly.
Purchasing a size up will give you the allowance you need, without letting you compromise on the quantity you want. However, if you feel like the size will still be too large for you, you can choose the exact model you want, but limit the overall quantity, thus leaving you with a sufficient shaking margin. Users who plan to mix up several ingredients are better off purchasing a larger model as well, for the same reason. By doing so, they will be able to mix everything properly, to get the perfect blend they desire.
If you often carry a backpack or a handbag, make sure that they will also be able to accommodate the product size you want. You don't want to end up accidentally inconveniencing yourself.
Ease of Use
Make sure you can operate and handle it with ease
One of the reasons why these products are popular is because they eliminate most of the hassle that people went through when making shakes. You can operate them from any location, and they don't need any specific skill for you to handle them. These are all just a few of the reasons that make them user-friendly. However, you should note that several items determine whether you'll have an easy time or not.
Their lids will make or ruin your experience with these products. The wrong kind of cap will mess you up and have you regretting why you packed it up in the first place. You want an option that will not damage or ruin your bag or its components. That is why aiming for one with a leak-proof design will work in your favor. You will be confident whenever you are heading out or traveling, and won't spend your time anxiously checking for leakage.
Additionally, the right lid will stay in place securely even as you mix up your ingredients. Poorly designed caps will make you hesitant whenever you try to make your blend. Since you'll want to avoid dealing with splatter and spills, you won't shake it as much as you're supposed to. As a result, you will rarely make shakes that are well assorted, because you couldn't apply some decent power while you were shaking it.
Quality lids are also durable; they won't crack easily even if you were to drop them accidentally. They should also be easy to open so that you don't get frustrated: especially if you are running late. If possible, select a model that also has a broader opening. It will give you an easy time whenever you're preparing your blend. Its space is big enough for you to put in whatever ingredients you want. Models with ergonomic designs are also an excellent choice. Some even have markings, to make it easier for you to take measurements for the blend. Lastly, the product should also be easy to clean; to allow you to get rid of all traces of the previous mixture you made.
Materials
Quality materials will impact your product experience
Generally, there are four kinds of these products. The most common alternatives in the market are those with plastic materials. Plastic ones often come at an affordable price and easy to find online and in local stores as well. Despite the advantages, they do have some shortcomings that you should be aware of. Before making any product selection, ensure that the option you want is phthalate and BPA free. The plastic used to make it should be of food grade standards.
When you take such precautions, you avoid accidentally ingesting harmful and chemicals that may leach into your drink. It is imperative that you get many details about the product so that you know exactly what you are purchasing, for the sake of your health. Some plastic options also tend to absorb odor. Such things will affect the flavor and the smell of your newly formed drinks. These are excelent indicators that you have purchased a low-quality product.
High quality plastic options meet appropriate health standards. They are also durable: offering you excellent long-term service. They also don't have any odor or taste issues as well. The next models are made from glass. They are clear, so you can check and see if the drink has adequately blended. You won't experience some of the risks that plastic options have. Glass models are stain resistant, meaning you won't spend so much time trying to clean them up. They will always be presentable.
You also won't have any odor issues, since they are practically odor-resistant. Some people may argue that high-quality plastic is more durable than glass; however, that may not necessarily be the case. There are glass options that have protective designs, to ensure that they last longer. For instance, you may find some that have protective sleeves, to secure the product's longevity.
There are also insulated variations of these products. They rank higher than stainless steel options for several reasons. These models won't make your drinks have an after taste. What makes them ideal is the fact that they do not peel, chip, or rust. Not only are they durable, but they are also a healthier option compared to the latter. They are also a good alternative for people who want to preserve their blends. You will have the advantage of saving your drink for later if you cannot finish it in one go. The insulated model will help keep it fresh for you until the next time you will be ready for some more.
Another significant advantage of using the insulated models is that they preserve the temperatures of your blends. As a result, if the drink was initially chilled, it will retain its cold temperature regardless of the number of hours that pass by before you drink it. All things considered, you will always make the right purchasing decisions, if you are well informed about the product material: especially now that you know exactly what to expect.
Advanced Features
The best models have outstanding features
Some models are battery operated or automatic, while others are manual. Both options have their benefits, so it all comes down to personal preference. With a manual model, you will never have to worry about things like the battery running out on you. Hence, you won't have anything standing in your way, whenever you want to have your shake. The model is an ideal selection for people who are traveling to remote areas, where there are no chances of getting convenience stores.
The main challenge with the manual option is the fact that it's not in favor of weaker individuals. People, who cannot put in enough power when making the blend, may end up with chunky drinks that are difficult to take in. Dealing with several ingredients may also become a challenge for such people. On the other hand, battery operated options make the entire process easier. The smoothness of the blend will not depend on your strength like with manual products.
With the automatic models, all you need to do is turn them on, and you'll have your blend in minutes. These models are useful for people who don't want to put in too much force into even preparing their blend. They are also compatible with people who don't want to risk their drinks ending up lumpy. It is safe to say that the models are time and energy saving.
Another critical feature to look at is the kind of mixing mechanism the product uses. The available mechanisms in the market are; whisk ball, agitator, shaker ball, and mixer ball. It goes without saying that some are more efficient than others are. That is why some models have an easier time breaking down tough ingredients, while others aren't able to. Take your time and do some research on the mechanism that the product you are eyeing uses so that you can decide if it's a good fit.
Versatility is another advanced feature that some products have. There are those that double up as water bottles for people with an active lifestyle. Others are also useful for food prep and a few other cooking needs. Such models come in handy when making marinades, blending dressing, ad pancake batter as well. They are multi-purpose and extremely convenient.
Some models are more innovative and come with self-contained mini motors. Some brands also create models that have built-in strainers or screens. You will also get a few that have their very own storage compartments. These compartments are useful for storing powders, pills, and even snacks: depending on their size.
Style
Select an option that appeals to you
If you've ever been shaker bottle shopping before, then you already know that there are so many designs out there. Everyone has his or her preferences, so it can make gift shopping difficult at times. They vary from models with bold colors, brand names and logos, superhero graphics, creative quotes, see-through options, and cool color combinations.
The best way to go about it is to pick a model design that is closest to your sense of style. If you like matching your outfits and accessories, you could purchase models that will match your wardrobe. Some people opt for models that are designed after their favorite superheroes. They are more like merchandises, but they are in line with both their hobbies.
Furthermore, you shouldn't buy a model just because someone else has the same kind. Go for one that is based around your favorite things: an option that says something about who you are as a person, and your personality as well.
10 Best Protein Bottle Shakers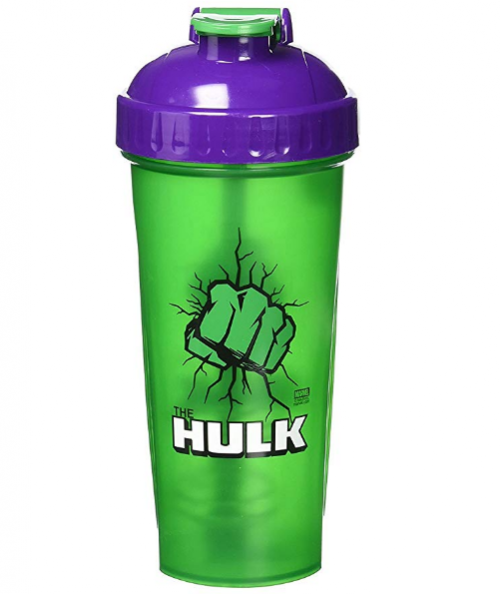 If you know a Marvel fan or happen to be one yourself, then you will love this model. The company has so many varieties to choose from. They include; An Antman option, The Hulk, Black Panther, Black Widow, Captain America, Captain America IW, Spider-man, Star-Lord, The Punisher, Thor, Deadpool, Gamora, Venom, Hulk IW, War Machine, Ironman, and Wolverine. You can opt to get one of your favorite heroes, or better yet, buy them one by one until you have a whole collection.
The brand's mixing mechanism comprises of ActionRod technology. They scientifically used motion laws to develop it as a patented shaker element. As a result, the model produces perfect blends every single time. All the brand's products are high caliber. The Performa Labs department tests them before they are released into the market. The benefit of such tests is that they help make the final product more robust, with the capability of enduring different kinds of usage.
The model comes in a leak-proof design and has a screw on lid. Even though it is made of plastic, it does not have any BPA traces. You can use this versatile alternative for gravy, greens, sauces, and waffle batter: to mention a few. The mouth is wide, which is a plus, and it's light in weight.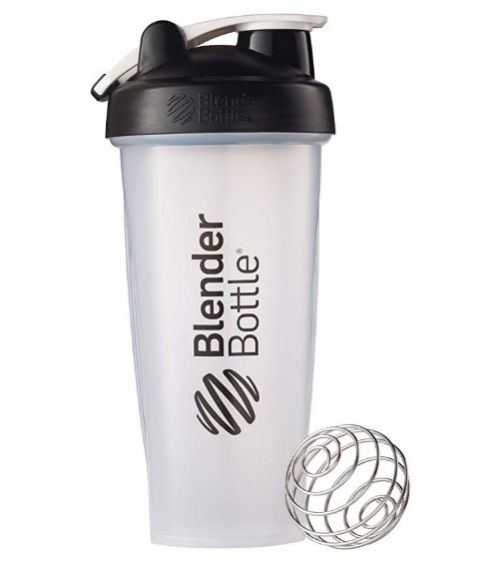 It's rare to ask for recommendations and not hear someone mention BlenderBottle. The brand has made a name for itself on a global scale. This model uses a wire whisk mechanism that is unique to the brand. The company refers to it as the "secret behind the product's power." It is a healthy option that will not peel, rust, or chip. The whisk consists of 316 surgical-grade stainless steel, making it both durable and reliable. You shouldn't worry about having your drink when it's inside because it won't have any effect on you.
It has a loop with a patented design and a StayOpen flip cap: for smooth operation. The loop is also is adjustable, and you can even attach your keys to it if you want. Not only will the loop make it portable, but it also offers other types of convenience. You will also love how the model handles a variety of ingredients with so much ease. It won't restrict you; in fact, you can even use peanut butter, yogurt, and applesauce as part of your ingredients.
The lid also is of a screw-on design that is responsible for the product's leak-proof nature. All the contents will remain contained thanks to the secure snapping of the flip cap.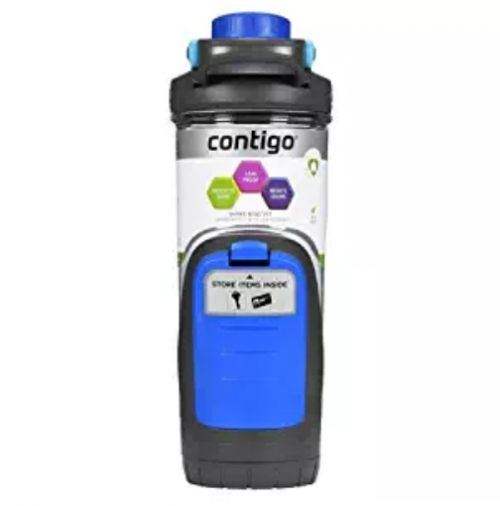 Contigo is another brand that doesn't need much of an introduction. The company has some of the best-selling models, which always live up to consumer expectations. They offer a 24 Oz option that comes with its very own gym storage. It has a compartment that you can use to store some powder, pills or any other essentials that you would need: provided they fit.
It will eliminate the need for carrying an additional storage device, bringing about a minimalistic approach. The model also has a rounded bottom. When coupled with its weighted shaker ball, mixing and cleaning become even more straightforward. This mechanism reduces clumps making your blends better than they initially were.
The design will ensure that your drink stays intact and no spills will occur. Additionally, the plastic has no traces of BPA as well. Just make sure you don't use hot water, to avoid creating pressure because it can be dangerous.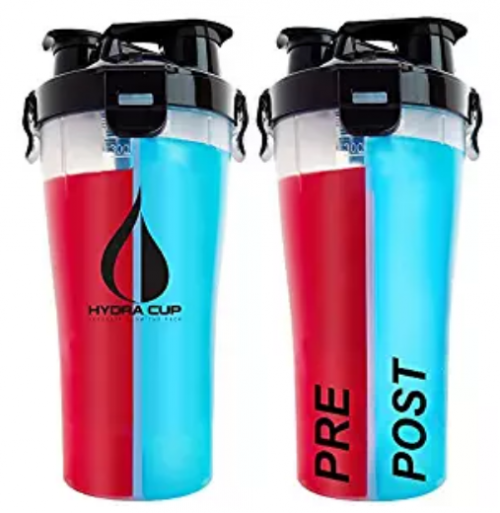 Some people consider Hydra cups the ultimate solution to their mixer needs. It's quite understandable when you look at the practicality they offer. You will have a water bottle and a protein one all in the same cup. Better yet, you can still use both compartments for the same purpose. They are affordable because you won't need to spend more money on an extra model.
So say goodbye to the hassle of carrying two models wherever you go. The risk of having spills all over your bag will also be significantly lower, thanks to the cup's leak-proof nature. At first glance, the cup looks hard to maintain, but you will be surprised once you find out it's effortless to use. Cleaning it will not be an issue, thanks to the fact that the two sides are easy to take apart. Each side has measurement marks, so you won't mess up on gauging the ingredient quantities.
Some people get worried that the liquids might get mixed up as they shake, or that things might get messy. Well, put your mind at ease because those things won't happen. The cup design is well thought out, and each liquid will be contained in its respectful side. Additionally, it's also leak proof as mentioned earlier on. It's also going to last, so you will keep enjoying these benefits for quite some time.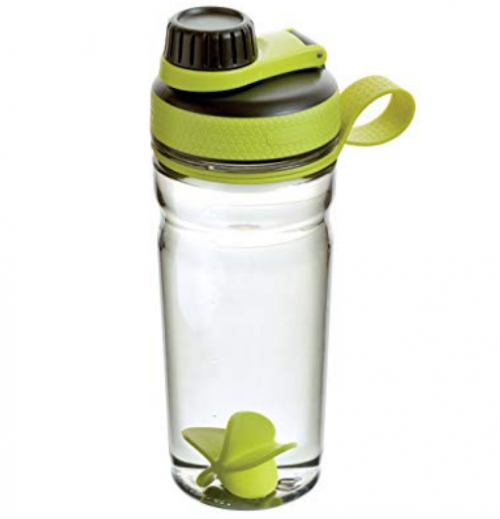 If you are looking for a simplistic design, the Rubbermaid model will interest you. The varieties the brand offers differ mostly in terms of colors, where each lid matches its mixing mechanism. It's nothing flashy, but it definitely has its own appeal. For its mechanism, the model uses a five-sided paddle-ball that will help break up a variety of ingredients.
The model's lid has a twist lock design. It also has a turn screw cap attachment that also locks in place, to ensure that nothing interferes with the mixing performance and there's no inconvenience during your day-to-day use. You won't have trouble with your cup holder, because it comes in a perfectly fitting size. You can also use its finger loop to carry it around as you go about your day.
The brand used titan material to make this model. Unlike some low-quality options, the material is not absorbent. It also won't interfere with the drinks you prepare. To top it off, it's also resistant to stains, so you won't get frustrated while cleaning. Users have the option of dish-washing it, and they can also opt to wash it by hand if they please. In case you lose your grip and accidentally drop it, the shatterproof material will save you the trouble of shopping for a replacement. The model also has an ergonomic shape that's easy on people's hands and is very stable thanks to its round bottom.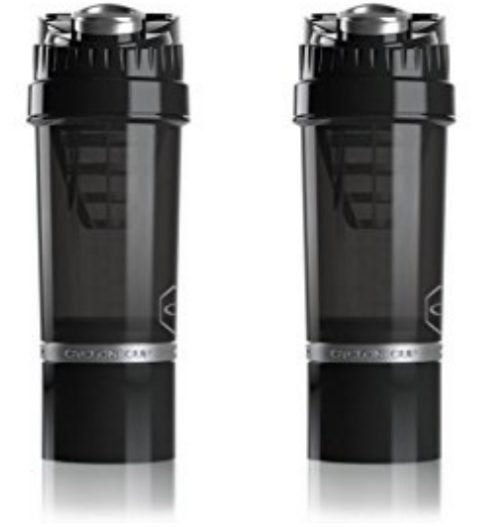 Making lifestyle changes isn't easy, but with some support, we can get through most hurdles. This purchase offers two mixer cups at a very affordable price. The advantage to this is that you can offer one of the cups as a gift to someone who's working towards achieving their fitness goals. If you're in the same household, you can get the pair for both you and your spouse or another family member. It will be an excellent way to show your support and give them the encouragement they need. Alternatively, you can still purchase the pair for yourself depending on your needs.
For blending, the model uses a tapered cone mechanism. Compared to free-floating mixers, it's more efficient and works faster as well. The patented technology eliminates any possibility of a clumpy drink. Each of the cups has a storage compartment at the bottom. Although its 6oz in size, it's convenient for supplement and powder storage. You won't have to miss any of your doses, just because you forgot to carry them with you.
The compartment at the bottom will securely store its contents so that they don't fall out when you're least aware. It has a Click 'N Go capsule lid that will not disappoint you. If you're still feeling skeptical about using these plastic cups, you should know that all the materials used to make them are non-toxic. They have no DEHP or BPA, making them eco-friendly.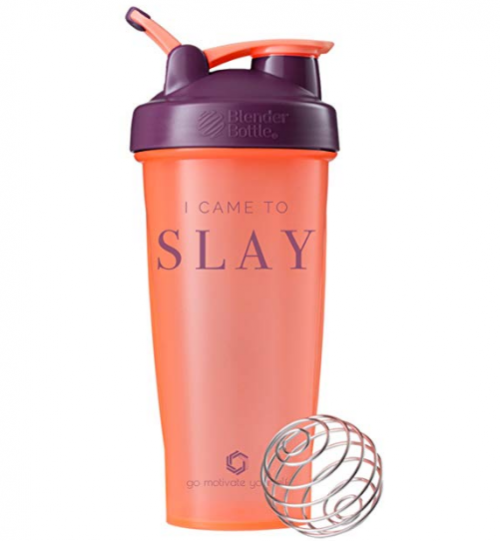 Gomoyo's products have the perfect motivational quote; "I Came to Slay." If you are working hard to get to your body goals, the words serve as a reminder of what you are aiming for. People that have already achieved their goals can perceive the quotes as a reminder to keep maintaining a healthy lifestyle. Not everyone looks at the models from such points of view. For some, it's just a cool fashion-related statement.
Either way, they are attention grabbing and do look good on the product. Aside from the aesthetics, the model has a patented blender-ball and a variety of options to choose from. The alternatives vary in terms of both capacity and color. You can also choose from one pack, two packs, and a tank top and blender bottle pack. The tank tops likewise have the same quotes as the products.
The model also has millimeter and ounce markings embossed on it. Therefore, if you don't have a scoop and often have trouble with measurements, your problems will end. It's also very stable and comes in a user-friendly size. Additionally, it has a flip cap that you'll find to be ergonomic. Users also like the model's SpoutGuard protection feature. Overall, it's also a good fit for people who want a stylish yet modern alternative.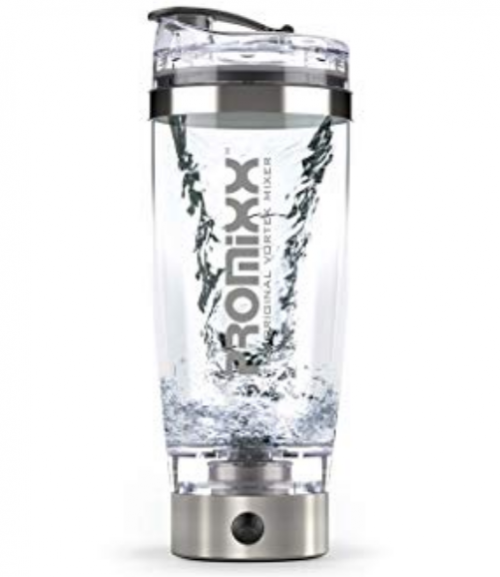 PROMiXX is another example of a brand that has eye-catching products. It's the first electric option on this list. Hence, if you have been thinking about getting one, this would be the best model to start with. The brand boasts of having one of the best powerful vortex mixers globally. They claim that their model has power and torque that surpasses industry standards. The model also underwent athlete testing and offers results like none other.
With this blender, you will probably spend half the time you used to take with a manual mixer. It operates effortlessly, and will always guarantee you consistency. For that reason, if you continuously want to have smooth, lump-free, frothy, and creamy shakes, you don't need to look any further. It uses a blunt blade that underwent scientifically engineering. As a result, all the micronutrients from the ingredients will be preserved, and the protein performance will significantly improve.
You will also find its versatility quite impressive. People use it to make milkshakes, baby formula, scrambled eggs, fluffy pancake batter, protein powders, creatine, casein, cocktails, and juices among other beverages. The model consists of food-grade materials, that are resistant to odor and impact. Being made from stainless steel makes it a durable option as well. Thanks to such features, whatever you make will be long lasting, healthy and retain its aroma.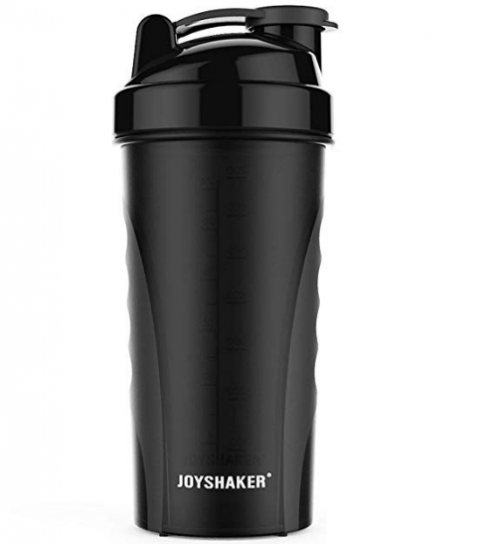 JOYSHAKER models are of the highest standards and approved by the FDA. They are one of the top-ranking options in the market because of such quality, including the fact that they have food grade certification. If you want a colorful cup, you can get one of these in pink, yellow, black, blue, white and black, red/white, navy, gray, light blue and black/red.
One of the most convenient features the cup has is its pair of soft grips on the sides. They are made of TPE and make it easy to handle. Some people even claim that they feel good on the hands. The brand uses a flip-top lid and seals that are leak resistant.
The mixing mechanism it uses is that of a gear-shape ball. The brand claims that it helps proteins and other ingredients fully dissolve into the drink. It's a user-friendly option that comes in a convenient size as well. The mixing will be smooth, cleaning it will be quick, and it's toxin free.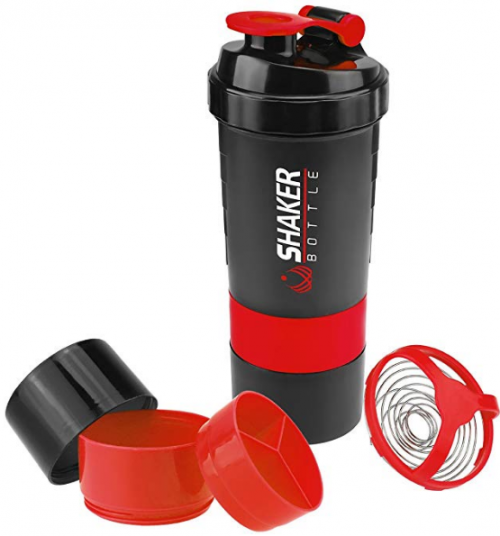 The VIGIND models not only have a premium design, but they also have quite the mechanism. The model uses a whisk mixer net, which the brand claims to be the "power" behind the quality of the drinks it produces. The net will also prevent fruit flesh or ice from blocking the nozzle as you drink. You'll find this quite fascinating, especially if you've encountered such issues before.
For storage, it has a three-layer twist feature. As a result, you will have more than enough space for a variety of pills, proteins, supplements, powders, vitamins and other nutritional ingredients. Other people also find them useful for keeping money, hair bands, and storing keys. You can even interlock the jars with or without the product itself.
Calling it an all-in-one solution is not far-fetched if you carefully look at all the unique features and benefits it offers. The brand also provides refunds and replacements for individuals who don't find the product satisfactory. You will not be risking your money by trying out this VIGIND alternative.

Subscribe to our Newsletter