Best Padded Bicycle Shorts Reviewed
In a Hurry? Editors choice: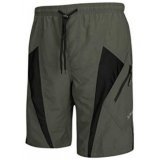 Test Winner: Santic Loose Fit 4D

A competent cyclist requires appropriate gear. Padded bicycle shorts affect performance levels just as much as any other piece of equipment. For this reason, passionate cyclists go through great pains in finding shorts that match their needs. Padded bicycle shorts serve a specific purpose, offering protection, comfort, as well as adaptability to various roads and trails.

Bike shorts need to match an almost customized cut. Aside from that, there are other technical specifications to a pair that matches one's needs. Professional cyclists and experienced riders don't sweat on how cool they look in a particular design. They go for padded bicycle shorts that are rich in features and that enhance their performance. Which is exactly where our list of padded bicycle shorts comes in. Let's start!
Standout Picks
Criteria Used for Evaluation
Model
Bike shorts are designed to meet a specific purpose.
Through years of trial and error and technological advancements in textile production, bike shorts have grown into specialized items of clothing. Modern padded bicycle shorts offer comfort and support for various activities. Here's a brief run-through of some of the models available on the market.
Road Shorts: These are mainly made of spandex and feature thick padding on the saddle area. They cushion the tailbone and provide freer movement and a chafe-free ride. Models that feature gel padding are ideal for long-distance riders and elite athletes.
Mountain Biking: These shorts are baggy and loose=fitting. Many refer to them as ATB or MTB shorts. The interior consists of a padded liner for cushioning while the outer shell is a free fitting shell. They usually come in sets of two.
Bib Shorts: These shorts are made with a compression fit and they lack waistbands. A strap or a suspender holds the padded bicycle shorts up in place. They feature premium padding that keeps the wearer comfortable on long rides. Experienced riders and pro cyclists widely use them.
Liners: Padded cyclist liners and underwear are a way to go cycling in a pair of casual shorts. They are worn under any item of clothing to provide padding and to counter saddle sores. They can be useful in other sporting activities like horseback riding, rowing or even exercising on a home rowing machine. Their construction features a mesh fabric with sewn-in chamois padding. You have a choice of thin or thick saddle padding.
Casual Shorts: These short are the most preferred because they are for ideal riders that don't like spandex. They have stretchy fabric and are great for casual rides and short distances. They also have many pockets for stowing things like keys and coins.
Multisport Shorts: These shorts are ideal for triathlons. They have plenty of ventilation spots, thinner padding, and offer a little cushioning. An athlete has the freedom to swim, cycle, and run while wearing these padded bicycle shorts.
Materials
The most crucial aspect of fabric used in the production of bike shorts is its stretchiness.
Most padded bicycle shorts feature an in-knit of spandex. The combination of spandex and other materials results in more agility and compression for stronger muscle support.
The fabric knitting is usually in tricot, six-way, polyester, or nylon. A square yard of lightweight material is often 6.5 ounces while medium to heavyweight fabrics of the same dimensions come in at about 8 ounces.
Polyester-lycra blend fabric is usually cool and adsorbs moisture. Nylon-lycra blends offer abrasion resistance and more durability. A higher spandex count results in enhanced compression, stretchiness, and support.
Compression shorts message the muscles. This compression helps stave off oxygen debt which results from the accumulation of lactic acid in the muscle tissue. Compression also reduces fatigue by helping you maintain proper blood circulation while the muscles work.
Protection
The seat of your padded bicycle shorts offers the first layer of bicycle safety.
Bike shorts have many technical specifications that account for the ischia bone to bike saddle alignment. Men's padded bicycle shorts have a cutout or indentation in the center that descends to cushion the perineal area from pressure. Here are a few examples of the varieties of padding featured in the models:
Multiple layered chamois padding incorporates thinly stitched hems to compensate for the shape of the crotch area and a snug fit. Due to the curvature of the torso and thighs, it isn't possible to get a tight fit without the use of a seam. The finish also has an absorbent, antibacterial polyester surface that preserves the fabric and prevents the accumulation of odor-causing microorganisms.
Thick gel lined padded bicycle shorts have a chamois pad for enhanced comfort and to absorb the shocks that result in sore bottoms. Riders looking to increase their mileage can take advantage of the soft cushioning that gel or foam layered chamois provides.
The density of the foam varies. The bones that line with the bike saddle need more foam cushioning than those to the side of your frame. Gel and foam padding is engineered for specific riders, bike specifications, and peak distances traveled.
Fit
Bike shorts are meant to fit as tightly as possible.
Padded bicycle shorts have ergonomics suitable for a sitting position. They also feature a more extended back area, when a wearer stands straight, the rear should be a bit baggy or ride lower.
However, once inclined in the cycling position, the extra material on the back evens out to fit comfortably. Padded bicycle shorts are designed for wearing without any underwear beneath so that they can fully envelop the skin and the underlying muscles.
The best padded bicycle shorts have a snug fit and are not constricting or binding. When shopping for your size, there is freedom to deviate from your exact size. A slightly larger or smaller size will give you adequate compression and comfort. Therefore, when consulting a sizing chart, think of whether you desire a baggy fit or the snuggest fit. Then go up or down a size accordingly.
Features
More features extend the ways you can use your padded bicycle shorts.
Here are a few more things to look out for when looking for a pair of padded bicycle shorts:
Reflectors: Padded bicycle shorts usually have a reflective element on the thighs or any moving area of the legs. This enhances a cyclist's visibility to motorists and other road users in low light. Leg movement enables oncoming and offside traffic a clear perception of a cyclist's distance.
Grippers: Leg bands or grippers prevent the padded bicycle shorts from riding up the legs or enable the user to adjust them. Additionally, the grippers also prevent the material from tagging and bunching up the chamois pad. If bunching goes un-countered, it will cause chafing, saddle sores and other irritations.
Pockets: These days, people need to have all their gadgets on hand. Pockets make it easy to stow your phone as well as other personal items like change, keys, or energy bars.
Panels: The more panels, the better your padded shorts conform to the body. The best quality construction involves flat seaming as it reduces abrasion.
Waistbands: They are usually elastic, though some models have drawstrings instead. They keep the shorts in place and offer some muscle compression.
Bibs: Some shorts feature shoulder straps that prevent them from sagging. They keep the padding and the chamois in place and ensure minimal movement in the perineum area. Shorts with high riding bibs present a problem to men when they need to relieve themselves. Women avoid them altogether because they would be forced to disrobe when they need to go to the bathroom. However, bib shorts offer more aero-dynamism and cost more than other types of bike shorts.
Length of the legs is a purely subjective matter as it varies for each person - some riders like longer legs to counter cold weather, while others like shorter ones to prevent tan lines. The only drawback comes when leg lengths are so short that they rub against the bicycle seat. Long leg lengths can also cause the fabric to bunch up, causing discomfort and unnecessary interruptions to your cycling.
Our Favorites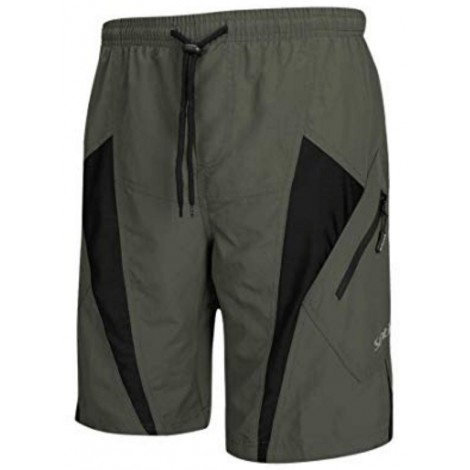 Santic padded bicycle shorts provide support and comfort, even on the longest of rides. These are a quality mix of 82% nylon and 13% Lycra and spandex. Their multi-panel tricot stretch material is held together with 0.9-inch inseams that give the shorts a smooth finishing. These padded bicycle shorts provide a rider with a less restricted movement for a comfortable ride and more agility.
The seat of these padded bicycle shorts features CoolMax padding that provides protection and prevents the soreness caused by sitting on a bike seat for long. An infusion of CoolMax microfibers gives these shorts breathability, moisture-wicking, and antibacterial qualities. The legs also feature silicone leg grippers that hold the shorts in the right position.
The elastic-free baggy exterior design and construction of these shorts make them ideal for mountain bikers and tour riders. The Santic padded bicycle shorts also have women's varieties and sizing options.

2

. Louis Garneau Fit Sensor 2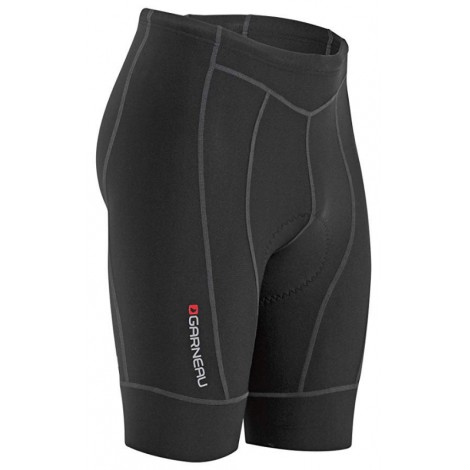 The Louis Garneau padded bicycle shorts are built for riders that require motion dynamics but prefer shorts to bib shorts. If you desire high-performance clothing made from premium fabric and a comfortable fit, then look no further. These padded bicycle shorts have a hi-top waistband which provides a broader area of contact. The band gives these shorts more support without compromising your comfort. Unlike most waistbands, the ones featured on this model have laser-cut perforations for breathability.
The Fit Sensor 2 uses CB Carbon + fabric that keeps you cool as you ride. The carbon fibers have Coldblack treatment that reflects sun rays, as well as antimicrobial and antistatic properties. The Garneau's mix of Lycra, spandex, nylon, and polyester makes these padded bicycle shorts form-fittingly tight. The microfibers are also brushed back for enhanced thermoregulation and heightened moisture wicking.
The Airzone chamois is made from memory foam for an ergonomic fit and moisture-wicking, with zero pinch points and for a chafe-free riding experience. The seamless leg inner, stretch trimmed straps, elastic drawstrings, and Flat-lock seams also enhance the general comfort of these padded bicycle shorts. Reflective trims and accents provide a wearer with additional safety while riding in low-lit paths and roads.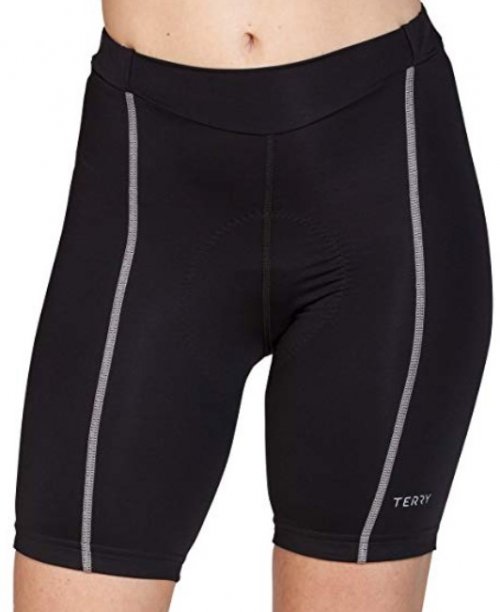 Make room for the Bicycling magazine's Editor's Choice, a design that will bring relief to all female bikers out there. The Bella padded bicycle shorts from Terry are popular not only for their style and fit but also for that all-day comfort they provide, as well as a compression that is just right. For anyone from casual riders to those who are serious about the sport, the Bella is a surefire option if you want something comfy and reliable.
This design is made from a combination of nylon and spandex. It is flexible, with elegant stitching and soft on the skin. The Flex Air Chamois is made in Italy, with what the brand calls Elastic Interface Technology. This tech includes a 4-way stretch pad for a wide range of movement and soft wings. The wings are entirely covered in perforations for increased breathability.
The waist of the Bella is elastic-free and the silicone grippers don't itch or cause any irritation. Overall, if you're a female rider looking for the next best thing, make sure that you don't skip the Bella from Terry. There's a reason these padded bicycle shorts won the Editor's Choice award from the Bicycling magazine, and you will have a great time trying out all of its innovative features.

4

. Sponeed Cycling Shorts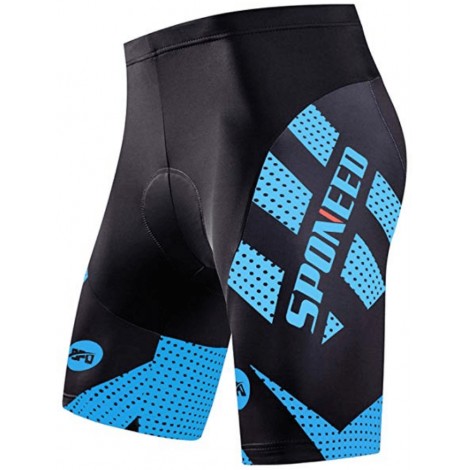 For the past seven years, Sponeed Cycling has put research and design into advancing the technology they put into their padded bicycle shorts and other clothing. The results are evident in these professionally upgraded four-way stretch tricot shorts. They also offer customized fits and branding for clubs and cycling federations. If a pain-free long ride is what you require, then look no further.
Sponeed padded bicycle shorts are made from a compressive yet comfortable mix of 80% polyester and 20% spandex. They are easy to wash by hand or washing machine in a heat setting of 100 degrees F. The 6-panel four-way stretch design has quality seaming for chafe-free comfort and anatomically correct fitting. They also dry quickly for added convenience when you launder them.
These half pant design padded bicycle shorts are ideal for riders at all levels, including mountain and road bikers. Silicone leg grippers keep the shorts from riding up and keep them in the set place. There is also a gel-filled chamois and padding in other vital spots for protection, especially on longer rides.
Another handy feature is the UPF 50+ sun protection offered by the fabric. Every detail in these shorts works together in reducing friction and sweat accumulation for longer and more comfortable riding experiences.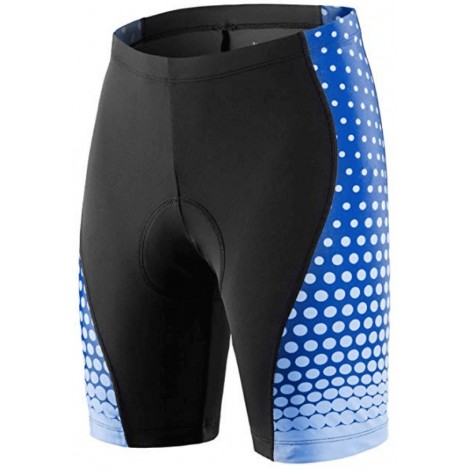 The Beroy 3D gel-padded bicycle shorts are made for the lady rider that requires protection while standing out from the pack. A mixture of premium quality polyester, Lycra, and spandex give these padded bicycle shorts heightened stretchability and smoother motion in every movement you make. This fabric also provides adequate compression to reduce lactic acid accumulation and oxygen debt.
You can hand wash or machine wash and air-dry the shorts for shorter periods than most articles of clothing. The 3D gel padding featured on these padded bicycle shorts comes in an 80kg/m3 density, with other thickness options available as well. This means it can support a variety of weight classes and be used in long-distance rides. The Beroy shorts come with a slip-resistant thigh belt to keep the short legs exactly where you want them.
The hemming also features silicone to make the shorts as tight fitting as possible. Beroy padded bicycle shorts have an antibacterial coating that prevents saddle sores, assuring you of a longer, healthier ride. A bonus with the fabric is its moisture-wicking and fast-drying quality.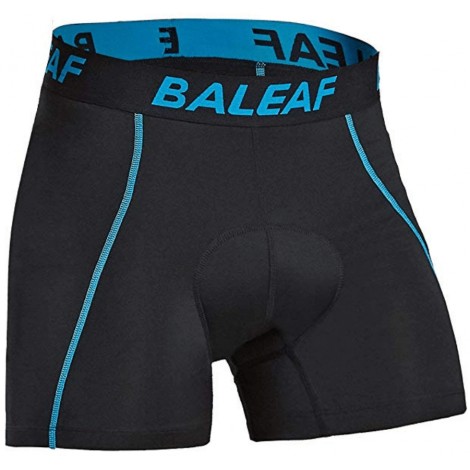 The Baleaf 3D padded bicycle shorts have all the technical specifications needed for mountain biking. They have an excellent blend of unique colors and are light enough to be worn with leggings or long shorts without compromising their finer qualities. What's more, their padding offers exceptional protection. It is available in heavy and lightweight options.
The Baleaf 3D padded bicycle shorts feature a 90% polyester and 10% fabric construction that wicks moisture, is easier to clean and dries quickly. For enhanced comfort, these bike shorts have flat seams that reduce irritation and friction as you ride. They are machine and hand washable. You don't even have to iron them, as they are wrinkle-free.
A feature that sets them apart from other padded bicycle shorts is their wide waistbands. These wide waistbands keep sweat away from the body, leaving you fresher at the end of your ride. It also makes for unrestricted torso movement, which enhances your performance. The sizes for this model run from small all the way to 3XL. Such sizing options make it universally available for all weight classes and body types.

7

. Pearl iZUMi Elite Escape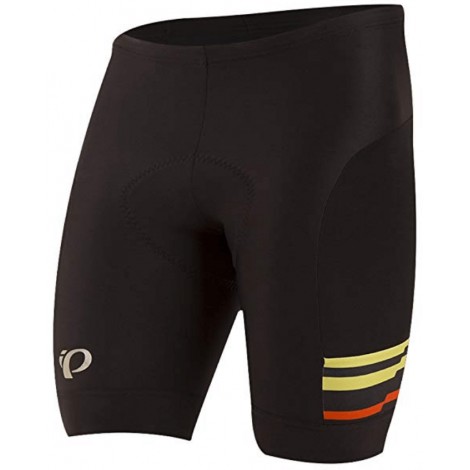 The Pearl iZUMi padded shorts are made with a focus on endurance. While other padded bicycle shorts focus on physical aspects, the iZUMi exceptional engineering reduces drag and other counterforces while proving unrivaled luxury, support, and comfort all day long. These lightweight shorts feature 88% nylon and 12% Lycra elastane P.R.O transfer fabric. You can also opt for moisture transfer material. The stitching features a 9.5" inseam for enhanced comfort.
The Elite Escape 1:1 chamois is iZUMi's spin on padding for the crotch area. Unlike most chamois, it is free-floating while smoothly interfacing with the skin to reduce friction. This chamois also comes pre-shaped to the curvature of your body, is highly durable, breathable, and keeps your skin dry. As far as safety is concerned, the iZUMi Escape has screaming yellow florescent trims that convert invisible UV light to enhance a rider's visibility and safety in low light.
The leg openings also feature a soft, stretchy silicone grip that conforms to where it is set. A light mesh bib on the hip area provides additional support while preventing the shorts from sagging or ridding too high while on the move. You will also enjoy stowing essentials in the three back pockets.
For thermoregulation, the iZUMi's fabric features In-R-Cool® yarn and a semi-auto lock full-length zipper. You can undo this zipper with one hand to cool down when it gets stuffy in your padded bike shorts.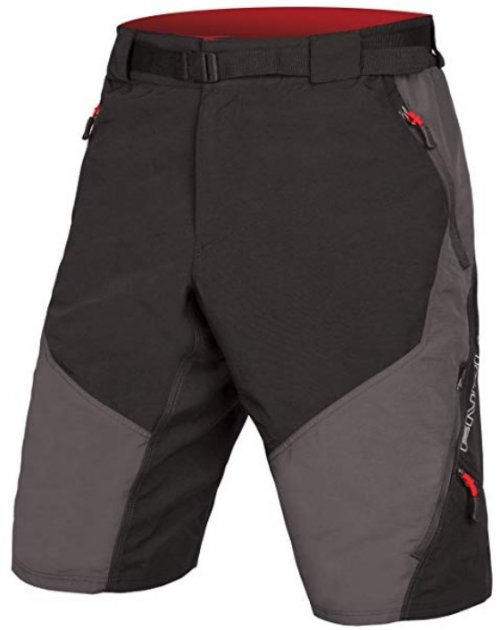 The original design of the Hummvee from Endura was created for London bicycle couriers. Since then, this iconic pair of padded bicycle shorts was adopted by everyone from mountain bikers to regular commuters, and it is truly an outstanding design. The reason for this lies in its ripstop fabric, in no less than six pockets, and a durability that can't be paralleled.
The Hummvee is made from resilient nylon ripstop with a DWR protection layer, making it water repellent. The seams of the design were also twin-needled so you can be sure they won't tear any time soon. The six pockets on the Hummvee are a refreshing element: two have Velcro closures, two have zippers, and there are also two smaller thigh pockets.
Finally, these padded bicycle shorts come with a liner that is detachable thanks to the Endura Clickfast system. The seat pad wicks away moisture and provides cushioned comfort, and the liner is amazingly easy to click in and out of place. It is also easily interchangeable with other bike shorts in the same range.
We are in awe of the Hummvee's technologies and features. You are surely not going to be disappointed by this high-performance choice!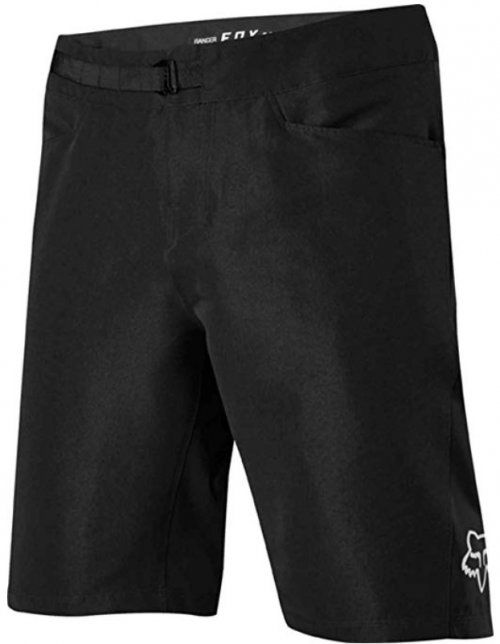 From the brand which specializes in all things motorcycle and mountain biking come the Ranger padded bicycle shorts, a design that is the best shorts/liner combo on the market at this very moment, according to its creators. The Ranger is a loose fit that offers a boost in performance both thanks to its inner and outer construction, and it will easily meet the demands of any type of terrain you throw at it.
This design comes in two colors - black and dirt, so you can fit it for any occasion. It is made from a midweight fabric that has a two-way stretch for flexibility and ease of movement. The Rider Attack Position patterning allows for a chafe-free ride, while the waist of the Ranger is adjustable, so you can find that perfect fit for yourself. On top of all of that, these padded bicycle shorts also come with pockets and a liner with EVO foam chamois. This liner can be detached should you wish to ride without it.
The Fox Ranger is definitely one of our top choices because of its design and cut, as well as the enviable durability it has for mountain biking. Starting from Bike Radar, so many reputable cycling and biking networks have recognized this pair of padded bike shorts as a must-have if you're dealing with challenging terrain.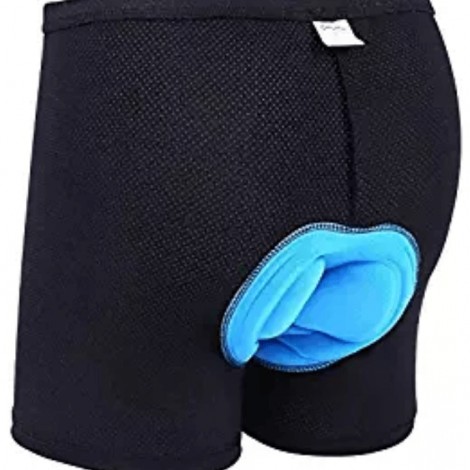 Ohuhu padded bicycle shorts are great for mountain biking. They have breathable mesh that ensures comfort even when layered with additional clothing during cold and hot days. 3D silica gel chamois padding conforms to your anatomy as well as your bicycle saddle. This padding ensures comfort and cushioning even on long and bumpy rides.
The Ohuhu 3D padded bicycle shorts are made from lightweight 90% polyester and 10% spandex fabric that are breathable and flexible. This elastic material keeps your body dry by wicking away moisture and preventing the accumulation of bacteria that cause saddle sores and other irritating reactions. It is also handy to note that the chamois padding featured on the Ohuhu is 2.9cm thick, which is 0.4 cm thicker than most paddings on the market.
The manufacturer's tag and the seams are also on the outside, which reduces friction and chafing. The general design counters wind resistance, effectively enhancing aerodynamics and reducing the amount of pedaling you need to do to reach top speeds. You also have the option of layering leggings over these biking shorts for warmth and to counter the repetitive friction experienced when your legs come into contact with the saddle or the bike frame.

Subscribe to our Newsletter