Best Oil For Leather Boots That Need That Extra Somethin' Reviewed
In a
Hurry? Editors choice: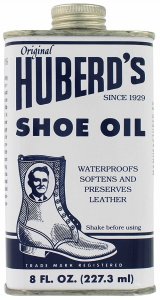 Test Winner: Huberd's Shoe Oil

There is a reason why leather shoes are considered superior to their synthetic counterparts. Of course, when it comes to genuine leather boots, in order for them to last as long as possible, they need to be properly cleaned and maintained.

Today, we are going to focus on the conditioning part of the process and because of that, we've made a list of carefully researched oil for leather boots. By choosing the formulas preferred by the many, you will be able to take care of your leather footwear and will make a remarkable impression anywhere you go. If you are interested in getting your favorite pair of boots to look as good as new again, then you have come to the right place! Scroll down and take a look at the best oil for leather boots currently on the market!
Standout Picks
Criteria Used for Evaluation
Water Resistance
One of the main reasons why we like to use oil for leather boots is to make them waterproof. Various conditioners from this guide contain various ingredients which enable this - from beeswax to silicone - there are dozens, if not hundreds, of both natural and synthetic options. The way they waterproof our boots is that they create a thin protective layer over the upper which keeps our feet dry as we brave the rain.

There is something to be said about the difference between waterproofing and water resistance, both of which have their place in our list. Waterproofing essentially means that your shoe can withstand pretty much any type of wet conditions, including standing ankle deep in water. Good waterproofing products also waterproof the seams of your boots, making them completely water-repellent.

By contrast, water resistance is a lower level of waterproofing. Water-resistant leather boots can help you in rainy weather, when you're dashing from your office building to your transportation, or if you suddenly find yourself caught in a summer rain shower. However, any prolonged exposure to water may result in some of the moisture getting through, thus your feet may not end up being 100% dry.

The tricky part is that you technically can't know if the oil for leather boots is a good waterproofing option for your particular brand of boots until you try it. There is no way of visually determining if your footwear is properly protected, and thus you will have to find an oil for leather boots which works for you through reading our guides and other reviews, and plain ol' trial and error.
Protection
Water is not the only thing your boots needs protection from. Other elements, such as snow, sand, wind and any other type of unfavorable terrain can also damage your footwear, and cause scuff marks or abrasions on them. This is true both for people who are on the clumsier side (hi, mom!), but also for those who are working jobs which are difficult and hazardous, such as on construction sites.

If you find yourself bumping into things a lot or - god forbid - if things often fall down around you, then you might want some abrasion resistance for your footwear. This can be achieved by investing money in heavy duty oil for leather boots, which will protect your footwear and keep it looking new for longer.

Mink oil, especially, is a great choice for protecting hard-wearing boots which often find themselves in extreme circumstances.
Effectiveness
A great benefit of conditioning your boots - and again, one of the main reasons it should be done on a regular basis - is that this process keeps the leather soft, supple, and shiny.
That's right - it isn't only about the rugged aspects, about protecting your boots from the tough outdoors, but using oil for leather boots is also about keeping them as good as new, for restoring their original glow and for making them comfortable again.

That is not to say that all hope is lost for leather boots which have lost their shine, are dull and cracking, grown stiff over the years. If your first thoughts were to throw them away - don't!
There is still hope for these poor neglected things, even if they haven't been cared for in a long, long time. Thoroughly cleaning and conditioning with proper oil for leather boots can breathe new life into your footwear, and you will find yourself with near-mint boots which you can continue wearing for even longer.
Color
You may have already gleaned from our guide that oil for leather boots tends to change the color of your footwear. These oils are usually thick and viscous and they penetrate deep into the uppers, darkening the shade of the boot to a degree which varies from product to product.
Some people find this effect undesirable, and so they hunt for those rare formulas which don't cause any discoloration, while others don't mind it, or even prefer it.

If you are not sure if the oil for leather boots you purchased causes a color change or not, it is best to first test it on a small, inconspicuous area of your boot.
Choose a spot on the inside of the design, for example, and condition it as though you would the entire boot, before setting it aside for a while. You will see whether the color darkens, to what degree, if maybe it becomes lighter again over time, and whether or not all of this suits your needs.
Application
Another key factor that we took into consideration when evaluating oil for leather boots products is their ease of application.
Cleaning and conditioning boots can be a long and arduous process if the products you are using have a complicated method of application, if you are not clear what type of brushes or cloths you are supposed to use, or - worst of all - if they tend to spill and run all over your hands and the floor, causing a mess.

Some options in this guide make your life easier by coming with an applicator of their own, which helps you apply the oil for leather boots quickly and efficiently and spare your fingers from greasy stains.
Those which do not, usually come with a set of clear instructions on how to best apply them for maximum effect and minimum damage to your surroundings.
Our Favorites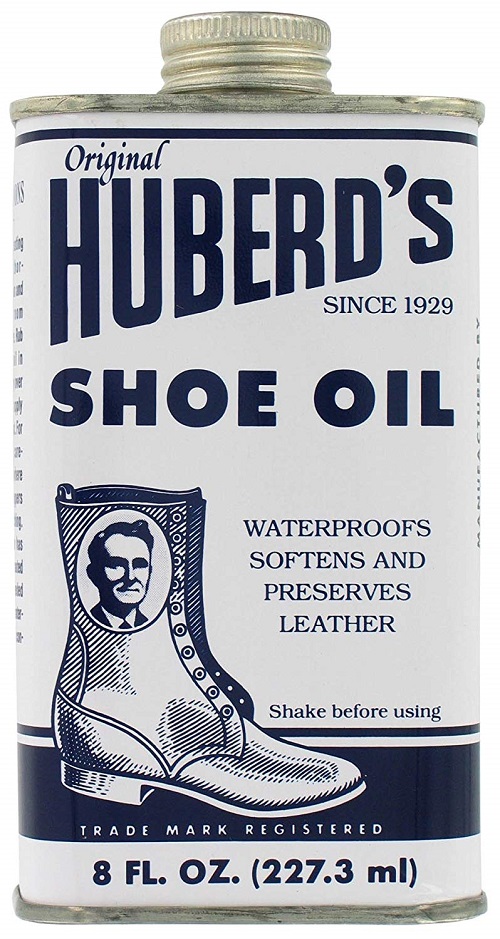 It all started with a grease formula which was created especially for loggers, to protect their boots from Great Northwest winters. Huberd's Shoe Grease Company was founded in 1921, and it has a long-standing tradition of putting together only the best shoe care products. What is special about this oil for leather boots, in particular, is that it contains no animal fats, as well as no solvents or additives that are harmful to leather.
Some conditioning products tend to have a certain smell about them. This is usually not a sign that they're going bad, it's just the way their formula is. When there are no animal fats, there is no strange smell, either. Additionally, there is also no possibility of Huberd's Oil for leather boots turning rancid.
 
In order to preserve the consistency of the formula, some oils use special solvents and additives which can damage your leather boots in the long run. Fortunately, this is not the case with Huberd's, as it doesn't contain any of these potentially harmful substances.
 
Huberd's is a solid formula which will keep your leather boots conditioned and waterproof. It doesn't have a bad odor, nor will it cause any undue cracks or flakes on the surface.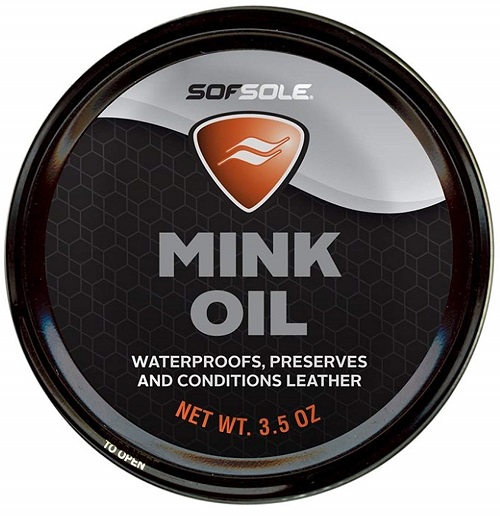 Sof Sole is a brand which specializes in athletic footwear accessories, including but not limited to insoles, socks, and shoe care products. Whether you need oil for leather boots you're wearing casually, or to help you improve your performance in a professional sport, this label has it. It also makes this Mink Oil formula which is especially famous for its water repelling abilities. It can be used on a wide range of products - from boots to purses to briefcases, and it helps prevent the leather from drying out, keeping it soft and supple.
While all conditioners serve to nourish leather products and to keep them from going dull, the Sof Sole Mink Oil for leather boots also gives them a beautiful finish. It is not shiny per se, but it is a certain type of glow which makes old boots look like they're brand new again.
 
This Sof Sole formula is best used for leather boots which often face the great outdoors. Dress shoes and sneakers which you wear to the office are not a good fit for this, as it is more geared towards heavy duty boots such those you wear during winter.

3

. Moneysworth & Best Mink Oil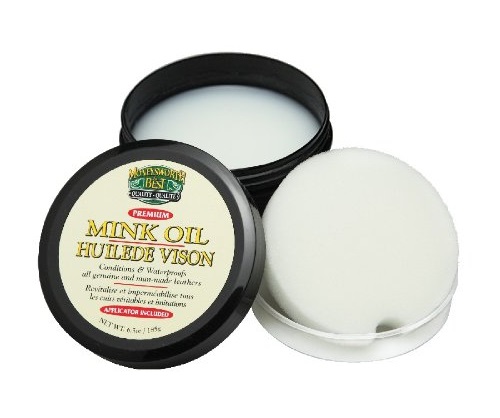 Moneysworth & Best Quality Shoe Care produces over 750 different types of shoe and foot care products all around the world. Their mink formula contains multi-refined oil of mink which deeply penetrates the material and provides both conditioning and waterproofing. It is specially compounded as oil for leather boots subjected to outdoor use, and some of its ingredients are lanolin, vitamin E and silicone. This special combination of ingredients makes sure that your boots are smooth and supple and that you can wear them with pride.
The silicone in this formula is responsible for protecting the material, the lanolin for giving it that soft feel, and vitamin E is important for replenishing the natural oil of your boots which dry out after repeated wet and dry cycles. All of this allows you to nourish your leather with the same thoughtfulness and care as you would your own skin.
 
There is oil for leather boots which does not penetrate well into the material and quickly washes off in wet conditions, losing its purpose. There are also products which have great penetration qualities but don't allow the material to breathe. However, the Moneysworth & Best formula is neither of these, as it restores natural oils deep in the material while at the same time keeping the air circulating.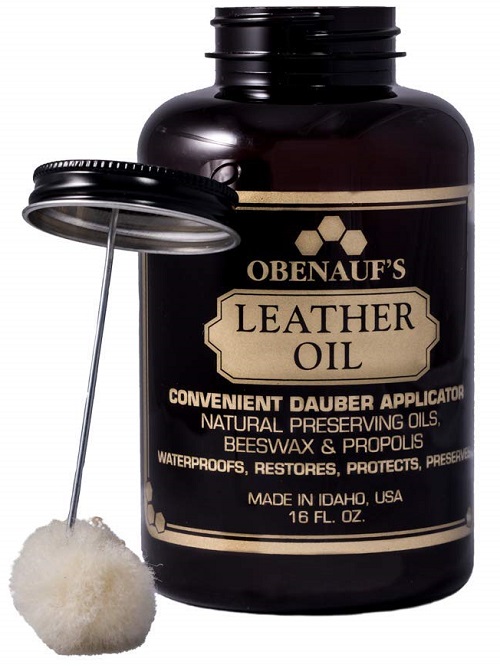 Obenauf's Leather Oil contains a mixture of natural materials such as propolis and beeswax. Beeswax, in particular, is a natural conditioner which provides water resistance while still enabling the leather to breathe. This oil for leather boots comes with a convenient dauber applicator which saves you the trouble of figuring out how to get the oil out of its container and onto your boot. It is especially effective in reviving and restoring old boots which have dried out.
There is also the added benefit that Obenauf's Oil helps shorten the break-in period for new, stiff leather boots. Break-in periods are a literal pain and our poor, sore feet could use a little help. Fortunately, Obenauf's formula is perfect to soften the uppers of stiff boots and prevent us from getting blisters.
 
Like most other items on our list, the Obenauf's Oil is also 100% made in the USA. It is made out of natural materials, providing water resistance and restoring old boots, as well as making new, stiff footwear more comfortable for wearing. We are honestly having a hard time trying to find a flaw in this smooth oil for leather boots.

5

. Red Wing Heritage Mink Oil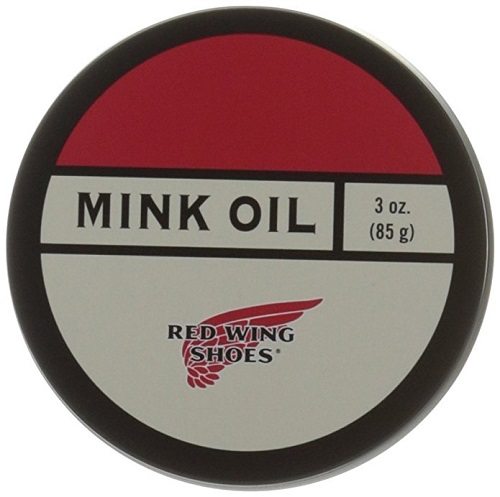 Another product from the great Red Wing Heritage brand, this Mink Oil is perfect for protecting your leather boots and lengthening their life. It is made in the USA and is especially effective with Red Wing leathers, including Mesa, Muleskinner, Rough & Tough, and Yuma. Though, of course, it stands to reason that you can use this oil for leather boots just as effectively on any other type of boots.
The ingredients in this particular oil for leather boots are lanolin, which serves to soften the material, make it more pliable and supple so that your boots are a breeze to put on and off, and also silicone, which conditions the leather and leaves it protected against the elements. This Red Wing Heritage Oil does change color after application, so keep that in mind before you apply it to your favorite pair of boots.
 
One more important thing when it comes to this formula is that it not only protects and softens the material, it also helps increase its water resistance! While your leather boots perhaps won't be ready for trudging across shallow streams, they will definitely hold their own in heavy downpours and inclement weather.

6

. Bickmore 100% Pure Neatsfoot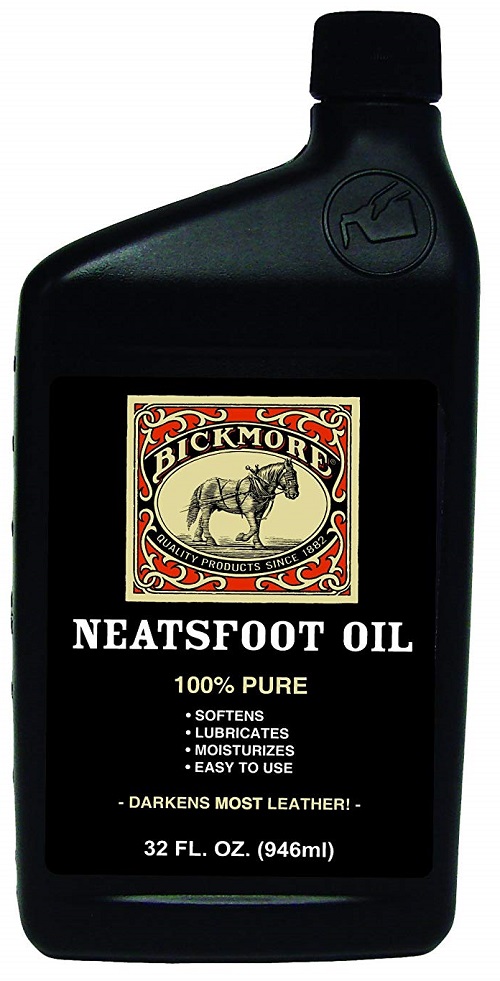 Bickmore is a brand which proudly produces quality tested formulas since 1882. That's 136 years of manufacturing products for treating leather! The Bickmore 100% Pure Neatsfoot is, as its very name suggests, an oil for leather boots without any petroleum distillates, or rather 100% pure. It is used to soften and condition most products, and it naturally repels water. It works great on shoes, boots, belts, baseball gloves, equestrian equipment and more. The Bickmore 100% Pure Neatsfoot is also completely made in the United States of America, with no part of it being imported from other countries.
The great thing about the Bickmore 100% Pure Neatsfoot is that it penetrates all the tiny crevices and pores of your favorite boots and provides them with much-needed nourishment. With this moisturizing oil for leather boots, your footwear will look as good as new in no time!
 
And not only that, leather treated with the Bickmore 100% Pure Neatsfoot becomes waterproof. This product has the property of naturally repelling water, which protects your boots from rain and snow, and extends their life.

7

. Red Wing Heritage All Natural


You must have heard about Red Wing before, an all-American company which produces premium work and safety footwear. They also tan their own leathers, and as a result, have a full collection of products designed specifically to care for this material. Red Wing Heritage All Natural is a special blend of mink oil and pine pitch, and it works especially well with Red Wing designs, of course. However, it will definitely serve its purpose with other goods, as it is a great oil for leather boots which keeps water at bay and improves the protection and durability of footwear.
The Red Wing Heritage All Natural is a product made from mink oil and pine pitch. The former helps with waterproofing and keeping your feet warm and dry inside your boots, while the latter is there to keep the leather hydrated and healthy. It is a unique combination which works wonders on all products!
 
One of the first things you may notice in a leather boot which needs conditioning is how lifeless and dull it is. The material can be cracked and flaky, and at a first glance, the boot in question is for throwing away. However, with the help of Red Wing Heritage All Natural, you can restore life to it and bring it back to its original glory in no time.
 
The Red Wing Heritage All Natural is made out of 100% natural ingredients and with this oil for leather boots, your footwear will be clean and shiny as though you have just yesterday bought them directly from the store!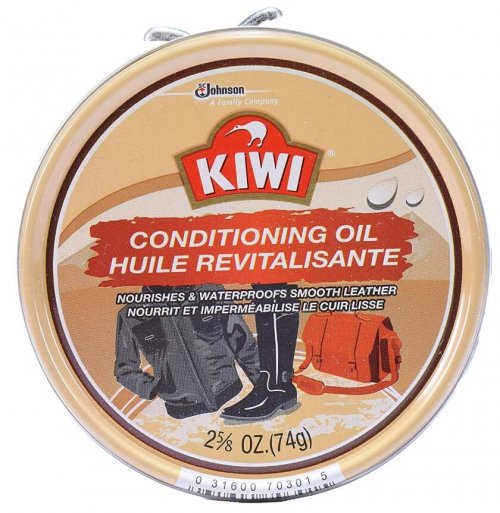 Kiwi Outdoor Mink Oil is an old favorite for many customers. For decades this has been one of the best waterproofing products on the market, and it still remains that to this day. This is a paste formula which smooths and conditions your leather boots effectively and keeps them that way for a ridiculously long time. While you are expected to condition footwear every two or three months, with the Kiwi Outdoor product you can extend that time up to a year! This oil for leather boots also prevents the upper from cracking or drying out and gives your boots that healthy, shiny finish of new footwear.
One can of this product could last you for literal years. The reason for this is that thanks to its unique formula, the Kiwi Outdoor Mink Oil can be used less frequently than other products. When you purchase it, you can be sure that it's a cost-efficient investment!
 
The Kiwi Outdoor Oil will protect you from literally any type of wet conditions short of standing directly in water for a certain period of time. And even then, your feet are likely to stay drier than they would in any other type of footwear or with any other type of treatment!
 
We are amazed by the durability of this oil for leather boots, as a little of it goes a long way. You don't have to condition your leather boots with it so often, and its waterproofing properties are nothing to sneer at.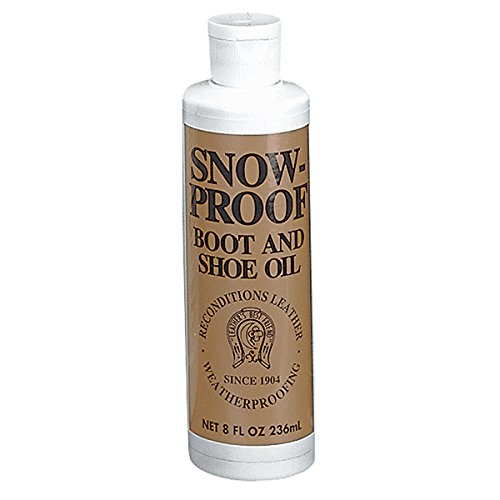 Exactly what its name says, Snow-Proof Oil is for snow-proofing your leather boots. It is ridiculously easy to apply, without any special application methods or tools, and it serves to repel water, snow, dew, as well as to keep your boots soft and supple. This a simple, uncomplicated oil for leather boots which doesn't come with any special bells or whistles, but which can still hold its own against the heavyweights in the same category, such as the Red Wing Heritage. It is specially designed for work and hunting boots, though it could also work well on any other heavy duty footwear.
While most products here come with a special applicator and an entire manual on how to use them, this Snow-Proof formula is simple and easy! Just apply the Oil to your leather boot, especially where there are stitches, let it soak in overnight, wipe off the excess and you're good to go!
 
There have been reviews which declared this Oil just as good as some of the more popular, and more expensive items in this guide. Don't be fooled by the minimalistic design of its package - the Snow-Proof oil for leather boots is every bit as effective as other products you have run into here and will keep your footwear just as soft and just as waterproof.

10

. Fiebing's 100% Pure Neatsfoot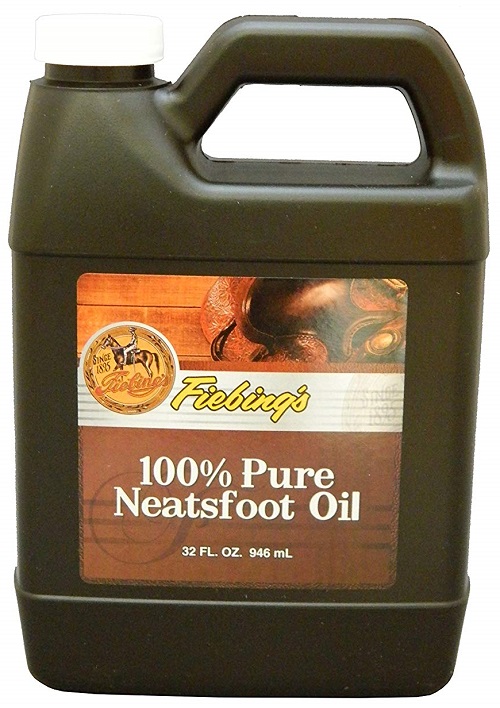 Advertised as a product which has been used by saddle-makers for over a century, Fiebing's 100% Pure Neatsfoot is everything your leather boots need, especially if they're subjected to rugged, outdoor use. The purpose of this natural oil for leather boots is to restore and replenish natural oils in leather goods. It also protects against stiffening of the material and helps make it soft and pliable. Fiebing's 100% Pure Neatsfoot can also be used on gloves, jackets, horse saddles, harnesses, baseball gloves - you name it!
With repeated use, especially in harsh environments, natural leather oils get washed off, and the material becomes dull and cracking. This is where a natural preservative such as Fiebing's 100% Pure Neatsfoot comes in handy, as it extends the life of leather boots by replenishing their natural substances.
 
Repeated wetting-drying cycles, such as when you go outside in the rain or snow and then come back and leave your boots to dry in a warm place, lead to stiffening of the material. Fiebing's oil for leather boots is here to prevent just that, and ensure that your footwear always remains soft and malleable to the touch.

Subscribe to our Newsletter