Best Naot Shoes For The Stylist In You Reviewed
In a Hurry? Editors choice: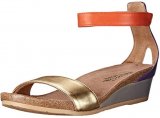 Test Winner: Pixie

If you're looking for a pair of footwear that looks amazing, is supportive, cushioned and is made with quality materials, you'll do great with a pair of Naot shoes. This footwear brand was founded in 1942 as a small kibbutz factory making work shoes and sandals with simple, yet practical, designs. Since then, Naot has grown and developed into the international footwear brand it is today.

You can buy a pair of Naot shoes for almost any occasion, with options for men, women, and children. No matter if you are looking for something for the winter or the summer season, you can purchase a wide range of options. The 10 best Naot shoes listed below include sandals, boots, flats and even options suitable for the workplace, so you can go with the model that is best for you.
Standout Picks
Criteria Used for Evaluation
Style
Though the brand focuses more on quality and practicality rather than fashion, it does manage to incorporate some style into their shoes, too. On days when you just want to be comfortable, it's still good to find a pair that goes well with your outfit – even if they're just plain velcro sandals – to make you look more put-together and also make you feel at ease with your appearance.

However, style can also mean a shoe's overall construction and design. Some styles provide more protection and practicality than others. Ultimately, what you want is a good balance between the "fashionable" style and a practical construction.

Using straps as an example, thin straps in women's sandals tend to look more feminine and trendy than thicker ones, but the latter provides more security and stability when walking. To stay balanced, we recommend you read for the pair with medium-thickness straps that offers the best of both worlds. When it comes to Naot shoes, you also have an option between velcro and buckle straps. Though the former has a more classy and trendy look, the latter provides more adjustability and is much easier to use. The better choice for you will depend on whether you prioritize appearance or convenience.
Another thing you'll want to have in your next pair of Naot shoes is versatility in terms of color. It's always good to have different color options for a select shoe style. This way you get to see all the variations and pick your favorite, as well as what would best suit your style. Because Naot shoes have natural leather in the uppers, the colors come out rich and smooth. Dyed options are slightly dark in hue and are unlikely to have a bright, tacky appearance.
Unfortunately, many Naot shoes are only offered in dark tones like black, grey, and brown. This is especially true for men's options. Some select women's options have color variations and are offered in shades like red, blue, and white. For a more fun and energized appearance, opt for a brighter tone. However, if you prefer something versatile that can be paired with more outfits, the darker tones are better.
Last but not least, you will want your new pair of Naot shoes to be versatile. Having too many pairs of shoes can be a nuisance. Of course, it's a privilege that others in the world may not have, but it's also burdensome because of the space all this footwear requires. Fortunately, less can mean more if the pair of Naot shoes that you purchase is versatile. When a shoe's style, color, and provided features allows them to be worn for many different types of occasions, you can keep your shoe collection small yet satisfactory.
In terms of color, neutral tones are great for versatility because they can be paired with nearly any other color. Some examples of neutral tones are black, grey, and white. As for style, we suggest you opt for something that's simple and perhaps on the more formal side. You'll always give off a better impression when over-dressed rather than under-dressed. Some examples of versatile Naot shoes are flats, strappy sandals, and ankle boots.
Fit
The overall sizing and fit of your Naot shoes are crucial for comfort. At first, a fit that's not ideal might just result in mild discomfort, but in the long term, it can cause serious issues like aches and bruises. What's more, a bad fit can cause you to lose your balance more easily, putting you at a higher risk for injuries from slipping and falling.

The most obvious requirement for a good fit is the right size. Unfortunately, the size of Naot shoes varies depending on the collection in which they belong. It's important to order as recommended because it's a simple process that can save you lots of discomfort as well as money spent to buy a second pair.

With that said, the following are some more tips on sizing. Firstly, always remember to take into consideration the socks you might be wearing with the shoes, and ensure there's enough room to accommodate for them. Also take the measurement of your feet regularly to ensure your shoe size is up to date, as even in adulthood, foot size may fluctuate. Because leather is stretchy, the footwear might get larger in time, so consider that as well.

Apart from the overall size, there's also the width to consider. The proportion of length to width usually stays the same with footwear unless there are special "wide" or "narrow" versions available. Many of pairs of Naot shoes, especially sandals have side panels that, while excellent in providing stability and structural support, make the shoe harder to accommodate to different foot widths. If you have wide feet, we therefor suggest you opt for the pair without side panels. Though you would be sacrificing additional support, it's worth it if it means more overall comfort.
Shock Absorption
With each step you take, your weight creates a shock impact upon hitting the ground. This can cause harm to your joints in the long-term. Naot shoes that provide cushining are able to stop the shock from reaching your joints by absorbing it evenly within the outsole.
Though shock absorption is crucial for runners, it's also important for anyone who stands and walks on a regular basis. Something as simple as outsole material can go a long way. Many Naot shoes have outsoles made from Polyutherane, also known as PU. This is a synthetic material that's waterproof, wear-resistant, low-density, and very shock absorbent.
Rubber is also commonly used in outsoles. This is another synthetic material and is best known for its durability and stability. Rubber soles are decently shock absorbing, but not as much as other options. Another commonly-seen material based on rubber is TPR, which stands for Thermoplastic Rubber. It is made by molding and compounding robber granules and is often made with recycled materials. It is also good for shock absorption and is also slip-resistant and protective for outdoor terrain.
Materials
One of the factors that makes Naot shoes such a popular option among those looking for quality is the brand's choice of materials. On the whole, Naot shoes are made to be comfortable, breathable, durable and easy to break in, which means that the materials chosen have to allow all this, and more.
One of the most common materials used in the construction of Naot shoes is leather. Ideal because of its natural properties, leather is a good choice for all seasons, and all types of styles, including flats, sandals and boots. It is easy to break in, but even more importantly, allows for a good amount of air flow. Furthermore, it can be dyed to almost any hue, giving you a stylish pair of footwear you'll happily wear for quite some time.
Another material often found in Naot shoes is cork. The brand often utilizes this material in the footbed portion, combining it with latex. Cork has a number of properties that makes it so popular among quality oriented brands. Firstly, it offers a great amount of support that doesn't flatten with time. It is naturally breathable, and extremely durable. When combined with latex, as it most often is in Naot shoes, it adds a great layer of shock absorption that protects the feet from impact, without becoming too cushy.
You'll find that other compounds used in the construction process for Naot shoes include rubber, most often used in the footbed, as well as a variety of fabrics, some of which have even been developed to increase moisture management and stop odor-causing bacteria from growing.
Adjustability
In this day and age, time seems to pass faster and faster as our schedules become more packed. Who still has enough leisure time in the morning to sit down and patiently lace up a pair of shoes? For those rushed mornings, it's imperative to have at least one pair ready to be slipped right on, saving you time and effort. Besides that, convenient shoes are also easy to kick off at the end of the day, which is another bonus.

Nearly all Naot shoes can score high in this criterion. Because they were made to be practical, most, if not all, of their footwear is split into two types: straps and zippers.

Two types of straps can be found in Naot shoes. There's velcro, which is the ultimate pick for convenience. They are super easy to adjust and will stay nice and secure when in place. The only potential flaw is that velcro is often associated with kids' shoes and might therefore seem unstylish, but velcro shoes have made their comeback recently. Besides, fashion rules are all objective – who said you had to follow them?

The other type of straps is buckles. This kind is a bit harder to adjust, but they are usually designed so that they don't have to be taken apart often. Once adjusted to the right size, they can stay that way, and the shoe can be slipped right on. Buckles also tend to have a classy, almost antique look when used in footwear. For those who are old-fashioned, buckle straps might be the better option style-wise.

Zippers can be found in boots. They are on the same level of convenience as velcro straps. However, zipper Naot shoes are not adjustable. If your shoes fit a bit too large or too small, there's no way to adjust them as you would have done with adjustable straps.

There is one more closure system used on Naot shoes, and that's elastic goring, most often found on ankle boots. It's a good choice for those who don't want to deal with complicated closures, as it allows for you to slip your footwear right on, without having to worry about any adjustments whatsoever. It is also, generally, quite secure, and should not let your footwear slip off while walking. It will also automatically adjust if your feet tend to swell throughout the day.
Top 10 Naot Shoes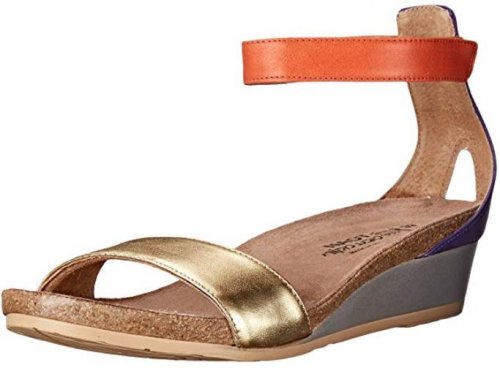 The Pixie wedge sandal will come as a surprise to many, and perhaps even to long-time fans of the brand. Their delicate and feminine appearance is a stark contrast to most of the brand's protective sandals and rugged boots. However, these Naot shoes still provide plenty of practical features. For one, high-quality leather is still used in the uppers for a luxurious look and a flexible fit. Despite having a wedge heel, the brand's signature cork footbed is still present. You can be sure more comfort is provided with this pair than with regular wedges!
When it comes to style, this pair of Naot shoes definitely scores high. The open toe is cheeky and playful, perfect for a casual summer day. The strap at the ankle is thin, dainty, but also adjustable. Though the backs of the wedge sandals aren't too supportive because they are thin, they do have a more feminine appearance. They even have a unique little cutout at the heel - which might encourage you to take better care of your feet for the sake of appearance.
The Pixie can be purchased in a wide range of color options, and is ideal for both casual and semi-formal wear. These Naot shoes go for an average cost, making them a good investment for those in need of a practical yet pretty summer style.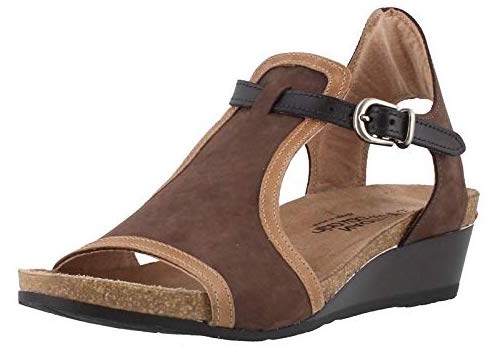 This pair of Naot shoes is great for transitional weather. A wedge sandal with plenty of coverage, the Fiona is a beautiful pair of footwear you can wear with a variety of outfits, and it will even work for various occasions. It can be purchased in several color options, from eye-catching animal prints to classic neutrals, so you'll easily show off your sense of fashion with this model of Naot shoes.
If you love wearing heels, but need something a bit more stable, you'll definitely benefit from investing in these Naot shoes. The Fiona features a 1 ¾ inch heel, along with a ¾ inch platform. This adds an aesthetically pleasing heel, all while keeping your feet firmly planted on the ground. The wedge provides full ground contact, thus causing less pressure on the heel and ball of foot areas.
These Naot shoes are made with quality materials, just like any of the brand's models. The upper utilizes suede, while the anatomical footbed (like most Naot shoes) uses a compound of cork and latex for shock absorption and support. The outsole is made with PU, and works well on most surfaces.
This pair of Naot shoes costs around average, and is ideal for those who want a sandal that isn't too revealing. The versatile color options are a huge plus as well.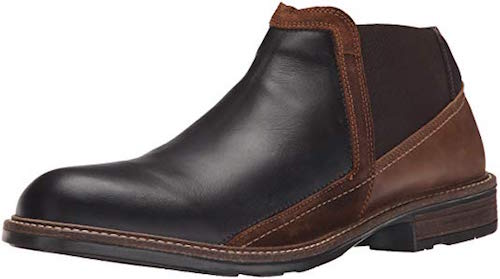 Everyone loves a stylish pair of Chelsea boots, and this pair of Naot shoes definitely makes for a great choice. The Business is the ideal choice for those after a versatile pair of footwear that will easily go from office to drinks at the bar, all while keeping your feet comfortable, supported and cushioned. You can purchase the Business in two color options, brown or black.
These Naot shoes use genuine leather in the upper, providing you with a material that's highly durable, easy to break in, and comfortable for long hours. On the inside, you get a technical fabric lining that was developed to provide maximum breathability and to wick moisture away from the foot.
The double gore on these Naot shoes allows easy on and off, as well as a comfortable fit that doesn't rub the ankle area. The instep is padded for extra comfort, and support is provided by a metal shank that is located underneath the arch.
The insole is removable, containing a good amount of shock absorbing padding. It's wrapped in suede for maximum comfort. As for cost association, this is one of the more expensive pairs of Naot shoes listed in this guide, but the versatility of the model is more than worth the investment.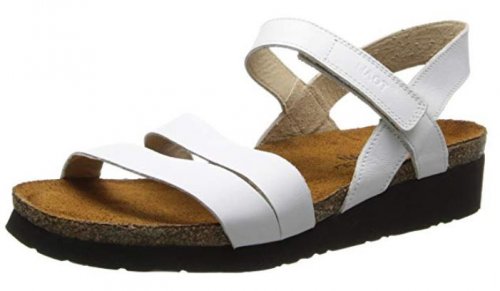 Step into summer on the right note with the three-strap Kayla sandal for women. As part of the brand's Elegant Collection, these Naot shoes feature a 1.5-inch sole made from EVA as well as an anatomic footbed made from latex and cork, which, through time, allows the insole to mold to the contours of the foot to result in a customized and supportive fit. It is also covered in suede for a soften underfoot feel.
As for the straps, you are given the choice between leather and nubuck in a variety of colours, ranging from classic black to elegant sea green and eye-catching plum. The hook and loop closure renders these Naot shoes easy to slip on and adjust, and the backstrap offers additional stability. Cost-wise, the Kayla is one of the cheaper options on the list.
The 1 1/4 inch wedge heel makes the Kayla a pair of Naot shoes that will look good in both casual and slightly dressed up settings, which means that you will get a versatile sandal you can wear on a daily basis.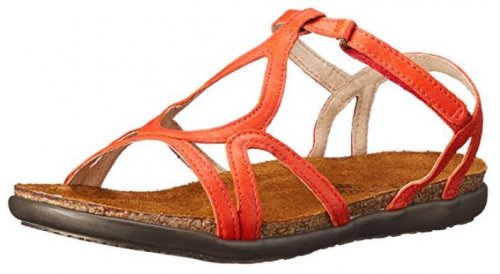 A fancier, more feminine design is provided by the Dorith sandal for women. This gladiator-inspired sandal features a pattern of thin straps across the top of the foot, resulting in a boho appearance. Because of this, these Naot shoes are perfect when paired with loose clothing and bright patterns, though their simplicity means they can be worn with nearly everything. They are offered in plenty of different colours including white, gold, and teal.
Though there seems to be a complicated network of straps, in reality, it is simple. There is only one hook-and-look strap around the ankle that makes them easy to slip on and off when in a hurry. A backstrap is also present to provide more support. As a member of the Piatta Collection, these Naot shoes have got the brand's classic cork and suede footbed, but they also have a TPR sole.
Keep in mind that this pair prioritizes appearance more than most Naot shoes, and as a result does not provide the utmost comfort. Some customers claim the support is insufficient, and that they run narrow in size.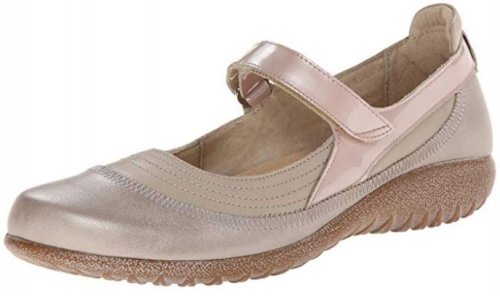 Flats are a super convenient and versatile shoe style for women. They look chic, feminine, and can be considered professional, yet their flexibility and easy-to-put-on design make them the perfect footwear for lazy days, too. The Kirei Mary Jane Naot shoes combine the brand's well-known practical features with a more classy silhouette. You have a choice between an upper made from leather, suede, and patent, as well as different colours like black, brown, and beige. Though they don't look the trendiest and aren't as suitable for professional environments as most flats, they do look more elegant than the typical practical sandal.
As part of the Koru Collection, this model of Naot shoes features a lightweight 1-inch PU sole as well as a hand-sewn stroble construction. A padded technical lining can also be found at the front portion, and its purpose is to absorb moisture and provide additional comfort.
In addition, they feature a padded heel cup for stability and increased structural support. This sporty pair of flats is one of the most affordable pairs of Naot shoes on this list, so if you're limited in terms of budget, but still wish to invest in a great pair of footwear, it's definitely recommended you check out the Kirei.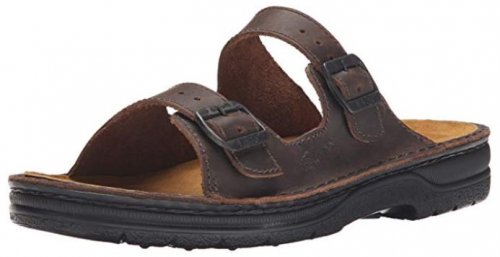 Slides are perhaps the only ultra-convenient and yet socially-acceptable shoe style. With the slip-on easiness of flip-flops without the annoying toe post or the sloppy, not-put-together impression, slides are a must-have for everybody. The Miakel is a great pick of such Naot shoes for men. Not only are they slip-on, but their two buckles straps are also completely adjustable to provide even more convenience. The thickness and the spacing of them also guarantee the foot stays secure and strapped down comfortably.
As part of the Men's Scandinavian Collection, this pair of Naot shoes has a lightweight PU sole as well as an anatomic cork footbed covered in soft suede providing comfort and arch support at the same time.
Additional support is offered by the side panels between the straps. On top of that, they have a great look that's simple, casual, but also gives off a more put-together look than most slides. Unfortunately, they are only offered in brown and black leather.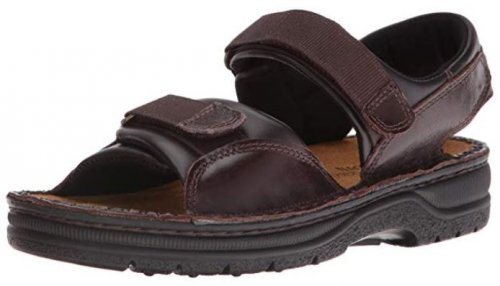 The Andes men's sandals are excellent for everyday wear, especially for those with diabetes. At a glance, it's obvious that these Men's Flexi Collection sandals are sturdy and protective. The straps are wide and secure, providing stability to the feet. They are hook-and-look to guarantee a secure and convenient closure, as well as to render them adjustable in size.
What makes these Naot shoes good for those with diabetes is their lining. The material linings are soft and non-abrasive, providing comfort for swelling feet. As well, the adjustability means they can be made to accommodate foot swelling.
The underside of the straps is also well-padded to offer a snug and comfortable fit. Though the color options are very limited - only black and brown are available - the advantage of the practical features make it hard to complain.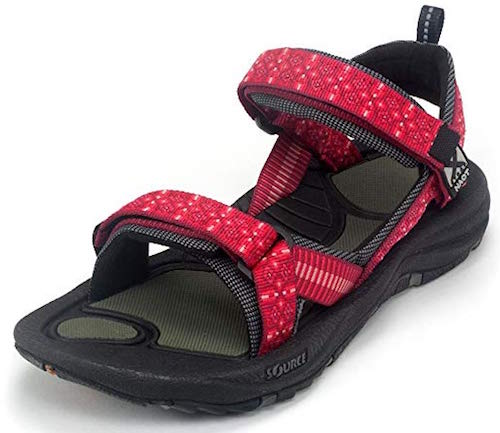 People who love hiking and outdoor adventures should definitely check out this pair of Naot shoes. The Harbor was developed for practicality and performance above all, and is both supportive and shock absorbing, making it a great choice for summer hikes. It comes in both a men's and women's version, with several color options that add subtle fashionability to an otherwise rugged model of Naot shoes.
The upper of the Harbor is made with woven polyurethane straps that are completely water friendly and won't take forever to dry, even if you decide to wear these Naot shoes near water. Adjustability is provided by hook and loop straps at the instep and forefoot, allowing you to get the best possible fit.
The outsole on these Naot shoes is completely slip resistant, all while allowing you the flexibility you need to move without constraint. Another notable feature of the Harbor is the fact that it is a 100% vegan shoe, an excellent choice for those who care about the welfare of animals.
This pair of Naot shoes ranks slightly below average in terms of price, so if you're after a casual or sporty sandal, it is an excellent choice.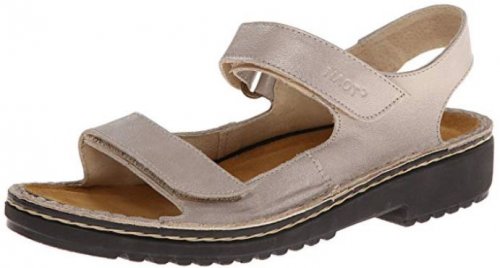 This member of the Low Flexi Collection is the perfect pair of Naot shoes for ladies in the great outdoors. No matter how elegant and dainty you like to look in daily life, when you're out on the trails or at the river, having practical footwear is more important than appearance. The Karenna women's sandal has a simple silhouette but is still equipped to offer great protection.
With two velcro straps across the top of the foot, they keep the wearer balanced and secure. The side panels between the straps, as well as the backstrap, help enhance stability.
These Naot shoes have also got a heel measuring approximately 1 1/4 inches, giving the overall sandal a feminine touch it would not otherwise have. A wide range of color options are also offered, and to top it all off, they are one of the least expensive items we've got.

Subscribe to our Newsletter