Best Mephisto Shoes Reviewed & Rated
In a Hurry? Editors choice: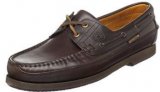 Test Winner: Hurrikan

If you view shoes as an investment in both style and health, then you should definitely consider getting a pair made by Mephisto. This is a company that's been around for over five decades, and their designs can be purchased in 50 countries, with over 18000 stores worldwide. You'll find that the best Mephisto shoes offer both comfort and style, and with over 600 models to choose from, you can rest assured there's a pair for you.

The task of finding the best pair of Mephisto shoes definitely isn't an easy one, so the list below looks at ten of their highest rated products for men and women. Styles listed below include both casual and formal footwear, as well as that which is more athletically oriented. Additionally, you'll find that the Criteria for Evaluation section includes great tips on how to choose the best model (or models) for you.
Standout Picks
Criteria Used for Evaluation
Breathability
Breathability is one of the key criterion for a comfortable pair of Mephisto shoes. Unfortunately, it's also the criterion that's hardest to evaluate.
Unlike things like size and material, it's not something that can be identified at first glance - or even the first time you wear your new footwear. Rather, it tends to become obvious only through time, and when/if you realize there's a problem, it's already too late to go back. That's why it's crucial to know what to look for prior to making your purchase.
To begin with, breathability evaluates how well a pair of footwear is able to dissipate or wick out moisture and odor. Ideally, shoes should keep the feet fresh, dry, and odorless.
Mephisto shoes include a special technology called Soft-Air Technology. Though its main purpose is to provide cushioning and shock absorption, it also contributes to providing ventilation. Most, if not all Mephisto shoes have this technology used in their construction. However, how effective it depends on other factors of the shoe, the most obvious of which is the shoe style.
It goes without saying that sandals are more breathable than hiking shoes. However, the technology tells you that regardless of style, the pair would provide more ventilation than their counterparts that don't have the technology.
Another thing to consider, which is not specific to the brand, is the material. Microfiber leather, a high-quality artificial leather, is one of the most breathable materials because there are ventilation "pores" evenly distributed on it.
In a test done by CHIKO Shoes, moisture was pushed through different types of materials using a special instrument to determine their level of breathability, and with microfiber leather, the moisture bubbles came out nice and evenly. Genuine leather was also found to be breathable, but the moisture bubbles were not evenly distributed.
On the other hand, synthetic materials like polyurethane (PU) and vinyl score very low with breathability. Unless they are used in sandals, your feet will likely drown in their own perspiration. Thankfully, these kinds of materials aren't used much by in Mephisto shoes, but just keep that in mind when purchasing from other brands.
Value
Unless you've got tons of cash to spare and don't mind if you lose a bit here and there, the price is an important aspect of purchasing footwear. You might think you want to get the cheapest possible price, but in reality, what's more important is to make sure you're getting the most out of your money spent. That means having a high quality for a relatively cheap price.
Now, Mephisto shoes are relatively expensive. Some of their walking shoes cost more than the typical winter boots or hiking shoes, which are normally more expensive. To evaluate whether or not they are a worthy investment for you, consider the material and versatility of the shoe.
Mephisto shoes often use leather. This material is pricey since it is, after all, real animal hide that can't be churned out of a factory with cheap labour. Its development, acquisition, and manufacturing process is much more costly, and combined with a high demand, the price of the material is hiked up.
However, there is a wide range of benefits that come with it. The elasticity of leather renders it tear-proof, flexible, and supple. When used in the lining or cushioning, it provides premium comfort. Leather is also sturdy, heat insulating, and can regulate temperature, which is desirable in winter and hiking boots. This is just one example of a costly material that can offer priceless benefits. Other high-quality material examples include suede, sheepskin, and silk.
Versatility is also important because it determines whether or not your Mephisto shoes can be put to good use. Shoes that are expensive but multi-use are worth the money because they can fulfill the role of several pairs, saving you clutter in the closet as well as the energy to pick out and buy other pairs.
In terms of practicality, nearly all Mephisto shoes should be pretty versatile because they are all designed for walking and comfort. What you should worry more about is style. For instance, walking shoes of a neutral colour are more multi-use than burgundy dress sandals - whereas the first can be worn for long walks, streetwear, and maybe even semi-formal events, the latter would be reserved for formal wear. Therefore, pick footwear that can be worn for a wide range of occasions to make the most out of your purchase.
Protection
When out and about, make sure to keep your feet properly protected. Just like how you wear a helmet for bicycling, your toes must be kept safe to prevent potential injuries. This point isn't very important to consider when you're just running errands around town, but it is crucial when going for long walks, hiking, or when out in harsh weather or uneven terrain.
First things first: the toes. Toe protection is necessary for cold weather because it provides warmth and also reduces the pain when/if you stub your toe on uneven terrain. For hiking boots, a toe guard is preferable. For normal outdoor shoes, a covered toe should be sufficient.
If you know you'll be near water, then it's water-resistance you'll need to prioritize. Waterproof membranes in the uppers can protect the feet from getting wet, though the downside is that as effective as they are at keeping moisture out, they're also good at keeping it in - in other words, you'll sweat. Leather also claims to be waterproof, but if you know you'll be getting wet, rubber and other synthetics are more sure to be effective.
Another aspect of hiking boots are plates, which are semi-flexible inserts between the outsole and midsole. These prevent bruising from uneven rocks underfoot. However, this provides heavy-duty protection and usually isn't needed unless you're hiking.
Style
Once upon a time, footwear was worn for the sole purpose of protecting the feet and making it easier to walk and get around. Nowadays it's also for style, which is why all sorts of unpractical yet oh-so-fashionables types of shoes have popped up (just take a look at stilettos).
The best thing about Mephisto shoes is that they attempt to combine fashion and practicality. The brand's products often have a sleek modern look and yet retain lots of practical features as well. At their core, each pair of Mephisto shoes is made to facilitate walking, and with the come and go of trends they have not only managed to keep that as an objective but also enhanced their products to both look good and feel good on your feet.
With that said, you've got to know which pair is suitable for you, your style, and your conditions. Though there are countless great looks, the looks are each suitable for different kinds of environments, and picking the wrong one could not only ruin your outfit but also make a bad impression by making you look out of placed and dressed inappropriately.
For casual, everyday occasions, sandals and sneakers are perfect. They have a laid-back feel and are super comfortable, so you can never go wrong with them on a lazy day. If you want to look a bit dressier, then men's slip-ons, boat shoes, Oxfords, and dress sandals are a good choice. The best thing about these dressy shoes is that they have hidden practical features too, so even if you're at a formal business meeting or in the office, you can always stay comfortable.
Size
No matter how high-quality, protective, or stylish your footwear is, you'll never get a chance to feel their benefits if they don't fit well to begin with. A slight difference in size might just seem like squished toes or the occasional blister, but in the long-term it can result in foot fatigue and strain, which is never desirable. What's more, it will come in the way of you experiencing the other great features provided by the shoe, and will give you an inaccurate impression of what the shoe can really offer.
What's so difficult about sizing, especially when buying online, is that some shoe models do not fit true to size. They might run large or small, which means they could be slightly bigger or smaller than the typical shoe of that shoe size. Sometimes, the manufacturer will state sizing suggestions in the product descriptions (e.g. order half a size up) and you can simply order accordingly. They have a sizing chart on their website that lists the sizes in US and UK sizes compared to measurements in inches and centimeters. This way, you can simply measure your own foot and order accordingly. Here are some tips when taking your own foot measurements:
Always measure both of your feet. It's not uncommon to have one foot slightly bigger than the other, so order according to the larger one.
Measure at the end of the day, since the feet tend to swell a bit as the day goes on.
Take into consideration the socks you might be wearing with the shoe, and ensure there's enough room to accommodate it.
Also, consider the shoe material. Some materials like leather and canvas will stretch a bit through time.
In short, to make the most of the comfort provided by your new pair of Mephisto shoes, it's crucial to ensure you've got the right size.
Top 10 Mephisto Shoes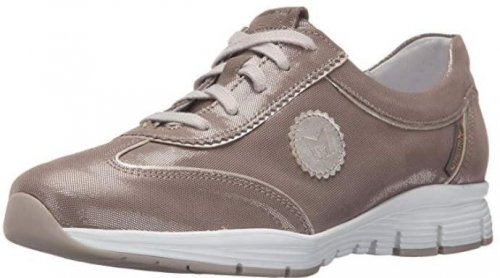 Sneaker-type footwear is excellent for everyday wear because it provides comfort for walking and standing, but looks more polished than other athletic shoes. Yael is a great option of Mephisto shoes for women, especially those with sensitive skin. The inner lining is made of genuine leather that is smooth and supple, providing an amazing feel and lots of breathability.
Cushioning is also provided by the shock-absorbent insole. The impact of your every stride is prevented from harming the joints. The abrasion-resistant profile sole is present to provide a better grip on all types of terrain, keeping you steady and stable at all times.
In terms of appearance, Yael might not seem too special, but the brilliance of this pair of Mephisto shoes lies in its simplicity. The model can be worn whenever, wherever, and with whatever. Different colours are also offered, like dark taupe, silver, grey, and white.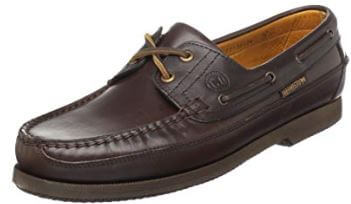 Boat shoes were first created in 1935 to prevent sailors from slipping and sliding on the decks. Since then, it has transformed into a fashionable accessory not only for sailors, but for everybody looking to switch up their style. The Hurrikan boat shoe for men is an excellent place to start because it is the brand's classic boat shoe, and also one of their best sellers. Handmade in Europe and featuring a double-stitched natural leather upper, these Mephisto shoes serve looks and quality at the same time.
To provide traction in wet environments, the natural rubber soles are siped. They are also super durable and wear-resistant. The calfskin in the lining allows the feet to breathe and to regulate the temperature and humidity inside the shoe. The leather uppers give them a polished look and a rich colour that is sure to add a luxurious finishing touch to any attire.
Though they sit on the higher end of the price spectrum, the expensive appearance of these Mephisto shoes allows you to wear them with jeans, shorts or even a linen suit, giving you excellent value for money.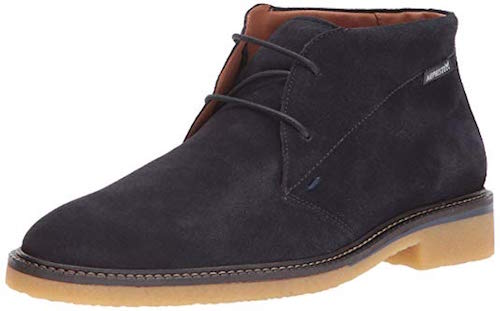 If you're after the best Mephisto shoes for autumn and winter use, you may want to check out the Gerald - an ankle boot that's stylish and versatile. It can be worn on both elegant and casual occasions, and comes in a few color options, including black, navy and brown. You can also choose the upper material, with both full grain leather and suede options.
This pair of Mephisto shoes will look good with both trousers or jeans, making it a good option for professional wear. It will even work for those who tend to walk or stand for long periods of time, thanks to the Soft-Air technology that's present in the insole. Not only does the insole provide excellent shock absorption, but it also encourages air flow, making for an overall healthy foot environment.
The heel includes a shock absorbing insert, while the rubber outsole offers great traction, flexibility and shock absorption, without adding too much weight. Because the upper is made with genuine leather, you will easily break in this pair of Mephisto shoes, and the classic lacing system allows for some fit adjustment.
In terms of cost association, the Gerald ranks pretty high compared to other models listed. Nonetheless, if you want the best Mephisto shoes, it is definitely an investment worth making.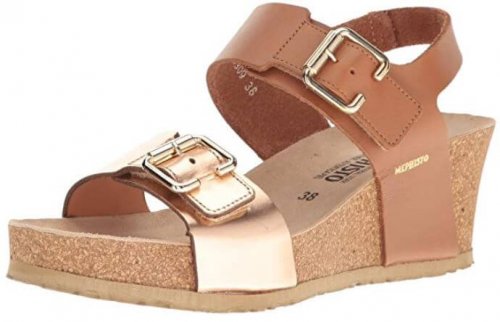 Though this brand is more well-known for their athletic-inspired walking shoes, they also offer dressier options. The Lissandra platform dress sandal is a great example of dressy Mephisto shoes. Though they are elegant, the model provides the same walking comfort which is at the core of all footwear by this brand. Their wedge heel ensures that all parts of the foot come in contact with the ground, providing more stability than other types of heels. The cork footbed will also mould to the contours of the foot through time to provide the best possible support and underfoot feel.
Though the straps are gorgeous and minimalist, they are practical, too. The thickness of them lets the foot be strapped down comfortably and prevents slipping, while the velcro renders them adjustable.
A light, non-slip PU sole is also featured on this pair of Mephisto shoes, keeping the overall shoe nice and light for easy walking.
For a simple, chic, yet practical summer style, these are a must-have!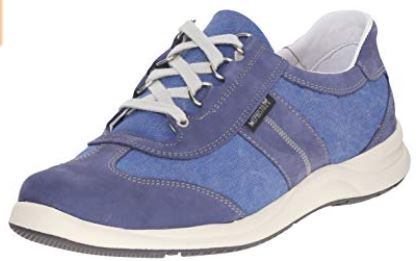 The Laser walking shoe for women combines a sporty look with a sleeker streetwear look, providing the perfect athletic shoe for those who are too chic for the typical sports shoe. There are lots of different colours like warm grey, indigo, and chestnut, all of which have an even tone and bring them out from the crowd without being tacky or super eye-catching. As for material, you can choose between nubuck leather and bucksoft, both of which are sturdy and have a gorgeous appearance.
When it comes to technicalities, the best thing about Laser is the shock absorption provided. This is partly because of the Soft-Air Technology (which we touch on in our criteria section), but also thanks to the removable footbed. Your every stride would be cushioned and comfortable.
As well, these Mephisto shoes feature a non-slip sole made from natural rubber and a soft fabric lining. The fact that they're the most affordable pair on the list is just another bonus. The con is that they run small in size and have a narrow toe box, but ordering a size up should do the trick.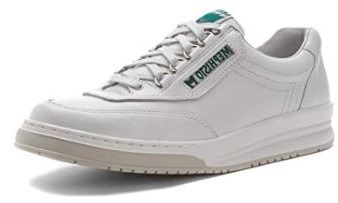 An athletic construction is combined with a neat, polished exterior in this pair of men's Mephisto shoes to create the perfect walking shoe. Comfort is maximized thanks to the small details. The lacing system is specially made to prevent pinching and rubbing against the top of the foot. The padded collar and tongue guarantee a snug but not squeezing-tight fit around the ankle. On top of that, a leather lining pads the inside for a smooth feel.
The brand's Soft-Air technology is used to provide ventilation. This way, any moisture or warmth accumulated in the shoe is allowed to dissipate, leaving your feet feeling fresh and dry. The model also comes in different neutral colors and has a sleek, modern look while providing all the mentioned features.
Sounds too good to be true? Well, almost. There is quite a high price tag on this pair of Mephisto shoes, but that's to be expected. You can't get high quality without paying a high cost, too.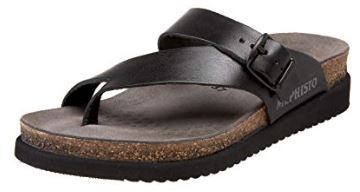 For a busy summer day or when you're on a tropical vacation, there's no better choice of footwear than sandals. The Helen sandal for ladies is great because it prioritizes light weight and simplicity. There is no heavy lining, unlike most shoes. All the cushioning comes from the natural, eco-friendly cork footbed, and though at first it might feel stiff, it can do wonders to keeping the foot, ankles, and spine aligned. What's more, the cork will mould to the contours of your foot through time, creating a custom fit.
Besides that, the uppers are made of a nice, sturdy nubuck leather that ensures they stay good for long-lasting wear. The straps are spread out over the foot to strap it down and ensure there is no slipping around when you're trying to walk. They are also adjustable in size.
The downside is that some customers claim the strap is stiff and could cut into the foot. The model also runs small in size, so definitely order a size larger than usual. However, if you're after a quality alternative to Birkenstock sandals, then this pair of Mephisto shoes is an excellent choice.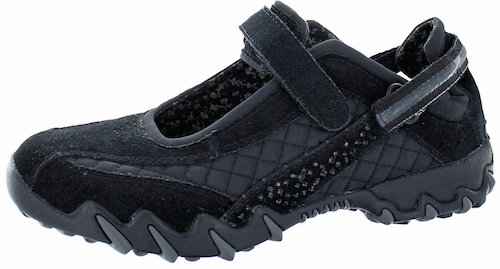 The Niro Diamonds is a great pair of Mephisto shoes for those looking for a good balance between the comfort and practicality of sneakers and the stylish looks of a casual pair of flats. This Mary Jane is ideal for everyday wear, as well as travel, seeing that it includes plenty of comfort technologies, combined with a breathable, sporty look.
The outsole on this pair of Mephisto shoes is made with a slip-resistant rubber compound that works well on all types of surfaces. The versatile traction pattern will help grip the ground in both dry and wet conditions.
A heel cushion absorbs shock, and is aided by a removable footbed. Anatomically shaped, it will provide a good amount of support to those with a normal arch, but it is easy to clean, or even replace should you need a different fit underfoot.
The upper combines nubuck and mesh for maximum breathability, and two hook and loop straps allow wearers to find the ideal fit - one secures the shoe over the instep, while the other is located at the back of the heel and helps adjust size.
This pair of Mephisto shoes ranks around average in terms of price, but can often be found on sale, making it a good choice for those who are on a tighter budget.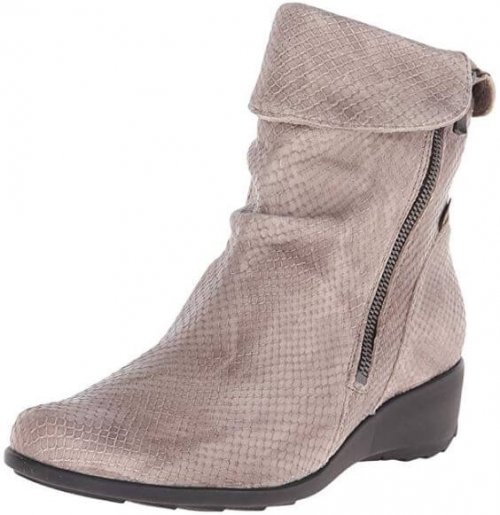 Every lady needs a pair of ankle boots for autumn. They are a lifesaver when sneakers aren't warm enough, but full-on boots still seem a bit extra. Plus, they are chic and can be dressed both up and down if they have a minimalist design like this pair does. Their leather uppers not only add to their classy look but is also very flexible. In fact, they'll become more supple through time, so the more you wear them the better they'll fit, making them one of the best Mephisto shoes you can buy.
The zipper on the side makes sure you waste no time and effort before breezing out the door. With a removable footbed and a synthetic lining, a snug fit is also provided.
Note that the outsole is smooth, so they aren't the best for slippery, rainy streets or rough terrain, but are alright for streetwear. Also, though the crinkled leather look is great for some, for others it might feel odd.
This pair of Mephisto shoes also comes in a winter edition that features fur lining, so if you're after something warmer, it is definitely worth checking out.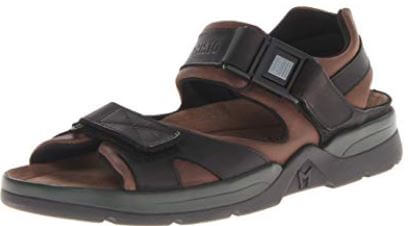 For summertime outdoor exploration, the Shark men's sandal is excellent because it is protective and breathable at the same time. When we say protective, of course, we don't refer to the toes because they are out in the open as with all sandals. However, the outsole is made to be grippy on all types of terrains, preventing slips and falls. It is also abrasion-resistant, allowing them to be worn for a long time.
These mid-priced sandals would also score high with convenience. The hook-and-loop straps make sure you can just slip them on and go. However, they might not be very adjustable because the velcro is too limited to be adjusted much in size.
A quick-release fastener is also around the instep to secure the shoe in place when walking, and the Soft-Air technology provides cushioning. However, despite all this, some customers say they are uncomfortable and could hurt the feet, so be cautious about that when purchasing.

Subscribe to our Newsletter