Best Inversion Tables Reviewed
last updated:
Jun 13, 2019
The inversion table: a medieval torture device, or an excellent way to relieve back pain and increase flexibility? While it may seem like the former, inversion tables are one of the best devices that you can use at home to decompress your spine. It also increases blood flow and flexibility and has even been known to reduce tension and stress.
Traditional stretching is a great way to elongate your spine and work the kinks out in your muscles, but you can only stretch so far. With the help of an inversion table, you can achieve a more elongated range of motion. Plus, it feels great and it is pretty fun to hop on for a ride!
In this guide, we have sifted through many makes and models of inversion tables to bring you our top 10 favorite designs currently out there on the market.
In a Hurry? The test winner after 6 hrs of research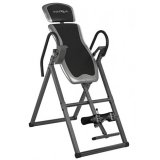 Innova ITX9600
Why is it better?
Easy to adjust
High-quality materials
Holds 300 pounds
In a
Hurry? Editors choice: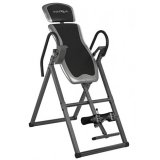 Test Winner: Innova ITX9600

2
Researched Sources
890
Reviews Considered
6
Hours Researching
10
Products Evaluated
Adjustability
Features
Comfort
Size
Materials
By Default
Find The Top Rated Inversion Table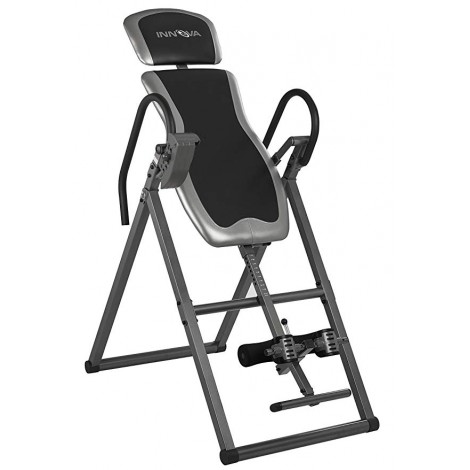 Easy to adjust
High-quality materials
Holds 300 pounds
The reason that we selected this inversion table to sit at the top of our list is that it is simple and easy to use, and incredibly comfortable. It has a lot of various settings to accommodate a wide variety of users. Plus, it is made from high-quality materials that you can feel good about.
This inversion table is made from tubular steel that can comfortably hold weights up to 300 pounds. You can make adjustments to the height in 6 different ways simply by pulling out a pin. This method of adjustment is so easy you can do it with just one hand!
The pad is incredibly wide so that it is perfect for almost all body shapes. Unlike most, it won't hug your body so it works better for a wide variety of users. It also has a comfortable headrest that is able to be adjusted. For additional support and comfort, it has a fortified ankle rest so that you feel secure even when shifted upside down.
For users that are looking for an inversion table that is simple and sleek, we feel that this option from Innova ITX9600 is one of your better choices. It is made from high-quality steel that won't wobble, and small padded features make it incredibly comfortable to use. This is a perfect tool to help relax muscles after running or weight training at the gym.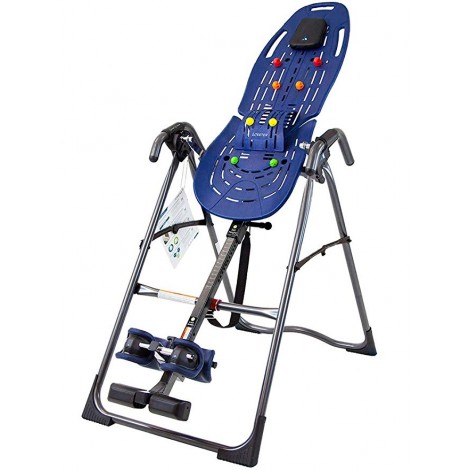 Easy to adjust
Tension knobs
Lumbar support
Uncomfortable ankle support
If the primary reason you are searching for an inversion table is to help with chronic lower back pain that flares up the moment you lace up your running shoes, you will want to check out this option. This design will help increase flexibility and blood flow. It also has a few extra features built into the backrest to help alleviate back pain.
What makes this inversion table stand out from the rest is that it have knobs situated on the backrest that will dig into key pressure points. These knobs will feel a little uncomfortable at first, but will really help loosen up tight muscles. There is also additional lumbar support for achy lower back pain as well.
To make adjustments to this table, simply pull out the pin at the bottom and shift it to your desired height. One thing that users really love about this design is the ankle restraints. They fit around your ankles like a glove, but they aren't too tight so they won't limit circulation.
If back pain is your number one complaint, this innovative design is perfect for you! It has additional features that offer a lot of relief on your tense pressure points on your entire back. Plus, it is incredibly comfortable! It is also the only FDA registered inversion table that is currently out there on the market.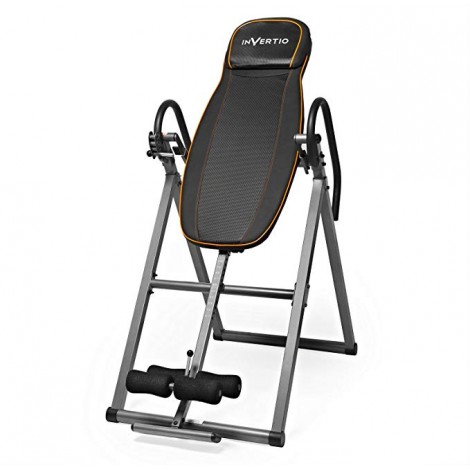 Comfortable
High-quality materials
Simplicity is the name of the game when it comes to the Invertio Inversion Table. It takes up limited space in your home or home gym, and it is incredibly easy to use. High-quality materials mean it is capable of securely holding a lot of weight, and foam grips feel comfortable on your ankles.
This design is constructed with 1.25-inch tubular steel that is strong enough to support weight up to 300 pounds. Making adjustments to the height is simple and easy, and can be complete to just one hand. The longer design means it can support heights that start at 5'1'' to 6'6''.
One thing that we liked most about this inversion table is that the height markers are printed clearly on the device. Instead of using unclear markers that range from 1-6, each hole is labeled to indicate a corresponding height. It also has a cushioned and comfortable backrest that is a lot more comfortable than those that offer limited cushioning.
For those that are looking for an inversion table that is pretty simple and easy to use, this design is one of your better options. Users reported that this design is incredibly easy to put together and it will not take up all that much room in your home gym or even set up in your living room.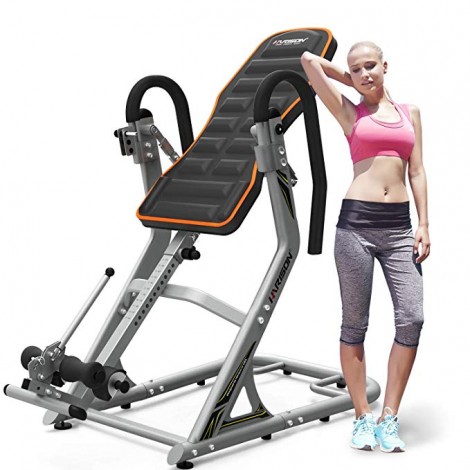 Simple assembly instructions
Comfortable backrest
Tedious assembly
Very heavy
This is another style of inversion table that is great for those that want something that helps alleviate back pain. The incredibly comfortable back cushion not only feels great, but it eases tense back muscles. What users really like about this inversion table is that it is very easy to adjust as well as simple to use.
This design is made from high-quality tubular steel that is capable of holding just a little bit more weight than many of the other designs that we have seen (350 pounds, to be exact). It is also able to adjust to heights that start out at 4'8'' all the way up to 6'8'', which is pretty impressive.
When fully adjusted backward, it is capable of achieving a perfect 180-degree angle that is perfect for promoting blood flow. One thing that users really liked about this inversion table is that the backrest is padded with memory foam. This means that over time, it will adjust to the shape of your body for maximum comfort!
If you are looking for a design that helps alleviate back pain above all else, this is a really great design. If you are new to running, you may notice that your back aches as you strengthen your leg and core muscles. Users like that it feels incredibly comfortable on tired backs, and it fairly easy to put together.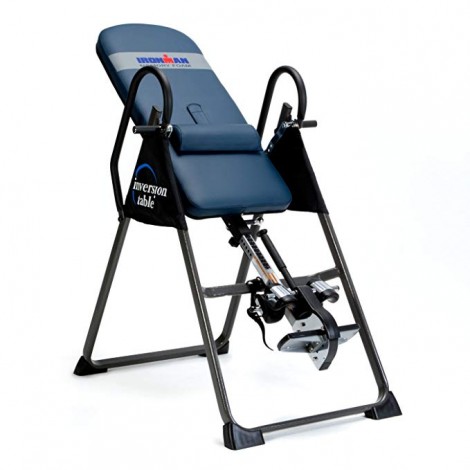 Trusted brand
Easy to use
Comfortable design
Yes, this is the exact same brand that brings you the Ironman competitions every year. With that being said, you know this inversion table is made with some pretty intense athletes in mind. The great feature of this design is that it is a lot more compact than some of the other designs that we have seen out there on the market. This makes it a great inversion table for those that are working with limited space in their home.
The biggest thing to note about this inversion table is that it is made with high-quality materials. Powder coated tubular steel can support up to 350 pounds when most designs are only about to hold about 300 pounds. Making adjustments to this table is simple and easy. You can lock your feet securely in place with one hand. It uses incredibly thick curved foam for a comfortable fit.
The back of this inversion table provides a boost of lumbar support when you need it. The great thing about the additional lumbar support is that you also have the option to remove it if you simply want to lay flat. When you are finished with your session, the entire unit folds up compactly for easy storage.
If you train with the ferocity of an Ironman, this design is perfect for you! It is small and compact so it won't take up that much room in smaller spaces, but it is made from materials that you will be confident using on a daily basis.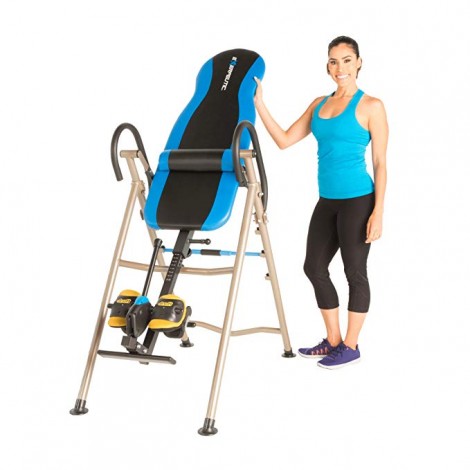 Airsoft ankle cushions
Soft backrest
Awkward to use
Bulky
Sits very high
If you are a little reluctant to try an inversion table because you are afraid of potentially falling, you will want to check out this design from EXERPEUTIC. It uses ankle grips that are unlike any of the other options we have seen so far out there on the market. Instead of just looping your feet through, this design actually cinches your feet into place so you won't go anywhere unless you manually unhook your feet!
The patent-pending airsoft holder creates the perfect environment to keep your feet comfortably in place. While it is incredibly secure, the lightweight and breathable material will keep air moving to your legs, even when you start to sweat a little bit. Users love how secure yet comfortable the airsoft holder feels on their ankles.
The backrest provides users with a 1-inch thick layer of foam for incredible comfort and support. There is a lumbar pillow on the bottom of the unit to offer you a little more support for your lower back, and you have the option of removing the pillow as needed. It is made from high-quality materials that can hold about 250 pounds, which is just slightly less than some of the other designs that we have seen so far.
If you are in the market for something that is very easy to use, this is one of your better options. The best part about this design is the airsoft ankle holders that keep you securely and comfortably in place as you stretch.


Heat and vibrations
Easy to assemble
Torn between buying a vibrating heated chair or an inversion table? Why not get both? This from Health Gear table is the best of both worlds. It reclines all the way back while the backrest sends heat and vibrations to your tired back muscles.
The backrest of this inversion table is made from an impressive 4-inch thick foam for excellent support. The center of the backrest delivers heat and vibrations that you can adjust with a remote that is included with purchase. Plus, the heated pad is able to be removed so you can take it with after your inversion session is over!
The very sturdy frame of this inversion table can hold up to 300 pounds, which is about par for the course when you compare it to other options. It has super long support arms that make it just a little bit easier to hoist yourself back upright at the end of a session. The ankle cuffs are simple foam pieces that you weave in between your ankles. This provides a comfortable fit, but it isn't as secure as some of the other locking designs we have seen.
What we liked most about this design from Health Gear is that it goes above and what you need to give your spine a rest. The added benefit of heat and vibrations help soothe tired and achy muscles. It is also something that is incredibly easy to climb in and out of, which is a must for some users.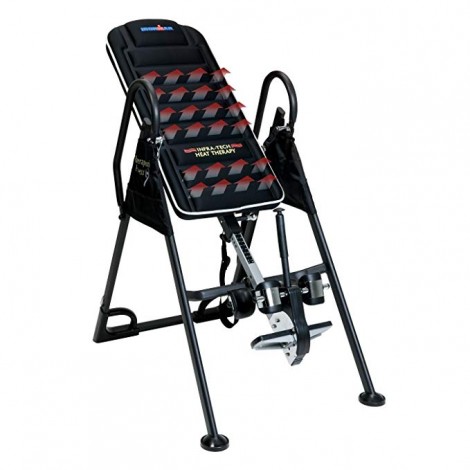 Trusted brand
Infrared heat
Secure ankle grips
What we liked about this inversion table from Ironman is that it offers quite a bit more than your standard inversion. It is made from high-quality materials that you come to expect from an Ironman product, but it also provides a special form of heat therapy. These two features combined make for an excellent way to soothe your aching back.
Instead of using a basic heating pad, this inversion table uses something called F.I.R. heat, or Far Infrared Rays. This type of heat penetrates deeper into the tissue, but it doesn't affect the skin the same way that traditional heat does. Using F.I.R heat, you can expose your muscles to the rays for a longer period of time without any discomfort to your skin.
The materials used are just as strong as you would expect any Ironman product. It is made from powder coated tubular steel. This frame is capable of holding about 350 pounds, which is about 50 pounds more than the norm. It also has a wide flat back that is perfect for most body types.
For those that are looking for a great quality inversion table that offers something a little extra, this is a great choice. It works great at elongating your spine safely and comfortably, and you also get the benefit of heat. Due to the fact that it uses infrared rays, you can lay on it longer with minimal discomfort.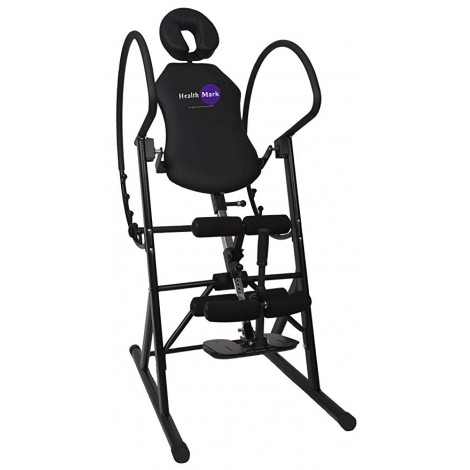 High weight support
6 preset angles
Face down option
Large silhouette
Very heavy
Comfort and stability are the two biggest takeaways when it comes to this inversion table from Health Mark. What we liked most about this design is that it is incredibly stable and easy to use, and there are a lot of different settings that are perfect for any size and shape of the user.
What makes this inversion table just a little bit different is that you will have the option of lying face up or face down. There is a hole cut out at the top (similar to a massage table) that you put your face through when lying on your stomach. There is a set of cushions for your ankles that is easy to slip in and out of, as well as a pair for knee support.
This tank of design is actually able to withstand up to 600 pounds, which is double the capacity of many of the standard designs. It can reach angles of 180 degrees with 6 preset angles as well. It also as a very comfortable foam padded backrest for added support.
If you are looking for something that is able to accommodate a lot more weight than 350 pounds, this is a great option. Plus, it works a little differently by allowing users to lie face down, which provides a little bit extra comfort and stability to an already peculiar movement!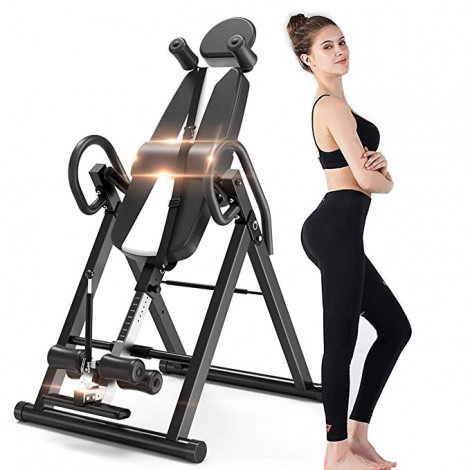 Safety belt
Handlebars
Foldable
If you have some concerns able stability hanging upside down, this design from Bigzzia Gravity offers a little more security than some of the other designs. It is made from high-quality materials that you can feel confident using. It also sports a few extra security features that make it a little easier to use.
If you worry about slipping around while hanging upside down, this inversion table comes with its own seatbelt! Once your feet are looped through the foam pads, secure your torso with the belt the runs across your body. Plus, it also has a pair of handlebar next to the head that provides you with something to hold on to.
It is constructed from extra wide tubular steel for extra stability and no risk of wobbling. It is smaller and more compact than most, it won't take up that much room in your gym. Plus, you even have the option of folding it up and storing it when it is not in use.
For those that are worried about sliding around when using one of these devices, this option is definitely worth a look. The addition of a safety belt and handlebars at the top ensure you will stay in place while it is in use!
Criteria Used for Evaluation

Adjustability
Making sure that it is the right size for your build it one of the most important things that we considered.
You want to make sure that each design will be able to achieve your desired depths so that you can get the full range of motion that you need. If it is too short, you may bump your head on the floor. If it is too long, it will be a little more difficult to mount and tip. We have narrowed down some of the key features that we looked for in terms of adjustability.
Ankle adjustments: When it comes down to it, the ankles are what is keeping you from sliding onto the floor like a wet noodle when you tip backward. We wanted to make sure that we selected designs that had adjustable ankle pads that really grip your ankles and hold them snugly in place so you will feel confident on your descent.
Length adjustments: This is hands down the most important feature to an inversion table. We stuck to designs that had simple adjustments that you can change with one hand. Most designs used pull pin adjustments that ran down along a tube with holes. For these designs, all you need to do is pull the pin out and select where you want the length to be. Our favorite designs labeled their lengths by heights. This means that if you know how tall you are, you know where you should place your pull pin!
Head adjustments: This type of adjustment isn't crucial to the success of your decline, but it will make it a lot more comfortable. If you are using your inversion table to help eliminate the stress that you carry in your shoulder and neck, and an adjustable headrest is something that you will want to include. Keeping your head and neck comfortable is the best way to really relax your shoulders and let stress just melt away.

Features
Decompression your spine is great, but we were drawn to inversion tables that offered users a little something extra.
Of course, we wanted to select designs that helped with back pain, but inversion tables can do so much more!
When used on a regular basis, inversion tables can increase blood flow in your entire body, melt stress away and ease overall tension that is brought on by stress, and improve flexibility. With the proper additional features, these benefits can be dialed up to an 11! Below, we have compiled a list of some of our favorite additional features that we found in these products and the reasons you want to give them a try.
Heat: Every athlete knows that tense muscles love the heat. Whether you are slipping into a warm tub or laying on a heating pad- it feels pretty good. That's why we were drawn to designs that incorporated some type of heating element in their designs. Infrared heat (like we saw in the Ironman design) is one of the best options out there on the market.
What makes infrared heat perfect is that is doesn't affect the skin as much as traditional heating elements, so you can use it for a longer period without feeling like you are being cooked on a griddle.
Lumbar support: Any aching lower back love a little bit of additional lumbar support. These additions to inversion tables typically take the form of a very thick foam pad that runs along the bottom of the unit where your lower back sits. We made sure that every design that included this type of support also gave users the option to remove the foam pad if they wanted to simply lie flat without a big bump in the backrest.
Arms: Long arms are how to hoist yourself back upright after your session is over. If you are using an inversion table to help with back pain, the last thing that you want to do is contort yourself in a weird way to sit upright. We liked designs that have very long arms with firm padded grips to make it very easy to sit back up. The only downside to large arms is that it will take up quite a bit of room in your home.

Comfort
We realize that standing on your head is a little awkward, so we wanted to make sure that we selected designs that were as comfortable as possible.
There are a few things that we took into consideration to ensure your 180-ride will be as comfortable as possible.
Mat thickness: Naturally, a thicker pad is a lot more comfortable. The range of thickness that we found in most designs ranged from 1-inch thick to 4-inches thick. Keep in mind, however, that some tired backs respond better to stiffer surfaces, so if you are buying an inversion table solely to correct chronic back pain, you may want to opt for a thinner layer of padding.
Headrest: There were a few schools of thought when it came to the headrest of many of the designs that we found. Some inversion tables offered a pretty thick headrest that actually allowed you to adjust it to how you like it. Others did not offer much of a headrest at all, and instead went with a flatter design that helped elongate your spine.
Ankle rests: When we combed through all of the user reviews of all of the different products, the biggest complaint from most inversion tables is that the ankle rests can be incredibly uncomfortable. There were a few things that we looked at when selecting comfortable ankle designs.
We wanted to make sure that we selected a fabric that was breathable because it means that there would be less of a chance of slipping. We also made sure that we didn't select designs that were too tight that would cut the circulation off to your feet and legs.
Massage: Of course, if you are looking for unmatched comfort, we suggest heated and massage options for the ultimate experience. Many of the heated and vibrating designs that we have seen can be removed if you wish, and you even have the option to place them on your favorite chair or take it to be for a little massage action on the go.

Size
Not everyone has a lot of space in their home, so we made sure to include designs that were more compact than others.
For the most part, the general footprint of these options does not vary wildly, but there are a few distinct designs features you need to look out for if you are working with limited space.
Foldability: There are actually some inversion tables that you can fold up to be able to slide to store against a wall. While the entire unit doesn't disassemble, the arms are what you can fold in to create just a little bit more room. There is no reason to worry about its compatibility affecting its stability, however. It does not affect the stability of the table due to the fact that it is one wide solid piece.
Weight: If this is something that you will need to move around from room to room, or even move around your home gm, the weight is something to take into consideration. The average weight of most standard sizes that we found measured to be about 50-60 pounds. Lighter options weigh in at around 30 pounds, and the heaviest design out there on the market weighs in at a whopping 120 pounds!

Materials
When you are hanging upside down by your ankles, you want to know that you have materials holding you securely in place.
The good news here is that almost all of the designs out there on the market are made from a frame that is composed of tubular steel. There are, however, some subtle differences in the size of the frame that will benefit your stability a little bit.
Extra large tubular steel is a great material that users can feel confident in its stability. If you want something that will look just as good year after year, we suggest selecting a frame that is made out of powder coated steel. This coating not only helps protect it against scratches and rust, but it also gives is a sharp glossy finish.
As far as the material used for the padding, there are a few materials to select from. We find that they are both great, so it will simply boil down to a matter of personal preference. The standard foam gives you an incredibly stiff and rigid feel, similar to that of a car seat or even an office chair. If you want something that isn't won't give you much give, foam is the way to go.
If you want something that is has a lot more give to it, a memory foam backrest is a material that you will want. This type of foam sinks in as you lay on it, and it will eventually take on the shape of your body over time.
Expert Interviews & Opinions
Most Important Criteria
(According to our experts opinion)
Experts Opinion
Editors Opinion
Users Opinion
By Default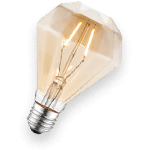 Adjustability
Ensuring that you have the right height will keep you from bonking your head on the floor! The good news is that most designs can accommodate those that measure to be about 6'6'' tall.
Features
Infrared heat is a great tool to soothe muscles. It is able to travels deeper into the tissue than traditional heat, and it won't make the skin feel like it's cooking!
Comfort
The style of these tables has remained the same for quite some time. The original inversion table was called the Hippocratic Bench, and it was invented by Hippocrates around 400 B.C.E!
Other Factors to Consider

Bottom Line
If you are training for a marathon, or burning through a Netflix show on your downtime, everyone can benefit from a good inversion table.
Basically, if you live on planet Earth and have to contend with gravity pulling you down to this rock, your spine could probably use a little decompression! Inversion tables not only help decompress your spine, but they also help melt away stress, soothe tired muscles, and help with flexibility.
It is important to note that an inversion table will not cure any chronic back pain. These products are designed to soothe tired backs and will provide pain relief for those that are on their feet all day (or sitting all day). It is important that you talk to your doctor about chronic pain that you are having. As always, it's a good idea to talk to your doctor first before making your purchase.
Frequently Asked Questions
q:

Who uses inversion tables?

a:

The great thing about inversion tables is that they can be used by just about anyone. Whether you are a couch potato, a weekend warrior, or training for a marathon- everyone can use a little compression.

Gravity is a harsh mistress. Sure, it keeps us from being flung off of this big blue rock and out into space- but it can be murder on our spines. That's way inversion tables are great! They are pretty simple devices that use gravity to our advantage. By flipping upsidedown, gravity decompresses the spine and take the pressure off of tendons, joints, and muscles.

It is important to note that if you have chronic back pain, it is always best to consult your doctor first to ensure that it isn't anything serious. More often than not, however, lower back pain can be attributed to common everyday tasks. These tasks include working on your feet all day, sitting in front of a computer for 8 hours a day without much movement, or training a little too much on hard surfaces.
q:

Is it safe to use?

a:

Yes, these devices are safe to use- as long as you keep a few things in mind. Due to the fact that you will increase your blood pressure by hanging upside down, there are some people that we do not recommend using these devices.

If you are someone that struggles with high blood pressure or if you have an elevated heart rate, inverting to a 180-degree angle may do more harm than good. Additionally, if you suffer from cardiovascular issues or heart disease, these devices may not be a great idea because it raises your blood pressure.
q:

How long do I have to hang there?

a:

Everyone is different, so there is no one number that everyone should reach for. If you have never used one of these devices before, we recommend that you start slowly and work your way up. Start at 1-2 minutes at first, and gauge how you feel at the end of the session.

Another thing to consider is not to lean all the way back on your first try. This isn't like swimming in a cold pool- jumping in all at once is not a great idea. You need to slowly ease yourself into this new practice. Start at a 100-degree angle at first, and slowly work your way up to 180 degrees.

We know that you are probably very excited to reap the benefits of a decompressed spine, but it is important that you work slowly. The spine is a very delicate creature, and it often doesn't respond well to the extreme in any type of scenario.
q:

What are some of the benefits of using this device on a daily basis?

a:

Chronic back pain is something that most of us simply live with. Working in front of the computer all day or training a little too hard makes the spine a little grumpy. More often than not everyday back pain isn't indicative of a bigger problem, it is just a fact of life.

Many users try and mitigate this minor pain with over the counter aspirin or herbal remedies. However, these measures may help ease the pain, but they won't get to the root of the problem.

Working on your feet all day or training on hard surfaces compresses your spine, which is what causes the discomfort. Think of your spine like a crumpled up piece of paper. To get it back to its normal state, you need to pull it back out to elongate it. The inversion table works by stretching out your compressed spine so that it can revert back to its neutral state.

Another benefit to inversion tables is that it helps promote flexibility. Stretching at the end of a workout is a great way to send oxygen and blood to your muscles. The use of an inversion table allows you to get a much deeper stretch, which helps in healing and recovery at the end of a great workout!
q:

Can I use my inversion table for anything else?

a:

We talk a lot about back pain and decompression, but they can actually be used to reduce tension and stress. If you are an anxious person that carries a lot of tension in your neck and shoulders, you may benefit from using one of these devices as well!

When you lean back on your inversion table, you will find that it is almost impossible to hold your neck and shoulders in a tense position. When you can relax all of the muscles tenses up when you get stressed or anxious, your mind will begin to relax as well!

Plus, it is just something that is just flat out fun. We spend so much of our time looking at the world from the exact same point of view that it is actually kind of fun to strap yourself in and look at the world from a new angle!
q:

Can I use it to help build muscle?

a:

You are working with very limited space in your home gym, and you are worried that it may not be worth the real estate to purchase a device that can only decompress your spine. However, inversion tables are also a great way to strengthen your core as well!

Inverted situps or decline sit up are a great way to really work your core. Simple sit-ups on the ground will work some of your abs, but leaning all the way back lights up all of your core muscles like a Christmas tree! If you are new to running and you want to lose a few extra pounds, a strong core is a great way to run for longer distances with little pain!
Subscribe to our Newsletter