Best Gore-Tex Hiking Boots Reviewed
In a Hurry? Editors choice: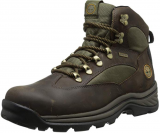 Test Winner: Timberland Chocorua Trail

If you love to hike, stroll, or just communing with nature, you understand the value of investing in a pair of reliable boots. Nobody wants to return from a hike with stinky sweat-soaked feet. Likewise, you also don't want to book a manicure after each excursion because of blisters.

You need dependable footwear that fits correctly, as well as some measure of breathability and waterproofing. Gore-Tex lined boots can guarantee you all of this, whether you opt for leather or synthetic options. This innovation in footwear and clothing is ideal for all weather conditions, regardless of the snow or mud that covers the terrain.

This innovation has been around for over five decades, producing lightweight shoes that offer cushioning. Such shoes are the ultimate footwear for outdoor and sporting enthusiasts world over. The following is a review of the best Gore-Tex boots and what to look for in a pair.
Standout Picks
Criteria Used for Evaluation
Water Resistance
Design plays a crucial role in not letting water penetrate inside a boot.
Gore-Tex has a unique membrane with a microporous structure, making it breathable and waterproof. These properties make your feet inside shoes comprising this material dry and comfortable. The outer fabric, membrane, and liner create a laminated layer system, which allows for ventilation. The lining allows for sweat vapors to pass through as ambient air moves inside the boot.
The seams on each Gore-Tex garments are even covered with the Gore Seam tape to make the product truly waterproof. The lining is then inserted within a boot so that your feet can stay nice and dry. You can find this fabric within leather or synthetic uppers.
When looking at these types of boots, it's not only for the Gore-Tex fabric to play a role in keeping water out; the design plays a critical role in that as well. Therefore, the construction and material each boot uses are essential in keeping moisture out.
There are different levels of water resistance and some boots can handle more than others. Also, don't abuse the feature by using these boots like water shoes, that's not what they are designed for. Nevertheless, if you live in rainy places, these products are perfect for you.
Breathability
Wear apparel proper for your needs.
While partaking in vigorous activities, ensure your feet are well ventilated. Boots with low levels of breathability are uncomfortable, and wearing such can be unbearable when sweat accumulates.
Manufacturers can only place breathable fabrics on the upper of shoes. The upper should allow for sufficient airflow to cool your feet and let heat and sweat vapors out. For this, many manufacturers use breathable synthetics that look like a mesh. What makes Gore-Tex stand out is that it's breathable and waterproof at the same time. The same cannot be said of many other options out there.
The different designs cater to different needs to promote the best amount of airflow, breathability, and durability. The amount of Gore-Tex used varies so much, depending on many factors. You may find that some boot is more breathable but less durable. Leather is tougher but not breathable, so you need to make a sound judgment on your needs.
Think about the weather conditions or climate you will be wearing any type of boots. Some are better for winter and some for summer. Gore-Tex can be able to operate in both environments, protecting you from freezing temperatures and cooling your feet down in scorching heat. You can use a layering system when it's cold to keep your feet warm.
Comfort
Boots today are better than ever before.
In the past, leather was the primary material used in making boots. However, with the discovery of other materials such as EVA (ethylene-vinyl acetate) and Gore-Tex in the early 80s, people have not looked back. Such fabrics offer better features like flexibility and good weather resistance properties when compared to leather.
Every Gore-Tex product must go through rigorous tests to ensure they are up to standard. In this case, prototypes of the boots are put through a machine that will simulate them walk up to 200,000 steps in the water. This type of test is done to ensure they are watertight. Any leak and it is back to the drawing board.
Gore-Tex boots are also filled with water and spun through a centrifugal force. This action indicates any weak spots and sees how they can be rectified. The moisture inside your boots creates an uncomfortable and detrimental environment in which bacteria multiplies easily.
Look at the level of cushioning to protect your feet from impact shocks. The core function of a boot is to protect your feet. At times, this negates the need for pleasant aesthetics. However, the shoes featured here hit the sweet spot when it comes to style and functionality. There is a wide range of options, and manufacturers incorporate the Gore-Tex in some enticing yet practical ways. If you look good, you feel good, adding to your confidence and comfort.
Features
The primary function of Gore-Tex is to keep you dry.
We wear shoes to protect our feet. The outsole does most of the hard work, but so do the other parts of the boot. Look at the outsole to protect your feet from rough terrains and sharp objects. The outsole has to be durable and protective.
Ensure the upper provides enough protection from projectiles. In high-risk activities, you can go for options with reinforced toes. You need adequate support from your shoes so that you don't slip easily. The boots should be flexible enough so that they don't impede your range of motion like those from the past. On the other hand, they should offer a firm grip on where you're walking.
Not all boots are equal, and some offer more cushioning or support. Some have a higher drop than others. Some provide unique characteristics to their brand. Use your best judgment and supporting facts for each of the products to decide if such differences matter to you.
Durability
Good materials equate to a longer lifespan of the final product.
Here, you will find boots that are made of the finest materials, so that you can log respectable miles in them. Doing the math on what other brands offer shows that they don't justify their prices.
Gore-Tex goes through rigorous processes to see how durable and abrasion-resistant it is, and surpasses most other materials in many aspects. With a Gore-Tex Boot then, your primary concern could likely shift to your access to services like sole repair to extend the boot's life.
You don't want a pair of shoes that will fall apart when you're on the road in a matter of weeks. Cheap boots usually disappoint. They might even lead to injury in some cases, like poor designs creating hot spots. The shoes featured in this review are all-weather and long-lasting.
You also play a crucial role in extending the longevity of your Gore-Tex boots. Wipe them off dirt, more so when you hit some muddy or saltwater on the trail. When cleaning them, remove as much grime and dirt as you can. After that, use gentle soap without any bleach to remove any leftover stains.
All the products featured in this list have some leather. This fabric shrinks when left out in direct sunlight to dry. Therefore, do not dry out the boots in the sun. If you do so leave them out to dry your boots might not fit as they did before.
Place the boots in a shaded area to dry them, and you can stuff them with paper to retain their shape. When storing them, place in a dry area with nothing on top of them. Following such patterns will ensure your boots last longer and look better through many years of use.
Best Gore-Tex Hiking Boots Reviews
1

. Salomon Quest 4d 3 GTX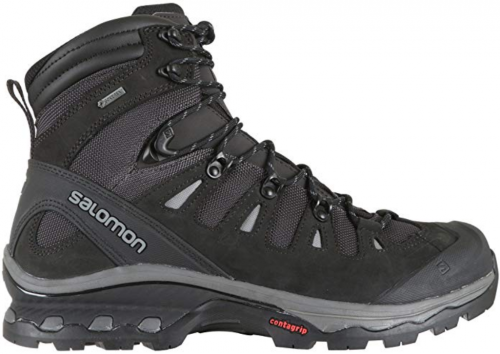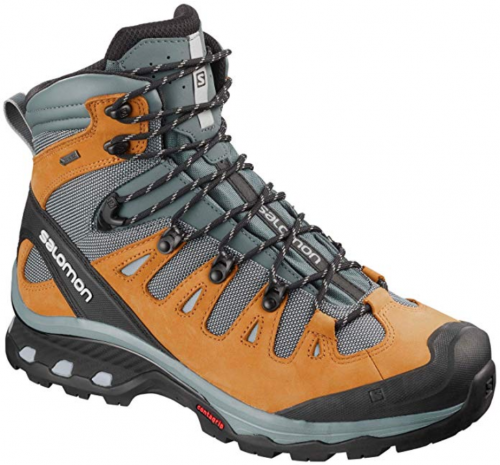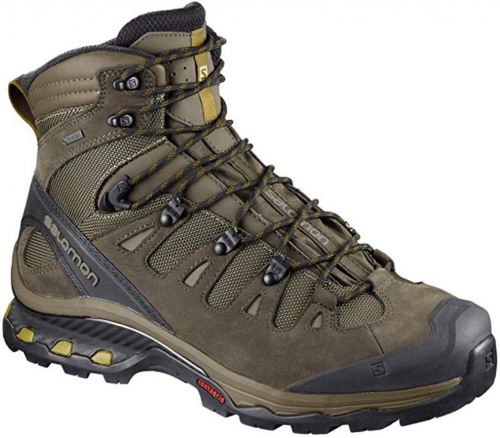 If you have ever found yourself hiking an inclined terrain, then you know the value of shoes that offer traction. The Salomon men's Quest 4d 3 GTX a rugged and stylish option that also provides adequate ankle support. A dual canvas and Nubuck leather material make this model comfortable and light.
The Quest 4d's high traction sole is a strong selling point that will get you through the most uneven terrain. A user's comfort is further enhanced by the Quest 4D's unique toecap and footbed. This model is available in black/grey, green and red, colors that compliment anything in your wardrobe.
Another unique feature of the Salomon 4d is the chassis construction. This feature adds an excellent mix of flexibility and support, whether on a hike or running. Such technologies are unique to this brand and protect users from losing balance or rolling their ankles.
For easy donning and doffing, this model features 4 Dual-enforced lace foot hooks, 2 Velcro loops on the ankle, and toes. Such features enhance comfort while ensuring a perfect fit, less lace tangling, and pit stops on re-tie. The Salomon men's Quest 4d 3 GTX comes at a higher price but deliver high value for money backed by all these premium features.

2

. Timberland Chocorua Trail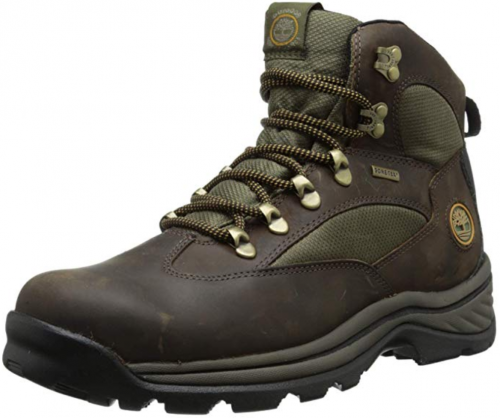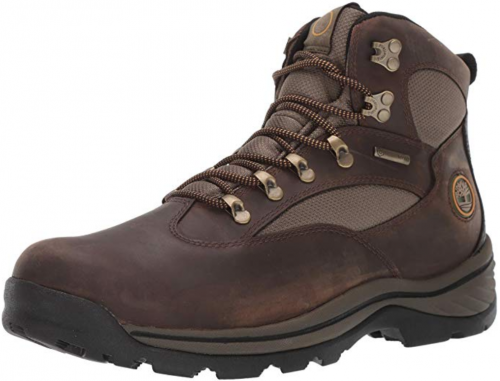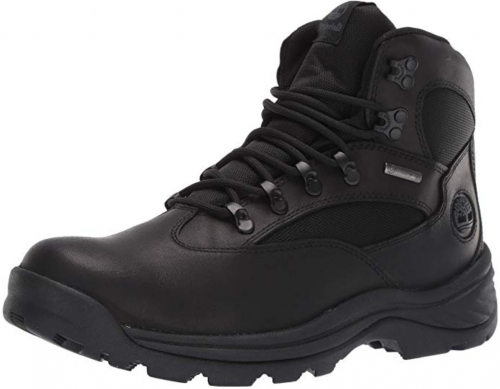 Timberland is probably the most recognizable brand to feature on this list. The reason for such strong notoriety is the company's commitment to developing dependable footwear in a variety of styles and plans. The brand's footwear ranges from the finest to the most rugged shoes you can buy.
The Timberland Chocorua trail is a hiker's dream. These Gore-Tex boots feature a comfortable and breathable leather fabric that adds to the durability. The golden hooks are not only stylish but also allow users to strap in with elegance.
The footbed featured on this model has a dual-density for enhanced cushioning. The subtle design, though out the boot system, ensures efficiency even when moving at a fast pace. The Chocorua also features a Velcro loop to ease donning or hang the shoes when in storage.
Another unique feature is the B.S.F.P. motion efficiency system. Such a system assists go through motions like braking and flexing, propelling you further as you run or walk. This model also has a curved center path, which significantly improves comfort and traction.
The gold lace hardware keeps the laces secure and ensures you can lace up even in dimly-lit conditions. It's also handy to take note of smooth finish and dark tan color that make it easy to clean the shoes. The Timberland Chocorua Trail 2 comes at a fair price point considering the premium features packed.

3

. Bates GX-8 Ultra-Lites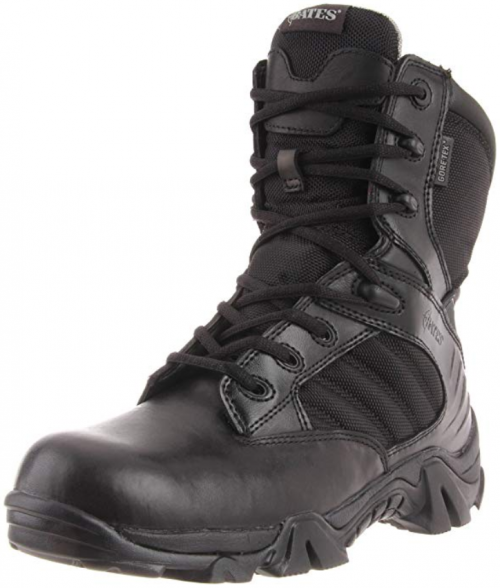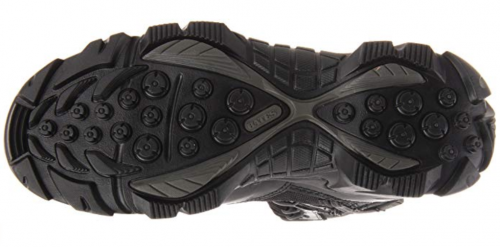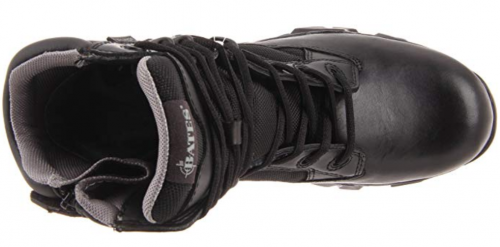 If you are a hiker who has to have it rough, then the Bates GX- 8 ultra-lites are the perfect match. These Gore-Tex Boots are hardy yet pleasing to the eye with tactical military design aspects. The construction of the chassis features cement instead of metal, which makes bates more flexible and lighter.
The removable inner lining is 100% waterproof and has a breathable membrane. Such a combination of features ensures a dry and comfortable experience, even in extreme conditions. This model's comfort is further enhanced with an additional moisture-wicking lining.
The Bates outer shell consists of lower leather material and a puncture-proof upper that gives it a rough look and lightweight profile. Bates GX- 8 ultra-lite slip-resistant outsoles enhance traction. Aside from excellent performance through various inclinations such, a feature ensures you won't slip even in the wettest situations.
The Bates GX- 8 ultra-lite's price point is justifiable when you consider the attention to detail and high-quality materials. These lightweight hiking shoes are durable to an irrefutable extent. You get a lot of value for money and years of services.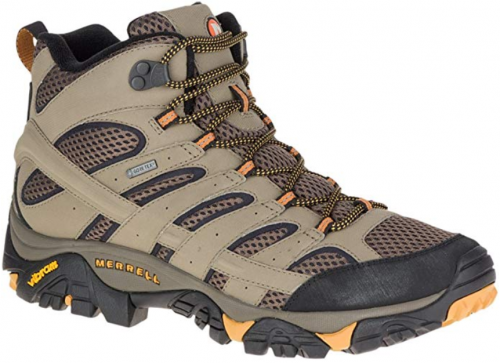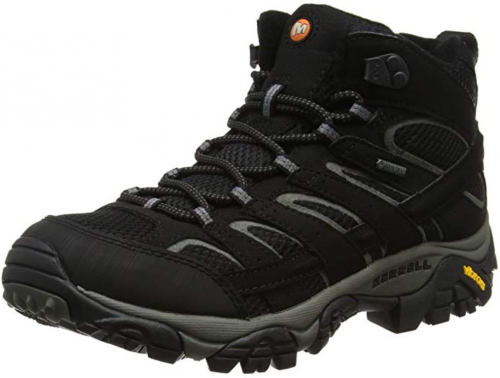 If you are looking for a cheap option that packs all the right features, the Merrell Moab 2 mid-GTX is ideal for you. The Moab or Mother of All Boots has adaptive flexibility thanks to Vibram's footing, tough leather shell, and a steady footbed. The breathability and lightweight experience of wearing a pair make them ideal for climbing, hiking as well as biking through various terrains.
The Moab feature a 100% synthetic leather shell and meshing, which delivers better waterproofing than genuine leather. A synthetic rubber sole provides additional support, reducing the chances of cramps. This sole also improves traction without making the shoe firm and unyielding on mountain climbs.
These Gore-Tex boots are not only waterproof but also resistant to mud and dirt stains. Attention to detail has even gone into making the model odor resistant as sweat infiltrates out of the shoe. The lower has a foam-filled tip that keeps tiny rocks and other debris out of the shoe.
Another handy feature is the extra protective padding on the insole, heels, and zonal arch. These features combine to reduce soreness and cramping even when you wear them the entire day. Best of all, the Moab delivers premium features at the fairest price point on this list.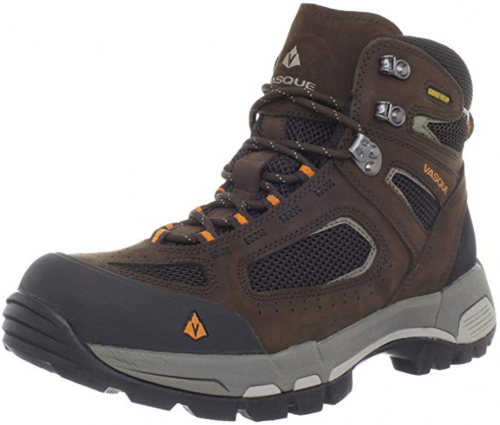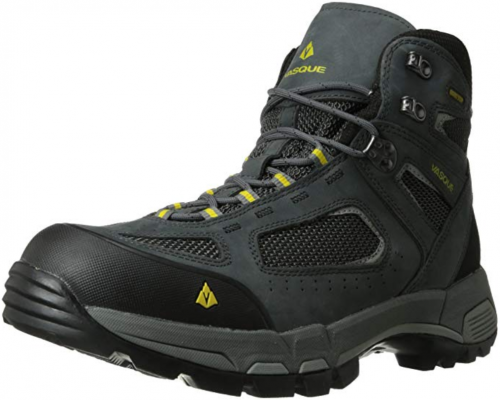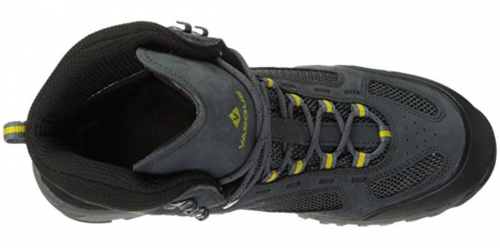 Making it through challenging terrain is a breeze with the Vasque breeze 2.0. This model is a legacy of the original Vasque breeze that proved to be popular. However, this upgraded version is lighter yet tougher than its predecessor.
Another update worth noting is the incorporation of Gore-Tex, which enhances durability, breathability, and waterproofing. This model comes in either a two-tone soft brown with accents of lavender or blue. Reflective piping all through the shell also enhances aesthetic appeal and safety.
The sole featured on this model offers excellent traction and active resistance to abrasion. The shell consists of leather panels on the upper as well as the lower to reduce pressure point. The Moab features a canvas loop that eases donning and can be used to hang the shoes on a hook.
These shoes are certainly for the fashion-forward with colors that pop and reflect light. The rubber toecap is also worth noting as it conforms to the shape of your feet, improving comfort and traction. The Vasque Breeze 2.0 is affordable, especially when you consider the features. We reviewed another Vasque model, have a look at the Vasque Constant Velocity.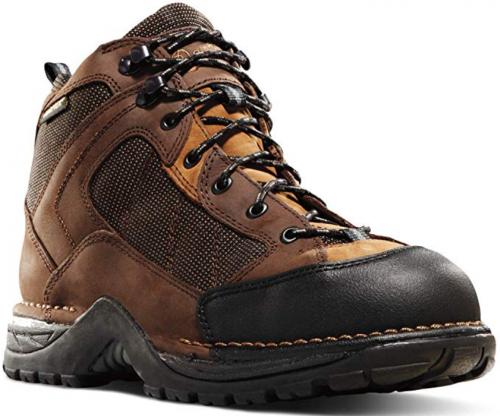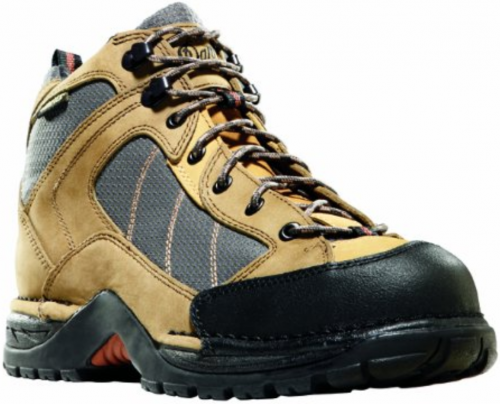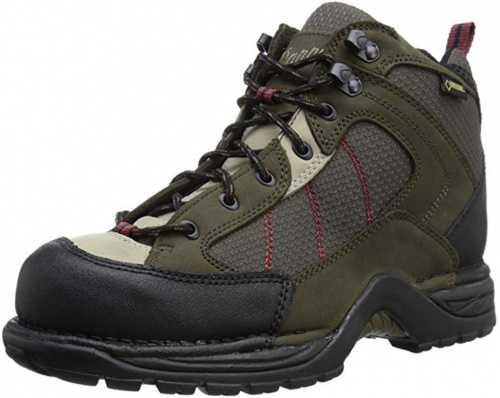 The Danner Men's Radical 452 strikes a delicate balance between a lightweight profile and a robust range of applications. The upper is made of Nubuck leather, which makes breaking into the shoes easy and enhances durability. Many users describe the comfort offered by the radicals as velvety soft.
A Gore-Tex lining gives the model excellent resistance to water and mud. This lining also enhances the moisture-wicking ability of the shoes ensuring sweat is instantly wicked away. Your feet stay dry in the heat and toasty in the cold.
The Danner Men's Radical 452 has a protective toecap. Aside from protection, this cap offers abrasion resistance and a measure of scuff proofing. Such a feature is handy in this type of product as toecaps are the first to show signs of wear and tear.
These Gore-Tex Boots also feature a Danner Boulder outsole. This multidirectional layer has a combination of traditional and center lugs for a failsafe ride and optimal comfort. The Danner Men's Radical 452 is the best option for you are in the market for something athletic yet supportive.

7

. Lowa Boots Renegade GTX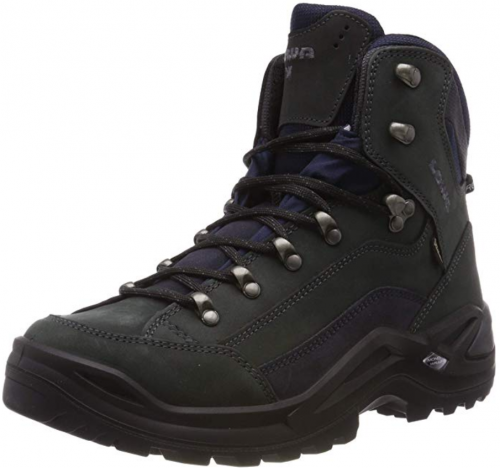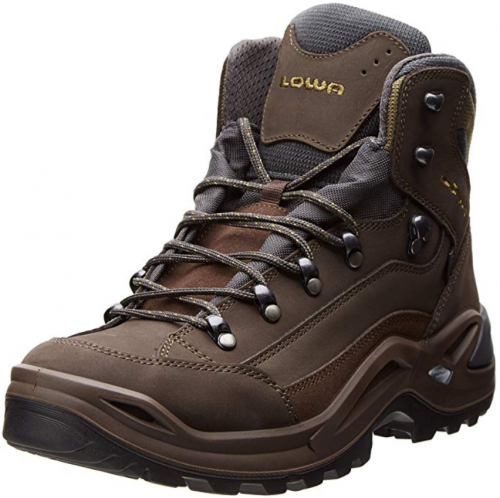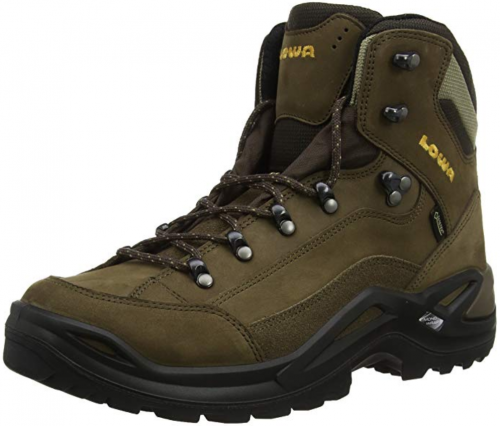 Lowa Renegade G.T.X. is the brand's classic signature hiking boot. Despite the deceptively lightweight profile, this option is still supportive and comfortable through a variety of terrains. As far as sizing is concerned, you will take delight in the full range of lengths and widths available.
This model ranks high on comfort, as it is firm yet not stiff. Each pair has a flexible and lightweight fit, yet they can provide a stable and dependable experience. The model features Vibram on the outsoles with a dual tread for optimal performance on hard rocky surfaces and soft snow as well. This model is also breathable despite featuring robust leather construction.
Sweat accumulation and odor is an unlikely concern as the Renegades feature moisture-wicking outsoles. These Gore-Tex boots repel water, which makes them ideal for all summer and winter long activities. As mentioned, the Renegade is not overly stiff, a factor that reduces the time and effort spent on breaking in a new pair.
It's worth noting that you can wear a pair of Renegade right out of the box. The price point is also fair considering the all-season use you can get out of a pair. One guarantee is you can search the market but never find any other all season shoe to rival the Lowa Renegade G.T.X.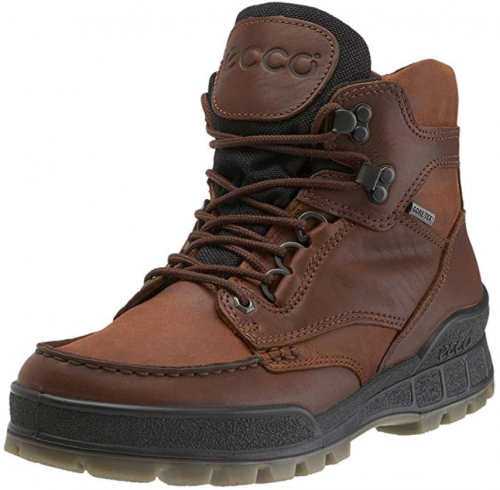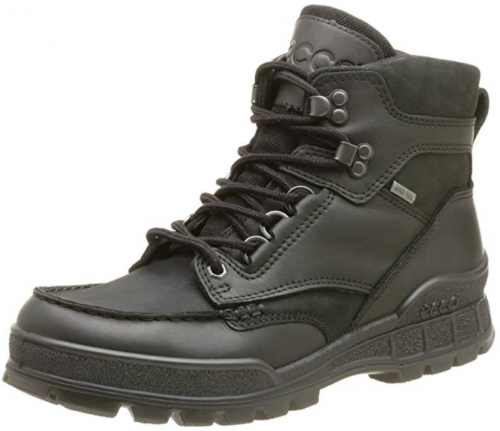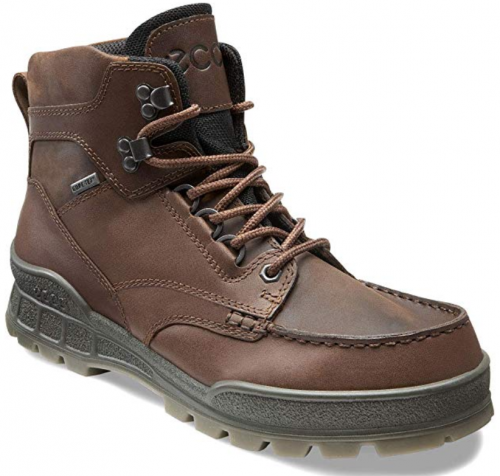 Ecco is a Danish shoe company established in 1963 and has manufacturing plants all over Europe and Asia. This brand refines its own leather, so you are assured that it was ethically sourced. Ecco's main drive is to produce products that meet all customer expectations.
The genuine leather material is durable and makes the shoe long-lasting and comfortable. A waterproof membrane makes the model dually breathable and waterproof. Such a feature ensures a dry experience as sweat and odor evaporate as soon as they appear.
The latex rubber outsole is durable, protective and provides excellent traction, thanks to multi-surface gripping technology. Such features allow users optimal grip on trips helping them avoid injury and accidents. This rubber sole also provides a measure of abrasion protection on rough and rocky terrain.
Ecco's design queues were borrowed from work and safety shoes; hence, the use of full-grained oiled Nubuck leather. Such a material construction is easy to break in and has a soft surface that keeps your feet insulated. If you are prone to suffering from cramps, you should consider this pair as it has a foamy midsole.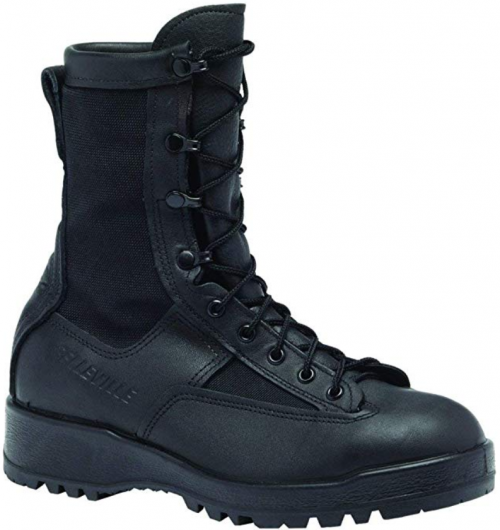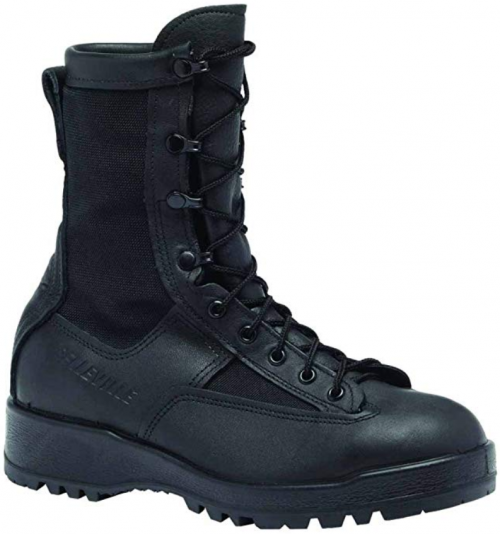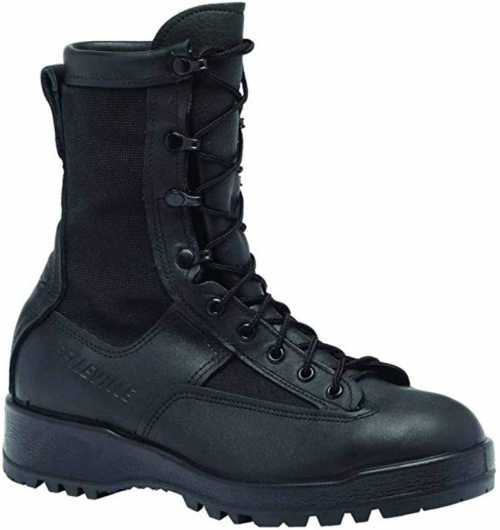 The Belleville 770 is one of the best combat/tactical Gore-Tex boots a civilian could ever hope to own. The manufacturer has put a lot into this shoe to safety in whatever environment. The shoe has a Thinsulate layer that runs through the entire hull, enhancing protection from water.
Despite the intended tactical/combat design, a running sole makes the shoe ideal for all kinds of activities. The upper and lower feature a mix of cowhide leather and synthetic materials. Such a paring ensures fewer pressure points and secures the footwear from cracks and scratches typical in similar products.
An aspect worth noting that this model weighs a measly 200 grams. The Thinsulate technology featured on these tactical boots keeps feet warm in freezing conditions without adding bulk. Surprisingly, users will also enjoy an airy sweat-free experience in scorching conditions.
The high-rise design ensures there are no gaps between the top of the boot and pant legs. The Belleville 770 comes at a modal price point. Such a price point is more than ideal when you consider the stunning design and premium features packed into the model.

10

. Under Armour Infil Ops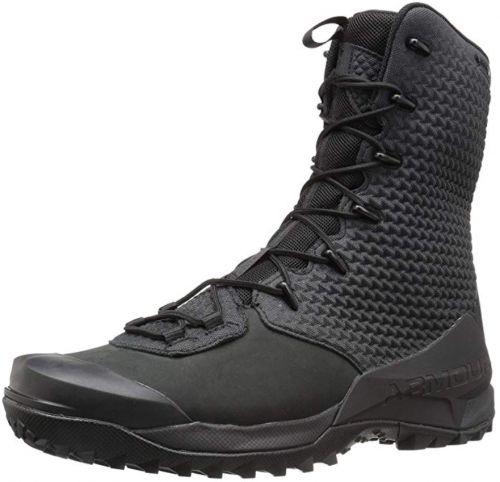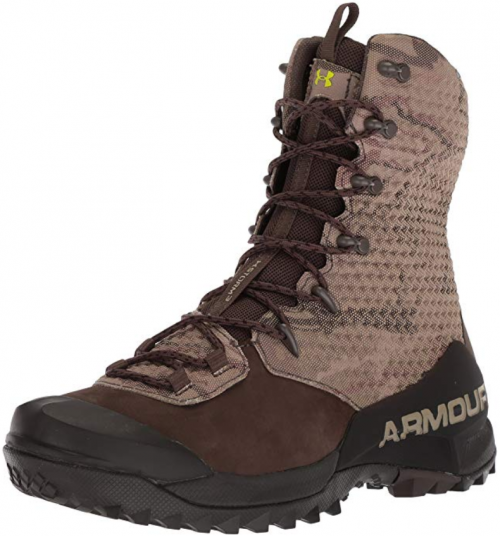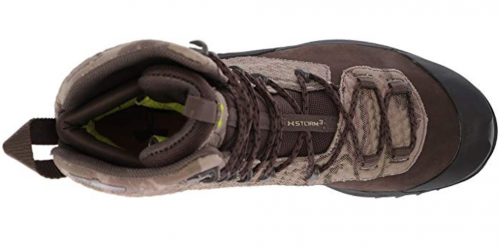 Last but not least, we have Under Armour Infil Ops Gore-Tex boots. Few other brands have the same creative approach to performance and design. This manufacture views various environmental challenges as an opportunity to innovate and challenge the market conventions.
The Infil Ops is made from genuine leather that makes them waterproof and durable. Such a material construction ensures a long service life, so the shoes are less likely to fall apart. A mix of advanced footwear technologies ensures that moisture is wicked, with no soggy soaks or bad odor.
The interior has a gusset seamlessly integrated on the tongue, which prevents the infiltration of water. A rubber toe cap prevents injury and blisters, as well as preventing water from infiltrating. The upper features Anafoam that increases comfort and stability.
Another innovation is the Cupron Anti-Fungal pro fibers that line the insole, which prevent odor as well as protect users from foot fungi. These innersoles are designed for optimal comfort, even with daily wear. You pay a premium for the best features, and it is hard to find shoes that will last as long as the Under Armour Infil Ops.

Subscribe to our Newsletter