Best Diesel Sneakers For Men Reviewed
In a Hurry? Editors choice: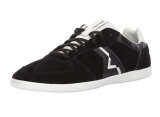 Test Winner: Happy Hours S-Alloy

Back in 1978 Renzo Rosso was dead set on creating the most contemporary blue jeans the world had ever seen. His brand, Diesel, debuted during the worldwide oil crisis when diesel was thought of as an alternative fuel and Rosso liked the idea of his brand being looked at as an
alternative to the usual
styles of denim.
With over 5,000 retailers around the world, Renzo Rosso has realized his goal of reaching global recognition with his bold and brilliant designs which have grown to include jeans, clothing, footwear, and accessories. We've broken down the ten best pairs of kicks from this iconic label after some serious research and review of all the latest and greatest looks available. Keep reading for a detailed review of all ten pairs and the reasons why each one was included in the top spots.
Standout Picks
Criteria Used for Evaluation
Style
These pairs come in two distinct styles: boots and sneakers, though there are tons of variations of both. Their boots come in military looks, athletic designs, and even an edgier style that verges on punk rock. Some of the materials frequently seen with their line of boots are leather, suede, and cotton, though the latter two are mainly used for overlays with the bulk of the upper unit being constructed using leather.
When it comes to sneakers, Diesel offers a huge assortment of style-friendly looks ranging from low to high-top and athletic to casual. These pairs come in a huge array of cool colors, many of which are uniquely their own. You'll find really great choices like ripped denim and distressed leather and embossed or raised logos that help to add a distinctive design.
Most of their sneakers come with a traditional front lace-up closure system, though some variations have a hook-and-loop design which some wearers prefer because it's so easy to use. Laces, on the other hand, do require more effort but they really let you customize the overall fit and make for a comfortable experience.
Accessorizing is one of this brand's strong points because they're able to add some seriously fantastic detailing without overdoing it! One of the ways they are able to achieve such subtle genius is through the use of perfectly placed side zippers that are both functional and totally scorching. These zippers have a smooth looking track that curves along the lace line and boasts great looking hardware that helps to add to this much-loved style.
Materials
This brand uses great materials in the making of their footwear and uses only high-grade quality fabrics. A staple material seen is leather, which is undoubtedly one of the best choices for footwear. The leather materials draw excess moisture away from the skin eliminating excess sweat and preventing the growth of odor-causing bacteria. It's also an excellent material for every season because of its ability to keep you cool and dry on those hot days or nice and warm on colder ones.
When it comes to adding a touch of extra style, this brand is great at incorporating overlays into their designs. They will most often be made from suede or canvas materials and can really bring a smooth finish into play. Sometimes there will be overlays which are made from leather too which is also a great way to keep a pair looking chic and smooth.
Comfort
No one wants to wear a pair of uncomfortable shoes! Which is why it's important to consider certain things before you purchase any pair. First off, you're going to want to assess how well the shoes are made and how the seams are. If they sit flush at all points then you won't have any trouble with rubbing or friction and will be less likely to get a painful blister. Some shoes will have a seam that sticks out farther than the others so it will actually press and rub on an area of your foot repeatedly, leading to problems down the road.
It's also important that the shoe has a good sturdy sole that provides enough support to protect the underside of the foot and the delicate arch area. You want a sole that is well cushioned but not so much so that it's too flexible and not supportive enough.
In order for a shoe to be comfortable, there needs to be ample room in both the toe and heel areas. If your feet are cramped it's going to cause quite a bit of discomfort when the material presses against your skin and delicate bones. It can also lead to problems like bunions from the repeated pressure on one area of the foot. A sole that's made of rubber is going to provide the best traction and will help to keep you from slipping and falling when the weather is rainy and surfaces become slippery.
You will also want to wear a shoe that is breathable so you don't end up being too hot because that will inevitably lead to excessive sweating and smelly shoes. Certain materials are better for both breathability and moisture control like leather or mesh. Mesh has an open-weave concept that allows for plenty of airflow inside the shoe and around the skin which helps to keep you cool and comfortable. Whereas, leather helps to pull excess moisture away from the skin preventing a build-up of sweat and odor-causing bacteria for a fresher all day feel.
Color
One of the great things about this brand is the tremendous colors they use with their designs. You'll see a wide array of shades, many of which are uniquely their own, that really help to bring these pairs to life. Take the Happy Hours S-Alloy, for example, that comes in five gorgeous colorways like medieval blue and olive night. The 355 S-Flip comes with a unique multi-colored tone and mixed patterns like army-style camo and a grey-yellow combination.
Colors are important because they determine how well a pair is going to look with various colors of apparel. Certain shades won't look good with others and may even 'clash' which is when they look messy and out of place together. Take green and yellow for example, certain variations of both colors will look great together, whereas other shades of each will look tacky when paired.
Versatility
It's important that a shoe be versatile enough to be worn from day to night without having to change. It can also be a deciding factor for some wearers if a pair is suitable for both athletic and casual occasions because some people like to go from their regular activities straight into a casual sport without having to drag an extra pair of footwear along.
The great thing about this label is that they really incorporate a lot of sneakers that combine athletic features with everyday casual style. This makes for an effortless design that people just can't seem to get enough of!
The V-Staffetta S-Fleett is a great example of a pair that's ideal for athletic and casual occasions thanks to its sporty low-top build and saw tooth rubber outsole that provides excellent traction on all surfaces, including wet and slippery ones.
Top 10 Picks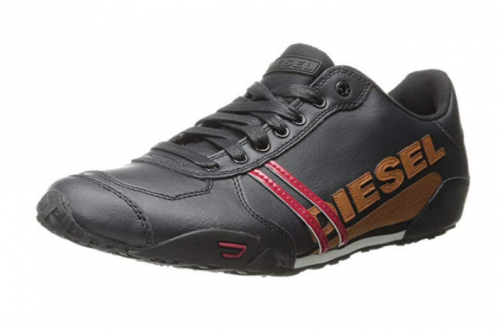 The Harold Solar is a stylish pair of sneakers that boasts a rubber outsole and toe cap for added durability and traction. This is a great choice for both casual and athletic occasions thanks to its sleek appearance and performance-geared build. Its leather upper adds a cool vibe to this pairs repertoire while the side 'Diesel' logo lets people know which brand you're rocking.
A low-top design and lace-up closure help to make the Solar a sharp-looking choice of footwear that's easy to match with nearly any style of clothing. Traditional laces let you customize the way your shoes fit and feel for the most enjoyable kind of wearability. The Harold Solar is a super-lightweight option that offers suede overlays for added support as well as style, along with a diamond-texture sole that provides superior traction on both wet and slippery surfaces.
This pair has a padded collar that helps to better support the ankle while lessening the chance of strains or other kinds of injuries. Its cushioned insole helps to absorb shock while keeping the delicate arch area well protected resulting in a healthier environment for your feet. Anyone shopping for a casual and stylish shoe should take a minute to look at this option.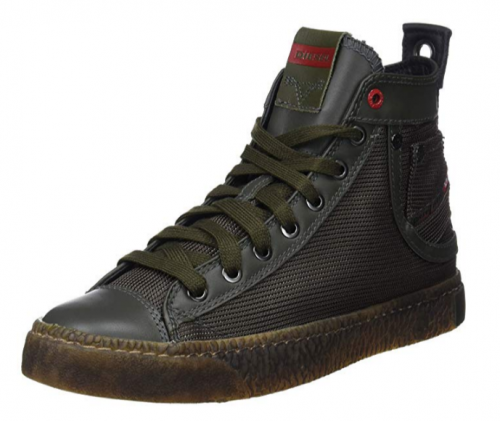 The Magnet Exposure l is made from a unique and modern printed rubberized canvas mixed with supple leather that makes for a stunning finish. A breathable blend of materials makes this an airy choice that's perfect for almost any occasion. The Exposure l comes in five colors including olive night, midnight navy, Castlerock, black, and white, which makes for effortless styling with any color of clothing.
Constructed from a mix of 56% cotton, 24% polyester, and 20% calf leather, this is one comfortable pair of kicks! Five-pocket detailing and a lace-up design make this a must-have pair for stylish guys who will fall head over heels for this high-top! Stand out from the crowd while wearing the Magnete Exposure l thanks to its smooth lines and hot-looking build that make this a trending choice of shoes for any kind of outing.
This pair of Diesel's doesn't fail to let its name be known thanks to its textured 'Diesel' flag logo and cool black rear tab which helps with hassle-free get-up-and-go wear. A welted gum outsole adds some serious grip to this pair and holds tight to nearly any surface, even wet and slippery ones!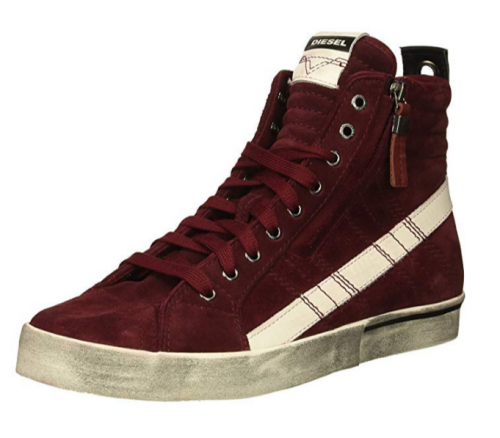 The D-Velows is a high-top sneaker that offers a lace-up closure system and smooth leather upper that makes for a total must-have look. Streetwear meets casual-chic thanks to the D-Velows unique vibe that's infused with just the right kind laid-back to help you look and feel your best. Choose from one of three colorways which include wine, grey, and peacoat blue, making this an easy pair to wear with any kind of clothing.
The D-Velows is one of Diesel's most well-known looks thanks to its one-of-a-kind detailing and vintage vibe. It offers not one, but two kinds of closures with its traditional laces and trendy functional side zipper. This puts you in control and lets you customize the way your shoes feel while they're on your feet.
Textile rear and side stripes add to the overall flare that this pair offers and its scratched 'Diesel' logo looks amazing at the rear! A metal grommet at the top caps off this designs modernized appearance and makes for an easy pull-on kind of wear. You'll love the Velows vulcanized rubber sole that holds tight to every kind of terrain including wet and slippery ones!



The 355 S-Flip is a skate-inspired sneaker that offers a multi-colored upper and bright statement laces. It's a fashionable choice that is perfect for low-key days or casual athletic activities thanks to its lightweight build. This low-top pair will have you looking sharp while you're out and about and is guaranteed to impress with its smooth yet unarticulated looks.
Go ahead and choose from either camo or leopard graphic upper that looks amazing with the S-Flip's multi-tone backdrop. Signature V-logo stitching helps to add some serious personality to this pair, while it's a dual style of laces puts you in the driver's seat with the S-Flip's final appearance.
Wearers love the 355 S-Flip's smooth finish and comforting feel that lets you do the things you want to without having to worry about painful feet. It's non-slip sole is perfect for life on the board and ensures you won't have any accidental slips or falls. This option is priced fairly reasonable considering the value it delivers in both style and functionality, making this a solid choice to consider.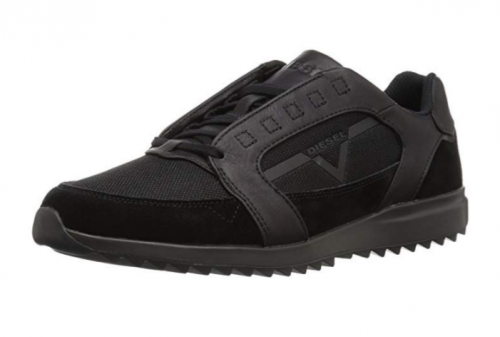 The V-Staffetta S-Fleett is a great looking pair of sneakers! It delivers an edgy vibe and smooth finish thanks to a rounded toe and contrasted heel counter that help to make this pair a stand out choice. Choose from one of seven colors including black, Castlerock, chinchilla, ice white, medieval blue, cordovan red, and harvest gold, which help to make this an easy shoe to match with nearly any kind of clothing. Whether you're shopping for an athletic option or a more casual pair of sneakers, the S-Fleett has got you covered from the morning right through the night!
A nice looking mesh and suede upper unit help this shoe to present itself as a high-end choice, while it's comforting build lets you walk with ease. The S-Fleett is made from a breathable blend of 52% leather, 32% polyester, and 16% synthetics, this choice will keep you cool and comfortable for hours on end.
The V-Staffetta S-Fleett is a classic Diesel sneaker that boasts their signature V-design and logo. Unique hidden eyelet lacing makes for an original style and helps this shoe to stand out from the crowd. This option is reasonably priced and would be the perfect choice for shoppers who are looking for a budget-friendly pair of footwear.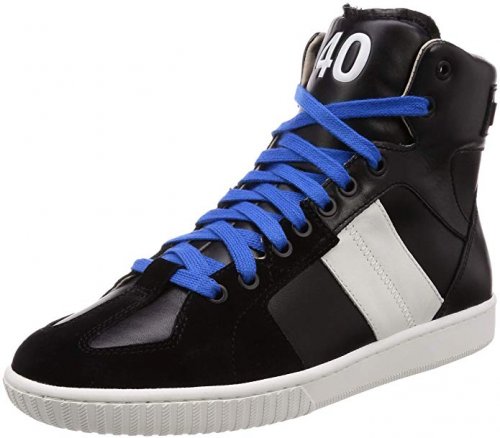 The S-Millenium MC is a stylish pair of high-top sneakers. Its leather upper and suede panels add a new degree of coolness to an already gorgeous choice of footwear. A contrasting color strip along the side and modern raised 'Diesel' lettering at the rear only add to the millennium's stellar appeal and help to propel these kicks to a whole new level of hotness.
Frontal lace closures put you in control of how well this shoe fits and allows for effortless on-off wearability. The Millennium's enjoyable rubber outsole provides a stable grip on practically any type of terrain, including wet and slippery ones, while its cowhide leather keeps you walking comfortably. The leather material pulls excess moisture away from the skin helping to eliminate sweat and odor-causing bacteria for dryer all day wear.
Choose from two trending colorways: black/blue and medium/white which both look great with practically any style of clothing. The Millenium sneaker boasts an impressive t-toe appearance that makes for a chic appearance and easy styling.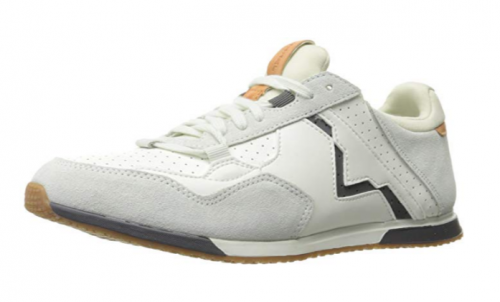 The VS-Furyy sneaker is one of Diesel's more comfortable pairs that delivers a stylish and laid back style. This shoe offers a lace-up silhouette and a combination of leather suede overlays that add the most gorgeous finishing touch. Its logo branded tongue and rear is the perfect way to flaunt the label without overdoing it and makes this a great addition to any wardrobe.
A leather upper unit lets you stay cool and dry even after long hours of wear, while suede overlays add a touch of uniqueness to this design. The VS-Furyy is the ideal athleisure sneaker that's a great choice for casual sporting or simply for strutting around town in. It low-top structure and mesh panel upper make this a cool looking choice for almost every occasion.
This option is relatively low-cost, especially considering the value that it brings. You'll love the easy wearability and endless style of the Remmi, plus it looks great with nearly any kind of clothing! Choose from one of four colors including ice, dirty white, black, and surf blue, which means you'll have no trouble matching them with all your favorite gear.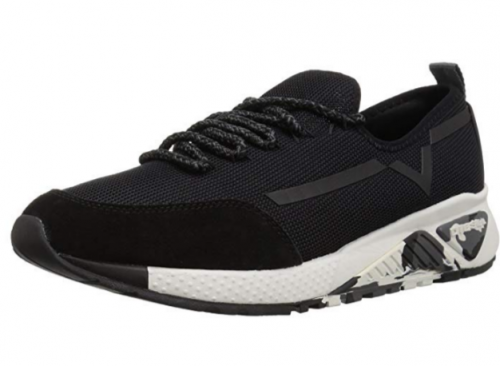 The SKB S-KBY Sneaker is an athletic low-top that's perfect for casual sporting, jogging, or walking. Its stretchy and comforting upper unit boasts stylish suede trim and a lace-up structure that makes for super-comfortable wear. You can choose from one of five colorways including white, golden/yellow, wine, peacoat blue, and black, which makes this a versatile choice of footwear for nearly every occasion.
This flexible pair of footwear features a breathable knit upper unit that's perfect for athletic activities that raise your core body temperature. It wraps around your foot to provide a glove-like feel that wearers just can't get enough of and helps to make a more supportive environment, These sneakers are perfect for everyday wear and will ensure that your feet feel their best no matter what activity you're engaged in.
The SKB S-KBY has a unique outsole that's made from phylon and ensures the softest, most effortless kind of wear. It's both flexible and long-lasting, making for a great choice in outsole material. The sole is constructed using a multi-component design that guarantees superior traction and top-of-the-line comfort every time you wear them.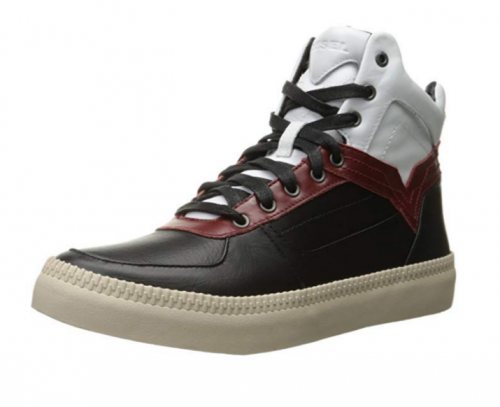 The V is for S-Spaark is a mid-top trainer that is ideal for everyday wear. It's made to look amazing and delivers a stylish finish that's highly impressive. The S-Spaark is made from comforting and on-trend leather material and comes in seven colors: biking red, blue iris, vapor blue, ice, black, t-black, and Castlerock.
This shoe is very comfortable thanks to its removable sockliner that allows for the use of customized orthotics or an insert of your choosing. Its leather upper unit allows for plenty of airflow inside the shoe which helps to prevent a build-up of sweat and odor-causing bacteria for an all-day fresh feeling.
This option has a mid-range price but it's certainly a worthwhile investment considering the quality construction and stylish design that this choice brings to the table.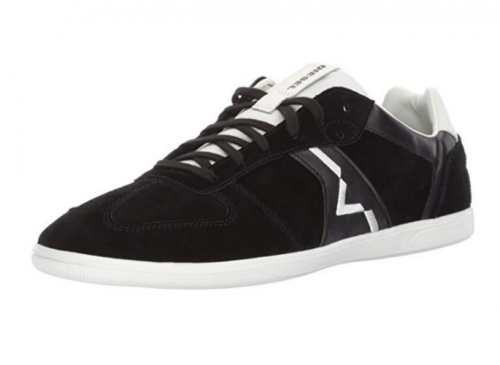 The Happy Hours S-Alloy sneakers are a great way to bring a new and exciting look into your line of casual wear. This pair is designed to mirror several well-known basics like the graphic tees and premium denim designs we've seen through the years. These sneakers were made for casual life and deliver a classic kind of style that looks amazing with nearly anything.
Made from comforting suede, this shoe feels great while it's on your feet and it certainly looks great too! A non-slip rubber sole helps to keep you steady on your feet by providing solid traction on nearly any surface, even wet and slippery ones.
Choose from five colors including black, medieval blue, olive night, cordovan red, and dirty white, which help to make this pair a versatile choice! No matter if you're headed out for a stroll with your friends or to hit the skatepark to perform some killer tricks, this shoe was made for you and is guaranteed to go with the flow.

Subscribe to our Newsletter