Best Diesel Shoes Designed By The Jean Genius Reviewed
In a Hurry? Editors choice: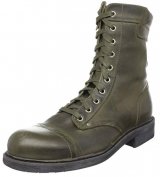 Test Winner: Cassidy

Diesel is a well-known fashion company, founded in 1978 in Italy. Although made famous by their denim wear, you will find all types of luxury fashion items made by the brand, including clothing, accessories and even perfume. Diesel shoes are just one of the fashion items this brand produces, offering consumers a combination of quality, comfort and a modern philosophy reflected in their futuristic ad campaigns.

There are numerous types of Diesel shoes available, with sneakers being the most common type, but with pumps, boots, flats and even sandals being released every year. The list below looks at the ten best Diesel shoes currently available in the market, taking into consideration not only their stylistic characteristics, but also their functional properties. You'll find plenty of useful information in the Criteria for Evaluation section allowing you to make an informed purchase you're sure to be happy with in the long run.
Standout Picks
Criteria Used for Evaluation
Style
Diesel releases new products every season, so they keep up with the fashion trends. However, many of the Diesel shoes listed were from collections released years ago. That doesn't mean they're out of style - it just means you might have to do some picking-out for yourself.
In general, Diesel shoes keep things simple and classy. Leather and suede are used often, which are the classic materials used in high-quality footwear to render them durable and fashionable. Their famous logo can also be found on the side or heel, marking them with the brand's name.
Now, style is a subjective topic – what's attractive to one person might not be to another. We're not here to dictate you on your fashion taste. However, there are a few general points on style to keep in mind.
Neutral colors tend to be a better pick than brighter ones because they can be paired with more outfits and different colors. With bright colors, you'll be restricted on what you can pair with your Diesel shoes to avoid looking tacky or too eye-catching. A simple silhouette accented by a few details – such as topstitching or studs – is also desirable. The shoe is kept simple enough to be versatile, but the details prevent them from being too dull.
Overall, remember that this brand is a lifestyle brand, so Diesel shoes are targeted for everyday street wear. As a result, simple and versatile is the best way to go.
Value
No one wants to go bankrupt for a pair of kicks. Yet many reputable shoes are very costly, and there are many avid shoe-fanatics that will argue the price makes all the difference. At the same time, others on the other end of the spectrum claim footwear should never cost more than $50. The key, however, is a balance.
There are many reasons why footwear can be pricey. Number one is the brand. Almost no pair of Diesel shoes are what you could call cheap, simply because it is a global brand that puts a lot into their manufacturing, designing, and selling process. In fact, they release thousands of new products every season! That takes a lot of designers, manufacturers, and other workers, which drives up the cost of the products.
Another reason is the material. Real leather costly, so any footwear that uses leather will be costly as well. The alternative is synthetic leather, which is cheaper and easier to take care of, but doesn't offer the same rich texture, flexibility, breathability, and suppleness. The Goodyear Welt - the way a sole is attached to the leather upper - also matters. While stitching is more durable, water-resistant, and resoleable, it is also more expensive than glue.
In short, pricey Diesel shoes tend to be more durable and comfortable. Though you pay more, you can also get more out of them for longer. In the long term, that could even save you money. For instance, if you wear cheap shoes that wear out every six months, you might spend more buying new shoes than if you invested in a pair that lasted five years. There is a risk in the second option - if you purchase a pair that ends up not being comfortable and it's too late to return them, then your money's gone to waste. However, if you make sure you're satisfied with your pick, there are lots of benefits.
The list above features Diesel shoes for all budgets, so you can easily pick what works best for you, but remember that a larger initial investment ultimately should mean better value.
Breathability
Every part of your skin breathes at all times. You might not feel it, but it's happening - and if you've got crappy shoes on that aren't breathable, you're sure to feel it. Footwear that doesn't allow for ventilation will cause moisture to build up, leading to odor and the growth of harmful bacteria. This is especially true for those with sweaty feet and during the warmer months of the year.
A shoe's breathability depends largely on the material of their lining and uppers. When there is a warm, humid environment inside the shoe, a breathable material will allow that warmth and humidity to be pushed toward the outsole to be dissipated while a non-breathable material simply blocks it in. Diesel shoes are most often made with leather, and the brand tends to utilize a combination of genuine and vegan options.
Genuine leather is well-known to be breathable. Because they are cowhide, they are intended to regulate body temperature to keep it neither too warm nor too cool. However, tests have shown that the moisture being pushed out of leather is not very evenly distributed through the pores.
Microfiber leather, also known as genuine vegan leather, does it better. Not only is moisture pushed out, but it's also done so evenly throughout the material, resulting in a more balanced effect. This material is often used in sports footwear and is slightly cheaper than genuine leather.
However, don't confuse this last material with synthetic leather, PU, or other cheap synthetic fabrics. These are not very breathable at all and are the biggest culprits at causing smelly and sweaty feet. For maximum comfort, stick to genuine and microfiber leather.
Support
Though things like cushioning and lining might first pop into your head when it comes to footwear comfort, arch support is actually one of the most crucial elements. The arches are the curved area on the inside of each foot. It is between the ball and the heel of the foot, and its curvature varies from person to person.
If proper support is not given to the arches, it could result in arch pain and foot discomfort after a long day. However, in the long term, the arches might collapse and cause chronic pain. This is also known as having flat feet. In this case, the mid-foot region would appear to be closer to the ground than it should be, causing overpronation when walking and tiring the feet out. In addition, there's a high risk for calluses, corns, skin irritation, and stiffness.
When these conditions occur, arch support is necessary to correct the foot structure. But since the support provided by the shoe isn't enough, you'll need to turn to orthotic insoles and shoes instead. To avoid that, ensure your Diesel shoes provide sufficient arch support, to begin with.
Diesel shoes, in general, tend to provide good arch support that's enough to support a casual day's activities. Through time, it keeps the foot in its healthy alignment and prevents arch issues from arising. However, the support may not be enough for high impact activities that make the foot bear a lot more weight than usual. For those higher-intensity activities, reach for athletic shoes from sportier brands instead.
Size
Having the right size shoe is not only crucial for comfort, but also for foot health in the long term. Firstly, a shoe that's too large or too small hinders you from benefiting from the features offered by the shoe – you'll be too busy preventing them from falling off to feel their soft lining or supreme cushioning. In addition, squished toes, blisters, and even bleeding can be caused by shoes of the wrong size. in the long term, it could cause serious issues like chronic arch pain.
The Diesel shoes listed above are ranked based on size accuracy. Thankfully, nearly all models by the brand run true to size, meaning they are accurate to their label. Some models may run slightly large or small. In that case, we recommend turning to customer reviews to determine how you should tailor your order.
If you're buying in-store, or have already received your Diesel shoes and are now planning on double-checking the size accuracy, here are some tips. Always leave enough room for socks, especially when it comes to boots. Stay up-to-date with your own foot measurements because even in adulthood it might fluctuate. If you have one foot slightly larger than the other (it's not uncommon!), it's advised to order the larger size. Also keep in mind that some materials like leather and suede will stretch with wear, so if they are a bit tight, to begin with, they might stretch out to become perfect through time.
Regardless, size is crucial for comfort and foot health, so make sure to get the right size of Diesel shoes for you.
Top 10 Diesel Shoes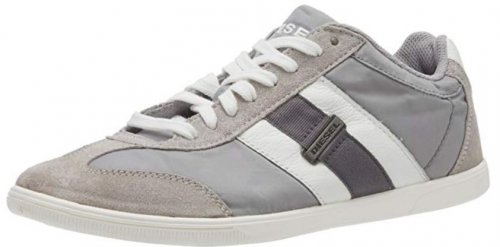 Let every hour be a happy hour when wearing these men's lounge sneakers. With the recognizable classy side-stripe and logo design, these Diesel shoes have an attractive yet neutral appearance, allowing them to look good with all kinds of attires. The leather upper and nylon detailing, combined with the color options provided, give them a vintage style that's perfect for casual days.
Added comfort is provided by the light padding found at the collar and tongue. The low-cut style also lets the ankles breathe and be agile, ensuring more walking comfort.
The textile lining on these Diesel shoes ensures great breathability and temperature control inside the sneaker, and you'll find that the rubber outsole provides excellent traction while keeping lightweight. In terms of cost, these Diesel shoes rank below average, making them a budget friendly choice you're sure to enjoy.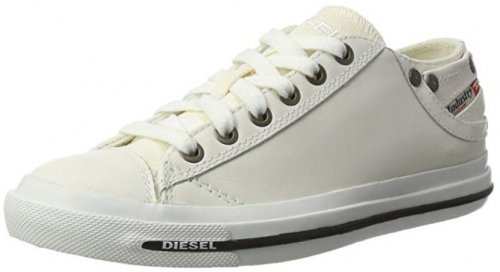 These women's low-top sneakers have a super classy silhouette that will never go out of style. They've got a round toe, a lace-up closure and a branded sole. As a final detail, these Diesel shoes have the recognizable logo pocket detail near the heel to mimic the iconic denim products by the brand. The result is a casual, and quirky appearance.
This pair of Diesel shoes has got excellent practical features, too. The durable rubber toe cap not only adds to their style, but also protects the toe from bumps and scuffs. The hexagon-shaped traction pattern on the ball of the foot provides traction for multi-directional movement, a characteristic usually found in athletic trainers but has been cleverly integrated into this casual shoe as well.
In addition, the 100% textile uppers are flexible and the footbed is padded and cushioned. It's just too unfortunate that they're one of the costliest pairs of Diesel shoes we've picked out - but hey, can't get high quality without a high price.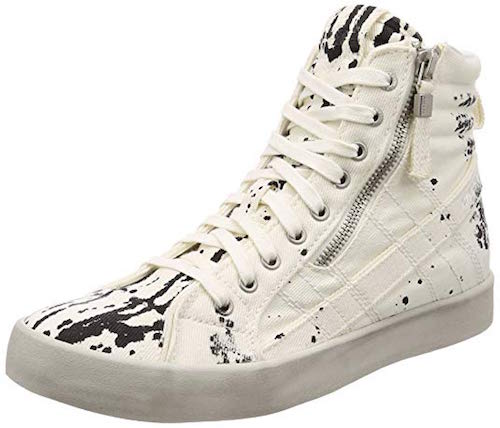 Those looking for a pair of Diesel shoes they can wear in cold weather definitely need to check out the D-Velows model, a high top sneaker resembling the classic Converse Chuck Taylor, but with the addition of this brand's unique styling. You can purchase this model in a variety of color options, and the best part about these Diesel shoes is that they can be bought both in a textile, as well as a leather upper.
If you go with leather for these Diesel shoes, you will find that the break in process is slightly more lengthy than with simple textiles. However, what you get is a considerably longer lifespan, as well as an improved fit that will mold to your foot. Additionally, leather tends to be warmer than canvas, making this a good fall option.
The closure system on these Diesel shoes includes both a classic lace system, as well as a side zipper that makes on and off much quicker than similar styles by other brands. Additionally, you are sure to appreciate the padded collar that won't rub the ankle, and will provide a higher level of insulation in cold weather.
The outsole on these Diesel shoes uses vulcanized rubber, most often utilized in skate shoes, and it's a great choice seeing that it's both non-marking, abrasion resistant, as well as grippy, keeping you slip free on all types of surfaces. The average asking price makes these Diesel shoes an excellent investment for most people.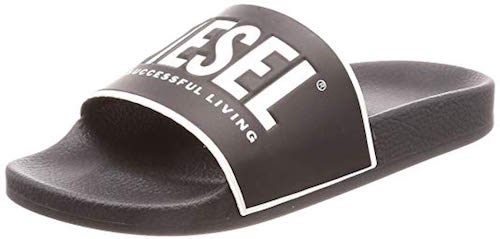 If you're after a pair of Diesel shoes you can wear in extremely hot weather, to the beach, pool, or just around the house, why not purchase a pair of the brand's popular slide sandals. Comfortable, easy to put on, and great for travel, slides by Diesel are the ideal investment for the Summer months.
This pair of Diesel shoes is entirely made out of synthetic materials. The polyurethane used in the upper is waterproof, lightweight and easy to clean. With a stylish logo on top of the instep, you're sure to look great all while keeping absolutely comfy.
Another great thing about this pair of Diesel shoes is the fact that the footbed includes a little bit of arch and heel support, so you won't have to worry about foot pain, even if you spend all day in the Valla.
The rubber outsole is slip resistant, ideal for wet surfaces. Additionally, this is one of the cheapest pairs of Diesel shoes you can purchase, so if you're on a budget but want a pair of footwear from this brand, definitely go with this model.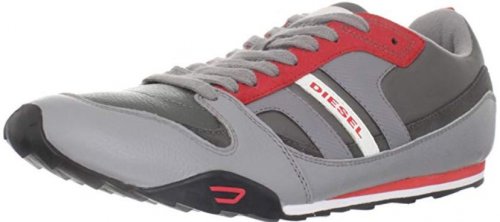 Gunner is a retro-inspired men's sneaker with a casual, neutral appearance. This pair of Diesel shoes comes in three different colours - grey/red, grey/blue, and white/grey - all of which can be paired with casual attire and worn on a day-to-day basis. The logo can be found on the tongue, heel, and side panel.
Cow leather is used for a flexible feel, combined with polyester to avoid bulkiness and to keep the weight light. The outsoles are of flexible rubber, while the lining features cotton and polyester.
The lace-up closure makes these Diesel shoes adjustable and classy. As for price, they are relatively affordable compared to our other picks, though some customers have claimed that their materials feel cheap and of low-quality. Overall, this is a simple sneaker for the simple man.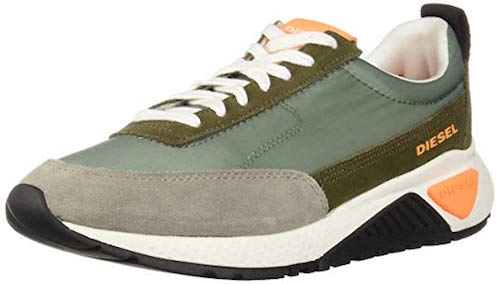 If you're after a pair of Diesel shoes that are ideal for casual wear, you might want to consider investing in the SKB Low Lace sneaker, a retro pair of sports shoes that will look great with a pair of jeans. These sneakers are made with a combination of natural and synthetic materials, and offer a high level of comfort, making them a good choice for running errands, going out, or even wearing to the office on casual Fridays.
The upper of these Diesel shoes is made with a combination of synthetic and suede. The synthetic textile or mesh used allow for a good amount of breathability, while the suede reinforcments around the toe and lacing areas ensure long term durability. Several color options are available for purchase with this model of Diesel shoes, so you will find the perfect pair quite easily.
The rubber outsole offers a good amount of traction, without creating too much weight, and you'll find that the foam midsole on these Diesel shoes does a great job at absorbing shock, thus making the model great for long walks and lots of standing.
The inside is lined with soft, breathable textile, and the cost of these Diesel shoes ranks around average for the brand, making it an overall good choice of sneakers, especially for those who want something stylish.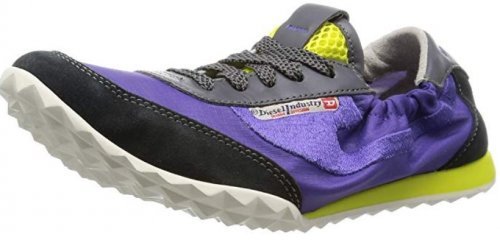 The U-Go Girl is a women's sneaker with a practical, yet fun and colorful design. Made entirely from synthetic materials, these Diesel shoes are vegan-friendly, lightweight, and very beathable. As a result, they're a great summertime pick. The elastic at the opening ensures a perfect, comfortable fit around the ankles, while the laces are still there provide the classic sneaker look while also rending the upper more flexible over the foot.
Though these Diesel shoes aren't the trendiest, at least bright colors are offered. You've got the choice between purple, red, pink, blue, and white, all of which are energizing and eye-catching.
Their rubber outsoles are white and have a pyramid-shape pattern to provide traction. As a bonus, they're also super affordable. Thanks to their elasticity and breathability, the U-Go Girl is the perfect vacation sneaker.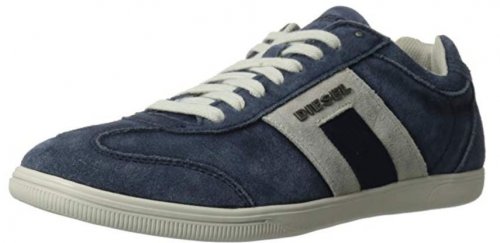 The name says everything with this pair of Diesel shoes. With a slightly vintage-inspired design, they are the perfect shoes to lounge in or to wear on a casual day. Their suede uppers can go with anything from denim to track pants. The simple color and style design, combined with their classic logo on the side, results in a refreshingly minimalist appearance.
The low profile of these sneakers means there's more room for movement at the ankles, giving you more comfort and agility. A classy lace-up vamp is featured along with a sturdy rubber outsole with a zigzag pattern for traction.
As for structural support, they provide enough for streetwear but don't expect anything more. Though they are pretty expensive, their versatility balances that out since they can be worn often. Plus, the suede upper offers a great amount of durability you don't often get with fashion oriented footwear.



Fall fashion's never complete without a cute pair of boots - but if you live up North, you know that sometimes the trendy ankle-boots just won't do. In that case, reach for the more-protective yet still-stylish The Wild Land Arthik women's boots. With a high shaft and a handsome leather upper, these Diesel shoes have got a look of luxury and fierceness at the same time. Studs line the opening, heel, and sides to give it some detail, and the lace-up closure adds to their look. But don't worry about having to tie them - there's a zipper on the side as a shortcut.
Not only do these Diesel shoes look good, but they'll also make you feel good. The 7 1/2-inch shaft protects the ankles and part of the calves from the autumn chill, while the leather in the uppers regulates temperature to provide ventilation and warmth at the same time. The lace-up vamp further makes them breathable.
The 1-inch heel lets you walk with no problem - however, they do lack a bit of arch support, and you might start feeling it after walking for a while. It all depends on how much support your arches need.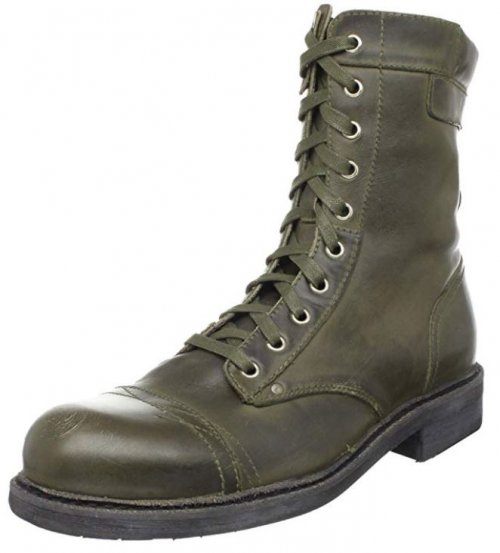 Up next is the men's Cassidy boot, perfect for autumn fashion and chilly weather. Their combat-inspired style results in a rugged urban look that goes well with denim and leather. The uppers of these Diesel shoes are made of leather for a rich colour and flexible feel. A topstitched detail can be found there as well.
With a shaft measuring around 9 inches, the ankles are nice and protected from the weather. The padded collar ensures a snug fit, and the lace-up vamp means they are adjustable in size.
The round toe of these Diesel shoes gives the toes room to wiggle and stay comfortable. They've also got an excellent traction pattern on the outsole. These Diesel shoes are a plain choice of autumn and winter boots you can wear on casual occasions. The price tag is slightly high, but it's more than justified considering versatility and comfort.

Subscribe to our Newsletter