Best CrossFit Socks Reviewed
In a Hurry? Editors choice: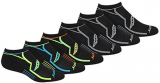 Test Winner: Saucony Multi-pack

Many people have been drawn into
CrossFit exercise
for its known benefits. Moreover, many athletes are using CrossFit socks because they offer much-needed relief to the feet and calf. Through scientific technology, these socks are designed to help with muscle pulls and Achilles problems. Additionally, there are different types of CrossFit socks to choose from, depending on your preference.
Before deciding on which type of socks to choose, consider how you want to use them. There are a lot of factors to look at, and we will help you through them. You can choose from the numerous styles available, and the height of the socks that suits you. Additionally, some people customize their CrossFit socks to give it a more fashionable look. Remember, before choosing a pair, you need to look at vital factors like breathability, durability, and fit.
Standout Picks
Criteria Used for Evaluation
Durability
Quality materials equates to longer service.
One of the reasons we chose the brands on this list is for the sturdiness the brands offer. With the unique weaving, the manufacturers have used, these socks will last for long. The materials have been synthesized to stand a variety of activities without them falling apart. Some of them have synthetic fibers that are known for their sturdy nature.
Gone are the days when socks were used as a disposable item. We have chosen the type of socks that will last for a long time with proper care. These socks are designed to withstand the vigorous activities of CrossFit training. They can be used for numerous sessions without having the effects of wear and tear breaking them apart.
The list we have compiled might seem a bit on the high-end price tags, but they offer value for your money. The manufacturers have used high-tech construction methods that allow these socks to endure frequent use. Additionally, taking good care of the socks as required will prolong its life.
Fit
Be comfortable in what you wear.
Having socks that fit right will make them more useful. They will perform as intended and give you the desired results. The best running socks will have the right amount of tightness around the calf and arch. The best CrossFit socks should stay in place and not sag or rollover.
The brands we have chosen have the best fit. Some have spandex and nylon material to make them elastic. Additionally, this makes them easy to put on and to take off after training. The presence of stretchy material enables the socks to have a snug fit. Socks made of inferior material and construction tend to roll over or stretch after washing.
We have provided you with a list of products that don't lose their fit after washing. These are high-quality products with excellent fit, and they are available in different sizes. Some manufacturers have put in special measures to make sure the socks don't roll over. The top of the socks is fitted with a cuff or elastic band to hold in place.
Having the wrong fit on your socks can lead to your legs turning color. If the socks are too constrictive, they will restrict blood flow. The top fit shouldn't be too tight on your leg. It should be able to hold in place but not limit the flow of blood to your foot.
Some brands have sizing charts that you can check before buying. You can always go a size higher or smaller if you find that your size sits on the borderline. Doing this will guarantee you a perfect fit.
Breathability
Its good to take a breather.
We know how critical breathable socks are to athletes, and we kept that in mind as we compiled this list. When your feet get wet from sweat, they start to itch or have an odor. Having adequate airflow is essential; it will keep you dry and comfortable as you work out. Having dry feet will enable you to focus on your training without any distractions.
A breathable sock makes sure as your feet sweat up and heats up, the sweat is wicked. As the sweat is taken from your feet, the hose allows you to cool down. In addition, consider the type of material used in manufacturing the kind of pair you want. Additionally, it is vital to purchase socks that work in your climate.
Choosing the right material will ensure that your socks don't get smelly and saturated. Our list contains socks that allow airflow, some better than others. Moreover, if you don't intend to use your pair for the exercise, you can opt for a less breathable brand. And, also if your shoes are of highly breathable quality.
If you are using the socks for medical reasons, this feature will enable you to have them on at all times. Plantar fasciitis patients are required to have compression socks on for pain relief. You can comfortably use them through the night. Additionally, socks that retain sweat tend to get heavy and uncomfortable.
Style
Everyone has their penchants.
Some brands have focused on giving you a variety of colors to choose from. While others may have a limited number of choices to choose from, they have a fashionable design. If you want to look sharp as you exercise, then go for the colorful option.
Some athletes love to mix functionality with fashion. The brands we have chosen offer both if you want to look stylish, we recommend selecting brands with their logo at the top of the foot. A brand like Reebok is an excellent example of such kind of CrossFit sock. They have put their logo strategically to make sure your look is complete.
Depending on your preference, you can choose to go with the long socks if you train with shorts. Women have been known to wear booty shorts with long socks as they exercise. We have listed brands that have dull colors and those that have a variety of colors for you to pick. A colorful option is CompressionZ CrossFit socks.
If having cool gear gets your morale up, then go for it. Some people feel confident when they are dressed up fashionably way. Our list contains brands that have a variety of colorways to help you feel stylish. As stated earlier, style and design go down to personal preference, choose what suits you.
In addition, you can have your socks customized or get one that already is. Although they could be at a higher price, they offer a unique look specialized for you. It could have your name on it, or it could be movie-themed.
Materials
Fabrics are the soul of the cloth.
Having the best material is essential to your work out. It will benefit you by giving you a convenient environment to enjoy your training sessions. Someone who has had to deal with blisters during a hike or run will tell you how vital sock material is. Going for cheaper options might seem a good idea until the gear starts to fail you.
The socks we have mentioned have different content materials used during manufacture. Most of the socks in the market use a blend of different fabrics combinations. Additionally, the most commonly used fabric is polyester. It has a lot of benefits to athletes compared to most materials.
Polyester is a synthetic fiber, is usually a cheaper option compared to natural fibers. It makes the best socks thanks to its sturdiness and flexibility. Additionally, it does not wrinkle and it dries quickly, making it perfect for athletes in hot climates. With polyester, you don't have to worry about odor and fungus on your feet.
Most CrossFit socks that have polyester as the main fabric are lightweight with exceptional moisture-wicking abilities. We recommend using socks with this fabric for adequate gear. Additionally, it is lighter and dries faster than cotton. Elastane and spandex give the socks stretch and allows it to fit correctly.
Merino wool is also a perfect fabric to choose from in a hose. It helps in temperature regulating and has insulating properties. In addition, it is comfortable and suitable in a variety of climates, unlike most fabrics. Additionally, it is soft to the skin and has excellent absorbing abilities, keeping your feet dry.
Other materials to choose from include Acrylic, which is very versatile and comfortable. It also provides excellent cushioning and dries fast. Cotton is also used, but we believe it should occur in small contents. Nylon is mostly synthesized with other fabrics because it adds strength and durability.
10 Best Crossfit Socks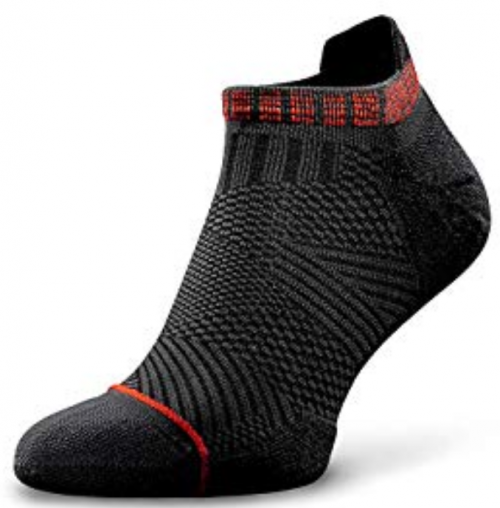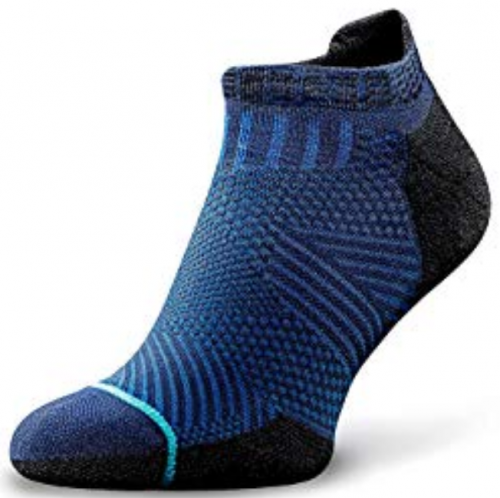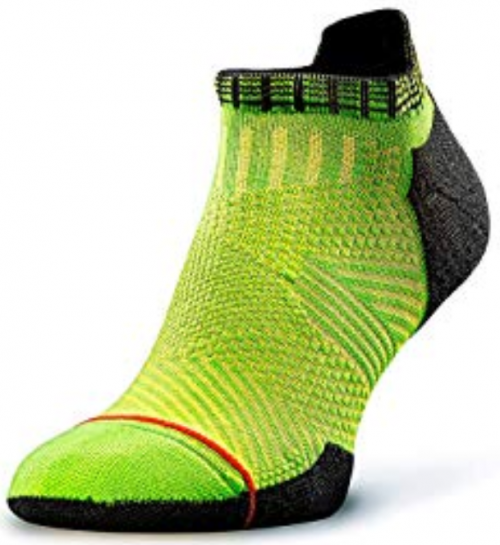 Rockay has perfected this excellent product to make sure athletes get to enjoy and maximize their workout sessions. It gives superior compression and arch support, unlike most brands. As you work out, the socks offer breathability and regulate the temperature of your feet.
The sock uses a particular type of weave construction that gives it its breathable ability. Thanks to the merino wool used in its manufacture, it has incredible wicking abilities. They provide a great fit and don't move around inside your shoe. The wool also remains firm after numerous washes without stretching or shrinking.
For athletes who want low-cut socks, then this is the perfect fit; it doesn't ruin your outfit. Sadly, it does not come in different styles, but it provides excellent value. In addition, this product can be used in low light areas or at night. The logo at the back consists of a reflective material that ensures your safety at night.
With these great pairs, you can be assured of no blisters during your exercise. They are incredibly comfortable, and the compression allows excellent blood circulation. Additionally, muscle vibration is reduced, and the chances of swelling and inflammation are reduced. The design includes padding at the bottom for extra comfort with an elastic opening that holds in place, keeping debris outside.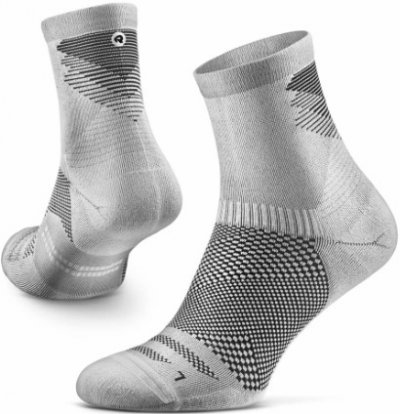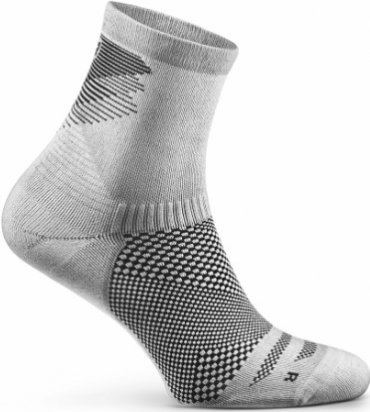 If you are looking for high quality and comfortable Crossfit socks, look no further. The Razer Trail Running is one of the best options for Crossfit. Being that they are incredibly supportive, moisture-wicking, anti-blister, and more, they will hold up and withstand any type of workout, while keeping your feet dry and comfortable.
Finding a brand that believes in their product to the point of a lifetime warranty, is like a breath of fresh air. The Razer Trail can withstand brutal workouts with no issues and even so, you are backed by this warranty. No reason to fear that your sock will fail you when you have the support from this brand in the long run!
Make blisters a thing of the past with this product! One of the reasons that it is highly recommended on this list is due to the comfort that it has to offer and the anti-blister specs that will keep your feet, pain-free! The Razer Trail has a 100% seamless toe so you will not experience the pain that can be caused by blisters in this area. Also, with the style of this product, you can trust that you will not have the pain from a heel blister, either! Take advantage of your fitness, worry about your workout because this product will worry about your comfort!
Eco-friendly is the way to go! These sustainable socks have a huge story to tell. With our oceans being so polluted, the mission is to not only make the best but be the best by protecting our marine life and oceans. This product is made 100% of recycled plastics from the ocean that is spun into a comfortable and supportive fabric that will protect your feet for years to come!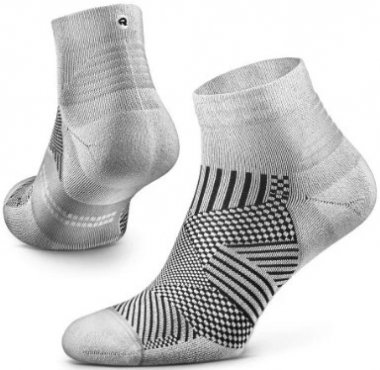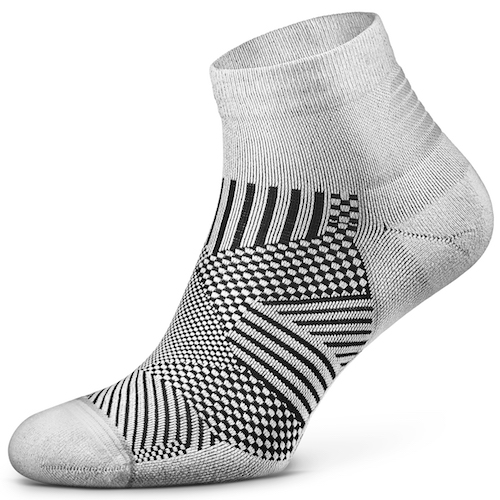 The Quarter Flare Running sock is an all-time favorite and go-to for Crossfit. This product has been specifically designed with the athlete in mind. Backed by a lifetime warranty, this product also offers supreme comfort, sustainability, and support, through every workout and daily activity.
If you are looking for prime support, this product has it all. The compression levels in this brand will blow your mind. Keeping your feet healthy and cramped free, there is also added arch support that will help carry you through miles of activity. Constant blood flow and circulation will help to maintain a pain-free workout.
Having sweaty feet during a workout can cause sliding, temperature issues, and even blisters. Let's not forget about those bad odors! With the Quarter Flare, you will not have to worry! The mesh technology that is offered in this product will not only keep your feet temperature regulated and dry but also will reduce the bacteria build-up, that prevents those foul odors. Keep your feet, dry and fresh with this style!
Finding a fitness sock with the right comfort can sometimes be difficult. With this brand, you will be able to experience the added cushioning, that will not only help support your feet but will protect you down to your foots sole! The level of cushioning has been strategically placed to maintain comfort and performance. If you are shopping on comfort, this is the route to take!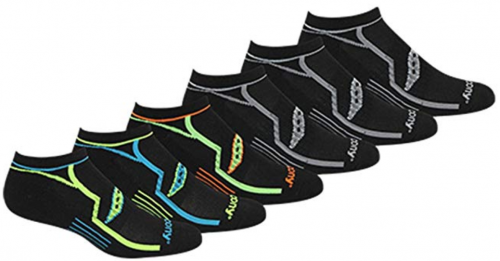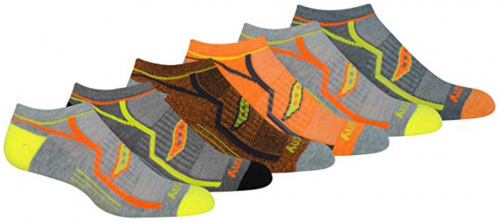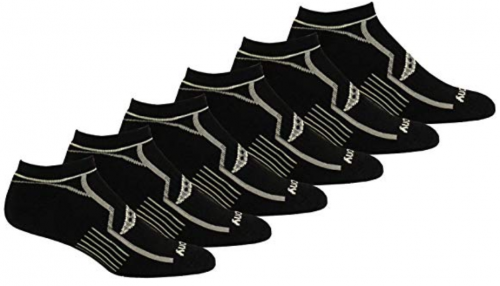 These socks were specially tailored to make sure an athlete's feet remain dry at all costs during a workout. The material composition is polyester at 95 %, rubber 3%, and 2% spandex for breathability and a stretchy fit. Additionally, its mesh ventilation system enhances the amount of airflow to your feet.
It uses an arch support system that targets the arch and helps your sock from slipping. It also helps to stabilize and secure your arch. The sole is cushioned to provide impact protection, and it remains lightweight. Plus, it is machine wash friendly, making it easy to clean.
They are very comfortable and easy to use. The height covers areas where shoes with a high wheel cap usually rub. Blisters are a thing of the past with this brand, and they are perfect for wet climates. Additionally, wash as instructed by the manufacturer to get a long-lasting product.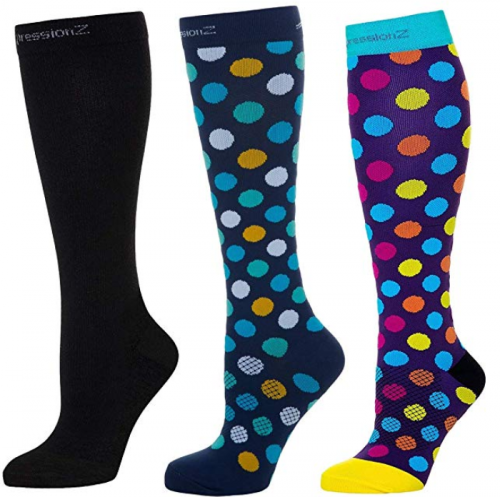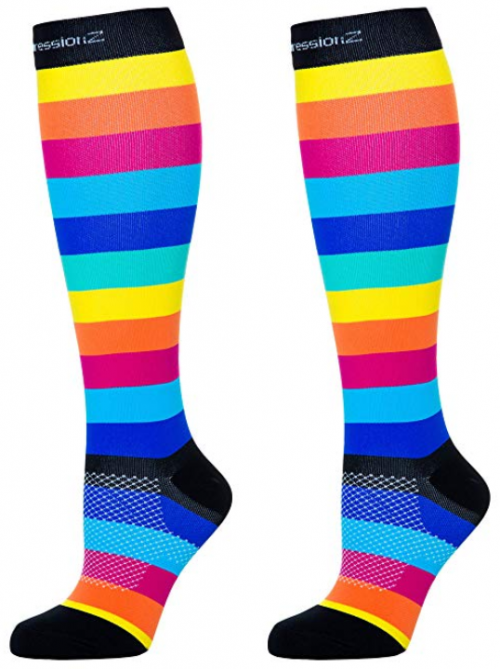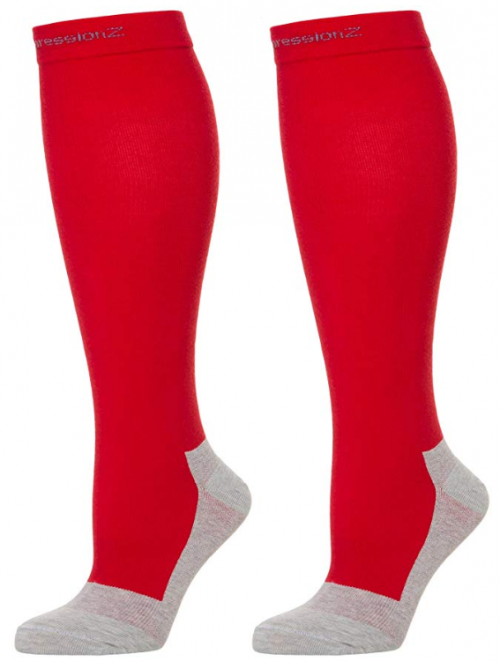 Athletes looking for a pair of socks that can function and still be function have been sorted. CompressionZ comes in a variety of colors and patterns and can be used by men and female athletes. They also come in a variety of different sizes from small to extra-large.
Muscle support and recovery are secure with this brand. They are great for regulating body temperature and very breathable. You can use them in almost every workout session, and they provide warmth in chilly climates. The fabric is anti-microbial, keeping you odor-free.
The quick-drying fabrics make sure you get dry fast to enjoy your training. The fit is snug, and the compression is graduated. There's a supportive band at the arch and a stay-up design at the top. Keep in mind to read the sizing chart, and this will aid you in picking the right size.
They are a bit pricey but offer excellent value. Additionally, the patterns are in four colorways. Compared to other compression socks, these are unique. They help you to focus and keep any pain away.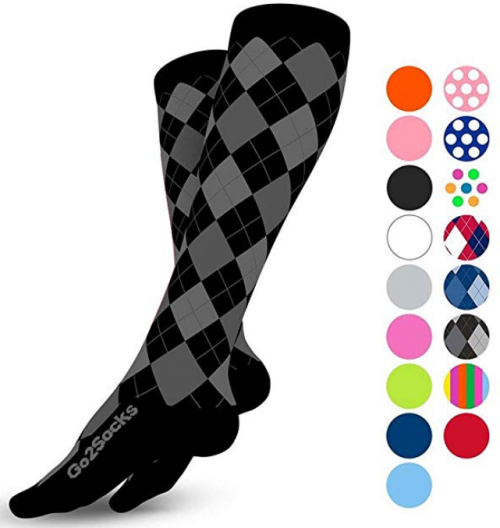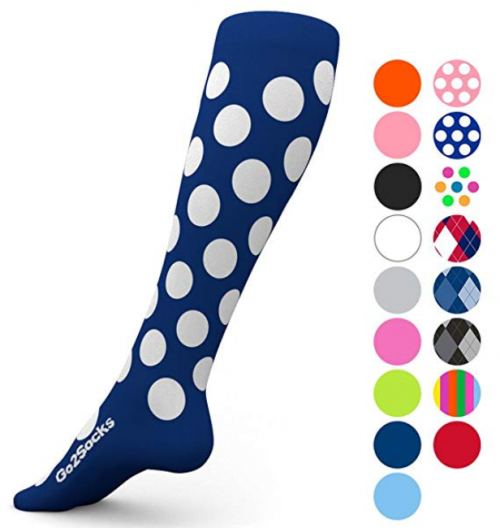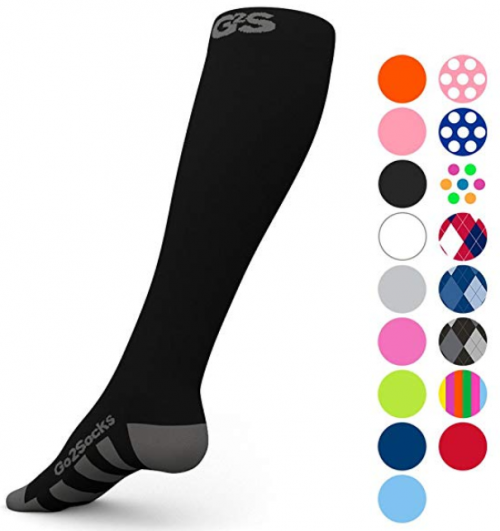 Athletes who enjoy long runs and workout sessions can rely on Go2Socks for their sporting needs. With high compression, they help in improving blood flow and prevent your muscles from stressing out. It also aids in avoiding pain and soreness. They offer great support to your muscles and legs to prevent them from getting tired quickly.
This brand is long-lasting to provide you with the best workout sessions and warm-ups when in use. They are easy to use, no issues involved in wearing or removing them. With a variety of sizes to choose from, you are sure to get the perfect fit. Having socks that roll down will be a distraction to your workout.
These compression socks are thin, giving them their breathability. They keep your feet dry and cool as you work out. As it wicks your sweat, the cool air enters through the socks keeping your legs from overheating. Any athlete would be making a wise investment in these socks because they are very durable.
This is a brand you can trust. It is tried and tested, giving you value for what you pay for. Their longevity is their stronghold. With proper care, they will help you overcome the challenges you faced with other brands.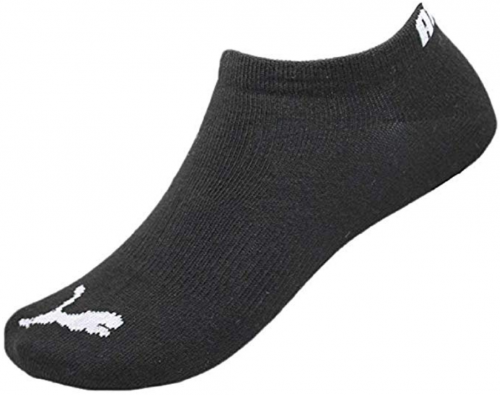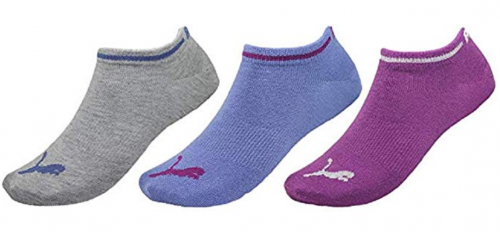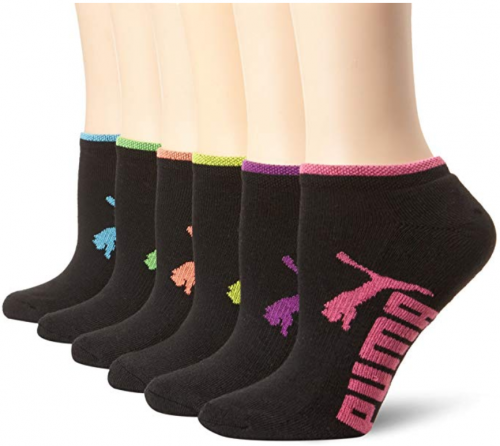 Athletes who need arch support and comfort without compression can use these fantastic Puma socks. The pack contains six high-quality low-cut socks with different colors and sizes. It's advisable though to choose a package which suits your needs in color and size.
Some athletes believe they are thick, but that thickness adds to the comfort the socks offer. Additionally, the extra padding adds cushioning to the wearer. Breathability is not compromised by the size of the viscosity, and the material allows excellent airflow to the user's feet.
They have a snug fit to reduce the chances of chafing and blistering. In addition to the low-cut design, the socks have an arch and midfoot support feature. Moreover, the fit is true to size, and after washing, they don't lose shape or shrink.
The fabric consists of a mixture of polyester and spandex. The spandex makes the socks stretch, and polyester makes it easy to clean and sturdy. The colors available may not register as flashy compared to some brands.
Puma has been making great sports gear, and this one is clearly among them. They put their focus on functionality and effectiveness, which these socks provide. You can be sure of a long-lasting product that will serve you well.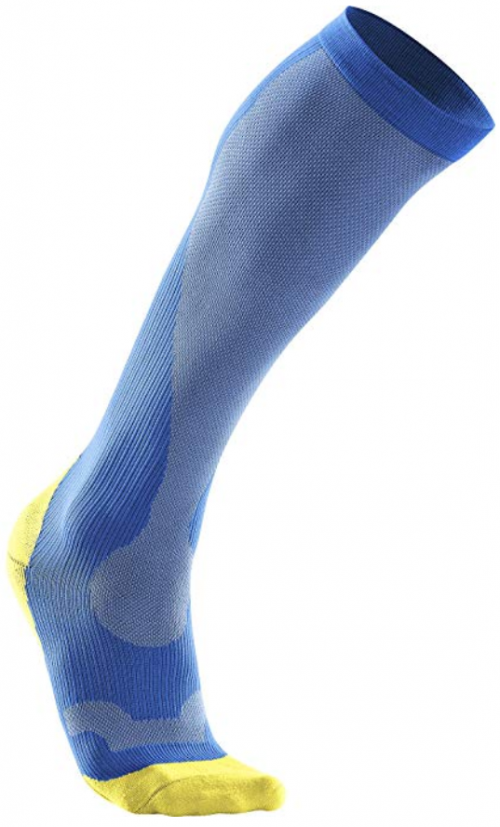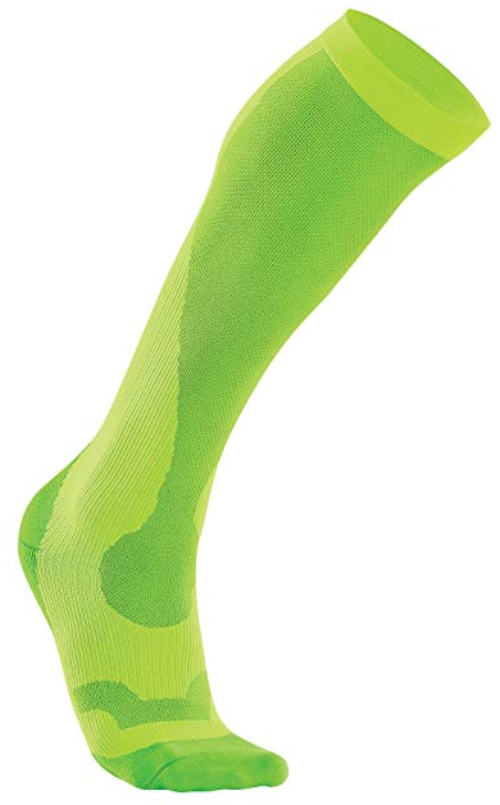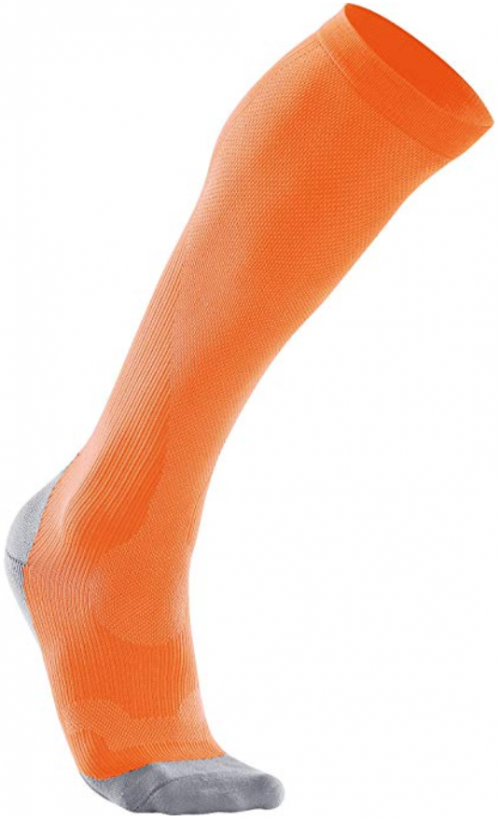 2XU uses its unique technology to stay ahead of the competition. They are dedicated to ensuring that every athlete gets the best out of this product. The X-lock technology allows the sock to have a firm grip on your foot.
Additionally, it wraps around your cross under foot and heel. This design helps to prevent plantar fasciitis and blister formation. Long-distance runners will enjoy using this brand because it puts the tissues snugly in place. The compression focuses on your shin tendons, and calf keeping your muscles in place to avoid soreness.
Additionally, the compression technology prompts more blood flow providing oxygen to your legs. Fatigue and discomfort are also dealt with by the cushioning on the heel. It also offers flexibility and power to protect the hamstring, quad, glute, and abductor.
Compared to most socks, the 2XU product is not as thick as some are. This makes them versatile for many activities. You can also decide to use it as a layer for different clothing and still be comfortable. Additionally, you get a little more room for your toes to move.
2XU has been around for years making great sports gear for different sports. From making triathlon gear to compression wear, it is safe to say that this is a trustworthy company. Their socks were among the first brands to enter the field. They have done proper research to make this product among the top CrossFit socks in the market.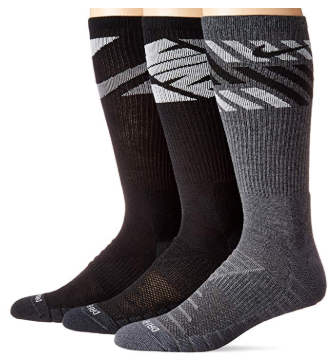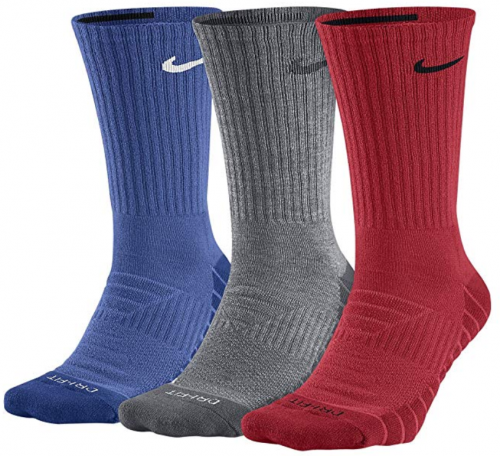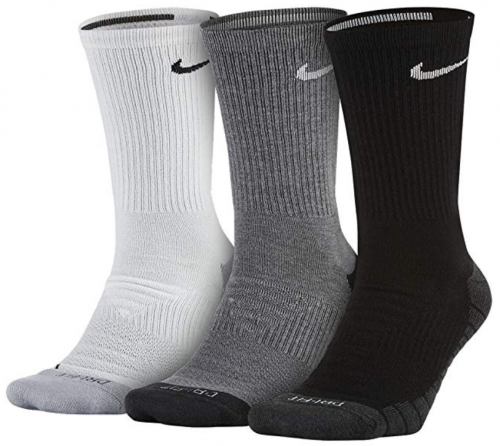 Nike has always made quality products to make athletes comfortable in their workout. This fantastic product is made with Nike's high-quality dri-fit technology to keep you comfy and dry. The unique ventilation system allows your feet to be cool as you enjoy the workout session.
They come in a three-pair pack that has a wide range of colors to choose from. You get maximum comfort with the terry cushion that also reduces shock on impact. It is uniquely designed to hold in place with the high-friction yarn used during manufacture. The mesh fabric gives it its breathable ability at the top of the foot.
The material consists of 89% polyester 8% nylon and 3% spandex. It is very durable and stretches well to give that snug fit. Additionally, you can use a machine to wash them, provided you follow the instructions on the packaging. You can also choose the right size for you as it comes from a small to extra-large size.
These are one of the best socks in the market, and that is why it appears on our list. With state-of-the-art mesh ventilation and durable fabric exercises will be fun. This product will help you achieve your goals and targets that you have set. In addition, with your feet comfortable, you can build your endurance levels.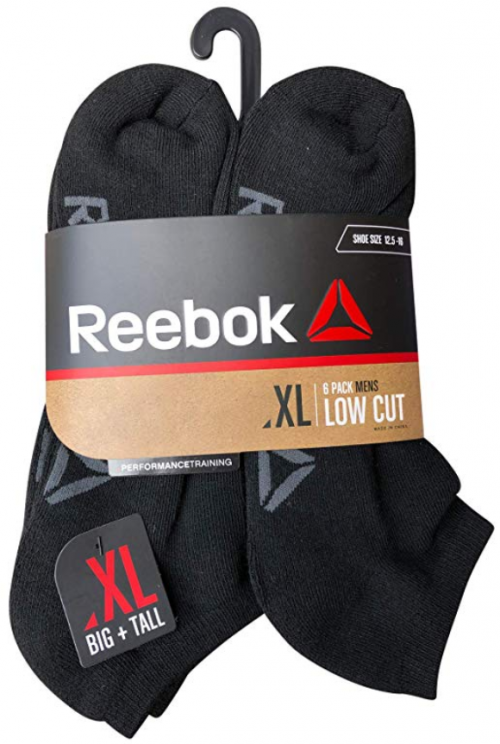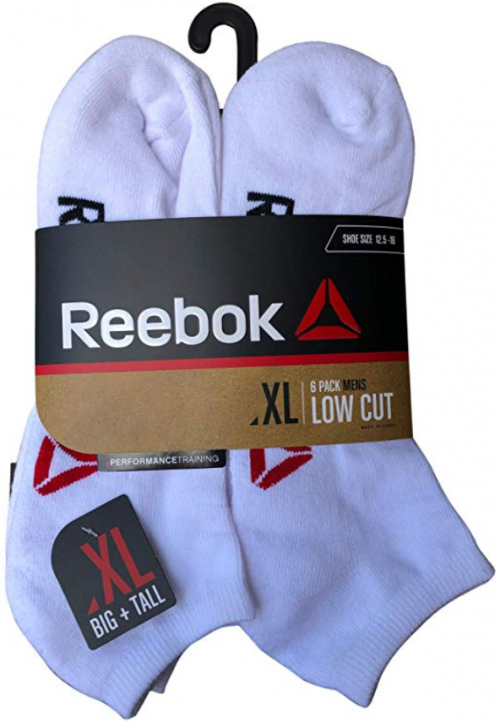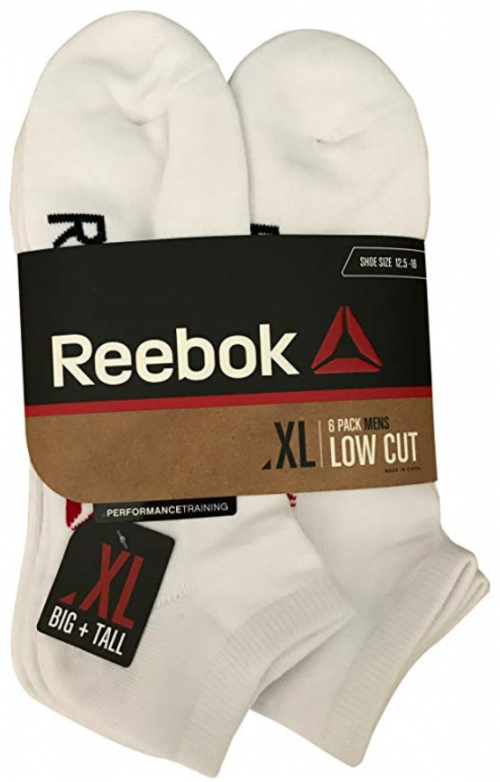 This value pack has six pairs of high-quality socks from one of the best CrossFit gear makers in the market. The design Reebok has used allows athletes to feel comfortable and go for miles without any destruction. They feature a low-cut design and are very versatile, and they can handle any activity.
They fit true to size and have extra padding for comfort. Keep in mind that the padding could mess with how your shoe fit. The socks feel thick but are highly breathable and are still quick drying. Moreover, they have excellent wicking abilities.
It has stretchy fabric that makes it easy to wear and take off. The heel and toe areas have extra material to reduce the effect of wear and tear. Additionally, they are stylish with the Reebok logo situated at the top of the foot. They are affordable and highly effective.
Reebok is known for making high-quality CrossFit gear. With their technology, you are assured of a quality product. It is a value pack, so you know this is a beautiful bargain. You get all the benefits of a high-end product at a discount.

Subscribe to our Newsletter