Best Cooling Towels Reviewed
In a Hurry? Editors choice: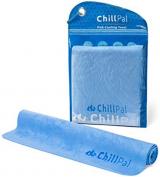 Test Winner: Chill pal

Cooling towels are designed to keep your body temperature at a comfortable and safe level during training sessions on hot and humid days. The lightweight construction and attention to detail make them ideally suited to the needs of runners. These products are not only easy to carry but also feature performance fabrics that enhance their ability to
keep sweat at bay
.
Such products also come in handy during the cool out period as they reduce your recovery time and prevent overheating. Unlike regular multi-use towels, these products can be wetted in cold waters for maximum effect. The performance fabrics used don't leave stray strands of material on the skin when applied.
As the use of these products becomes more popular, it's a great idea to know what to look out for when shopping. Here is a top ten list featuring the
best cooling towels
the market has to offer.
Standout Picks
Criteria Used for Evaluation
Materials
The type of fabric used to make a product can say a lot about its chilling effects.
Most of these products feature PVA and microfibers as the primary materials. Natural fibers are also used in the construction, however, to a lesser extent. Hybrid fabrics that mix the best qualities of the latter three are also growing in popularity.
These materials are appropriate for such products as they allow for the effective evaporation of water that facilitates your chilling session. You can incorporate beads that house chilling gel to enhance the effects.
PVA, also known as polyvinyl acetate, is a synthetic polymer-based compound used in a variety of chilling products. Once PVA is doused in moisture, this treated material allows the water to evaporate to create this chilling effect. The good thing with PVA materials is that once it dries or starts warming up, a simple dampening and wringing returns the effectiveness instantly.
Microfibers are thinner than the cloth used on regular clothing. These fabrics differ from the rest on the materials by at least 0.33microns instead of 5 microns. This difference in thickness gives clothing made form microfibers cooler and the ability to snap air when activated with dampness.
Hybrid fabrics are a combination of PVA and microfibers. Such materials combine the fast evaporating quality of microfibers and the chilling effects of PVA. Cloth with such fabric construction has a soft feel to it and will last for years to come.
Bamboo fabric is a natural fiber that has enjoyed widespread appeal in the past few years. This fabric is soft and has many of the same qualities as microfibers. However, bamboo is less allergenic and anti-microbial when compared to microfibers.
Size
The size and shape of the product determine the portability and effectiveness.
When selecting a product, you should carefully evaluate the size. You should consider which area of the body that needs the most chilling. You can contemplate whether your neck or body needs less heat.
If you get a larger size, you can cut the terry cloth into smaller pieces to fit your needs. It is more advantageous than smaller terry cloth for this reason. However, you should check the manufacturer's instructions to see whether you can cut the product into smaller pieces.
Bigger terry cloth can be used as a head wrap, and you can use it around the neck or even drape it over your body. Smaller terry cloths cover a smaller area of the body and may not be wide enough to cover extensive parts of the body. You can use smaller terry cloths on target areas like pressure points where there is a higher flow of blood to pass the effects to the rest of the body.
For the best results, one should select a product with a square shape. Such products are easier to roll and cover a larger area of the body. Square shaped cloth is also easier to fold, roll, and pack, which makes them more a more portable option.
Effectiveness
A good product is easy to use and serves the intended purpose.
The ability to soak, wring and snap a terry cloth has taken bringing body temperatures down to a new level. These products allow you to beat the heat without dousing your whole body in water. Cooling towels will enable you to drape them over a smaller area of the body for maximum effect.
Some of the products like EnduraCool come at an affordable price and claim to have an instant effect. EnduraCool also enjoys the endorsement of well-known athletes of like tennis star Serena Williams. This product lowers your body temperature to 30 degrees Fahrenheit below the average.
Polyester and nylon mix is soft to the touch, whether wet or dry. There are some products like the chill pal model featured on this list are a bit rougher around the edges. This robustness in construction makes the product ideal for daily use in various types of activities, including construction work.
Products made from PVA are more like a soft chamois cloth when wet. However, such products become as hard and stiff as cardboard, which makes it easier to pack and store. This material is more effective when compared to materials like cotton that fail to have a mushed shape when wet.
The products featured on this list are relatively effective when the heat is high, and the humidity is moderate to low. When the humidity is high, it might be a great idea to include chilling gel beads or ice packs to enhance the effects of the product. You should also keep your hydration and electrolyte level high to avoid muscle fatigue.
Durability
There is nothing worse than buying the same product every month.
The products featured on this list are reusable and easy to maintain. This aspect ensures that you avoid the frustration that comes when you throw out a towel after a few uses. The biggest test of the product's durability comes when you wash the product, especially in a washing machine.
Once you wash the product, you will see whether the fabric holds its integrity and if the colors fade or leach off. When the material used to make a product is more flexible or pliable, it will give you more extended service. Stiffer and rougher products are less durable and comfortable to use.
Many features can give you a hint on the product's durability. Such features include the choice of material, thickness, and stitching. There various materials used in such products have been reviewed in a section of this publication.
It is hard to get a clear picture of the durability of a product from reading product descriptions on vendor sites. To get a clear definition, you can read customer review from people that have tried the same product. Such evaluations are unbiased, as commercial interests do not motivate them.
Features
Some cooling towels have extra features to enhance their effects.
Chilling gel beads are incorporated into some terry cloths that expand when exposed to moisture. Once this expansion happens, there is a cumulative chilling blanket effect. You can purchase these gel beads in bulk as long as there is a companion fabric.
Lightweight construction allows the user more versatility and freedom of movement. This unrestricted movement is a result of the user being less burdened by the total weight of the terry cloth. With greater flexibility, you can run for longer distances and even have a greater range of gymnastic motion.
Carrying cases come in various shapes and sizes that include bottles, pouches, and tubes. These containers allow the user more convenience when packing and carrying the product. The best containers come with leak-proof, anti-bacterial, and easy to clean features.
Prints and colors allow the user more freedom in accessorizing and expressing their sense of style. With more color options, one can even coordinate their outfits and to avoid color-blocking mistakes that can make you look bad in public. The choice in color and print is a purely subjective matter; what works of one person will probably not work for another user.
Carabiner clips feature on the carrying cases of some of these products. These handy extensions allow you to clip the towel on to clothing or gear when the terry cloth is folded. This convenience prevents you from losing your terry cloth.
Snapping technology allows you to get rid of excess water effortlessly. This feature saves you the time and effort you need to squeeze all the water out of the product. This feature also reduces the amount of contact you have with the water as you activate the product.
Flatlock stitching reduces the amount of friction between your skin and the terry cloth. This construction aspect achieves this by limiting the surface area to contact. This stitching also enhances the product's durability.
Breathability allows warm air from the skin to pass through the fabric and fresh air from the environment to reach the skin. All the products in this list are breathable and feel soft to the touch. This feature enhances your comfort as you cool down after a run.
Top 10 Picks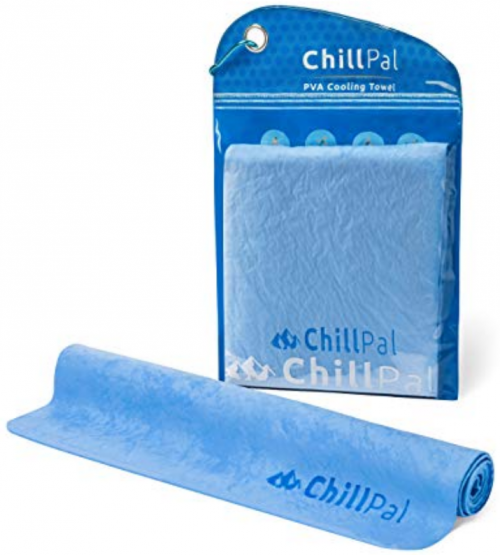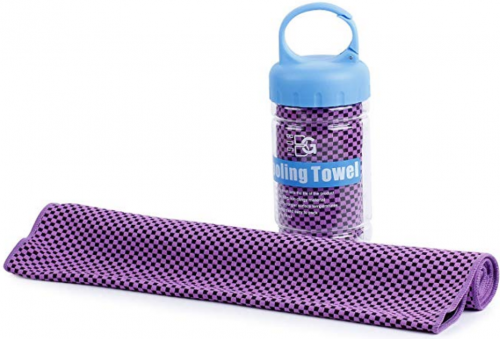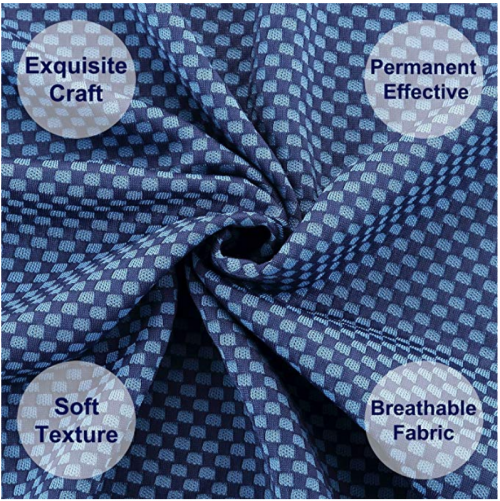 When out on the road a large terry cloth can be cumbersome, especially when it gets damp. The chill pal is light and easy to pack addressing such needs. This product also comes with PVA fabric technology to enhance the soothing and refreshing effects of the product.
This product is packed for on-the-go use and features a handy reusable plastic canister, which adds a lot of conveniences. All one needs to do is soak the Chill Pal in cold water, wring, snap and just like magic, your body cools down by 30 degrees Fahrenheit. You can wrap this terry cloth like a scarf or bandana; you can also fold it for a high impact chill effect on pressure points or smaller areas.
The super evaporative PVA material makes of a less dump chilling effect. The 24 X 16-inch size profile ensures a broader area of effectiveness. The original Chill Pal is thicker than related products, a factor that adds to its durability and UV protection factor.
With the Chill Pal, you have no more worries of overheating during sporting activities; you can use it to mop up sweat and heat when you have a fever. You get to enjoy a performance at a higher level, with quicker recovery: the time between warm-ups and exercise routine is significantly short with Chill Pal. You will also be glad to know that all these features can be yours at a more affordable rate when compared to high-end products.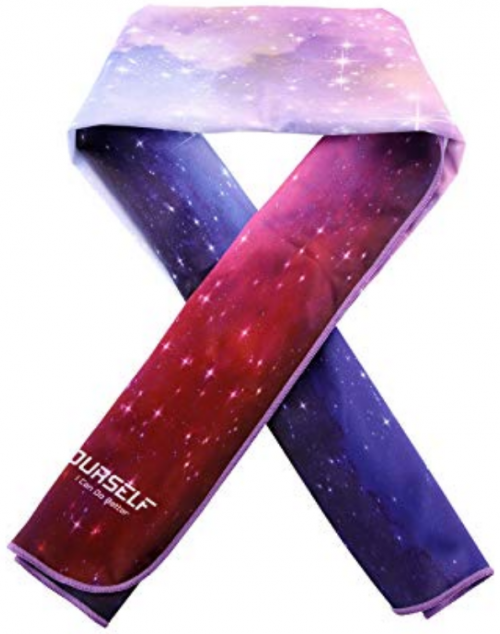 After an exhausting and sweat-filled run or workout session, the SYOURSELF cooling towel provides you with much-needed relief. This product features an extra-long design that affords you a more versatile way to cool down. Just soak, wring, and dab for long periods of refreshing wipes.
SYOURSELF products have unique designs and can be used in a variety of ways. This product helps you stay well hydrated by effectively reducing the number of body fluids lost due to heat. They work excellently as cold compresses and provide a fast way to get some relief from heat and muscle strain.
This RoHS compliant product is very soft to the touch and has a smooth finish with polished edges. SYOURSELF terry cloths are also more glamorous than the other products featured on the list. Unlike most terry cloths, which only give, color choices the SYOURSELF comes in a variety of visually stunning patterns.
This stylish print includes esthetic elements allow you to express yourself while in the outdoors. When your SYOURSELF get dirty, pop it into the washer for a quick wash, and hang it for a soft drying finish. Despite the affordable price range, the attention to detail gives this product excellent value for money, and it is durable.

3

. Frogg Toggs Chilly Pad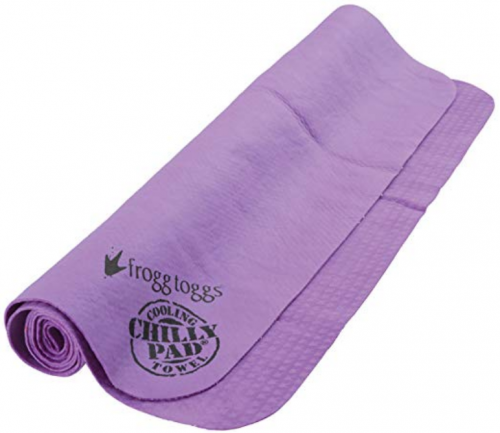 Frogg Toggs has a specialty for products that make your outdoor experiences more comfortable. This product helps you stay cool as you engage in your favorite sporting or exercising activities. Not only does it keep you frosty, but it also affords you a measure of sun protection because it is large enough use as a wrap.
The Frogg Toggs offers UV protection by a factor of UPF 50+, which has the same effects as sitting in the shade or wearing a hat. The material reinforced with quality mesh weaving that reduces the likelihood of getting rips or tears. This mesh construction allows the product to absorb higher amounts of moisture and release it slowly.
This slow-release prevents the water from evaporating too quickly, which enhanced the products potential to provide freshness for longer. A 33 inch by 13-inch size profile gives the Frogg Toggs broader coverage, and it can reduce the user's body temperature by up to 30degrees.
This product is machine washable and refrigerator safe. Although you should avoid freezing it, the modal price range and variety of colors mean you can match Frogg Toggs to any outfit.



Alfamo has opted to focus all their energy on this Alfamo product in this market segment. This product is available in four different sizes and a spectrum of fashionable and playful colors. When it comes to multipurpose cooling towels for sporting activities, the Alfamo is the ultimate refreshing partner.
The variety of sizes can determine the type of activity you want to engage. Smaller sizes help you lock down on flush points of heat or localized stress and aches. The larger sizes help you wrap more areas of the body to reduce overall temperature faster.
You can use the Alfamo as a neck wrap, bandana or even as headgear for a variety of sporting activities. There are few concerns about the unpleasant factory default smell, but a few rinses solve this problem. The extra-long size also increases the water retention capacity of the product allowing you to stay fresher for longer.
This product comes with a carry case featuring an easy to pack fold design ideal for traveling. This pouch is also resistant to bacteria and water and is included with every purchase. This product is easy to use, affordable and comes with a 100 percent money-back guarantee if you are not satisfied.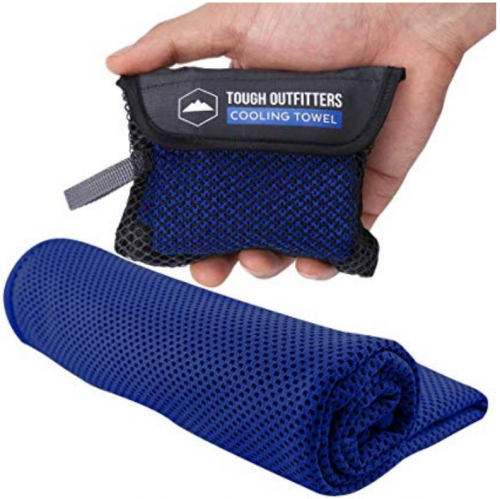 If you are looking for cooling towels that retain water and keep you fresh for long, this product may be what you need. The Tough Outdoors line of products stays refreshing up to 2 hours after wetting and wringing them. It comes with a handy and durable carry pouch and performs better than other budget price options.
Concerted attention in construction and weave technology gives this product hyper-evaporative and absorbent qualities. This attention to detail ensures you stay fresh and at comfortable body temperature as you run, hike, jog, or participate in any outdoor activity. This product also stays soft when it dries as opposed to other terry cloths meaning you can use it to towel off as well.
This product is also the most packable option featured on this list as it can be folded to a tiny size profile. The handy carrying case protects the terry cloth from getting dirty when not in use. The Tough Outdoors model is also small enough to fit right into your pocket when dry.
The Tough Outdoors is a genuinely outdoor option as it comes with a UV protection factor of 50 UPF +. This product comes in a variety of colors and is machine washable. Even though it comes at a budget price, you get sound quality and premium performance.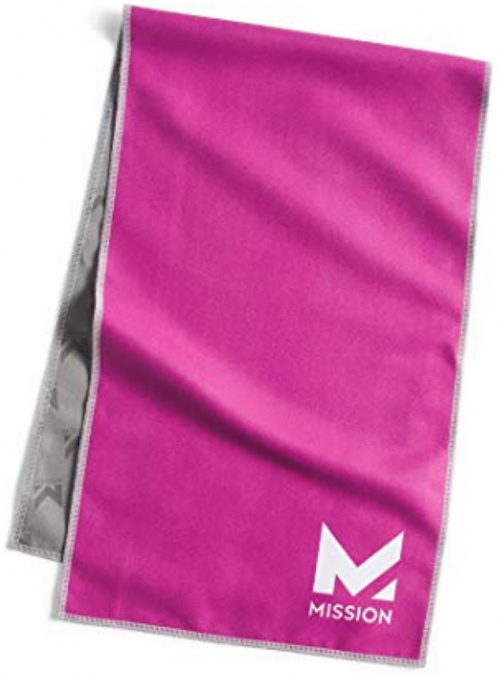 Mission has a reputation for producing quality products that are effective to their purpose and last for long. The Mission Endura line comes highly endorsed by many top athletes and entertainment stares like renowned pop star Hailee Steinfield. Although you can spot mission Endura terry cloths in music videos and sporting events, they come at an affordable price range.
This practical product is easy to maintain, as it is durable enough for a machine wash. A UPF 50 + UV Protection factor keeps that harmful UV and sunrays at bay so you can frolic in the sun. The mission Endura terry cloths not only absorb more moisture but retention it for longer to enhance the effectiveness.
Unlike some products, the Mission Endura comes free of chemicals and synthetic additives that may cause allergic reactions. This product is also more effective, durable, and flexible when compared to many synthetic alternatives. Another plus for this product is the fact that it comes highly endorsed by professional athletes, especially in the world of tennis.
The mission Endura features a trademarked blend of microfibers that make the product resistant to bacterial build-up. This terry cloth comes in a variety of colors and flashy design motifs to fit every taste and stylish preference. This product is soft on drying, comes at a fair price, and adds a touch of style and flair to your athletic performance.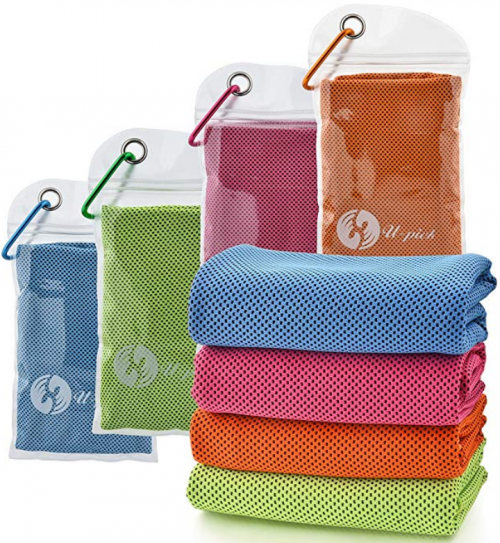 U-pick is a relatively small and new manufacturer that offers a variety of specialized products for various market niches. The U-pick terry cloths have a small size profile and high impact freshening effect. This product comes in a four-pack set and an assortment of colors to suit every avid runner or athlete.
The 100% polyester construction gives the product an ultra-soft feel and is machine washable though in a dedicated cycle. This attention to detail makes the product the softest terry cloth featured on this list and ideally suited to the needs of users with very sensitive skin. This smooth texture makes for a more refreshing and assuring user experience.
Unlike most terry cloths on this list, you don't need to snap the U-pick to activate it, which makes it ideal for children and senior citizens. This product comes with a handy sealed loop design and a carry pouch with a handy carabiner clip for convenience when you are on the move. Besides the fair price range, the easy to use and soft texture gives the product great value for money.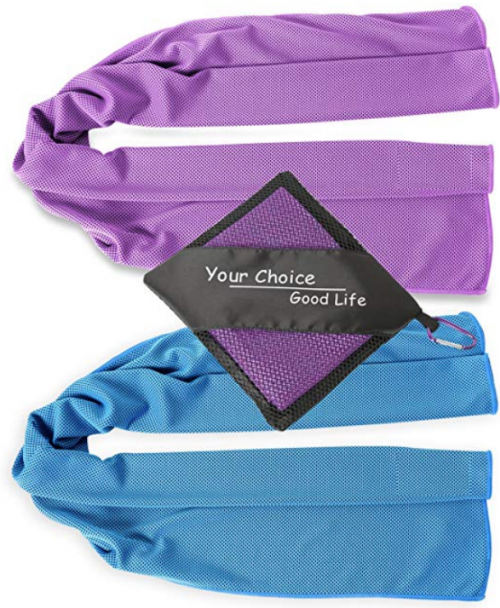 Your Choice is an innovative product that is light in weight, durable, soft, and ideal for a wide variety of sporting and outdoor activities. This product is also super absorbent and provides an instant chilly effect. All one needs to do is soak, wring, and snap it for a body temperature reduction of up to 30 degrees.
Another aspect worth noting is the environmentally friendly and chemical-free materials used in the manufacture of the product. Runners, climbers, and cyclist will also enjoy using Your Choice terry cloths as bandanas. This terry cloth is made from absorbent and water retaining polyester, and this product shields you from harmful UV rays.
Your Choice comes in 10 attractive colors and three sizes that include medium, large, and extra-large. All the sizes come with a handy carrying bag and a carabiner clip for additional convenience. This product is functional and comes to you at a very affordable price range.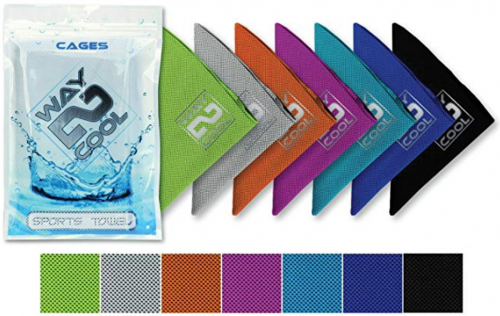 Way 2 Cool elite microfiber cooling towels are very convenient and easy to use. All one needs to do soak, ring, and wrap it around the desired area for chilling effects. This product maintains its coolness while remaining relatively dry to the touch.
This product retains its super soft texture even when dry, unlike many products that become stiff once dry. The Way 2 Cool line of terry cloths are super absorbent and offer UV protection by a factor of 50+. The multipurpose use and visually appealing design have won the trust of many fitness enthusiasts and pros in various sports that include golfers.
Another great thing about this product is that you can also use it to address health issues like fevers and night sweats. Unlike most products on this list, Way 2 Cool comes with a plastic tube canister instead of a carry bag. You too can take advantage of this zero-risk product as it is affordable and customer satisfaction is backed by a 90 day zero question asked money-back guarantee on any issues.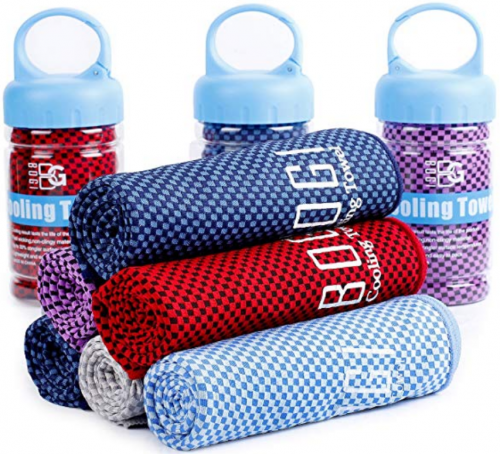 In a market flooded with synthetic materials, it is nice to have products made from renewable fibers. The BOGI cooling towels are ideal for use not just in sporting activities but also daily life, physical treatment, and a variety of fitness needs. You can drape the product over your shoulder, use it as a scarf, or tie it on the desired area.
This product is made from 100% woven bamboo that is extra absorbent, hyper-evaporative, and anti-bacterial. After, wetting, ringing and snapping the terry cloth stays active for a period of between three and five hours. The extra-long design also enhances the product's efficacy, and unlike regular terry cloths, the BOGI is softer on the skin and does not leave, your body wet.
A reusable plastic carrying bottle further enhances the effectiveness of the product by allowing you to carry a pre-wetted terry cloth. This BOGI terry cloth effectively reduces your carbon footprint like no other product on this list. All the products from BOGI are made from ethically sourced bamboo and meet RoHS compliance standards.
This product comes in several colors ideal for everyone and various occasions. Bamboo is a hypoallergenic natural alternative to synthetic materials and is highly recommended for people prone to allergic reactions. The only significant trade-off one makes in choosing this product is the slightly higher price point.

Subscribe to our Newsletter