Best Born Shoes Reviewed
In a Hurry? Editors choice: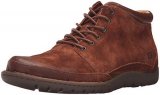 Test Winner: Nigel

Born shoe products embody the cultural California lifestyle through their casually
fashionable models
of footwear. Whether you're in search of sandals, sneakers, or a pair of loafers to wear while sailing the high seas, there's an answer to accommodate every way of life. One of the most notable features of this brand is the quality of leathers and materials used in its construction, which include the softest, most durable, and exceptionally comfortable leathers that have been specially treated to add one-of-a-kind character to every single design they craft.
Check out some of the best Born shoes available, today!
Standout Picks
Criteria Used for Evaluation
Features
These products are constructed using a six-layer system that incorporates comfort and quality to produce a long-lasting line of footwear which feels just as good as it looks. While each model is different, there are a few things you can expect out of your Born shoes:
Upper: Only the finest leather material acquired from the most high-end tanneries on the planet are used in the craftsmanship of this brand's footwear. The leather used in the upper build is soft, long-lasting, and flexible, allowing for an unrestricted range of motion.  When leather is used to make footwear that's breathable, lightweight, and also wicks moisture away from the foot keeping you cool and dry all throughout the day.
Sockliner: These often feature a patented sock liner that is made from a leather or high-tech fabric material. The sock liner works overtime to keep feet cool and dry while also helping to eliminate the bacteria that cause the formation of odors. It is important to note, the sock liner also helps you avoid the itching and burning of  Athletes Foot.
Cushion: Each pair of is made with two layers of cushioning including an arch cushion and a dual-density foam cushion.  The foam arch cushion is properly placed to maximize the level of ergonomic support provided, while the dual-density foam cushion cradles and supports the structure of the foot while allowing for maximum flexibility.
Sole: The soles are unique in design and include an air diffusion layer that is specially made to lessen the puffing sound which happens when the air pressure along the sole isn't properly distributed and is unable to properly escape. The outsole has an ultra-light and long-lasting build that's meticulously sculpted to an ascetically pleasing finish. These aspects of construction are an integral part of the design and craftsmanship of each pair.
Together, these features combine to provide the foundation for footwear that is ultra-comfortable, long-wearing, and highly versatile.
Comfort
If you're looking for footwear that is going to feel great on your feet from the very first wear, you have made the right choice in going with this brand. The key to a shoe that feels good is relatively simple, once you know what it is exactly what you should look for. With Born, there are several things you can expect to receive:
Fit: Because the footwear listed above was made not only to look good but also to feel great when on your feet for several hours at a time, you will find that there are a few key factors contributing to the comfort. The first one is the shape of the footwear on offer - most models will have a round toe with sufficient space for natural toe splay, and an adjustable closure system that ensures a secure fit. Some models even come in wide sizes, which is a big plus for a lot of people.
Break In Period: Made from soft types of leather, the flats and sandals listed above usually won't require much breaking in, which ensures you can comfortably wear them from the moment they arrive in the mail. Nonetheless, it is advisable to try them on around the house before heading outside, just to ensure there aren't any fit issues.
Breathability: Already mentioned in the materials section, breathability is key to providing your foot with a healthy environment free of moisture, and thus odor-causing bacteria, or even worse, infection-causing fungus.
Cushioning: With footwear from these manufacturers, you can rely on getting a cushioned pair of footwear, regardless of the style - yes, even with sandals. This is important for those who tend to stand or walk a lot, as a softer layer in your footwear helps absorb shock, preventing muscle fatigue and joint pain.
Removable Insoles: A number of the brand's styles feature removable insoles which can both be washed and dried more easily, as well as replaced with custom orthotics for those who need a higher level of support due to foot health issues such as Plantar Fasciitis.
Outsole
Most of the footwear listed above features an outsole made with rubber, which has become an industry-standard in most types of shoes. This material is convenient for a number of reasons, including the fact that it is durable enough to last through wear on varied terrain, it is flexible, so it doesn't limit the foot during walking, and is lightweight, helping users prevent fatigue.
Furthermore, it is soft, which contributes to the overall shock absorbing qualities of your footwear, plus it offers excellent grip on all types of surfaces, even in wet conditions. Some of the models have more prominent traction patterns on the bottom, which makes them a good choice for environments where slipping is an issue.
One of the things that are characteristic of this brand, however, is the fact that the outsoles are securely connected to the upper of the shoe, using both gluing and stitching techniques. What this achieves is greater durability that doesn't break down when exposed to less than favorable elements.
Materials
Only the highest-quality leathers and other materials are used in the creation of these products. They use special treatments unique to certain styles to improve on appearance and overall performance; such as burnishing to enhance the depth of color or a unique treatment process which creates a subtle look of wear adding character to every piece. Other fabrics are also utilized, like soft velvet and linens for unparalleled comfort. These manufacturers use their signature Opanka hand-stitching technique that holds many benefits including:
Flexibility
Rebound
Contoured Cushioning
Products constructed using Opanka stitching are incredibly long-lasting and are hand-crafted for a level of comfort that's a step above the rest.
Style
Men: Finding high-quality and professional-looking footwear can be difficult for men, especially if you're searching for something that's sophisticated yet still comfortable enough to wear anywhere. That's why men all over the world seek out this quality line of footwear because they understand just how amazing it really is. This brand offers a ton of different styles for guys including:
Sandals: High-quality leather sandals are a specialty of this shoemaker. Men are soaking up the casual yet professional look of this year's hottest slip-on and slide styles of summer footwear. These sandals include features such as a footbed that wicks moisture away from the skin and hidden elastic goring that holds slip-on sandals perfectly in place.
Casual: Their casual footwear for men includes lace-ups, slip-on, sneakers, and more, all of which are expertly crafted for superior wear. This line collection of casual footwear boasts design features like handmade construction, double gore for effortless on and off wearability, and a footbed made from materials which wick moisture away from the skin and push it out towards the outer layer of the shoes.
Tailored: For men in need of professional yet functional footwear, the tailored options from this line are a unique and noteworthy consideration. With slip-on and oxford styles available with design features such as an Italian silhouette and unbeatably comfortable footbed for all-day comfort.
Clogs: For those who spend a lot of time on their feet, like to work in the garden, or simply need a pair of sturdy slippers to wear around the house, a pair of clogs is an excellent choice. More supportive than sandals and sliders because of the leather upper, these types of shoes are both protective and breathable and are great at home type of shoes.
Boots: When the weather gets cold, and there are rain and snow to be expected, or when you're going out in nature, you'll need a bit more protection from the cold and rough terrain. Boots are an excellent choice for such occasions, and the best models will provide just the right combination of warmth and breathability for a comfortable experience.
Women: Women everywhere agree that these products not only feel great on their feet but look fabulous too. There are so many variations and styles of women's footwear; including
Sandals: The women's sandals are cool, laid-back, and trendy enough to wear for any occasion. The ever-popular and modernized designs have fast become a consumer favorite and come highly rated among wear-testers from every walk of life. There are a ton of different options in sandals available including slide, wedge, strap, gladiator, sling-back, thong, and slip-on, just to name a few. With so many choices you'll never get tired of these sandals and you won't have any trouble finding a pair to match well with any outfit.
Flats: Who doesn't love a great pair of flats?! This company manufactures super-cute and chic styles of flats for women that are well-made and will last for ages. These flats aren't your average ones that offer next to nothing in the way of support or comfort. They also make flats that are comfortable and supportive enough to wear all day long without experiencing painful or fatigued legs and feet and are available in several styles including slip-on, ballerina, and driving moc.
Casual: If you're in the market for a casual Oxford or trendsetting pair of sneakers then this is the manufacturing line for you. Their casual footwear for ladies offers both sleek and sinew designs that are both professionally tailored and casually wearable.
Heels: For professional attire and formal occasions, a good pair of heels is unbeatable. Born heels always feature a chunky heel for improved stability and comfort, and have genuine leather uppers to bring a sense of luxury to the look. They may not have stilettos in their offer, but that doesn't mean you can't wear these shoes to fancy parties.
Clogs: Classy professional clogs can be tough to find nowadays, but this brand manufactures styles that are work or play-appropriate. Wear a pair of neutral-colored clogs for a pulled-together appearance that's effortless to achieve, and that'll feel good even after hours of standing.
Boots: Women's boots are some of the most versatile shoe categories available today. From knee-high styles that accentuate the line of the leg, to cute ankle boots that make rainy days so much more fun, and even models that are inspired by menswear – women can now choose from numerous styles, and with this brand, no choice will be the wrong one. All you'll have to do is to for just one model!
Children: Recently a line of children's footwear was released inspired by their Spring 2018 Collection. Their Children's line includes everything from crib-specific styles to babies' first steppers and on, offering a cushioned and comfortable collection of footwear for little ones that provide adequate support for growing feet.
10 Best Born Shoes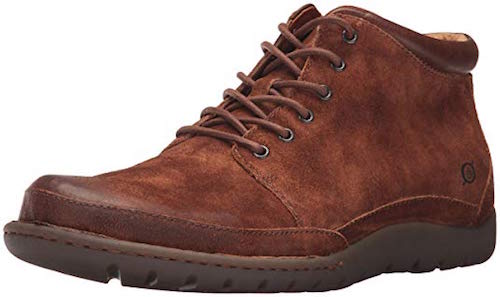 A rugged boot ideal for casual everyday wear, but stylish enough to be worn to the more relaxed office, the Nigel is a bestselling style that truly reflects what the Born brand is all about - comfort and quality above else. It comes in two leather upper choices - full-grain and suede, and several color options, including classic blacks and browns.
This model features a round toe for ultimate walking comfort, allowing the toes enough space so they can naturally splay during each step. The lace-up closure gives you the ability to find the ideal fit, while the padding around the collar prevents rubbing above the ankle. Microfiber lining wicks moisture away from the foot, making this a great model for transitional weather and indoor-outdoor wear.
The footbed of the Nigel is generously padded, but it's also removable so you can replace it with custom orthotics, or wash it easily once you feel like your footwear needs some freshening up. The outsole features a traditional traction pattern that works well on most floors, and the overall quality of the build makes these an excellent investment, despite the slightly higher price.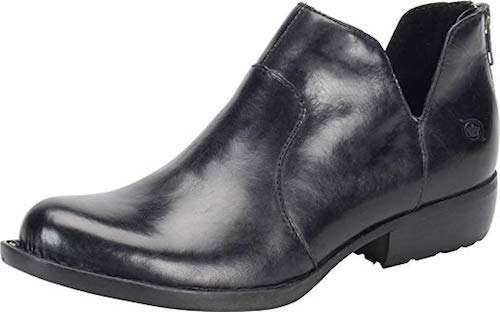 If you're after a fun update of the classic ankle boot, the Kerri, available either in full-grain leather or distressed suede upper, is the perfect pair of fall footwear. It features a beautiful design that will show off your legs in just the right way, and the heel is stacked on a lugged rubber outsole for great traction in all weather conditions. Pair these with jeans or a skirt, or even a fancy ensemble for a really versatile pair of shoes.
Most ankle boots will have either elastic gores or a zipper on the side, which can look good, but can sometimes diminish a good design. The Kerri features a back zipper that makes putting these shoes on and off much more hassle free. Just slide in, and you'll be out the door in no time!
A good pair of shoes is flexible, in that it allows your foot to move freely, but it also needs to be stable. This is especially true with heeled models. This ankle boot features a steel shank in the sole that'll ensure the proper support throughout the midfoot area, preventing any unnatural twists. This product is a bestseller, and that's reflected in its price - it's the most expensive item on our list. Of course, this is to be expected from a model that's made with genuine leather uppers, a high-quality sole and is handcrafted. Plus, these boots won't go out of style for years to come. You'll find yourself reaching for them on a daily basis, for sure.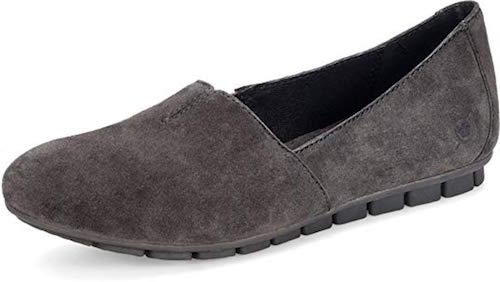 The Sebra features a barely-there 1/2-inch heel and a 2.5-inch shaft. It's a super cute and functional pair of slip-on flats that you are sure to adore. Comfort won't be of concern while you're wearing the Sebra, it's as comfy as it is cute and is ideal to wear day or night while working, traveling, or playing.
The Sebra's non-slip rubber outsole and functional upper build make this a versatile and multi-purpose slip-on flat. It boasts Opanka hand-crafted construction for solid and long-lasting structure and is crafted from soft leather while also maintaining a sleek silhouette.
A full-grain, suede, or metallic leather choice of upper material allows you to tailor this flat to your taste. These gorgeous slip-on make for easy on-and-off wearability, and their updated moccasin design is as fashionable as it is foot-friendly. The Sebra may seem a little costly especially for a pair of minimal flats, but its feature-rich design and sturdy long-wearing construction are well worth the price. In addition to these, when wearing this choice you know they will stay with you for long hours and keep you feeling better than ever.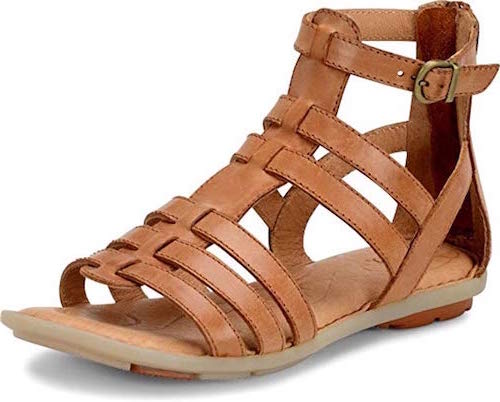 This gladiator sandal is the perfect addition to anyone's wardrobe. Whether you're into jean shorts or flowy dresses, the Tripoli is sure to look great with all your outfits. It is available in four color options: black, brown, navy and white, so you can choose the one that speaks to you most. The fact that there's no heel makes the Tripoli ideal for walking and traveling, as does the fact that it's made with great materials, as you'd expect from this brand.
The upper of the Tripoli uses genuine leather for the straps, as well as the lining, which ensures a breathable environment for your feet. The materials are soft enough not to cause rubbing or blistering and will adapt to your foot with wear. To make on and off easier, there are two closure systems present - the traditional buckle around the ankle, and zipper closure at the back.
The footbed of this gladiator sandal is fully padded, which means that you will be able to wear these for longer, without feeling discomfort. As for the outsole, it uses a rubber material to ensure a good grip on most surfaces. As for cost association, the Tripoli ranks around average for a sandal by this brand, so if this is the look you're after, it's definitely highly recommended.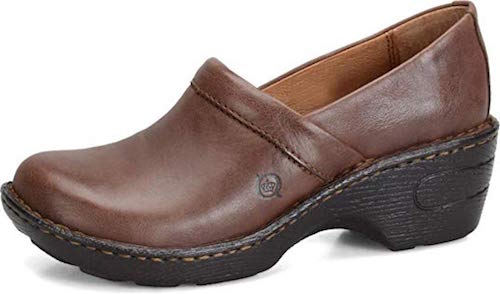 Toby 2 is one of the best selling clogs from their lineup that's super stylish and perfect for professional use or while working around the house. These clogs are a versatile pair of slip-on clogs that are as fashionable as they are functional. Your feet will stay comfortable and supported through long hours of wear. In addition to all of this, they are flexible and dress up as easily as they dress down.
The Toby 2 was made with a soft and slightly padded insole along with its slip-on design which makes for easy on and off wearability. A steel shank provides additional support and structure while a low heel height of 2.25-inches allows for a natural step.
Toby 2 includes a full-grain leather upper and leather lining which helps to wick moisture away from the foot while allowing for adequate airflow. These classic clogs are made for every lifestyle and you're sure to fall in love with them. Clogs are excellent in terms of support. Toby 2 isn't as expensive as it appears but rather is quite affordable. The Toby is well worth the cost thanks to its full-grain leather construction and moisture-wicking lining that provide superior comfort and style.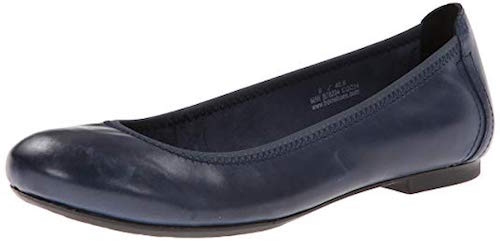 This is a bestselling pair of footwear and for very good reason. A ballet flat that's versatile, comfortable, and comes in a variety of color options, Julianne is one of those shoes everyone should own. It is available in three leather upper variations: full-grain, metallic or suede, so you can go with the one (or ones) that matches your style the best.
One of the things that differentiate the Julianne from similar styles is the fact that it comes in wide sizes, which is crucial for those who need a bit of extra room to get a comfortable fit. With the leather upper being supple and flexible, you'll find that it will break in easily, molding to the shape of your foot, giving you a ballet flat you can wear anytime, anywhere.
The inside of the Julianne is lined with suede, a type of leather that is softer than full-grain, but that is still highly durable and breathable. The footbed is padded, as with most other models on our list, and covered in a textile that promotes airflow and temperature regulation. As for the outsole, it's a simple rubber unit with a quarter-inch heel for a classic look.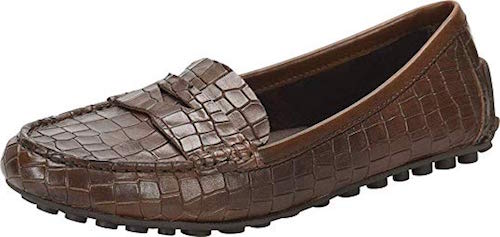 A great driving loafer is one of those styles of flats that can be worn with almost any outfit, making you look absolutely classy. Malena is a popular style, and the best thing about it is the huge variety of color options and material finishes it comes from. While the construction is simple and uses leather - full-grain, metallic, suede or patent, it is updated each year to include stylistic options that follow the latest trend.
The construction of the Malena is fairly simple - it features a comfortable round toe that will work for most people, a no-fuss slip-on opening that won't waste your time with laces and buckles, an outsole that extends over the heel in the back to ensure durability if you really happen to wear these while driving, as well as the leather lining and generously padded insole we've all come to expect from Born.
The outsole of the Malena is slightly different from the rest of the models on our list, seeing that it uses prominent rubber pods to ensure a good grip on most surfaces. What this means that it will work just as well on dry as it will on wet floors, all the while ensuring a great amount of flexibility. In terms of price, it's relatively cheap, seeing that it can often be bought on sale, making this one of the best investments on our list.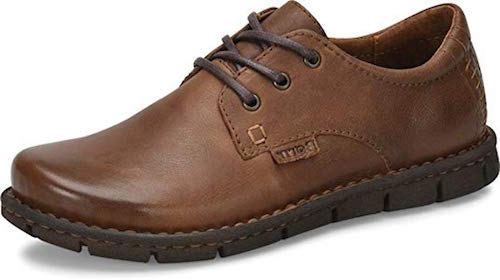 A casual take on the classic Derby shoe, the Soledad is one of those everyday models you can pair with jeans and still look smart. It is available in two material choices - the full-grain leather we've all come to expect from Born and a canvas version that will be more appropriate (and comfortable) for spring and summer use. With a couple of color choices available (mostly based on browns), this is an excellent pair of footwear to own.
The lining of the Soledad is fully made with leather which has several advantages over other commonly used materials. It is natural, and is highly breathable, while also possessing moisture-wicking properties that don't allow sweat to pool inside your shoes. If you do tend to sweat a lot, it will need a bit more time to thoroughly dry between wears, but on the whole, you can expect it to last for quite some time.
Other features you can expect from this model are a rubber outsole, durable leather laces that allow for easy adjustability, a round toe and a padded footbed for shock absorption. In terms of cost association, the Soledad ranks around average, making it an overall good option for most people.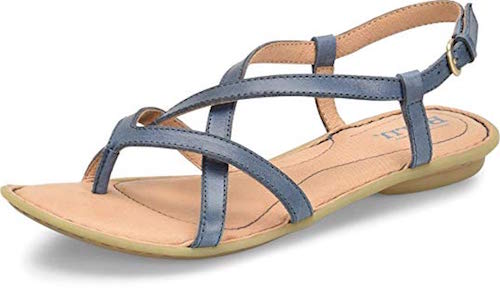 One of their top-selling sandals, the Mai is a multi-purpose slip-on that is perfect for the long hot days of summer. It boasts a sturdy construction and comfortable design so your feet won't feel fatigued even after hours spent on the go.
The Mais' exceptional design makes for a long-lasting and ultra-comfortable pair of summer sandals. These versatile slip-on are crafted from full-grain leather and have a leather lining that wicks moisture away from the skin to prevent a build-up of odor-causing sweat. The Mai has a non-slip rubber outsole that ensures a steady foot on any surface, while it's Opanka hand-crafted stitching keeps this sandal in top-shape for ages.
The Mai has a sleek cross-strap upper that wraps around the heel for a unique vibe. The two upper straps join at a secure buckle closure system, which means you won't have to worry about your sandals slipping off while you wear them. The Mai comes in three colors: shell, black, and navy, so you will be able to match them with any outfit and their versatile design is perfect for professional, as well as, casual occasions. The Mai is available at a similar price-point as full-cover sandals which may seem off-putting at first, but don't worry, the Mai is a sandal that's worth paying a bit more for. Its superior comfort and effortless wearability make the Mai a high-end sandal that's available for a mid-range price and if you're in the market for a long-lasting pair of gorgeous summer footwear, the Mai is a great consideration.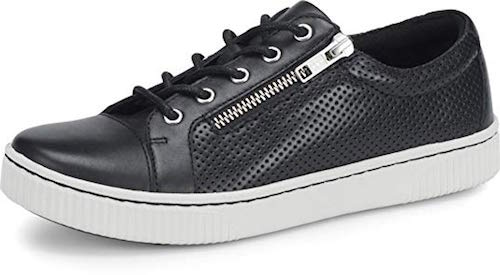 The Tamara is a perfect shoe for the weekend or casual occasions and is such a popular choice of footwear that it returns season after season and has become one of the most well known of this line. These super-cute sneakers are available in six colors: dove, cognac, floral, white, black, and light pink.
The Tamara is available in a variety of upper unit materials including full-grain, textured, or perforated full-grain leather. Its suede lining provides a soft and comfortable foot feel, while its non-slip rubber outsole allows for sure footing and a secure walking environment. The Tamara is hand-crafted using an Opanka construction for long-lasting and durable manufacturing so these casual sneakers will last and last.
The Tamara features a traditional lace closure and side zipper accent for a cute and fashionable look. Its low 1.25-inch heel height makes for an easy stride, while the many choices of material and colors allow for a shoe that customized to your individual tastes. While it's not the cheapest of the footwear line the Tamara is definitely worth every cent. These casual shoes bring a new level of comfort and a fashion-friendly feel to the traditional low-key sneaker. You're sure to fall in love with Tamara time after time.

Subscribe to our Newsletter