Best BOC Shoes Reviewed For Minimalistic Design
In a Hurry? Editors choice: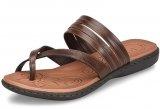 Test Winner: Alisha

If you enjoy Born shoes, then you are likely to enjoy the designs on this list. BOC shoes have all of the detail and quality features that one would get with a pair from their slightly more sophisticated counterpart, Born.

With that being said, the BOC brand was initially released with the idea that they would appeal to a totally different type of crowd; they are meant to provide the customer with what they need in terms of functionality while also being chic enough to be worn in a variety of different situations. This guide is meant to be the go-to place for those who are seeking the best of the best BOC has to offer.
Standout Picks
Criteria Used for Evaluation
Comfort
Cushioning:
One of the main features that provides adequate comfort is the cushioning used throughout the footbed. There are several different types of cushioning, each with the ability to provide a different level of padding to the foot.
The different types of cushioning materials are EVA, PU, memory foam, cork, etc. They all come with their own sets of pros and cons; however, the most important thing is that they absorb shock.
Shock absorption is imperative in minimizing the pressure put on your joints, and reducing the risk of foot-related ailments such as plantar fasciitis, heel spurs and similar.
To make sure that wearers have what they need in terms of comfort, BOC decided to give their designs padded insoles. This means that many of the models featured in this guide have an extra layer of cushioning that allows them to provide extra comfort to the underfoot.
Contours:
A style with an "un-ergonomic" shape is one that will likely not provide you with what you need in terms of comfort.
You want to look for a contoured footbed, one that has hills and valleys on its surface, which correspond to the lines of your foot sole. A contoured footbed provides support where you need it (see: paragraph below) and helps you stay on your feet for long periods of time.
Support:
Support can be in the form of arch support, ball of the foot support, and even ankle support. All of these help reduce foot fatigue, as well as provide you with the necessary stability you need to take a proper step. Support is important if you're going to be standing or walking for hours on end.
Durability
The quality of the build is one of the most important factors you should take into consideration. After all, no one wants a pair of shoes that will break down after only a few months of wear.
For this reason, we will mention a few things that determine how durable a design is. Factors such as the materials used in the design as well as the way in which those materials are put together are of the highest priority.
Quality:
One of the main aspects that determines whether or not a design is durable is the care that's placed into its production. When you're looking at a shoe, pay attention to its stitching, to the way the sole is joined with the upper. There should be no obvious holes, no glue stains, no lapses in stitching. A high-quality construction is one that bears no flaws - at first glance at least - and that you can slide your foot into with ease.
Materials:
The type of material a design is made of is a great way to tell whether or not it will be durable. Natural materials such as leather and suede are highly durable and if you want a pair of shoes that will last you for years. Thick canvas, such as that found in Converse Chuck Taylors for example, can also be durable, as well as rubber soles.
If you're looking for longevity, perhaps it's best to stay away from mesh, as it is quite a lightweight, easily frayed material, and synthetic leathers, as they are not as hard-wearing as their natural counterparts.
Versatility
One of the best features of BOC footwear is that they are endlessly versatile. Designed for almost any occasion, these models can take you from work to leisure time, from a casual stroll through the city to sandy beaches in a blink of an eye. They are meant to fit well into any wardrobe and to complement any style.
That being said, there are slight variations within our list. There are options which you can wear only in the summer, as they are open-toed and quite breezy. There are those which are appropriate for work, such as a loafer, and those which are better left for off duty outings, such as sandals.
Generally speaking, none of the BOC designs on our list are meant to be worn in a formal setting. These are relaxed, easy designs that you can wear on a lunch date with your friends, to the park with your kids, but definitely not to a wedding or a gala of some sort.
This is why we have ranked our options according to their versatility. At the top of our list are those which can be worn pretty much anywhere - again, barring formal gatherings - and which fit well with any type of outfit. On the bottom are designs which have a specific purpose, or are suitable only with a specific look.
If versatility is what you're after - if you wish to be able to wear these shoes anywhere you want - then definitely sort our items by this criterion and choose from the top!
Style
Sandals
High-quality leather sandals are a specialty of the BOC brand. These include features such as a footbed that wicks moisture away from the skin and hidden elastic goring that holds slip-on sandals perfectly in place.
There are a ton of different options of sandals available: slide, wedge, strap, gladiator, sling-back, thong, and slip-on, just to name a few. With so many choices you'll never get tired of these and you won't have any trouble finding a pair to match well with any outfit.
Casual
Casual footwear includes lace-ups, slip-ons, sneakers and more, all of which are expertly crafted for superior wear. This collection boasts design features like handmade construction, double gore for effortless on and off wearability, and a footbed made from materials that wick moisture away from the skin and push it out towards the outer layer of the design.
Tailored
For those in need of professional yet functional footwear, the tailored options from this brand are a unique and noteworthy consideration; with slip-on and oxford styles available with design features such as an Italian silhouette and unbeatably comfortable footbed for all-day comfort.
Clogs
For those who spend a lot of time on their feet, like working in the garden or simply needing a pair of sturdy slippers to wear around the house, a pair of clogs is an excellent choice. More supportive than sandals because of the leather upper, this type is both protective and breathable and is a great at-home style.
Classy professional clogs can be tough to find nowadays, but BOC manufactures styles that are work and play appropriate. Wear a pair of neutral-colored clogs for a pulled-together look that's effortless to achieve, and that'll feel good even after hours of standing.
Boots
When the weather gets cold, and there's rain or snow, or when you're going out in nature, you'll need a bit more protection. Boots are an excellent choice for such occasions, and the best models will provide just the right combination of warmth and breathability for a comfortable experience.
From knee-high styles that accentuate the line of the leg, to cute ankle boots that make rainy days so much more fun – you can choose from numerous styles. With this brand, no choice will be the wrong one.
Flats
Who doesn't love a great pair of flats?! This company manufactures super-cute and chic flats that are well-made and will last for ages. These aren't your average flats that offer next to nothing in the way of support or comfort. They are comfortable and supportive enough to wear all day long without experiencing pain or fatigue and are available in several styles including slip-on, ballerina, and driving moc.
Heels
For professional attire and formal occasions, a good pair of heels is unbeatable. BOC heels feature a chunky heel for improved stability and comfort and have genuine leather uppers to bring a sense of luxury to the look. They may not have stilettos in their offer, but that doesn't mean you can't wear these designs to fancy parties and extravagant cocktails.
Value
The cost and value of a design are one of the most important aspects for consumers; what do they get out of these shoes? What sort of benefits do they have over other products?
There's a lot that goes into determining the value of a design. We look at all other factors: comfort, durability, materials, construction. Then we consider them in relation to the price of the product, as well as similar products.
That being said, value tends to be subjective. What is important for one person may not be as important for someone else. Consider what is most important to you, and in the event you don't like the product, feel free to return or exchange it.
If you're curious about how we ranked the items in our list according to their value, sort them by this criterion, and check out how they stack up against each other?
Our Favorites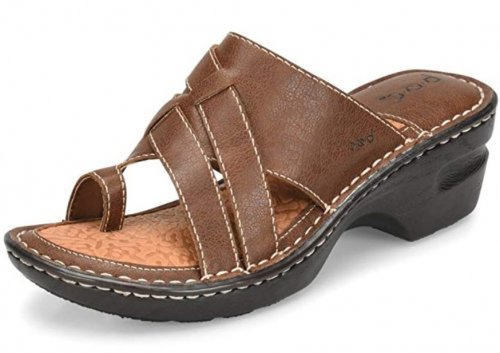 The Atiya is a clog with a twist, adding design elements from a traditional sandal. This design is great for anyone who's seeking an overall comfortable and simple style. These extremely comfortable sandals provide a pop of height with their chunky, 2.25-inch heel.
The footbed of the Atiya is covered with fabric so that the foot doesn't get irritated. The cushioning allows the underfoot to have a supportive feel while you're walking around in the sandals. The design of the Atiya makes use of a 2-inch PU heel unit. This feature makes this pair of sandals a perfect candidate for those who would like to stack on a few extra inches to their frame.

The Atiya is an easy, casual leather-crafted sandal that is definitely unusual in style. Thanks to its chunky heel you will feel stable and secure, no matter how long you're walking for. Not only that, but their slide style makes them incredibly easy to put on and take off at a moment's notice!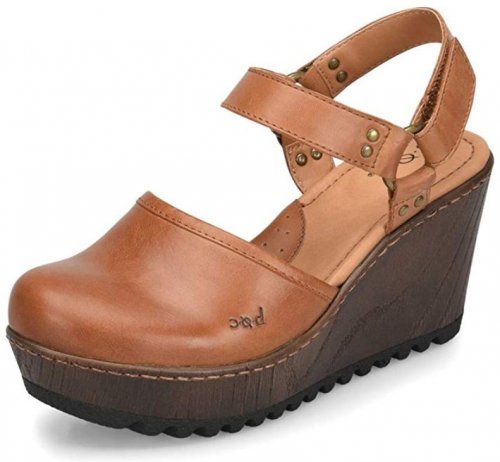 The Rina is definitely not for the faint of heart. This rock and roll wedge comes at two inches in height, made of premium genuine leather materials; you get to choose either full-grain leather or suede, depending on your personal preference. The Rina has a closed-toe silhouette similar to a clog, and it is definitely one of those street, rustic styles that we're seeing on all the fashion blogs this season.
Given that the Rina is made from leather, it means that this wedge is more durable, more breathable, and more comfortable than some of the synthetic options on our list. The ankle strap has a hook-and-loop closure for maximum adjustability, and the lining inside the sandal is also made from suede, for that soft, plush feeling against the skin. The footbed on the Rina is cushioned, and the wedge heel is comfortable enough to be worn all day every day if you so desire, not least because of the platform in the front.

The Rina is not a long-distance type of footwear, but it definitely is our favorite when it comes to chic urban style. It is fashionable, it is comfortable to wear on many occasions, and it will make you feel sassy and beautiful!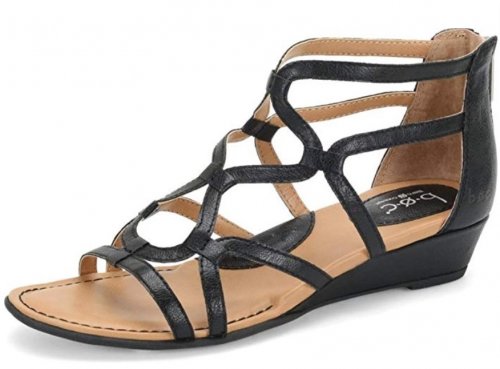 This is a pair of open-toed sandals with both style and class. The BOC Pawel has a sleek-laced design that also makes use of heel coverage in order to provide a certain level of structure and security. The reason these are featured in our list is that they are stylish and interesting, have a convenient zip closure system as well as PU material used in the sole unit.
The zip closure system featured in the Pawel is what makes it amazingly easy to slide in and out of the design. Additionally, the heel coverage actively keeps the foot locked in place. This security works very well along with the various other materials to provide you with an overall lightweight and comfortable feel. The PU material in the sole unit of this sandal provides both a lightweight feel and durability. Polyurethane is tougher than your average sole material and delivers with what you need in regard to comfort and longevity.

The price of the Pawel is minuscule when compared to its functionality. It isn't often that you find such a durable and comfortable design such as this one for such an affordable price. These sandals are seriously a steal.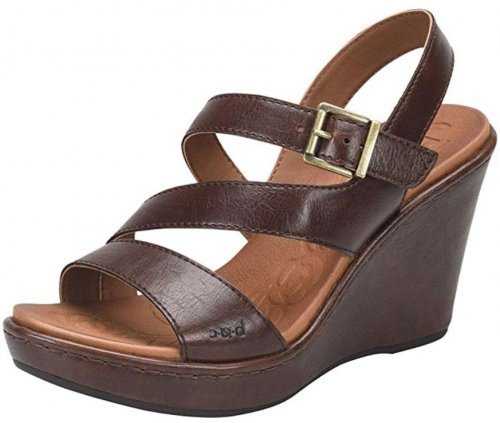 With the Schirra II, for a moment we're stepping away from the standard low-heel designs, and entering the world of something a little higher and a little more flirty. The Schirra II is that urban wedge that you wear on a fun lunch with friends, on a cute date with your significant other, or even to a garden party where you don't have to look too formal. It is versatile, it is feminine, and it will make you feel irresistible!
The Schirra II has a synthetic leather upper made from straps elegantly wrapped around the foot. It has a buckle closure which helps you adjust the fit to your liking. As with most other BOC designs, the footbed of this sandal is also cushioned with EVA foam for maximum comfort. The key feature of the Schirra II is definitely its wedge heel that is about 3.5 inches high. It is comfortable to walk on for as long as you like, and it won't give you any pain thanks to its thick, stable shape!

The Schirra II is definitely not for everyone. But if you want something to go with your new sundress, if you feel like you need a pair of sweet, romantic wedges to accentuate your style, then don't hold back! Treat yourself, and fall in love with these gorgeous heels.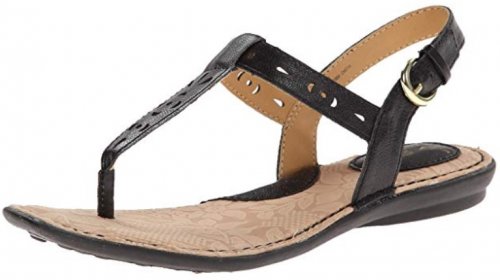 Need a pair of open-toed sandals for a day out in the sun? Looking for something that will give you that extra edge you need to be comfortable during the hot days? Well, look no more. The Charel has a slip-on design, as well as a buckle closure in place to ensure that your foot doesn't slide out. In addition to this, it has several other amazing comfort features which deliver only the softest of rides.
The outsole on the Charel gives you that extra bit of protection you need to not hurt yourself. The rubber sole unit allows for a good grip during a walk in the park or when simply traipsing in nature. Many shoes with designs similar to Charel sometimes don't come with adequate padding in the footbed; they just don't give you that extra comfort you need. The design of these thong sandals provides more than enough comfort due to the padding in the heel.

With the Charel, you're buying something that will provide you with an incredibly high level of functionality as well as comfort. They're easy to wear and easy to love, and you will not be able to imagine your summers without them!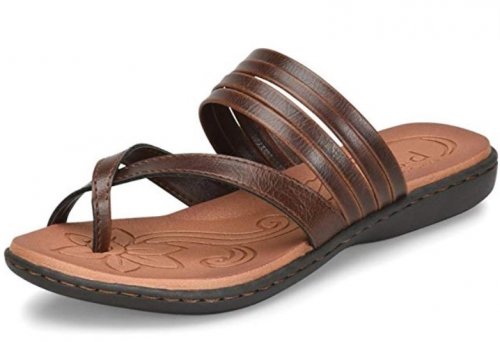 If you'll be doing some extensive sightseeing come summer, you will definitely need something comfy and cute to keep you on your feet throughout the day. Enter Alisha, a simple strappy design that perfectly matches jeans and shorts as well as flowy skirts and dresses. Thanks to its comfort features, it will keep your feet happy no matter how long you decide to walk for!
The Alisha has an upper made from synthetic leather to keep you secure in this slide sandal. It comes with the standard BOC big toe wraparound, as well as PU lining. The footbed of the design is cushioned with EVA foam which absorbs shock, and it is patterned to prevent you from sliding around inside the sandal. The Alisha comes with a lightweight outsole and a heel of barely an inch to boost your height.

The beauty of the Alisha lies both in its straightforward, everyday style and in the fact that it is not a completely flat sole. Thanks to their slight heel and the comfy straps, you will cover as many miles as you want in these lovely sandals!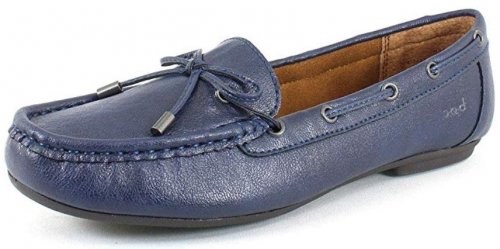 Among all of the sandals and the wedges lies something elegant, something office-appropriate, and something that everyone needs in their wardrobe. The Carolann is a loafer, a moccasin, that is perfect for every season. It is not only sophisticated and comfy, but it also comes with special features such as a steel shank, a fabric covered footbed, and luxurious microsuede lining.
The Carolann is made from PU leather, with an easy slip-on silhouette. Its interior is lined with microsuede to prevent chafing, and the cushioned footbed is also covered with fabric for an abrasion-free ride. We're especially in awe of the steel shank in the construction of this loafer, which brings stability to a whole other dimension. The tiny, half an inch heel in the back will provide you with just enough lift to keep your feet from lying flat on the ground.

The Carolann is that mocc that goes great with a pantsuit, a pencil skirt and a button-up, and even with a pair of boyfriend jeans and rolled-up sleeves. It can go from business to casual in a blink of an eye, and it will quickly become a staple in your collection.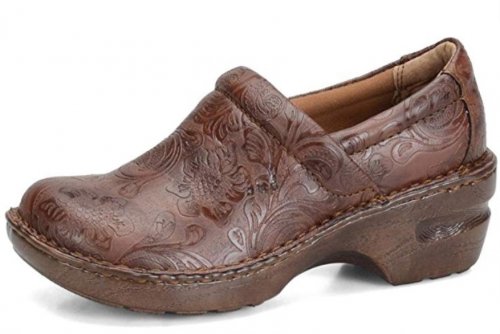 There's nothing like having a simple and straightforward slip-on, which is exactly what the Peggy is. This slip-on has a classic and homely appeal that makes it perfect for anyone who is looking for the highest level of simplicity and comfort.
The fact that the upper of the Peggy is made of incredibly durable full-grain leather means that it is long-lived; this is great if you like to have your footwear around for a long period of time. Full-grain leather gives these clogs a homely appeal that is perfect for many. In order for the Peggy to provide you with the level of comfort you need, the brand decided to give it a bit more padding in its heel. This padding comes in the form of an extra-wide wedge-shaped heel. The heel cradles the back of the foot and keeps it secure. This actually works very well; it's one of the reasons why the Peggy is great as a nursing shoe.

The BOC Peggy and the features that it has make it a great investment. The value of this particular model stems from the fact that they provide you with a comfortable experience as well as the fact that they're very durable.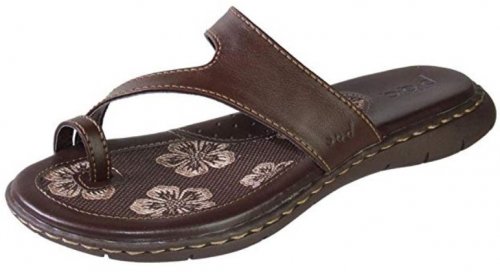 The Laurina by BOC has a fairly unique vibe. These sandals feature a design with both an incredibly high level of style and cushioning that is out of this world. They also have an engraved pattern that runs the entire length of the design, and they make use of man-made lining to provide that comfort they're known for.
The lining on the inside of the Laurina is designed to be of the most comfortable lining you've likely ever experienced. The fabric doesn't pull at the skin or cause chafing; it's designed to slide right over the parts of the foot it comes into contact with, providing you with the insane levels of comfort. The footbed can either make or break a design. That being said, the Laurina has a well-padded and supportive footbed that's designed to provide excellent levels of comfort.

The design of the Laurina makes it far too comfortable for words. It's also highly fashionable, making it pretty much worth every penny.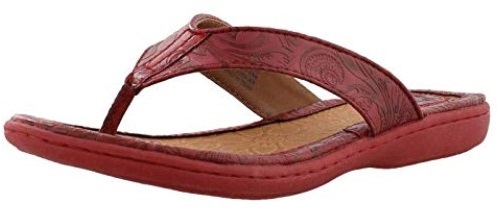 Lastly, we have the BOC Zita. This is actually your standard flip-flop design. Luckily, the brand made sure to include various features that make it stand out quite a bit. For starters, this sandal makes use of a printed footbed which adds a tremendous level of comfort. In addition to this, the thong design provides style and security in a way that makes it an incredible addition to anyone's wardrobe.
Thong sandals just can't help but be incredibly comfortable. They make it incredibly easy to put them on and remove them; they also reduce the possibility of any type of irritation that could possibly occur during wear. With that being said, the Zita doesn't have the coverage in the heel section which can sometimes be a pain if it's too loose (or too tight).

The Zita has a printed footbed that, while increasing the stylistic element of the shoe, allows the foot to easily slide over the material. In the heel of the Zita, there is also adequate padding which makes them much more comfortable than they would otherwise be.

These effortless, minimalistic sandals will be right up your alley if you're looking for something uncomplicated. The Zita keeps you comfy, keeps you cushioned and above all else, stress-free.

Subscribe to our Newsletter