Nurse Mates Women's Dove Awareness Review & Verdict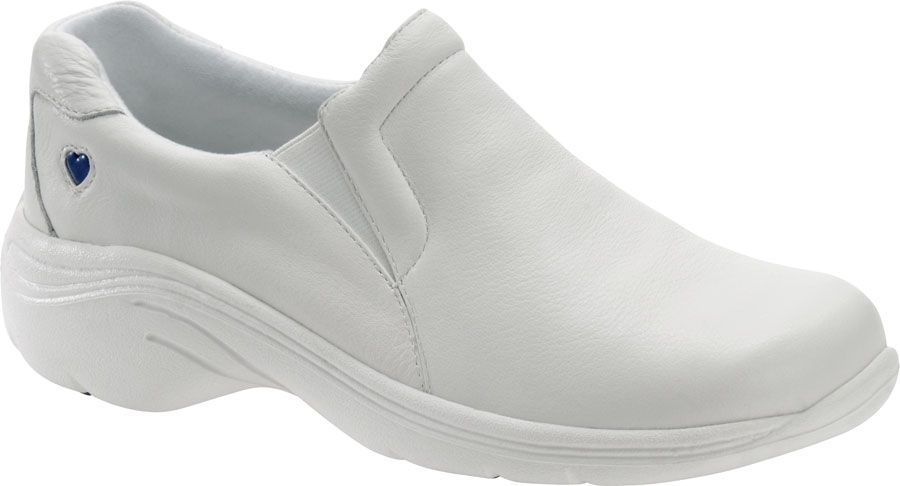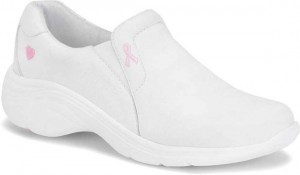 The Nurse Mates Women's Dove Awareness Shoe is one of the best selling Nurse Mate Shoes on the market. The shoes are worn by thousands of nurses, and many of them have been wearing this shoe for decades. You'll love the way you can slide into these slip-ons without hardly feeling that they're on your feet. There's no need to worry about blisters or rubbing tongues here. The Nurse Mates Dove shoe offers the best support possible, and there's more perks too. They are slip-resistant, stain-resistant and spill-resistant.
In this review, you will get a comprehensive overview of what these shoes have to offer nurses. We'll examine the sizing, material, heel and platform height, comfort and arches, safety features, pros, cons and best conditions for the shoe. You'll also learn how best to care for them and where you can find them in stores and online. [table id=6 /]
Specs
1. Sizing
Nurse Mate Shoes come in US sizes, so it's easy to find the size you're looking for. There's no converting to European sizes. It's best to order the size of shoe you normally wear, and if the return policy permits, order one size bigger and one size smaller as well. You might also consider getting your shoes in both of the width options that are available. You can get these shoes in a medium width or a wide width.
2. Material
The upper material of the Dove is full grain, tumbled floater leather. This leather is completely stain resistant and super durable. There are no cloth parts to worry about on the outside of the shoe, so cleaning them is easy and quick. Because these shoes slip on, there are small elastic goring inserts on either side to aid in getting the shoes on and off. Wearers of the Nurse Mates Dove love the colors available for this shoe. You can purchase them in pink, white or black leather, and there is also a black patent leather version available. All of the shoes have a small and subtle pink Breast Cancer Awareness Ribbon on the upper. Finally, the soles of these shoes are made of EVA rubber. This rubber is super lightweight, and it's also completely slip-resistant.
3. Heel and Platform Height
The heels on this shoe are 1 1/2" high, and the platforms run 1/2" high. Extra cushioning on nurses shoes is necessary for them to be comfortable on long 12 hour shifts. It has also been noted by shoe designers that women necessitate more cushioning in the soles of their shoes because of the way their ankles and legs are built. Men don't need quite as much cushion in the footbed.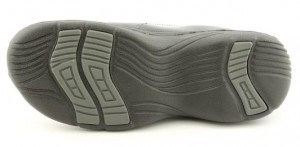 4. Comfort and Arches
One of the best features of Nurse Mates is the comfort level. These shoes are like floating on air. They have a padded collar for ankle support, and they are very easy to slip on and off with the elastic goring on either side of each shoe. The sole is cushioned and smooth, and it has anti-fatigue properties that make it bouncy and luxurious to wear all day. Lastly, the shoes are incredibly lightweight. This is important because heavy shoes can get exhausting after hours of constant wear.
5. Safety Features
Nurses love the tread on these shoes. They say it grips the floor nicely, and slips and falls are never a problem. This is of the utmost importance in a hospital or medical facility setting because floors there tend to be slick and ultra smooth. In addition, spills in these settings are common. But with Nurse Mates, the thick, quality tread takes care of that.
Pros and Cons
1. Pros
Nurses have great things to say about this shoe. First, they love the classic and professional look. The white soles of the white shoes never scuff floors, and a lot of women prefer the leather material to other manmade materials that often come on nurses shoes. Several women mentioned that they simply found these shoes prettier and generally more attractive than other nurses shoes on the market.
Lastly and most importantly, almost all of the reviewers mentioned loving the comfort. They said the padding inside the shoes was soft and luxurious, and they loved how the footbed insert cradled their feet as they walked. There were no sharp or rough spots inside the shoe to cause rubbing or pain.
2. Cons
There were a few reviewers who mentioned that their feet got hot in these shoes. They stated that they wished the shoes had more ventilation. One reviewer said she needed more support in the ankle area.
Finally, a few reviewers were unhappy with the price. It should be stated here that nurses shoes tend to be a bit more expensive than standard shoes. With that being said, nurses shoes are built to be worn for up to fifteen hours every day for months on end. Many wearers of this shoe have had their Nurse Mates Doves for years.
Best Conditions for the Nurse Mates Women's Dove Awareness Shoe
As stated in the name, the Nurse Mates Women's Dove Awareness Shoe is meant for nurses. A few reviewers worked as massage therapists, physical therapists and dental hygienists, and they loved the shoe too. In general, these shoes are made for workplaces that require a large amount of standing and walking on a daily basis.
The shoes can be worn indoors and outdoors, but keep in mind that they are not meant for trudging through snow banks or mud puddles. Most nurses keep their nurses shoes in a backpack or duffle bag and only wear them indoors and on the job. This is a good way to keep the shoes clean and in good condition.
How to Care for the Nurse Mates Women's Dove Awareness Shoe
These shoes are simple to care for because of their stain-resistant leather. When spills do occur, the shoes can be easily wiped with a dampened sponge or soft cloth. The shoes can also be polished with the appropriate polish color if they get scuffed after extended wear. Leather conditioner is recommended if the shoes are to be worn outside. Finally, if you have these shoes for a year or more, you might think about removing the insoles and replacing them for added cushion and comfort.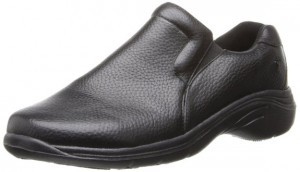 Locating Your Pair of The Dove Awareness

It's best to purchase these shoes online unless you have a nurses uniform store nearby. Sites such as Amazon offer great deals on nurses shoes, and you can often purchase more than one pair for trying on at home. It is recommended to buy several sizes at a site like Amazon. Try each pair on with the appropriate socks, and walk around your house. Walk with each pair on a clean surface for several minutes, and take note of any discomfort. Choose the pair you like before returning the extras.
This process may seem arduous to some people, but nurses need to take the time to purchase shoes they know they'll be comfortable in. The Nurse Mates Women's Dove Awareness Shoe is a great choice for nurses who are looking for comfort, style and durability all in one shoe.
Subscribe to our Newsletter