La Sportiva Bushido 2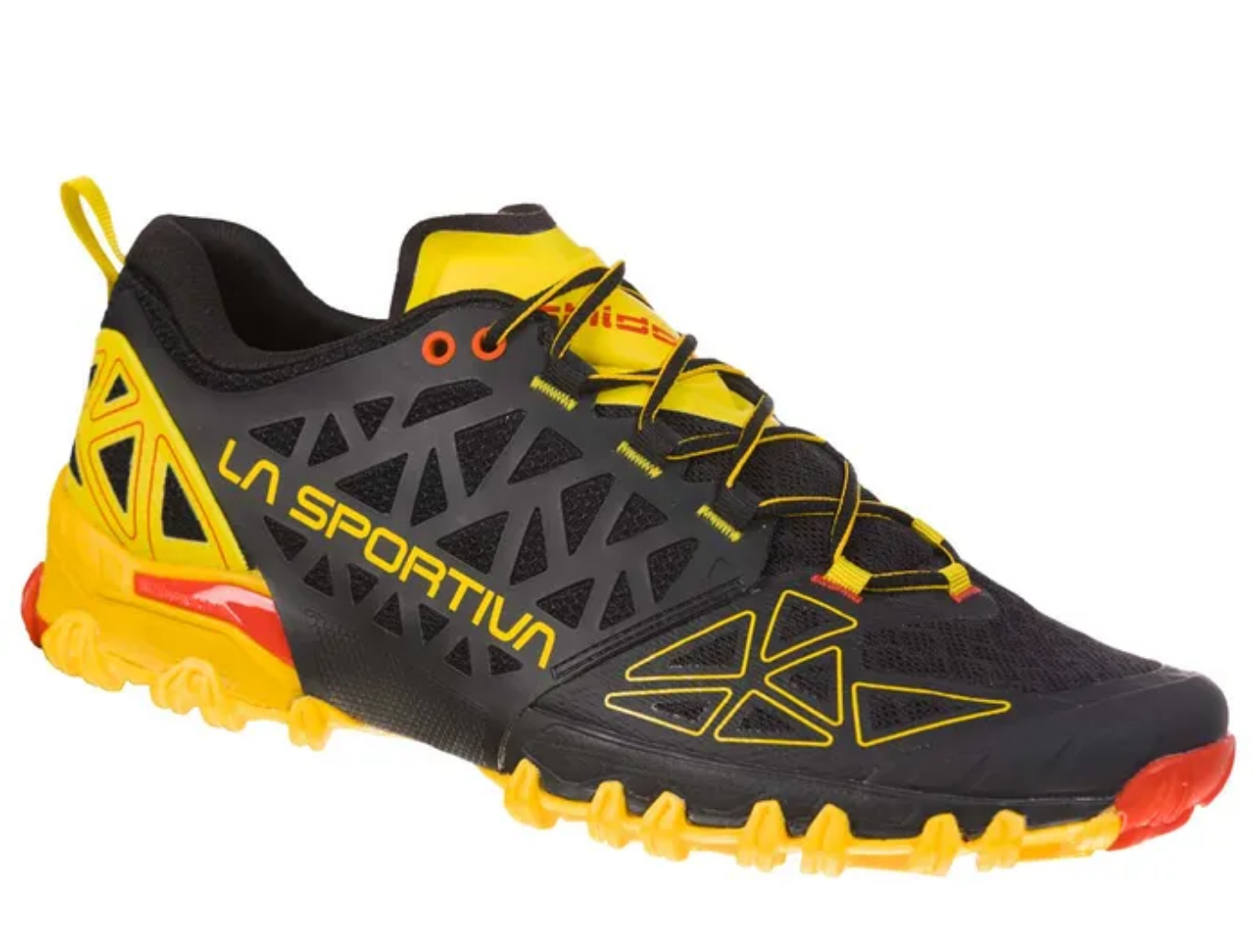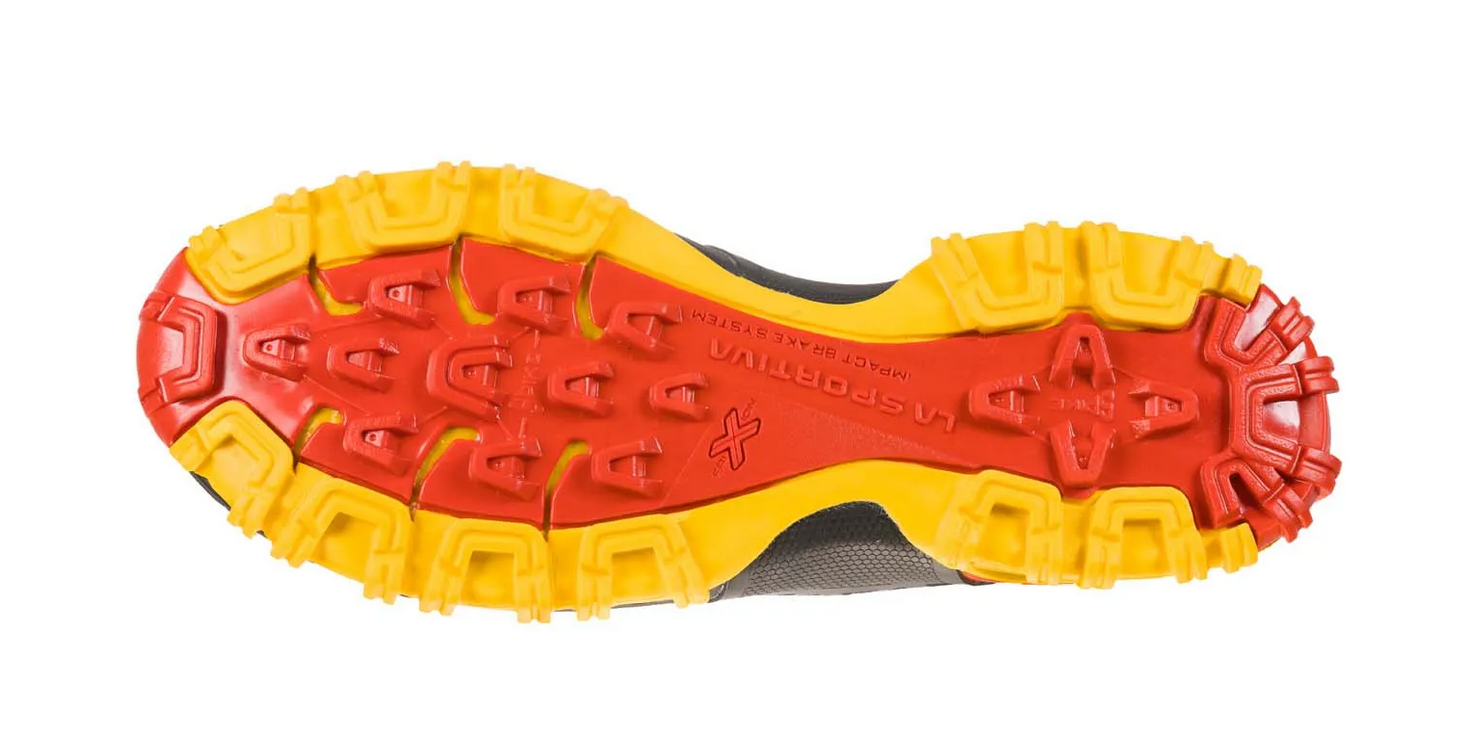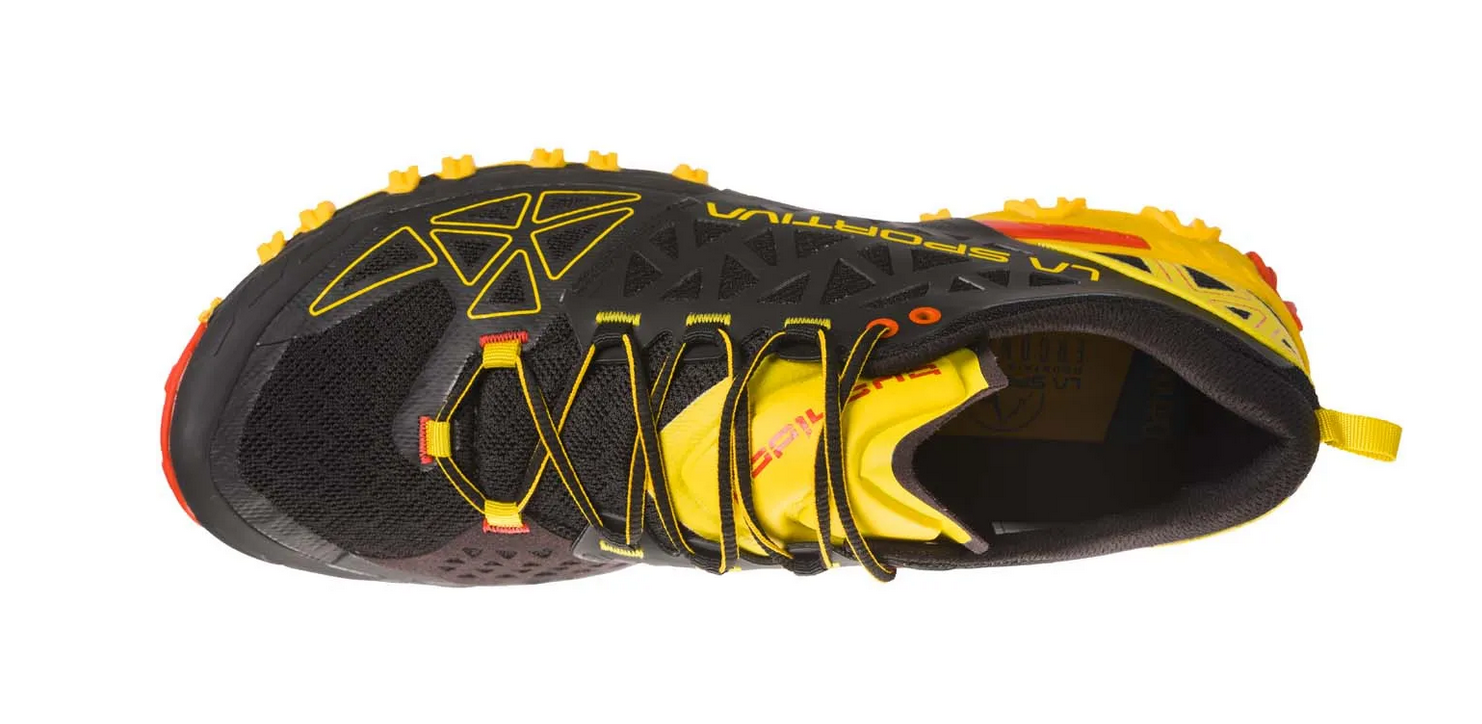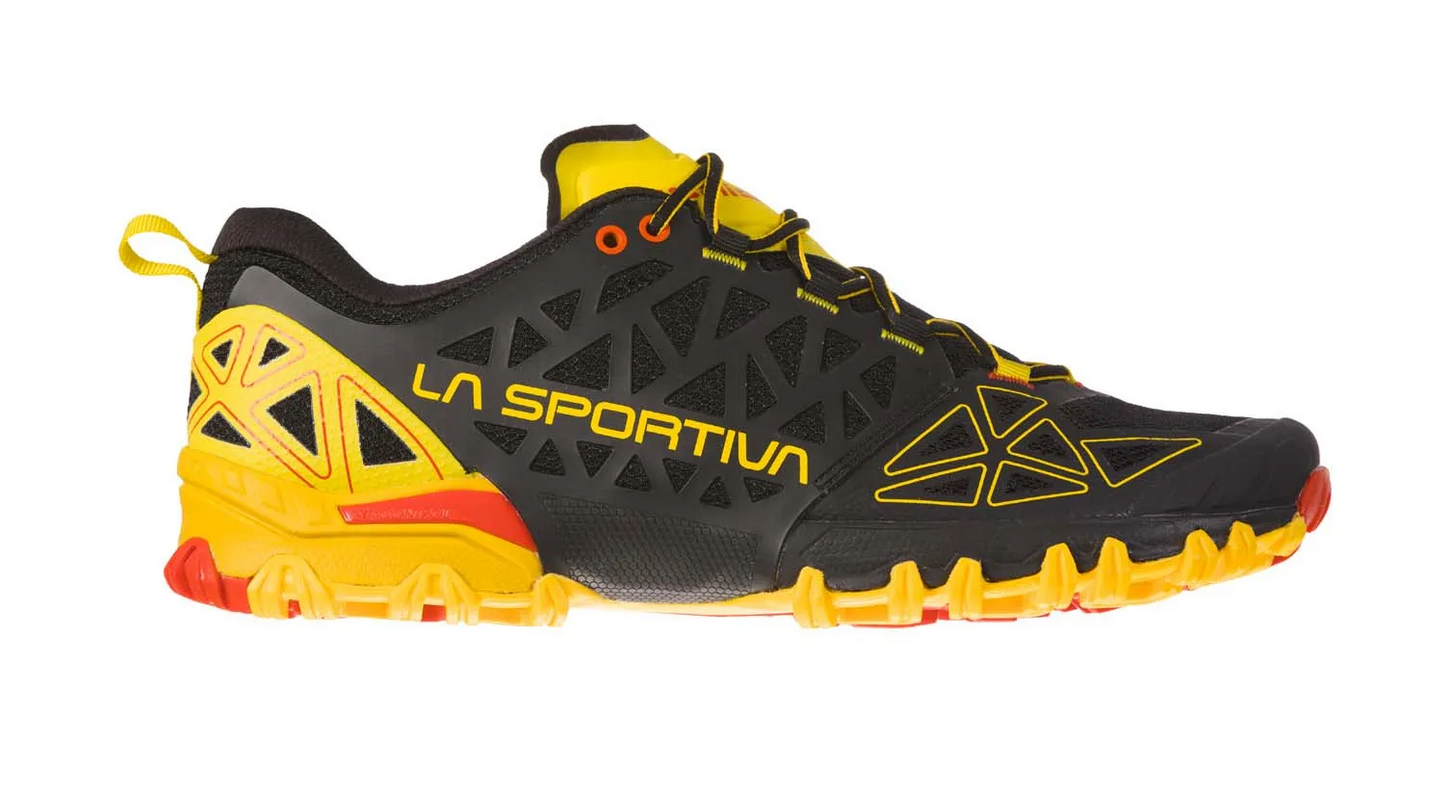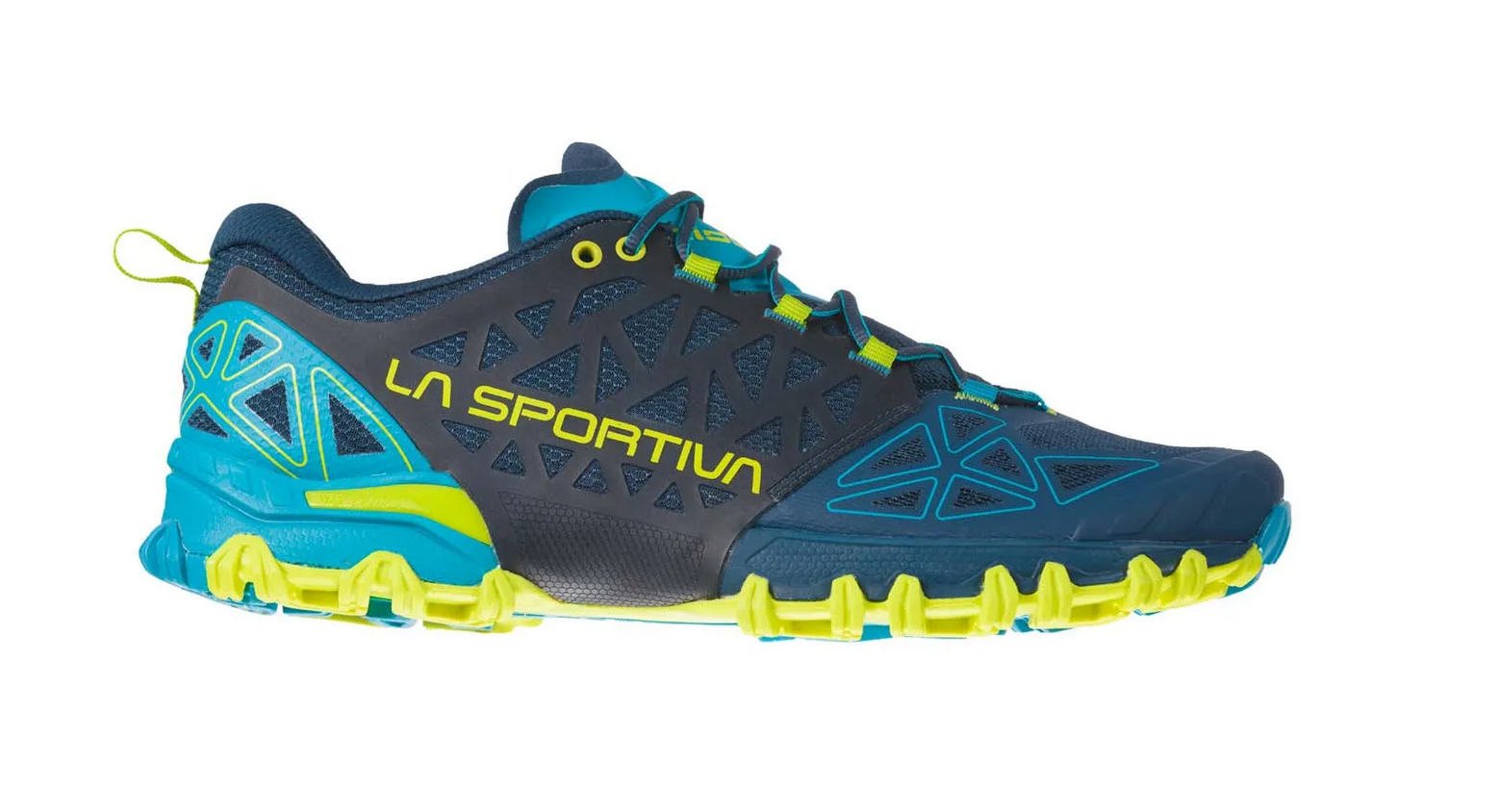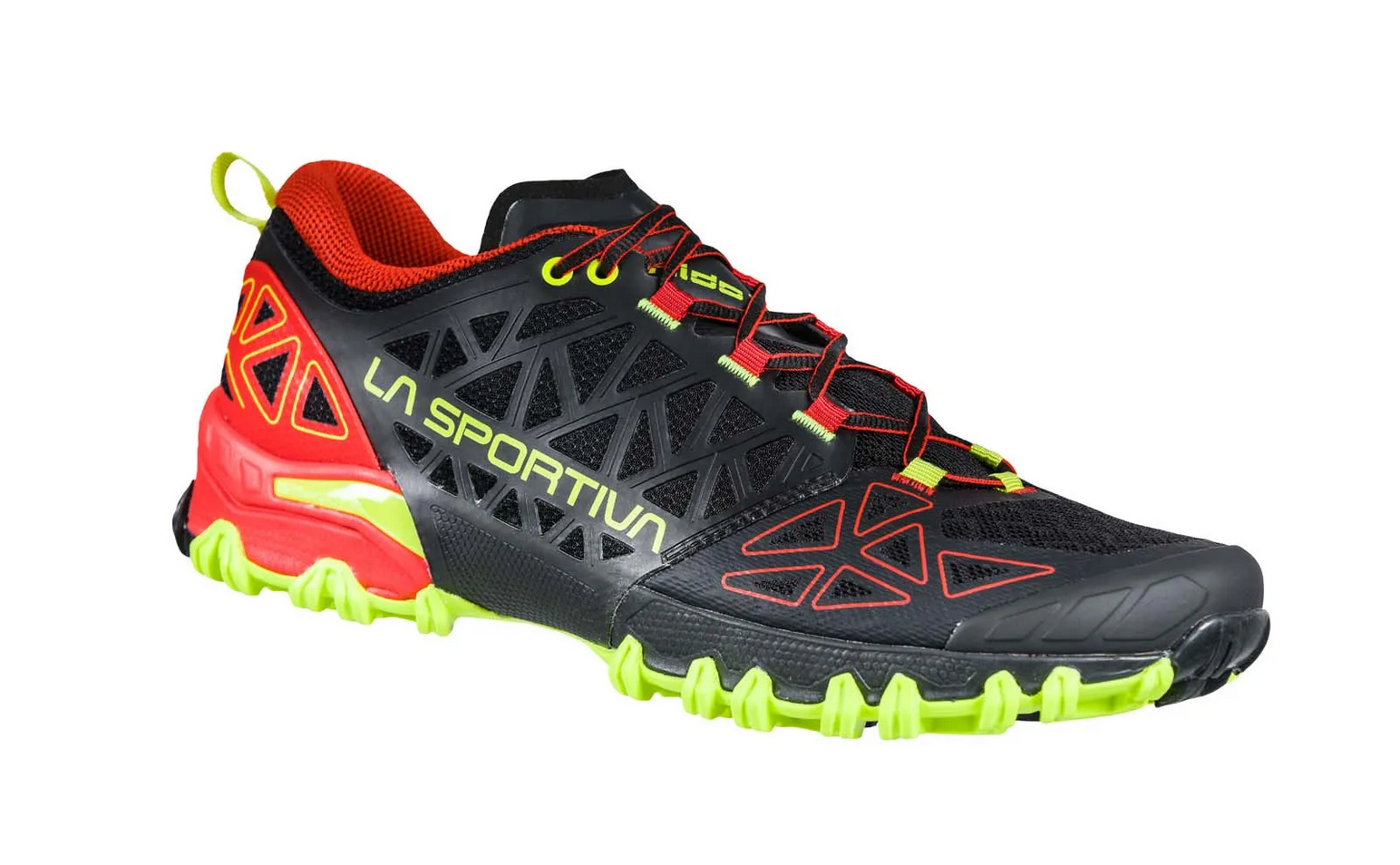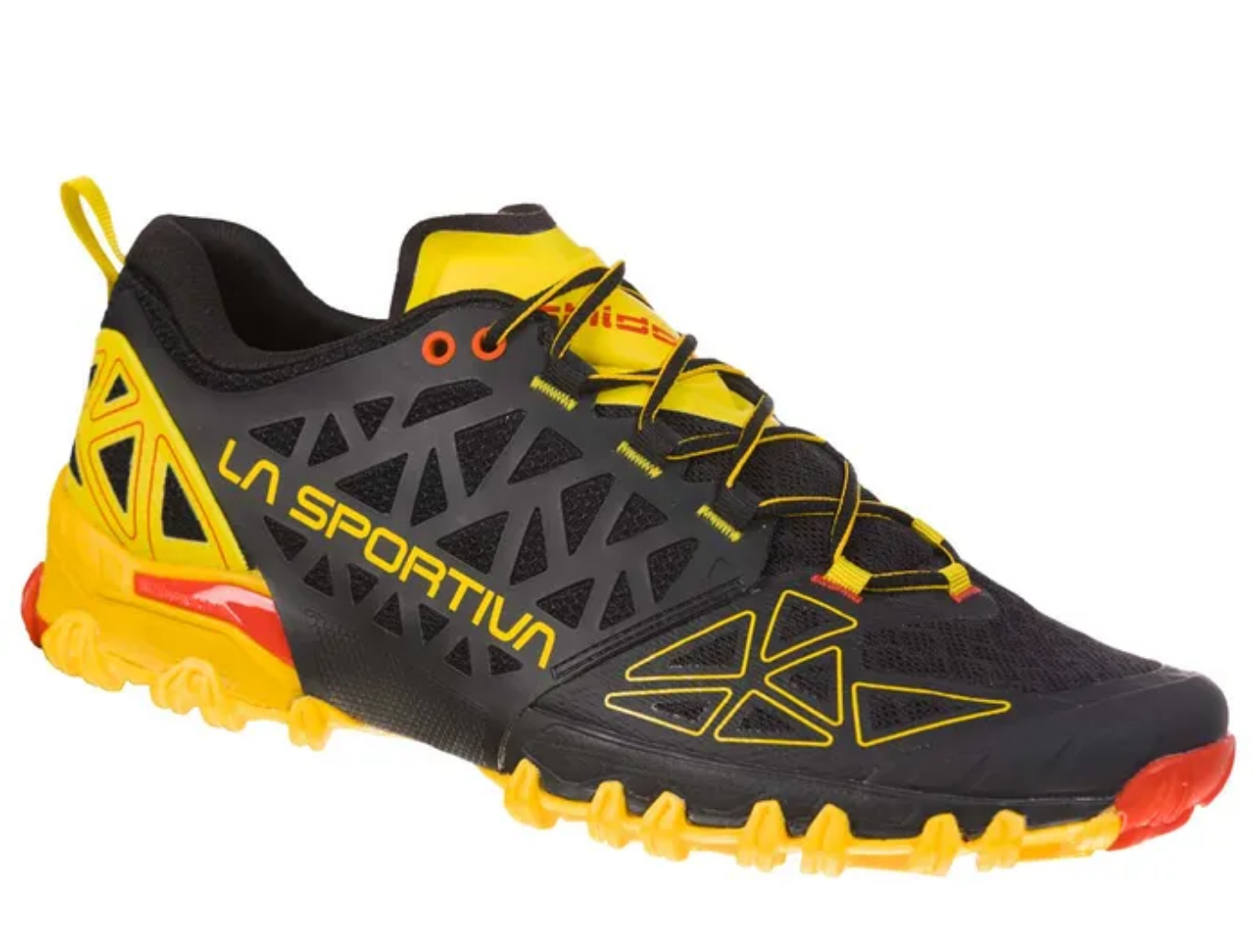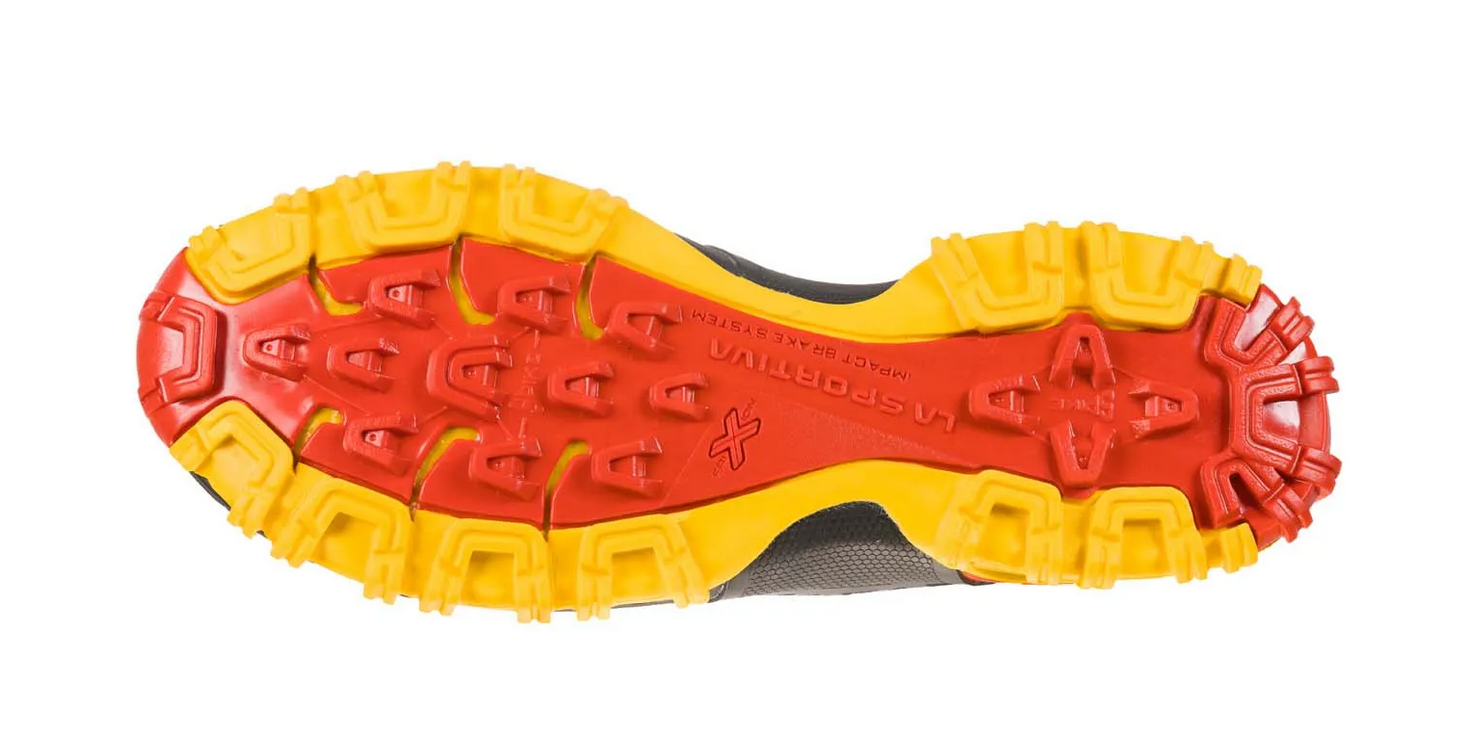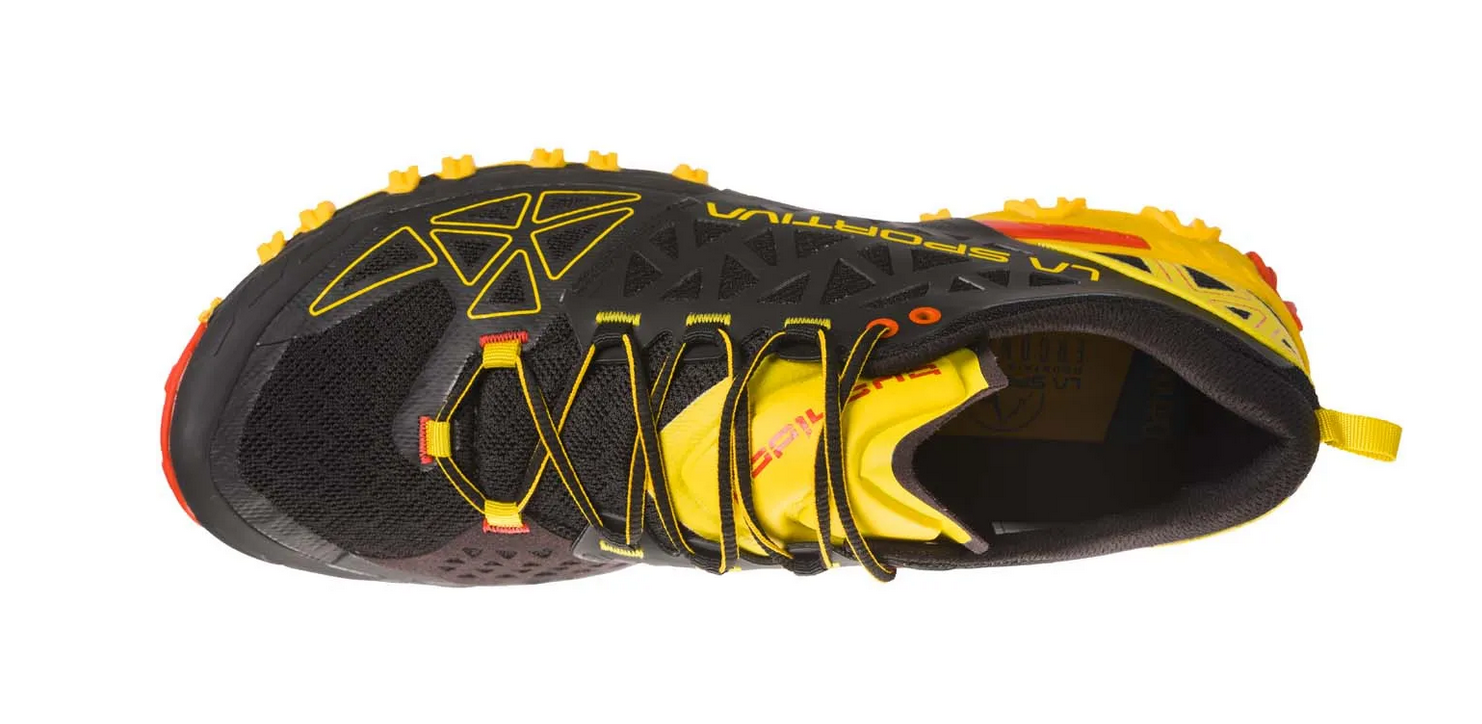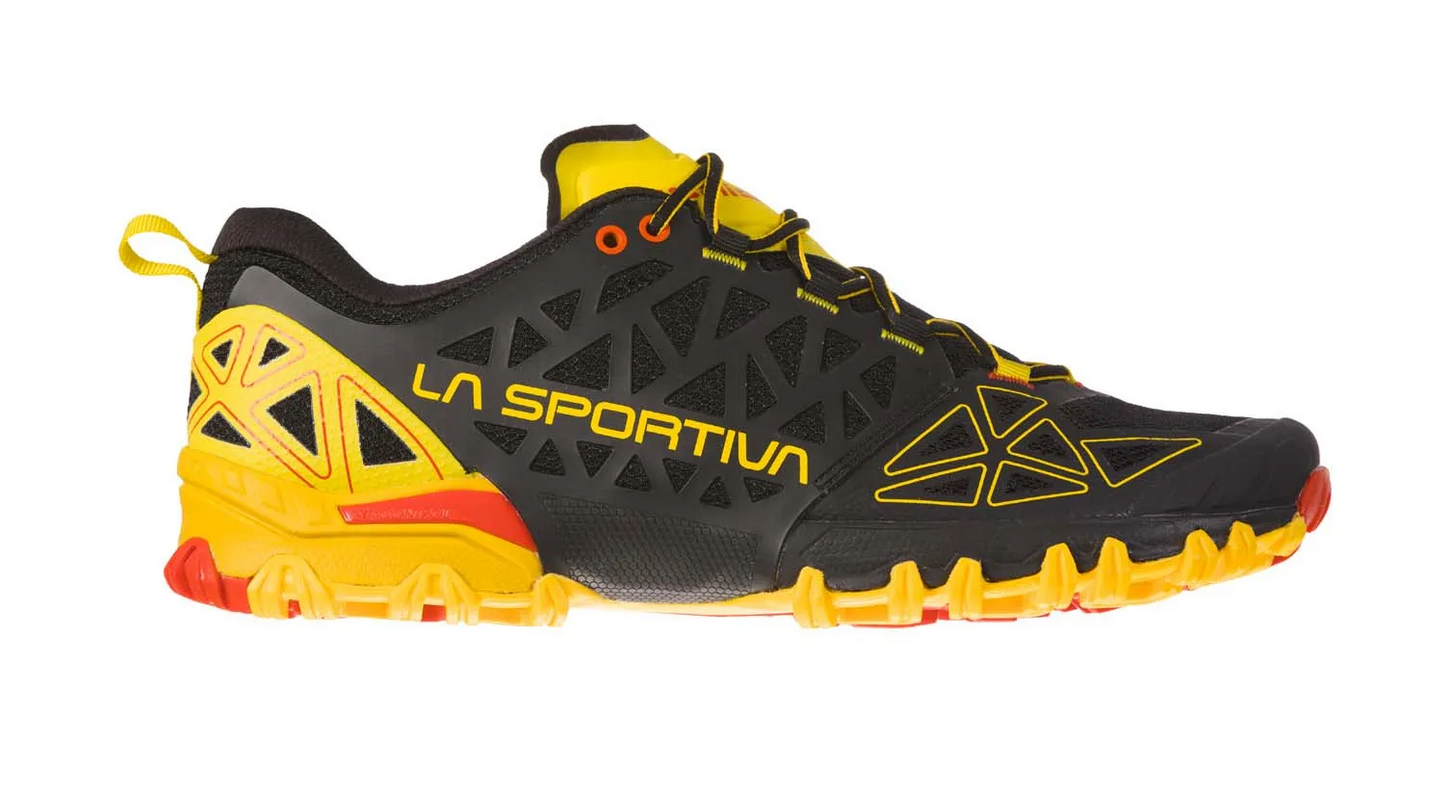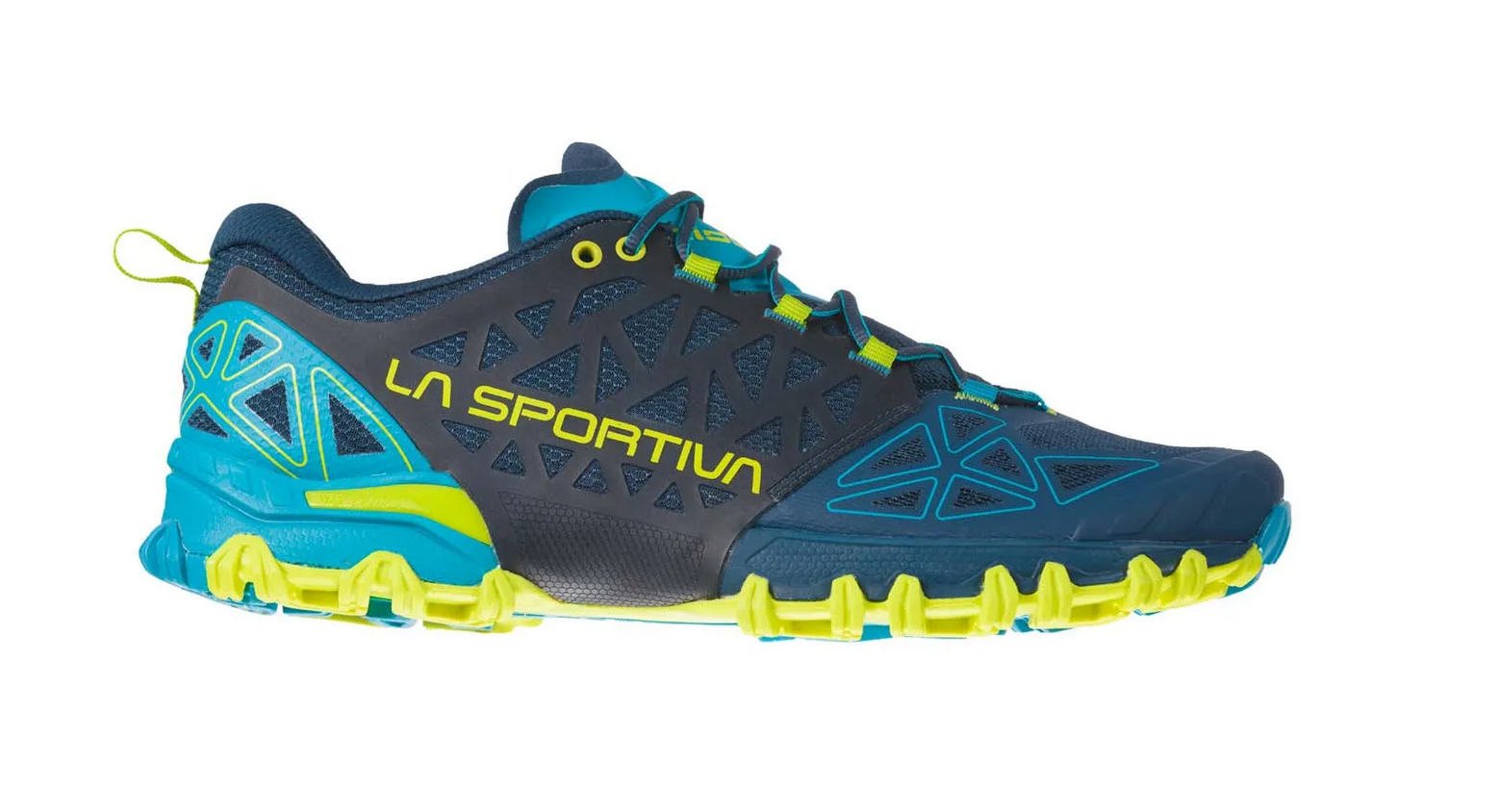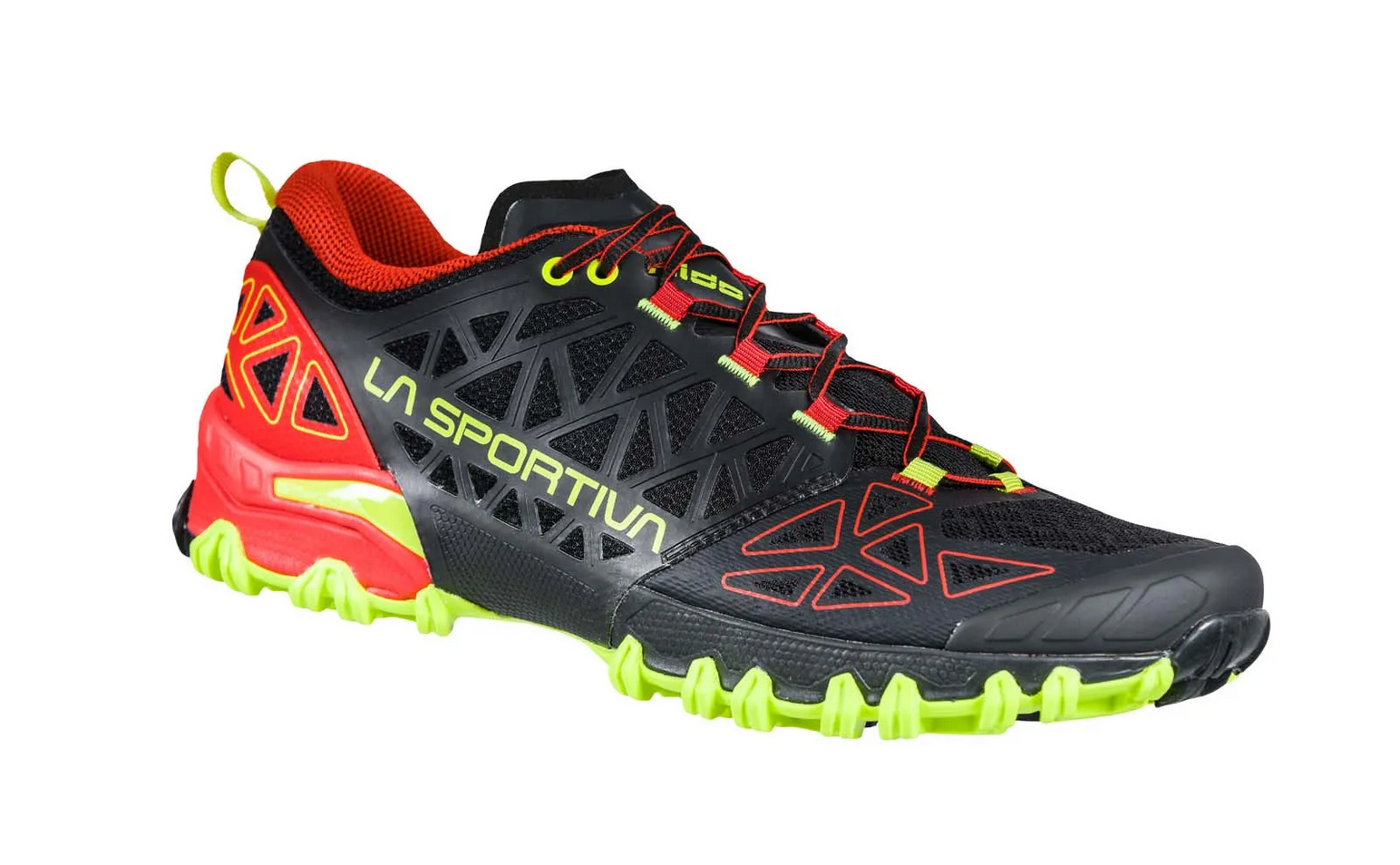 Our Conclusion
I was really excited when I saw these mountain running shoes. They are unique, bold, and daring. Whether you're an expert mountain runner or it's something new you're venturing into, one thing is for certain, you NEED to have the best footwear to withstand the crazy terrain you will face.

Mountain paths bring loose rocks, trickling streams, big boulders, and lots of uneven ground, so you need shoes that are going to be equipped to handle everything the mountain has to throw at you.

La Sportiva Bushido II is as fancy as its name - featuring state-of-the-art technologies such as air mesh with thermoplastic film reinforcements, compressed EVA and stability system, and a FriXion red sole.

The 6mm drop is just enough to give you that edge you need without taking away that feel of the ground beneath you. With the benefit of being great for people with narrow and wide feet, they are beneficial for all.

It's difficult to say anything negative about this running shoe because it really does have that wow-factor status.
Pros & Cons
Ortholite Ergonomic insole
Key Features
Key Features
Key features

FriXion Red Outsole

The Bushido II has the benefit of the FriXion red outsole, its purpose being hardwearing. This outsole is the perfect combo of grip, shock absorption, and durability. It's great for mountain trail runners and will be flexible as well as supportive.

They score 6.7 on La Sportiva's charts for both grip and hardwearing.

EVA Midsole

EVA foam is a great material for durability and cushioning, it's the ideal combination for a running shoe. Helping with shock absorption too, it just screams yes. This means your feet feel comfier for longer.

Impact Brake System

This is a great feature for any mountain running shoe. We forget often about the negative ground impact that our feet take when running up and downhill.

We continuously look at the technologies needed to help us run uphill, but often forget about those that will aid us whilst running downhill. This brake system does just that, absorbing shock, great traction, and improving downhill grip - it really is a fantastic feature.

Ortholite Insole

This unique open cell structure is beautifully crafted for moisture management. These insoles also retain over 95% of their thickness over time and won't flatten. This insole acts as a cooler and more breathable place for your foot.

Versatility

The versatility of these shoes is absolutely phenomenal and not something you often find in any running shoes. The Bushido II is the perfect shoe for running on all types of terrain, be it ice, rocky terrain, mud ground, or trails.

Support and Comfort

The Bushido II is great for offering maximum support on your runs, especially on the medial part of the foot, a section of the foot that takes a lot of the impact when you stride out. The snug fit of the Bushido II means you will feel the benefit of the minimalist style but with the protection and support you require.

The uppers and midsole work together to give you overall stability and reduce the weight of the shoe. All of the features work together to offer you excellent movement and fluidity with your strides, as well as room for your feet to move and the shoe to naturally move with it.

Design

I love the design of the Bushido II - they are robust and ready for just about anything. Available in 9 different color combinations, each being as equally striking as the other, they are shoes that will get you noticed on and off the trail.

The padded collar is great for that added bit of cushioning and the pull tab ensures an easy on/off. The heel is nicely protected by material and a section of thinner rubber but still has a breathable mesh section. The toes are also protected from overlapping rubber.

Price

There is no point buttering this section up, Yes, the Bushido II is an expensive bit of kit. This footwear is on the higher end of the scale BUT they are totally worth it!

These mountain running shoes are innovative, eager to please you, and help enhance your performance.

Comparison to Similar Running Shoes
On Cloudventure Peak
- Offering a lightweight, flexible and responsive ride, the Cloudventure benefits from a level 4 Grip-Profile, On Speedboard promoting an explosive forward motion, micro-engineered grip-rubber sole, and decent lugs. The price is slightly lower than Bushido and they are just as adventurous, so worth a peek.
Inov-8 RocLite
- The Inov-8 has the advantage of met-cradle technology, ADAPTERWEB upper design which does what it says - it adapts to your foot's movement, Powerflow midsole, and a Meta-Plate. This a shoe that is ready for hard work and to go the extra mile for you. Similar in price to the Cloudventure, they are another shoe that is worth the money.
We've also reviewed
the La Sportiva TX5
, so make sure you check it out as well.
Verdict
The Bushido II is a great option for a mountain/trail running shoe. It's an all-rounder with the technologies that will give you the confidence to know you are wearing a durable and trustworthy shoe that will assist you on your run.

The FriXion red outsole is perfect for the job, hardwearing and with superb traction - it's something that is a real selling point to me. As for the design of this shoe, it's edgy, stylish, and ready for action.

They have a moderate cushioning which may or may not affect you depending on your preference to the amount of cushioning you want.

Be mindful of the breaking-in period, but apart from that, I think the Bushido II is top-notch. Bravo La Sportiva!

Subscribe to our Newsletter