Best Zip Up Heels Reviewed
last updated:
Feb 06, 2019
Zippers are not a recent creation since we realized almost two centuries ago that they are a necessity. They help clothes wrap around is tightly, and they keep our shoes in place. It's the same with heels - sometimes, a pair is not stretchy enough to allow you to it in, so a zipper is needed for you to enjoy them. If you're one of the people that simply need to have a zipper on their shoes, then you've come to the right place. We carefully examined the world of possibilities and brought you the best we could find, and we can only hope you decide to enjoy one of these beauties!
In a Hurry? The test winner after 5 hrs of research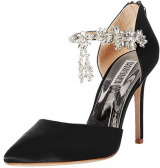 Badgley Mischka Venom
Why is it better?
Satin Upper
Vibrant Colors
Glistening Crystal Details
d'Orsay Silhouette
Metallic Insole
In a
Hurry? Editors choice: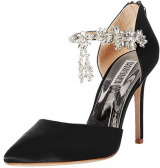 Test Winner: Badgley Mischka Venom

15
Researched Sources
481
Reviews Considered
5
Hours Researching
10
Products Evaluated
Comfort
Durability
Weather Resistance
Style
Weight
By Default
Top 10 Picks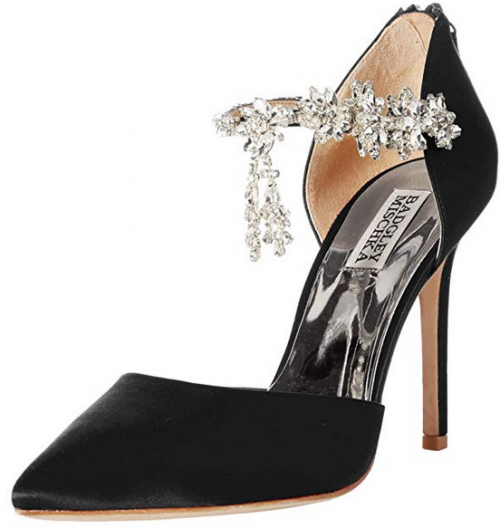 Satin Upper
Vibrant Colors
Glistening Crystal Details
d'Orsay Silhouette
Metallic Insole
Badgley Mischka is a company run by two brilliant designers, bringing extraordinary bridal and evening shoes to our doorstep, and the Venom is here to show you just that. The upper is nothing short of sophisticated, graced with satin threads and vibrant colors. Satin was always regarded as one of the most luxurious materials, due to its luster and soft touch. It's perfect for any evening event lover, especially when combined with lively colors!
The d'Orsay silhouette of these dress pumps show of your delicate skin and slim down your feet, while the pointy toes accentuate their elegance. Now, let's talk about that eye-catching, dangling detail - a waterfall of crystals surrounded by a row of clusters of the same sparkly stones that scintillate in the night and make anyone who dares wear them the star of the evening. Their shine is enhanced by the glow of the satin upper and the shining metallic insole hidden away secretly. The zipper is hidden from sight, resting silently on the heel counter. The metallic insoles are also lightly padded, so the drop from the towering heels won't be so bad and you'll be able to show of this marvelous pair for as long as you want!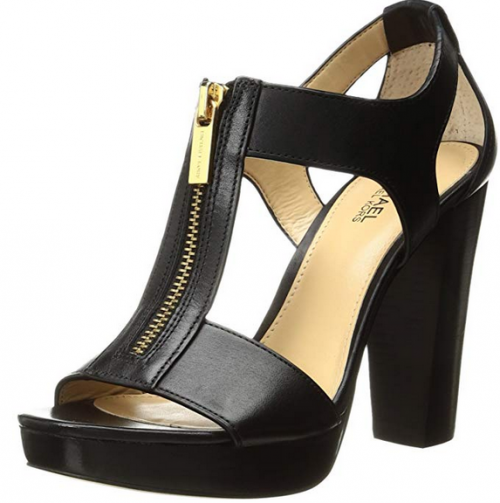 Dramatic Look
Chunky Front Zipper
Four Inch Block Heel
Ribbed Rubber Outsoles
If you're looking for new ways to bring excitement into your life, give the Berkley a try! This dramatic sandal is perfect for your nightlife, as it will surely make you the life of the party. While some designers fear to show their pair even has a zipper, the Berkley proudly wears it on the front, a golden detail boldly contrasting the black leather upper.
The smooth leather makes up the straps, which open around your heels to give you even more breathability and fresh air. The lining and the soles are synthetic, but that shouldn't worry you since the shoe is pretty much open. The mind-boggling four-inch heel might seem frightful, but the slope is played down by the platform. The heels are blocky, so you won't sacrifice your balance and stability. This is accentuated even more by the ribbed outsole, providing plenty of grip and traction!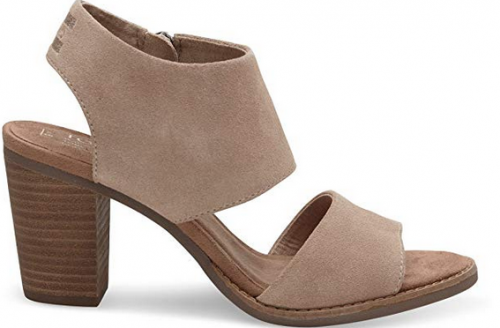 Anti-microbial Sock Liner
Hidden Elastic Gore
High Chunky Heel
Thick Straps
TOMS might not be the first company that comes to mind when you think of extraordinary heels, but trust us when we say that the Deia does not disappoint! The sandal construction features a leather, or synthetic upper, whatever you prefer. The thick strap on the toes offers security, while the even thicker one around the ankles definitely straps you down.
The zipper sits patiently at the sides, hidden away from view, and creating an easy transition from casual to business. The sock liner is synthetic, but it's anti-microbial. So, the breaks in the fabric will cool down your feet and dissipate sweat, while the sock liner will kill any bacteria or fungus that even dares to think about existing. This sock liner is also lightly padded, cushioning you for extended periods. A hidden elastic gore improves the fit by a mile and makes it easy for wider soles to fit in. The chunky heel is quite high, but it's stable enough to keep you going all day long!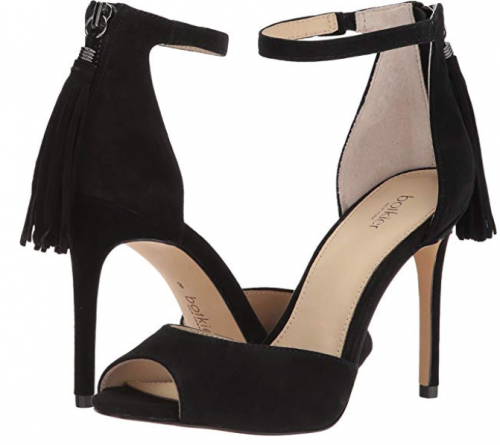 Peep Toes
Slim Ankle Strap
Tassel Zipper
Suede Upper
This fringy pair is sure to bring plenty of flair to your nightly routine! These fringe sandals have a cowhide leather upper, bringing you all the goods suede does with extra durability. Zippers don't always have to be hidden away from sight - sometimes, they can be the star of the show, which is exactly what is happening here. The zipper sitting on the counter might seem like your regular, every day zipper, but the tassel swinging down from the top proves us otherwise.
This exciting details will bounce and dance as you walk, attracting attention wherever you appear! The slim ankle strap has an elastic gore, meant to offer you an ideal fit. The peep toes let your toes wiggle and show off your pedicure. The stiletto heels make you appear like a vision of grace, giving a sophisticated tone to your steady gait.
5

. Jessica Simpson Kandiss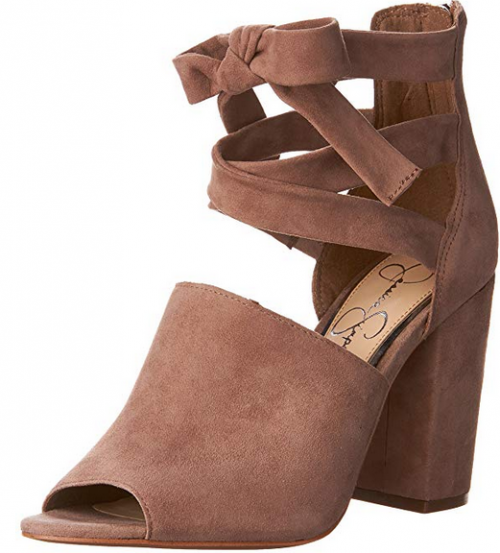 Extraordinary Construction
Elastic Long Straps
Exaggerated Bow Detail
Peep Toes
Memory Foam Midsole
If you've been looking for a way to leave a long-lasting impression, look no further - the Kandiss has all that and more! This crazy pair is made out of suede, working to calm down their wild look, toning them down from too much to perfect! The super high heel counter features a zipper, so you don't have to struggle too much with the slim elastic straps.
Speaking of the straps, they all have an elastic insert so you can stretch them as much as you need, while enveloping your ankles completely and topping off the look with exaggerated bow detail. There is a short break from all the drama, yet it continues down onto the boot like construction and ends with open toes, made to show off your nail color. A memory foam midsole absorbs all the shock as you walk strapped onto the insanely high, yet blocky heel, so you can control your balance with ease.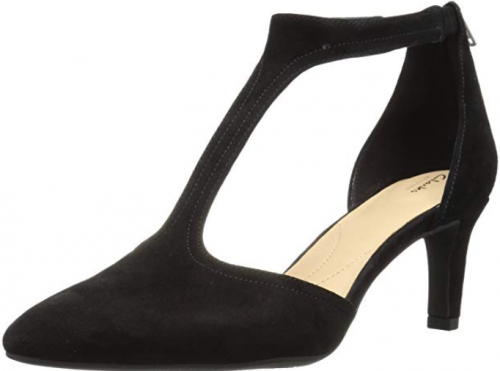 T-Strap Design
Sleek Look
Ortholite Footbed
Kitten Heels
Clarks is a company renowned for creating comfortable yet affordable footwear, but leave it to them to surprise us and create trendy styles. The Calla Lily is simple, sleek and fit for any professional setting. Their suede upper is smooth and supple, versatile and luxurious, so you won't be able to resist mixing them into every possible clothing combination. The T-strap design reminds us of vintage styles and adds a sophisticated tone to their simple form.
The zipper sits on the heel counter, not getting in the way of their polished look. The footbed is Ortholite. Ortholite footbeds have been adopted by many world famous brands since they offer plenty of remarkable properties. For starters, they are very light and breathable, so your feet will always feel fresh. They resist bacteria and repel bad smells. They keep their form for a very long time, giving you the same amount of padding for ages to come, and they are removable so you can wash them any time! The kitten heel offers style without added discomfort from high heels!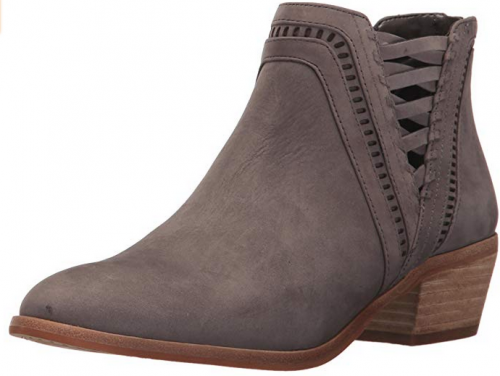 Neutral Leather Upper
Split Sides
Uniform Perforations
Lightly Padded Footbed
Stacked Chunky Heel
Stiff Around Ankles
Narrow
The Pimmy is nothing short of extraordinary since it combines the regular bootie construction with unique details! Their leather is upper, soft and supple, ready to be broken down and sculpted to the shape of your feet, offering a great fit every time you put them on. It starts out as sleek and simple but starts getting more and more dramatic as you reach the boot opening.
The split sides are held together with intertwining, corset-like strips of fabric that give a sense of secrecy and frisk to the wearer. These splits are surrounded by decorative stitching and uniform perforations, giving even more excitement to what once was just a regular ankle bootie. The footbed is lightly padded, making the short chunky heel almost undetectable, as you will be walking on clouds for most of the day!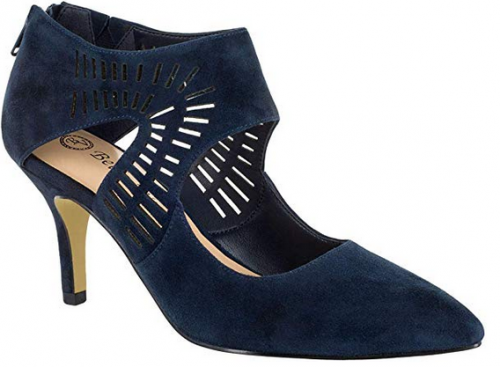 Cut Out Details
Sturdy Kitten Heels
Pointy Toes
Properly Ventilated
The lovely, sophisticated Dani will effortlessly bring out your feminine side as soon as you try them on. The glossy suede upper is soft and supple, adapting to the shape of your feet almost immediately. The front of the shoe is open, but so are the sides, giving the air plenty of chances to sneak in.
The trendy cut out details is what makes them stand out from the crowd, giving curious bystanders a peek at your skin. The zippers sits at the heel counter, making it easy for you to experience the wonders Dani has to bring. The kitten heels give you cultivated beauty while saving your soles from all the pain and burning!
9

. Chinese Laundry Shawnee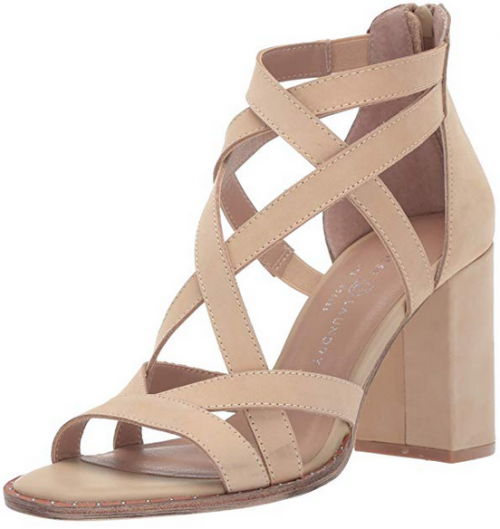 Strappy Construction
Caged-in Front
High-back
Tiny Studs Around Toes
Blocky Concave Heel
This super strappy pair is just what you need to revive your style. This high-back leather sandal comes in four calm colors, steadily mixing themselves with every ensemble you have hidden safely in your closet. The crisscrossing straps cage you in, with elastic gore details allowing you to move freely, no matter how trapped you may look.
The high heel counter has a zipper running alongside the middle, for an easy way in and out. Little metallic studs surround your toes, giving glistening shine to the otherwise refined upper. The very chunky block heel gives you desired height without sacrificing your balance and grip in the process, so you can walk with confidence and grace as long as you have them strapped around your feet!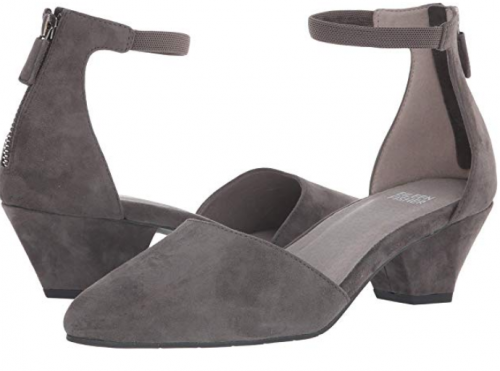 Almond Toes
Stretchy Mesh Strap
Pentagonal Kitten Heel
Cushioned Footbed
Leather Linings
This open-sided dress pump brings fresh style and long-lasting comfort. The soft suede upper is free of any detail, showing off its gentle touch and fuzzy surface. The stretchy mesh comfortably wraps around your ankles and straps you in securely. The open sides let air circulate freely while cooling you down and helping dissipate moisture!
The curvy almond toe is a blend of pointy and round toe boxes - you get all the style points pointy toes have, while enjoying the roomy comfort round toes usually have to offer. The footbed is cushioned, padding you at all the right places, never letting you feel any pain and discomfort. The smartly tapered pentagonal heel is wide enough to provide stability, yet still slim enough to give you an elegant tone.
Criteria Used for Evaluation
Expert Interviews & Opinions
Most Important Criteria
(According to our experts opinion)
Experts Opinion
Editors Opinion
Users Opinion
By Default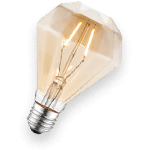 Creative Technology
Elias Howe is a man we can all thank for inventing the sewing machine. However, when he received a patent for an automatic, continuous closure, he disregarded it, thinking it won't serve a good purpose. He was way too busy with his sewing machine, and so the poor zipper was overlooked. A mere four decades later, it was again brought back into the light, but this time around it was named the clasp locker. It was first meant to sit on shoes, so we all benefited from the start! The modern zipper wasn't given the breath of life until 1913 however, but once it saw the light of day it's popularity steadily rose, and something that was once a rejected technology is now the one thing we can't live without!
What's In a Name?
While the majority of us have only ever known and referred to it as a zipper, this wasn't actually the original name given. Up until 1925, you would have known this little gadget as the "Hookless Fastner"!
Other Factors to Consider


Flexibility
Sturdy zippers may not look that flexible the first time you lay eyes on them, but don't be so sure about that! Zippers can slither like snakes and spiral with ease, so it's safe to say your flexibility won't be compromised by one measly zipper. You want a flexible pair since it will give you plenty of support, and will let your feet move as much as they could. Your movement is already restricted by the way your feet sit on heels, so giving them as much freedom as you can is vital. Take care of your feet, and they will take care of you too!


Bottom Line
Zip up heels truly are a blessing, since they give everyone the opportunity to wear super trendy and gorgeous pairs. Not everyone has narrow feet and normal arches, and plenty of people really do need the extra room zippers give once you slide it down to part the material open. They can be a trendy detail too, and we feel like you shouldn't skip out of them, and that you should give them a try. We hope that our guide has helped you see zip-up heels in a new light and that you have managed to find just the pair that is right for your individual needs!
Frequently Asked Questions
q:

Can I replace the zippers on my heels by myself?

a:

After you've been wearing your heels for a few years, the zipper will break down, without a doubt. But once it does, you probably shouldn't attempt at replacing it, even if you do have plenty of sewing experience. The way a zipper is integrated into a pair of heels is way different than the way it sits in clothing, and this process is best left for the pros. You can damage your pair if you try to do this yourself, so just leave it to the lovely cobblers to work their magic.
q:

Are laces better than zippers?

a:

Well, that all depends on your personal preferences the most. Laces do look sexier and can be adjusted to your liking. They do however tend to loosen up, and can sometimes be only purely decorative, so you won't have that much use from them. On the other hands, zippers always offer the same fit, and they never loosen up. But, they can be unsightly and can break and snag and pinch, so they're not flawless either. It all boils down to what you like, and to what you need!
q:

Why do some pairs have both laces and zippers?

a:

This usually happens when one of the things is used as decoration, while the other keeps its functionality, but that doesn't always have to be the case. Both can work just the way they are meant to, and there is a specific order of action here. When you first buy the pair, you need to break it down, so use the laces in the beginning. They will allow you to accommodate your feet, and you won't struggle that much with the process of breaking down your shoes. Once you do break them down, create a perfect fit with the laces, and just use the zipper from then on, and you'll always have that great feeling when you put them on!
q:

Is there any difference between side zippers and heel zippers?

a:

Besides their location, zippers also act a bit differently depending on where they are. Zippers on the sides are more likely to be seen, but they offer an easier way to zip up your heels. There won't be any bone in the way, and you'll probably do it in one simple motion. Heel zippers are hidden away from curious eyes, but people usually struggle to zip them down, especially if the shoe has not been broken in yet. You even risk tearing the clasp away if you pull too hard!
q:

Why are zippers sometimes referred to as a fly?

a:

Contrary to popular belief, a zipper is not the same thing as the fly! The fly is actually the strip of fabric that covers the zipper, not the zipper itself. A fly can be seen on clothing, tents, backpacks and such, it's highly unlikely you will see a fly on shoes!