Best Squeaky Shoes Reviewed & Rated
In a Hurry? Editors choice: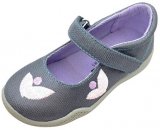 Test Winner: Mooshu Stella

If you've got a little one at home who is just learning how to walk, starting to get a bit more secure in their tiny steps, then you know all about how important a good pair of shoes is. You want to get them something that will be of high quality, good construction and comfortable enough for their sensitive and inexperienced feet, but also wish you could get them something that's fun and cute in design.

This is where squeaky shoes come in – the favorite type of footwear of toddlers around the world.
Standout Picks
Criteria Used for Evaluation
Features
Shopping for shoes for a toddler who is just learning how to walk is a bit different from shopping for shoes for adults. If an adult shoe is uncomfortable, tight, or causing pain – it's not a big deal. Sure, it's not pleasant, and we would all love to have cloud-like comfortable shoes, but we either endure it, fix it with band-aids, cushion inserts or long break-in periods, or discard them altogether.
But when it comes to children whose feet are still growing and are just beginning to understand the concept of heel to toe walking – a bad pair of shoes can be detrimental to progress. So what are some of the important factors to consider when buying shoes for children?
Fastening System
Go for shoes that have laces, velcro, or any other fastening system because these prevent too much movement in the shoe. Try to avoid backless or slip-on shoes, as your child can easily take them off, or simply lose them throughout the course of the day.
Velcro is easy, no muss no fuss. You can get the shoes on quickly and don't have to bother retying shoelaces all day. However, your kid is smart and will probably figure out how to unfasten the velcro and remove their shoes, and it will most likely happen at the worst possible moment.
Therefore, you might actually want to go with laces, so that it's a bit more complicated to take the shoes off. You should ensure that the laces are long enough that you can make a double knot.
Materials
Look for soft leather or canvas materials. Not only are they more durable than synthetic materials – and thus saving you money in the long run – they are also lightweight and breathable. They won't unnecessarily restrict your child's foot – the leather especially is a supple material that adapts and conforms to the shape of the foot with time and allows the foot to develop naturally. They will also promote a healthy climate and won't cause unpleasant odors of the feet. Your kid's feet will be dry and cool, without any blisters or discomfort.
Outsole
Arguably the most important part of the shoe, we have several ways to determine whether the sole of the shoe is good enough for a walking beginner:
Flexibility
The sole should be thick and sturdy enough to protect the feet from pain and injury and actually provide some insulation from the ground, but also flexible enough to move with the foot during walking. The American Academy of Pediatrics warns that stiff or compressive footwear may cause deformity, loss of mobility, and weakness.
The best way to check if the shoe is flexible enough is to bend it. If it bends in the toe, somewhat – meaning not too much – then it's perfect. Another test you can do is to twist the shoe. A child's shoe should have a rigid middle area, meaning that it shouldn't twist in the middle.
Texture
Look for patterned or textured soles. These will give your child enough traction and prevent slipping on smooth surfaces. The best material for the sole would be non-slip rubber.
Heel
While it may be cute and charming, try to avoid heels on children's shoes. They are particularly bad for proper foot development and for learning the mechanics of walking. You should stick to flat shoes and even soles.
In order to match the natural shape of the foot – as children usually have wider feet – the front of the shoe should be wider than the heel. The shoe should also have a solid heel counter (the part of the shoe that wraps around the heel). When you press on both sides of it, it shouldn't collapse. The heel counter should fit snugly around your child's foot. Padded toplines provide additional comfort to the heel and ankle.
Lastly, check for excessive wear of the heel as your child walks. Uneven heel wear can be an indication of a foot problem that should be checked by an orthopedist or pedorthist.
Toe area: Toes of your little one should have enough wiggle room. There should be about half an inch space from their big toe to the top of the shoe. Also consider choosing closed-toed shoes over open-toed ones, because open toes don't offer a lot of protection to someone who's just learning how to walk.
Ease of Use
If you've decided to get a pair of shoes with squeakers for your child, knowing how to ensure that squeakers work properly can make life considerably easier. These parts are small mechanisms that work by creating noise every time air passes through them – with each of your child's steps, there's airflow through the mechanism, meaning that it will create the noise that we all know as squeaking.
However, there are certain circumstances under which the squeaker on the shoe may stop working. First and foremost, it is possible that there's no noise coming from them because your child is not taking their steps properly. Some manufacturers put the squeakers in the heel area of the shoe to only encourage proper, heel to toe walking. This means that if your kid walks on their tippy-toes, their shoes won't be making any noises.
It's also possible that the squeaker is damaged, and that's why it's not performing as it should. If your child has been wearing their favorite shoes in sand or water, you can be positive the squeakers are done for. Luckily, this is easy to repair on most models that have replaceable squeakers. You can purchase a pack of the mechanisms online for a cheap price and replace the broken ones found in your kids' shoes. Note that not all squeakers will make the same noise, so it is best to replace the mechanisms on both shoes.
Durability
To assess each of the products on our list for durability, we not only read through thousands of customer reviews on our recommended products, but we also looked for some of the hallmarks of quality construction. From brand name reputation to their initial smell out of the box, there are a few ways of identifying a well-built, made-to-last product.
The Details
A zipper that doesn't zip or snaps? Poor threading technique? A smelly, chemical residue on the shoe when you open the box? All these details were looked for and evaluated when assigning a score for durability.
Materials
Certain materials last longer than others, even if that comes at the expense of a higher score in the "comfort" criterion. Materials that are synthetic, thicker and firmer tend to score higher on durability.
Product Purpose
A shoe made for running and high-impact sports will not likely last as long as a good pair of general activity shoes and that's okay. Being aware of the shoe's purpose is critical for you as a reader and for us as a reviewer.
Although shoes that will last longer score higher on this criterion, you might also see high scores to shoes with a more limited durability, if that product was specifically designed for certain purposes that involve high-impact and high-stress motions. We take into account the type of shoes you are trying to purchase when assigning scores to shoes in this criterion.
Brand Name
A product is a promise made, but a brand is a promise kept. A brand name is often a signal of quality and consistency in construction and durability from product to product. Although there are always exceptions to this rule, quite often brands that perform continue to perform. Brand names on our list tend to score higher in the durability score.
The final word on durability is that a higher score on this metric means the product will last longer than its competitors, given similar shoe purpose, type, age and usage. Again, it never hurts to read some customer reviews before hitting the "buy" button.
Our Favorites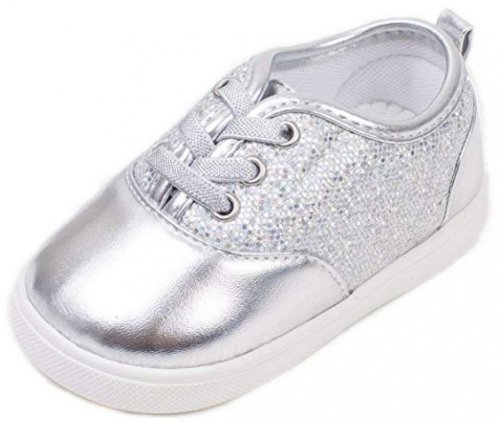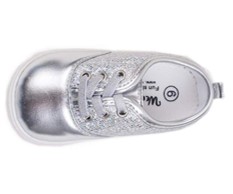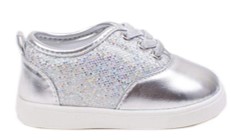 Okay, but where do they make these for adults, too? We are absolutely in love with the Wee Squeak Lexi design, not least because of its sparkly, silver metallic color. This is a cool sneaker silhouette, one that is a staple in everyone's wardrobe, and thus it should be in your toddler's as well. It is comfortable, it is easy to put on and take off, and it is a world of fun thanks to its eye-catching color! There is no kid who wouldn't want these at first sight!
The Lexi sneaker is made from a soft vinyl upper with a padded collar for protection and comfort. Its footbed is supportive and the laces are elastic. Furthermore, the sneakers open wide enough so that you can fit your toddler's chunky feet in without any problems! The entire design is pretty durable, and it will withstand tumbles and stubs until your little one grows out of it in a few month's time.

The Wee Squeak Lexi is definitely an option for a little fashionista. It is comfy and simple to wear, it makes the necessary squeaky noise which helps you locate your kid anytime, anywhere, and it is absolutely fabulous in style! Let your little one wow all the friends and family with these dazzling sneakers!

2

. Dark Brown Cowboy Boot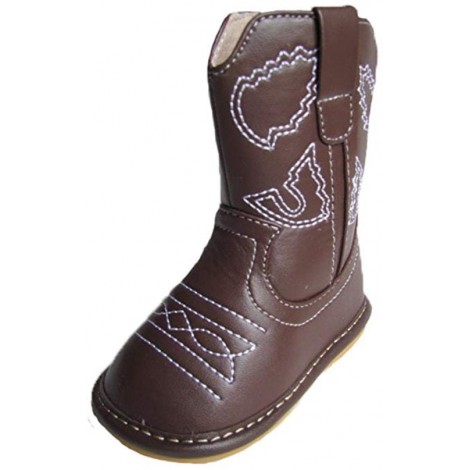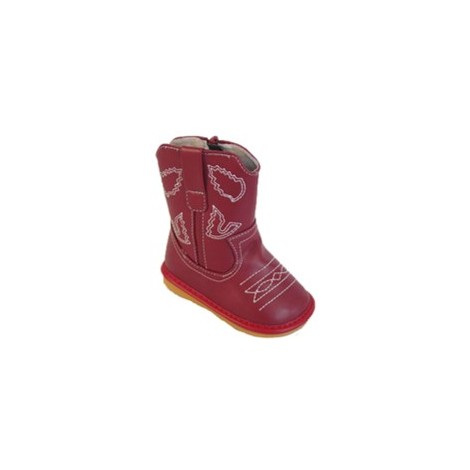 This guide wouldn't be complete if we didn't include a design from a brand that is actually called Squeaky Shoes. And this option is also quite different from the others, in that it is a boot, and a cowboy boot at that! Now your little one can enjoy the fantasy of riding horses, taming wild bulls and being the most feared gunslinger in the West with this comfy, easy-to-wear western style!
The Cowboy Boot is made from brown leather that is soft and flexible, and very lightweight on little feet. It is decorated with white stitching all over the upper, and it has a pull-on strap so that it is easier to slide into the design. The Cowboy Boot comes with a zipper in the inner side for easy entry so that you don't have to fiddle with buckles or laces to get your toddler into their footwear. Of course, there are squeakers in the bottom, ones that you can remove and insert back whenever you desire.

The Squeaky Shoes Cowboy Boot is a design all kids want to have. It makes them feel fierce and mighty, and it also protects their feet and ankles from bad weather. This lovely option will be a family favorite, and you will want to keep it even long after your kid has outgrown it!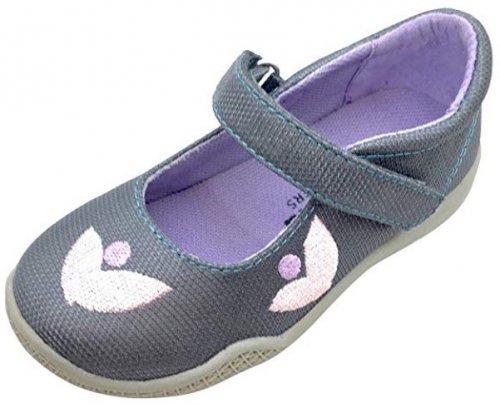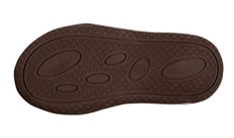 From a brand that bears the name of the beloved Mulan dragon (though is not associated with it in any way) comes the Stella Mary Jane, a design that is every bit as comfortable as it is cute. This everyday option is perfect for warm weather when it is time to get your little one into summer footwear for kids and help their feet breathe. Stella is cute, lightweight, and great to pair with any type of outfit!
Stella has an upper made from nylon, which is a durable synthetic material. It can withstand almost any type of wear and tear, making it a perfect choice for active toddlers. There is a hook-and-loop strap across the instep for an easy way in and out, as well as for a customized fit. The outsole of the Stella is flexible to enable that correct heel-to-toe motion, and the squeakers are removable, should you or your little one ever get tired of them.

The Mooshu Stella is really all that we are looking for in a design of this type. We need it to make noise, to be durable and comfy, and to make our little one smile as they make their first steps into the world. The Stella checks off all of these requirements and more, and we can't be more thrilled with this well-rounded design.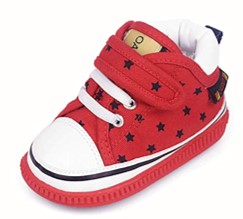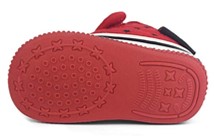 The Oaisnit High Tops are made for the fashion-forward toddler. They have a rubber toe area, mimicking the iconic Converse design, and their color choices are trendy and unisex, making them a great choice for your son or daughter. They have a soft canvas upper, a rubber outsole and a special combination of shoelaces and velcro for a secure fit. Of course, they are also squeaky, serving as a great motivator for your little one to learn how to walk!
The advantages of a canvas upper are that it's soft - preventing any uncomfortable rubbing of the foot against the sides - it's breathable - promoting a healthy climate for your child's foot - and guarantees a comfortable, roomy fit. No pain and no blisters! At first glance, you might think it's a bit of an overkill, to have both laces and velcro on the shoe. However, the purpose of these is not only to allow you to get the Oaisnit High Tops on your toddler's feet quickly but also to prevent them to take them off whenever they so desire.

Compared to other models on our list, the Oaisnit High Tops is in the low-range price-wise. There are less expensive options, but they aren't as durable or well-crafted, and there are more pricey ones, with maybe a bit more features. If you're not looking for anything more than a comfortable, regular pair of squeakers, then this one is perfect for you.

5

. Ella Unicorn Mary Jane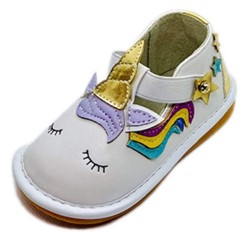 This adorable pair of squeaky shoes brings fantasy to life for your little one! The Ella by Squeaky Sneakers is a T-strap designed shoe married with a sleepy unicorn character. The horn of the unicorn is placed right on the T-strap making a perfect faux unicorn for your little one to wear. Quality leather uppers are soft to the touch, and ankle elastics make them easy to fit into and slip-on. Best of all, should you want the squeaker silent, you can replace it with a plug to silence them without losing this adorable shoe as an option to wear.
Unicorn style fashion has gained quite a bit in the last few years, and not just for kids. The Ella is a simply adorable mary jane for your child to fall in love with. Fantasy becomes real when they slip on these character shoes, which have a sleepy unicorn face, and horn that runs up the T-strap to marry function and fashion together perfectly. Uppers are made from soft leather which won't irritate your child, and the easy slip-on design with elastics helps make them an easy fit.
The soles of the Ella are flexible yet durable for wear. Rubber helps keep them pliable, so growing feet can develop properly without loss of stability or traction. One feature that is likely favorable to parents, is the ability to replace the squeaker with a plug to silence the shoe during wear. It can be worn for more formal occasions where squeaky shoes likely aren't appropriate! If your little one loves squeaky shoes and has an affinity for unicorns, the Squeaky Sneaker Ella is perfect for them!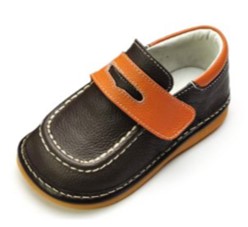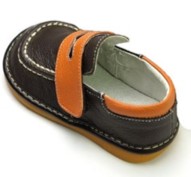 For those who are seeking to add a little variety to their toddler's shoe closet, here is the Squeaky Shoes Loafer. A modified version of a normal loafer, this one sports a velcro strap, has man-made leather uppers with soft canvas insides, and genuine leather insoles. It makes noise with every step and helps your child improve their walking skill while making them look all dapper in the process.
It is important that you're able to quickly and easily slip on your kid's footwear - especially if you're in a hurry - but it is also important that the shoes stay on. That is, your child will most likely try to take them off at some point, and a velcro strap is a great way to prevent this. Comfort is of utmost importance when someone is just getting to know the feeling of walking in shoes and making their first steps in life. Authentic leather soles, flexible and malleable, are a great feature to provide your kid with all the necessary comfort they need to not give up on practice.

Squeaky Shoes Loafer is not a cheap design. It is not the most expensive, either, but you can find other, better options in the same price range. Granted, they may not be as original in design, but they do offer more features which you may prefer, considering the money you'll be spending.

7

. Little Mae's Mary Jane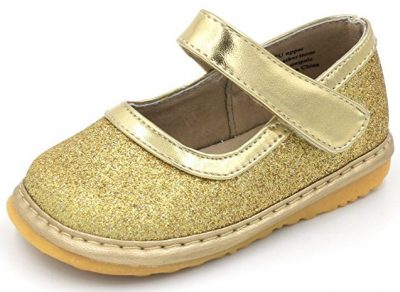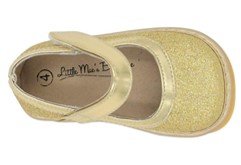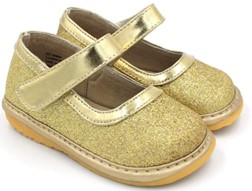 Make your little princess happy with all the glitter of the Little Mae's Mary Jane. A model which comes in style, this one is outfitted with removable squeakers - thankfully - flexible rubber soles resistant to slipping and a synthetic leather upper combined with leather insoles. They are comfortable, noisy, they encourage the proper mechanics of walking and are absolutely dazzling to look at!
The squeaker in the Little Mae's Mary Jane is positioned at the back, meaning there will be no squeak if your toddler walks on their tippy toes. Rather, only when a proper step is made - heel to toe - will there be a noise, and this will encourage your kid to continue walking correctly. The upper is made out of synthetic leather and faux suede which wear well with use. However, the insoles are made of genuine leather, which means they mold to the shape of your child's foot for better fit and superior comfort.

The Little Mae's Mary Jane features everything a good squeaky design should have, however, it doesn't fit all children equally, which means that you should read the reviews before purchasing, to ensure these are the right choice for your child's foot shape and size.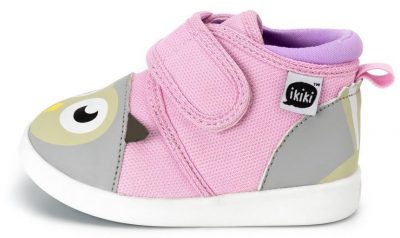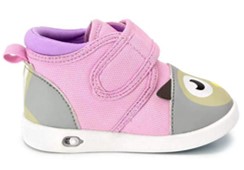 When it comes to this type of footwear - and toddler shoes in general - the Ikiki brand name pops up everywhere, and for good reason. These are made of high quality, breathable materials, with their sole focus being the comfort and proper development of your child's feet. The Ikiki designs have a roomy fit, a velcro strap for security, an anti-slip rubber outsole and a squeaker pad that can be switched off. It doesn't get any better than this!
It's not just any regular high top, and certainly not one resembling high tops in adult shoes. The Ikiki brand has its own version of the high top, which provides support to your child's ankle without restricting it. This type of ankle support also prevents tippy-toe walking. In case your child is wearing braces, such as AFOs or SMOs, you will be happy to hear that they pose no problem for the Ikiki sneaker. Simply order two sizes up from your child's un-braced feet, and let them enjoy their new squeakers!

The Ikiki design is arguably one of the most expensive options on this list. And it is no wonder, from how many specialized features they have designed and crafted for the ultimate support and comfort during your child's learning period. If you feel like you want only the best for your little one's first steps, then these are definitely the sneakers for you.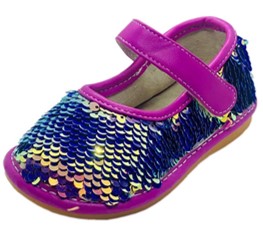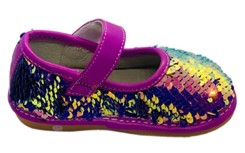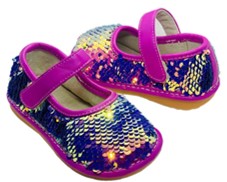 Another option from Squeaky Sneakers brings a bit more glamour for your little one. The Sofia is an easy mary jane style shoe, crafted from soft leather for durability, but embellished with sequined uppers for bling. A Velcro strap closure makes them a cinch to get on or remove, and sequins add sparkle that will have your child unwilling to take them off! Squeaker in the sole is removable as well, so you can replace it with a plug for a little peace and quiet when appropriate. It's one pair that is made for your child's little inner diva!
The Sofia catches the eye with its sparkling appeal, as the sequins catch the light no matter where your child wears them. Sewn into quality soft leather uppers, the make of the shoe is quite durable, and the design appropriate for any kind of setting. An easy Velcro strap closure allows easy access in and out of the shoe and gives some adjustability to the fit.

Rubber soles base the Sofia, allowing for traction and grip when your child is off playing, but the flexibility you'd expect from a child's shoe. Little feet will develop properly to help balance and walking in a style that brings some fun to wear them. Squeaker in the base of the sole can be replaced with a silent plug, so you can choose when and where it's appropriate for fun or formal. It's one pair that will bring out the fashionista in your little one!

10

. Little Mae's Boutique Navy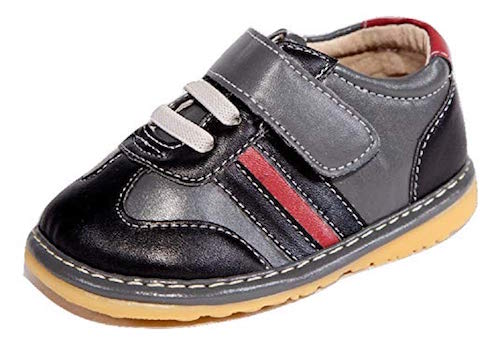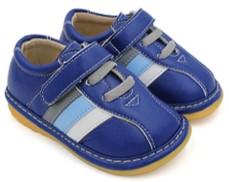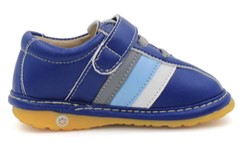 Some kids simply need more than just a sandal or cute Mary Jane style to keep them comfy throughout the day. If you've got a boisterous little toddler at home who loves to run around, explore and get into all sorts of adventures, then a pair of sneakers is a must-have. This model by Little Mae provides them with the best of two worlds - they're made to be comfortable, easy to wear and also stylish, while still boasting the squeakers which they're sure to appreciate.
One of the most difficult things about footwear for little children is the part where you're supposed to put them on. Your little ones still lack control over their feet, which can sometimes make putting a pair of sneakers on pure torture. The hook and loop closure on this design makes things a bit easier, speeding them up so you can quickly be out the door. Squeakers fall out or simply stop working - this will happen at some point no matter how much the design had cost. Luckily, these sneakers by Little Mae come with a spare pair of squeakers so that your child can enjoy the fun noise without unwanted interruptions.

Little Mae's Sneaker is a design that's worth the investment if you're looking for quality, comfort, and ease of use. Featuring a leather insole, non-slip rubber outsole and microfiber leather upper, these sneakers will last quite some time, through the wildest adventures you and your kid can come up with.

Subscribe to our Newsletter