Best Sport Watches Reviewed
In a Hurry? Editors choice: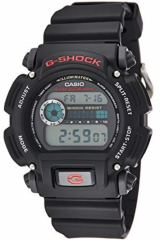 Test Winner: Casio G-Shock Quartz

Technology has helped athletes to monitor their progress, as they stay fit. It has given them a chance to pinpoint exactly where they need to improve on. Sport watches have been great companions for athletes. They are small, lightweight, and have great features to make your workouts more productive.

There are some factors to contemplate over before purchasing a sports watch. Things like battery life, durability, and connectivity, among others, are some of the factors we consider. You might also check whether your choice of watch is compatible with the type of mobile phone you are using. In addition, check whether there are helpful fitness apps that support your watch. Here we have chosen the best sport watches, to help you decide which one suits your needs.
Standout Picks
Criteria Used for Evaluation
Advanced Features
All the varying options today can be quite confusing.
The type of features athletes look for varies from time to time. It all depends on factors like the trail they use, and the intensity of their workout. Others would want features that provide entertainment as they exercise.
Most of the products we have listed are water-resistant. They allow you to wear them as you go for a swim or even shower. You can also use them in a high humidity climate without fear of them being damaged. If you sweat profusely during training, then a water-resistant watch should be among your top priorities.
For those looking for a simple time tracking watch, then a stopwatch feature or countdown timer will suffice. This function will help the athlete know how long he takes to complete a lap. A minimalist athlete will enjoy these essential functions.
For trail runners, marathoners, and triathlons, GPS features are what to invest in. GPS will help track the route to use. It will also show how the altitude the wearer is at and how fast they are going. This feature allows you to upload data on some apps that you might use later.
Heart rate monitors help athletes understand some of the challenges they face on the trail. They also help show if you are overworking or not doing enough on the track. Additionally, keep in mind that chest straps are more accurate compared to heart rate monitors on smartwatches.
Apps
Everything gets an upgrade with the apps developed nowadays.
Most of the wristwatches listed above can link with an running app on your smartphone. This feature is necessary for those who like to record their daily progress as they workout. A watch that can support apps might be a bit costly, but it has numerous benefits.
Some applications have workout routines that an athlete can use to improve their level of fitness. Others offer nutritional guidance and warm-up routines to athletes. First-timers can use to get up to speed in their respective fields with some specialized apps.
Other watches support third-party apps that will enable you to maximize the use of your product. You can download music apps to entertain you as workout or weather apps to keep you updated. You can also access fitness apps for weight lifting.
Depending on the software of the smartwatch, you can download apps that are not exercises related. Apps like payment apps or even your favorite social media application. Most applications are free, and you will just have to set up an account once you have downloaded them. Some smartwatches require you to have their apps on your smartphone to be able to use them.
Battery Life
Incessant charging is usually frustrating.
Advanced running watches have a rechargeable battery. Standard or basic wristwatches have an old-fashioned battery that lasts for years. If you have chosen a running watch with numerous features, then expect the battery to be in heavy use.
Most rechargeable batteries last for 48 hours hence the need to charge the battery overnight. More advanced brands can continue running for up to 50 hours before the next charge. Depending on your level of usage, you can opt for a solar-powered one at the expense of advanced features.
GPS activation drains the battery as it tracks your route. Some run watches allow you to turn on the GPS in intervals saving your charge. It is advisable to compare different brands before making a purchase. Remember to switch off the energy-draining features when not in use.
Some running watches can last more than 21 days with the basic features on. Taking proper care of your battery will prolong its life, and it will serve you for a long time. You can charge the watch at night when you go to bed. In addition, overcharging may ruin the battery life.
Ease of Use
There is value in simplicity.
Having a lot of information like how many steps you've taken and how many calories is useful. However, if you are an athlete looking for a watch to do the simple stuff, then you have come to the right place. We know that not everyone is tech-savvy, so we have listed some simple but effective wristwatches too.
Having so much information might not be for everyone. Some people find it hard to use these watches, and we have given simple yet very effective and functional options to choose from. They work really well and are budget-friendly.
As we mentioned earlier, these watches are easy to use. In addition, they have a simple interface and navigation features. If you are willing to try to switch things up, then go ahead and try one out. You can consult or do a little research if it is your first smartwatch.
You can also read the manual to learn more about your new gadget. We understand how frustrating it can be trying to learn new stuff when you are in a hurry. You might want to synchronize your phone with your watch before a run and end up wasting precious time. Luckily, some of these devices detect when an exercise is initiated and starts recording relevant data automatically.
Weight
There's no need for unnecessary loads pulling you down.
Having a heavy watch on your wrist might end up ruining your workout. Many athletes forget that lightweight equipment provides comfort. We have made sure to give you the best in terms of weight that will not mess with your routine. The watches we have picked consist of light material that you will forget you have a watch on you.
The manufactures also made sure to keep them light because some are worn at night as you sleep. The ones that are intended for off-road activities tend to be a bit bulky and heavy. You should pick your watch based on the type of use you want to do with it. Road running watches are not burdensome, and they are lightweight to help you achieve your desired goals.
Smartwatches with a tone of features tend to be on the heavy side. You should also buy a watch according to your wrist size. If it is more significant than your wrist, then it won't be comfortable. A moderate size watch will also be visible enough for you to read without any problems.
Additionally, if you are not sure about the weight, you can try it on at the store. If you are buying online, please read their return policy on goods. If you are going to spend money, spend in on something you`ll use every day.
Top 10 Sports Watches for Active People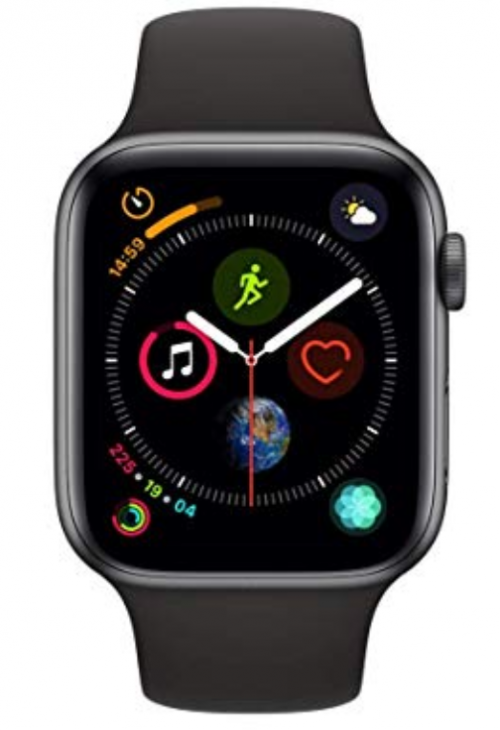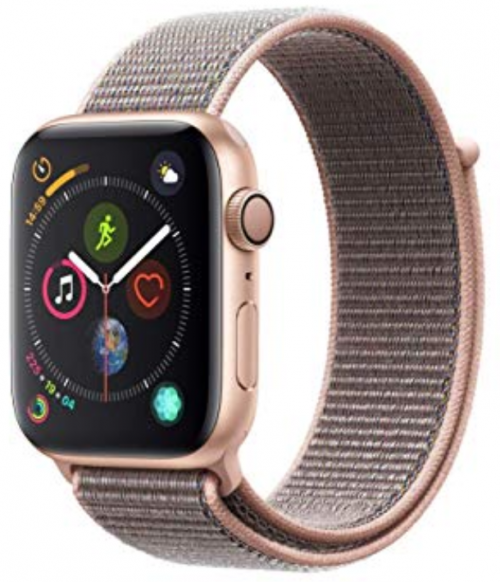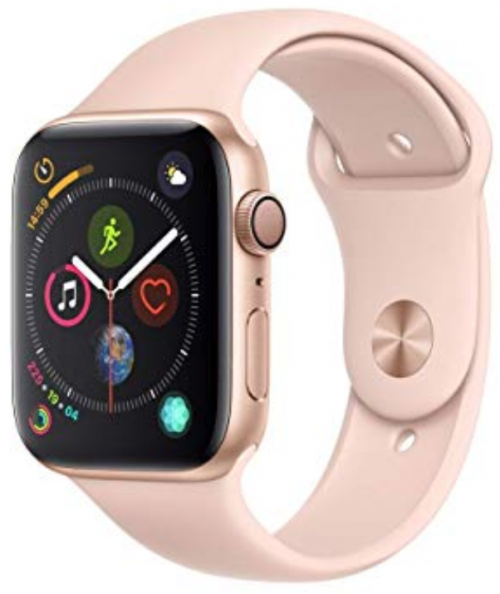 Apple has made significant upgrades to this new model. It may not seem different from its previous versions, but the upgraded features are an athlete's dreams come true. The screen has better visibility, and the health features are much better than the older model. Additionally, the battery life has been improved, and it lasts longer.
Athletes who begin their workout session and forget to turn the watch on can relax. This excellent watch has an exercise detection feature than turns on as soon as you start working out. Moreover, it only turns on when you run. In addition, the Apple series 4-sport watch has an electrocardiogram feature that works but in selected countries.
The ECG feature allows you to track your heart rate as you exercise. To activate it, you need to enable the app on your phone to connect with your watch. The data is then recorded to your phone from which you can download it in PDF format and give it to your doctor or physician. The device sends a notification if it detects an irregular activity on your heart pattern, helping you to avoid serious complications.
The new software can track different exercises, and a walkie-talkie mode allows you to send short voice notes. The microphone and speaker placement make it easier and more precise to pass messages to one another. As mentioned earlier, the screen is 30% bigger and more rounded, and the new design is very stylish with a thin chassis. Additionally, the ceramic back is combined with sapphire glass to allow radio signals through an antennae placement.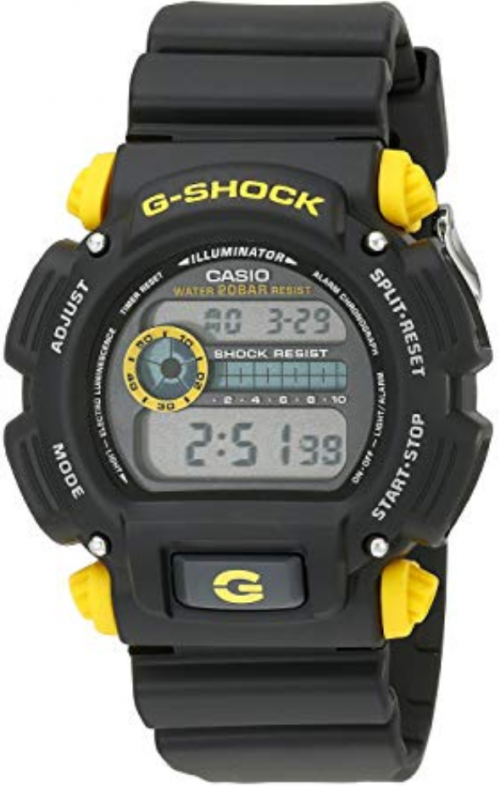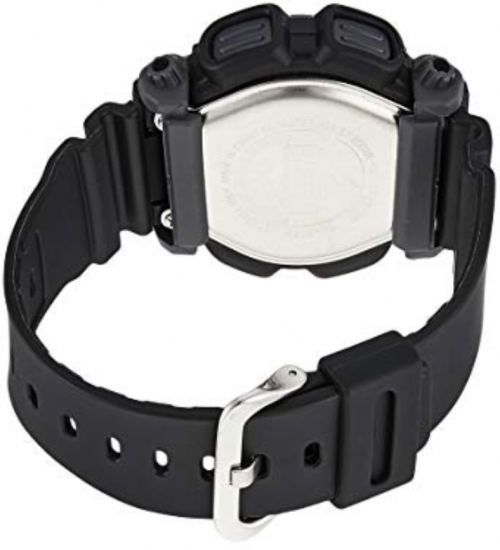 Casio creates some of the most durable and practical watches in the market. This product comes in a variety of colors to choose from, unlike other watches. It is durable and very stylish on the wrist with useful features that come in handy. Additionally, it can be a great companion in a variety of sporting activities.
Athletes who work in wet conditions will appreciate the water-resistant feature this product comes with. You can also use it in hot climates without fear of sweat damaging your watch. For people who would want to wear it during swimming exercises, it is essential to note that it is water-resistant up to 200 meters.
This product does not allow connectivity with other devices or enable apps to be installed on it for usage. You are not able to listen to music or monitor some aspects of your workout sessions with this particular watch. Athletes who do not want any digital distractions as they exercise have listed this as their go-to watch.
Durability is the key selling point of the Casio Resin sports watch. It is scratch-resistant and does not break easily. The effects of wear and tear do not affect it much thanks to the resin material that is used in its manufacture. It`s band, bezel, and casing are all made of resin, making it very durable.
As mentioned earlier, this product has a fantastic battery life. It can last up to twelve months without going off. In addition, it also has additional features like an alarm that can remind you to start preparing for your workout. There is also a countdown timer to help you track and time your speed.
You can use it as a stopwatch, and the built-in calendar can help you plan your exercise sessions. This multi-function watch will help you in your daily life routine. It is accurate and useful, suitable for any athlete.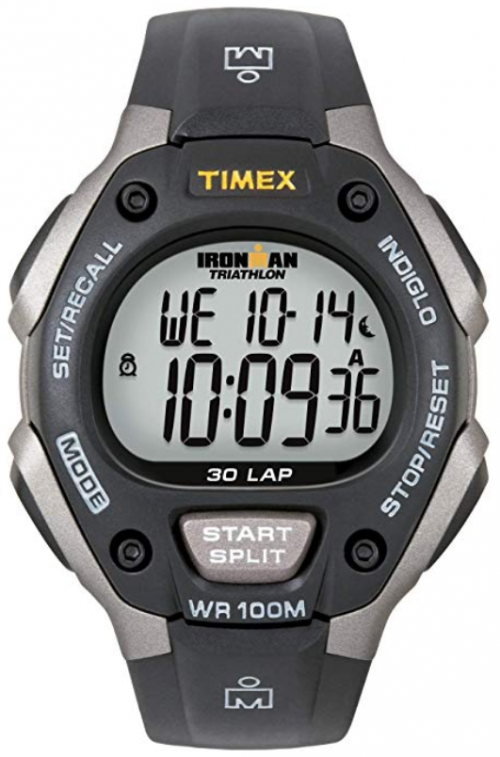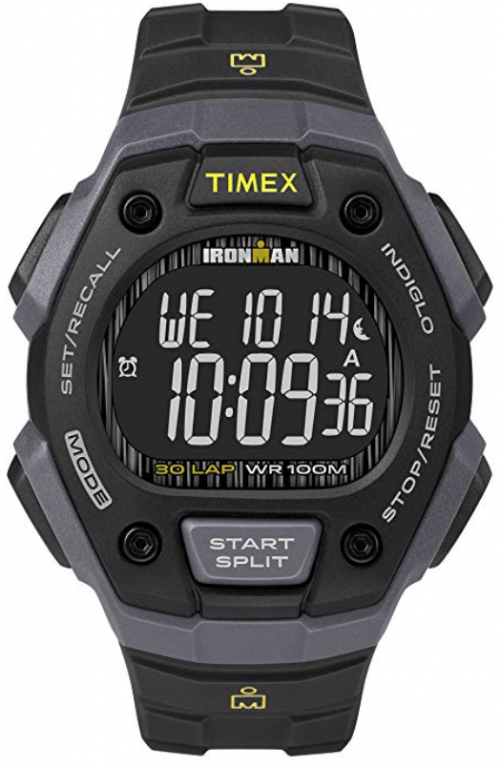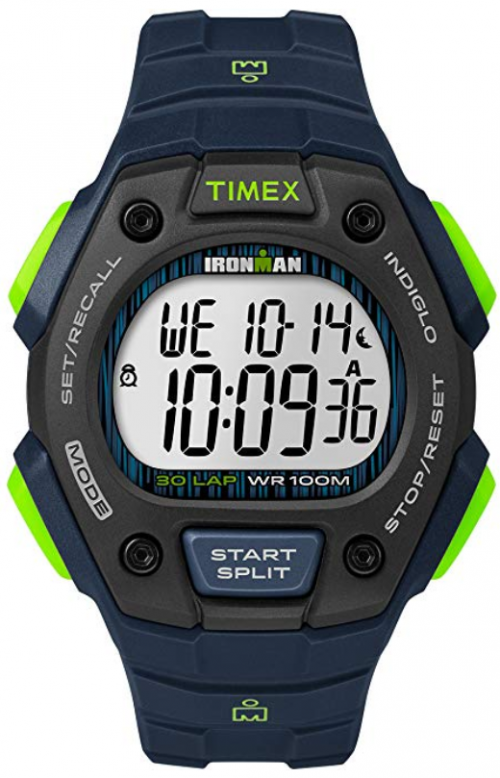 Athletes who are looking for a simple, budget-friendly, and effective watch can be satisfied with this product. It is perfect for water sports and land exercises. They are durable and can handle hostile environments. Moreover, the parts are cheap and easy to replace in case of damage.
The display is visible, and in low lights or at night, it lights up to make it easy to read. The stopwatch feature has a 30-lap memory capacity. Additionally, it is waterproof for up to 100 meters, allowing you to enjoy water sports or use it in a rainy climate. It can also be used in hot climates and not be damaged by sweat from your wrist.
It comes in different colors, and it has an alarm that you can use to set reminders. You can use the countdown timer and stopwatch feature to help you track your laps. The interface is easy to use, and the watch allows you to set up to 15 reminders. Additionally, you can set three different time zones accurately.
The design is casual and straightforward, with on-screen prompts to guide you and make it easy for you to use. With a night-mode feature, you can use it at night without any difficulties. Resin is the primary material that gives it its durability and lightweight element. Remember not to exceed the water-resistance limit even though it's affordable.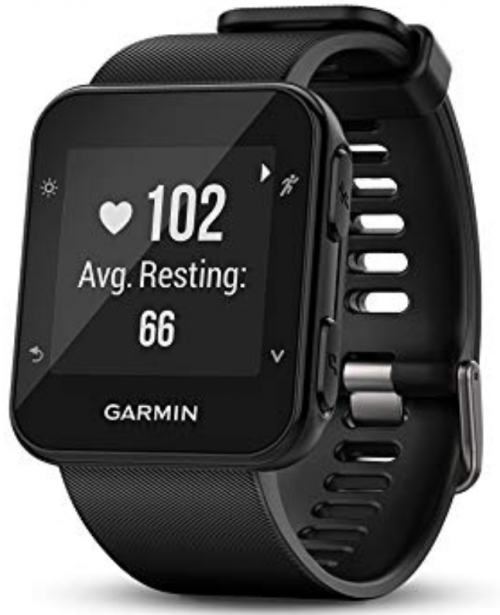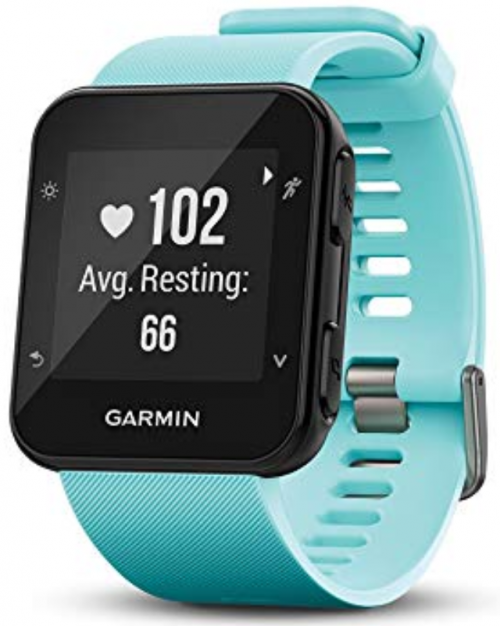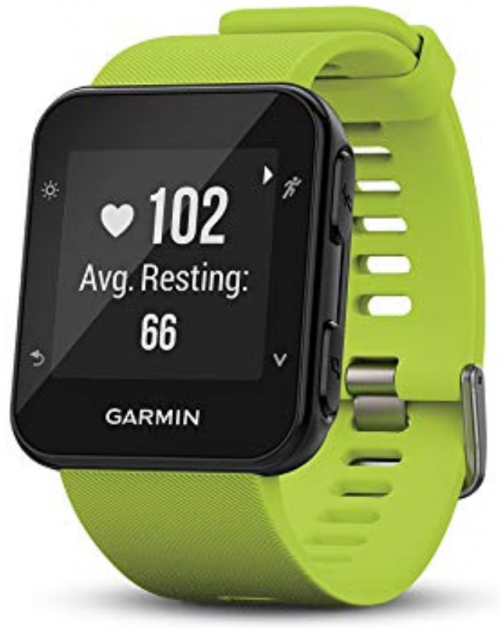 The Garmin forerunner 35 is perfect for a tech-savvy athlete. It connects with your phone and allows you to listen to your favorite music as you exercise. It is suitable for different exercises with its tracking and GPS. The high-resolution display is visible in any condition, and it is user-friendly.
First-time athletes can use this watch to achieve their goals with the tracking features on the first screen. They can track their speed, distance covered, and calories they have burned with every exercise. Though it can track cycling activities, it`s best to use is in running workouts.
The Garmin Forerunner 35 is waterproof but up to 50m. Additionally, remember that it does not track any swimming activities. To access the other features, move to the second screen of the sports watch after the one showing time.
The GPS takes a few minutes to activate, and when it does, it is accurate. When you wear the watch indoors, it uses an accelerometer, which is not as precise as the GPS. Additionally, when the smartwatch is switched off at night, it records that period as an active sleep, which is not correct. This gadget uses Bluetooth connectivity to connect to other devices.
Through Bluetooth connection, you can listen to music and share data with the sports watch. It also allows you access to the app, and you can receive weather information. Sadly, connecting to some mobile devices is difficult because of some compatibility issues. However, once connected, the app is user-friendly and easy to navigate through.
The silicone bands provide comfortable wear to the user. Unlike other watches, this sports watch has adjusting holes for different fits, and the wristbands are stretchy and durable. The buttons located on the side are well placed to provide easy access. It also comes in different colors to match a variety of styles and tastes.
A lithium-ion battery powers this product. In addition, it is stylish with a rounded face. The heart rate sensors are located at the back of the watch. The watch will beep when you receive a notification and vibrate to alert you.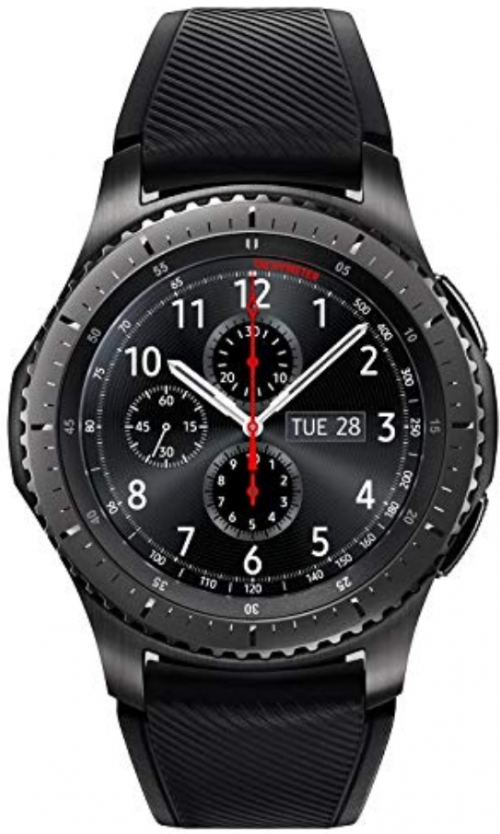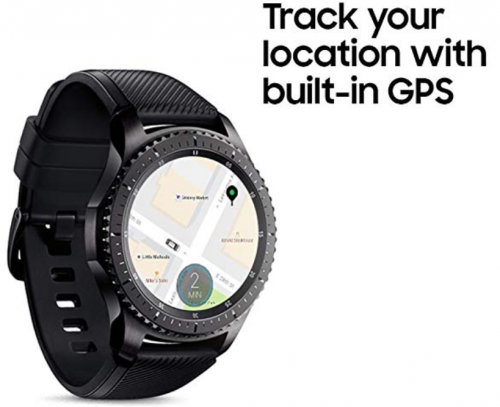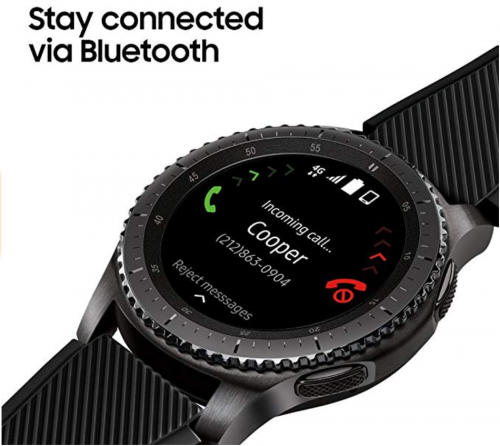 Samsung has made this watch to be a stylish and well-developed watch in terms of technology. It has excellent tracking features and connectivity compared to most watches. The display is a 1.3-inch super AMOLED screen with excellent visibility, and it is always on. It has an in-built GPS to help you track your route and location.
The screen is surrounded by a steel bezel. The bezel rotates, allowing you to access the notifications bar. Additionally, you can access the apps through the bezel. You can use the Samsung pay app directly from the watch and pay for goods and services.
This sports watch allows you to answer and make calls when connected to a compatible mobile phone. You do not have to carry your phone when you go out for a run. Additionally, you can send and receive texts, as well as access your notifications through the watch.
The watch is compatible with most phones found in the market. It is military-grade durable, resistant to dust, water, and scratches. Additionally, it can withstand extreme temperatures and still be functional after being dropped. The lithium battery can last up to three days, depending on use.
The bands can be changed to suit different styles. This watch is truly a must-have for any athlete because of its multi-functional purposes. It will help you monitor your heart rate, pinpoint your location, and even use it as a navigator while driving.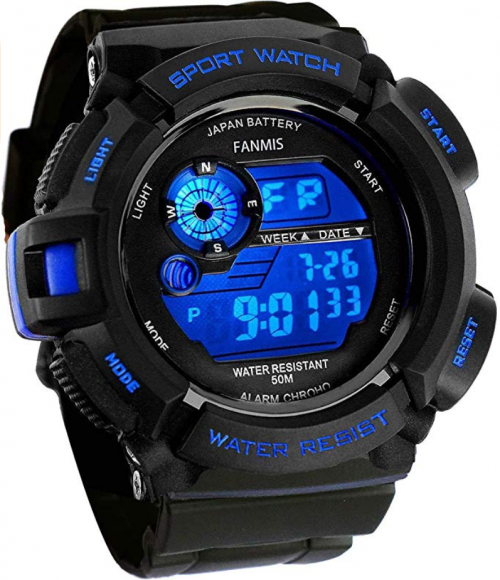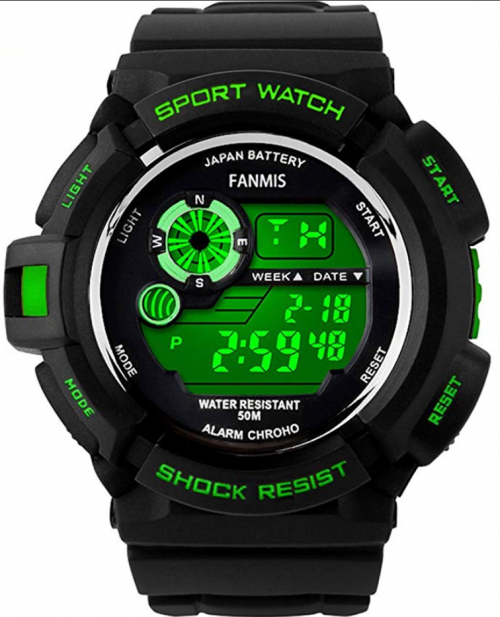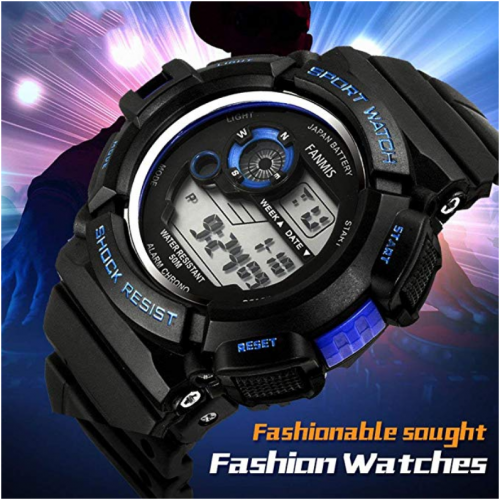 As the name suggests, this watch was not built for style but functionality. It is multi-functional and suitable for indoor and outdoor use. You can set reminders on it with the alarm feature and use the backlight at night or in low light areas.
The watch is waterproof up to 50m hence not suitable for deep-water activities. Additionally, it is essential to remember not to use any of the buttons while still submerged in water. It is accurate, and the silicone bands give it a comfortable fit on the wrist. In addition, the case is also made of silicone rubber and plastic, making it durable and shock-resistant.
The design is stylish for minimalist athletes, and the stopwatch timer comes in handy to track lap time. Additionally, it should not be exposed to extreme temperatures. The manufacturer advises taking the watch for repairs if droplets or mist forms inside the surface of the watch. Moisture ruins the inside parts of the watch.
A piece of cloth can clean the straps, and it is advisable to clean it daily. In addition, this watch does not support any connectivity or apps, and, the compass is only for decorative purposes.

7

. Armitron chronograph watch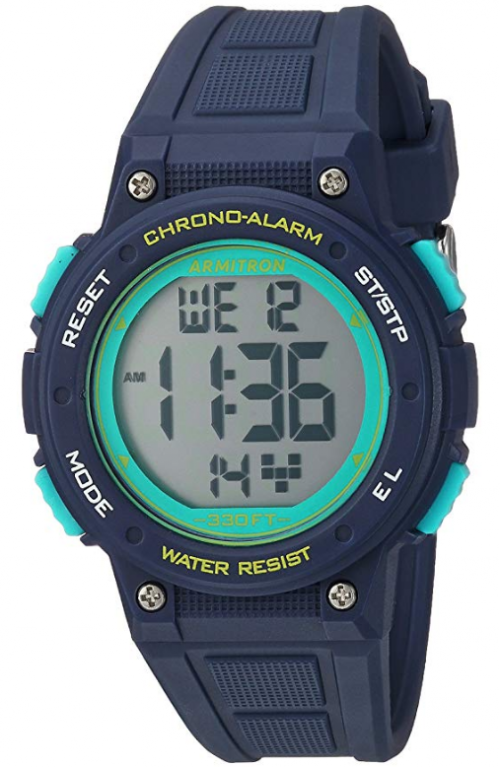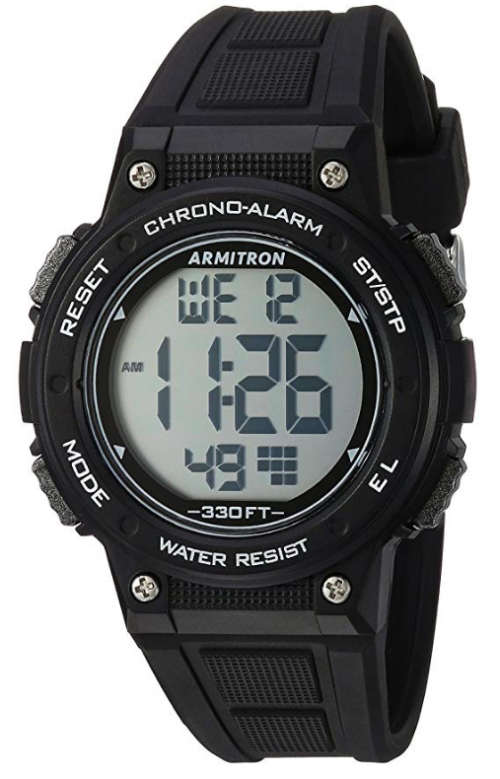 This watch is a perfect combination of style, effectiveness, and functionality. The Armitron sports chronograph watch is ideally suited to fit a woman`s wrist without being a burden. It comes in various colors and easy to use with its friendly interface.
The band is durable thanks to the resin material in the straps. It can withstand a lot of pressure and not break. It is waterproof but can`t handle deep submersion of over 100 meters. You can track your time with the stopwatch feature as you run or swim.
The watch uses a lithium-ion battery and has a long battery life. The bezel is stationary, and the sports watch does not allow connectivity to other devices. You can use the alarm feature for reminders, and the LCD has a backlight to help reading it at night.
The watch is very affordable, and it is excellent for indoor and outdoor activities. It works well for athletes who want a simple and accurate watch. There are no apps or connectivity options with this model.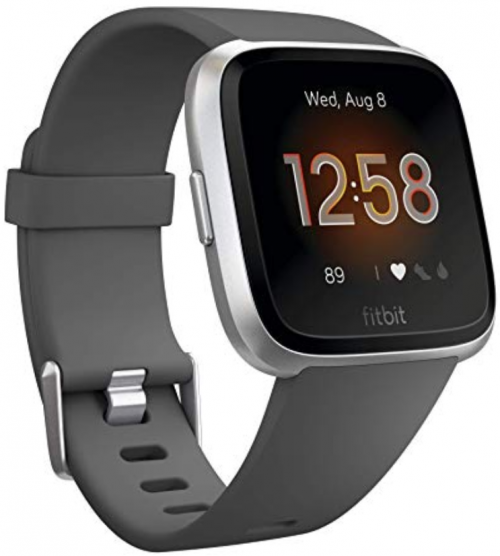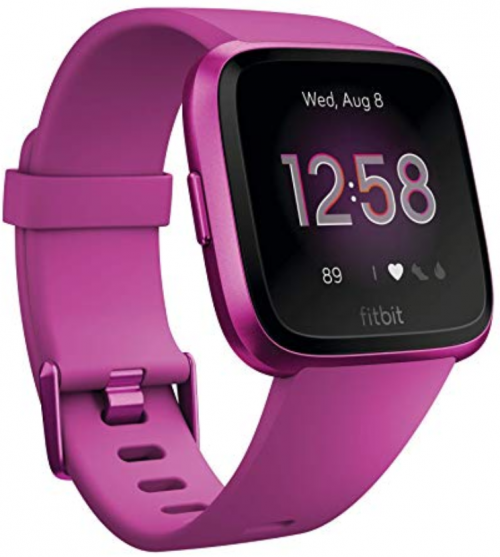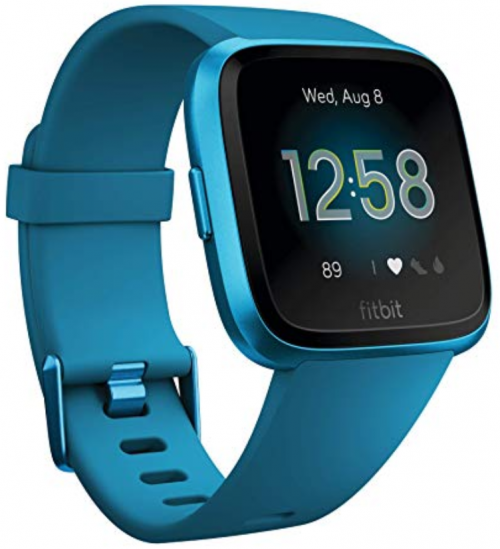 Fitbit Versa Lite Edition Smart Watch is an upgrade of the previous Fitbit models. Although it is an upgrade, some features have been removed hence the name lite edition. The software has been upgraded, and some essential features like the inbuilt Wi-Fi and GPS are done away with.
This affordable watch offers more for a reasonable price. The number of buttons has reduced to only one that is highly functional. The display is a touchscreen that is easy to use in a slim and lightweight design. Additionally, the bands are comfortable, and the straps come in a variety of colors.
The battery lasts for more than 70 hours as you track your daily exercise. It is compatible with most android phones and can be used with different applications. The clock faces are interchangeable through the app on the phone. The heart rate tracker has been improved, also giving accurate results.

9

. BingoFit Fitness Smartwatch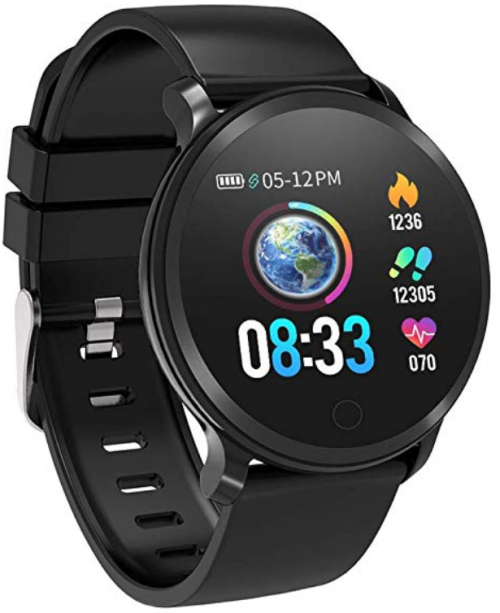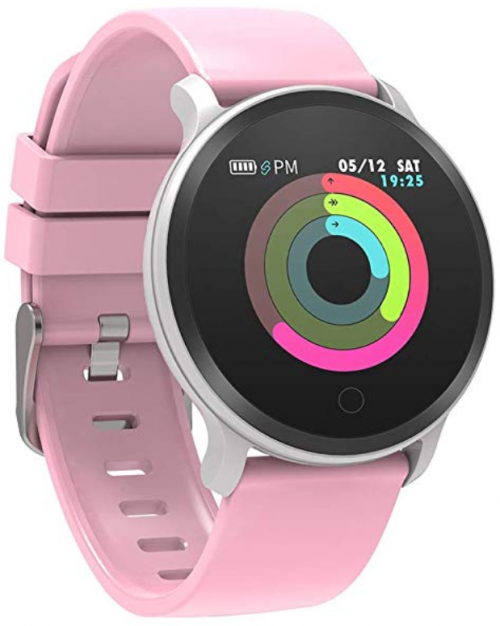 The BingoFit Fitness sports watch is designed to suit male and female athletes. It allows you to track the calories you have burned, steps you have taken, and your heart rate all day. A bonus is that it can help female athletes follow their menstrual cycle.
With its powerful battery life, you can record all your activities without fear of the smartwatch going off abruptly. Additionally, you can connect the watch with your phone via Bluetooth and receive calls and text messages. What makes this particular watch impressive, it can also track your blood pressure, and at night, it tracks your sleep quality.
Athletes who do water exercises can rest assured that this watch will not be damaged in the pool. The watch is water-resistant, making it suitable for runs in wet climates. Additionally, thanks to the GPS, you can take it for trail running or a marathon and track your location. You can also map out a workout route through the GPS.
This wristwatch is a multi-functional piece of technology. It has many features that are very useful for day-to-day life situations. You can receive notifications from different social media accounts. However, you`ll have to use your phone to reply to those messages and return calls.
Compared to most smartwatches, this one is affordable and offers excellent functionality. An athlete looking to spend a fair amount on a great exercise tool will do okay with this timepiece. As you rest at night, it records your heart rate giving you a chance to compare it to your actual active heart rate.

10

. G-shock G9300-1 mudman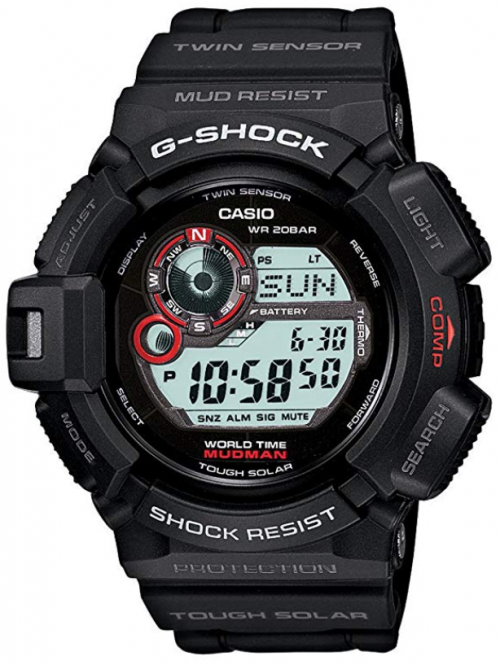 G-shock has outdone themselves once again with this military-grade wristwatch. It is perfect for athletes who do mud running or triathlons. It is durable and almost indestructible when exposed to the elements. For runners who deal with muddy surfaces, this will come in handy because of its sturdy design.
This wristwatch is shock resistant thanks to the rubber material used on the bands. Additionally, it is waterproof and can stand extreme pressures. It is stylish, giving the wearer a fresh look, and it requires minimal maintenance. This product is truly an outdoors watch, and it comes with a functional compass and thermometer.
With this product, you don't have to worry about your battery running out because it has a solar charging system. Once the battery is charged to capacity, it can go up to six months before the next charge. Additionally, the LCD has a backlight to make it easy to read in the dark.

Subscribe to our Newsletter