Best Slipper Socks Reviewed For Cozy Goodness
In a Hurry? Editors choice: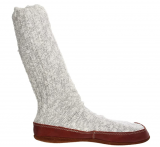 Test Winner: Acorn

After a long day at work, one of the best ways to relax is putting your feet up whilst wearing a soft and warm pair of slipper socks. The great thing about slipper socks is that they can be worn with PJs as well chill out clothes. They also come in a range of styles, colors, and sizes, making them suitable for everyone.

We have selected some of the best slipper socks on the market at the moment, bringing you a fantastic collection of warm and cozy slipper socks to choose from! 
Standout Picks
Criteria Used for Evaluation
Materials
The most important factor to consider when shopping for slipper socks or any type of hosiery for that matter is the materials used in construction.
As these types of products often have only a small number of parts, you'll find that more often than not, your house socks will be made out of a couple of common materials.
Today's industry uses a wide variety of fabrics to produce this type of product, but you'll find that some are used more commonly than others. Knowing just a little bit about how each material behaves will help you determine whether a pair of slipper socks are the right choice for you.
Furthermore, materials will also influence the washing and maintenance process of these products, so knowing what you're purchasing is a definite must.
Cotton: The material most often used in regular socks is actually not that popular for slipper socks. Nonetheless, it is sometimes used as a blend, as it is soft to the touch, rarely produces allergic reactions, and allows for a high level of breathability. Some of the slipper socks listed above feature a jersey lining which is a stretchy cotton blend and allows the products to be lightweight and durable. Do note, however, that cotton retains moisture to a high degree, so if you tend to sweat a lot, you will need to look for a moisture-wicking blend to prevent foot odor.
Wool: The ultimate material when it comes to premium and performance socks, wool has been used for slipper socks for centuries. Natural wool is highly breathable while offering a great level of insulation, and certain types, such as Merino wool, even have antimicrobial and moisture-wicking properties that prevent bacterial and fungal overgrowth and ensure that the feet are always dry. The downside of wool is that it can get rather expensive, as well as that it is difficult to clean, and you will most likely wash wool products by hand, in cold water.
Polyester: Popular because it is cheap, polyester is a synthetic fabric that is often used in all clothing. Used on its own, it lacks breathability, however, it is most often blended with other materials to prevent moisture retention. It is durable, easy to keep clean and soft to the touch, and can be used to add much-needed insulation to those who need something for the colder months.
Leather: While leather is never used in regular hosiery, in slipper socks it can be added to the outsole portion. This natural material is soft and thin but provides a high level of durability that you wouldn't get from other fabrics. It is also breathable and can provide a good amount of traction on slippery surfaces.
Rubber: Rubber or silicone pods are often added to slipper socks so that users can wear them around the house without having to put on shoes. They provide a good grip and can prevent slips and falls. Nonetheless, these can sometimes fall off during washing, and silicone can make wooden floors become more slippery, so use them with caution, and decide whether they're the best choice before purchasing.
Comfort
Slipper socks should be comfortable, and that goes without saying.
Whether you wear these all day long, before bedtime, or everywhere you go, you will want to invest in a model that will feel best for you. Of course, not everyone will want the same style of slipper socks, but there are a few things to consider before purchasing.
First and foremost, you should look for slipper socks that can be purchased in your size. Some manufacturers add more elastane or spandex to their products and offering one-size-fits-all types of socks, but others will prioritize natural materials. If you're shopping for wool slipper socks or a model that follows a sizing chart, try to ensure you're getting the best possible fit - one that won't constrain your foot, but one that won't be too big either.
You'll also want to look at the construction and any possible seams. People with sensitivity issues should look for seamless products as these minimize the number of places in which bulky seams cause irritation, rubbing, or even blistering. Some of the products listed above are made with a flat toe seam, while others have no exposed stitching at all.
You'll also want some added comfort features in your slipper socks. One of these is padding which is especially handy if your slippers don't feature an outsole. Soft materials underfoot can increase shock absorption and protect your joints and muscles from hard floors.
Another great thing to look for is some adjustability in the upper. Those whose feet tend to swell, or have mobility issues that make it difficult to put on regular socks can greatly benefit from a velcro closure that will allow easy on and off, and on-the-go adjustments.
Outsole
There are two distinct functions you will want to get from the outsoles of your slipper socks.
Firstly, the outsole needs to provide the right amount of protection from the cold. Tile and wood floors can get cold quickly (even in the summer months), so a protective layer that will keep your body heat intact is crucial in ensuring an overall satisfaction level of health. Some manufacturers will add a sherpa or wool lining, while others will use sturdier materials in this portion of the slipper. Everything can be great, and it is best to go with what you think will work best for you.
The second function of outsoles on slipper socks is providing grip and traction. This is a type of hosiery that's meant to be worn without shoes, so you can't rely on traditional rubber soles to keep you from slipping and falling. Different models provide grip and traction in different ways. Some will use rubber or silicone pods to offer users a number of grippy nubs on the bottoms of their soles that prevent falling. Others will add an entire outsole to the slipper socks, and these can be made from leather or suede. In these cases, the traction won't be as high, but will still be at a great level for most surfaces.
Keep in mind that small children and people with mobility issues need to prioritize traction when shopping for slipper socks in order to prevent falls which can lead to serious injury.
Style
There is a huge variety of styles to choose from when buying slipper socks, so you can easily pick the one (or ones) that works best for you.
The most common type of product of this type is traditional socks made with thick materials or added insulation, with or without grips on the bottom. These are a great choice for anyone who prefers a barefoot feel and can even be worn with shoes when you want to get a higher level of insulation. Other models include soft slippers, or fun designs that depict colorful animals and mythical creatures.
No matter which of these types of slipper socks you decide to go with in, you need to keep in mind that a great product will provide the right functionality first. Everything else is just an embellishment.
Breathability
For any item of clothing or footwear that you plan on wearing for a prolonged period of time, breathability is key.
A healthy foot is one that is dry and at a comfortable temperature, and certain synthetic slipper socks simply do not provide that effect. The materials used will play a huge part in granting breathability, but so will the overall design of the product.
When shopping, you should first determine the conditions inside your home, as well as how you intend to use your new slipper socks. Are you looking for something to wear all year long, or do you need something for colder winter months? Do you only want to wear them inside, or prefer something that can be worn outside as well? Finally, do you prefer a sturdy design, or rather want one that will feel as close to barefoot as possible?
If you want to get the most breathable slipper socks available, it is advisable to choose a knit morel that will be made from wool or similar moisture-wicking materials. Knit fabrics will have small openings throughout the upper, which will allow hot air to escape and cold air to enter.
If, however, you're shopping for an insulating effect, you may want to invest in slipper socks that are layered or even lined with sherpa, polyester, or other wool materials, as these will keep our feet warmer, preventing the heat generated by your body from escaping. Do keep in mind, however, that insulated, warm slipper socks, still should not make your feet sweaty and wet.
10 Best Slipper Socks for Men & Women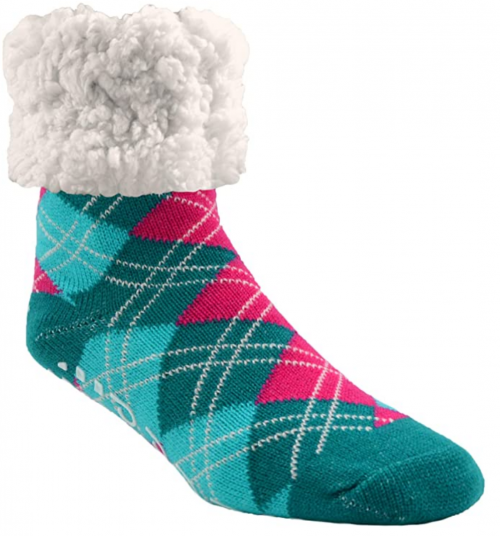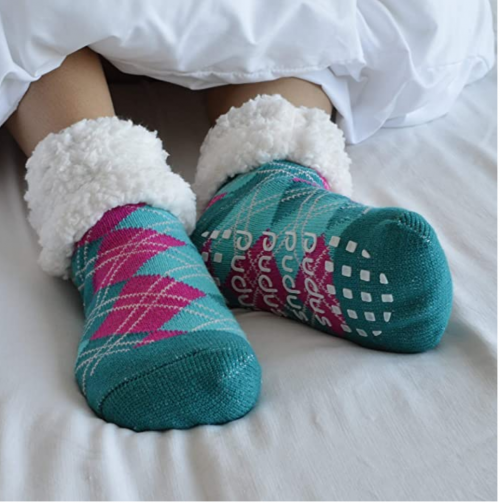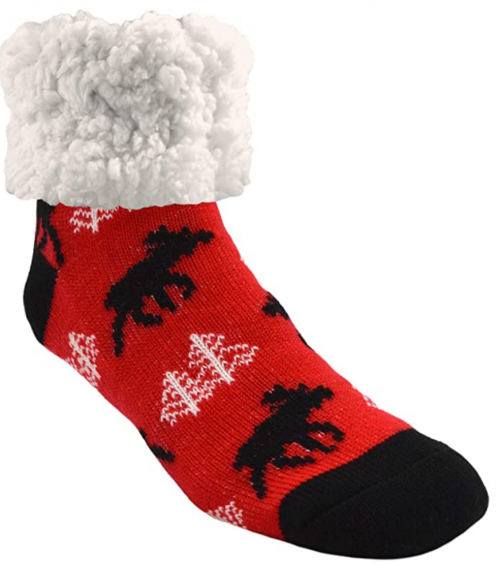 Pudus is a brand that gets how much we could all use a little pampering sometimes. Coming from British Columbia, Canada, you can rest assured Pudus understand the cold, as well as how to best combat it. This family-business has even expanded to include other cold-weather gear to get you ready to brave the elements in adorable staples for the whole family.
First, let's just talk about what Pudus won't do. All of their styles are completely animal-friendly, a point they have committed to sticking to no matter what. This pair of Equestrian slipper socks are the fuzziest solution to cold nights and brisk mornings at home.
Pudus make all their slipper socks machine washable; with these, you need to turn them inside out before washing with cold water, then simply let them dry. The bottom of these best slipper socks with grippers is outfitted with silicone grippers that say Pudus all the way down. Coupled with the adorable flannel and faux-shearling cuff, these could appear rugged or precious, depending on how you want to wear them.
Unisex, these fit a large range of sizes perfectly, from women's 5-11 to men's 6-10; talk about the versatility of wear. That factor helps eliminate guesswork when buying as a gift, which is always helpful. The price is at a slightly higher point than some other slipper socks but they made Oprah's Favorite Things list for a reason, and they're sure to make your list after you try them.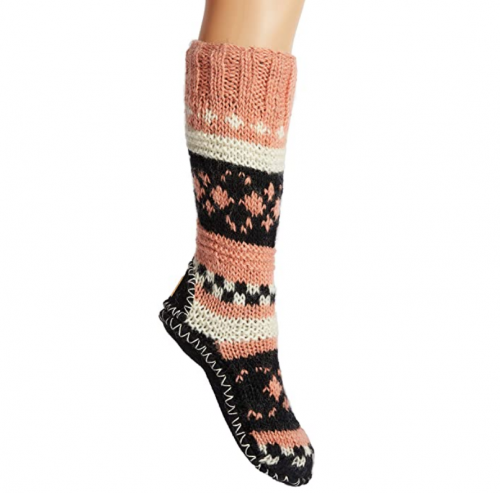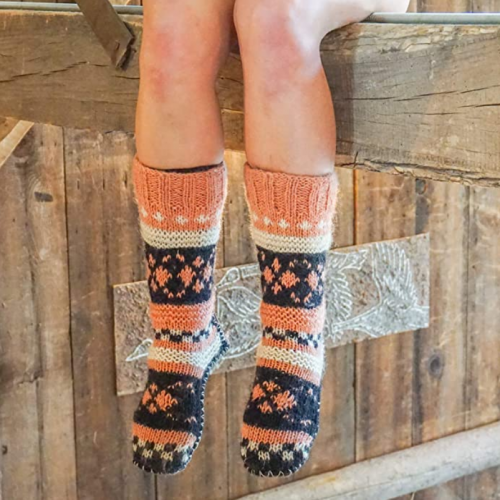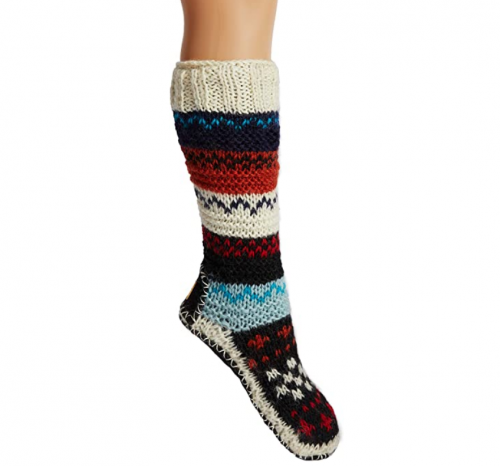 Handknit wool cold-weather gear is not always easy to come by. Tibetan socks have their products handcrafted in the Himalayas honoring an age-old tradition that helps women make a supplemental income while staying home and taking care of their families. Every pair of these slipper socks is unique and they come with multiple color and pattern variations that can showcase not only the knitter's skill but your own amazing taste as well.
Gorgeous wool socks aren't always the most comfortable. For some, wool can be a bit scratching and rough. These slipper socks are lined in smooth fleece, so every step feels as lovely as it looks.
Supremely cozy and insulating, these will warm up freezing feet on even the coldest nights, while not causing additional moisture or sweat for your feet. New Zealand sheep's wool is used in their construction and each pair features an elasticized opening to stay up on your calf, providing you with the perfect fit.
All their dyes that are used are AZO-free which sweetens the deal. In addition to their elasticized top, they come in a variety of sizes. The multi-generational tradition yields beautiful results in these slipper socks, with their quality being immediately apparent.
Though these do come at a higher price point, it is a handmade product that is being made by a socially responsible company with the highest standards around. This is a purchase that will last for a long time and be immediately loved on sight.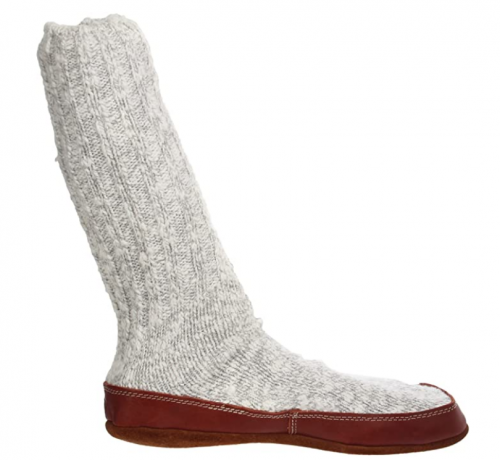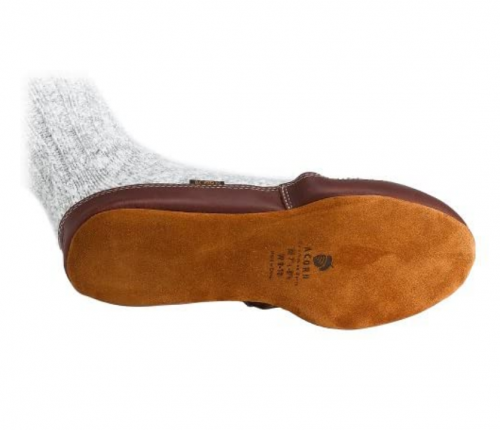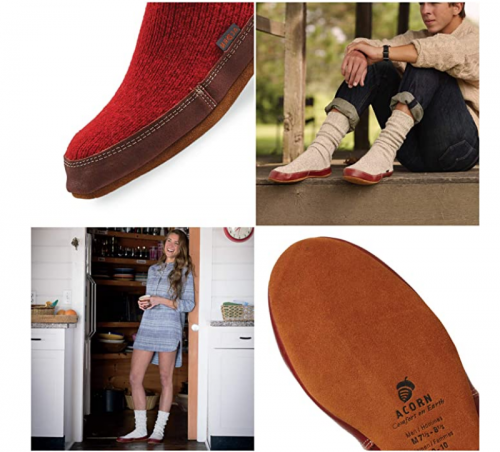 Having been worn by Astronauts on the shuttle missions and aboard the International Space Station, these are one of the few pairs of slipper socks that have traveled to space and back. Acorn is also known for having expanded its product line over the last 40 years, now appealing to a variety of needs and customer lifestyles.
These slipper socks from Acorn feature a suede sole, giving you a good level of traction, particularly when walking on wooden flooring. The suede also provides fantastic insulation, keeping your feet warm in colder temperatures. Durable leather sidewalls offer extra warmth and flexibility.
The slipper socks have a soft multilayer Cloud Cushion footbed offering support and helping to alleviate tired and sore feet. A mixture of Ragg Wool and Cotton blends make up a mid-calf crew length sock, keeping your feet cozy. 
This option comes in a range of colors including Charcoal Raff Wool, Crimson Ragg Wool, and Pine Ragg Wool. Sizes vary from 2XSmall to 3xLarge, providing something for all sizes. Sold for a mid-price, if you like the style, they will certainly keep your feet warm over the colder months.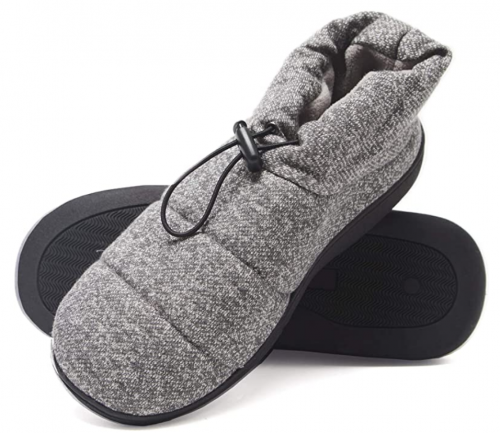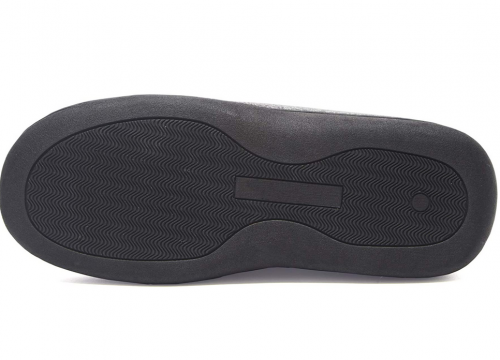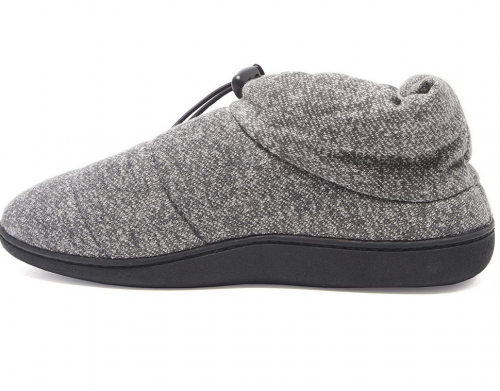 Super comfy and odor resistant, these Hanes Slipper Boot House Shoes are a fantastic pair of slipper shoes that will keep your feet cozy and warm over the colder months. The slipper's sole has plenty of grip so you will not need to worry about slipping in these boots.
The slipper boots have a thick memory foam cushioning that provides comfort while contouring ensures additional comfort. Made with Hanes Fresh IQ advance odor protection technology, your slippers will stay fresh all day long. 
The slipper boots from Hanes can be easily placed in the washing machine to clean. They come in two colors including Grey and Dark Black as well as a variety of sizes ranging from Small to XXX-Large.
The boots are being sold for a low price making them a good buy if you have a limited budget.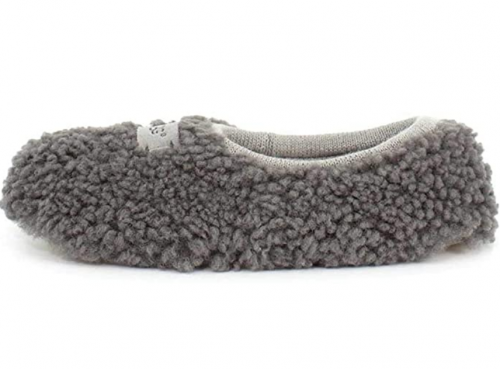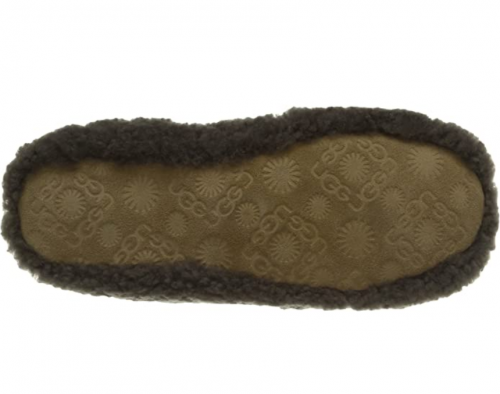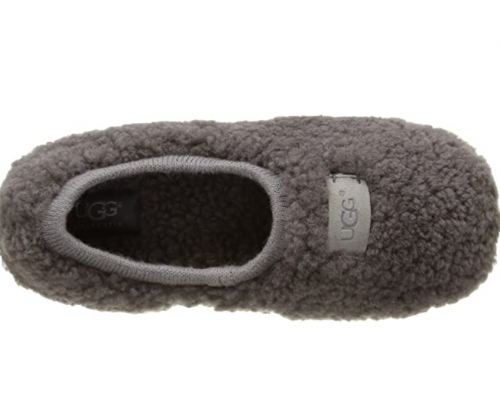 Their story started in 1978, with a young surfer hailing from Australia who wanted to share his love of sheepskin with the cool culture of Southern California. The brand now combines luxury boots with fashionable twists to keep you feeling nice and toasty no matter the weather.
This dyed sheepskin slipper sock from Ugg is the fuzziest, lowest profile foot covering you can slip into this season! This curly and furry little slip-on is an adorable way to warm up your loungewear.
Completely textile and leather, this pair of slipper socks will hold up to most wear, whether you're a stomper at home or you tread lightly. The elasticized foot opening keeps it snug on you no matter what your winter activity.
An upper lined with baby soft jersey knit will have you loving how these modest funny slipper socks feel. The lining also helps your feet breathe, so no clammy feet when you're trying to warm up on a cold night! A suede outsole provides a bit of traction and protection for the soles of your feet as well.
These slipper socks are definitely a higher price point compared to most other options within the realm, but their construction and fine, genuine materials set them apart from the average options.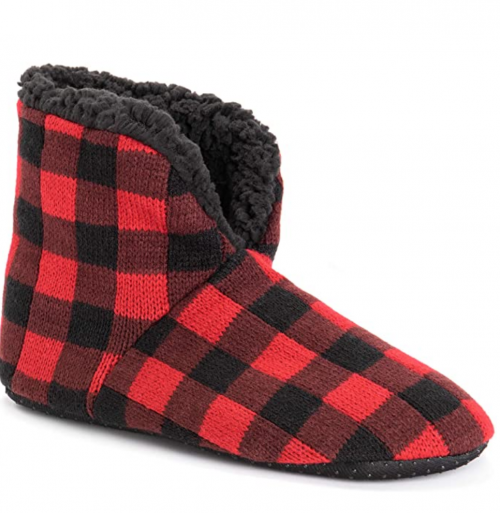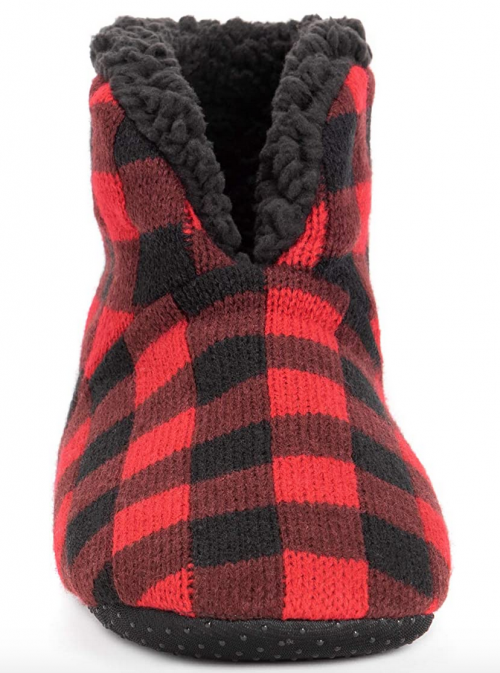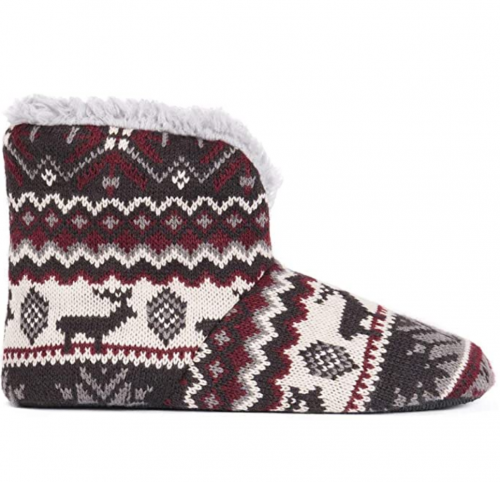 The MUK LUKS boot socks form-fitting design, hugs your feet, offering the ultimate comfort and warmth. Available for a low price, these are a bargain buy making them a great choice if you are on a tight budget.
These boot socks are made from 100% acrylic and 100% polyester. They have a polyester faux fur lining and weave knit.
The booties have a pull-on closure and non-skid bottom, providing you with a good level of grip. The pair can be easily machine washed and tumble dried on low heat.  
This option comes in 3 color options including Red/Black, Shadow/Pearl, and Twilight. They also come in 2 sizes including Small/Medium (8-10) and Large/X-Large (11-13).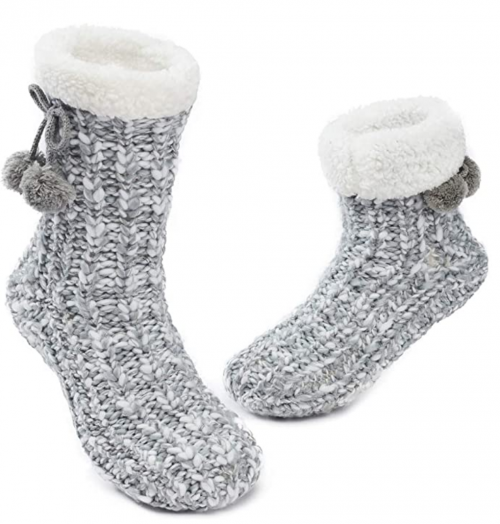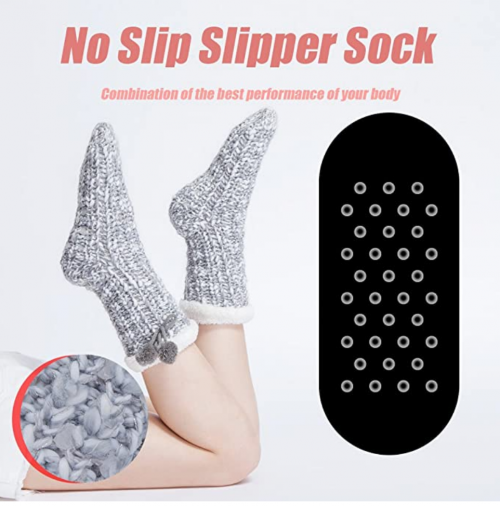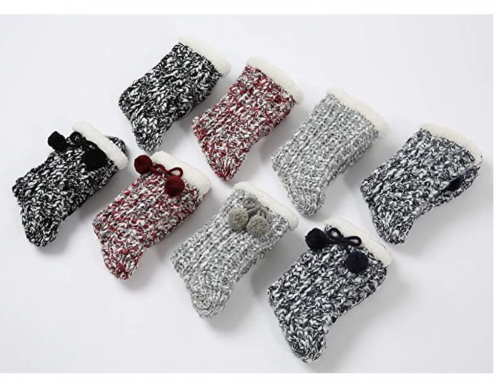 These super-soft, fluffy fleece slipper socks from MaaMagic are a stylish pair of slippers that you will not want to take off!
These fleece-lined slipper socks are made from a high-quality elastic fabric that has a shea butter lining. A soft white fluffy material decorates the opening of the socks as well as the inside, keeping your toes warm.
The outer edge of the slipper socks is decorated with a twist-knitted design that looks extremely stylish and is highly breathable. The socks have also been decorated with a couple of fluffy white pompoms. The sock's base is made from a silicon rubber grip that is non-slip.  
These come in a variety of colors including Ball Grey, Christmas red, and Fluffy Grey. They also come in one US size (6 to 10). The slipper socks are best washed on a gentle cycle or by hand.
These comfy and stylish slipper socks are a quality buy. Sold for an affordable price, they look more expensive than they are.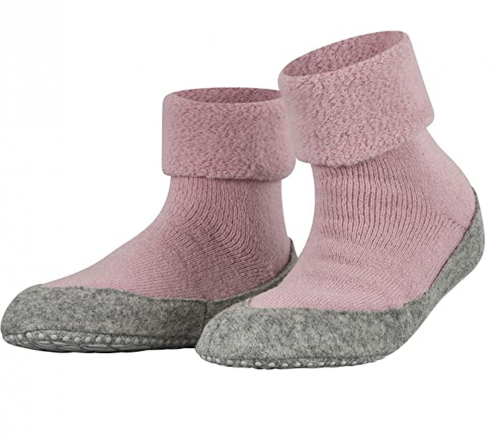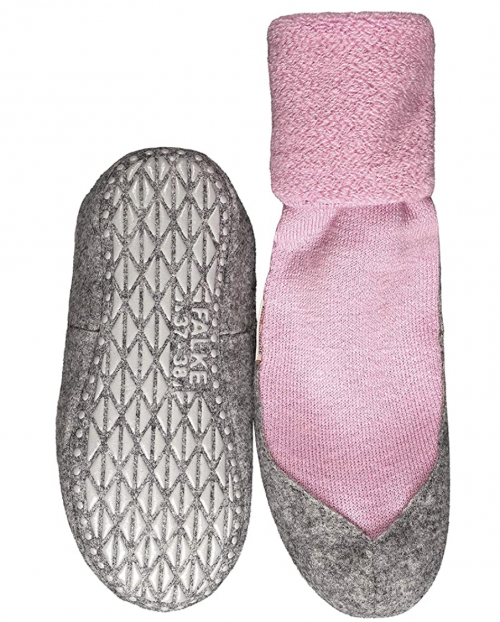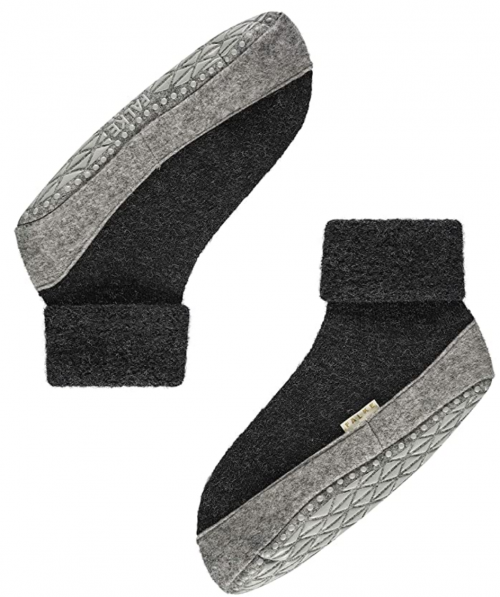 Having been manufacturing clothing accessories since 1895, Falke knows a lot about making quality products. The Falke slipper sock is the latest pair to be added to their collection.
Made from 90% Virgin wool and 10% polyamide, these thermal house socks are made from a soft blend of Merino wool that will keep your feet cozy and warm.
They feature silicone nubs on the sole that provide a good level of grip. The socks have a plush inner sole with a thick level of cushioning. The durable slipper sock is mid-calf length and has a fold-over cuff design detail which makes them stand out. 
The slipper socks are washable and keep their shape after continuous washing. They come in 5 different colors, giving you plenty of color shades to choose from. The sizes range from 4-5, 7-8, and 8-9.
These are one of our more expensive options, available for a higher price.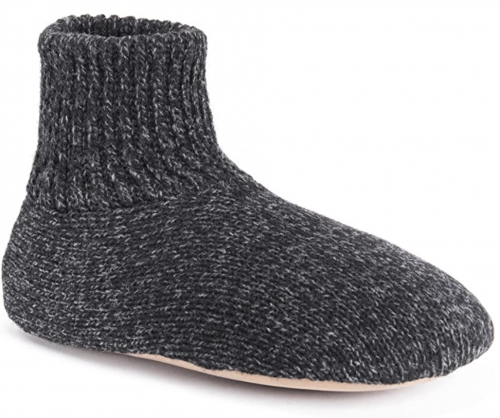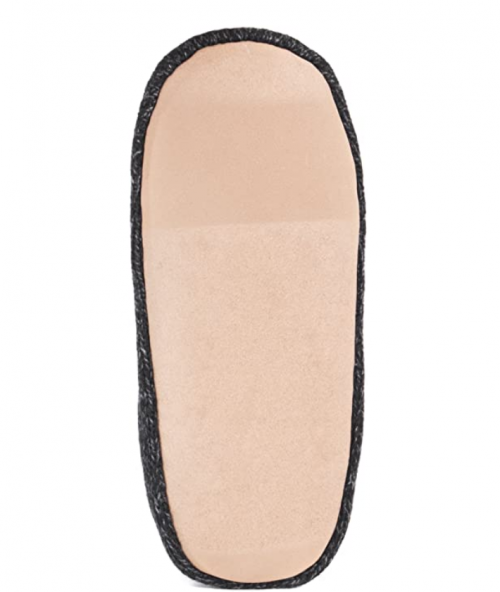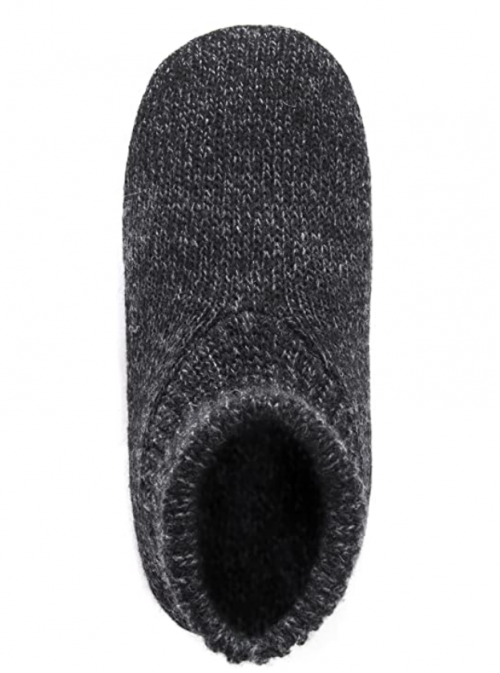 If you are looking for a simple but comfortable pair of men's slipper socks, the MUK LUKS Morty Ragg wool slipper sock is a great choice. Made from 85% wool and 15% nylon, these rag wool slipper socks will keep your feet warm and cozy over the colder months.
The slippers are stretchy and flexible, allowing your feet to move easily with each stride. Different from some of the other slipper socks in our collection, these only have a rubber sole which may lack grip and stability, particularly when walking on wooden surfaces.
These slipper socks are slip on and feature a woolen outer surface design that makes them look stylish. When it comes to cleaning, these slipper socks are the best hand washed in cold water to avoid any damage caused to the item. 
The wool slipper socks from MUK LUKS come only in one color being dark grey. However, they are available in a variety of sizes including Small, Medium, Large, X-Large, and XX-Large. Sold for a mid-price, if you have the extra budget available, they make a great buy.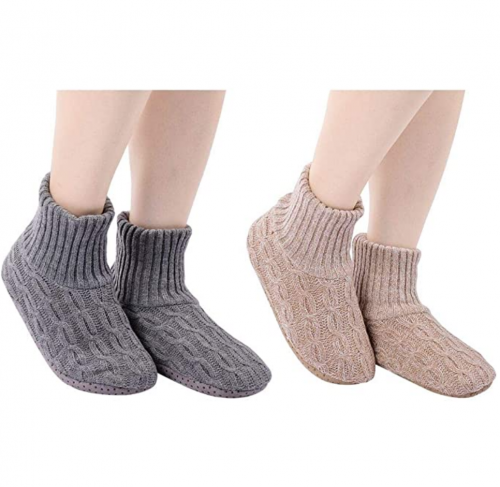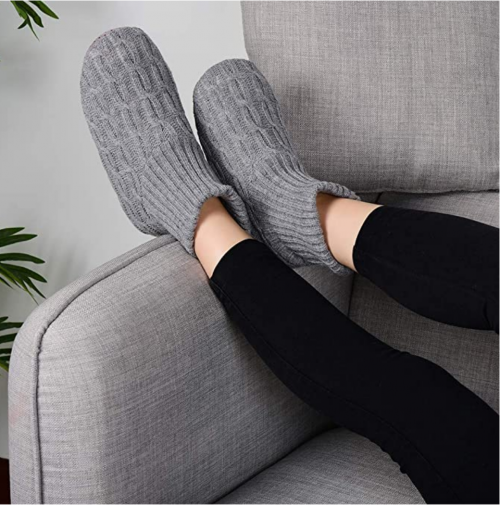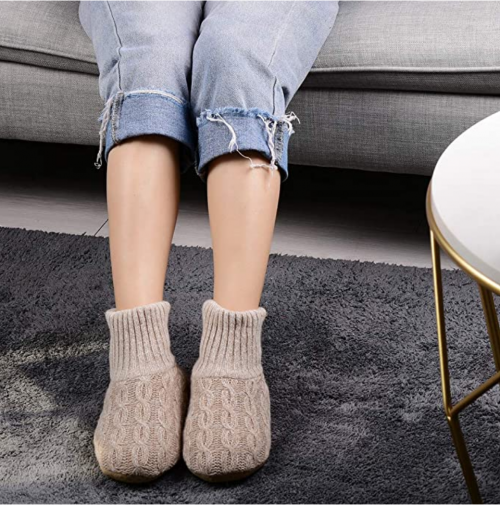 Thick, warm, and super soft, the Panda Bros slipper socks are one of a kind, you will want to wear them all day long! These thick, soft slipper socks have been made with a fleece lining that will make them feel extremely cozy.
Made from 100% polyester, these are extremely lightweight and breathable. They are non-slip so you will feel safe and supported when walking on slippery surfaces like wooden flooring.
The fluffy slipper socks come in 19 different styles, giving you plenty of designs to choose from. Sizes range from 10-13. 13-16 and 7-9.5. For best results hand wash the slippers.
Sold for a low price, if you are on a tight budget, these slipper socks are a perfect buy. 

Subscribe to our Newsletter