Best Running Gear for Women Reviewed
In a Hurry? Editors choice: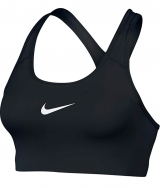 Test Winner: Nike Pro Classic Swoosh Bra

If you run every day, you will understand the importance of having the correct running gear. If you're a newbie to running, hopefully, this piece will educate and guide you carefully through the new world of running gear. Either way, you must purchase gear that is comfortable, versatile, durable, breathability, and great value for money! 
To get you started and help you in the right direction, we have selected some of the best running gear available for women. Whether you are looking for
running shoes
, tank tops, sports bras, shorts, leggings, or jackets, we've carefully evaluated and selected the best items available. 
Standout Picks
Criteria Used for Evaluation
Comfort
Comfort was the most important factor to consider when collating our collection of the best running gear.
Having the right piece of clothing or pair shoes is vital. Not only because it allows you to run properly but it also provides you with the correct level of support. If the item is uncomfortable, you are unlikely to wear it again. 
Specific factors we looked at were sizing and fit. Getting the correct size is especially important to avoid blistering or chafing. Therefore, the sizing charts are particularly useful. We also paid close attention to the type of material used to create the gear. How a material feels against your skin is a big factor because if it's soft, supportive, and comfortable you will want to wear the piece over and over again.  
Versatility
Even though our collection predominately features gear suitable for running, we did choose items that are suitable for other sports activities like yoga, walking, and cycling.
We evaluated and selected running gear that would withstand hotter and colder weather conditions. Some were more suitable than others. Our collection also featured items that could withstand different locations like road running, hill running, and even running up a mountain. 
Durability
If you want a pair of running shoes or a jacket to last longer than a couple of months, you need to pay close attention to how durable the item is.
When choosing our collection, we ensured that all our items were made from high-quality materials and that the overall construction was supreme. The type of materials used to make the running shoes, particularly the sole and the level of traction, was vital when deciding on the level of durability. As well as materials, we also paid close attention to customer reviews as this gave us an insight into customers' experience of the items which was extremely valuable when selecting products. 
Breathability
When running in your gear you must keep cool, dry, and comfortable. You can rest assured that all the items in our collection are breathable, however, some are more breathable than others.
Some of the tank tops, leggings, and jackets have been created using moisture-wicking material that moves moisture to the fabric's outer surface. The type of fabric used also dries quicker, reducing the risk of saturated clothing.
 
Our collection also consists of lightweight running shoes, jackets, shorts, tops, and bras, making them more breathable and comfortable to wear. 
Avoiding getting too warm and sweaty is extremely important because this can lead to blisters or chafing. 
Value
Value is extremely important when it comes to selecting your running gear. We only selected items that were good value for money.
However, we did select items that were a higher price, these featured additional qualities that some of our items were lacking.   
Before beginning the process of researching and selecting your running gear, it's vital that you establish a budget, that way there is less risk of overspending. If you do, however, overspend a little, the action is more likely to be a justified decision and less of an impulse decision. 
Best Women's Running Gear in 2020
1

. Nike Zoom Pegasus 35 Turbo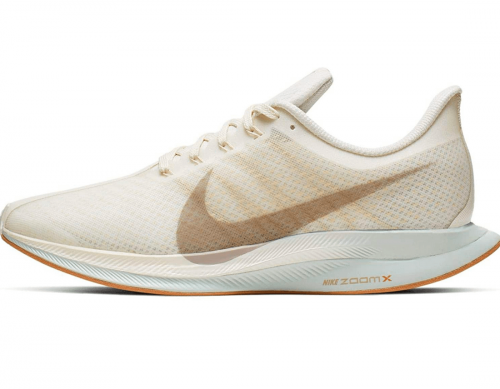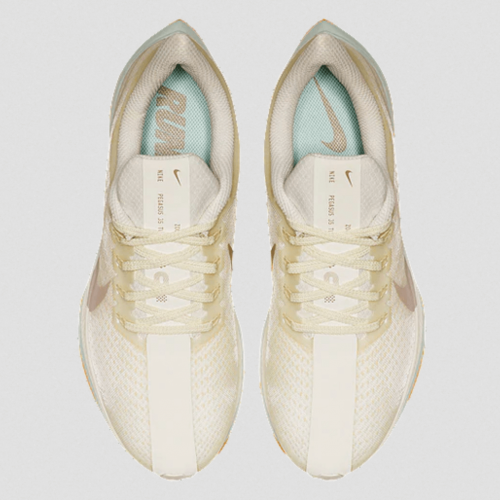 If you want a lightweight and comfortable running shoe that will help you achieve high speeds, then the latest Nike shoe is for you!
Comfort
Made with a lightweight foam that is exceptionally springy, you can expect these shoes to deliver lots of bounce to the underfoot, helping you achieve high speeds in a blink of an eye. 
The model has a wide and roomy forefoot, giving your toes plenty of room to move and breathe. The mesh upper is also quite flexible, with no overlays to hold you in place. The shoe features a tall curved collar that supports and helps to avoid any rubbing or irritation of the Achilles tendon. 
The heel offers lots of cushioning, giving you a soft, protective base, great for long runs. The midsole also features lightweight foam that provides extra cushioning and energy return. The great thing about ZoomX foam is that you can feature lots of it because it is so lightweight. Normally additional foam would make a trainer heavy, but with this shoe, it doesn't, so it will not impact running speed. 
Aesthetically, this is a very stylish shoe Featuring the iconic Nike tick down the side, this shoe will stand out for all the right reasons. Available in 8 different colors, you are bound to find a color you like. 
Versatility
This model from Nike is extremely versatile. Whether you are taking part in a race or climbing a mountain, it has plenty to offer. The shoe has a firm forefoot but provides enough cushioning when under pressure. It's important to be aware that this trainer may be more suited to high impact exercise rather than everyday casual wear. 
Durability
It has enough traction to allow you to run at high speeds but doesn't skimp on the level of rubber, so you slow down. This perfect balance helps runners achieve a fast run. The traction consists of a grid of pentagon-shaped nubs positioned along the forefront and heel, as well as a rim of rubber placed around the perimeter of the sole. A thin layer of foam is added to the rim of the shoe, making it more durable and providing a fantastic grip on multiple surfaces! 
Breathability
As with our other trainers, you can rely on these trainers to offer you a cool, comfortable, and breathable fit so you can reach high speeds without getting too hot and sweaty. 
Value
Available at a mid-high budget, this is a great option if you want lightweight running shoes that will help you achieve high speeds.

2

. HOKA ONE ONE Clifton 6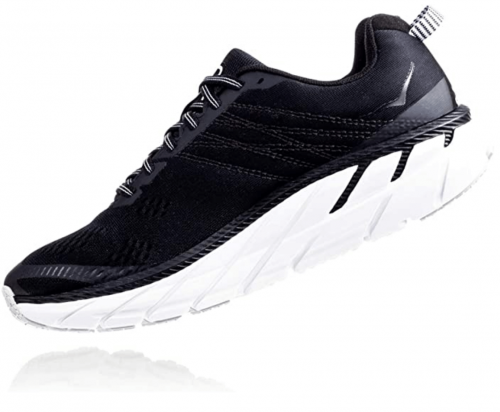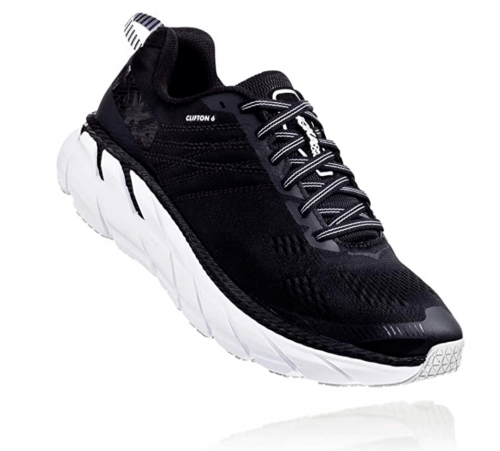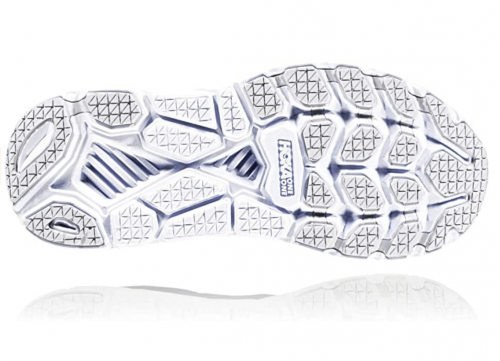 If there is one thing the designers at Hoka's do incredibly well, it's cushioning! Whether you are a younger or experienced runner, if you love to run daily than this Hoka One One Clifton 6 will serve you an extremely comfortable run, where you will not want to stop!
Comfort
The lightweight shoe has been designed with a short tongue that prevents any rubbing occurring. The upper also has a wider toe box, making the shoe roomier and more comfortable.  
An embroidered reinforcement design provides support in the midfoot without bringing extra weight and a heel collar also provides a greater level of support in the area. 
Versatility
If you want reliable and comfortable running shoes to wear for your daily runs, women's trainer Hoka is a great option. Offering plenty of cushioning you can expect the most comfortable ride yet. However, we do suggest not opting for these if you are going to wear them for racing or fast running. Even though they are lightweight, they are too heavy to be worn as a racing trainer and you may find they lack the level of bounce required for racing in. 
The shoe also comes in a variety of colors and styles giving you plenty of options when choosing your favorite. 
Durability
This model from Hoka provides great durability. Designed with rubber that is evenly distributed on the forefront as well as exposed foam, it is not only lightweight but offers a good level of grip. Perfect for roads, you can enjoy running in the rain and avoid any slippages on the road or grass. 
Breathability
It features an upper mesh material that is not only great quality but improves the airflow throughout the shoe making it very breathable when wearing. 
Value
The Hoka is available at mid-price. For a quality running shoe that offers plenty of support and cushioning, this shoe is a fantastic buy. 

3

. Nike Pro Classic Swoosh Bra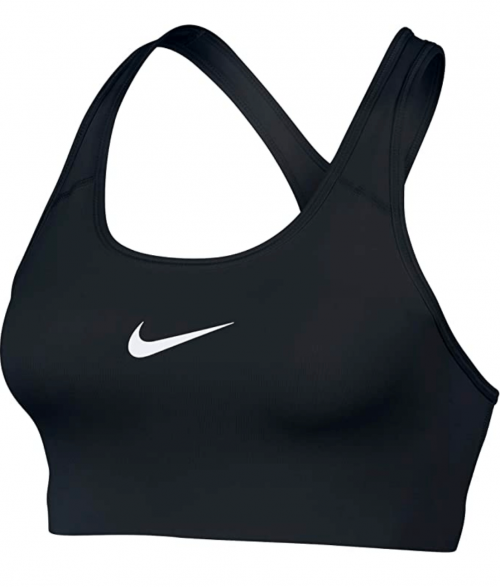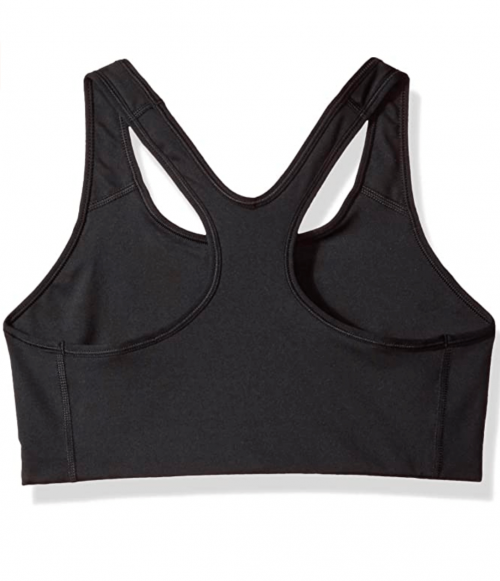 The latest Nike Swoosh Bra is a classic piece that you can rely on to give you the support and comfort you need when running.
Comfort
Created using a mix of recycled polyester and elastane, this stretchy material gives the right level of support. Low racerback straps allow you to have a full range of motion while at the same time they help to stabilize and reduce any bounce and movement across the chest.  
Versatility
This classic bra from Nike offers the right level of support to help you carry out medium impact activities including running, tennis, and the gym. 
The sports bra is better suited to someone with a smaller chest. For women who have larger breasts, a compression style bra may not offer enough support. 
Durability
This Nike Pro Classic Swoosh Bra is a durable piece of sports gear. Made from 88% polyester and 12% spandex, you can rely on this bra lasting for a long time. This bra washes well in the washing machine however we would suggest avoiding a tumble dryer as it may wear more quickly.  
Breathability
This sports bra has been created using Dr-FIT Technology that works in moving sweat away from your skin, helping you to stay dry, cool, and comfortable. 
Value
These models of sports bras from Nike are extremely affordable. If you are a newbie runner or want a bra that's reliable and reasonably priced, this bra is a great all-rounder that is worth every dollar. 

4

. Brooks Fast Forward Zip Bra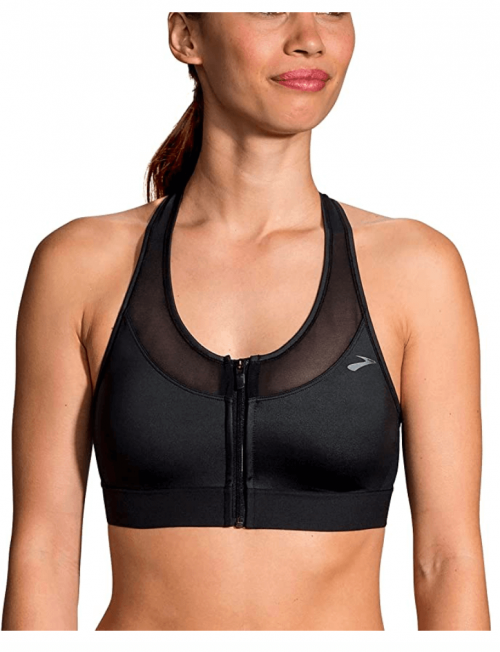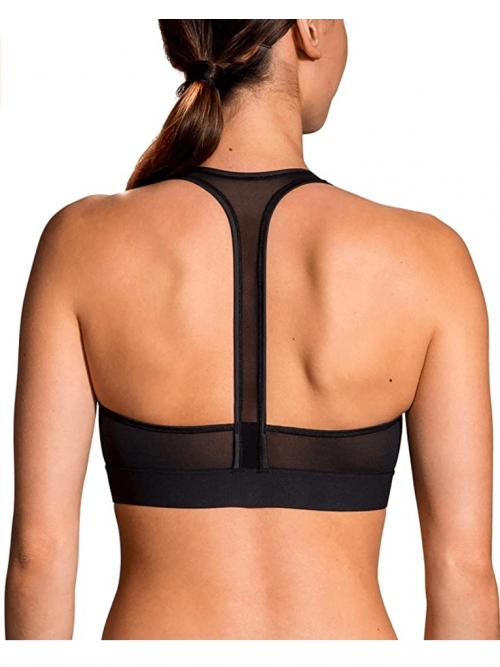 If you have a limited budget but you want a sports bra that is comfortable and will keep you cool, this one from Brooks may be exactly what you have been looking for!
Comfort
Created with a four-way stretch, this bra will not only enhance your mobility but will allow you to carry out a range of movements effortlessly. The T-shaped halter back allows for unhindered motion, while the flatlock seams reduce the risk of any chafing, and elastic under band provides a comfortable fit. 
Soft removable cups can also give you the option of controlling the shape of your breasts by either enhancing or reducing the size. Either way, you can control the coverage and shape of your breasts in this sports bra.  
Versatility
Featuring a scooped neckline and front-zip closure, this piece is extremely easy to put on and take off. The zip-front design with inner J-hook also makes this sports bra bang on trend with the latest fashion. A T-shaped halter back design continues the modern stylish feel. 
Durability
The sports bra has been created using a mixture of spandex and polyester that offers a four-way stretch which not only allows for a range of movements but at the same time avoids any rips as well as wear and tear. 
Breathability
This bra has been designed with moisture-wicking technology. The advantage of this is that sweat will quickly be moved to the fabric's outer surface. The fabric will also dry quickly preventing sweat from saturating the fabric and keeping you dry and cool while exercising. Additional mesh inserts help by improving airflow and ventilation. 
Value
This sports bra from Brooks is one of the cheapest items in our collection. If you are on a limited budget, this would make a great option as its being sold for a low price. 

5

. Reebok Running & Workout Tank Top


This women's tank top from Reebok has been added to our collection of the best running gear for women. Comfort, stylish and performance-led, you can't ask for much more this!
Comfort
Comfier than ever, Reebok has created a tank top that features a soft feminine scoop neck and flatlock seams, reducing the risk of fraying. The racerback cut design not only allows you to show off your muscular and toned shoulders but ensures the top sits comfortably. The tank top has also been cleverly created to reduce any restrictions and chafing, while still making you look and feel great when on the run! 
One thing to be aware of is that the top does not have a built-in bra which may put some runners off purchasing.
Versatility
Worn primarily for running, this tank top would also make a great top to wear while walking, playing tennis, yoga, or for a gym session. Rebook offer this top in a wide variety of colors, (25 in fact!), giving something to appeal to everyone. 
Durability
This top is a mixture of 93% polyester and 7% spandex. Super soft and machine washable, this tank top can be washed over and over again, while still looking like brand new! 
Breathability
Created using a quick-dry fabric, you can expect cool and breathable wear with this tank top from Reebok. Designed with wick moisture technology, any sweat will easily and quickly move to the outer surface of the fabric. The fabric will also dry quickly preventing it from becoming saturated in sweat. 
Value
Designed by Reebok, this is one of their latest tank tops that is being sold for a low price making it extremely affordable. 

6

. Mizuno Running Lotus Tank Top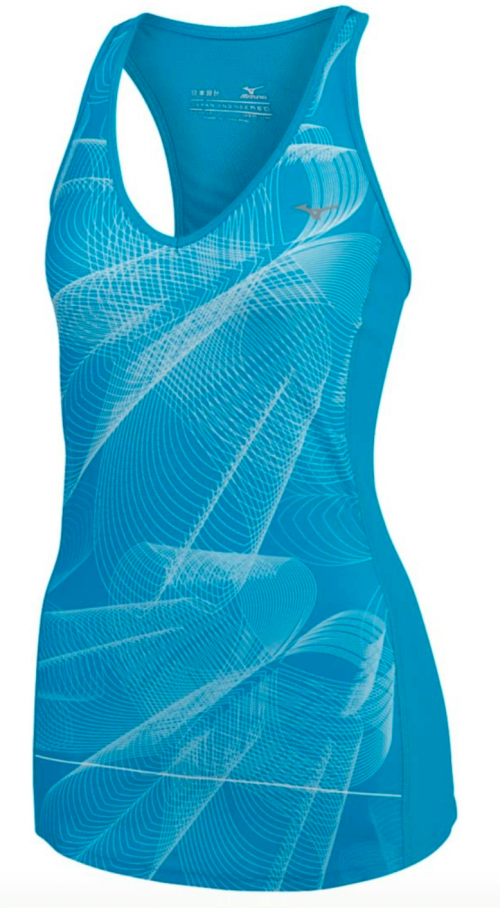 This tank top is amazingly comfortable. The piece has been created with a racerback design that hangs effortlessly on your shoulders providing pure comfort but at the same time enhancing your already toned shoulders.
Comfort
It features a low scooped neck that sits softly on your chest, creating a smooth flowing shape around your neck. 
The top has also been created using blind stitches, providing flat seams that enhance the comfort of the top and are anti-abrasion. The top offers a four-way stretch, giving you complete flexibility and movement for whatever type of exercise you're doing. 
Versatility
This top from Mizuno is extremely versatile. Suitable to wear when running, training, or exercising at the gym, you can rely on this piece to keep you cool. One thing to point out is that it has been designed to wear in warmer weather conditions rather than colder ones. The piece has also been designed with a reflective print, making it safer to run in a darker light. 
It is available in three different colors including pink, purple, and blue. Although this is quite a limited range to choose from the piece does capture a gorgeous design showcasing a stunning Japanese lotus flower. 
Durability
The top from Mizuno has been created using a mixture of 85% polyester and 15% spandex. Suitable for machine washing, this is a fantastic option for wearing in warmer weather conditions. 
Breathability
This top is designed to keep runners cool particularly in warmer weather conditions. It has been created using a DryLite technology whereby the fabric draws excess moisture away from your body, preventing you from feeling wet and sweaty.  
Value
This item is being sold for a medium price making it one of our more expensive items in our collection. However, if you need a tank top suitable to wear in warm weather conditions, this is a great option and well worth the extra dollars.  

7

. Mission VaporActive Barometer Running Jacket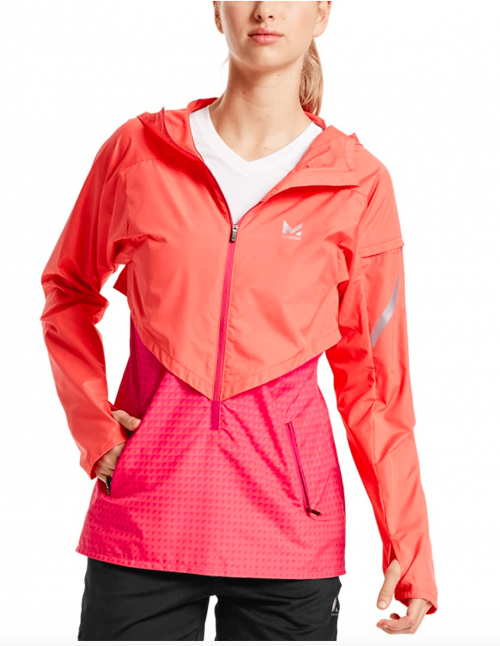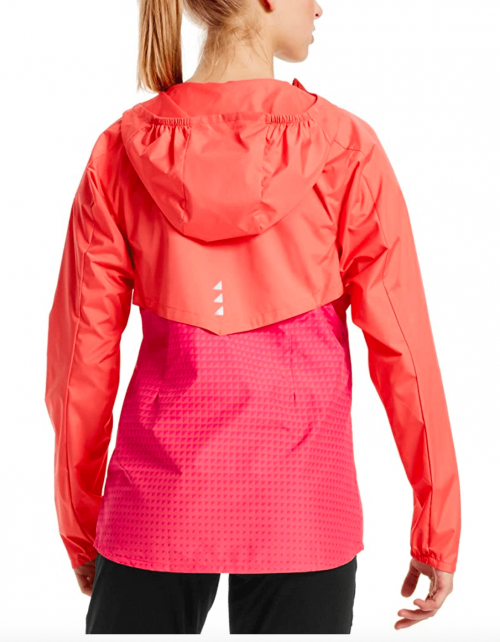 Lightweight and stylish, this performance led jacket is an essential item for your wardrobe. With plenty on offer do not hesitate in buying this piece.
Comfort
This a sleek and stylish ¾ zip pullover jacket that has a scuba-style hood. Lightweight and loose fitted, it features zipper pockets and reflective detail allowing you to be more visible. It has also been created with odor control, keeping you smelling fresh and the jacket feeling like new. 
Versatility
Even though this is a very stylish piece, the jacket is only available in three colors including Emberglow/Beetroot Purple Ombre, Moonless Night, and Moonless Night/Bright White Ombre. 
Durability
Specially designed so it is water-repellent and UPF 50, you can rest assured that you are protected in all types of weather, come rain or shine! 
Breathability
This jacket from Mission is the perfect piece to wear while you're out on a run because it will keep you feeling nice and cool. Featuring vents that enhance the airflow, you can rely on this jacket to be extremely breathable. Special Vapor Active technology also works to remove sweat, so the runner can dry quicker and stay cool. 
Value
In the mid-high price range, this jacket is one of our more expensive items in our collection so if you have a larger budget, this may be a great buy. 

8

. Adidas Ultra Energy Houndstooth Jacket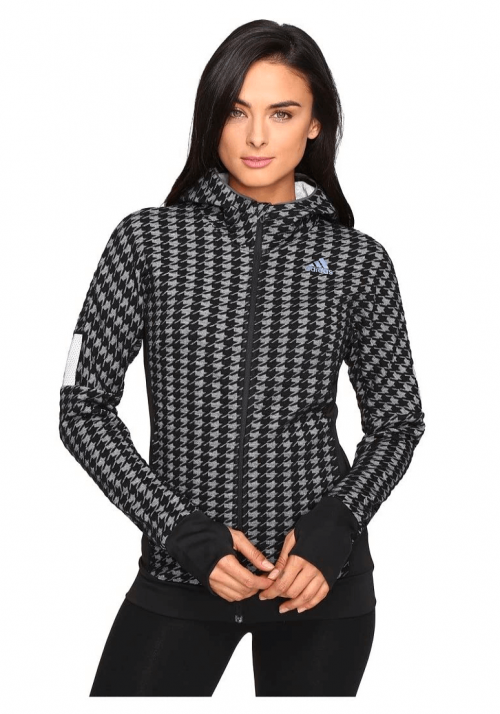 If you are looking for something a bit different but still provides all the benefits of a running jacket than this model is a great option.
Comfort
Created with a unique star print, this piece has been created to stand out. Featuring a hood, hidden pockets positioned in the side seam and thumb holes in the long sleeves, you can expect an extremely comfortable, though slim fit jacket with this piece. This jacket will not only keep you dry but it will offer you the freedom of movement when running. 
Versatility
When it comes to versatility, this garment features reflective detail allowing you to be seen clearly in dimmer light. Apart from this, this jacket isn't as versatile as some of the other running gear in our collection. The jacket has been created to offer only a slim fit. It is also available only in one color which is black and white. 
Durability
Adidas's latest jacket will certainly keep you dry when on the wettest of runs. Made from 64% cotton, 34% polyester and 2% elastane jacquard, you can rely on this being a durable jacket that will last for years and years. 
Breathability
This Adidas jacket has been created using a climalite fabric whereby the fabric sweeps sweat away from your skin, not only keeping you dry but also nice and cool. 
Value
The jacket is being sold for a medium price, making it a fantastic addition to your running gear. 

9

. Tough Mode Apparel Running Shorts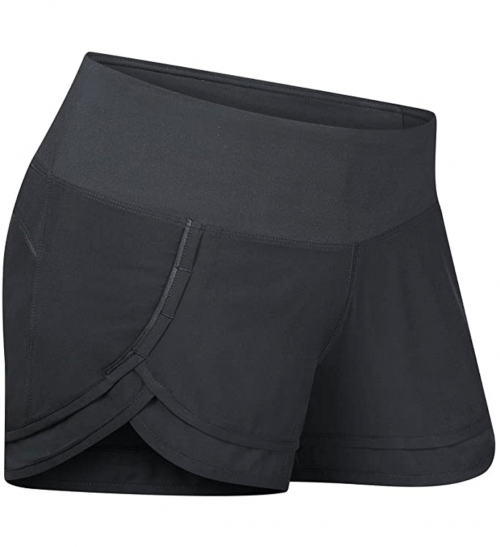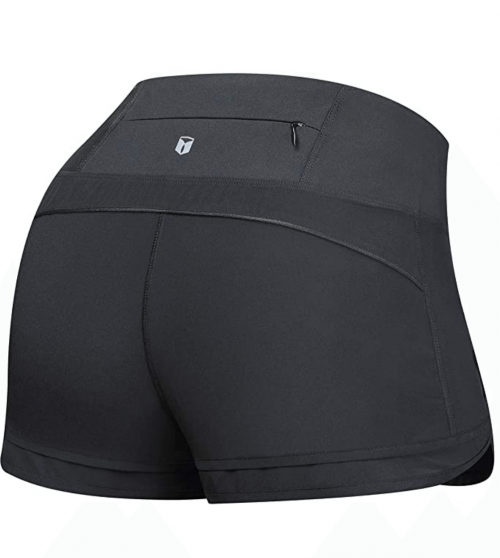 If you want a pair of running shorts that are comfortable and will show off your physic, then these shorts from Tough Mode Apparel may be exactly what you've been looking for.
Comfort
Fitted, short and tight around your hamstrings, these may not be everyone's cup of tea but if you're an experienced runner who likes to wear athletic style shorts these are a great buy. Featuring a wide waistband, these shorts offer lots of support as well as comfort. A mesh lining helps prevent chafing. The pair have a zipper closure and feature pockets on the behind of the waistband, providing room for essential items like keys and phones. 
It's important to point out that if you have wider thighs or pear-like shape, it may be worth ordering the next size up. 
Versatility
Whether you enjoy long-distance running or doing your daily workout, these are a fantastic pair of shorts to get you through your session. Available in 12 different colors or patterns you have lots to choose from with these shorts. 
Durability
These shorts are extremely durable. Suitable to wear for running, yoga, and your daily workout these can withstand a variety of exercises. Stretchy, soft, and comfortable, what more could you ask for? 
Breathability
What better way to keep you feeling cool and fresh while on a run than this pair of stylish and lightweight running shorts! Created using a woven fabric, these shorts will keep you dry and comfortable while exercising all year round.  
Value
These shorts from Tough Mode Apparel are being sold for a medium price, you'll want to buy them straight away. 

10

. Under Armour HeatGear Armour Leggings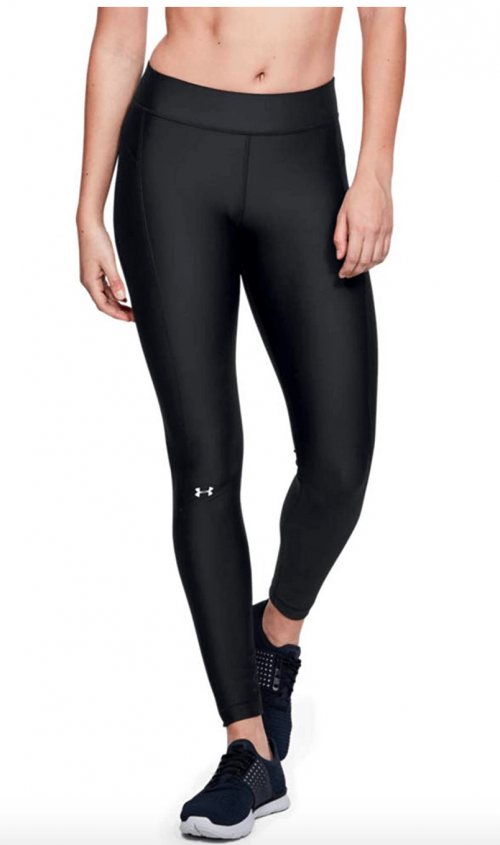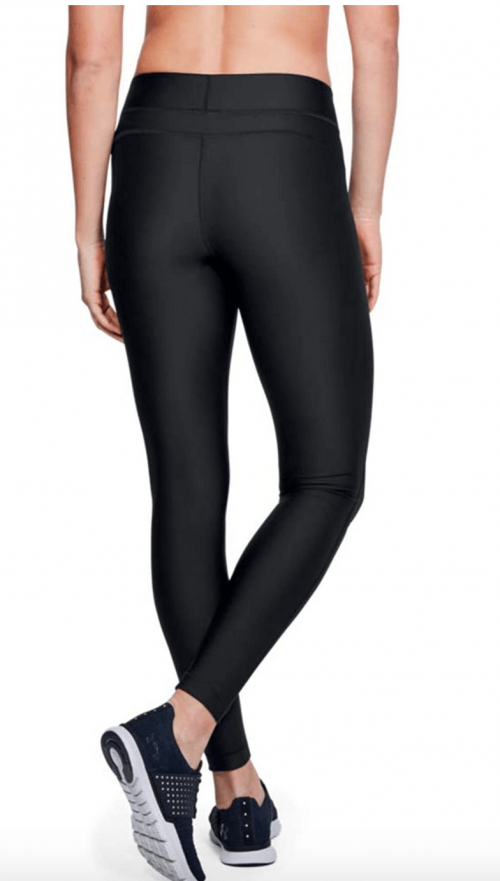 Super stretchy, lightweight, and sleek, these stylish and extremely versatile running leggings are bound to get heads turning!
Comfort
Consisting of a mixture of polyester and elastane, these leggings from Under Armour offer lots to like. When on the run you won't even feel like you're wearing them because they're so lightweight. Anti-odor technology also prevents the growth of odor microbes, so you'll stay smelling fresh all day long. 
Versatility
This is one of the most versatile pieces in our collection. Perfect for wearing while on a run, these leggings can be worn for a variety of exercises. They are so comfortable, they can also be worn while lounging around the house. Available in three different colors, the selection is a little limited; however, we are not too worried about this because you're getting a quality product in return. 
Durability
These leggings are a great accessory to own for high-intensity workouts, particularly running. Offering a four-way stretch, these leggings will allow you to move freely in any direction. Whether it's your daily jog, cross-training or yoga, the stretchy material will provide you with plenty of flexibility so you can get into any position you wish. 
Breathability
This model has been designed to keep you cool when exercising as well as sweat-free. This is achieved through sweat-wicking fabric which draws the moisture away from the skin and prevents the fabric from becoming saturated, helping it to dry quickly. 
Value
Sold at a mid-high price, this pair of leggings is one of our more expensive items in our collection however we think it's well worth the extra dollars. 

Subscribe to our Newsletter