Best Quarter Socks Reviewed
In a Hurry? Editors choice: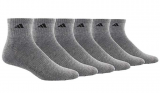 Test Winner: Adidas athletic sock

Having excellent footwear allows athletes to get the most out of their training sessions. Additionally, we found that athletes who spend a lot of time on their feet are focused, when their feet are comfortable. We have compiled a list of the best socks found in the market to help you achieve your goals. Through research and technology, these brands have gone out of their way to give you a satisfactory product.

As you try to decide on which pair of socks suit your needs, we have broken down the factors you need to consider. Important factors like the type of fabric used, sole padding, and fit are some of the things we will look at. However, the most vital aspect of the socks will be critical if it suits your use.
Standout Picks
Criteria Used for Evaluation
Materials
Different fabrics offer dissimilar effects.
The performance of any apparel is mostly dependent on what blend of materials is used. For example, a small percentage of Lycra weaving will give the apparel ore flexibility for a good stretch. High quality synthetics will add on to the garment's durability, breathability, and moisture-wicking capability. Cotton or wool will improve the comfort of the socks because of their softness.
As they say, too much of anything is bad. That's also true with materials used in garments. An example is cotton. Even though cheap, it has the lackluster moisture-wicking capability and can retain up to a third of water in its own weight. When your skin becomes soft because of wetness, it is more prone to cuts and abrasion.
The right material should make any apparel comfortable, depending on the weather conditions. For athletic gear, the fabric should be breathable and lightweight. Wool socks usually have acceptable cushioning for your feet.
The fabric must also be durable and not wear out quickly. Wicking ability is an aspect found in Merino wool socks. This natural material can absorb moisture very well towards the outer surface where it evaporates naturally. Wool is also naturally antimicrobial. This characteristic means you will hardly experience the smell that comes about when bacteria accumulate in damp, moist conditions.
Bacteria find it difficult to multiply under the small threads of wool. Apart from wool, other fabrics such as acrylic and polyester wick moisture very well. Rockay Accelerate has a good mixture of materials to make exceptional quarter socks.
To know what design to choose, you should at least familiarize yourself with all the different types of materials that socks can be made of; or those most commonly used in their construction, anyway. There is a long list of these, and here, we will break down the materials found in our guide so that you have a better understanding of their pros and cons and what they're best used for.
Polyester: Polyester is a synthetic material which has great moisture-repelling properties. In other words, it is an excellent choice for sports socks and those you will wear when you expect to get sweaty feet. Polyester is also durable and colorfast, meaning it easily retains dye and can get vividly colored.
However, polyester is not environmentally-friendly. This material is not biodegradable or recyclable, which makes it a poor choice for our planet. It is also not as breathable or as soft to the touch as cotton, for example.
Cotton: Unlike polyester, cotton is a natural material, grown all around the world. It is light in weight and absorbs moisture, which makes it a poor choice for athletic activities. However, it is gentle on the skin, extremely breathable and washable, and thus is one of the most popular materials for clothing.
In one of our items, we mentioned combed cotton. This is a type of cotton that is treated more than regular cotton, to remove short fibers and dirt and debris. Combed cotton doesn't fray as quickly as regular cotton and it is softer on the skin. It is considered a luxurious material and is thus more expensive.
Acrylic: Acrylic is another synthetic material that is softer than polyester and provides warmth. It is also lightweight, despite offering heat retention. Similar to polyester, acrylic is also colorfast, and these fibers can have more brilliant colors than natural ones.
Nylon: Nylon is added to different material combinations because it is exceptionally hard-wearing. Designs made from nylon are either thin and silky, or thick and quite stretchy. It improves the durability and elasticity of a design.
Spandex/Elastane/Lycra: Speaking of elasticity, these three names all refer to the same type of material, which is a type of synthetic fiber. It ensures a close fit of a sock while providing comfort and stretchiness at the same time. It helps your quarter socks stay up over the ankle.
Rubber: Lastly, we will mention rubber, as a few of our choices contain natural latex rubber. Before the invention of spandex, rubber was widely used in socks to provide elasticity. It has the same purpose today, however, it has mostly been replaced by the three materials we talked about above.
Features
Some attributes make some socks more suitable for some situations than others are.
Many manufacturers make their socks with extra features. Because of this, it's essential to know what you really need, and you're not paying for things that are not helpful to you. Make sure you take into account what value you will get as we have when creating this list. Does the price match up?
It's good to know what the socks are constructed from and why. These are the two most important questions you need to consider when purchasing socks. Some have cushioning to help reduce shocks on the heel, which takes up the most pounding. With the right set of features, you can improve your performance and have peace of mind in your shoes.
Grit, fine dirt, and debris inside socks are everyone's nightmare. These outside elements getting inside are scaled up even more with quarter socks because of their short length. The best way to stop such inconveniences is to have a gentle elasticized fit at the neck of the socks. It should not be too constricted to stop regular blood circulation, yet tight enough to close any gaps for debris to enter.
Effectiveness
How good are your socks at what they offer?
Keeping your feet dry at all times is very important. Wet feet more often than not lead to hot spots, blisters, fungal, or bacterial growth. The later leads to terrible odors as the bacteria breed and multiply. We have all been in such embarrassing situations. However, with the right socks, you could reduce such adverse effects efficiently.
Wicking is the ability to pool sweat from your skin, toward the outer surface, in this case, your shoes. Wicking will prevent your feet from getting soggy and more prone to abrasion. Different materials offer varying levels of moisture-wicking capability.
The best for wicking is merino wool, polypropylene, and polyester. Acrylic and nylon are in not the best t wicking but do try. Avoid heavy synthetics, spandex, and cotton at all costs if you want your feet to be dry.
Manufacturers use a blend of various materials to get the right characteristics for your socks. For example, wool is not the toughest but wicks moisture well. By adding a dash of synthetics, which has high tensile strengths, the socks become effective at moisture wicking and durable.
Fit
For your safety, get socks that fit you like a glove.
Slipping socks can lead to injuries in several ways. For example, you might lose your concertation by continually adjusting your socks to remain comfortable. Materials from sliding socks will often bunch up and create grooves, leading to friction. Friction equates to painful blisters.
Some quarter socks not only have compression at the neck but the arch area as well. This feature helps to hold the sock in place so that it does not slide inside your shoe. Reinforcement also helps keep them in place. Excellent cushioning needs to support your ankle and arch as you move about.
Sliding socks can be dangerous. When socks slip, you lose your footing and balance. Consequently, you might roll your ankles because of the sudden shift in positioning. With the right design and sizes, you can be confident of a high-performance work out without the risk of injuring yourself.
Durability
You get what you pay for.
It is natural that before we make a purchase we consider how long that product is going to last us. Will it be worth the money? How long will we be able to use it before it starts showing signs of wear? How much longer after that before it completely falls apart? Does this design have any quality to it?
Durability for this type of design is mostly reflected in its material type and certain construction features.
Durable materials are synthetic ones, such as polyester and polyamide. Nylon is added to socks to increase their durability, and thus a high percentage of nylon usually means that a sock will last for quite some time, even with repeated washings. Cotton and natural blends are not as good when it comes to longevity.
The construction features which help with durability are reinforcements in specific areas of the design, namely the heel and the toes. These two sections are the most prone to thinning out and developing holes in them, and thus this is where added layers or more durable materials are useful.
The seams of your socks ripping in the middle of any activity can be quite devastating. Sometimes, it can even lead to injuries. Make sure to get high quality quarter socks, that moisture-wicking reliable through the most strenuous of activities.
Some socks are highly priced, not because the materials are better, but because they have other features such as cushioning, stability, flexibility, and support. Even though such features might drive the cost up, they are not really a measure of durability.
Nevertheless, the socks reviewed here measure up through the test of time. Therefore, they can last multiple wash cycles without being destroyed. It's truly a problem of quality in the apparel industry, due to the increase of many generic and counterfeit products.
Top 10 Picks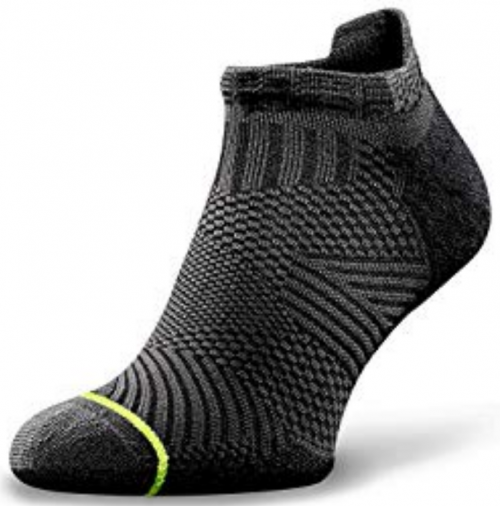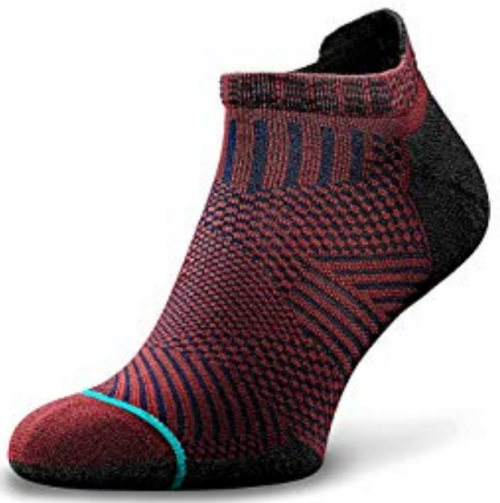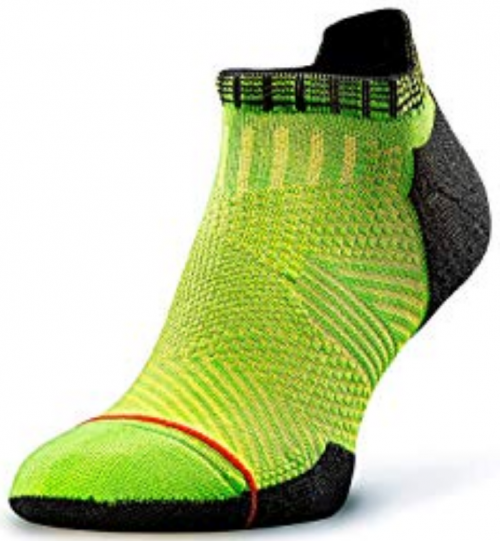 Rockay is a well renowned and top company that has high-end socks for any activity. Rockay Accelerate is one of the top footwear products in the market. With quality fabric and craftsmanship, this is truly a must-have for any athlete.
This product comes with a lifetime guarantee from the manufacturer. You can use it in any robust or vigorous exercise, and it will come out unscathed. Athletes who compete in marathons or obstacle courses will be satisfied with how it performs. It is meant to give maximum durability to the user, unlike most of the socks in the market.
The Accelerate does not lose shape or shrink after washing. It is machine washable making it easy to clean after use. Additionally, it consists of merino wool, which is sturdy and organic. The fabric keeps your foot well ventilated as you train. By allowing adequate airflow, your feet remain cool and sweat-free thanks to its sweat-wicking ability.
As you are enjoying your exercise, you don't have to worry about blisters or odors. It is highly breathable keeping your feet dry in any condition they work in. They provide arch compression, and the top is elastic, which is tight to keep debris outside. Besides, these socks prevent blister plasters and chafing. And, they fit nicely with a snug feel around the foot.

2

. Razer Trail Running Sock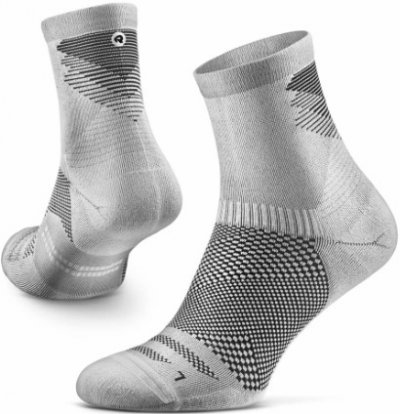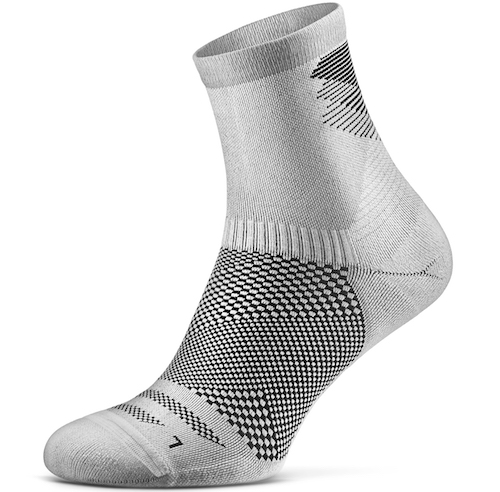 If you are looking for a high functioning and effective product, look no further. The Razer Trail Running Sock is coming in at one of the best products on our line up, for a good reason. This product is packed with the latest technology and even offers a lifetime warranty, allowing you supreme comfort, over and over, again.
Comfort is key when it comes to the Razer Trail. This product has been designed to be sustainable and also support your feet with supreme comfort. Arch support will allow the weight to be distributed evenly throughout your feet and the anti-blistering technology will prevent those unwanted blisters! This product has been created to help you stay comfortable, for miles to come.
Pollution has become a major issue throughout the world, in all countries. With that said, our oceans are constantly polluted, as well. This company has taken it upon themselves to make an impact on the world by using recycled plastics to create their apparel. So not only will you help your feet, but you will also support the movement of saving our planet with this eco-friendly, product.
Before, during, or after a long workout, the last thing that you want to be dealing with is moist, wet, or smelly, feet. One of the greatest parts of the Razer Trail is the technical mesh that allows for minimal moisture and constant breathability. Keeping your feet cool is always a step in the right direction.

3

. 20four7 Athletic Fitness Sock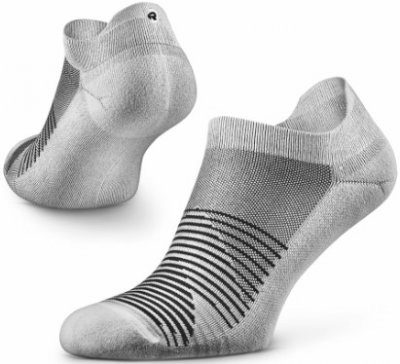 Anyone can rely on the 20four7 Athletic Socks! The 20four7 has been designed to be worn by anyone and everyone, especially runners. There are several different technologies, infused into this product, making it one of the best choices for the quarter length sock, no matter what you are doing!
The 20four7 Athletic sock is a versatile product. Being that it maximizes comfort, you can wear these socks running, to the gym, or just lounging around on the couch, and get the same relief of compression, moisture-wicking, and more. The low cut style also allows for this product to be worn on any occasion, keeping you on your toes, with full comfort.
Blistering can be a huge issue for several people. With the right product, you can put those issues in the past and maintain solid comfort, while being blister free! The 20four7 offers a 100% seamless toe, which will protect your toes from rubbing. The tab on the heel also protects the annoyance of rubbing and keeping those blisters at bay!
Moisture and bacteria build-up cause smells and other issues, within your shoes and are known to cause issues with your feet. The 20four7 has been designed with a mesh technology as well as a special dipping, that keep the bacteria and smells away. Mesh allows for constant airflow, keeping feet not only temperature regulated but dry and the special treatment that these socks get, prevent any odors. The treatment works so well, you don't even need to wash this product for up to 10 uses!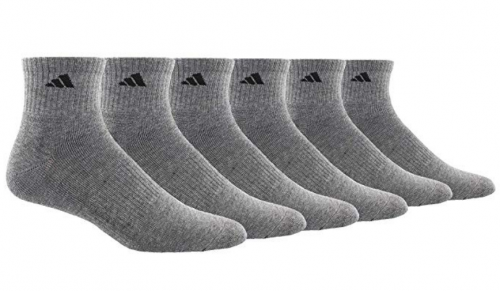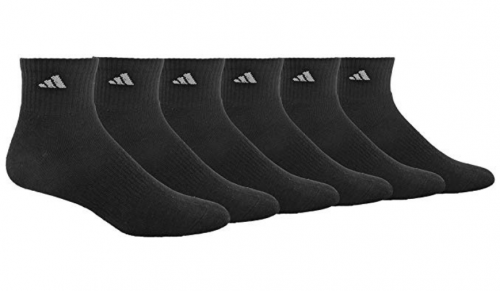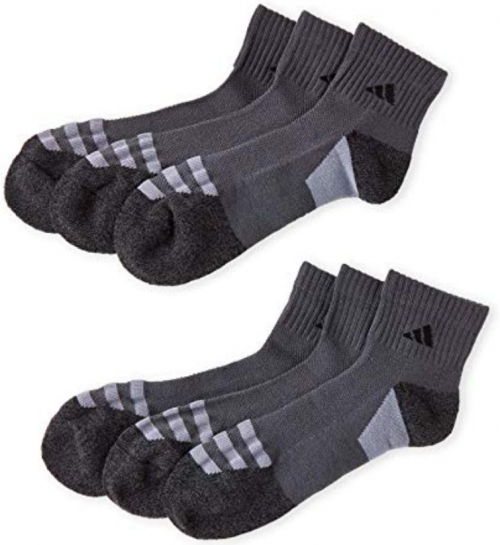 Adidas doesn't need any introduction to athletes. They have been making high-quality sports gear for decades. This product is one of their most exceptional over the years. Athletes looking for a stylish yet highly functional pair of socks should look no further.
This product is designed to offer durability, comfort, and a safe level of compression. It comes in a variety of colors to choose from, and it is available in different sizes. The socks are versatile and user-friendly. Additionally, the size is correct to fit thanks to the material blend.
It has a snug fit due to the arch compression design. Compression has a lot of benefits to athletes who do foot workouts a lot. Additionally, it is lightweight with incredible breathability. Moreover, you can use them in any form of exercise because they are sturdy.
Adidas has provided comfort by adding cushion to the foot area. The cushioning also plays a part in the durability of the quarter socks. The primary material used during manufacture is polyester, which is 98% and 2% spandex for a flexible fit. You can machine wash the socks but don't use bleach. Remember to use cold water and don't mix colors; additionally, tumble dry low.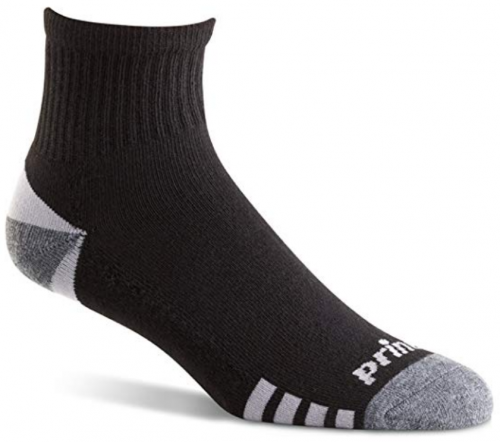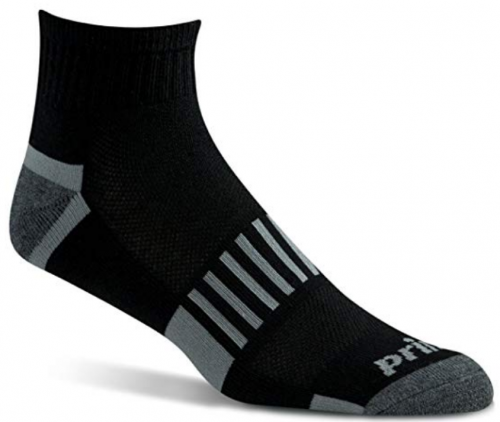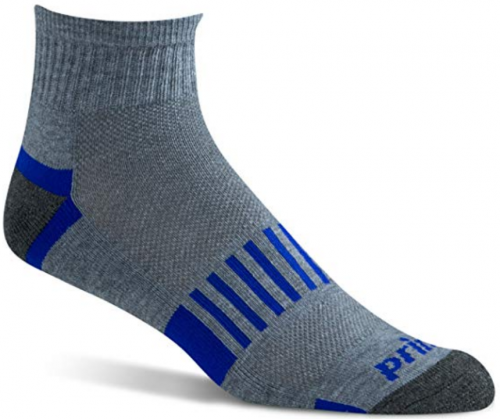 Most companies put a lot of emphasis on various features on their products, but most neglect the right part. Prince company has invested it's time to not only give you a comfortable pair of socks but one that fits well too.
This product is designed to give the wearer premium comfort. It keeps your feet cool and dry during exercises and warm-ups. Additionally, it is lightweight with quality construction. These socks come in a six-pack with different colors to pick from the options.
Athletes with a fashion sense can spoil themselves with this item. It also comes in different sizes. The company promises a 100% satisfaction guarantee, and it is easy to see why they do. They have used a seaming technique that keeps the socks from being bulky.
The smooth seam design reduces abrasion and adds extra protection from blisters. Besides, the materials used are breathable thanks to the zone mesh design. They are synthetic fabrics that increase ventilation and control moisture. With this pair of socks, your feet stay dry and cool.
The sole is cushioned, and due to the spandex blend, it retains its shape. It offers great compression. Additionally, it is lightweight and dries quickly.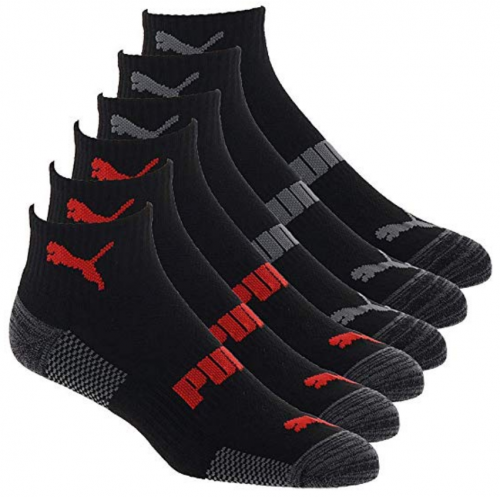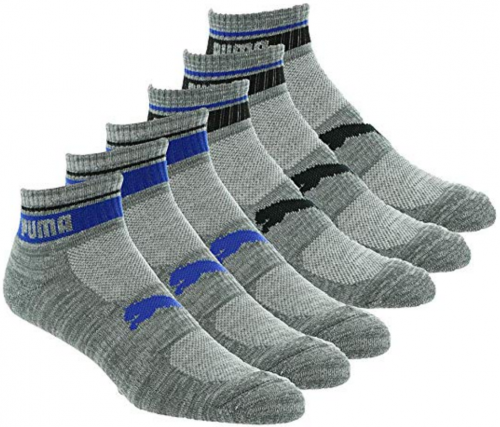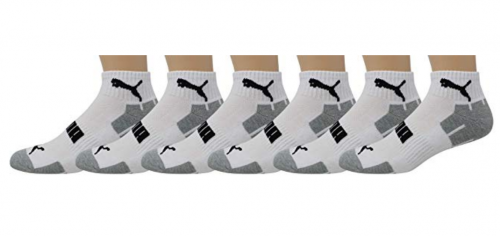 This is another excellent product from Puma. They have made these socks to be multi-purpose in our day to day life. Athletes can buy this incredible six-pack for the gym and home use. Additionally, with the different colors it comes in, you are going to enjoy these crew socks.
Athletes can take full advantage of Puma's moisture-control technology to keep their feet dry. The built-in arch support gives it a proper fit around the foot. Additionally, it is highly breathable thanks to polyester material that's graduated at 89%. The presence of cotton in the blend gives it a lovely soft feel.
Spandex is also available in the fabric blend. It allows the socks to shape itself around your foot for a tight fit. It is easy to clean and maintain. Wash according to the instructions given by the manufacturer.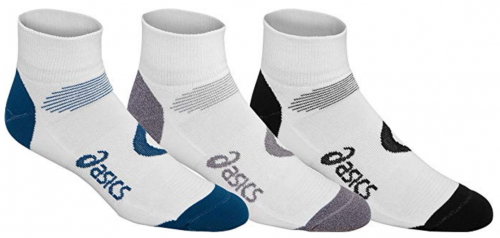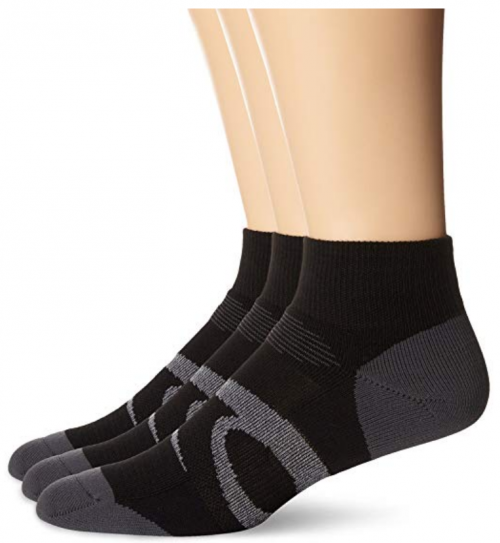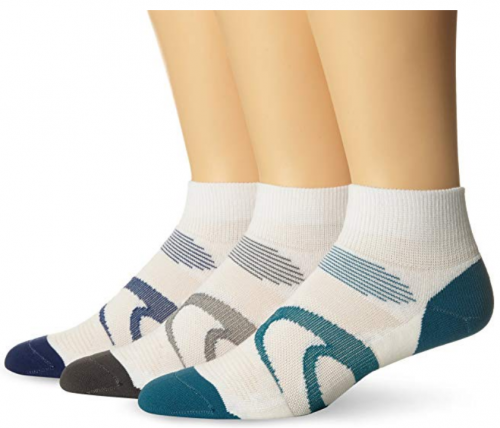 Asics intensity quarter socks are perfect for athletes in hot climates. They have excellent moisture management and are designed to allow maximum airflow to your feet. Additionally, they offer superior stability and support. Asics has been around for a long time, making sure the athlete's needs are met.
Using the Y" heel gore fit technology, your feet get support from the heel area. The seamless design gives you toes much room to work with minus the risk of chafing or blisters. Additionally, it is lightweight and comes in different sizes. You can also pick different colors that suit you.
Asics uses its knit-in mesh technology to maximize ventilation. An arch band provides support and holds your foot in place. The material blend consists of polyester nylon and spandex. Also, machine wash as instructed.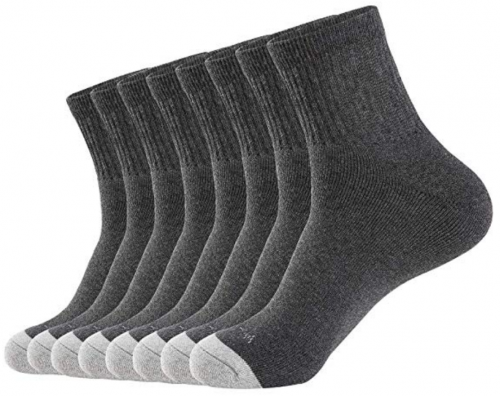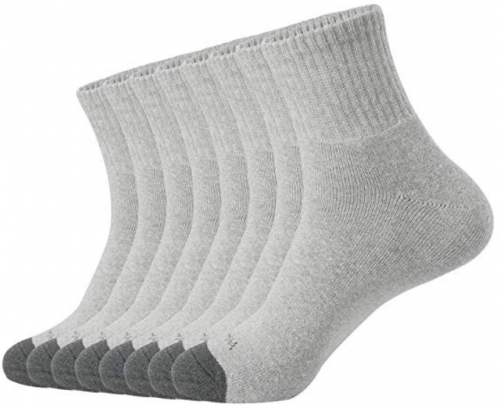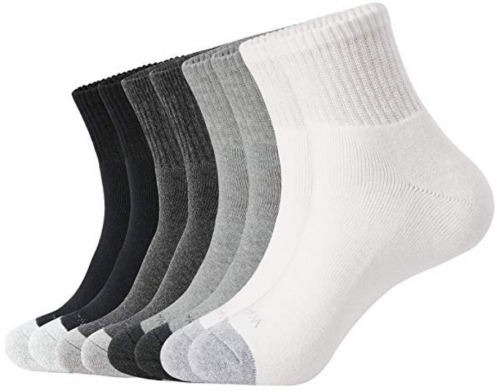 Quarter socks have never been with this level of elasticity until now. Wander has made this product super elastic for users who claim to have problems with size. It allows a wide range of sizes from 10-13/13-15.
Additionally, it is super absorbent due to the towel fabrics. Also, it is a great tool to have in hot climates. It keeps you dry and comfortable to concentrate on your activities. The socks have a smooth seem and thick padding.
Cotton is the main fabric it consists of, and with proper care, it works well. It is machine washable with instructions provided by the manufacturer. Also, it offers excellent support in the shoes due to thick, soft towel cushion padding.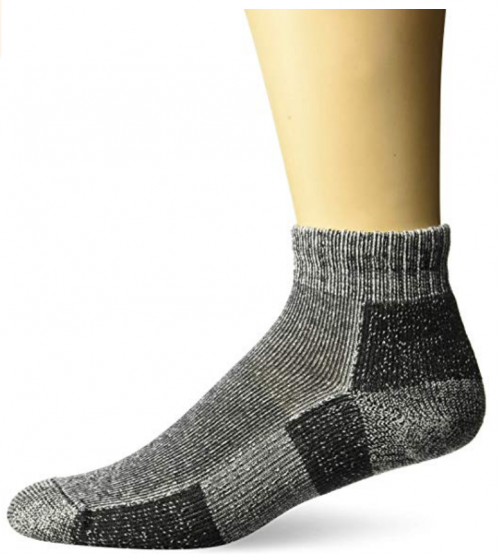 Trail athletes finally have a quarter sock meant to protect their feet. Thorlos Company has designed a sturdy hose that offers comfort and protection without ruining its effectiveness. It is perfect, with special measures taken to keep you focused off-road without being distracted.
Most quarter socks irritate the feet with bulky seems. But, Thorlos has provided athletes with a low seam in their stockings. The instep is cushioned along with the arch for a snug fit. This product offers less pressure and more support for trail runs.
It is constructed from THORLON fiber, which has a super soft feel to the skin. Additionally, it is durable, sweat-wicking, and resilient. The top is extended and ribbed to prevent debris from getting in your socks.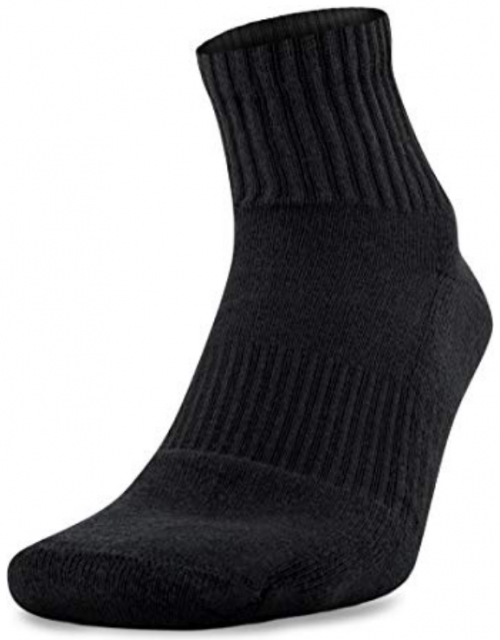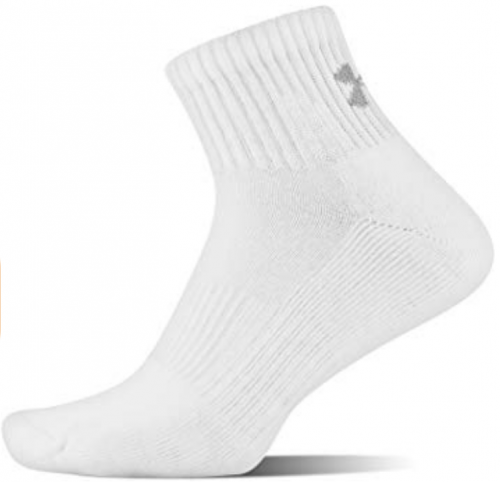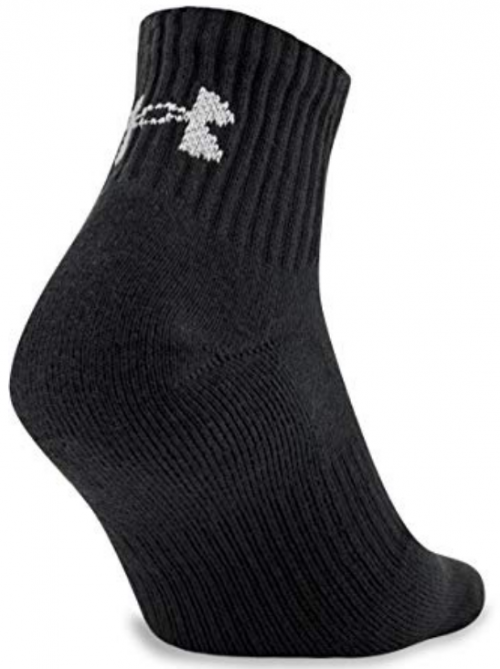 Once again, Under Armour has outdone the competition with its unique technological advancements. They have applied their exclusive tech to give athletes adequate footwear that will keep them ahead of their competitors. These quarter socks are a bit pricey but worth every penny invested in them.
Athletes have always been bugged by socks that carry odor and bacteria. Under Armour, using their ArmourBlock technology has made sure that the only thing runners should focus on is finishing their laps. This technology prevents any growth of bacteria. Additionally, the use of HeatGear fabric helps to wick sweat from your skin. They are lightweight and easy to use.
Thanks to the strategic cushioning, the quarter socks are not bulk. Also, the use of CHARGED cotton fabric makes the socks dry faster than any material. And, the arch support helps in reducing fatigue. Additionally, thanks to the cushioning, you get breathability and flexibility.
The material blend consists of cotton at 76% polyester 22% and spandex 2%. This product is an excellent investment to put your money in. You will never regret having decided to make this purchase. Follow the instructions from the manufacturer on how to care for your product.
In case of any sizing problems, check the store's return policy before making the purchase. If you want to order the quarter socks online, check their terms and conditions carefully. It will be a waste of money buying an expensive item that you won't end up using.

Subscribe to our Newsletter