Best Men's Underwear for Running Reviewed
In a Hurry? Editors choice:
Test Winner: David Archy

The right undergarment is supposed to offer adequate protection and comfort. When you engage in highly intensive activities like sprinting, you need something that enhances those features as well as preventing chafing. Men's underwear for running do this and so much more to improve your workout experience.

Perfect underwear for running also keeps you fresh and unrestricted as you move. The right pair will also provide protection and flexibility to sensitive areas like the crotch. The men's undergarments on this list also wick and redistribute sweat to prevent chafing.

There are many different kinds of underwear for men on the market with varying levels of quality and support. This list features some of the best in the current market. This list also includes a handy buyer's guide and some helpful pointers to what you should look for in a pair of men's athletic undergarments.
Standout Picks
Criteria Used for Evaluation
Fit
Form-fitting attire is the foundation of high performance sports.
Regular boxers and briefs only fit your form and hug your hips; this is inadequate to the needs of a runner. When training, you need something that offers some leg and thigh compression as well as a looser hip fitting. Men's underwear for running features a stretchy fabric seamed to allow for a multi-directional stretch.
This multi-directional stretch and elastic bands on the waist, keep the men's underclothing in place as you move. However, when looking at the overall fit of a pair of running underclothing, it should also not be too tight. A very tight fitting restricts blood flow to that particular area and causes chafing.
A loose-fitting pair of men's running undergarment will provide less protection and support. The friction produced when the extra fabric on the undies rubs against other layered clothes and your skin causes this limitation. It is an excellent idea to keep a tape measure handy to help you get an accurate waist size.
Using these accurate measurements and the sizing chart, you can get the best possible fit while ordering online. Most online stores have a wide selection of styles, colors, and brands of men's running underwear. You can also look into a different style if your current option is not as satisfactory.
Style
Running underwear vary in terms of support, coverage, and insulation.
Boxers have a loose-fitting side; they provide limited to no support and are the most ventilated option among the styles. The boxer models on this list are made from moisture-wicking materials that counter chaffing. Boxer designs often feature a fly for easy access and additional ventilation.
Boxer briefs are a combination of the boxer and the brief design, which makes them provide a modal level of support. They offer the same coverage as boxers and the firmness briefs afford you. The boxer briefs featured here are made from light materials and have flat seams for optimal compression and flexibility.
Jockstraps: Athletes engaged in high performance sporting activities commonly wear jockstraps. They consist of an elastic belt and protective pouch. These types of undergarments provide very inadequate insulation and coverage.
Support briefs are a combination of briefs and jockstraps. Support briefs offer the same compatibility offered by regular briefs and the protection of jockstraps. This design provides optimal stability and some insulation from the cold.
Compression shorts are tight-fitting and feature thigh and waist straps to enhance compression. They feature a supportive and protective pouch to shield your crotch. Most compression short feature fabric reinforced for a breezier and drier workout experience.
Trunks look more like boxers with shortened legs. This leg length gives them a square profile to their general shape. Trunks are ideal for moderate activities during particularly hot days.
Materials
Quality materials build the best running undergarments.
There are a variety of natural, synthetic, and hybrid fibers that are utilized in the construction of running underclothing. The choice of material has an impact on the strength, durability, and breathability of a product. The following fabrics are the most used in the construction of running underwear.
Synthetic fibers account for up to 90% of the running undergarments in the current market. These fibers include materials such as polyester, nylon, and polyester- spandex mixtures. Many consumers prefer these materials because of their breathability, lightweight, and moisture-wicking properties.
Hybrid fibers are a combination of synthetic fibers and natural fibers. They are mixed in a ratio that exploits the best qualities of the featured fabrics. Many consumers prefer hybrid fibers because of their chafing prevention features.
Spandex is a polyurethane-based material that is a popular choice for many manufacturers. Men's underwear made from this material offer a high level of compression and a tighter form-fitting. This material is strong and durable, and it is also light in weight; however, an athlete with an eversion to latex should avoid it.
Egyptian cotton is a high thread count variant of cotton recently made affordable to the public. Egyptian cotton is considered one of the softest fibers on earth. Products made from this material give the wearer unrivaled comfort.
PIMA cotton grows in farms across the USA and Australia. Some textile developers create PIMA cotton by mixing Egyptian and American cotton. The Egyptian cotton makes the fabric soft and comfortable while the American components add to its durability and strength.
Italian nylon is a combination of nylon and Lycra. The Lycra gives the material extra stretchiness and abrasion resistance. Endurance athletes prefer underwear made from this material because of the compression and anti-microbial features.
CoolMax fiber; a variant of polyester, has very high moisture-wicking capabilities. Many athletes prefer this fabric because it keeps you dry and fresh even through intensive activity. This fabric is also resistant to shrinking in the wash and fading.
Comfort
Comfort enhances your general performance and user experience.
The amount of comfort a pair of running underwear has to offer is one of the most important factors to consider when shopping. If a garment is uncomfortable, you will not enjoy the experience of wearing it, and you might end going for fewer runs in the clothing. It is vital that your desired product ticks as many other boxes as possible, but there should never be a compromise on the comfort it offers.
The fitting of a product is the first hint into its comfort. There is no standard solution to fitting; one has to go with the users' personal preference. You can decide wherever you want a tight or loose fit by looking at the sizing chart.
Men's underwear for sports and running also come in various styles to match different body types and personal preferences. When it comes to style your body type can be a determining factor, beefier men can't be as comfortable in brief as they would in boxer designs. The same rules that you use when picking regular undies can apply to men's garments running: this makes it less confusing.
Durability
You don't want a throwaway pair of men's underwear for running.
The durability of a pair of underwear for use during running is determined by the thickness of construction used as well as the weight of material used. The way you use undies and how well you maintain them has a significant effect on how the pair will serve you. Therefore, you should follow the care and maintenance instructions printed on the pants.
Most runners prefer lighter men's underwear to allow them to layer more clothing and for freer movement. When considering a lightweight option, please select one made form a highly durable material for the pants to give you more extended life and service. Undies made from polyester-based materials come highly recommended.
Men's underwear is made from high-quality fabrics will most likely last longer. The best way to know which material will last longer is to read customer reviews. Such reviews offer an unbiased view of the product because it comes from a source that is has nothing to gain from the sales of the product.
Even as you focus on a product's durability, should never compromise on the comfort it offers. When it comes to men's underwear and any other sporting attire, you should keep a keen focus on any advantages they have to offer. There should also be a delicate balance in the support, breathability and any other additional features offered by the product.
Top 10 Picks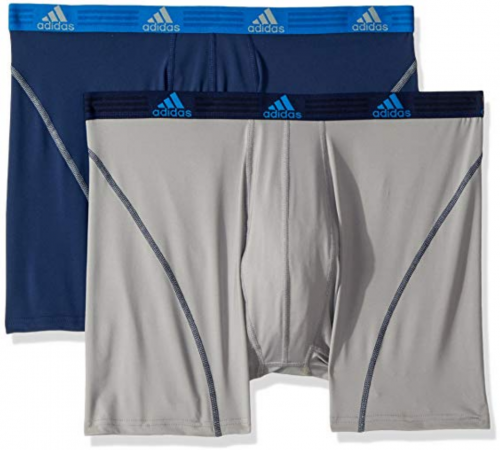 The Adidas sports men's line of underwear for sports and running is a high-performance boxer briefs that allow you to stay cool and dry. This lightweight option features a 91 % polyester and 9% spandex fabric mixture. This material mix makes the boxer briefs light, breathable, and excellent at wicking moisture.
The climate control features on these boxer briefs make them ideal for rigorous training even on hot summers. The Adidas Climalite has smooth flat stitching that enhances comfort while preventing chafing. This chafe-free option also has a double-lined mesh pouch to keep you fresh and excellent leg construction that prevents the boxers from ridding high.
The Adidas Climalite men's underwear comes in packs of two. There are also plenty of colors choices available. The Adidas has a high waistband that ensures your comfort even with the tight fit and waist sizes range from 28 to 42.
The boxers feature a soft elastic crotch padding that offers adequate support as you run. These boxers also have medium leg coverage that extends further down the thighs to prevent chafing. Another notable feature is the lack of tag usually on the waistband; instead, the maintenance instructions are printed on the back inner side.

2

. Under Armour Boxerjock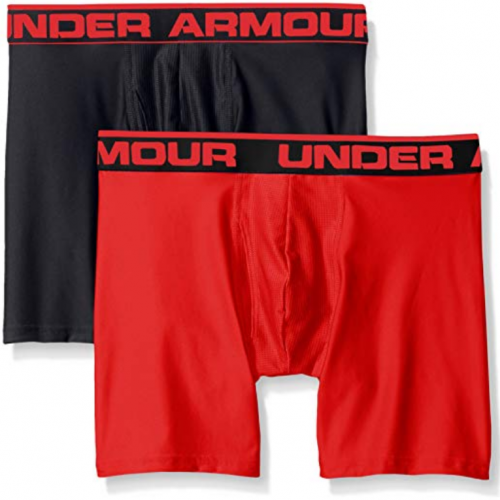 The under Armour underwear for runners may feature on the lower end of the pricing spectrum, but they provide high-end performance. The O series 6 boxerjock come in two per pack with various color combinations to choose. The sizing ranges from extra small to extra-large, so getting a form-fitting pair is possible for a diverse range of body types.
The material is a 90% polyester and 10 % spandex mixture for enhanced breathability. This fabric mix is soft, durable, moisture-wicking, and offers adequate support. Aside from those features, the manufacturer uses an antibacterial treatment to enhance the under Armour Boxerjock odor control.
The construction on these men's undergarments is a 4-way stretch, which enhances your flexibility in a range of motions that are vital when active. The waistband is soft on the skin and features a non-hanging tag to prevent friction. The under Armour men's Boxerjock also features a 3-inch inseam that enhances their durability.
These boxers have an extra breezy mesh for climate control as you run, making them appropriate for runners that like going commando. The seaming, weight of the fabric, and moister wicking qualities of this product make it ideal for use in water-related activities. The rich features and the fair price point of this product give you all the value for money you would seek in such a product.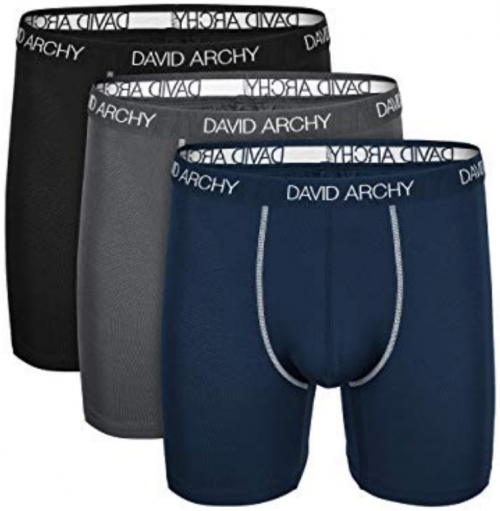 The David Archy men's underwear feature an ultra-soft mesh, making them quick drying. These boxers also come in 3-design option, each offering a great balance between comfort and activewear technology. This men's underwear for running is designed to give men with more girth an excellent alternative: to an extent, they feel like custom-made underwear.
The David Archy men's underwear offers a no-fly option as well as an option that has a fly. These boxers also feature longer pant legs for extended coverage and muscle support for men with various body types. These underwear are made from a polyester/spandex blend for enhanced breathability and moisture-wicking to keep you dry and comfortable through a range of activities.
These boxers have a snug and soft fit to them that is less constricting and allows for adequate blood circulation. This product has a 3D designed pouch that supports your crotch, and the quick-drying fabric combines to prevent sweat accumulation and chaffing. The construction of the boxers has flat hems that enhance product durability and reduce chafe-causing friction.
These boxers also have fewer seems and more reinforcement, which makes them more durable than most in the market. The David Archy undergarments may come at a high price point, but they have a lot more to offer than cheaper options. These boxers will last you for a long time and provide support for all intensive activity.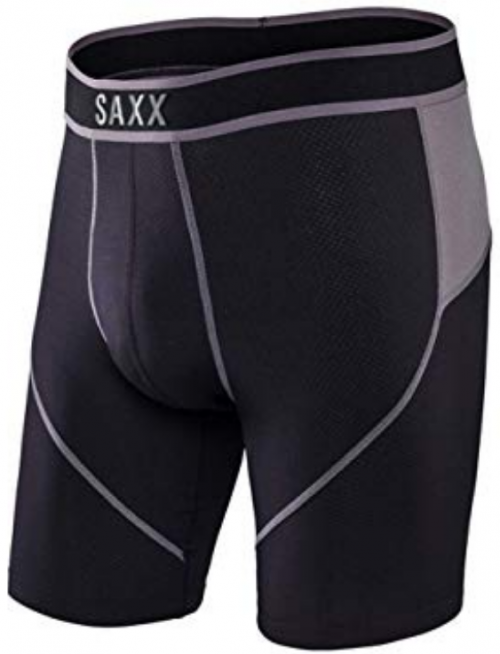 If you are looking for men's underwear that has long legs, then the Saxx kinetic performance boxers are ideal for you. Unlike most men's underwear with long legs, this product will not ride up your legs as your run. This non-riding aspect is thanks to the materials used and the snug fit of the Saxx kinetic boxers.
These boxers are made from a polyester/spandex mix, which makes them airy and moisture wicking for a dryer experience as you run. The spandex component of these shorts ensures a solid elasticity that translates into more freedom as you move. Additionally, the material is resistant to malodor and can be machine washed in cold water and tumble dry.
The Saxx kinetic feature a four-way stretch construction. This attribute makes the boxers as roomy as they are supportive. The pant legs never ride thanks to elastic grips on the thigh area. The boxers also have a ballpark pouch that is comfortable, supportive, and helps keep everything down there in place as your run.
These boxers are light enough to be layered under other items of clothing without making your skin hot. You can also use them for cycling, water sports, and any other activity. The Saxx Kinetic undergarments may come at a high price point, but they are unrivaled when it comes to enhanced comfort, fit, and overall performance.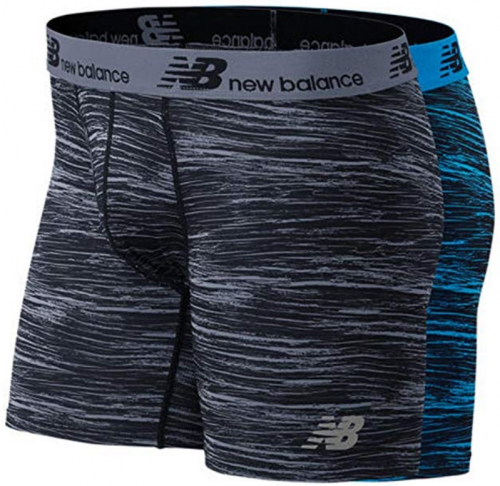 The New balance dry fresh men's for running is engineered with performance and comfort in mind. These men's undergarments feature a 4-way stretch fabric construction that allows for versatile movement while keeping the sweat at bay. This versatility makes them ideal for a wide range of activities.
The men's underwear is made from 87% Polyester and 13% Spandex material. This material ensures that the boxers dry faster and keep moisture away from your skin and makes the shorts dry quickly. These boxers feature advanced construction that uses articulated gusseted meshing, minimal flat seams, and an open fly concept to enhance the product's durability, ventilation, and reduce chafing.
The fabric is enriched with anti-microbial infusions that prevent malodor by countering the buildup of bacteria. The construction has no side seams, which enables you to layer other clothes without creating friction. An ergonomic waistband ensures the boxers fit right and not ride up your waist or sag as you run
The New balance dry fresh come at a modal price range. These boxers fit well and enable you to perform even at very high levels. You would be hard-pressed to find similar men's underwear for running within the same price range.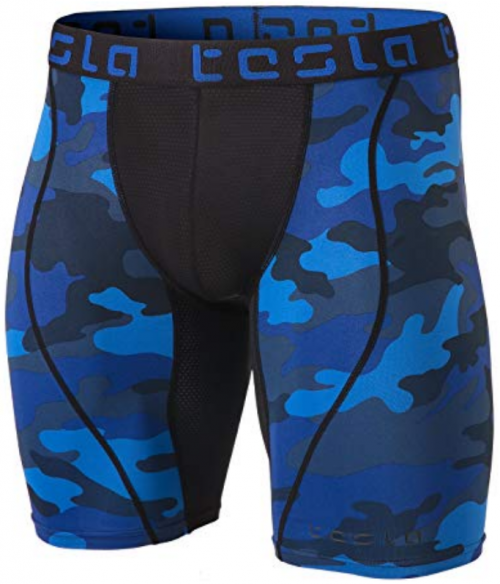 These TSLA underwear are cool and dry compression shorts that can serve as jogging shorts or worn as underwear. These shorts feature an 87 % polyester and 13 % Spandex material mix, which makes the shorts very durable. This material gives the shorts excellent elasticity that enhances your range of motion.
A notable bonus offered by these men's running undergarments is a UV protection factor of UPF 50+. You can use these shorts even on particularly hot summers as they are excellent at wicking moisture and have heat-releasing fabric. These features keep you fresh, cool and prevent too much sweat accumulation in the crotch area.
In terms of compression, these shorts fit snugly but not too tightly, which is ideal for most users. However, if you are looking for something tighter, please consider a mid-weight option instead of this lightweight option. Alternatively, you can go a size down to get a tighter compression.
These underwear are probably the most affordable article of clothing you can get from TSLA. The TSLA men's cool dry compression shorts are comfortable and durable: hardly what you would consider a throwaway pair. Despite the low price, many features on the shorts are hard to find in even in some higher-priced men's underwear for running.

7

. Reebok Performance Boxer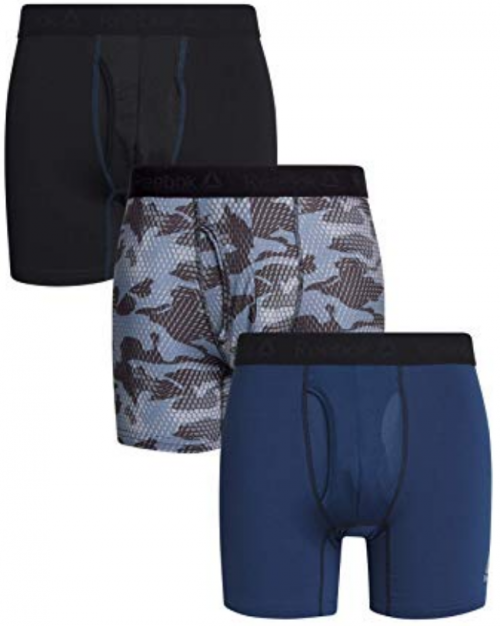 If you are in search of high-performance men's underwear for running, then this pair of boxer shorts from Reebok could hold the answer. These short are designed with the avid runner in mind and feature adequate ventilation and comfort. Such features allow you to run for long without the stress brought by sweat dripping down the legs or accumulating in the crouch area.
These men's underwear have a fabric blend of 90% polyester and 10% spandex. This fabric makes the product soft, flexible, and not as restrictive as some men's underwear. The boxers have adequate ventilation to keep you fresh during intensive activity.
The Reebok men's underwear fit properly. The boxers offer optimal support and comfort thanks to a relaxed-fitting design. Therefore, you can stick to your regular size when consulting the sizing chart.
Just like most men's undergarments featured on this list, the Reebok is a long-serving pair. You can get many years of use out of this pair with proper use, care, and maintenance. These boxers are also very affordable and offer more than other men's underwear within the same price range.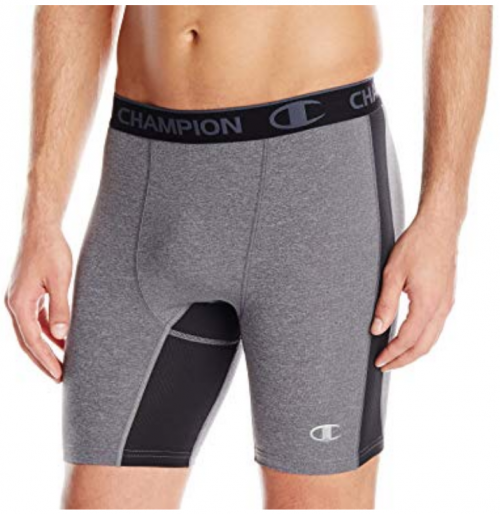 The Powerflex by Champion is one of the most affordable men's underwear featuring compression. These shorts have a soft and durable material that's lightweight, supportive, and chafe-free. This fabric is also stretchy enough to allow for unrestricted movement that is vital in all manner for sporting and day-to-day activities.
The Champion Powerflex features an 84 % polyester and 16 % spandex fabric blend, which is as soft as cotton but more absorbent. Unlike cotton, this fabric blend also wicks and redistributes moisture effectively countering chafing and instances of friction rash. The fabric is enhanced further with the incorporation of vapor technology that evaporates moisture to ensure the shorts dry quickly.
The champion Powerflex fit snuggly enough to hold everything in place even with high energy and mobility activates. The durability of these shorts is enhanced with Flatlock seaming that prevents the shorts from ripping at the seams. This seaming also reduces the surface area of contact of the seams with the skin, which reduces friction and chafing.
These men's undergarments come highly recommended for users that suffer a lot from chaffing and those that need additional support as they run. These shorts also provide adequate ventilation, which allows you to stay cool and confident on your runs. The shorts have a fair price point and are widely available from many other online vendors.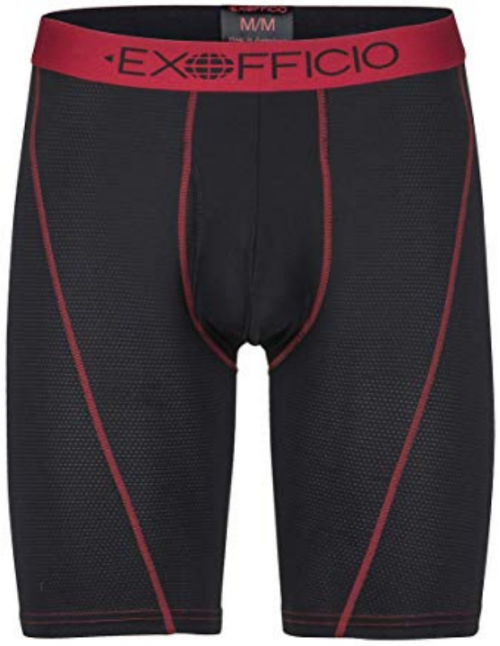 The Give-N-Go men's briefs from ExOfficio is a high performance and minimal maintenance option. These boxers feature a quick-drying nylon/lycra based material, which allows you to pack light as you travel. The Give-N-Go have a lower rise and active fit that provides adequate support for all types of activities.
The Give-N-Go is named so aptly because you can wash them and wear them almost instantly. You can wash and wring them while in the shower roll them up in a towel to dry and put them on as you go. This convenience allows you to stay clean and active.
The material is enriched Aegis microbe shielding technology that counters the growth of odor-causing bacteria. This fabric breathes and vets to keep you fresh though any intensive activity. A fly featured on the front also enhances the ventilation while functioning as an ordinary fly.
These men's are durable and not the type you throw away at the start of a new year. These boxers are well priced and offer more functionality than most similar products. The low maintenance features of this product make them ideal not just for use as men's underwear for running but also for activities such as hiking, backpacking, and camping.

10

. Neleus Compression Shorts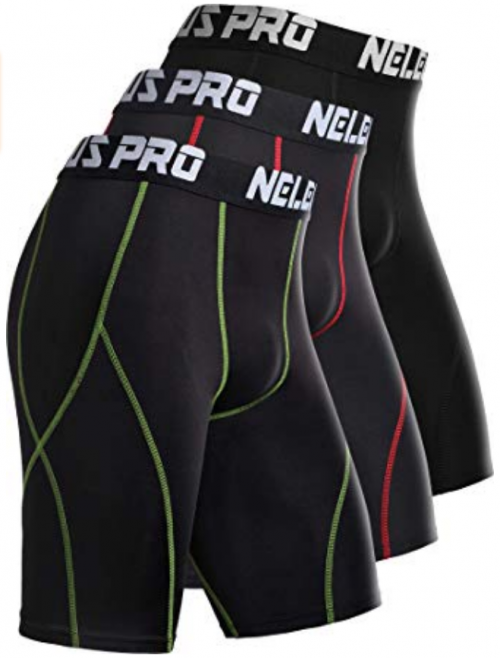 Neleus was founded in 2008 to address the needs of users looking for unique men's undergarments that feature comfortable clipping. This energetic model is among the few men's undergarments on the list that can be worn either as undies or as workout short. This functionality makes them ideal for users that prefer going commando for an unlimited range of activities.
These men's undergarments have an 85% Polyester and 15% Spandex fabric mixture for compression-fitting. This mix of fabrics makes the pants lightweight, soft, flexible, and moisture-wicking. These features combine to make your workout a drier, fresher, and more comfortable experience.
You can also wash these shorts by hand or in a washing machine with cold water and a medium heat-set tumble drier. The only major element missing in these men's undergarments is a fly. However, the materials and construction features on these shorts provide adequate ventilation even without the fly.
This semi-compression fit is incredibly tight, giving a second skin effect. This compression fitting allows the shorts to dry faster, reduce chafe-inducing friction as well as to provide enhanced flexibility vital in all manner of sporting activities. The Neleus men's underclothing has a svelte crouch pouch and elastic leg grips to prevent them from riding up.

Subscribe to our Newsletter