Best Massage Roller For Your Feet Reviewed & Rated
In a Hurry? Editors choice: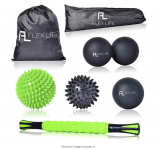 Test Winner: Flex Life Massage Set

Are tired, achy feet affecting your quality of life? If so, there's good news! You can effectively treat your symptoms from home by incorporating a massage roller into your weekly routine. They're easy-to-use, inexpensive, and yield excellent results when used on a regular basis.
These rollers benefit the overall health of our feet in many different ways. They can help to improve posture, reduce pain, improve balance, and even increase flexibility. Massaging can also help to stimulate blood flow which effectively reduces
swelling
and overall discomfort. Many people use a massager to help lessen the painful symptoms associated with plantar fasciitis or to help with diabetic foot care.
Standout Picks
Criteria Used for Evaluation
Advanced Features
Texture: This equipment is designed with various different surface textures which act as the massaging element. It is usually distributed across the surface of the roller in a way that specifically places pressure on certain 'hot-spots' on our feet. Some different textures are rounded bumps, triangular, and square. They also come in various heights to suit individual preferences.
Handling: Ease of use is a big factor when considering which roller will best suit your needs. Whether-or-not the equipment is handheld or mounted to a base will affect how easy it will be to use. If it operates by being mounted to a base you want' to opt for one that has non-slip pads on the bottom. This will ensure your equipment doesn't slide around under the weight of your feet. The rolling motion will most definitely cause it to slide if there aren't proper anti-slip measures in place.
Effectiveness
Pain Relief: Pain relief is the number one reason why people seek out a foot massage. Did you know that approximately one out of every three people has experienced some degree of foot pain? This number is even higher among people aged 65-years and older. Painful feet can negatively affect the quality of your life and can restrict the activities that you're able to perform. Some of the most common causes are poorly fitted shoes, uncomfortable footwear, standing or walking for long periods of time, and sports-related injuries. If your muscles are feeling tense and fatigued at the end of the day a soothing massage is one of the best remedies and can have you back on your feet in no time at all. The products on this page were chosen because they have proven to be the most effective at reducing or eliminating pain altogether. Whether you're in need of a deep tissue rub or a light once-over, this equipment offers tremendous results. Be sure to choose the appropriate style of the roller to suit your needs. If you have sensitive feet try opting for a soft roller that won't apply too much pressure. Whereas, if your feet are less sensitive then go for a harder tool that will give you a deeper tissue massage.
Reduced Foot Fatigue: Tired achy feet are just no fun at all! That's why a relaxing knead is such a great way to liven your lower limbs back up. By stretching and limbering your tendons and muscles you will effectively reduce fatigue. This will also increase blood flow which will help to put some extra spring back into your step!
Plantar Fasciitis: This painful condition affects the sole of the foot and causes serious discomfort for affected individuals. While there are limited scientific studies which have been performed to further examine the effects of massage on plantar fasciitis symptom relief, many respected doctors and researchers believe that massaging can lead to a reduction in the negative side effects of this condition. Stretching the plantar flexor muscles in the foot is thought to be an excellent way to relieve symptoms. Since the shortening of the plantar flexors is one of the main reasons people develop this condition in the first place, it's reasonable to consider that this line of therapy would help considerably.
Recovery: Injuries suck! Not only do they hurt but they also sideline you for days, weeks, or even months at a time. This means having to miss out on your favorite pastimes until you're fully healed. Resuming regular activities too soon can worsen an injury or sprain leading to a longer recovery period, or worse, permanent damage. Certain types of kneadings are said to help speed the time it takes for an individual to recover. This is true, in part, because of how massaging stimulates blood flow for increased circulation. Always consult with your doctor or physiotherapist before you start any kind of self-treatment when you're healing an injury because doing the wrong thing can end up causing you a world of grief.
Materials
Wood: Wooden rollers consist of anywhere from one to six rollers which are ridged and one that's nubbed. These ridges are spaced in a way which puts pressure on certain trigger spots. This design is effective in relieving foot pain and the wood used makes for a sturdy design. The downside to a wooden piece is it's not optimal for use in wet or damp areas, whereas, a plastic and rubber are suitable for use in both wet and dry conditions.
Foam: Foam cannot be used on its own to form a massager because it lacks the strength required to apply adequate pressure. It can be used as a padding material over the top of more solid ones like plastic or wood even.
Plastic:
Plastics are good in general because they're low cost and long lasting. Plastics can be used in water and are generally easy to clean after each use. Though plastic can be slippery so it's best to opt for something with anti-slip pads.
Rubber: Rubber is a great material all around because it's durable, firm, and water-resistant. The only downside to rubber is it's grippy so it can be a bit harder to slide your bare skin across.
Value
The value of a product is so much more than its price tag. It's what you get out of the product in relation to the price tag. Of course this well vary from person to person, as everyone has their own unique needs. Perhaps you want something lightweight that is great to travel with, or you prefer something with a certain texture to it. Think about what's most important to you when you look at the value of something.
Versatility
Wavy/Firm: Options which are firmer by design provide a deeper tissue massage than softer options do. They often have a wavy texture and are perfect for individuals who are suffering from extremely sore and stiff feet.
Soft: A softly textured option will often consist of foam along with a softer plastic or rubber material. This type of equipment is best suited to aid with an increase in blood flow and relief from mild aches and pains.
Smooth: A smoothly textured roller is great for many conditions and preferences. These kinds of tools are gentle on your skin and won't pull on skin or hairs. They're also good for individuals who need a less pressured rub.
Top 10 Picks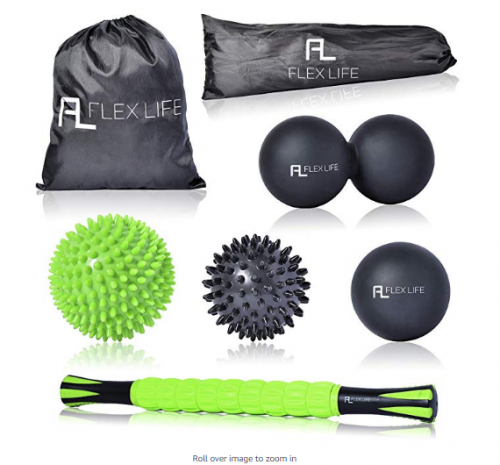 The Flex Life Massage Ball Set is a full kit that includes everything you need to relieve those tender tootsies. It comes with two spiked balls, one lacrosse ball, one peanut ball, and an 18-inch roller stick. This kind of equipment is perfect for those suffering from plantar fasciitis, a painful inflammatory condition affecting the connective tissues in the foot.
Effective Relief
This set effectively treats a number of concerns including knots, deep tissue pain, plantar fasciitis, and general pain in the legs and feet. Its five-piece system offers something for every concern and takes the hassle out of self-massaging.
Long-Lasting Material
This massaging set is made from top-quality materials. It's guaranteed to deliver all-over satisfaction and the kind of results you would expect from a fancy high-end parlor. This kit is built tough to outlast the competition and can handle to pressures of frequent use without falling apart.
Cost and Value
While this costs a bit more than others on the list it certainly delivers unrivaled results. This five-piece system doesn't lack in quality and features carefully constructed products that offer the best massage possible.

2

. Foot Gym Foot Massager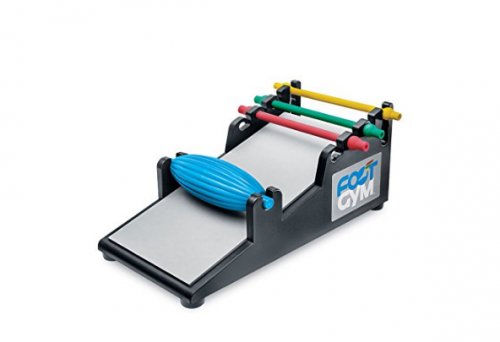 The Foot Gym helps to strengthen your joints and muscles. It works your feet by putting them through a series of stretches that are good for the calves as well. This option is perfect for those suffering from plantar fasciitis or even shin splints. If you're in need of some lower limb strengthening then this is the perfect choice for you!
Easy To Use
This equipment comes pre-assembled and ready to use right out of the box. It's very user-friendly and requires little-to-no knowledge of physical therapy or massage techniques. It offers three tension levels which operate through the use of resistance bands and are designed to promote muscle development.
Multiple Resistance Levels
The Foot Gym provides three levels of resistance that's powered by bands. This makes for a diverse kind of workout that can be tailored to suit your individual fitness and comfort level. Whether you choose a light, moderate, or firm setting, the Foot Gym will whip your lower limbs into shape in no time!
Cost and Value
This unique system costs more than others on the list but it's a worthwhile choice. Go ahead and start your journey to stronger muscles in the feet and legs. This will lead to increased stamina and less fatigue. It will also reduce overall foot pain and discomfort.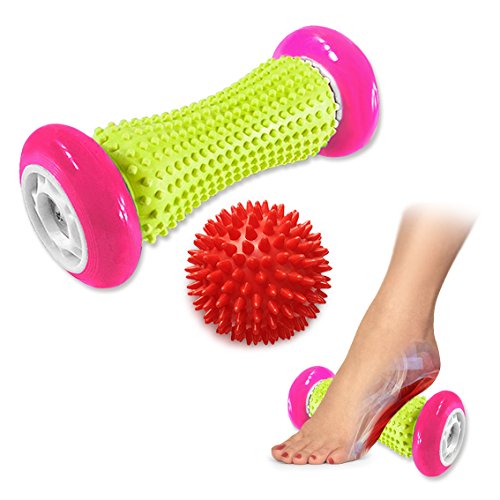 The Pasnity Foot Ball Is made to relieve foot pain. It features protruding acupressure nibs that provide an effective and therapeutic deep tissue massage. This option is designed for physical therapy, as well as, promoting all-around pain relief. It's perfect for those suffering from conditions of the foot such as plantar fasciitis, heel spurs, or pain in the arch area. This product includes a foot massage roller plus two spiky balls that are excellent for deep tissue massage for the delicate underside of the foot.
Acupressure Reflexology
Pasnity designed this gadget to provide acupressure reflexology relief. It effectively works to improve circulation as well as boost lymphatic drainage. This helps to give your metabolism an added boost while relieving strained muscles and tender joints. You can even use this to treat other concern such as headaches, migraines, and overall tension.
Multipurpose Use
Go ahead And try this piece of equipment on any part of you such as your legs, hands, wrists, neck, or shoulders. Though it's ideally designed for work on the legs and feet it's unique acupressure structure works well on any part of the body that may be causing you discomfort.
Cost and Value
This is a reasonably priced option that offers not one but three pieces of massaging equipment. You'll get the acupressure reflexology, along with two spiky massaging balls designed for deep tissue relief.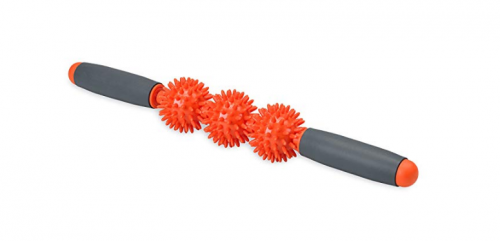 The Gaiam Pressure Point Roller Stick is used to help speed recovery and improve circulation for quick healing from sports-related injuries to the foot. It features spiked deep tissue massagers that provide relief from muscle pain and tenderness, as well as, helps sports-related injuries or strains heal in rapid time. Its amazing compression and stretch muscular stimulation targets trigger points for an effective approach.
Deep Tissue
This piece of equipment is specially designed to provide a deep tissue massage. Its bumpy nodes are structured to hit key pressure points while stretching and compressing the muscles, giving you the most relaxing experience posible. It's great for pain relief and helps to heal sports and other-related injuries quickly.
Easy To Use
This roller is very easy to use thanks to its convenient handles that put you and total control. Go ahead and massage other parts of your body to thanks to its stretch design that is wide enough to work on your neck, shoulders, back, legs, and feet. Designed to relieve pressure and foot pain, this roller gets the job done.
Cost and Value
This is another inexpensive option that offers great value for the associated price. It's easy to manage handles and durable nodular massaging design makes for effortless and effective use. This peace can be used on any muscle on the body including neck, back, shoulders, legs, and feet.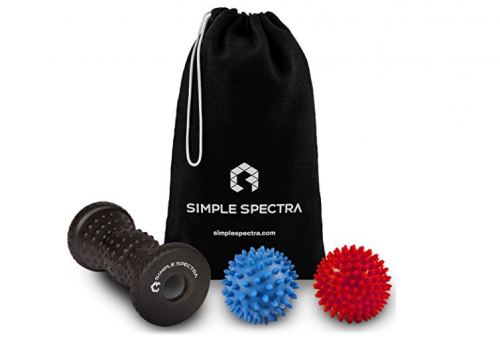 This unique massage kit includes three variations of the roller, a soft, medium, and hard. It's an ideal option for individuals who benefit from an all over foot rub and are looking for three different types of pressure in certain areas. The harder the equipment the deeper rub it will provide, while a softer piece offers a lighter rub that's ideal for loosening and relaxing. Go ahead and experiment with all three and see which ones suit you best.
Convenient Design
This kit offers a convenient way to take the spa with you wherever you go. It comes with a handy carry bag so you can take your massager with you on your travels. It's lightweight and super easy to transport making it the perfect choice to use at home, at the office, or even while you're traveling on vacation.
Materials
Simple Spectra's Roller is made from a safe non-toxic material. It's easily washable and can be rinsed off with hot water or disinfected using an antibacterial solution. They're made from 100% rubber for a slip-resistant and steady grip that's a blast to handle.
Cost and Value
While this kit costs a bit more than some of the options on this list it's a worthwhile investment. You get not only one, but three different massagers that effectively treat certain areas of the foot. Ranging from soft to hard in composition, these balls will offer you everything you need to relieve tired achy feet.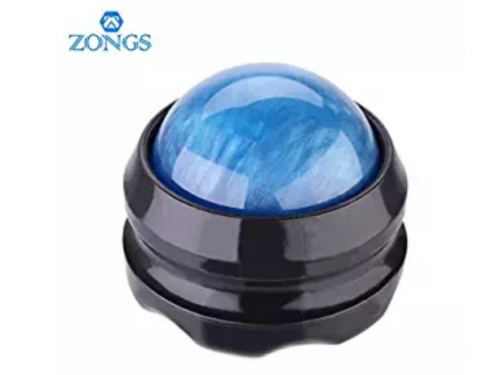 The Zongs Manual Ball is perfect For relieving stress! It not only improves circulation but also soothes sore muscles. It can be used for both the upper and lower body but is especially effective for treating the legs and feet. Go ahead and give this user-friendly massager a try and experience the results first hand.
Quality Materials
This equipment is made from high-quality materials! It's non-allergenic so you can forget about skin irritation or itching. Its long-lasting and durable design is able to withstand high amounts a pressure and its easy-to-use compact structure is perfect for taking with you while you're on-the-go.
Pain Relief
The manual rolling ball is made for use with the feet, legs, torso, and head. It's excellent at relieving pressure and strain on your muscles and joints, while still maintaining an easy-to-use design. You'll benefit from this effective piece of equipment and will love the great usability it has to offer.
Cost and Value
The Zongs Manual Ball is relatively inexpensive and offers a great piece of quality equipment. It's effective at treating and relieving sore feet and fatigued lower limbs for a soothing and enjoyable experience. You'll love how easy it is to use and how effective it is at curing whatever pains you may have.

7

. TOBREFE Foot Roller Ball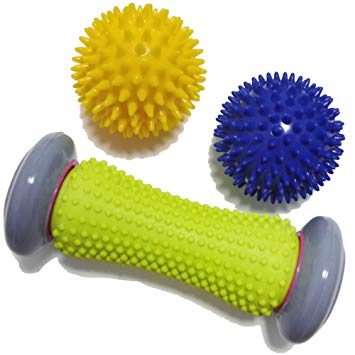 The TOBREFE Foot Roller Ball is an ideal option for relief from the painful symptoms of plantar fasciitis. It's an easy-to-use 3-step system that includes a foot roller and two massage balls. You can say goodbye to muscle pain, fatigue, and spasms thanks to this helpful tool that's proven to be effective.
Non-Toxic Materials
This roller set is made from non-toxic chemical-free materials. It can easily be washed or rinsed off for no-fuss care! It 's long lasting TPR and PVC material is non-slip while still offering an easy-to-roll surface that won't stick to the skin.
Multi-Purpose
TOBREFE Massage Roller Ball is made for its many styles for relaxation. Go ahead and try it on your feet, legs, and lower back, or go for an upper body massage that's sure to bring about complete relaxation. Its ergonomic design makes this kit super easy-to-use on any part of your body but it's specifically designed to help ease foot pain and fatigue.
Cost and Value
This TOBREFE equipment is reasonably priced and offers a great value. You get three massagers for the price of one and can effectively treat multiple areas of discomfort. It's high-quality design and non-toxic materials make this a smart health-conscious choice that is sure to set you on the road to recovery and relaxation.

8

. Physix Gear Lacrosse Balls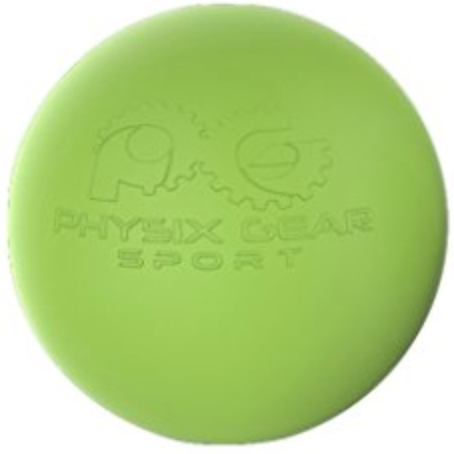 The Physix Gear Lacrosse Ball offers tailored trigger point massage therapy. It works hard to eliminate tension, fatigue, and soreness while relaxing tight muscles. This rejuvenating ball can be used anywhere on the body but is especially beneficial for the legs and feet. You'll love how easy this is to use and the sheer satisfaction it delivers every time! Made from solid rubber, the Physix Gear Lacrosse Ball won't slip on any surface and is easy to handle. It delivers a deep penetrating relief while promoting soft tissue release that's unparalleled.
Ease Of Use
This system is easily used 100% solo! There's no need for a massage partner to help. All you have to do is lean on the Lacrosse Ball since it uses your own body weight to provide a deep and relaxing experience. You can use it on almost any surface thanks to a solid rubber design that's anti-slip by nature.
Deep Tissue Relief
This rollerball is designed to provide instant and long-lasting muscle and deep tissue relief. It's ideal for individuals suffering from plantar fasciitis and relieves sore feet in an instant. This set works to increase the blood flow and helps to enhance flexibility. It's geared to boost your overall performance which makes it ideal for those playing sports or engaging in yoga.
Cost and Value
You won't believe how affordable this product is! It's barely a fraction of the cost for a professional massage and delivers incredible results. Users everywhere are raving about the long-lasting relief they get while using this equipment and can't get enough of the soothing relaxation it delivers to tired achy muscles.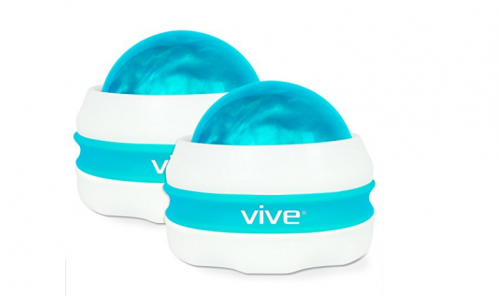 This relaxing self-massager is conveniently sized for hassle-free use. Its ergonomic ball roller can easily be used by yourself and is perfect for taking with you on your travels. This piece of equipment puts you in control and allows for a customized level of pressure ranging from a light touch to a deep tissue rub. It's perfect for relieving aches, pains, and fatigued muscles and can be used by both professionals or individuals from the comfort of their own home.
Friction Free
This roller glides smoothly across your skin or clothing for a completely effective performance. It's much easier using a frictionless massager as opposed to your bare hands or to using a piece of equipment that's sticky and doesn't move along the skin with ease. For the best and most beneficial results use a smooth glider that allows for maximum efficiency.
Hypoallergenic
This latex-free rollerball is made from a high-quality resin that's durable and long-lasting. Forget about splits or tears thanks to its ideal structure. It's made from non-irritating materials that are safe even on sensitive skin and can easily be used with oils, lotions, or creams so long as you thoroughly clean the equipment after each use.
Cost and value
This rollerball is priced similar to most of the items on the list and offers great value for the money. If you are searching for a product that's simple for using at-home by yourself then this is a great option to consider. It yields strong results and is totally user-friendly making it a great choice for individuals who benefit from a range of massage pressures.

10

. Master Of Muscle Ball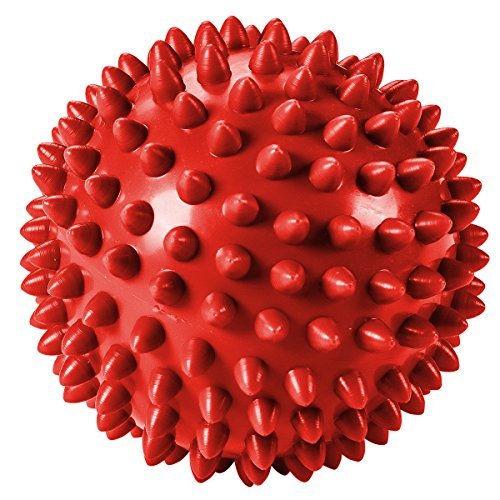 This ball is built tough to last long! Its dense rubber spikes are designed to provide a stimulating tissue massage while also improving circulation. They reach deeper and apply just the right amount of pressure to help release tensions both before and after working out. Athletes everywhere choose this option for its ease of use, compact design, and deep tissue stimulation.
Dense Spikes
This ball is built tough to last long! Its dense rubber spikes are designed to provide a stimulating tissue massage while also improving circulation. They reach deeper and apply just the right amount of pressure to help release tensions both before and after working out. Athletes everywhere choose this option for its ease of use, compact design, and deep tissue stimulation.
Compact Design
This little ball can easily go with you wherever you're headed. Take it to with you to the gym or to work for some quick relaxation when the day gets tough. If you're spending long hours on your feet this is a great way to relieve tension mid-way through the day and can stop foot fatigue and muscle pain before it starts.
Cost and Value
This innovative piece of equipment is very affordable! It offers an excellent value for the price and will help to reduce foot pain and fatigue. Go ahead and take it anywhere with you thanks to its compact design that can easily fit inside of your purse, gym bag, or even in your pocket!

Subscribe to our Newsletter