Best Heel Cups Reviewed & Rated for Pain Relief
last updated
Aug 09, 2019
There is nothing worse than experiencing pain in your feet. Regardless of what the cause is, or where it is located, foot pain brings a great deal of discomfort, while also slowing us down and hindering our normal day to day lives. Heel pain is usually caused by inflammation in key tendons, pinched nerves and stress fractures, and is mostly a chronic type of pain. Luckily, it can be treated as simply as inserting a pair of heel cups in your footwear.
NSAIDs (anti-inflammatory drugs), injections, physical therapy and exercises, athletic taping, and orthotics are all effective ways of treating pain in the heel area. The list below looks at the highest rated heel cups currently available for purchase, with different types suitable for varying degrees of discomfort. With detailed descriptions and pros and cons for each product, you'll easily find the best one for you.
In a Hurry? The test winner after 6 hrs of research

Pedag Perfect Shock
Why is it better?
Genuine Leather Surface
Latex and Rubber Cushioning
Ensures a Healthy Foot Climate
Self-Adhesive Bottom
Impact Absorbing
In a
Hurry? Editors choice:

Test Winner: Pedag Perfect Shock

4
Researched Sources
1300
Reviews Considered
6
Hours Researching
10
Products Evaluated
Application
Shock Absorption
Comfort
Advanced Features
Value
By Default
Top 10 Heel Cups



Genuine Leather Surface
Latex and Rubber Cushioning
Ensures a Healthy Foot Climate
Self-Adhesive Bottom
Impact Absorbing
Pedag, aside from having a funny name, is a company with a long history and tradition. It was founded in 1955 in Germany, and since then has been producing high-quality insoles, foot supports and shoe care products. This label always has the best interests of their customer in mind, and so they developed the Perfect Shock, strong heel cups that provide a firm hold and relieve pain.
Unlike most other options on this list which are made from gel, the Perfect Shock is a pair of heel cups with a leather surface and a cushioning made from latex and rubber. This provides durability, slip resistance and a flexible feeling. The leather is there for a healthy foot climate, free of moisture and bad odors, while the latex cushioning absorbs impact and stabilizes the heel, delivering pain relief in conditions such as plantar fasciitis. Not only that, but the Perfect Shock heel cups come with a self-adhesive bottom, meaning that they will easily stay in place inside your shoe.

We are having a hard time finding a flaw in this pair of heel cups. It is supportive, impact absorbing, and it even ensures that your feet are healthy! Truly, from such a renowned company we haven't expected any less. Choose the Pedag Perfect Shock for an ultimate experience, where you will be comfortable and pain and smell-free!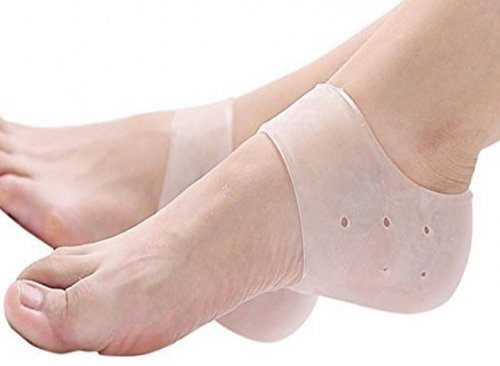 Medical-Grade Silicone
Shock Absorbing
Breathable Perforations
Simple Fastening
Compression Protection
Not Simple to Use
Not Shoe Inserts
This model of heel cups isn't quite something that you can slide into your footwear and be on your way. Rather, the Pimimiies Protector is a more heavy-duty product, one that you fasten around your foot with a simple closure and which then helps alleviate pain, no matter what its cause is. The Protector is used for plantar fasciitis, ankle support, other heel pain, metatarsal pain, heel spurs, and many more conditions and situations.
This is a pair of heel cups constructed from medical-grade silicone. It is flexible, fitting most foot sizes, and it is also shock absorbing and breathable. The shock absorption is necessary to diminish the impact of your heel strikes and reduce the pressure and long term damage your joints may suffer from. In terms of breathability, the Pimimiies Protector comes with perforations all over, for better airflow and a sweat-free ride. It also provides compression, which is much needed when it comes to pain in this part of the foot.

While it may not look like it, the Pimimiies Protector heel cups can be worn under socks or stockings and with shoes. It is not a simple solution compared to some other ones on our list, but it is an effective one, especially if you are suffering from pain that you haven't been able to get rid of otherwise. It doesn't hurt to try out this sturdy option!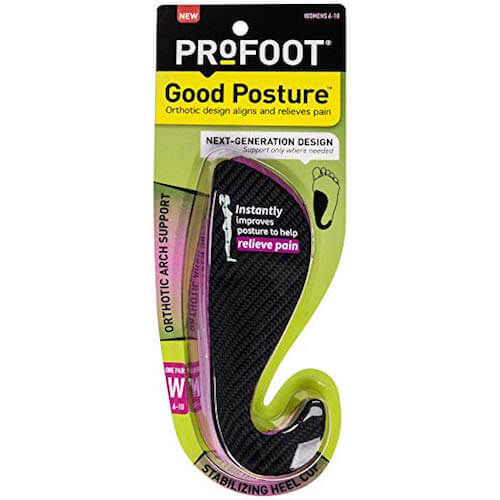 Biomechanical Design
Adaptive Arch
Stabilizing Heel Cup
Affordable Price
Great for Tight Shoes
This is a completely unique product that made the list of best heel cups because of its ability to ensure proper posture and alignment, which is a key step in ensuring foot health. Oftentimes, heel pain will occur because excessive pressure is applied to the wrong part of the foot. With the Profoot Postuthotic, this stops being a problem, as the device works to cradle the heel and arch, helping them achieve a neutral, healthy position.
These lightweight heel cups use lightweight materials to offer both cushioning and support. The most important aspect about them is that they don't take up too much space in your shoes, preventing fit issues that are often a side-effect from wearing inserts. Additionally, the materials are adaptive, so the arch support portion adapts to the height of your natural arch, while the uniquely designed heel part works to cradle and align.
The top of these heel cups is lined with a woven textile that resembles what would be found in most regular shoes, and they come with adhesive dots you can use to secure them inside your footwear. You'll also find that their shape works with most types of footwear (although not recommended for sandals and such). As for cost, they come at an affordable price, though smaller sizes do tend to run cheaper.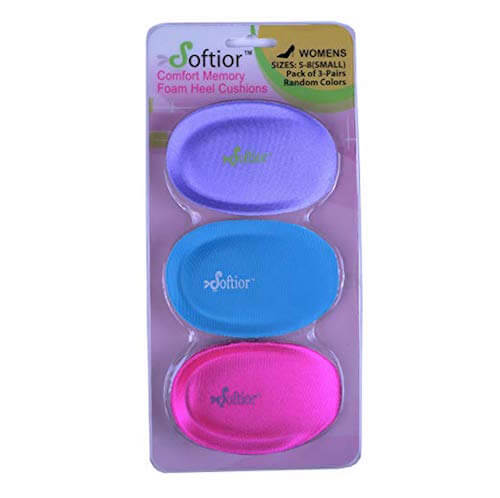 Pack of 6
Colorful Design
Memory Foam
Washable
Good Adhesive
Slightly Thick
Varying Density in Colors
If you're looking for a heel cup that is cushioning and easy to use in most of your footwear, then the Softior Comfort may be the ideal solution for you. This model has as its main goal to absorb shock in the sensitive heel area without modifying the fit of your footwear, or changing the level of arch support it provides you with. It's a great product to use inside formal footwear, and comes in two size options for the best possible fit.
Made with memory foam, these heel cups will provide the highest level of cushioning towards the middle portion of the insert, while the sides are tapered in order to prevent fit issues with your footwear. As the material used is highly durable, you can expect these to last for months or even years.
The Softior Comfort heel cups come in packs of six that work for three pairs of footwear. They're brightly colored for a fun experience and are easy to use. Before putting them inside your shoes, you will have to clean them thoroughly to remove excess oil, moisture or dirt, then simply peel off the film and place them. They can be removed and inserted as many times as needed, and can even be washed for a fresh feel. The price is affordable, making this a great product to start with, if you're just getting interested in heel cups for pain relief.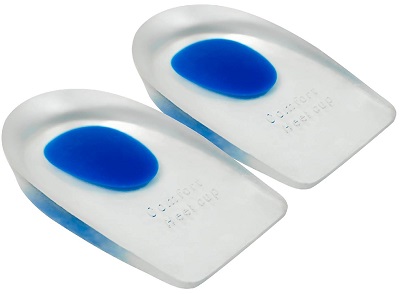 Shock Absorbing
Antimicrobial
Easy to Wash
Fits Any Shoe Style
Alleviates Pain & Fatigue
Sticky & Slippery
Strong Chemical Smell
ViveSole Silicone Gels are premium heel cups which provide superior support for the foot and ankle and minimize any pain or swelling. They are specially designed to relieve pain caused by spurs and plantar fasciitis and are ideal for people who spend the whole day on their feet. With their silicone gel construction, the ViveSole Silicone Gel is extremely shock-absorbing, latex-free and are quite easy to wash - by hand with only a little bit of mild detergent. It fits all types of shoes and can even be worn inside a sock if required.
The main quality of the ViveSole Silicone Gel is that it evenly distributes the pressure created with each step. It reduces foot strain and alleviates fatigue by supporting ankle muscles. The gel also has the properties of massaging the heel and providing instant shock absorption relief. The Vivesole Silicone Gel comes with a gel formulation which is not only latex-free but with antimicrobial properties as well. This material prevents bacteria build-up, which reduces the risk of infections, as well as prevents any unpleasant odors.

The Vivesole Silicone Gel is a solid pair of heel cups, with plenty of benefits that will surely help you alleviate at least some of your pain.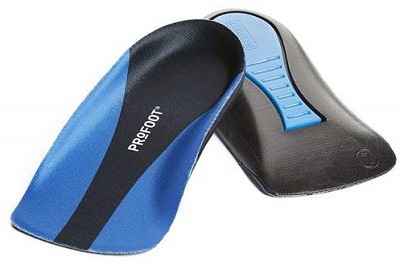 Clinically Proven Pain Relief
For Plantar Fasciitis
Shock Absorbing
Supports The Entire Tendon
Fights Inflammation
Not Good With Moisture
Adds Height To Shoes
ProFoot is a family-owned footcare business founded in 1986 by a licensed chiropractor. Their motto is: "The better your feet feel, the more you can do!" With that in mind, ProFoot designed a pair of plantar fasciitis heel cups that is clinically tested and proven to fight inflammation and pain associated with this unpleasant medical condition. The ProFoot Insert supports the entire length of the plantar fascia, relieving stress and pain, and allows you to be on your feet for as long as you want.
When it comes to plantar fasciitis, it is important to have cushioning and support down the entire length of this tendon. The ProFoot heel cups provide just that - with its unique design the product cradles the tender heel throughout the day, guaranteeing relief during standing, walking, and even hiking. The ProFoot Insert comes with a gel layer which absorbs shock during all of your daily activities. You can be free to not only walk around but also run and exercise because this insert will ensure that you are pain-free no matter what you do.

For a pair of heel cups which has been clinically proven to reduce pain and provide instant relief to patients suffering from plantar fasciitis, the ProFoot Insert is amazingly affordable. We see no reason why you shouldn't get it right now and enjoy all the benefits it has to offer.
7

. Dr. Scholl's Plantar Fasciitis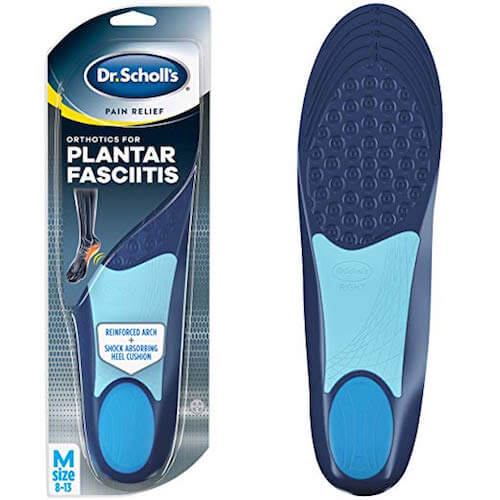 Adjustable Size
Reinforced Arch
Full Length
Reliable Brand
Immediate Relief
Unsuitable for High Arches
Durability for Heavy Users
This model of heel cups by Dr. Scholl's is actually a full length insole perfect for those looking to achieve a great fit inside their footwear. Made as a regular insert, it can be used to replace the removable footbeds insider your shoes, and it won't create bulk in the back. Furthermore, because it is a full-length product, it won't shift of lose adhesive power as quickly as most other heel cups listed.
The best application of these heel cups is to alleviate the symptoms of ailments such as plantar fasciitis, heel spurs, knee pain, shin splints and others. It soothes and supports the entire foot, all while providing several unique benefits. First and foremost, there is a reinforced arch support section that prevents the tendons in this part of the foot from working overtime, overall improving the shock absorbing abilities of the foot. This amount of support in the arch and heel ensures proper alignment and a healthy walking pattern.
The material used in these heel cups is Shock Guard, gel-like component in the heel area that is highly efficient in protecting the foot from impact. The upper layer is soft and pleasant to the touch, and the entire insole can be adjusted in size to achieve the perfect fit. This product is non-slip, so you won't have to worry about shifting, and being made with great materials, it will work wonderfully for both casual, athletic and professional wear. As for price point, it's quite affordable and an excellent product to try if you don't have previous experience with heel cups and insoles.




Made in the USA
Absorbs 94.7% Shock
Two Sizes
Thin Model
Suitable for Under Insoles
May Change Shoe Fit
May Shift
Heel cups can be difficult to find if you're looking for a model designed specifically with athletes in mind. However, the Heel Defender is exactly that type of product, and if you're an active person who needs added shock absorption in this sensitive foot area, it is definitely the model to check out. It can be purchased in two sizes and is suitable for use with most flat footwear. It can also be used by teens and children, which is not often seen in products of this type.
If you're after the best possible quality in a pair of heel cups, you'll definitely be happy to hear that the Heel Defender is made in the USA, and comes with a satisfaction guarantee. Furthermore, it's made from a highly efficient material called Sorbothane which absorbs as much as 94.7% of shock, preventing pain and further damage to those suffering from discomfort in this area.
These heel cups can be used to alleviate symptoms of plantar fasciitis and heel spurs, as well as Achilles tendonitis which is a common ailment among athletes. Its thin design means that it won't change the fit of your footwear (even snug shoes made for peak performance). Furthermore, you can place the Heel Defender underneath your insoles, so as to prevent shifting and slipping, which is especially advised when using with athletic footwear. The price of these heel cups does require an investment that's slightly larger than the other products listed, nonetheless, it is an excellent investment for those looking for something they can use during workouts.
9

. Dr. Scholl's Pain Relief



Shock Guard Technology
Reduces Impact
Instant Pain Relief
Supportive and Padded
For All Footwear Types
Slides Inside Shoe
Small Sizing
This list would not be complete without a world renowned foot health manufacturer that is Dr. Scholl's. For pain in the heel, this brand offers Pain Relief, an orthotic that treats pain right at the source, for instant relief and all-day comfort. The word orthotic may sound intimidating, but the truth is that these are simple heel cups that you put into your shoes - whichever style they happen to be - and you can forget about pain! How amazing!
The Pain Relief product comes with Dr. Scholl's special Shock Guard Technology. This means that it reduces shock at every step, immediately relieves pain and is both supportive and cushiony for extra comfort. These heel cups are great for those who suffer from plantar fasciitis and spurs, or even for those who just spend too much time on their feet and need something to protect their joints from overuse.

Dr. Scholl's Pain Relief fits all types of footwear - from sneakers to dress shoes to work boots, and it doesn't require any trimming. If for any reason you happen to be unsatisfied with the heel cups, the brand offers a Money Back Guarantee, which we find is a great deal! For an active, pain-free lifestyle, go for Dr. Scholl's Pain Relief!



Innovative Sof Gel Formula
Lightweight and Padded
Supports the Heel
Flexible Edges
For High Impact Activities
Doesn't Stay in Place
Slimy
The Sof Sole Gel insert is built specifically to relieve pain during high impact activities. If you are an athlete, professional or recreational, and you feel like you can't continue performing at your best because of your foot problems, worry no more! The Sof Sole Gel has your back, thanks to its revolutionary Sof Gel construction and superior comfort.
Sof Gel is a polymer, a synthetic material that comes right from the Sof Sole lab. It is flexible, lightweight and provides exceptional cushioning, as well as impact absorption. Thanks to its flexibility and malleable edges, this pair of heel cups can also fit in pretty much any shoe. The gel padding gently cradles the heel, and you will feel an immediate improvement in the overall fit and comfort while you exercise.

Of course, you don't necessarily have to be engaged in sports to enjoy all the benefits of the Sof Sole Gel heel cups. Even in your day to day activities, you will find that this gel formula reduces pain and delivers comfort and support like no other. Whether you're taking on the running track or simply going down to the grocery store, the Sof Sole Gel has your back!
Criteria Used for Evaluation


Application
As we mentioned at the beginning of this guide, causes for heel pain are numerous. They can be only temporary, a result of growing feet in teenagers for example, or they can be quite serious and debilitating, even requiring surgery as treatment.
The type of heel cups you're looking for can depend on the reason for your heel pain. Below we talk about some of the most common causes of heel pain, and what features a good pair of heel cups should have to combat them effectively.
Plantar Fasciitis
Plantar fasciitis is the most common cause of heel pain. There is a tendon, a ligament, which runs from your heel bone across your sole to the tip of your foot, and this medical condition is an inflammation of that tendon.
Causes of plantar fasciitis are various, and not strictly defined. Factors which contribute to it are tight calf muscles, obesity, high arches, repetitive impact activities such as running or sports, and new or increased activities of this type – if you have suddenly taken up exercising, for example.
Every time your heel strikes the ground there is a great amount of pressure placed on the tendon, which can cause micro-tears in the tissue. This is why heel cups which have shock-absorbing properties work well in the case of plantar fasciitis. They should also have some cushioning, to soften the blow and make you feel comfortable.
If your gait is out of alignment, heel cups which correct either pronation or supination are preferable, as well.
Heel Spurs
A heel spur is a calcium deposit in the heel bone, creating a bony protrusion on the underside of your heel. These deposits are usually symptom-free, but sometimes they can cause chronic heel pain, especially during intense walking, jogging or high-impact sports activities.
Heel spurs are caused by strains on foot muscles and tendons and are most common among athletes who spend a lot of time running or jumping. Other factors, such as excess weight, ill-fitting shoes, diabetes, flat feet or high arches, also contribute to the formation of heel spurs.
When it comes to relieving pain, shock absorption is a must. While alignment correction is not a major factor in treating heel spurs, heel cups or inserts in the shape of a donut – with an empty space where the spur would be – help alleviate the pain and prevent further calcium build-up in the heel.
Heel Bursitis
Bursae are fluid-filled sacs near the joints in your body which protect them and help them move smoothly. Bursitis is a condition which develops when these sacs become inflamed, swollen, and painful.
Bursitis in the heel has much the same causes as plantar fasciitis – high-impact activities and uphill running especially – but it can also be caused by foot deformities, as well as injuries to the foot. Additionally, one of the most common causes of heel bursitis is ill-fitting shoes which cut into the back of the heel.
Orthotics and heel cups greatly help in this case, particularly those which provide cushioning and support and correct gait abnormalities.
There are other causes for heel pain, such as the tarsal tunnel syndrome – where a nerve in the back of the foot is compressed – and stress fractures, as well as Achilles tendinosis and other chronic conditions. For some of these heel cups are beneficial, but for some heel cups don't have any effect at all, and might even cause more harm than good.
Make sure to always consult with your doctor in case of intense, persistent pain in your heel. The doctor will conduct a check-up, diagnose you and recommend the proper course of treatment, which might or might not include heel cups. Before you make any major decisions about your lifestyle or the way you walk and what shoes you wear, it is imperative that you reach out to a medical professional.


Shock Absorption
One of the main qualities of heel cups is that they absorb impact with each footstep. Due to the fact that heel pain is caused by the repeated pounding of the heel, it is essential that the forces and weight pressing onto the heel are minimized.
This is where the shock-absorption comes into play, and where heel cups which have this feature are always a favorite. They are especially beneficial for those who are on their feet and walking for most of the day. For the best results, look for heel cups which have a waffle design, as they return the maximum amount of energy on impact.


Comfort
Not all heel cups offer the same type of support or relieve heel pain in the same way. There are common features, but there are also those unique only to specific heel cups. Here we have listed them all so that you can determine which features are the most important to you and which ones you can maybe do without.
Alignment Correction: While the exact causes of plantar fasciitis are not entirely clear, it is evident that an incorrect manner of walking contributes to this condition. There are two terms we should introduce here: pronation, when the foot rolls inward and the arch of the foot flattens, and supination when the foot rolls outward. Both of these are unnatural ways of walking and further exacerbate symptoms of plantar fasciitis, increasing heel pain.
What some heel cups have the ability to do is to correct these alignment problems. They are slanted and depending on how you fit them in your shoe, they can aid in both pronation and supination and relieve any discomfort caused by them.
Cushioning: We have already mentioned that cushioning is actually not the most important factor when it comes to heel cups which relieve pain. It is preferable, yes, as it amps up comfort levels of any shoe and softens the surface of the insole, easing the pain in the heel. For uncomfortable shoes and minor problems with heel pain, this could be enough. However, in serious medical conditions, heel cups with proper support, shock-absorption, and alignment correction features are far more effective in helping with heel pain than cups which only provide padding to the shoe.


Advanced Features
Moldability: There are heel cups on the market which come with a unique feature of being able to mold to your foot. Before using these cups for the first time, you submerge them in hot water for around 30 seconds and then mold them around your socked feet, using your hands. After they cool down to room temperature, you are free to put them in your shoes and enjoy that customized fit. If they lose shape over time, you can always repeat the molding process.
Antimicrobial Properties: Due to the fact that heel cups stay inside your shoes for longer periods of time – and perhaps you even switch them between your favorite footwear – it is vital that they have antimicrobial properties.
When we are on our feet the whole day, especially if it is hot outside, our feet tend to sweat. A damp, hot environment is ideal for bacteria and fungi growth, which can lead to many unpleasantries, such as bad odor, itchiness, and infections. Antimicrobial heel cups help prevent all of that and maintain a dry and healthy climate for your feet.
Non-slip: It can get very frustrating very fast when you purchase a pair of heel cups which are supposed to help you with your heel pain, but they only end up moving around inside your shoe. They don't stay in one place, do anything to support or cushion your footsteps, and become a waste of money.
This is why it is important to look for heel cups which have a non-slip pad at the bottom, so that you can be sure they won't slosh around and that you can make the most out of their pain-relieving qualities.


Value
When shopping for any type of orthotic insert, heel cups included, you want to get the absolute best value for your money. Not only did you likely spend a considerable amount on all your footwear, but investing in inserts can quickly add up to a large sum, especially if you are shopping for more than one pair of shoes.
What will work best for you in terms of value will greatly depend on your routine, as well as your foot health. Those with more serious issues will need to purchase heel cups with higher level shock absorbing abilities, as well as some level of arch support. If, however, you're only trying to make a pair of footwear work better for you, you may be well off with a simple pair of silicone inserts.
The list above features heel cups that have a wide range in cost. Some are more durable, while others will need to be replaced more frequently. So you can move from shoe to shoe, while others use strong adhesives to keep them in place. On the whole, it is highly advised to read each product description before buying, as well as to pay attention to the pros and cons, as well as to customer reviews to ensure a purchase you'll be happy with in the long run.
Expert Interviews & Opinions
Most Important Criteria
(According to our experts opinion)
Experts Opinion
Editors Opinion
Users Opinion
By Default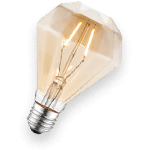 Uses For Heel Cups
Heel Cups actually help provide comfort for a number of different reasons. The lift you get from wearing a pair can actually help shift weight from your heel to the forefoot, especially helpful for achilles bursitis symptoms, or heel spurs. It also helps to provide less in-shoe slippage, locking the heel in place. Above all, it helps provide an extra layer of cushion and padding for more shock-absorbing capabilities.
Other Factors to Consider


Bottom Line
It's completely understandable if you are feeling overwhelmed by all of these options. With so many products on the market, it can get quite confusing which inserts are good for what type of pain, and which ones would work best for you.

With a focus on the various causes for heel pain, and various materials heel cups are made of, as well as the different types of support they provide, we have outlined the most important information in our Criteria section.

We hope that, by the end of this guide, you will have all the necessary knowledge to make a good choice and get yourself a pair of heel cups which will keep away the pain for good. It's time to slide back into your favorite pair of shoes, go out there with confidence and your head held high, and seize the day!
Frequently Asked Questions
q:

What materials should my heel cups be made of?

a:

It depends on what type of support you are looking for. There are two most common materials used for heel cups, and those are plastic and gel.

The one obvious advantage of plastic is that it is a hard material. Heel cups made of plastic are strong, able to withstand any weight and any activity – walking, running and jumping alike – and will support you throughout your day no matter what you decide to do. Furthermore, plastic is sturdy, doesn't wear out easily, and will preserve its shape for a long, long time.

Gel is a great combination of both hard and soft. Gel heel cups have a solid shape and provide support on the outside, but they are also soft inside, adding a bounce to your step and ensuring that your heels are cushioned and comfortable.
q:

How long do heel cups last?

a:

It depends on the exact brand and model but generally, companies recommend replacing your heel cups each time you replace your shoes.
q:

How effective are heel cups?

a:

Unfortunately, there is no universal answer to this. The degree of pain relief provided by a certain product varies from person to person, from one condition to another. If an insert worked for your friend or family member, it doesn't mean that it will work for you too. Therefore, your best option would be to try, and to keep trying, until you find the product that improves your way of life!
q:

Are heel cups suitable for all footwear sizes?

a:

Most footwear sizes, yes, but sadly not most footwear widths. Generally speaking, the heel cups on our list are meant for normal width type footwear, and if you are looking for something in a narrow or a wide size, you may need to continue searching elsewhere.