Best Globe Shoes On The Globe Reviewed
last updated
Feb 07, 2019
Skaters know the difference that having a solid pair of skate shoes can make! The right pair can raise your game to new heights, while the wrong ones can leave you looking like a newbie at the park. And besides that, the right pair will provide you comfort and style for a longer time. Since the early 90's Globe Shoes have been paving the way in developing one-of-a-kind technologies to help skaters reach their performance goals and get air like never before. Globe has become a trusted name in purpose-built footwear and is a must-have for skaters, surfers, and snowboarders alike.
In a Hurry? The test winner after 5 hrs of research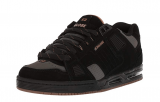 Sabre
Why is it better?
S-TRAC™ Tread
Step-In Sockliner
Impact Control
100% Leather Upper
In a
Hurry? Editors choice: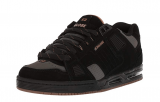 Test Winner: Sabre

3
Researched Sources
2463
Reviews Considered
5
Hours Researching
10
Products Evaluated
Style
Outsole
Features
Materials
Flexibility
By Default
In Depth Review Top 10
Sabre
Fushion
Motley Mid
Tilt
Mahalo
Agent
Mojo Legacy
Tribe
CT-IV
Encore-2
Table of contents
Criteria Used for Evaluation
Other Factors to Consider
Frequently Asked Questions
Sources
Top 10 Picks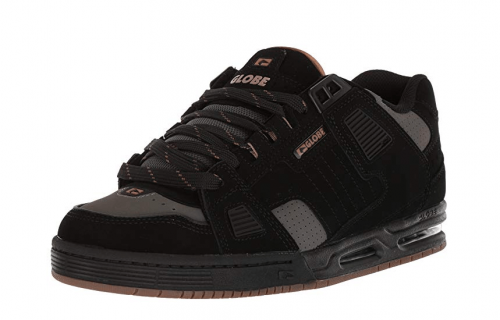 S-TRAC™ Tread
Step-In Sockliner
Impact Control
100% Leather Upper
The Sabre is ready to ride! It boasts an impressive 100% leather upper unit and a non-slip rubber sole that yields the kind of board grip the pro's dream of. Its low-top build and utilitarian vibe make this pair a go-to for skaters far and wide and delivers the kind of style you want while you're on the grind.
Read more
Sabre's step-in sock liner provides an optimal level of comfort while helping to support your feet and lessening the chance of injury. Its flexible design allows you total freedom to move whichever way you choose and won't restrict you while you're on the go. Skaters love the impact control and whole foot cushioning the Sabre's Nitrocel™ Airbag pockets provide, which helps to prevent foot pain and lower limb fatigue so you can go for hours on end.
 
Its rubber S-TRAC™ outsole is lightweight and flexible but still provides a durable wear. Globe's innovative S-TRAC™ sole gives better impact control by providing a solid grip that won't let you down and holds tight to the board beneath your feet. This is a mid-priced pair that delivers exceptional value for its selling price and is guaranteed to impress.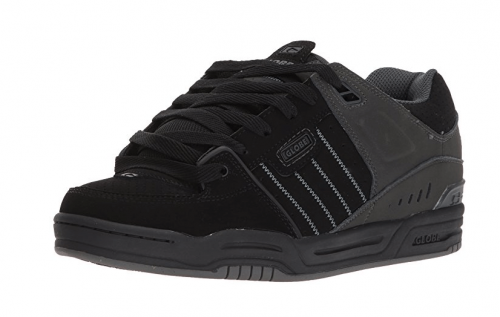 TPR Ollie Reinforcement
S-Trac™ Tread
Nitrolite™ Insole
EVA Foam
The Fusion features a nubuck leather upper and grippy rubber outsole that's perfect for life on the board! Its rugged design is built tough to last long and won't let you down, even after long hours of strenuous wear. This pair is perfect for skaters of any skill level thanks to its fully cushioned build that helps to protect your feet from every angle.
Read more
Fusion's nubuck leather upper is breathable and allows for better air circulation inside of the shoe which keeps your feet cool and dry. Leather offers excellent moisture wicking technologies that draw excess moisture away from the skin, pushing it outwards to prevent a build-up of sweat and odor-causing bacteria. Its S-Trac™ tread pattern is specially designed with traction lugs that deliver better energy transfer. This unique pattern offers excellent shock absorption and helps to lessen foot and leg pain, while at the same time, provides the ideal mix of grip and flexibility.
 
Skaters love the Fusion's step-in sock liner and TPR ollie reinforcement that make this shoe a heavy hitter that won't let you down no matter how much stress you put it through. Its Nitrolite™ insole is super lightweight and made from comforting EVA foam that holds up well under pressure so you won't have to take it easy on this pair!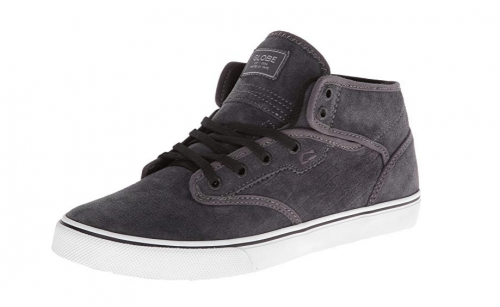 Herringbone Sole
ShockBed™ Insole
Mid-Top
Shaved-Suede Upper
Globe's Motley is a mid-cut skate shoe that boasts a shaved-suede upper unit and comfy faux-fur lining. Its herringbone patterned outsole is perfect for gripping your board and delivers reliable traction in any weather conditions. Every piece of this shoe is hand-picked to ensure the highest standards in quality and its long-lasting build is a favorite among skaters from far and wide.
Read more
Motley's ShockBed™ insole provides superior impact control thanks to its polyurethane structure that protects from rebound shock waves. Its Super 29™ sole delivers unmatched traction and longevity while remaining ultra-lightweight for a flexible and featherlight feel. An EVA outer shell and rubber inserts come together during the construction phase to create a top-of-the-line cushioning system that won't let you down!
 
Wearers love the Motley for its laid-back look and superior comfort that help to propel this shoe straight to the top. Its an affordable choice of footwear and is available in a variety of color combinations like black/tobacco, navy chambray, and charcoal/snake. Motley's mid-top structure is a unique spin on the usually low-top skate shoe and its scorching hot vibe is the perfect addition to any skaters wardrobe.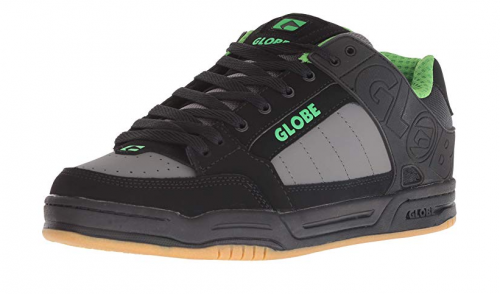 Synthetic/Leather Materials
'90's-Inspired
Metal Eyelets
TPR Collar
The Tilt pays tribute to the original skate shoe and delivers an incredible kind of comfort! This pair is made from breathable leather and smooth synthetics that keep your feet cool and dry even after hours of wear. Its exaggerated upper is likened to the 'big shoes' of the '90's skate scene and allows plenty of wiggle room.
Read more
Tilt's fully padded cup sole design looks great with nearly any style of clothing and its bold logos help it stand out from the crowd. This shoe offers a molded TPR collar and Globe's innovative S-Trac™ sole pattern that yields incredible traction on any surface. Forget about losing your footing while wearing a pair of these grippy skate shoes because they were made to handle anything.
 
Frontal lacing and matching metal eyelets add to the uniqueness of this shoe while also providing a snug and stay-put fit. Wearers who have wide feet will love this option because it offers plenty of extra room inside and won't cramp your toes as some styles do.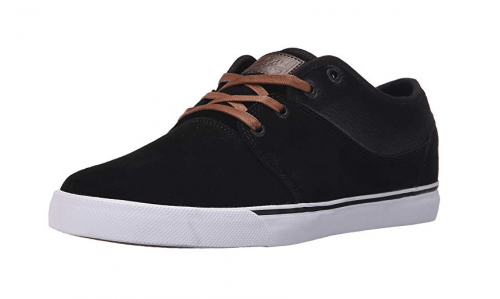 Mark Appleyard-Inspired
Shockbed™ Insole
Super-V™ Outsole
Deep Cushioning
In collaboration with professional skateboarder Mark Appleyard, Globe's Mahalo delivers a solid piece of footwear. This shoe offers a Shockbed™ insole and Super-V™ outsole that combine to form the most comfortable pair yet. Its cool shaved-suede upper unit adds to its overall vibe and helps to make this pair streetwear-approved.
Read more
Mark Appleyard is one of the best skateboarders around! He was named 'Skater Of The Year' by Thrasher and 'Best Street Skater' by Transworld, not to mention his myriad of top sponsors. Appleyard is one of Globe's team riders and has released several shoe models with the brand. The Mahalo is one of the best pairs in terms of both style and comfort thanks to its rock-solid performance and smooth ride. It gives better support and flexibility while at the same time, delivering the kind of comfort that dreams are made of.
 
The Mahalo's deep-cushioned footbed helps to lessen the shock of impact and reduces the risk of injuries, making it an ideal choice for the demanding world of skateboarding. Its vulcanized sole is lightweight and moveable thanks to its smooth flex grooves that are super durable so you can go as hard as ever. Forget about issues with board grip because the Mahalo has got you covered and will make sure you never miss a step. Its Super-V™ sole and hand-picked components ensure the highest standards in quality with every single pair that's made.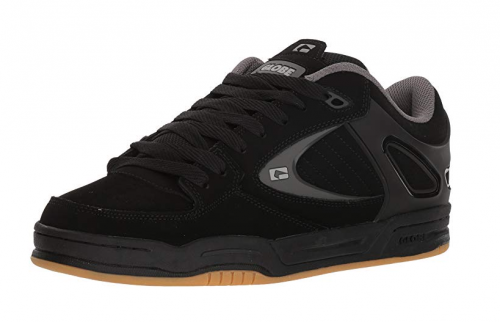 TPU Heel Support
Heritage Series
Cushioned
Multi-Layered Forefoot
Globe's Agent is a heritage series shoe that features a modernized look and molded quarter logo accents. It offers an added TPU heel support panel that provides excellent structure and Globe's signature S-Trac™ outsole. This shoe touches on the 90's inspired designs and presents a smooth retro vibe that wearers can't get enough of.
Read more
Globe's heritage series products touch on their 90's roots and convey that classic style that propelled skate shoes to the forefront of streetwear apparel. Their Agent is a solid choice thanks to its nubuck and synthetic materials that combine to form an ultra-durable shoe. Designed with a multi-layered forefoot for added longevity, this shoe is able to withstand heavy wear and tear with ease.
 
Offering cut-out eyelets and Globe's classic no-tie wearability, this choice of footwear will make it easier to get out and go. It's specially designed sole provides excellent traction and is ideal for gripping your board, while its padded footbed, heel cup, and toe cap ensure that you're well protected.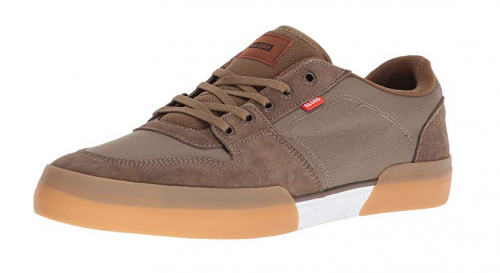 Shaved-Suede Upper
Dual-Stitching
EVA Foam
Shock Absorption
The Mojito Legacy will help you to look the part while you're at the park thanks to its shaved-suede upper and smooth detailing. This updated take on Globe's most popular design delivers a modernized look with a classic feel. It's jam-packed with performance-enhancers and is ideal for skateboarders who live for the thrill of landing the toughest tricks.
Read more
Legacy's Nitrolite™ footbed is designed for better shock-absorption and it helps to lessen the effects of hard impact landings. This comfy insole is made from a lightweight EVA foam material that provides just the right amount of cushioning without weighing you down. This pair has excellent traction that comes from its S-Trac™ rubber sole with an innovative tread pattern for better grip.
 
Dual-stitching and extra reinforcing at the toe and heel help to make this a long-lasting choice of footwear that can handle some serious wear and tear. Its metal eyelet frontal lacing allows for an adjustable wear that feels tailored to your needs and ensures that your shoes don't slip or slide around on your feet. This shoe is a great choice all around for skaters who like to push the limits and it's affordable selling price only adds to the allure.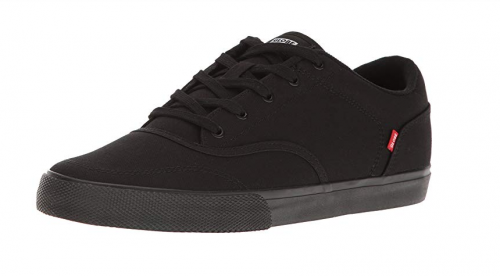 Impact Control
Ultra-Lightweight
Affordable
Nitrolite™ Insole
Globe's Tribe is thinner than most of their pairs and offers a fit that hugs the contours of your feet. Its shaved-suede upper and contrast color design make this a cool looking pair that will look good with nearly anything. Tribe's smooth style and ultra-comforting build make this a great choice for skateboarders who can't get enough of its lightweight feeling that is perfect for doing flip tricks.
Read more
This pair offers a Nitrolite™ footbed that provides added impact control and helps to lessen foot and leg pain by reducing the shockwaves absorbed on landings. Nitrolite™ is made from a durable EVA foam material that's practically weightless and delivers incredible comfort.
 
Anyone who is shopping on a budget will love this option that is super-affordable! Made from high-quality materials and boasting an impressive array of features, the Tribe is an excellent pair of skate shoes that's available for less.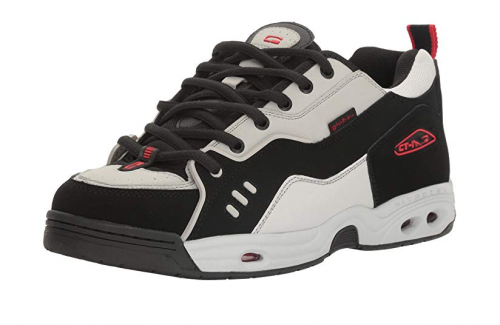 Heritage Series
Nubuck/Synthetic Materials
Chet Thomas Designed & Tested
TPR Ollie Inserts
The CT-IV is a 90's pro shoe and is one of Globe's heritage series pairs. It's made from tough nubuck and synthetics that are long-lasting and won't fall apart under the tough wear and tear you put them through! The CT-IV was designed and tested by pro boarder Chet Thomas and offers innovative design features that help to boost performance in a big way.
Read more
Chet Thomas has been labeled as having the "tiny board, huge shoe skate style," which shows in the CT-IV's utilitarian structure. This pair is larger-than-life and delivers a solid array of performance-enhancing features that will help you to pull off the toughest tricks. Its retro style touches on the roots of skate shoes and pays homage to the original pros of this intensive sport.
 
The CT-IV offers a Nitrocel™ airbag sole and step-in sock liner that deliver the perfect glove-like foot feel. Its TPR ollie inserts offer better stability and help to prevent injuries by keeping your feet properly protected. Its PU outsole has just the right level of cushioning and was made to protect from heavy impacts. Its padding is strategically positioned throughout the arch and heel areas for total coverage that ensures your comfort and safety while you ride.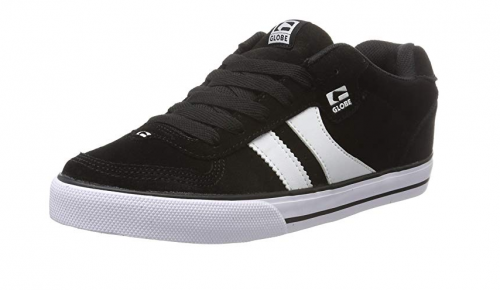 S-Trac™ Sole Pattern
EVA Foam
Triple Stitched
Vulcanized Sole
The Encore-2 is a stylish pair made from shaved-suede and features dual side stripes for added personality. It offers a long-lasting vulcanized sole and signature S-Trac™ tread pattern for superior grip. A triple-stitched toe cap helps this pair handle tough wear and tear without affecting its overall performance and is perfect for skaters who like to tackle the toughest tricks.
Read more
The Encore's Nitrolite™ insole is a lightweight and durable option! It's made from comforting EVA foam that gently cushions your feet without weighing you down, making it ideal for athletic apparel. Globe's S-Trac™ tread is a unique sole pattern made with innovative traction lugs that delivers a solid grip. It provides better shock absorption on impact to lessen foot and leg discomfort so you can go for longer.
Globe hand picks each component used to construct their footwear, resulting in the highest quality standards with every pair. The Encore-2 is a well-made choice that will last you for longer than most. Anyone shopping for a performance-geared pair that doesn't cost a fortune should definitely consider taking the Encore for a ride.
Criteria Used for Evaluation


Style
Skate shoes offer a distinctive vibe that sets them apart from other kinds of footwear. Their unique design is the driving force behind 'skate shoe' trend that took off in the mid-'90s, early '00s. Since then, this style of footwear has become increasingly popular with both skaters and non-skaters who simply enjoy adopting the skater attitude and style of dress.
 
Despite their recent rise to public notoriety, skate shoes have been around for quite some time. During the late '70s and early '80s, the birth of low-profile sneakers like Converse and Vans were paving the way for the skate-style shoes to come. Around the same time, skateboarding was making its transition from the sidewalk surfing of then to the complex set of skills, it is today.
 
Skate shoes have become synonymous with streetwear and youth flock together in a myriad of board-inspired looks that have become the holy grail to the young and rebellious. This weighs heavy on the need for these pairs to look the part and to deliver the right level of style in order to fill the lusting hearts of the millions of waiting fans.
 
Known for their broad structure and puffy appearance, this style of footwear truly brings its own flair to the world of shoes and has become synonymous with its overly comfortable wearability. Those with wider feet no longer have to cramp their toes trying to wear a pair that's considered 'stylish' thanks to this footwear trend that's taken the world by storm and has shown no signs of slowing down.


Outsole
The outsole is an integral part of any skate shoe! It dictates the kind of grip you have and how well you're able to move while on your board. The outsole is also responsible for your overall stability which is a very important aspect. There are various features to look for in your outsole including shock absorbers, cushioning, grippy tread, and more.
 
There are two kinds of soles used in the construction of this style shoe: vulcanized and cup. Vulcanized soles are generally lighter and more flexible thanks to their thin structure. Another benefit to this design is that you get excellent board feels because of the way that vulcanized options are glued to the shoe and adhered using only a narrow rubber strip. The downside to this design is that its less durable than a cup sole and are easily scuffed. Cup soles are sewn right into the shoe which allows for guaranteed performance everytime. This style is long lasting and holds up well under heavy wear. Despite its heightened stability this design is heavier and hampers agility.
 
There are also different outsole profiles available that enhance both the cup and vulcanized options making them more flexible, with better cushioning and grip. The most well-known kinds of sole profiles are the Herringbone and Waffle. The Herringbone traction pattern is a basic design that's proven to be a favorite among athletes for decades. It consists of a simple multi-directional groove pattern that helps to provide better grip on almost any surface. Waffle patterns are exactly what they sound like, a sole that has a similar groove pattern to a waffle iron. These grooves allow for a solid grip and excellent board-feel making them the perfect choice for any skater.
 
Globe has developed their own unique spin on athletic traction pattern with their S-Trac™ tread. This innovative option delivers an original type of traction thanks to its carefully constructed grooves that allow for exceptional grip while still maintaining a lightweight structure and superior board-feel.


Materials
Skate shoes and performance footwear are made from various materials that offer certain benefits over the others. One of the most popular choices is leather because its durable, water-resistant, and breathable. Leathers have an incredible knack for wicking excess moisture away from the skin and pushing it outwards, making for a drier environment inside of your shoes.
 
Suede is a popular choice of material for the upper unit because it's durable and long-lasting. Despite its tough exterior, suede will stretch and soften with continued wear, so it's a good idea to buy them a bit tighter than your normal shoes. This will let you break-in the material for a more comfortable fit that feels tailored to your foot. This option is often used on areas of heavy stress like the toe caps because it's one of the toughest there is.
 
Patent leather is thinner and delivers a lighter build overall, though it is far less durable than suede. This material is good for warmer weather because of its lightweight feel and breathable consistency that allows for adequate airflow inside of the shoe and around your skin. The downside to this choice is that you will find yourself having to replace your shoes far more frequently which can get expensive.
 
Environmentalists love canvas and vegan fabrics that forgo the use of animal materials altogether. Canvas and other textiles provide an impressive alternative to the usual leather designs. Canvas is less resilient than leather but is able to withstand quite a bit of wear and tear before its retirement. Textile options, including canvas and other plant-based materials, are usually very lightweight and breathable which makes them a good choice for athletic activities.


Flexibility
Flexibility is a big aspect of these shoes, especially if you're planning on killing your board tricks! If you're an avid trickster who knows what it means to ollie or 360 hardflips, then you know how important flexibility truly is. Performing these tricks in the wrong type of footwear can put you at a greater risk of injury, while a flexible choice can help to keep you safer. A rigid shoe will negatively affect your speed, agility, and range of motion which means your performance will suffer in the end.
 
Rubber is an excellent material for the outsole because its movable, waterproof, and extremely grippy. This makes for the perfect combination of qualities that are geared toward improving overall performance. Rubber provides just the right level of firmness without compromising on your ability to move unrestricted which is why it's so popular among wearers.


Features
When it comes to features there are a few key ones to consider for this style of footwear. The features that a pair offers can help to better your overall performance and will also make the world of difference when it comes to comfort. Let's break down some of the most important aspects;
Ventilation: Sweaty feet are just plain terrible! No wants to have damp slippery toes, especially while you're trying to grip your board! Skating is a demanding sport and you probably already know how quickly things can get sweaty inside of your shoes! That's why proper ventilation is so important to help prevent a build-up of sweat and odor-causing bacteria.
Cushioning: Skating is an intensive sport that puts a lot of pressure on your lower limbs and proper padding can help to reduce the impact. The most important areas of cushioning are the tongue, side walls, and heel. These spots take the most strain while boarding and are the most susceptible to injury.
Seams: This kind of footwear is prone to tearing at the seams because of the tough wear and tear they're continually put through. This is why there need to be additional reinforcements along all of the seams to help extend their lifespan. Double and triple stitched seams in the toe and heel areas are the most durable and will be able to better handle the strain, making them a wise choice for boarders. There are also seamless toecaps available that prevent blowouts caused by rough grip tape which are highly recommended for advanced skaters.
Expert Interviews & Opinions
Most Important Criteria
(According to our experts opinion)
Experts Opinion
Editors Opinion
Users Opinion
By Default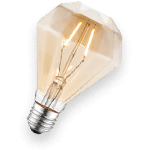 Did You Know?
Tony Hawke first went pro in 1982.
Totally Radical
Skateboards were first invented by a Los Angeles surfing company which meant them for surfers to use in their downtime.
Other Factors to Consider


Bottom Line
Dating back to the 1940s, skateboarding is an intensive action sport which sees skaters perform incredible and gravity-defying tricks while riding a skateboard. Back then, surfers would 'sidewalk surf' on their down-time, not knowing that this pastime would soon become a sport all of its own.
 
Skaters face some pretty tough challenges whether at skateparks or while they're ramp skating, skate tricks are no easy task! One way to help riders master the art of the 360 kickflips or landing the perfect pivot is by wearing the right style of footwear that's designed to enhance overall performance. Skate shoes are specially made pairs that offer heightened traction, extra cushioning, and reinforced stitching, along with tons of other sport-specific features.
 
This style of footwear is easily recognizable due to its notoriously oversized upper unit that appears puffy and is almost always designed with a wide structure. Over the years, these shoes grew in popularity, not just with skaters, but with all sorts of consumers. Word spread about the sheer comfort and extra roomy build that the skate shoe had to offer and they soon became a major part of the streetwear trend.
 
Over the decade's certain brands have become the most respected among the skate community and have rightfully earned the respect of millions. Labels like DC, DVS, and Globe are the first that come to mind when we think of skater shoes and are the most popular with both skaters and non-skaters.
 
Globe International is a reputable brand that hails from Australia. They're known for their breakthrough innovations that have changed the way skaters ride in a big way. Their signature S-Trac™ sole pattern offers incredible board grip and is widely loved by the skater community.
Frequently Asked Questions
q:

Can I wear them in the winter?

a:

When it comes to wet and rainy days these shoes are a good choice because they offer excellent traction so you won't slip and slide around. As for snowy weather, there aren't really any styles of skate shoes that are ideal for these conditions, but Globe shoes will give you the added benefit of a non-slip outsole that's made from a water-resistant material.
q:

Do the sizes run small?

a:

These pairs will fit snug at first because of the materials used in their construction but don't worry because they will break-in nicely and will end up fitting perfectly even after moderate usage. It's best to buy your usual size of shoe and if they feel a little tight at first simply go for a few walks in them and they conform perfectly to the size of your foot.
q:

How long are the shoelaces?

a:

Most of Globe's shoes have a 36-inch lace per shoe. That is a great length to lace your shoes that leaves roughly six-inches extra that can be used for tying. If you prefer a shorter lace you can always trim an inch or two off the end of yours for a shorter style.
q:

Do these shoes have a removable footbed?

a:

No, most of the styles do not have a removable footbed though they are fairly roomy so you could fit your own insert inside with little trouble. If you're wanting to freshen up your shoes but aren't able to remove the footbed try adding an odor-control powder inside of the shoe. This will keep them smelling fresher for longer and will also help to absorb excess moisture that can further worsen smelly shoes.