Best Gabor Shoes Reviewed & Rated
In a Hurry? Editors choice: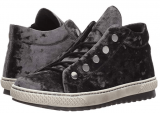 Test Winner: 73.750

Gabor shoes are the hottest piece of footwear to hail from Germany in the past 60 years. These pairs are made to provide ultra-comfortable wear and luxurious look that will keep you coming back for more.

This family-run business holds essential values at its core and ensures that they're continually incorporating new technologies into their line of products. Every pair they craft is made to include three essential features: fit, style, and quality of craftsmanship.

Based in Rosenheim, Gabor Shoes are the very definition of high-quality footwear that offers looks so distinctive you'd be hard-pressed to find a pair you didn't fall in love with.
Standout Picks
Criteria Used for Evaluation
Brand
The Gabor line parents four brands under their name: Gabor, Gabor Comfort, Gabor Sport, and Rolling Soft. Each line offers a unique spin on their already stylish designs. Whether you're shopping for casual sneakers or performance-enhancing pairs there's an option to suit your needs. Among the four brands, there is every style of shoe you could think of including espadrilles, loafers, boots, sandals, slip-on pairs, flats, and more. They specialize in footwear for women and offer the highest quality craftsmanship. Let's have a closure look at each of the brands;
Rolling Soft:
This line of ladies shoes is made to benefit the health and wellbeing of our feet. This line consists of specially designed sneakers that offer a unique removable footbed. There are two types of removable insoles available: a light and comfy leather, or a high-tech material that's made with a lightweight Flex Air System.
The Ultra Flex Air System is designed with air ducts that offer ventilation that's regulated and controlled creating the freshest feeling environment for your feet. In addition to the Flex Air System, some of the Rolling Soft models include the Shock Point, an extra cushiony element that sits at the heel for a walking experience that's easy on your joints.
Gabor:
The original line offers styles that range from sandals to sneakers and are ultra-stylish in design. This line is constantly adding new and improved looks that are up-to-date and feature the latest in technological advancements.
Comfort:
The Comfort Line includes styles that range from slip-on loafers to flats and even includes some sneakers. These pairs are extra comfortable for your feet and include 'G' and 'H' width fittings that provides extra space for your feet. 'G' widths are extra wide, while 'H' widths are called, comfortable extra width. This means these shoes are designed to have extra room in the toes as well as the ball and instep area making these the perfect pair of footwear for individuals with a broad structure.
Sports:
The Sports line is made-up of sneakers that are strategically designed to enhance your overall performance. They feature health-enhancing benefits that are made to provide your feet with the extra care and attention they need.
No matter which line of Gabor footwear you're interested in one thing will remain the same, the quality of craftsmanship used in their production. This is a brand who cares enough about their customers to take the extra time needed to produce an item that won't wear with little time or cause you undue pain and discomfort. Instead, they make products that they themselves would be happy to wear.
Style
This footwear comes in all kinds of different styles. There are three main categories available: shoes, boots, and sandals, each with multiple subcategories which we've detailed below. No matter if you're looking for a summertime sandal or a wintery pair of boots you'll find it with this brand. They offer an incredible selection of styles, each with a unique and boisterous design.
Shoes:
This line of footwear includes every look from high heels to ballet flats so there's something to suit every style. Whether you're searching for trendy trainers or a sleek pair of courts there's an option for almost any kind of shoe you can think of. They're all made from quality leathers and suedes that provide top-of-the-line comfort and a durable structure. These options are available in half-sizes so there's no need to struggle with finding the perfect fit and their range of wide width pairs are perfect for individuals with a broad structure.
Boots:
This line of boots is all about turning heads thanks to their eye-catching numbers. This collection offers long-lasting pairs that are made from luxurious materials. If you're searching for a pair trending footwear then you'll definitely want to grab a pair from this line! With every style ranging from long boots to ankles, you won't have any trouble finding a pair to match practically any outfit.
Sandals:
This brand offers a desirable collection of summertime footwear that can carry you through the season with ease. They offer everything from sultry wedges to classic mules and feature some of the most gorgeous embellished flats available. These sandals are made using quality craftsmanship and provide a comforting pair that's ready to tackle any occasion. If you have a wider foot structure you'll love their range of wide-fitting sandals that are made extra roomy.
Comfort
If your feet feel tired and achy at the end of the day there's a good chance that you're wearing the wrong footwear. Uncomfortable pairs can lead to all sorts of painful afflictions like blisters, calluses, and plantar fasciitis, a painful inflammatory condition. The Gabor line includes innovative designs that were made to maximize your comfort. These technologies include the following:
Best Fitting:
Models which include the Best Fitting insole have been widened to increase the surface at the ball area of the foot. This makes for an extremely comforting effect, especially for those who have wider feet.
Hovercraft System:
The Hovercraft System includes an air-cushioned sole that consists of a layer of soft air pockets that cushion every step. These air cushion pockets absorb shock and cushion the delicate underside of the foot which prevents arch pain and limb fatigue. They also create better stabilization and provide perfect support.
Soft Move:
The Soft Move technologies provide complete whole-foot softness for every step. It consists of a supple foam material that rests under the insole. It's reinforced in the areas that take the most body weight so it's super long-lasting.
trong>Soft & Smart:
The Soft & Smart innovations include a supple padding at the heel and ball of the foot. Its an evenly padded foam sole that features a lightweight and breathable leather top cover. The Soft & Smart sole provides double the softness while you walk and makes for floaty feeling with every step.
Boot Calf Measurements:
Every pair of boots is available with different sizing options for the calf area or shaft. No two women have the same sized calves which are why this line offers sizes ranging from XS to XXL. They offer a convenient Calf Measurement Chart to help you find the perfect sized pair for you.
These features all deliver a unique experience that is always comforting and supportive for your feet. Looking after your overall health and well-being takes a lot of effort which is why this footwear is so great—it does all the work for you! These specially designed pairs will help your feet recover from the unhealthy state they're presently in. After years of wearing the wrong kind of footwear or an uncomfortable pair, your feet are in much worse condition than you might think. That's why it's so important to start wearing the right pair as soon as possible to prevent the onset of painful conditions which might be lurking in your near future. Buying a pair of these is like making an investment in your future!
Durability
When investing in any pair of footwear, you are likely to be looking for a product that will last you for a considerable time. Luckily, Gabor shoes are really great at offering value for money. All the brand's footwear is made with carefully selected materials, in addition to going through rigorous quality assurance procedures. One of the main things we looked for in selecting the models to feature in this list was durability.
However, it's a good idea to keep several things in mind before clicking that buy button. First and foremost, you need to consider the materials used to create a specific pair of footwear. Fortunately for you, Gabor mostly uses high-quality leathers in their designs. If you know you're going to be walking a lot on abrasive surfaces, you may want to forego the foam outsole, however, and opt for rubber instead. Similarly, certain types of leather won't do as well in wet conditions, so make sure you're only using your shoes in the way they were supposed to be worn. This way, you'll ensure they actually last you a couple of seasons.
Another important thing you'll want to keep in mind is storing and cleaning your shoes properly. First and foremost, you should always read the manufacturer's instructions about how a pair of footwear should be cared for. Usually, leathers can be wiped down with a damp cloth, while suede should not be put in contact with water. You may also want to use a quality conditioner or even a protective spray that will prevent staining and water damage. Store your footwear in a dark, well-ventilated area, away from direct sources of heat, and make sure your shoes have enough time to dry out between wears.
If you're still worried about the longevity of your footwear, you should also look at customer reviews for the item you're interested in. These will contain useful information about what to look out for with each model, so you can pay close attention to any possible issue that may arise with wear and use.
Value
Out of the many different aspects of the evaluation process, one of the most important criteria is the cost and value. Consumers will typically look for a low cost and a beautiful design, but a good purchase is actually determined by much more than that.
To ensure you get a pair of footwear you'll be able to use for a considerable amount of time, you should be looking at value, and not a price tag. What makes a product valuable for you is quite personal, but on the whole, you should be looking at an item made with quality materials, with a good amount of comfort technologies suited to your needs, adequate support, and versatile design.
The majority of the models listed above can be worn on varied occasions, and all utilize premium leathers in the construction. Coupled with the trust that comes with the Gabor brand name, and you've got yourself a winning combination.
10 Best Gabor Shoes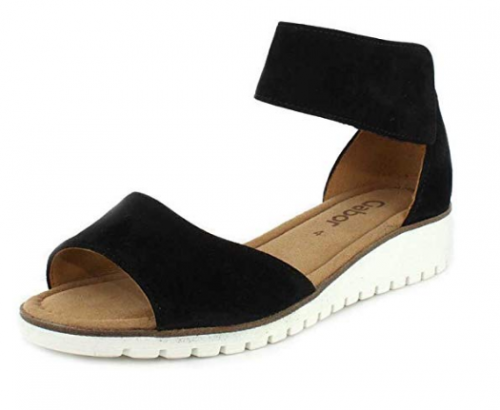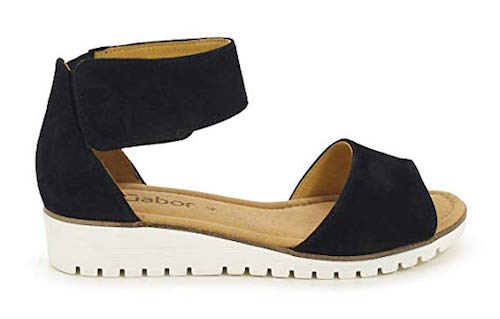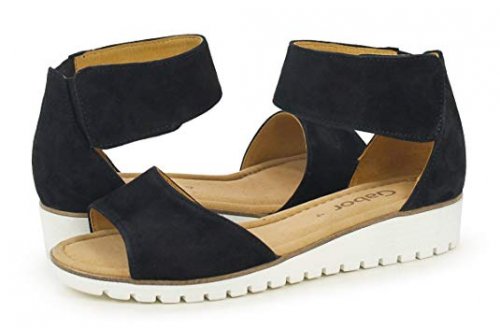 This pair of summer sandals features of leather upper and Velcro closure for an adjustable fit that's perfect every time. Their soft leather lining feels great against your bare skin and provides lasting comfort and an all-day dry feel. Their 2-inch heel and half-inch platform make walking a breeze and their medium width is comfortable for those with a broader foot structure.
These sandals have a low 1/2-inch platform and 2-inch heel that allows for easy steps, while their wraparound chunky ankle strap keeps them securely in place. The 84.570 has a cross-toe strap and lightly cushioned footbed for an incredible underfoot feel that will keep you comfy for hours on end.
Quality nubuck leather uppers make these a long-lasting pair that keeps you cool and dry for hours on end. The leather material pulls moisture away from the skin preventing a build-up of sweat and odor-causing bacterias. Their leather lining feels great against your skin and won't get smelly after a few times wearing them. This pair is in line with the pricing for this footwear brand. While they aren't the cheapest sandals around, they're certainly not going to break your bank either. You'll enjoy the cushioned comfort and great next-to-skin feel these sandals offer, along with their super-stunning and stylish design.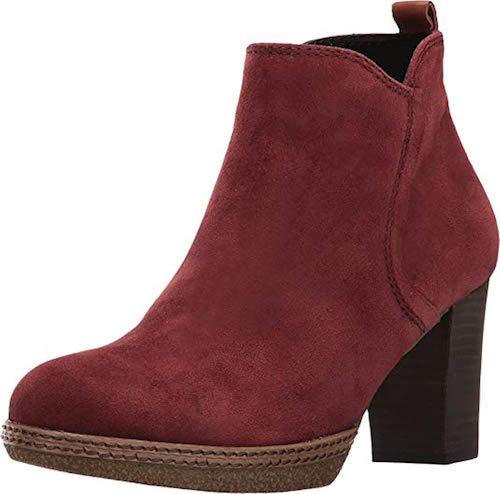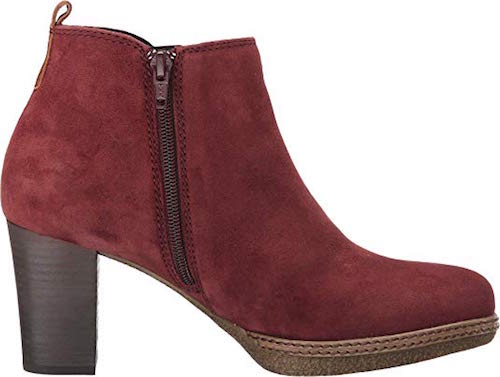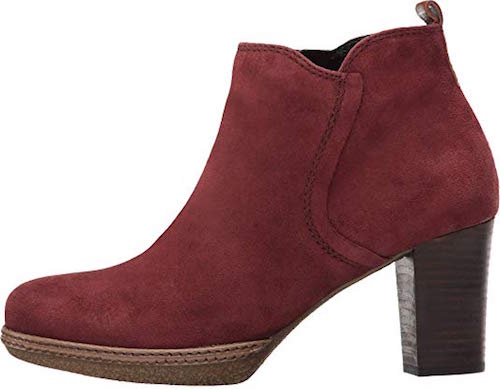 The one style you can simply not go wrong with during fall and winter is a high heeled ankle boot made with high-quality materials. The 52.871 is one such model by the brand, and it is designed in a way that utilizes simple lines, an adequately thick outsole for cold weather, and a heel that is comfortable, yet stable enough for all-day wear.
The upper of the 52.871 is made with soft, supple leather with a suede finish. Not only is this material easy to break in, but it offers a good combination of breathability and weather protection, and if treated with a weatherproofing agent, it can be worn throughout the season. The lining uses leather as well, contributing to the overall comfort of the boot.
The footbed of this bootie is padded so as to provide a good amount of cushioning. The outsole is made with shock-absorbing, tractioned rubber, and the 2.5-inch heel is stacked for maximum stability. The two standout features on this pair of footwear are the side zipper closure and the heel pull tab that make putting this shoe on and off a breeze. The cost association of this product ranks about average for a fall bootie, and it's an overall good investment for most people.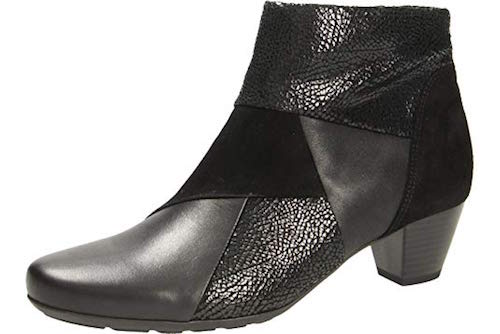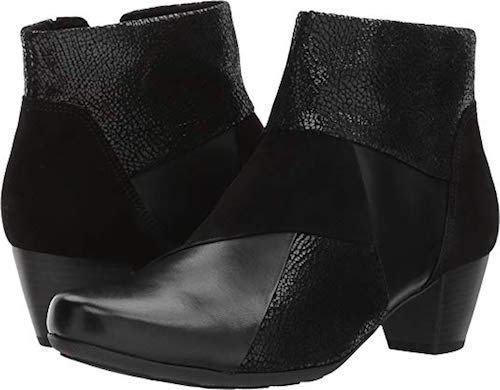 These ankle boots are stunning and as stylish as ever thanks to their leather upper and side zipper closure. They feature luxurious leather lining and a cushioned leather insole along with a lightweight and flexible synthetic outsole. These super-cute boots have a chunky low-rise heel and flat platform for a no-hassle walking experience and are the perfect addition to any wardrobe.
This ankle boot features a 1.5-inch heel and weighs just 10 ounces for a lightweight structure. A low-rise quarter-inch platform makes walking in these a snap, while their cushioned leather insole ensures your feet are properly supported. The leather material is excellent because it pulls moisture away from the skin preventing a build-up of odor-causing bacteria.
This is a boot that's always in style and features a side zipper closure and stunning dual-colored leather upper. These medium-width heels are as comfortable as they are gorgeous and offer a pleasant experience for individuals with a wider structure. While this pair is in-line with the price point we've come to expect from this brand, they are slightly higher priced than some of the options on the list. With that being said, they offer an incredible value and endless style that will fast become one of your favorite go-to pairs of boots.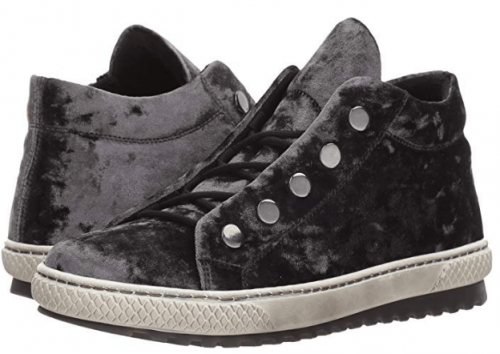 This pair of sneakers offers a stunning and supple velvet upper unit that exudes an elegant vibe. They feature a traditional lace-up design and have statement eyelets for added style. You'll love the casual versatility that this pair offers and how well they match with almost any outfit.
This pair of sneakers was made to provide a completely comfortable foot feel. Their soft suede upper material is breathable and allows for a full range of motion, while their silky interior lining will keep you cruising in an enjoyable ride. The traditional lace closures ensure your sneakers stay perfectly in place so you can forget about flopping or loose-fitting footwear.
A non-slip rubber outsole makes these a safety-first pair of footwear. No matter if you're walking on wet or slippery terrain, you'll have a sure foot thanks to their grippy outsole. So go ahead and roam wherever you like without worry about accidental slips or falls. This pair is priced similarly to most of the items on the list, however, they are a bit pricier than some. If you're looking for a unique pair of sneakers than these are definitely up your alley! They offer a cool design and comfort-first style that will keep you happy while you're on the go.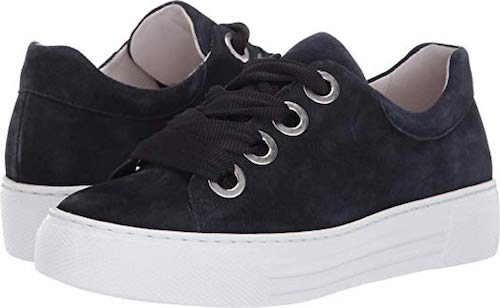 For those after a casual style, the 26.464 is the ideal choice. This platform sneaker has a simple silhouette in the upper, and combines it with a chunky outsole that not only adds in height, but even more, improves shock absorption and stability. The model is available in several color choices, including both solids and animal prints.
The upper of the 26.464 is made with suede and lined with leather, and includes a generously padded collar that comforts the ankle and prevents rubbing and blistering. Textile is added to the inner of the sneaker to increase breathability, and the stretch knit laces allow for maximum adjustability in terms of fit.
This sneaker includes one of the brand's best technologies - an optiFIT footbed. Providing a combination of shock absorption and support, this footbed makes the 26.464 suitable for walking, even for long periods of time. The rubber outsole has an effective traction pattern, is non-marking, and is stitched to the upper to increase durability. As for price, this model goes for an average cost, making it a good choice for most people.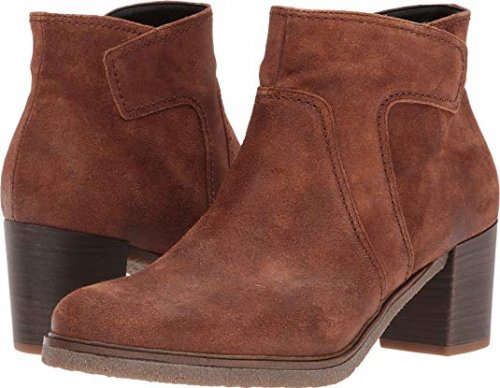 These ankle boots are the perfect choice for fall. They're very simple in terms of design, are made with the same quality as all the other Gabor shoes on our list, and come in two versatile color choices of cognac and black metallic. They will look best in a casual or laid-back work setting, and can easily be paired with both dresses and trousers, so you can choose whether you will dress them up or down.
The upper of this pair of boots is made with suede leather, which is one of our absolute favorite materials. Not only does it have all the properties of smooth leather styles, but it's also softer to the touch and takes less time to break in. The downside, however, is that it requires a bit more care, and won't be appropriate for wear in wet weather. You can, however, solve this by applying a waterproofing spray made for suede items.
The closure system on this pair of boots is a side zipper, which makes these really easy to put on and take off. The footbed is padded for maximum comfort and the 2 ¼-inch heel is chunky for the highest level of stability possible. You'll also find that the rubber outsole works very well on a multitude of surfaces, including slippery ones, which is thanks to the small lugs.
The price of these ankle boots is around average, which makes them a great choice for anyone who's after a great pair of fall footwear. They'll easily complement all of your favorite outfits, and will look particularly good with a pair of cute tights or stockings.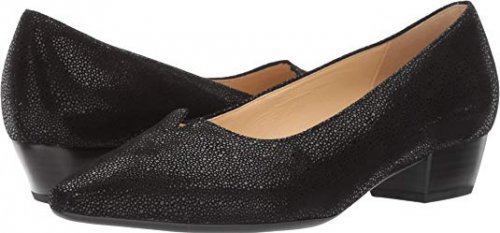 This pair of low heels by Gabor is an excellent choice for those looking for something versatile they can wear on a daily basis. Combining elegance with the comfort that's such a big part of the Gabor brand, this model will work well for everyday wear, work, and even some special occasions. It can be purchased in two color options - smooth black leather, or metallic black that is a bit more eye-catching.
The materials used to make this pair of court shoes are leather and rubber. The upper utilizes natural leather for its flexibility and comfort, giving you a breathable pair of footwear that will mold to your foot. The outsole is rubber, ensuring longevity and comfort, as well as a bit of added cushioning. The inside of these pumps is also lined with leather, while the footbed features some light padding for a more comfortable wearing experience.
These pumps have a pointed toe silhouette that's both elegant and professional. The heel height 1 inches, which is ideal for long days at the office. Add to this the fact that the heel is chunky, and you'll find that this is a supportive model you will be able to wear for hours on end, without experiencing pain in the forefoot.
In terms of cost association, this pair of pumps by Gabor is averagely priced. When it's taken into account that it's one of the most versatile shoes on this list, it becomes obvious that it's a great investment for most people.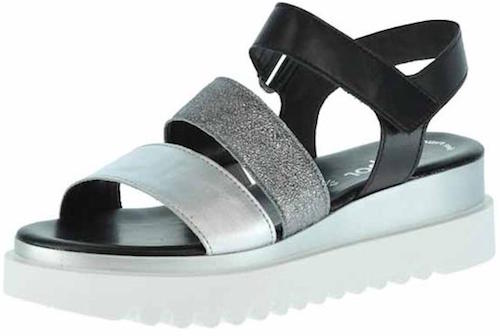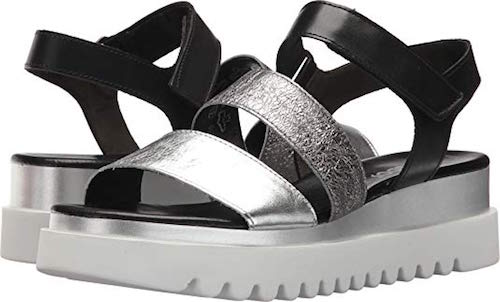 A futuristic summer sandal you can pair with almost anything, the 83.610 will look absolutely perfect with your favorite sundress. Its unique style is elevated by the combination of black and silver in the upper, as well as the eye-catching chunky rubber outsole. On the whole, it is lighter than it looks, making for a good choice for all-day wear.
The upper, like with most other models by this brand, is made with leather materials. The same goes for the lining. Plenty of openings ensure excellent airflow in hot temperatures. You will be able to adjust the fit to your liking through the hook and loop strap, while the two straps at the forefoot easily break in and adapt to your foot shape and size.
The rubber used for the outsole is durable and features a small wedge to promote a more natural gait cycle. The traction pattern is simple yet effective, and it can be expected to work well on both slick and abrasive surfaces. For a pair of sandals, the price of the 83.610 is slightly high, but if you're looking to make an investment that will last a couple of years, then definitely go with this item.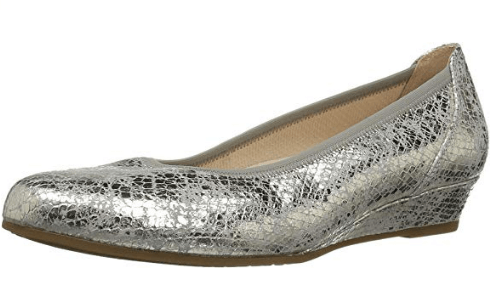 This pair of low-wedge slip-on footwear is made from premium leather and features an elastic collar for a secure stay put fit. They're lined with leather for an ultra comfortable wear and have a cushioned footbed for additional enjoyability. Their beautiful Argento color shimmers under any lighting and is sure to add some dazzle to any wardrobe.
This easy-wearing pair of footwear slips on and off for no-fuss get up and go. They offer an elastic collar that keeps them securely in place so you can forget about flopping shoes. Their cushioned footbed provides superior underfoot protection and comfort so you can walk for hours on end without worrying about tired and achy feet.
This slip-on boasts a low-rise quarter-inch wedge heel that adds just the right level of lift without compromising the fluidity of your stride. Their leather lining is super comfy and pulls moisture away from the skin keeping feet cool and dry for hours on end. You'll love the ease of wear that this pair offers and you'll find yourself wanting to wear them more and more.
This pair is considerably lower cost than some of the options from this line and delivers a classic yet smoldering style. These gorgeous shoes will quickly become a wardrobe staple thanks to their easy-wearing design and gorgeous outer appearance.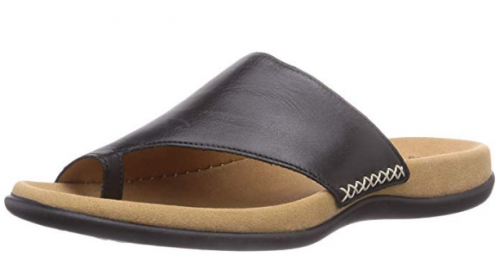 This pair of stunning sandals features a leather upper and non-slip rubber outsole. They're made from genuine soft materials and feature contrast stitching for added style. Their leather and microfiber lining is perfect for keeping your feet cool and letting air flow freely around the skin while also making for friction-free wear.
These sandals are made using Best-Fitting Technology which makes for total foot comfort and features top-of-the-line cushioning that supports the sensitive arch area. They offer a non-removable microfiber lining and a contoured footbed that conforms to the shape of your foot.
This is a sassy pair of summer footwear that boasts a sleek silhouette and a cute toe-ring loop. Their streamlined look is heightened by their solid-tone upper and contrast footbed and they're available in four colors including: black, knight blue, smoke, and white. While most pairs from this line run at a similar price these ones are worth mentioning as offering the best value. Their superb design, sleek appearance, and quality craftsmanship make these a must-have pair of sandals for any summer lovers who like to get up and go.

Subscribe to our Newsletter